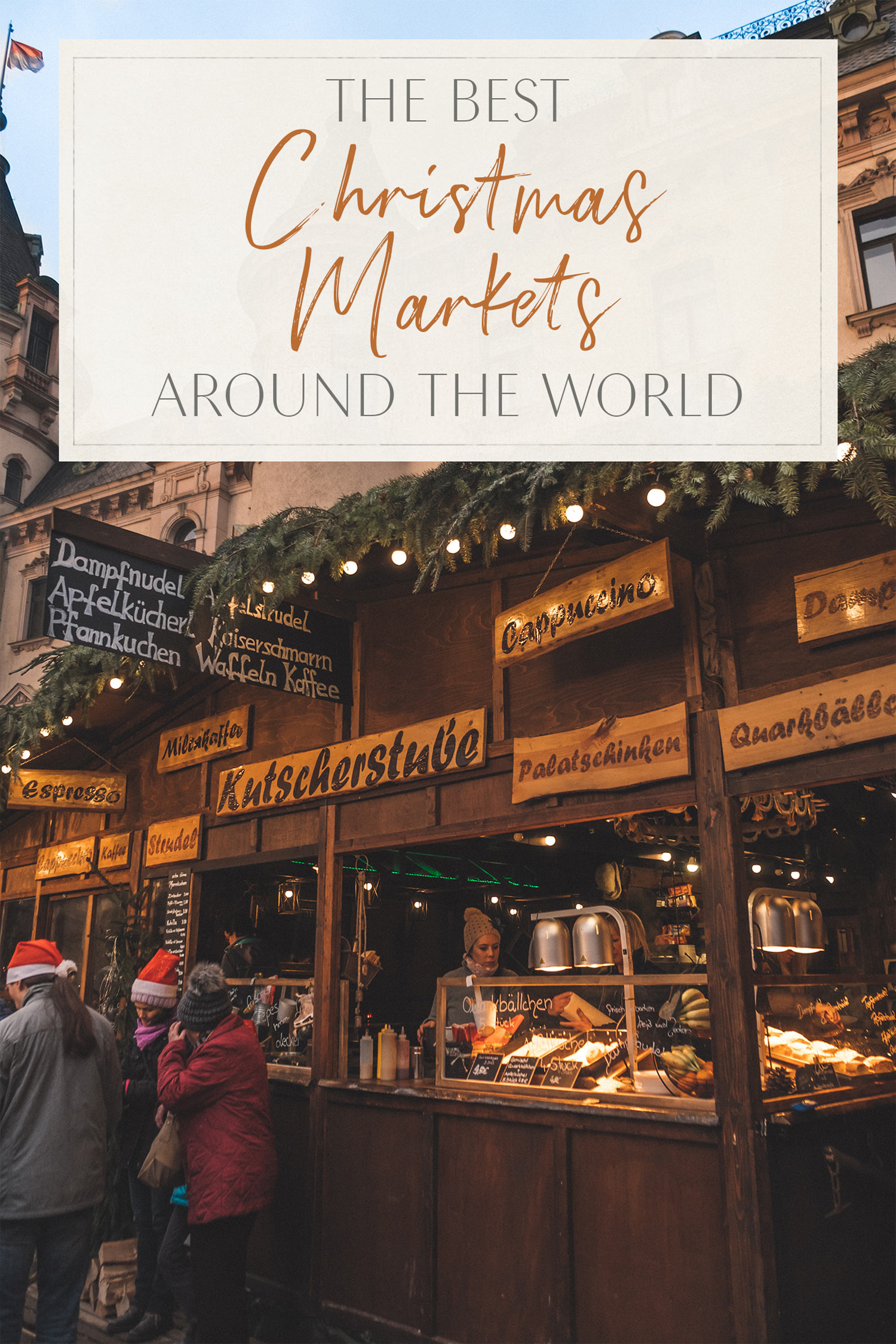 Updated: November 2022
Christmas around the world is a magical time of special foods, drinks, parades, and festivities. One of the biggest form of celebration, especially in Europe, are outdoor Christmas markets.
Throughout Germany, Austria, Hungary, Slovakia, and beyond, you will find the greatest Christmas markets in the world. Filled with twinkling lights, ornaments, and holiday spices, they are truly magical.
A few years ago, I joined Crystal Cruises for a Danube Christmas Market Cruise cruise! Cruising from Vienna, Austria, into Passau, Germany; Krems, Austria; and Bratislava, Slovakia, I saw some of the most breathtaking festivities ever.
Here are the best Christmas markets around the world!

Munich and Regensburg, Germany
Germany is one of the best places to hop around to different Christmas markets in Europe! With more than 20 different markets spread throughout Munich, and stunning markets around Regensburg's Old Town, it can't be beaten.
In Munich, wander long enough and you'll stumble upon student markets, puppet shows, and a picture-perfect market. Christkindlmarkt is the city's oldest and biggest, with 150 wooden huts selling toys, gingerbread, and mulled wine in the historic heart of the city. Start at the Marienplatz to marvel at its distinguished tree, before you escape to the nearby Kripperlmarkt am Rindermarkt, where you'll find Munich's largest nativity scene.
Be sure to stop by the Mittelaltermarkt, a market that celebrates all things medieval—with colorfully attired minstrels, archers, merchants, and jesters—and pick up a drinking horn or two.
In Regensburg, your first stop should be Old Town. As Germany's best-preserved medieval town, strolling through the heart of the village is like stepping back in time. Old Town boasts Roman remnants and a vast array of buildings from the 11th to the 15th centuries.
Then, visit Regensburg's three markets— Regensburger Christkindlmarkt, the Romantic Christmas Market, and the Lucrezia Markt!

Zagreb, Croatia
December is a time of frosted lights, traditional tunes, and mulled wine. Zagreb, already so picturesque with its twin-spired cathedral and cafe-lined pedestrian streets, doubles its appeal come Christmas time. During Advent, the city erupts into festivities such as singing, dancing and live music.
Each square seems to have its own attraction, so pick up a dessert and wander the Old Town. Sample seasonal candies, sweet rolls, and sheep cheese dumplings.
Visitors can also enjoy ice skating in the open-air rink in King Tomislav's Square!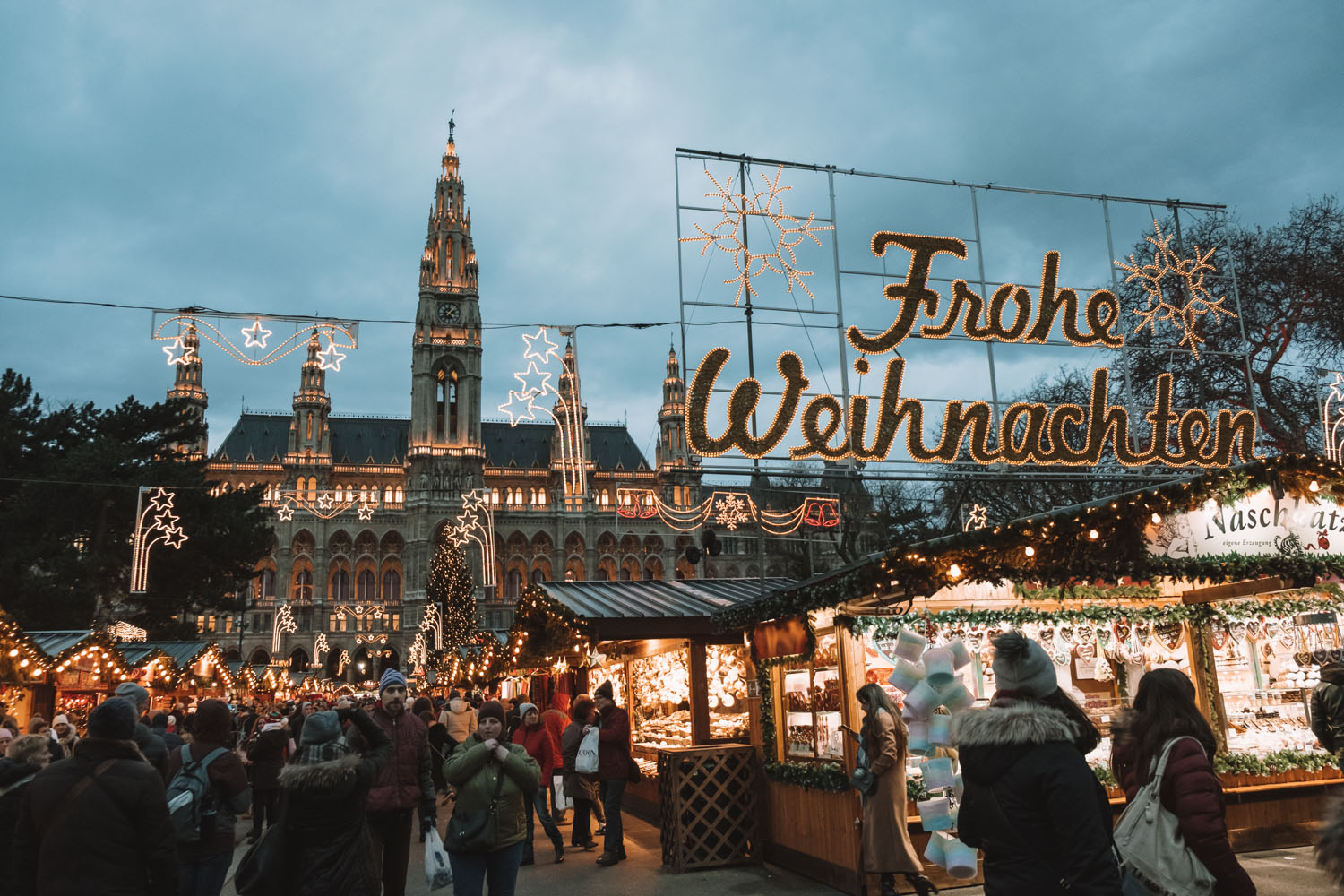 Vienna, Austria
With its pristine white architecture and old-world cafes, Vienna turns into a wonderland during Christmas. Markets pop up here and there, and the scent of roasted chestnuts and Glühwein permeates the frosty air.
The Museums Quarter unveils elegant light installations, ice pavilions, handblown glass, and an ice-curling rink. The City Hall Square explodes into a festive sea of lights, gifts, tree decorations, craft workshops, and a carousel.
If you have an extra day or two, I highly recommend Visiting the Christmas Markets in Salzburg as well!

Strasbourg, France
Strasbourg is home to the oldest Christmas market in Europe, the Christkindelsmärik, which dates all the way back to 1570. With over 300 stalls spread over 12 mini-villages, the little Alsatian town has won Best in Europe multiple years.
Part of the draw is the picturesque setting: half-timbered houses, elegant lights, and white stars and angels suspended above cobbled streets. Here you'll find four Advent concerts, authentic live music, and a Living Nativity.
Make sure to stop by the Place Kléber for its impressive fir tree and pick up bredele. These special Christmas biscuits come in hazelnut, orange, praline, cinnamon, and walnut, just to name a couple.

Stockholm, Sweden
Scandinavian Christmas erupts on the streets in front of the Nobel Museum in Stockholm. For one month before Christmas, snow-dusted stalls offer handcrafted glass, pottery, and jewelry, as well as glögg and thin ginger biscuits called pepparkakor to keep you warm.
Here you can find saffron buns and reindeer-meat sausages!

Budapest, Hungary
Enjoy Eastern Europe's spin on things by visiting Budapest's Christmas Market, which lasts nearly two months.
Over 100 wooden pavilions cluster in Vorosmarty and St. Stephen's Square and sell their special mulled wine, cinnamon chimney cakes, and toki pompos (baked dough topped with bacon, onion, and cream).
At the market, you can find crocheted goodies, fur hats, pressed flower jewelry, handmade honey cakes, and iron candelabras.

What Christmas Markets have you visited, or are planning to visit?