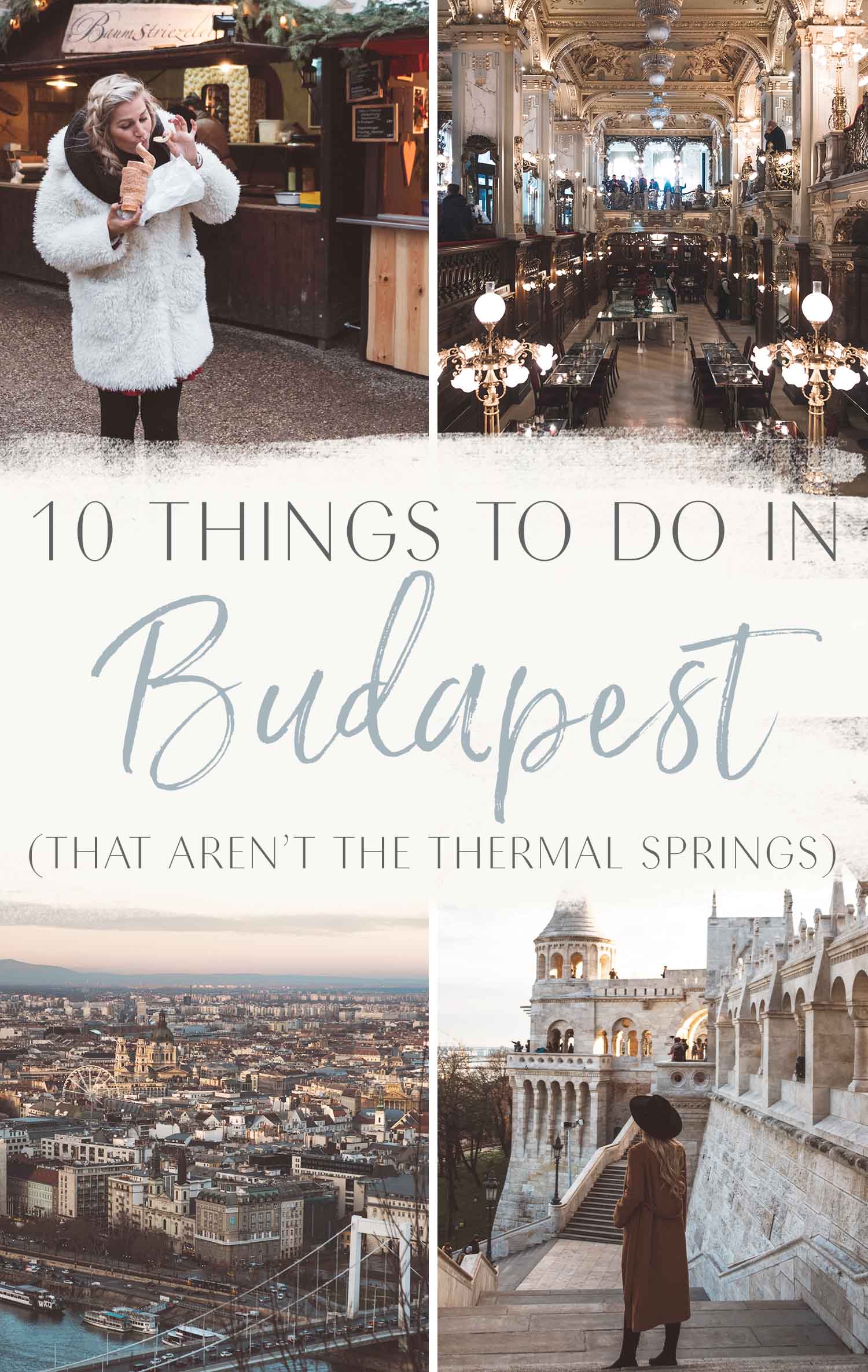 Don't get me wrong, the thermal springs and baths are SUPER cool. You'll definitely want to add either the Széchenyi Thermal Bath or Gellért Baths to your itinerary — or both!
However, there's so much more to Budapest, Hungary than taking a dip in the warm waters and this list covers ten of the best options that you'll want to add to your itinerary.
Is it your first time visiting this marvel on the Danube? Here are 10 tips for traveling Budapest! 
 Here are 10 things to do in Budapest (that aren't the thermal springs)!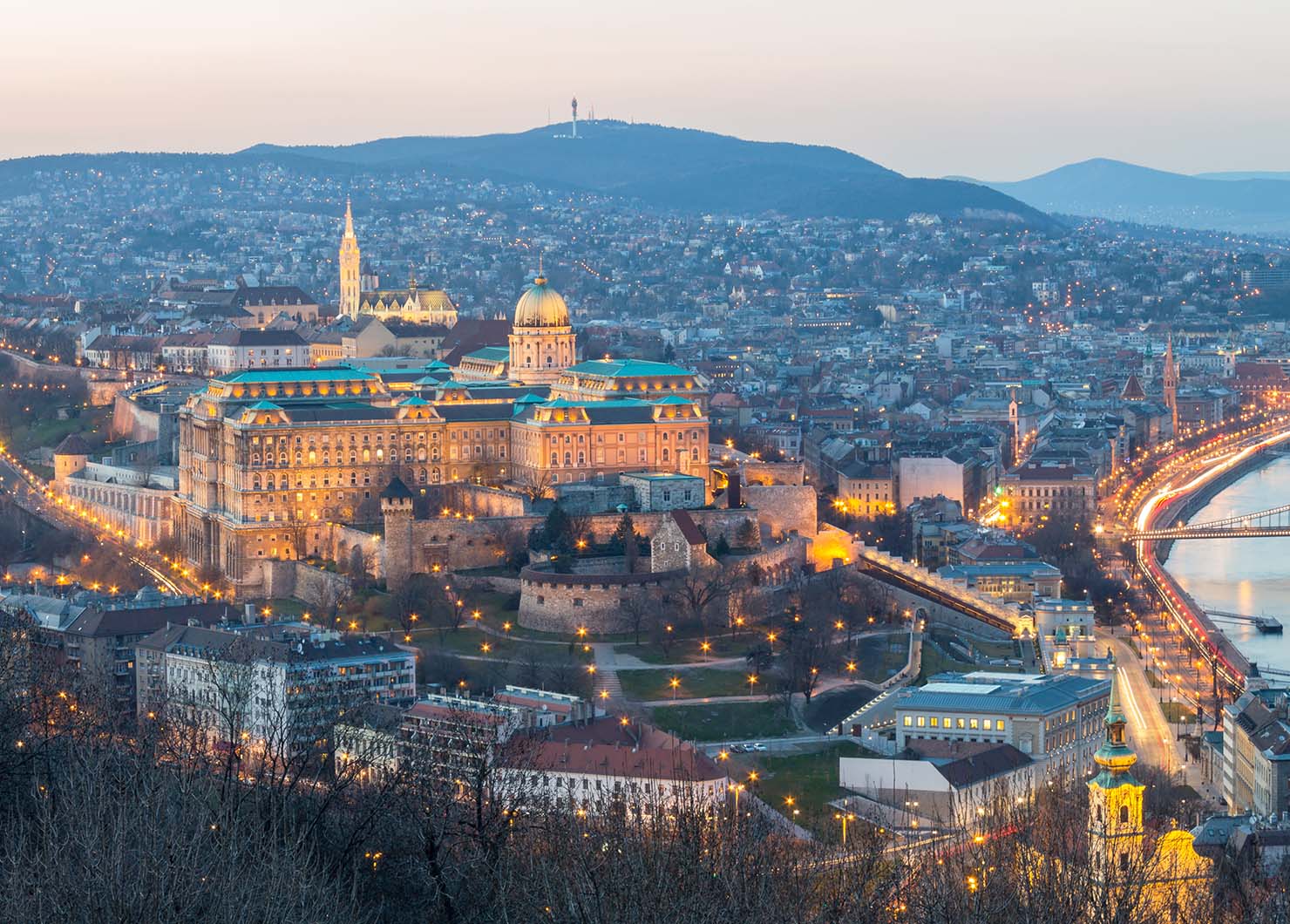 Buda Castle & Hill
Back in the day, Budapest was actually divided into two separate districts. Pest was a commercial area while Buda was the seat of government and where the royal family lived.
You can learn more about the history of Hungary's royalty here and explore the cafes, museums, and winding brick alleyways that make up Castle Hill.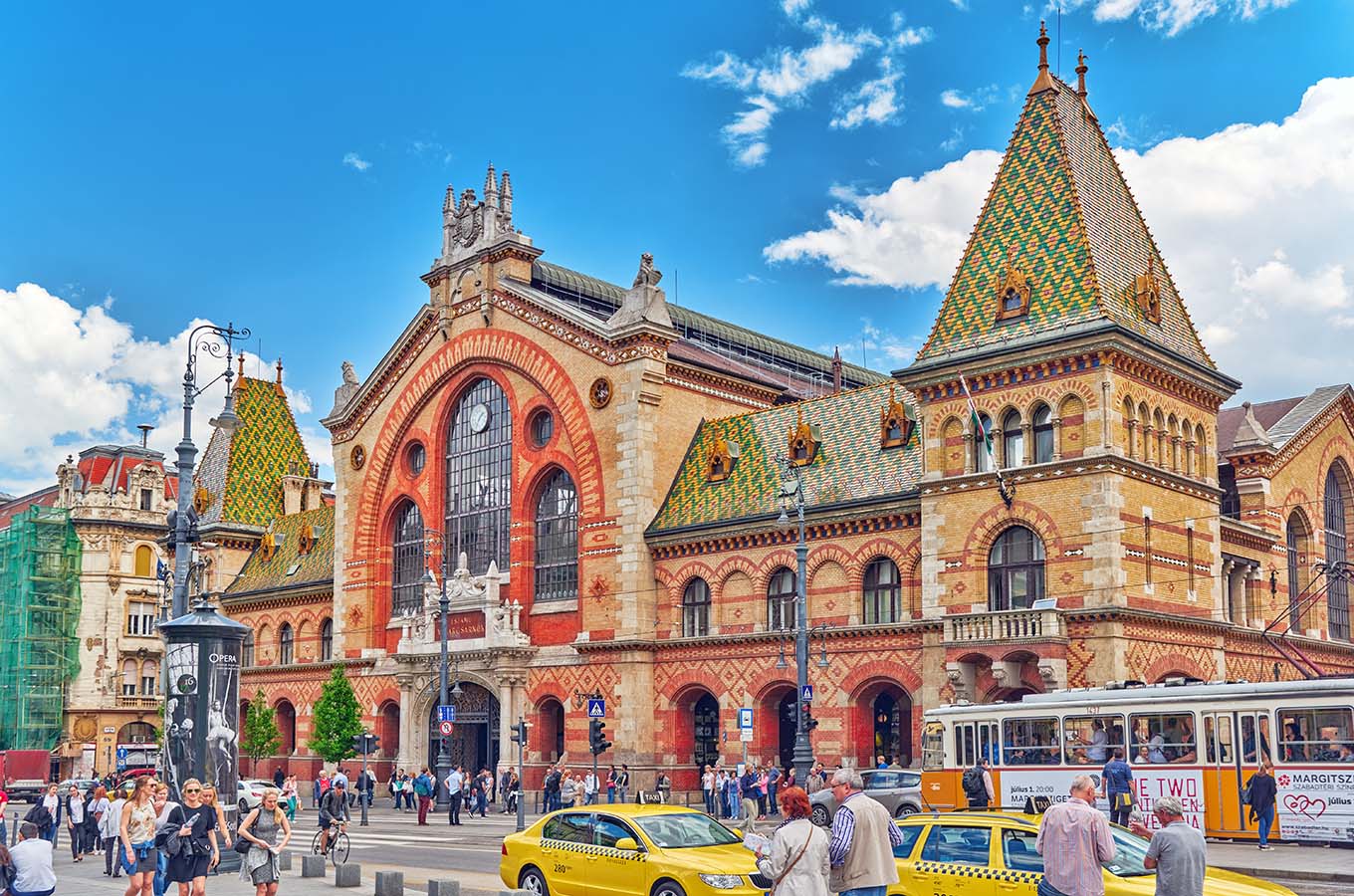 Central Market Hall
Central Market Hall, or the Great Market Hall as it's sometimes known, is a historic indoor market in Budapest that's notably the oldest and the largest of its kind in the city.
It first opened in 1897 and although it's seen many changes throughout its history, it is still a reliable place to purchase products, pastries, candy, and more.
In recent years, several vendors have begun offering souvenirs and goods designed to appeal to tourists so you can find something to buy here even if you're not looking for groceries.
The second floor of the market is also home to several food stalls as well as tables and chairs so you can enjoy your meal right away.
Try Langos, a type of Hungarian street food that is essentially deep-fried dough with delicious toppings like butter and cheese. It's hard to go wrong with that combination!

The Ruin Bars
If you're looking for an interesting place to get a drink or two, the Ruin Bars in Budapest are the obvious choice.
These bars are literally located in the ruins of an abandoned building and offer a unique ambiance to enjoy. If you're not sure where to go, try Szimpla, which was the first Ruin Bar.
It opened in 2004 and quickly became the place to be, before inspiring several other similar bars that have opened since.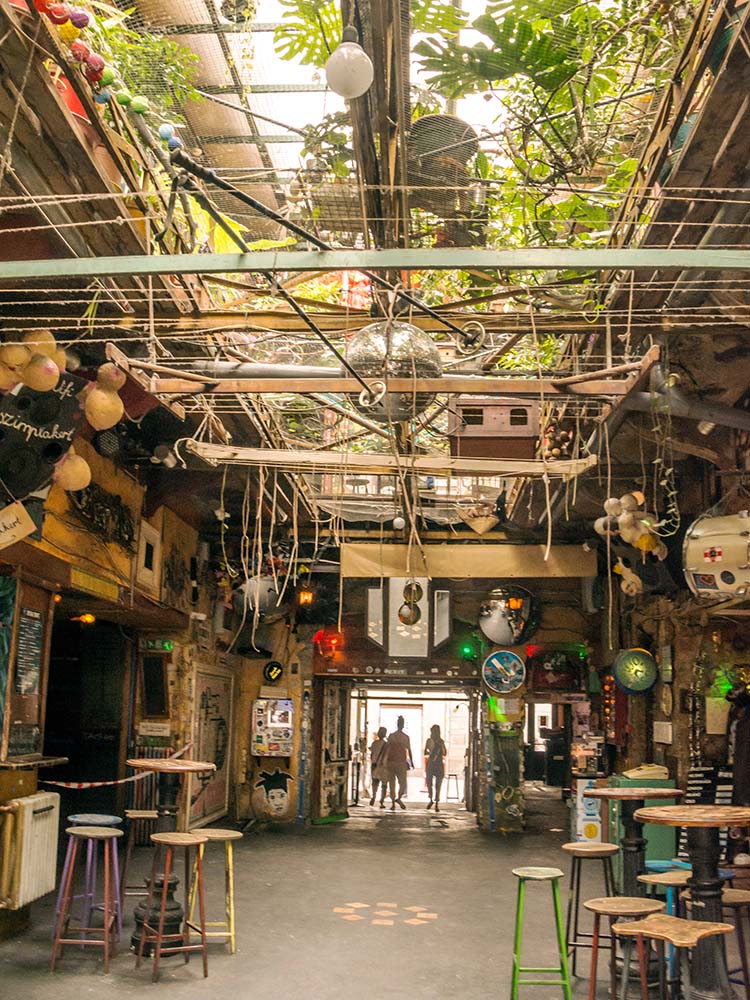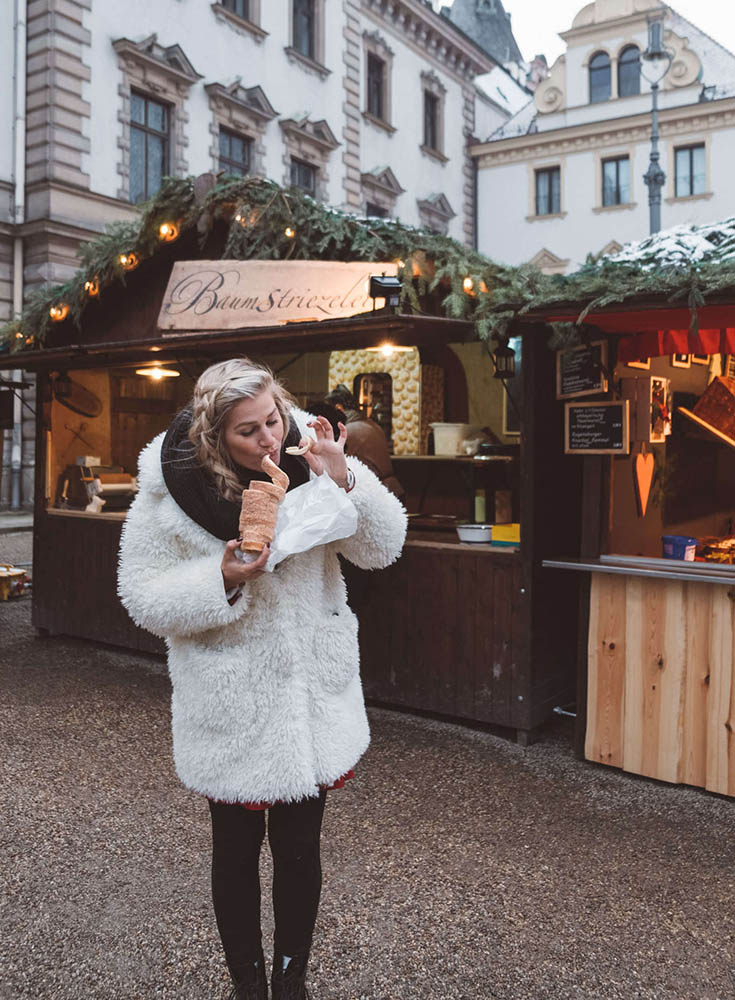 Go on a Food Tour
Hungarian food is comforting and filling, and you'll have plenty of opportunities to sample it during your trip to Budapest.
For a more traditional Hungarian meal, check out Hungarikum Bistro. This restaurant is popular for a good reason and is often bursting with tourists and locals alike. Be sure to make reservations in advance so that you can get a table to eat all of the goulash and pork dishes you want!
For a popular Hungarian street food option, try trdelnik from a street vendor.
This sweet treat consists of rolled dough that is wrapped around a stick, grilled, and then coated in sugar for the base variety but you may find some elaborate twists on this offered by certain vendors.
Interested in learning more about traditional cuisine in the area? Here are ten of the best Hungarian foods you should try during your visit!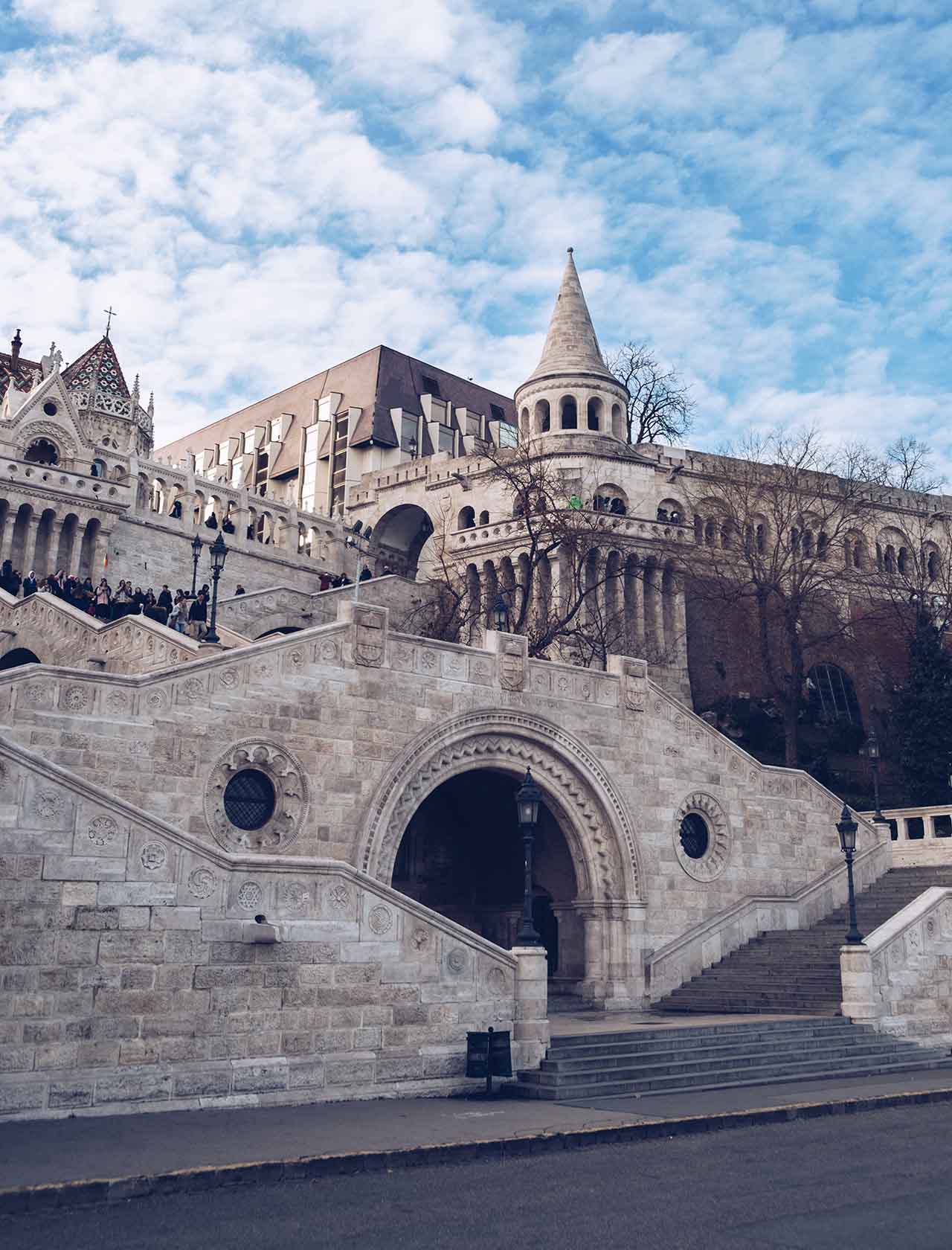 Fisherman's Bastion
Located near Buda Castle, Fisherman's Bastion (or Halászbástya) is one of the most popular of Budapest's monuments and definitely worth visiting.
It's a popular tourist attraction because of its history, but also because of the gorgeous city views that you can see from the castle's lookout terraces.
Some parts of the castle are accessible for free but you'll have the best experience if you buy a ticket to visit the upper areas of Fisherman's Bastion.
Not only will you get to see the lookout terraces but the money spent goes back to the preservation of the castle!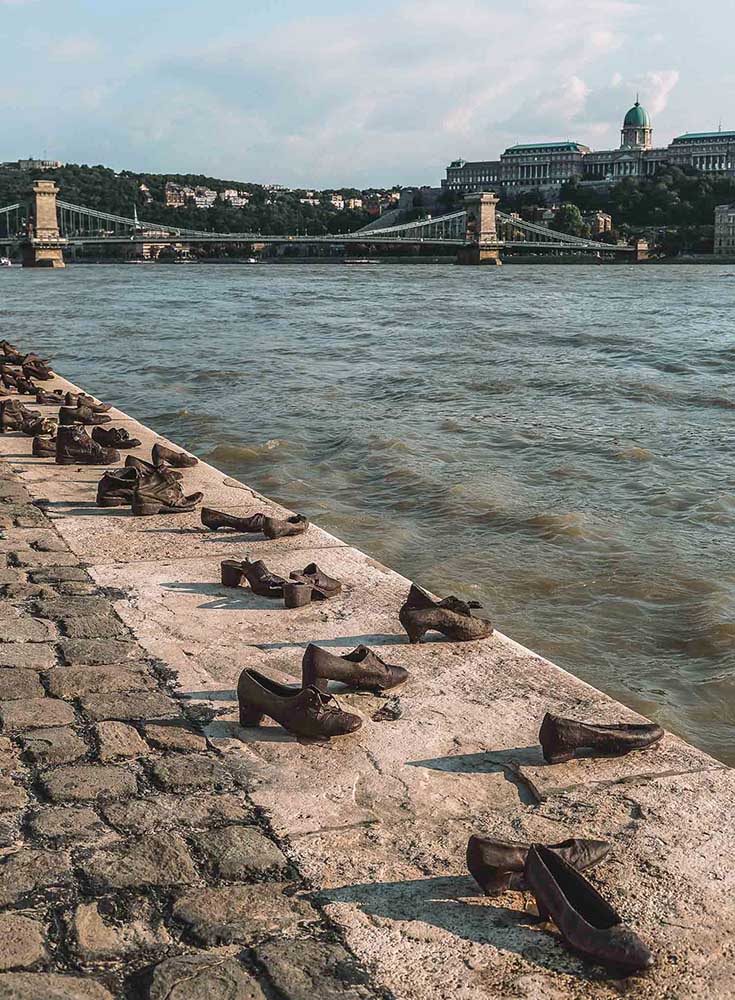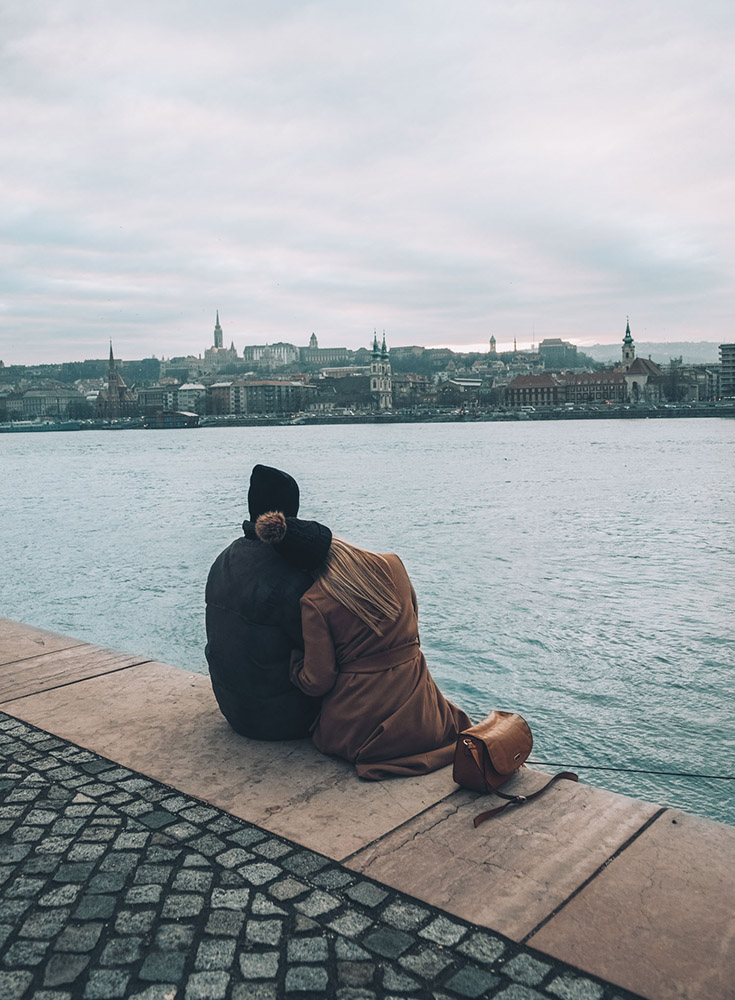 The Danube Promenade
The Danube Promenade will take you between the Elizabeth Bridge and the Chain Bridge and is a wonderful place to walk along to enjoy the ambiance of the city.
It's also a great spot to see many of the famous landmarks in Budapest such as the Buda Castle and Szechenyi Istvan Square.
While here, take some time to pay your respects and reflect on the "Shoes on the Danube Bank" memorial.
The installation was created to honor those who were killed during the Holocaust — these individuals were ordered to remove their shoes and then shot at the edge of the river; their bodies fell in and were washed away.
The somber memorial represents the many shoes left behind on the banks of the river.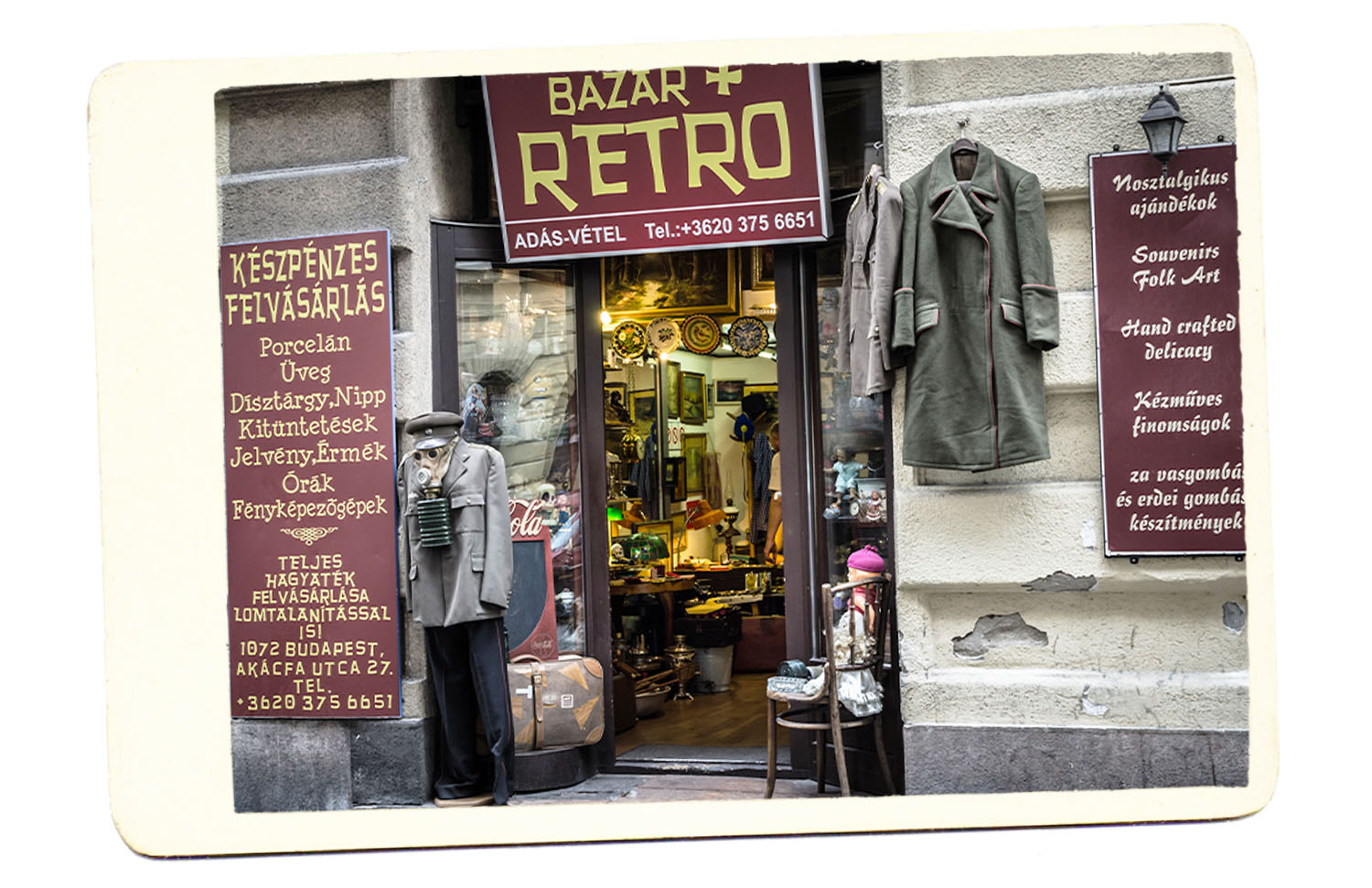 Go Vintage Shopping
If you're a fan of thrifting and shopping for vintage goods, you're going to love exploring Budapest's antique stores and markets.
You can explore small and unassuming boutiques or search through the stalls at flea markets to find some of the coolest and most unique accessories and clothes.
Ecseri Piac is one of the best flea markets not only in Budapest but also in all of Central Europe. Visit first thing on a Saturday morning so you have the most options.

*images courtesy of Sirius Teahaz
Sirius Teahaz
If you love the vibe of a speakeasy but aren't necessarily in the mood for cocktails, Sirius Teahaz is the place for you!
This cute teahouse is pretty hard to find — just look for a handwritten note in a window that marks the spot. When you enter, you may find yourself being led through a cupboard door to your table where you can enjoy a cup of tea and a cozy ambiance.
There are also areas with floor pillows and bunk bed-like platforms where you can also sit while you sip.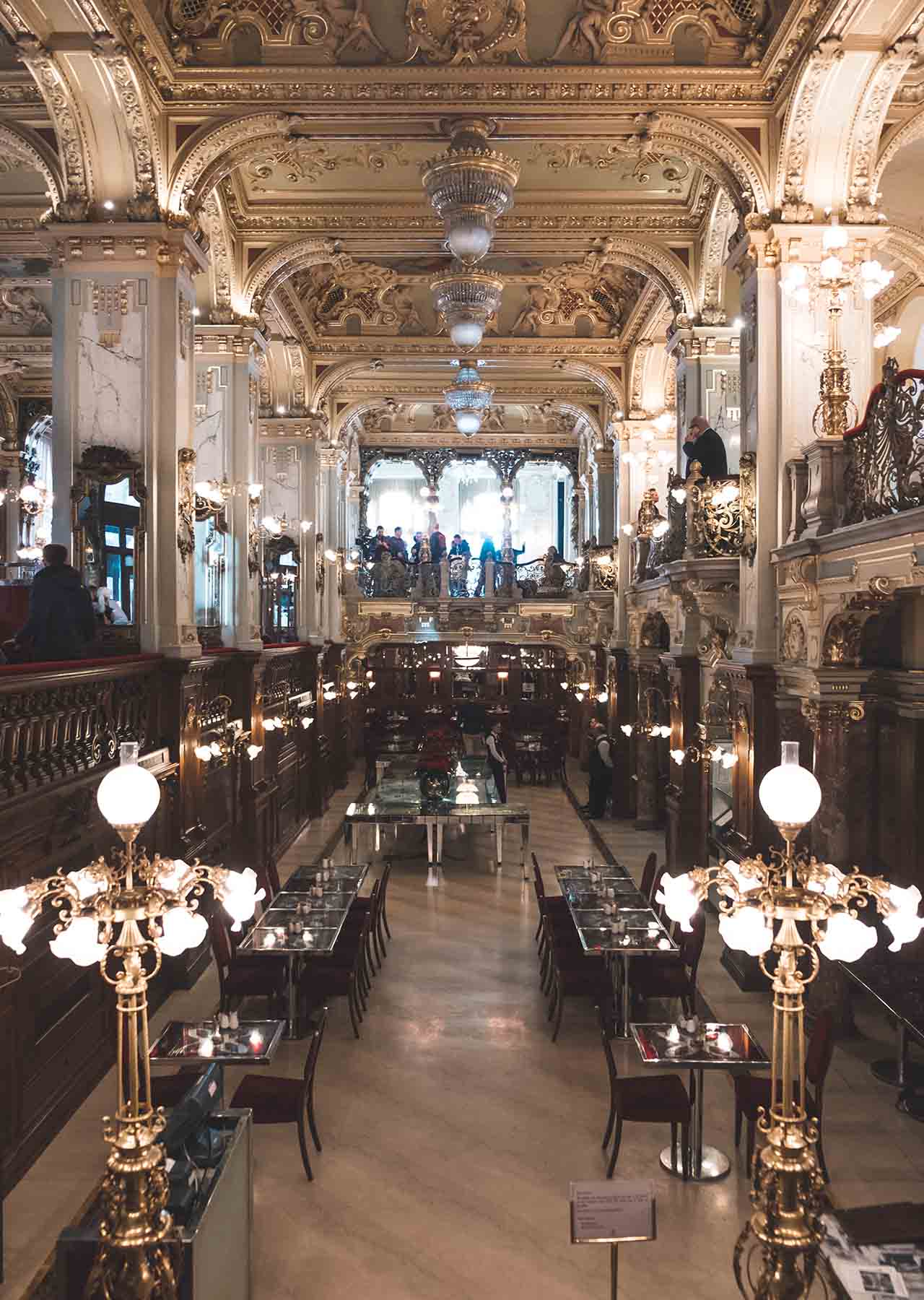 New York Café
The name "New York Café" might make you think of a casual eatery, it's actually an awe-inspiring elegant cafe that's considered to be one of the most beautiful in the world.
It's one of the oldest cafes in Budapest as it first opened over 120 years ago. Throughout its history, it welcomed the city's literary crowd as well as artists and great thinkers.
When you step inside this Italian Renaissance-style building, you'll be impressed with the ornate decorations but make sure you look up so you don't miss the high ceilings, frescoes, and sparkling chandeliers.
While there are main courses available, the highlight of the New York Cafe's menu is the selection of desserts!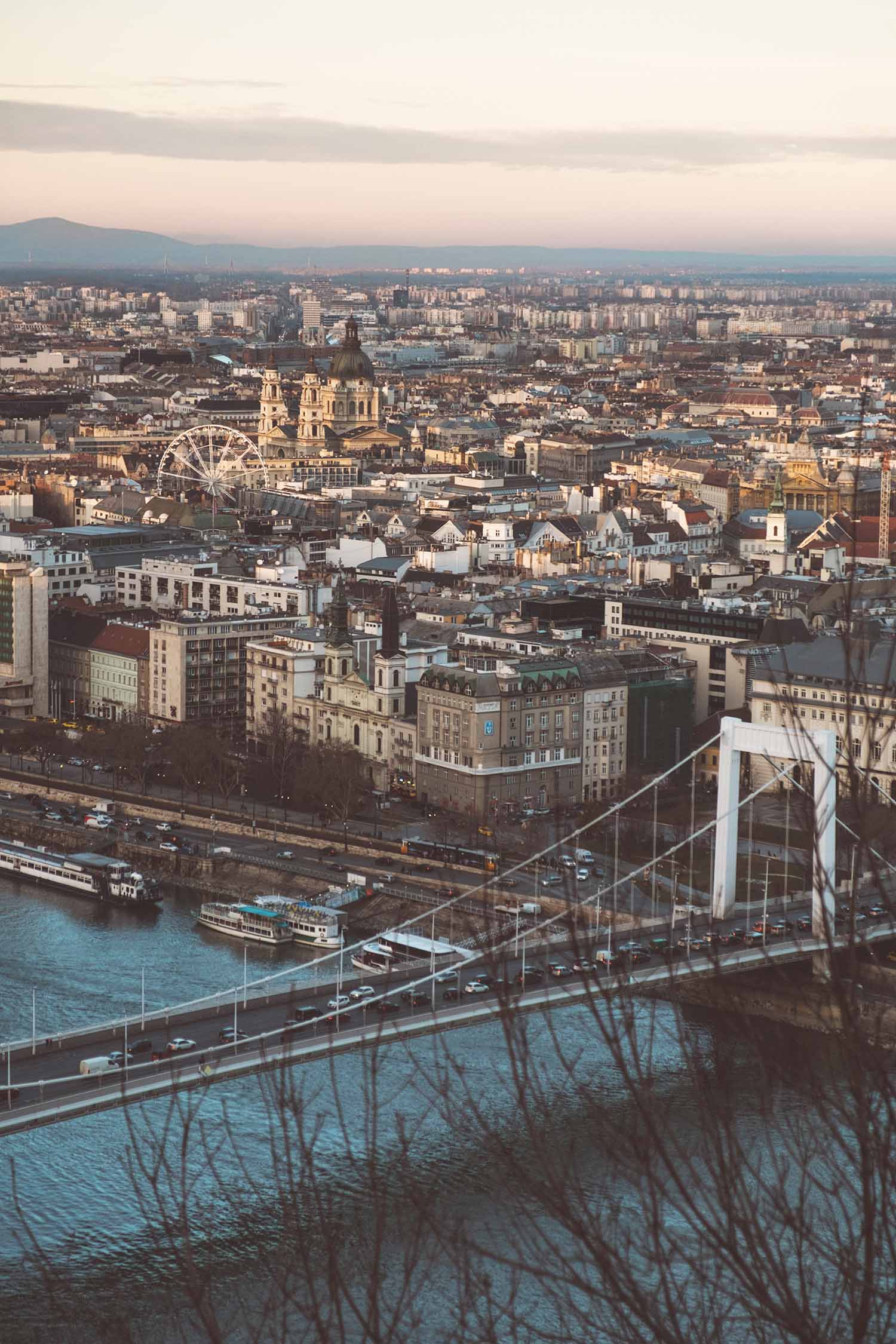 View of the Danube River
Take a Cruise Along the Danube
The Danube River can be enjoyed in many ways but taking a cruise along this Budapest waterway is one of the best.
You can opt for a daytime boat ride which usually costs less, especially if you go for one of the boat tours that have fewer frills. You'll still be able to see amazing views of Budapest and sites like the parliament building while you cruise the river.
That said, if you are interested in a more glamorous cruising experience, you do have options. You can find several boat tours that include dinner and drinks, or you could even go for a multi-day experience if you're up to it!


Bonus: Christmas Markets
If you're visiting Budapest in December, you'll definitely want to take some time to explore the city's Christmas markets! You can find gifts and souvenirs to take home as well as Christmas decorations and accessories such as handcrafted ornaments.
There's also ice skating available for a full winter season experience.

Inspired to start planning your dream Budapest adventure?
Check out this handy guide to the best time to visit Hungary!