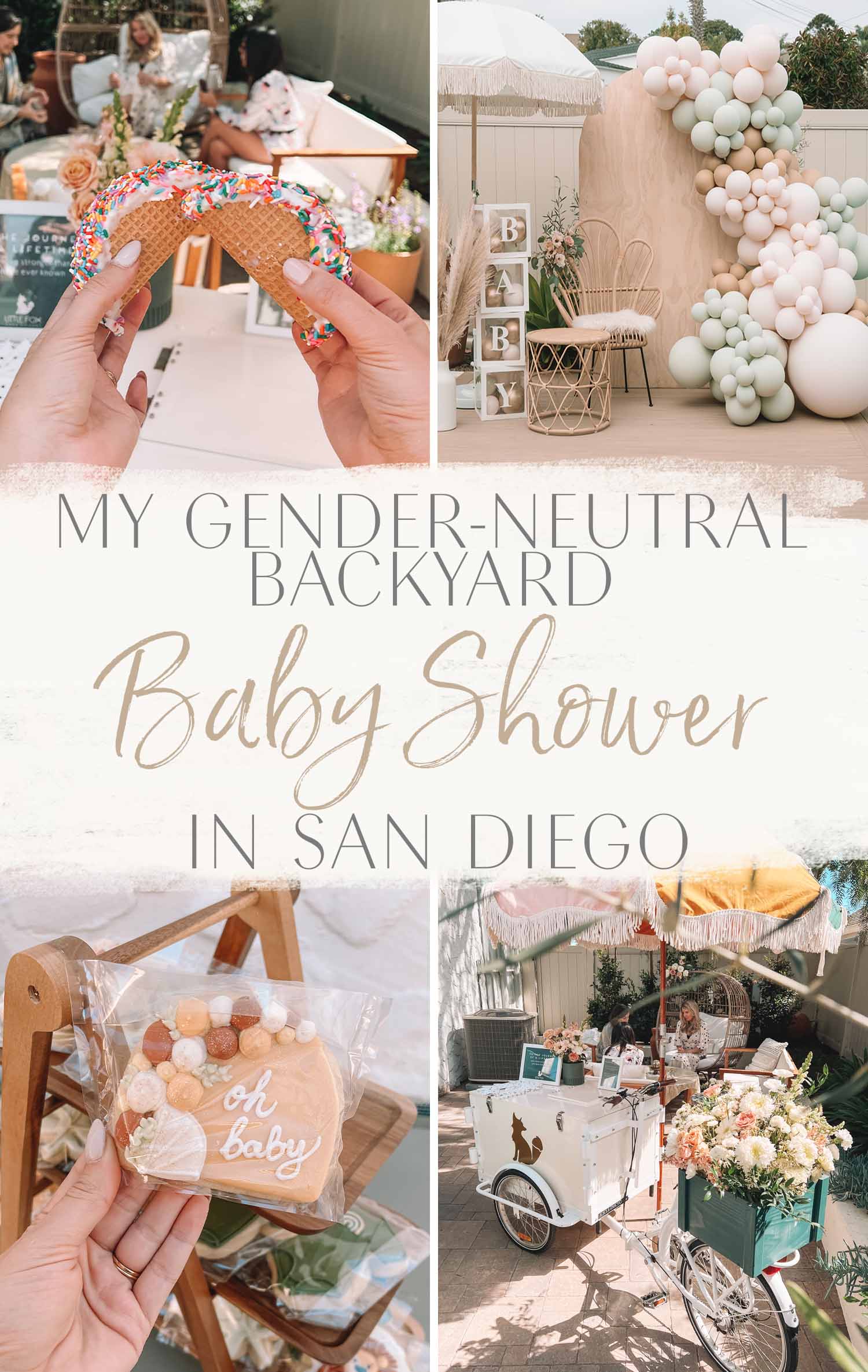 I'm feeling those pregnancy hormones in a big way after the celebration my friends and family threw for me and baby!
Our backyard looked so beautiful and was filled with so many of the most important women in my life.
My mom and bestie pulled out all the stops with so many thoughtful details. Everything from the florals to the gift bags of popcorn and cookies was incredible.
There were so many surprises — including a tarot card reader!
A huge thank you to all of my friends and family (present and afar) that have been so supportive and loving throughout this exciting time — I love you and am so grateful for you!
If you're looking for baby shower ideas — from baby shower decorations to baby shower games — I'm sharing all the details of my gender-neutral backyard baby shower in San Diego!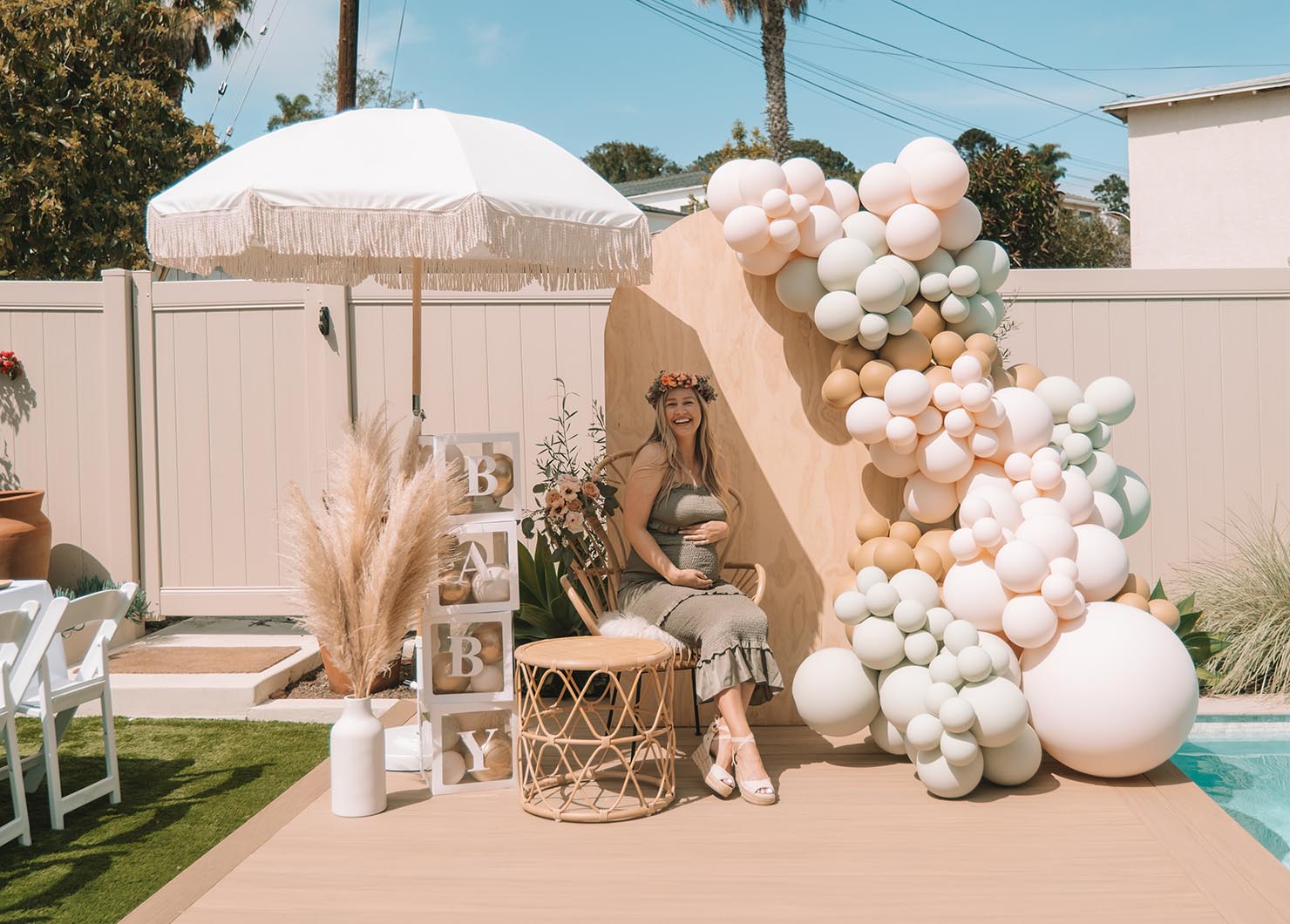 Common Baby Shower Questions
When do you have a baby shower?
There is no "right" time to have a baby shower, but it's common to have a baby shower anywhere from one month to three months before the baby's due date. After the 20-week mark is a good bet…but not too late, or the little one may be at the shower!
I had mine at 26 weeks and felt it was perfect. I was looking pregnant but not feeling TOO pregnant. I also wanted to have mine early enough so that I had time to shop for anything that I didn't receive off my registry at the shower.
Keep in mind that many to-be parents like to have at least a few weeks of cushion to unpack gifts, write thank you notes, wash new clothes and finish setting up the nursery.
What do you wear to a baby shower?
Consider if the event is outdoors (mine was in my backyard), or indoors (like at a restaurant or someone's home). Typically you'll want to dress up a bit — think "garden party" and sundresses. Do be mindful of the season as that definitely dictates things, and consider if you'll need sunscreen or not!
Who hosts a baby shower?
As with everything else — there is no hard and fast rule about who should host a baby shower. However, it is typical for a sister, mother, mother-in-law, or close friend to be the host. That said, several people can team up to put on a beautiful day (for me, my mom and bestie threw my baby shower!).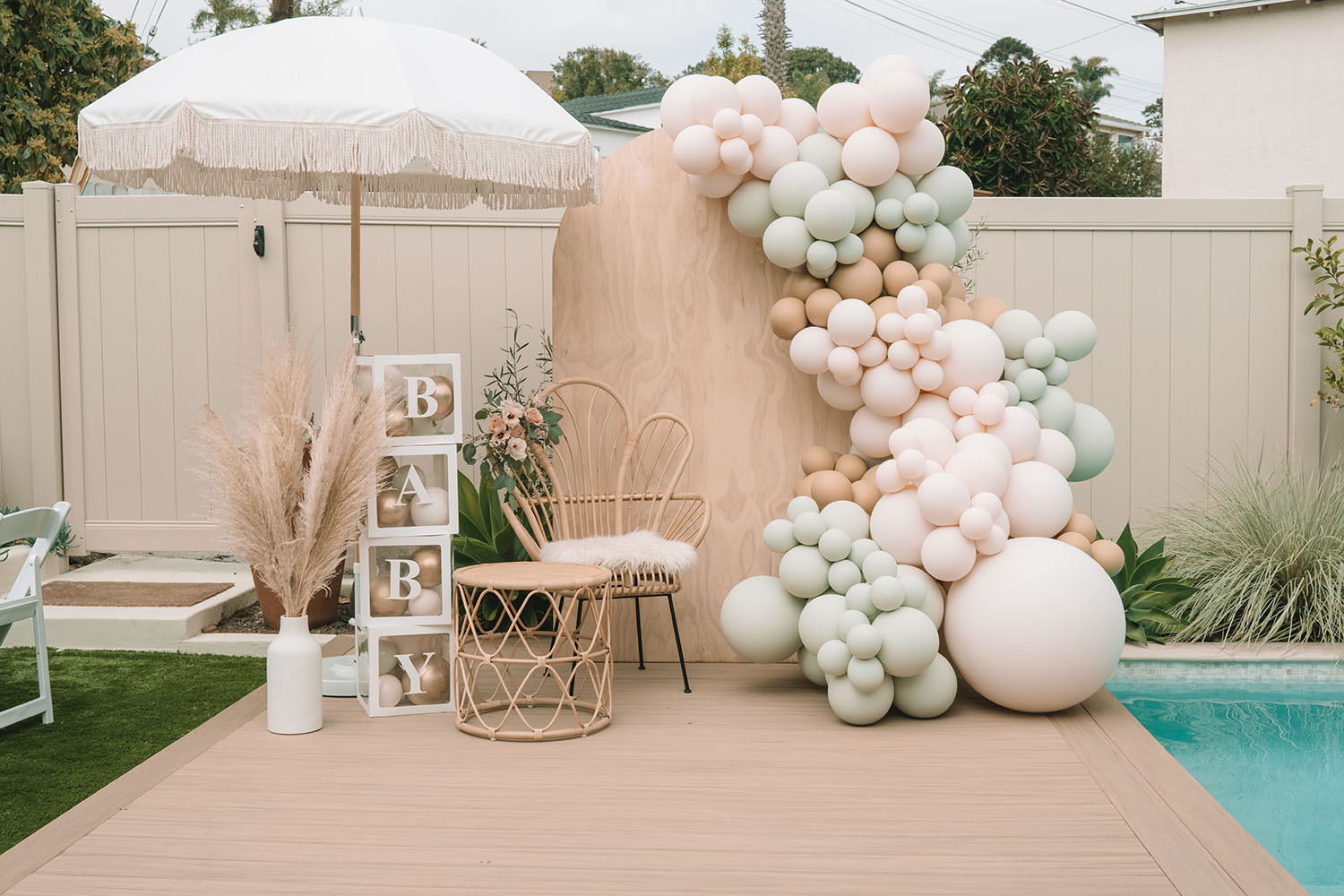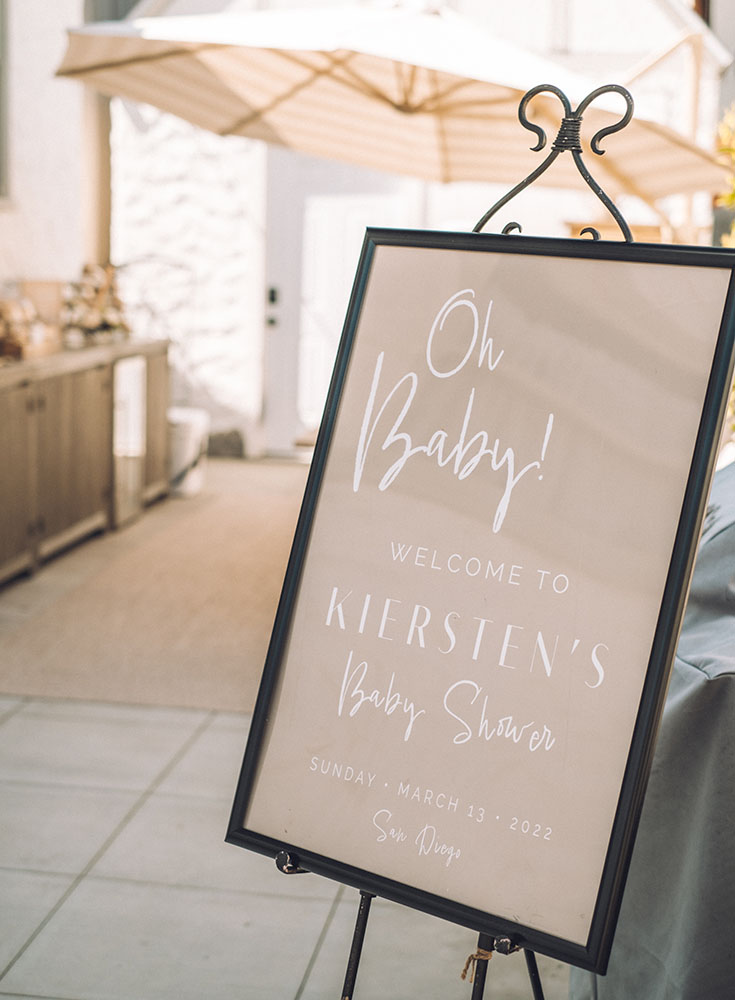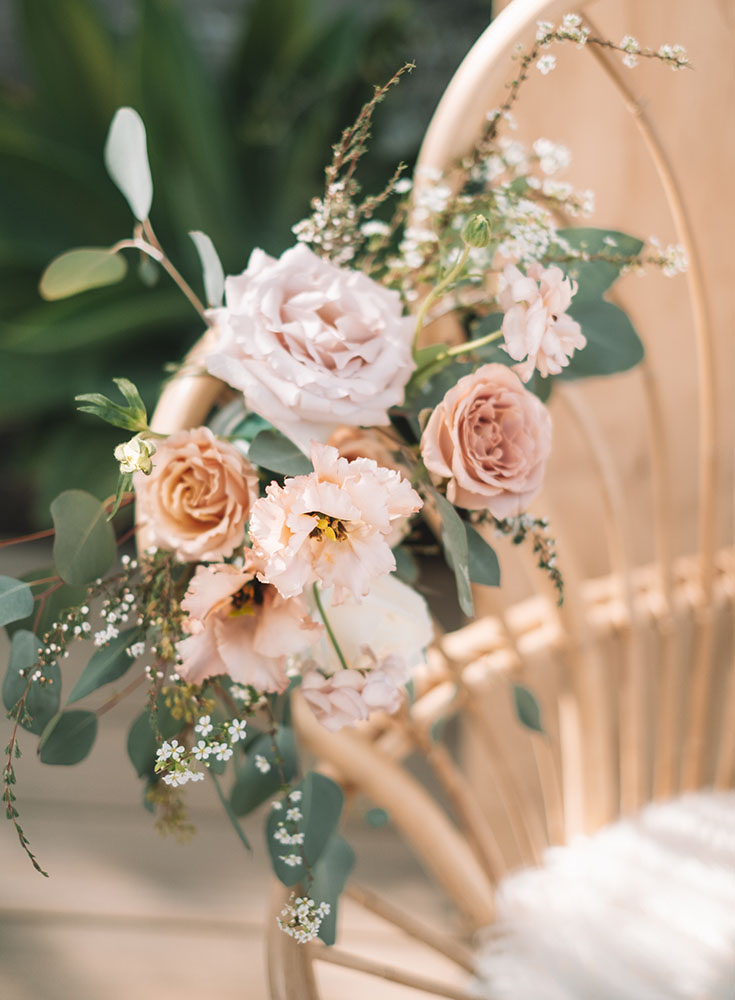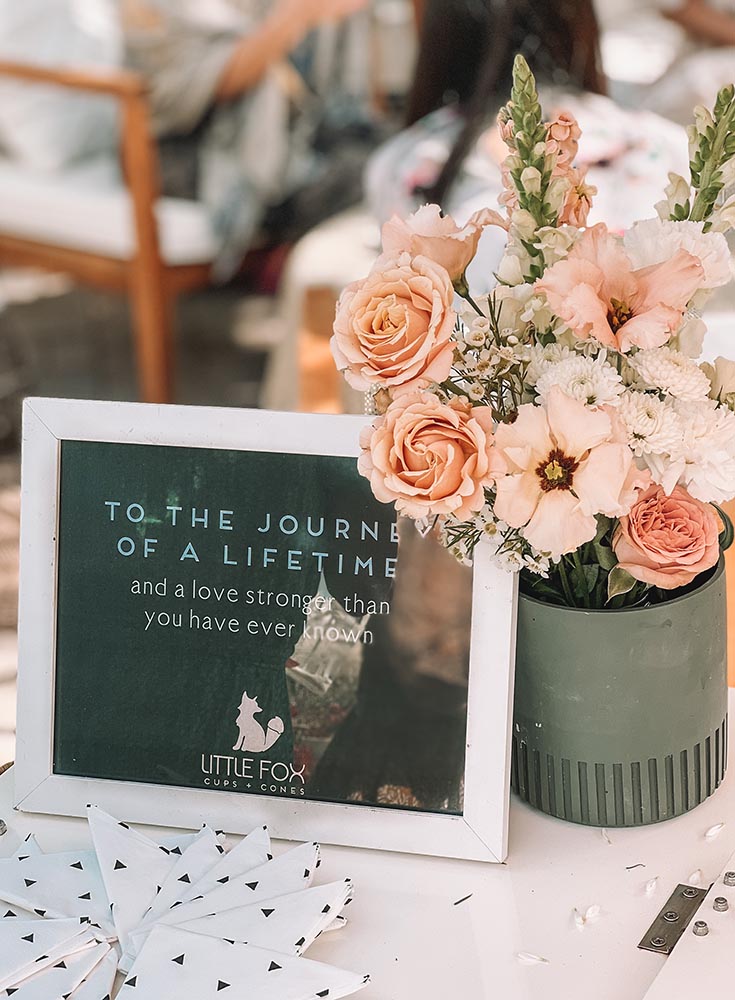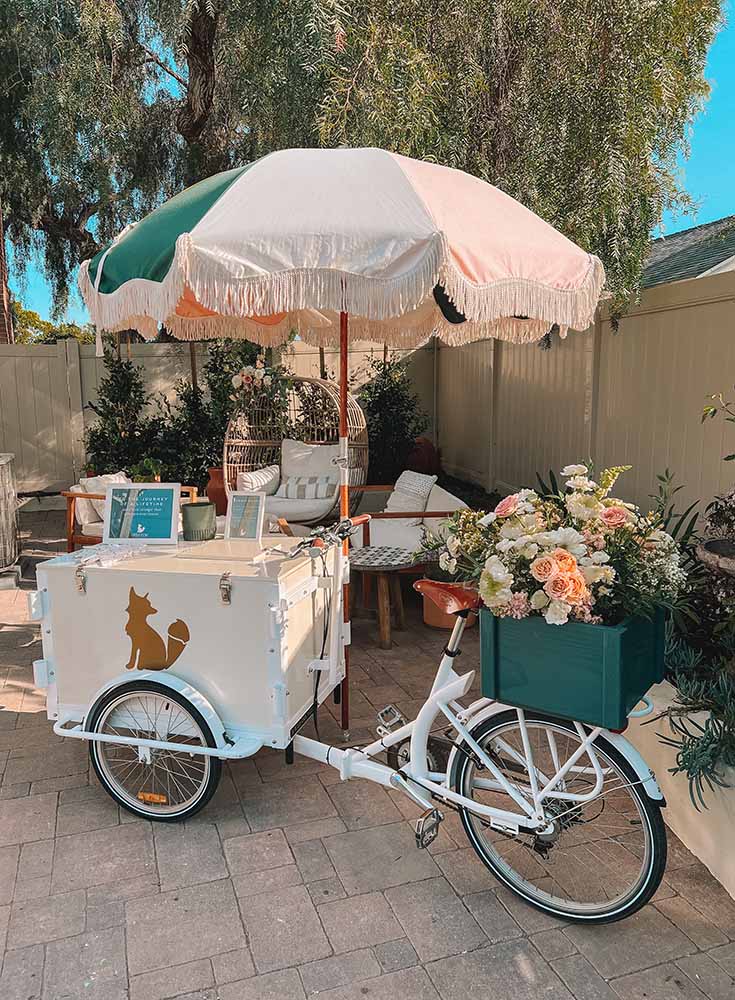 Baby Shower Details & Decorations
When it comes to baby shower decorations, a few amazing local San Diego female-owned brands helped make the day so special.
They create biodegradable balloon installations that made the whole setting seriously *pop*. Keeping with my love of neutrals, we opted for soft pastels and neutral hues.
We went through Boho Babes to rent my peacock chair, side table, and backdrop. This became a little mom-to-be seating area for cute photos and a place to open gifts.
As an added bonus, they work closely with Gather and Pop Balloons so they can really customize and make your dream setup possible!
I'll talk more about Little Fox's ice cream tacos in the food section, but I love that this doubled as both food and decor!
The rental from Little Fox included the darling bike with a floral arrangement for the basket.
Geode Place Settings (DIY)
For each place setting, we bought small geodes on Amazon and were able to DIY all the names with a Cricut printer. Such a fun personalized touch that elevated the whole thing!
Baby Balloon Blocks
We actually found the baby balloon blocks on Amazon and Gather and Pop brought some extra balloons to fill them with.
Florals & Additional Furniture Rentals
We went with a local company to rent the chairs and long tables for our picnic graze. For florals, you can do as little or as much as you like! I loved having fresh floral details all over, but also consider dried florals!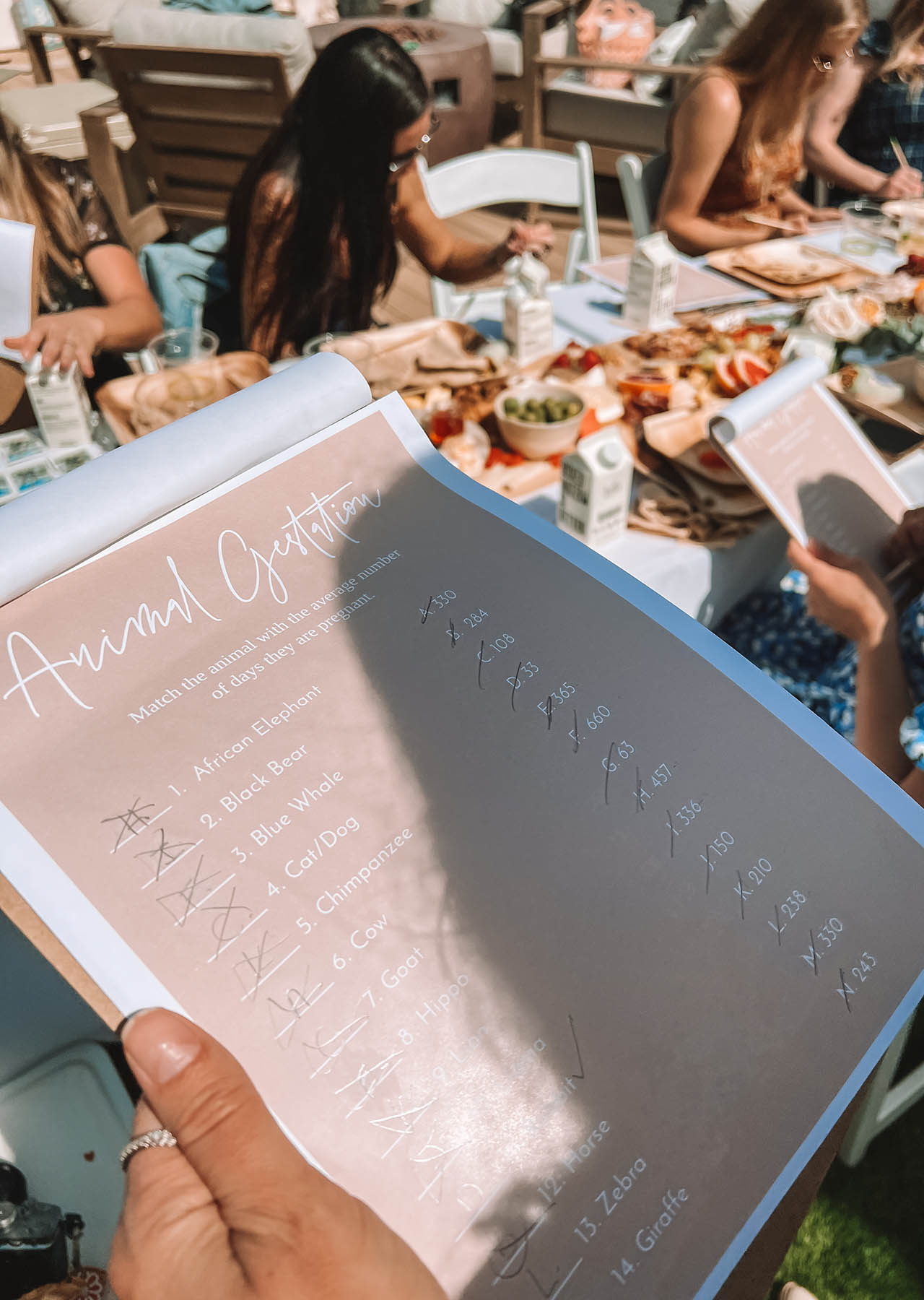 Baby Shower Games
Some people really love or really hate baby shower games…I feel like there's not a real in-between.
While I'm all for baby shower games, I didn't want to subject anyone to smelling a "dirty diaper" and trying to guess the candy bar.
Here are the baby shower games we played instead (and they were a hit!):
Baby Predictions: This one was for me to hold onto until our baby is born, but it included things like what time will the baby be born, how tall will they be, what will they weigh — those sort of things!
The Price Is Right: Guess the prices of each baby essential. The list included things like diaper rash cream, diapers, teething toy, bottle, and baby nail clippers. My mom went to the store and bought all of the things on the list and had the receipt to compare and contrast the totals.
Guess the Animal Gestation Age: Match the animal with the average number of days they are pregnant.
Guess Who: Guess what answers mommy and daddy have given. Questions ranged from who talked about having kids first to who used a pacifier longer to who will say "no" more?
Print each game and attach them to a clipboard with a pencil so it's easy for everyone to play from their seat!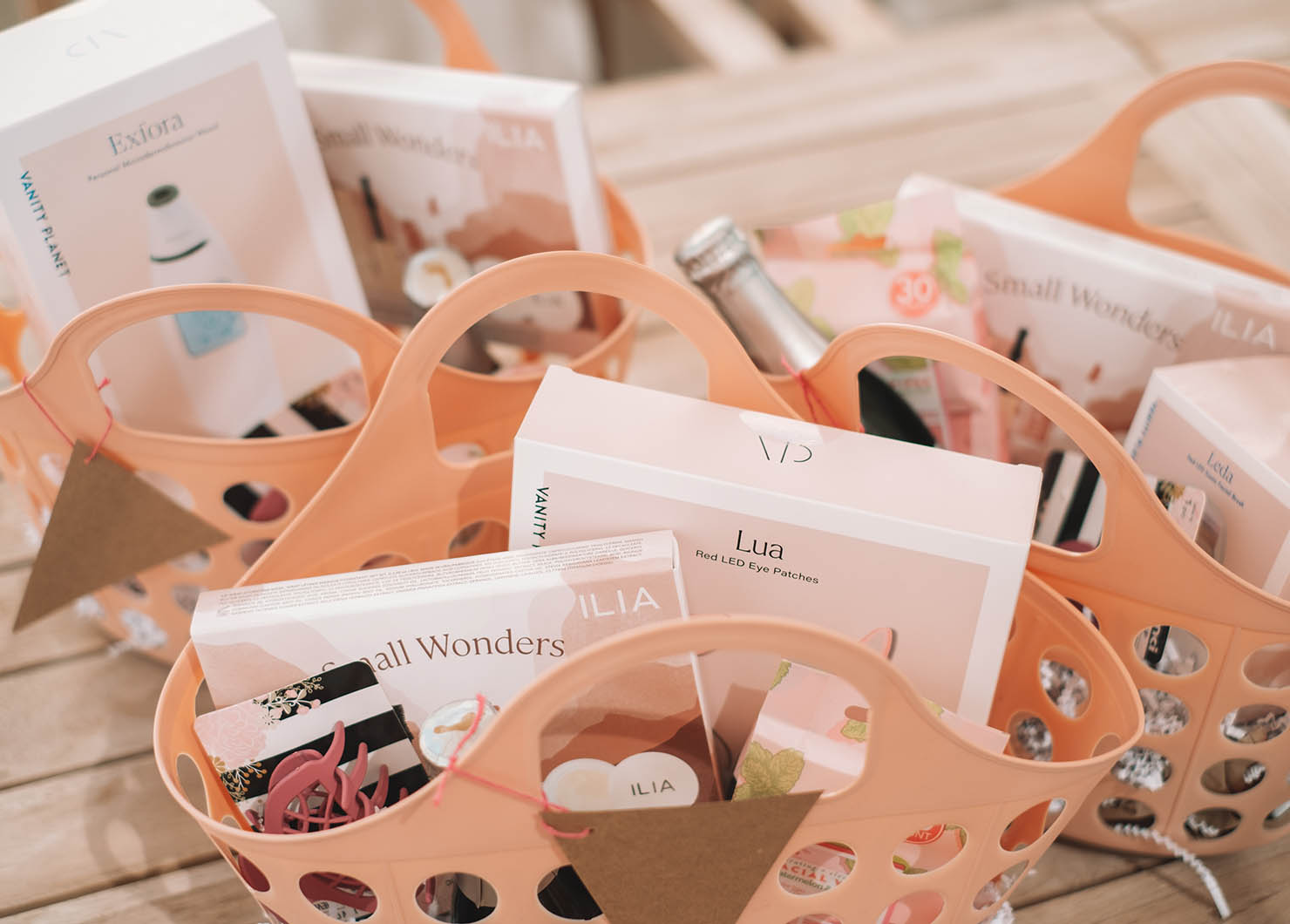 Baby Shower Game Prizes
The games were a huge hit and I had several prize baskets with some of my favorite items available for the winners. Here are a few ideas for prizes:
Vanity Planet — we had a different product in each bag; one had an Exfora Personal Microdermabrasion tool, there was a LEDA Red Anti-Aging Facial Brush, and Loa Red LED Eye Patches

P

ersonal size bottle of champagne

Tarot Card Readings
In addition to all of that, my friend surprised me with tarot card readings! This was "very me" and such a personal touch. She was there for 2 hours to give everyone a reading. That said, hired entertainment could be really fun, so keep that in mind. 🙂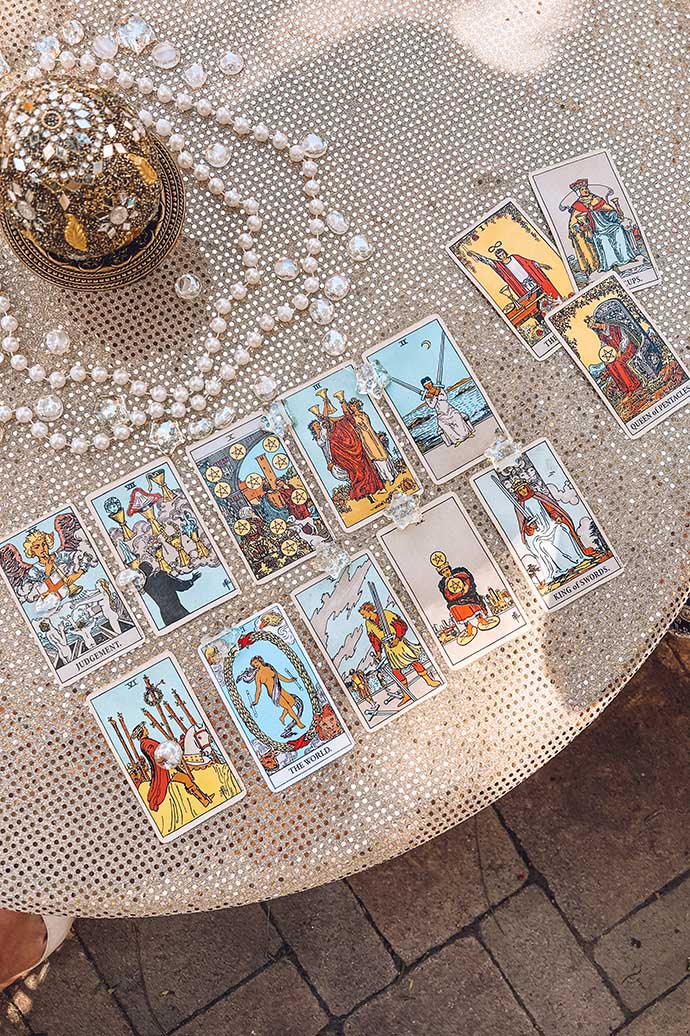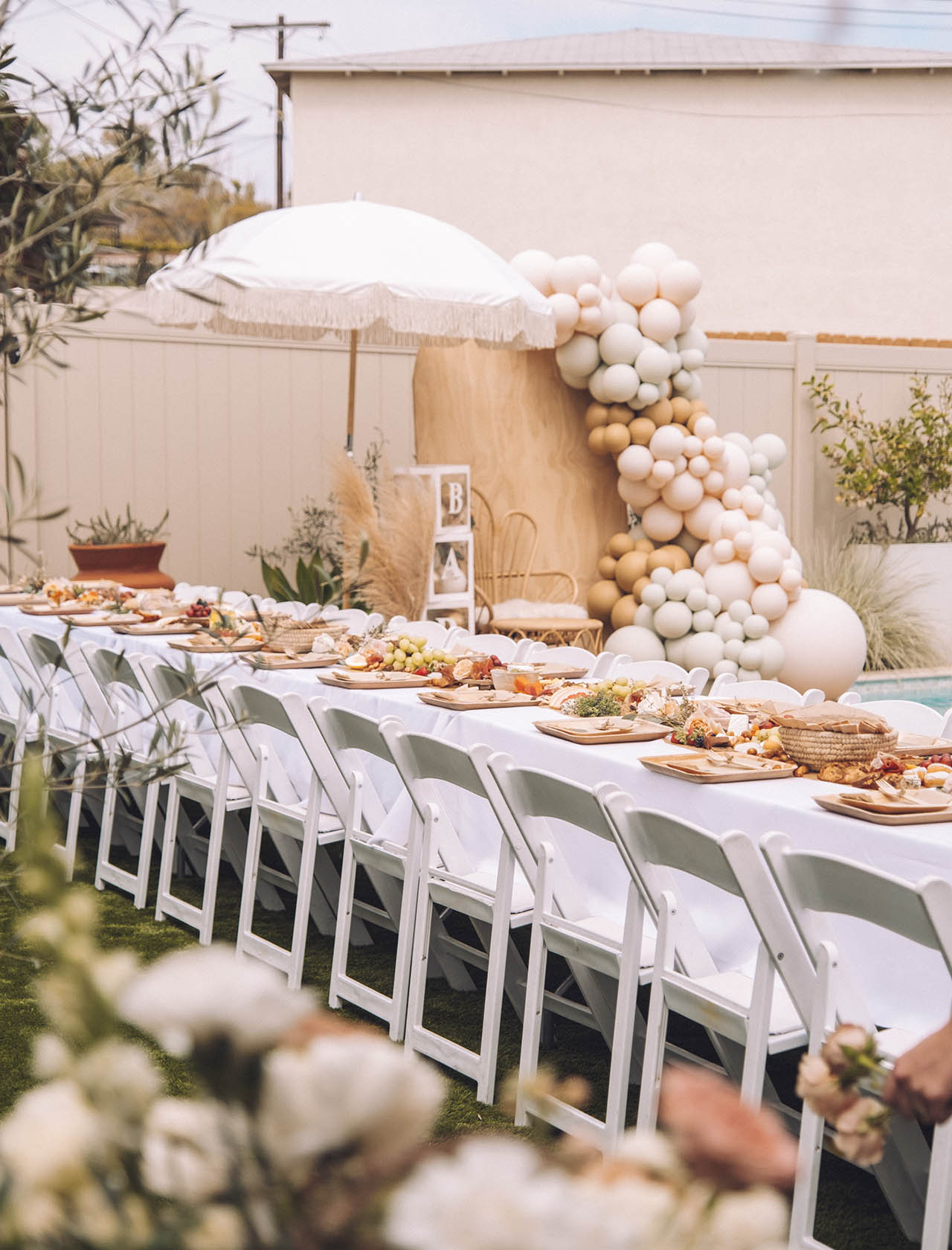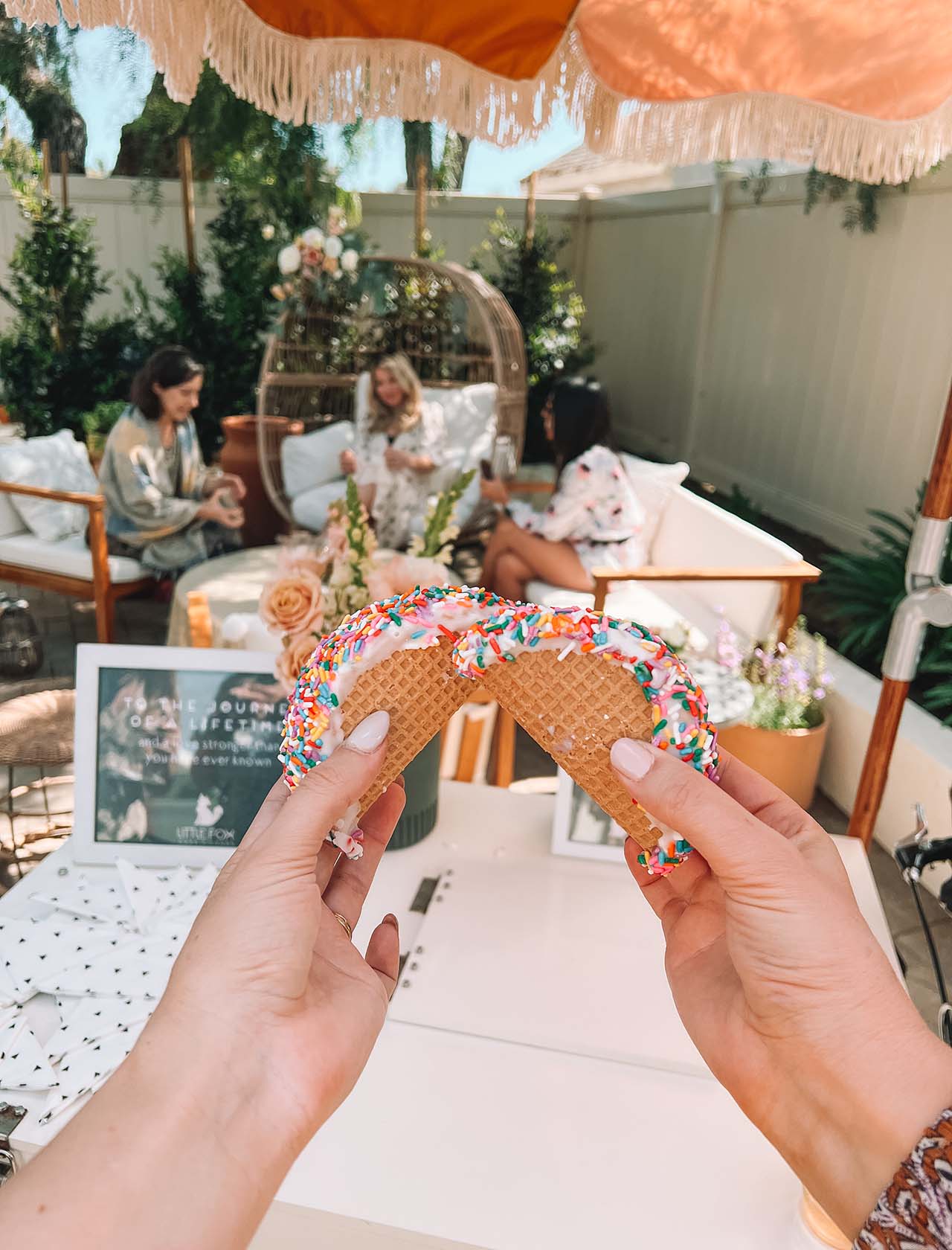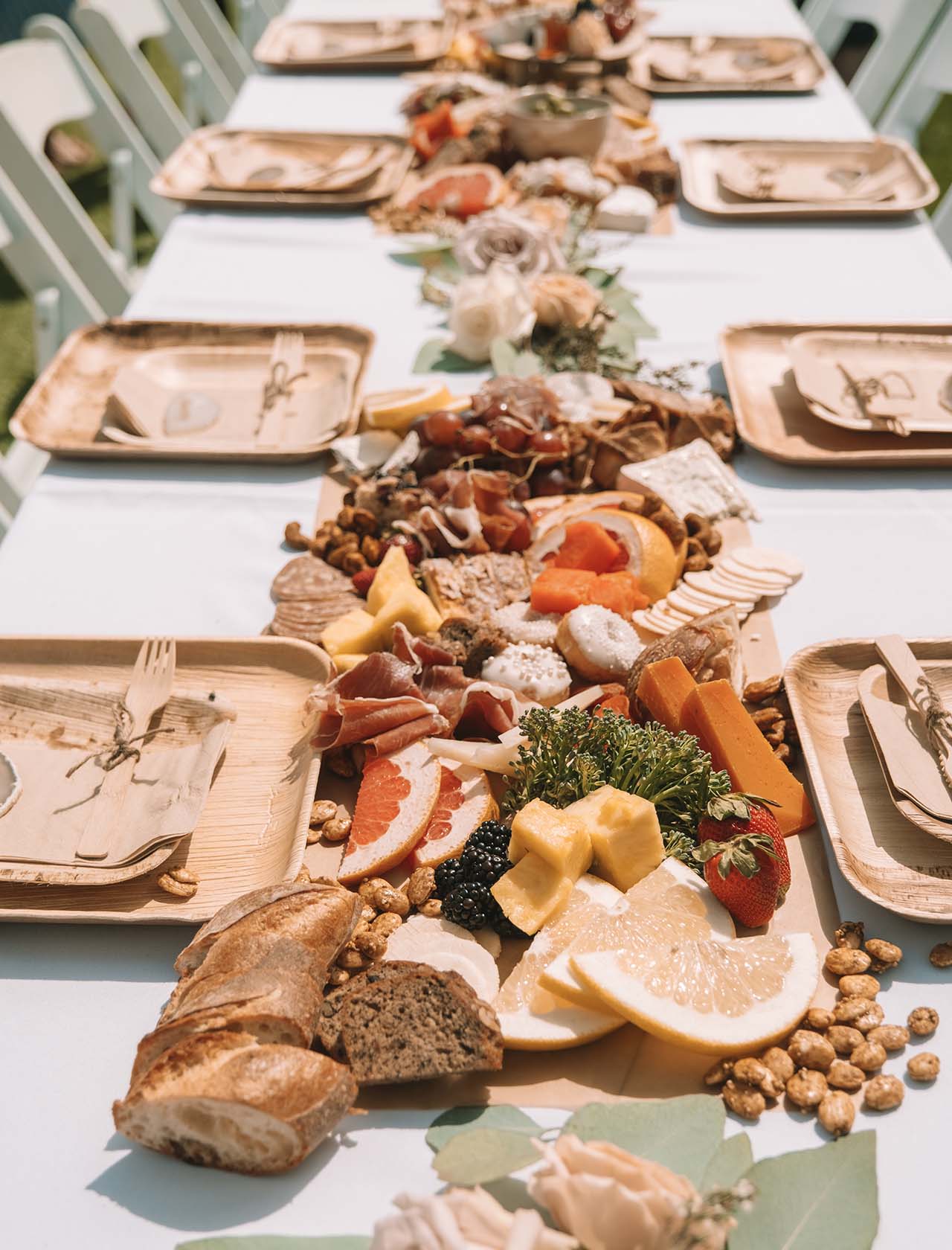 Baby Shower Food and Drinks
We opted for several stations that allowed each person to serve themselves. We opted for a long graze-style picnic lunch, a non-alcoholic drink station, some coolers filled with wine and seltzers, and even an ice cream taco cart!
Graze Table
I've done "graze gatherings" for all my big milestones — for my picnic going away party when I moved to South Africa, for company holiday parties, friend's celebrations, and more.
I love hiring Al Fresko for these events and it's such a fun, communal way of eating together.
Ice Cream Tacos
This was such a tasty treat from Little Fox Cups & Cones! You can pick which flavor ice cream tacos you want — we opted for the plant-based gluten-free flavors (which I love that they can do!).
The rainbow sprinkle tacos are "Let Them Eat Cake" and the peanut butter/chocolate tacos are "Things & Stuff."
Biodegradable Plates and Cups
Living and entertaining as sustainably as possible is super important to me—and it's honestly really easy! We didn't have any single-use plastic drinks and used bamboo plates, bamboo cutlery, and biodegradable cups.
Drink Stations
Since all the food was made for grazing and serving yourself, it made sense to do that for the drinks as well! On the bar cart, we had pre-mixed batch cocktails available in dispensers.
One was an organic pineapple ginger margarita with a floral ginger sugar rim (just mix tequila with this organic margarita mix). The other was a "Mamma Mia Sangria" made with an alcohol-free Moscato, sparkling cider, and fresh melon. It was chilled in the fridge with melon and mint overnight making it nice and fresh.
There were also ice cubes (check out this amazing ice bucket—I have three for entertaining and the ice never melts!) and limes out to top off your glass.
In addition to the cocktail/mocktail cart, we had several coolers available with other drinks.
One cooler featured all non-alcoholic sparkling beverages from a variety of brands. And for those that wanted to fully celebrate, we had lots of rose and white wine in some drink buckets. Our outdoor fridge was also stocked with lots of still water and hard seltzers.
Helpful Tip:
If your baby shower is being held outside, make sure you have ample stations for drinking water and cold beverages available!

Additionally, a sunscreen station is mighty handy — especially on super sunny days!
Hand Washing Station or Hand Wipes
This didn't really cross my mind, but I'm suggesting this for you: have a hand-washing station or hand wipes readily available! This is very necessary, especially with all the grazing and sweet treats…and when the delicious ice cream tacos start melting all over your hand!
Helpful Tip:
Have an outdoor trash can handy, too!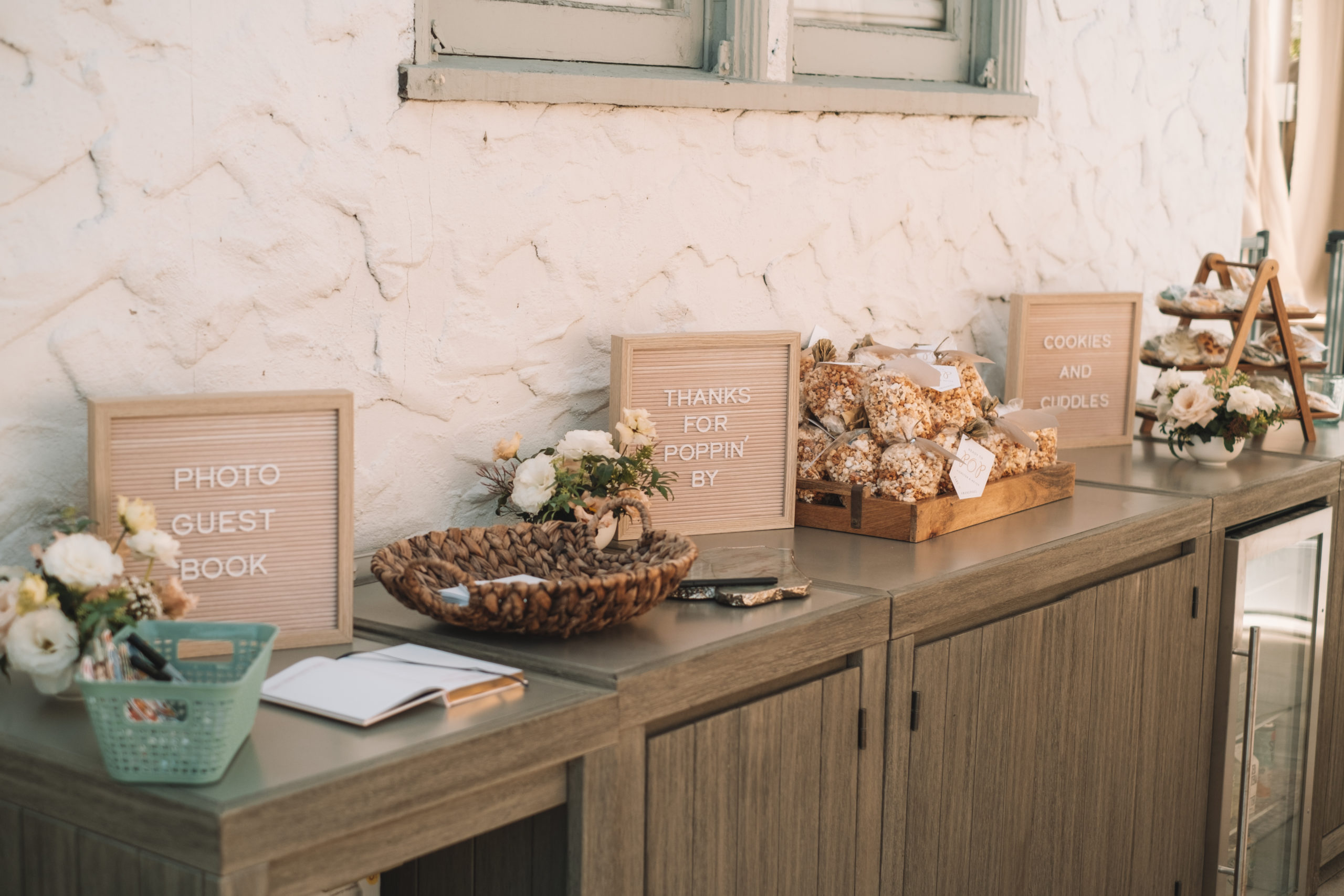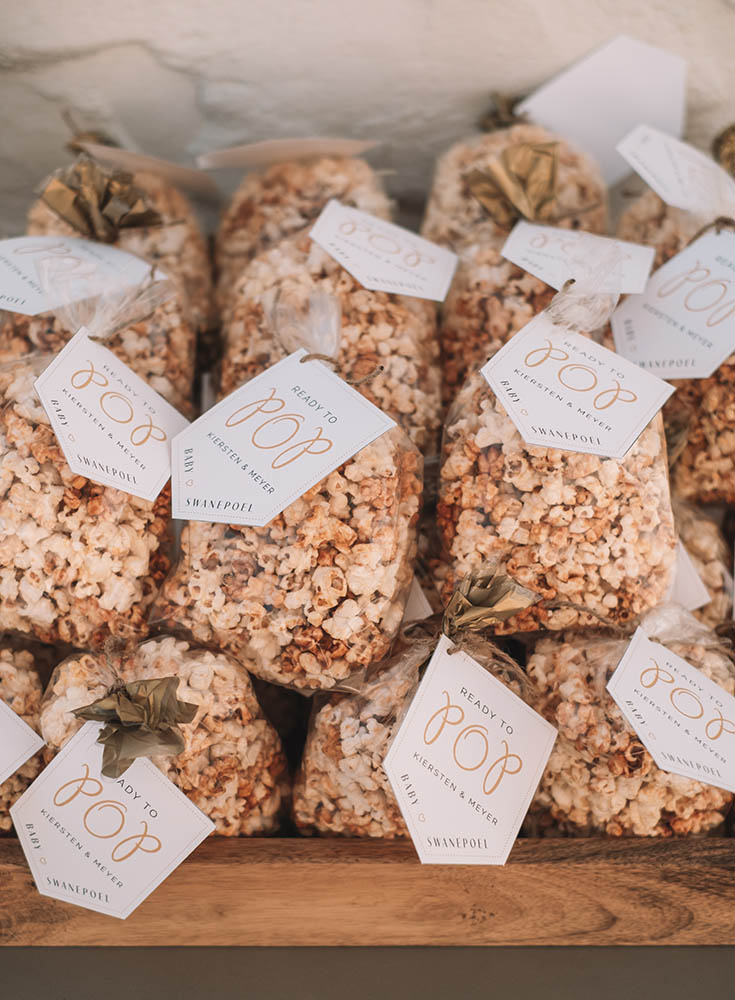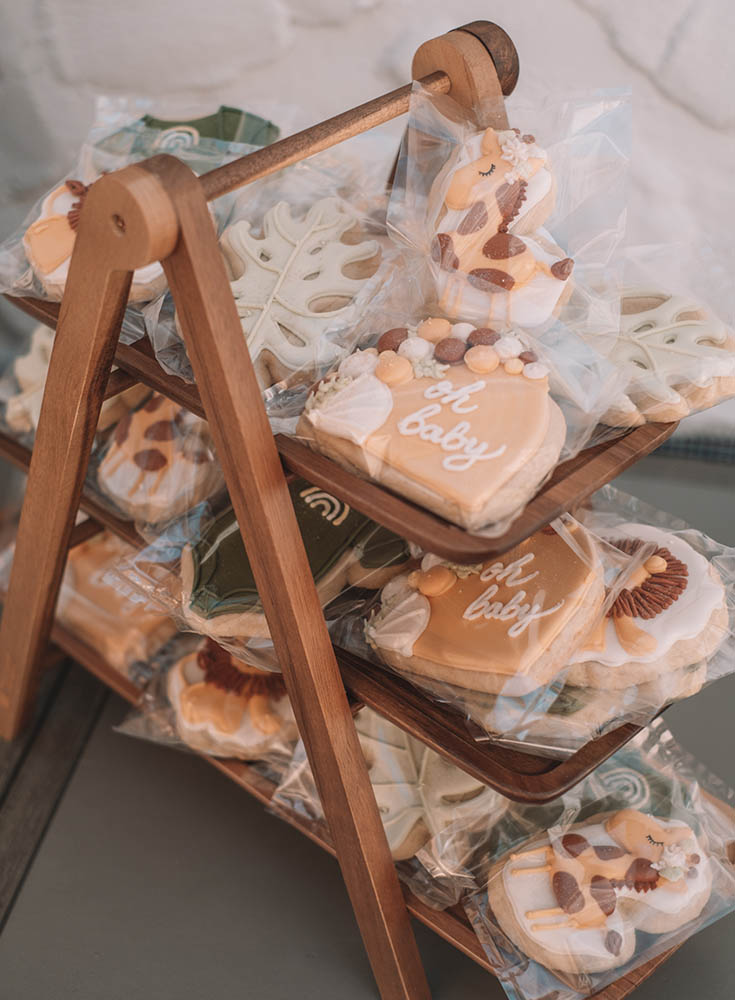 Baby Shower Memories and "Thank You" Goodies
Photo Memory Book
The baby shower hostess took photos of me, the mama-to-be, and each guest — an Instax printer or a polaroid camera work great for this!
The photos were then laid out on a table where each guest could find theirs and tape it inside the memory book and write a note.
Thank You Card Envelopes
Right next to the photo memory book, I had everyone fill out an envelope with their return address to make sending thank you cards a bit quicker! Super handy and convenient.
Thank You Gifts
As a parting "thank you" gift, we gave out bags of sweet kettle corn packaged along with safari-themed cookies from Christina's Confections.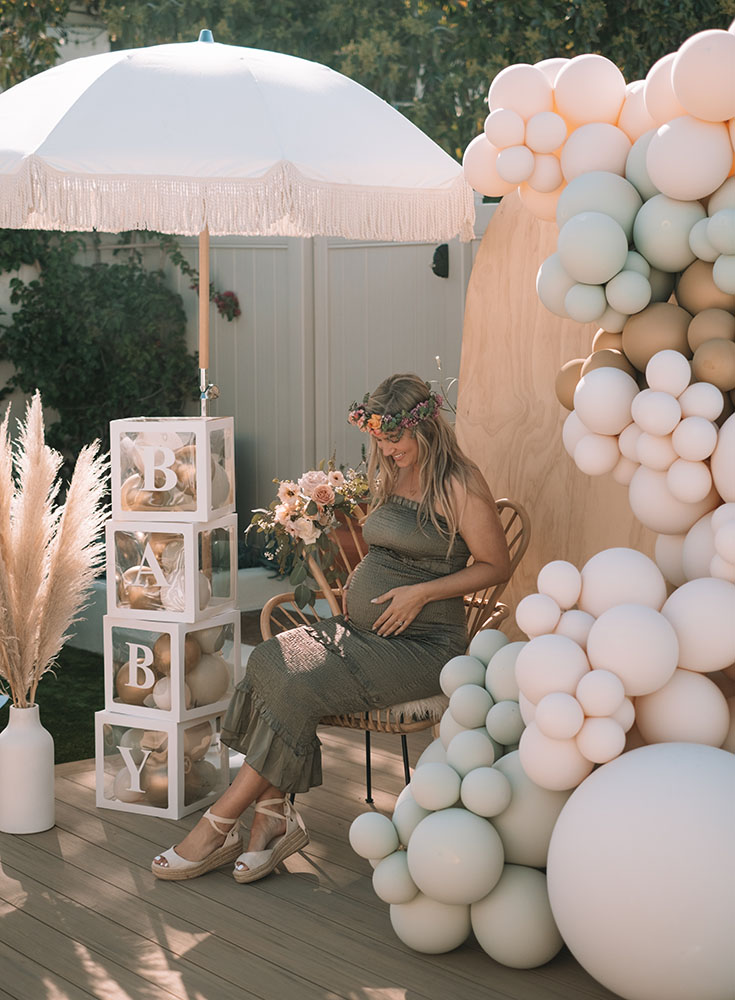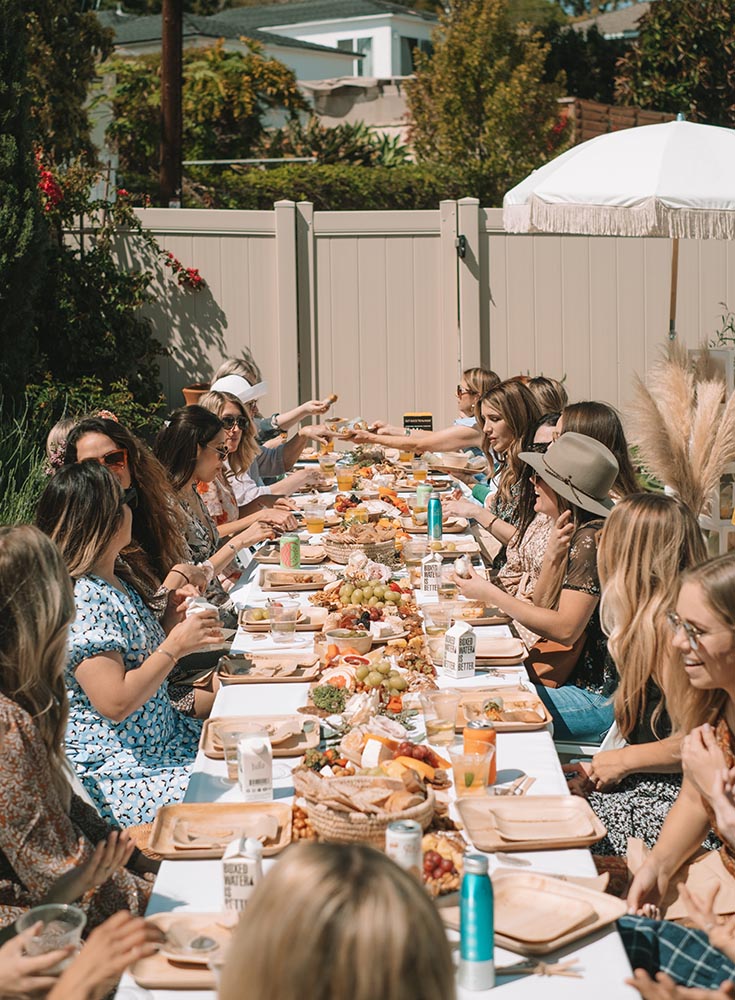 Sample Baby Shower Schedule
Here's a general baby shower schedule for how to map out the day. My shower was on a Sunday starting at 12 pm. While we didn't have a set end time on the invitation, it lasted until about 4 pm.
12 pm- 1 pm: Give folks time to arrive and hang out and chat for an hour or so as people are arriving. This is a great time to take photos with each guest as they arrive for the baby book.
If you hire entertainment, like a tarot card reader, I'd also recommend starting this at the very beginning. Encourage guests to go straight away so everyone has a turn and it doesn't interfere with the rest of the day.
1 pm – 2:30 pm: Eat! Since we had the grazing table it was very communal and allowed for lots of conversation to flow. Guests could casually sit to eat or finish up the tarot card readings.
2:30 pm – 3 pm: Games for 30 minutes
3 pm: Open gifts
As a bonus and something sweet, my best friend met up with my husband and shot a really cute Q&A video where I had to guess his answers to quite a few things along with a recorded sentimental message from him to me.
I was bawling (and in the best way possible).

There you have it — my gender-neutral backyard baby shower in San Diego!  Thank you to everyone who made it possible.
I hope this gives you some baby shower ideas!