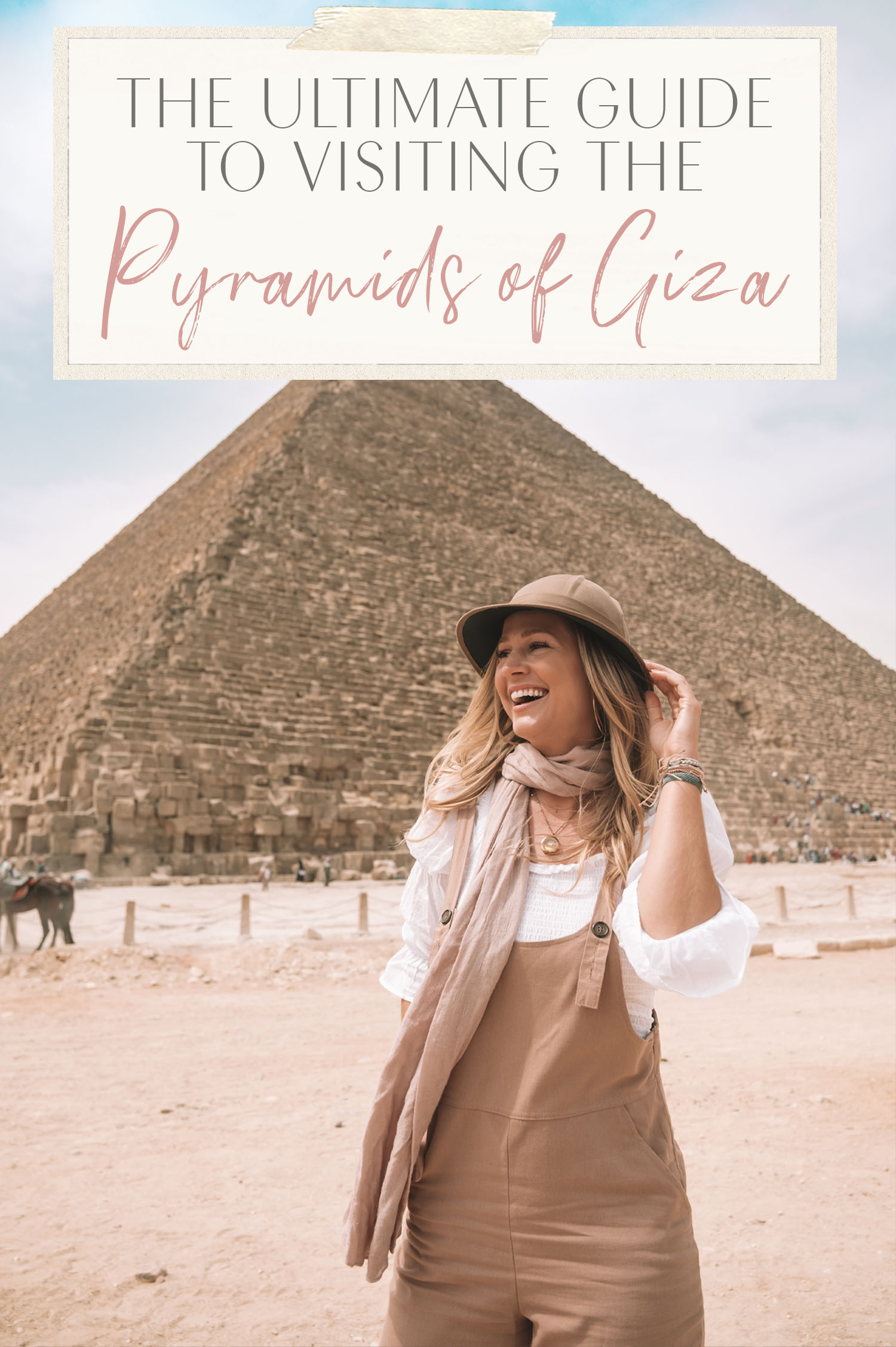 Egypt is one of the most fascinating places in the world. With a profoundly rich history, this is a bucket-list destination for so many.
I finally got the chance to visit for a "sampler platter" tour of Egypt and see the famous Giza Pyramids. This is the only one of the Seven Wonders of the Ancient World still standing and I've always wanted to see it up close and personal.
Ready to experience the magic that has fascinated the world for thousands of years? Here is the ultimate guide to visiting the Pyramids of Giza!


About  the Giza Complex
The area known as the Giza Complex includes the Giza Necropolis, Sphynx, Pyramids, and Valley Temple of Khafre.
Nearly 5,000 years ago, Memphis was the capital of Egypt and Giza served as the burial grounds for the royals. The three pyramid complexes were created in honor of their kings. The oldest of the Pyramids of Giza were built all the way back in 2613-2498 BC and there are so many different layers of meaning surrounding them.
The pyramids are located on the west side of the Nile River because this is the side the sun sets on. Back thousands of years ago, Egyptians believed that the living should be on the east side where the sun rises while the dead should be on the other side.

When to Go
Of course, the Pyramids of Giza are a HUGE attraction. For this reason, I'd highly recommend going during an off time.
Going during the winter will help you beat the crowds (and the summers can be seriously hot!). Whichever time of year you opt to go, start your day early. Head over to the Egyptian Museum first thing in the morning.
The tour buses arrive between 9:30 to 10:30 every morning. They head straight to the pyramids so you can explore the museum solo while they are seeing the Pyramids. Once you are done in the museum, the pyramids will have cleared out a bit and are prime for exploration.
The Giza Plateau is open from 8 am to 4 pm daily (stretched out to 5 pm during the summer). You will absolutely want the full day to explore so come early.
Keep in mind that Cairo is a highly polluted city. It does clear up a bit later in the day so you'll have a better view of the pyramids if you don't arrive first thing.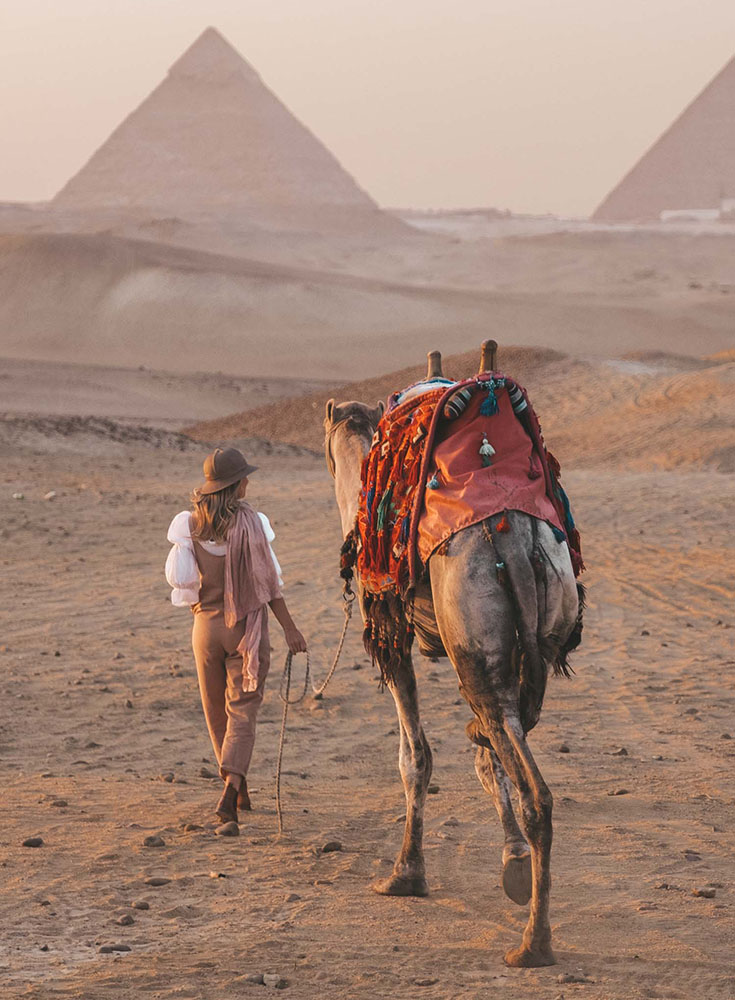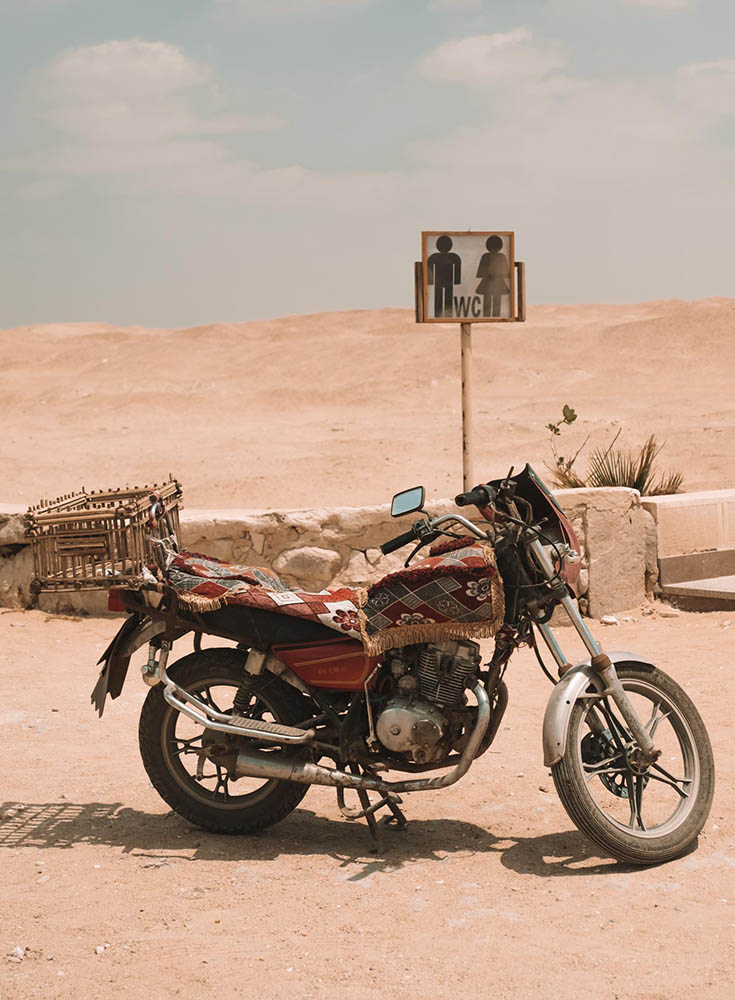 How to Get  There
In photos, the Giza Pyramids tend to look like they are endless miles down a dusty path but they are actually quite central. In fact, they're only about 15 miles outside of downtown Cairo.
I'd highly recommend getting a guide or driver to explore the pyramids. It'll make your day so much better and you'll get more insight. However, if you prefer to go it solo, you can easily find a wide range of bus and taxi options or you can take an Uber. Check out my 10 Tips for Your First Trip to Egypt for details on what to expect.
Interested in Hiring My Recommended Guide? Email Me!
For privacy reasons, I didn't want to share his phone number and email in this post. Once you've entered your email, you'll get an instant response with his contact details! You'll also get infrequent emails with access to travel updates, giveaways and more!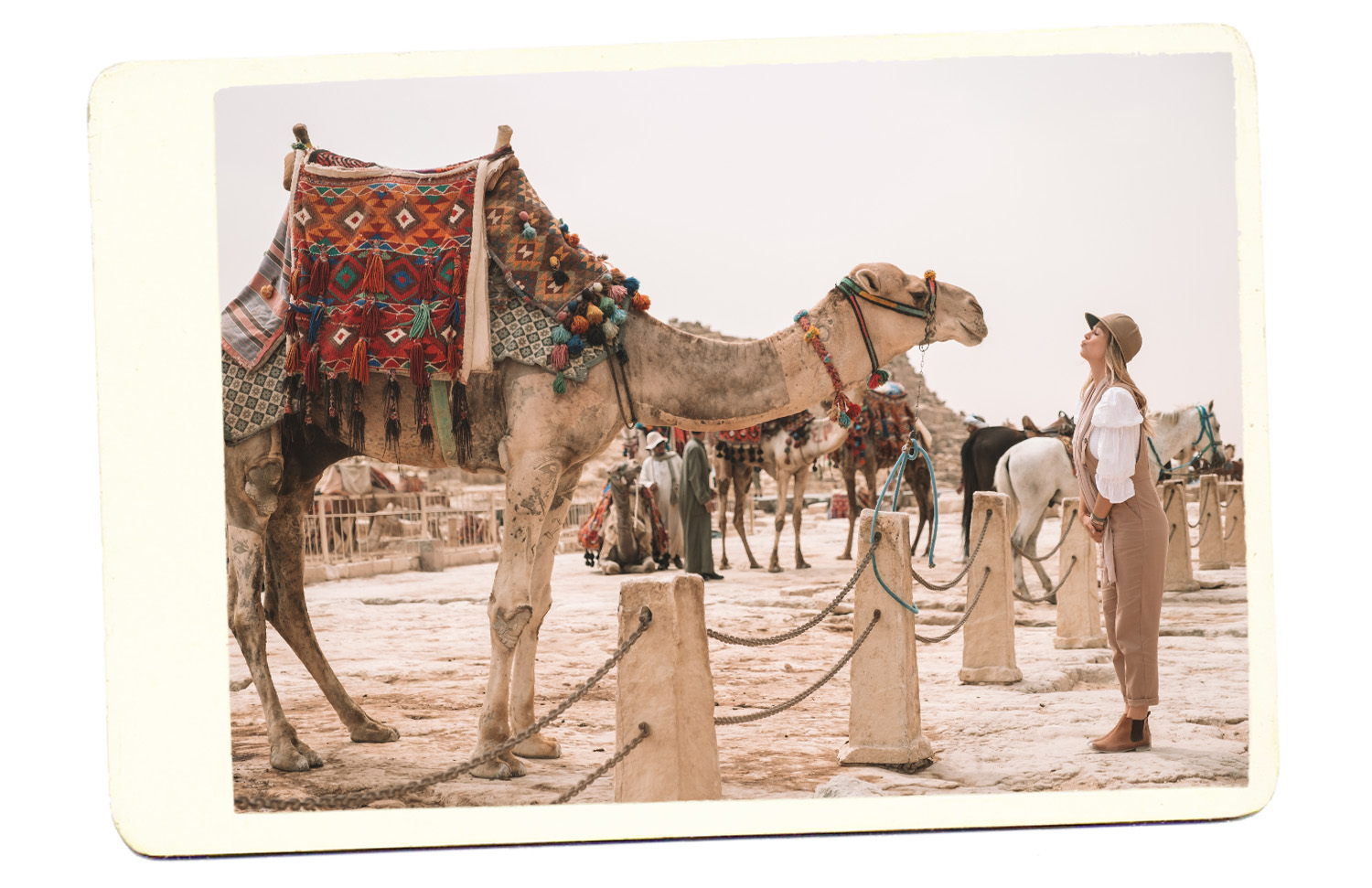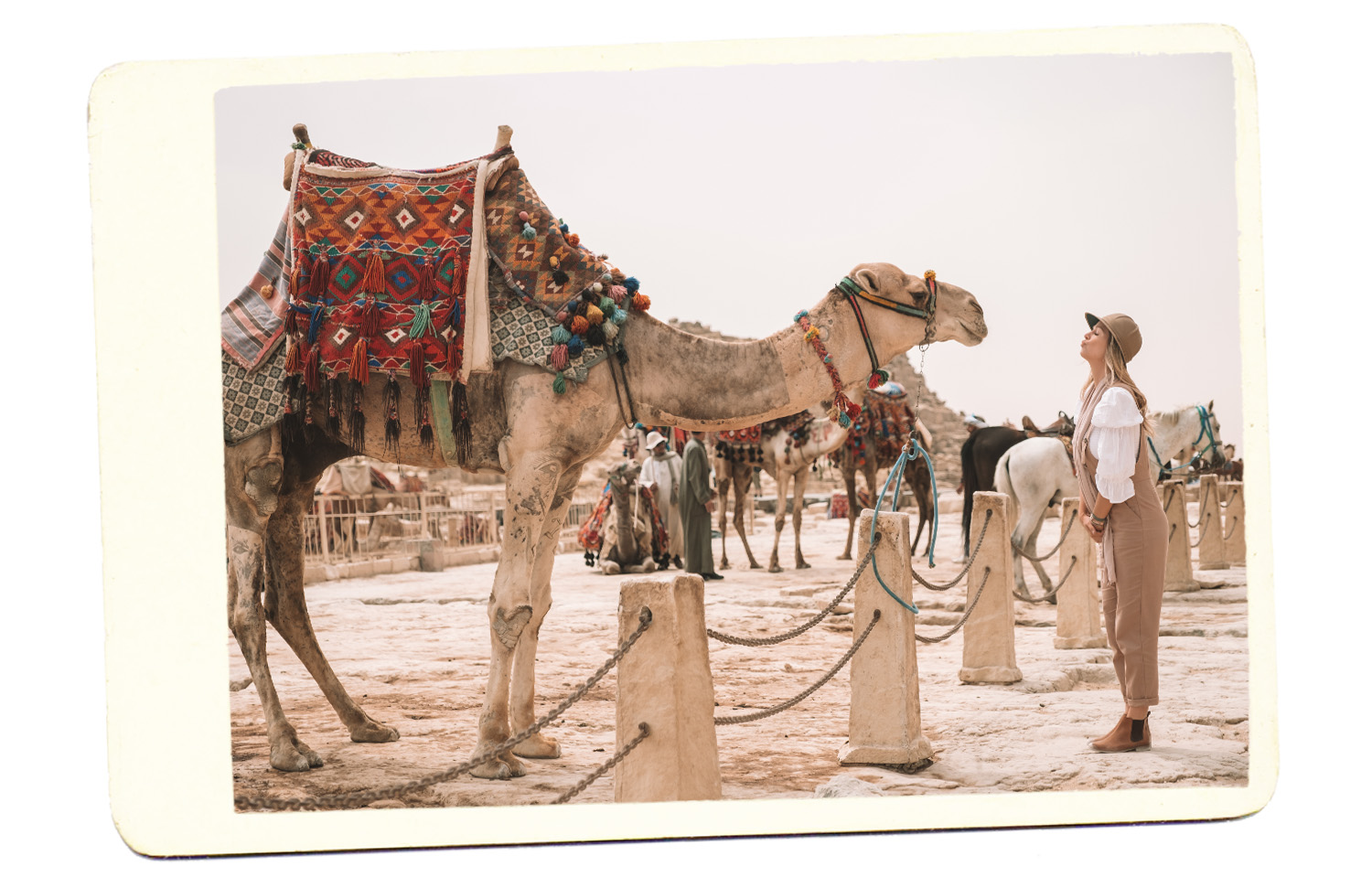 What  to Expect
There are two points of entry into the Giza Complex, one is near the Great Pyramid of Giza and the other is beside The Sphinx. If you're taking the bus, you'll want to use the entry/exit near the Great Pyramid. Otherwise, it doesn't really matter which one you use as you'll want to explore the full area.
You'll definitely find crowds, especially near the main entrances. I'd encourage you to wander off the beaten path. You can appreciate the pyramids on a deeper level when you find some peace and quiet. You'll also find some great angles and uncrowded landscapes for pics.
Entry tickets are 120 LE (about $7.40 USD) or 60LE for students ($3.70 USD). If you want to explore inside of the Great Pyramid, you will pay an extra 300 LE (about $18.50 USD). If you are bringing a tripod, you'll pay an extra 20 LE ($1.20 USD)—this may seem a bit odd but it's very common in Egypt!

Top Things to See and Do
Great Pyramid
Take a Photo with the Sphynx
Lookout Point
Hang Out with a Camel
Visit at Sunset by Camel
Watch the Light Show at Night
See the Khufu Ship (Ancient Egyptian ship used to transport to the afterlife, it was once buried near the Great Pyramid and is now in a museum)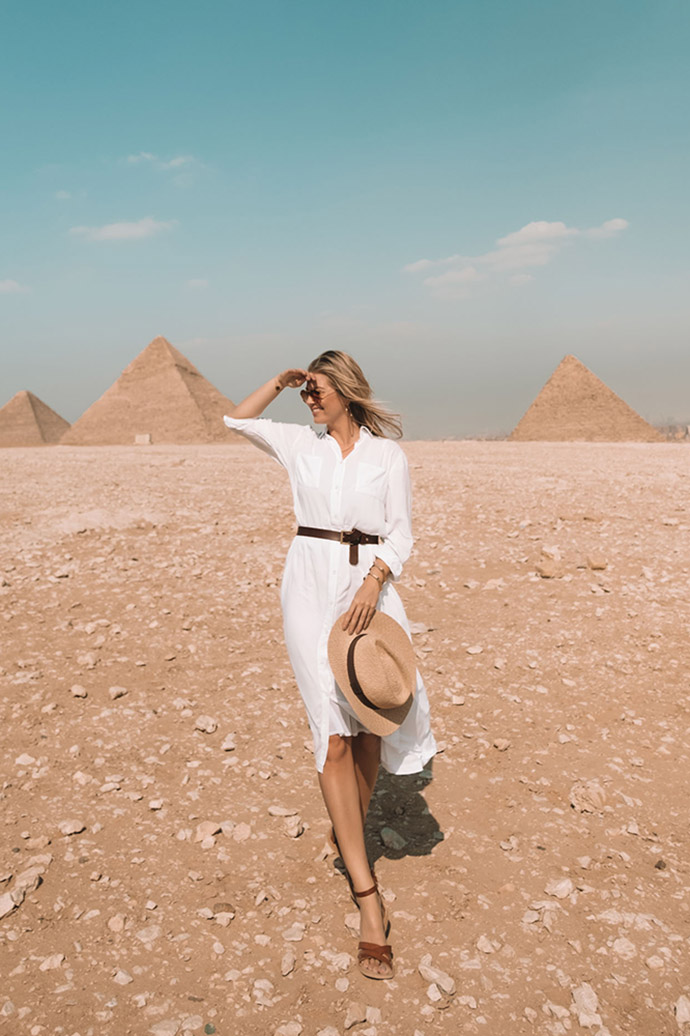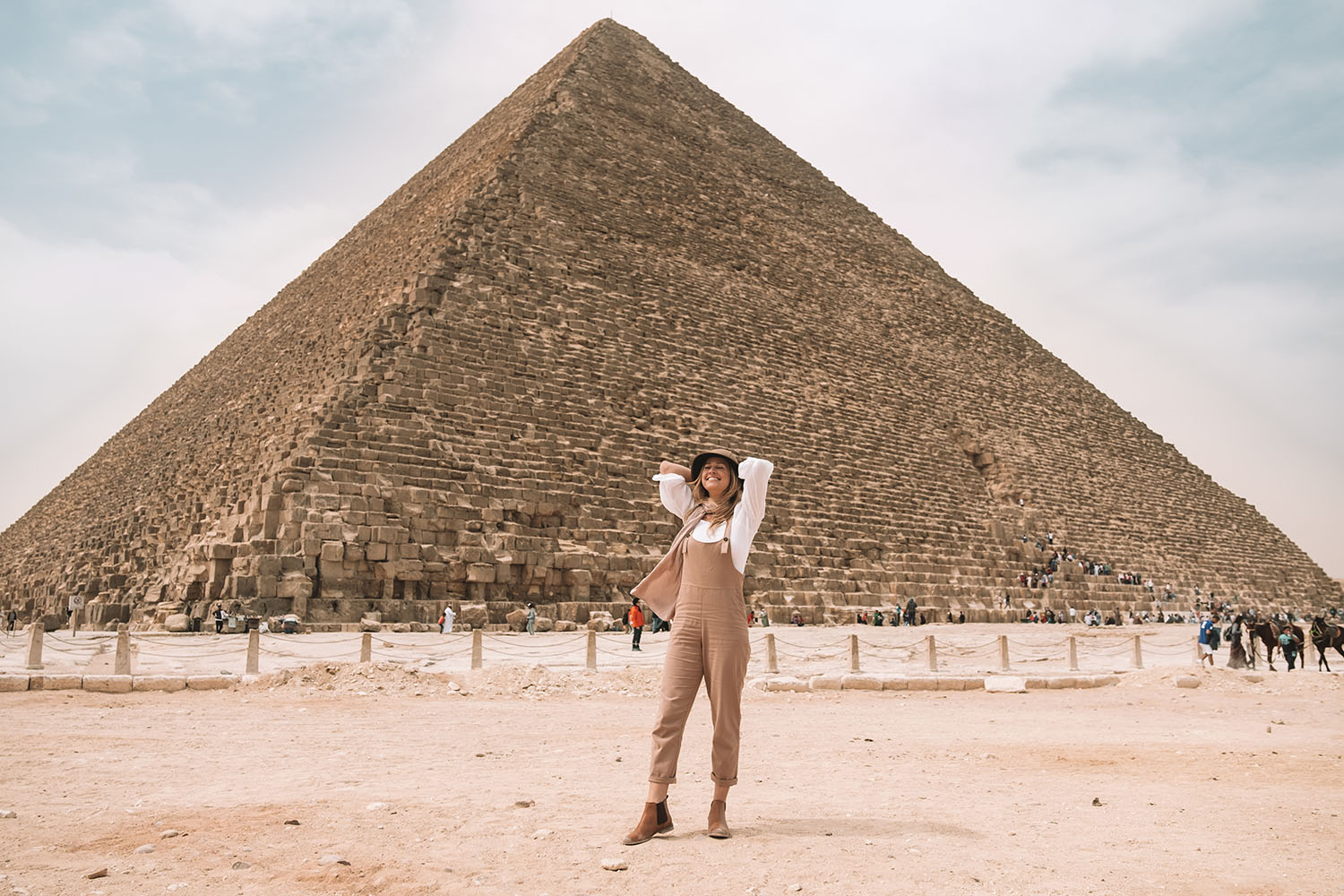 The Great Pyramid of Giza
Going Inside the Great Pyramid
If you are claustrophobic, you might want to think twice about going deep into the Great Pyramid of Giza. The Great Gallery is ultra-narrow and you will feel like the walls are closing in. That said, if you're comfortable in closed spaces, it's totally worth it.
When you go to enter, you will need to leave your camera and phone at the entry. You will get a ticket for it, and be sure to hold onto it because it's essential for getting your stuff back. I'd recommend just leaving all your excess gear there while you explore.
Everyone has different preferences, but I skipped going inside the Great Pyramid. If it's your first time to Egypt, check out my 10 Tips for Your First Trip to Egypt—I talk about my top things to do and what to skip…and personally I would skip going inside.
Helpful Tip:
Before you drop your stuff, do bring a few tissues in your pocket. It can be super hot and humid inside. Combine this with a dusty desert environment and it's good to be able to wipe off your face and hands.

Have any tips or suggestions to add when it comes to visiting the Giza Complex? I'd love for you to share in the comments below!