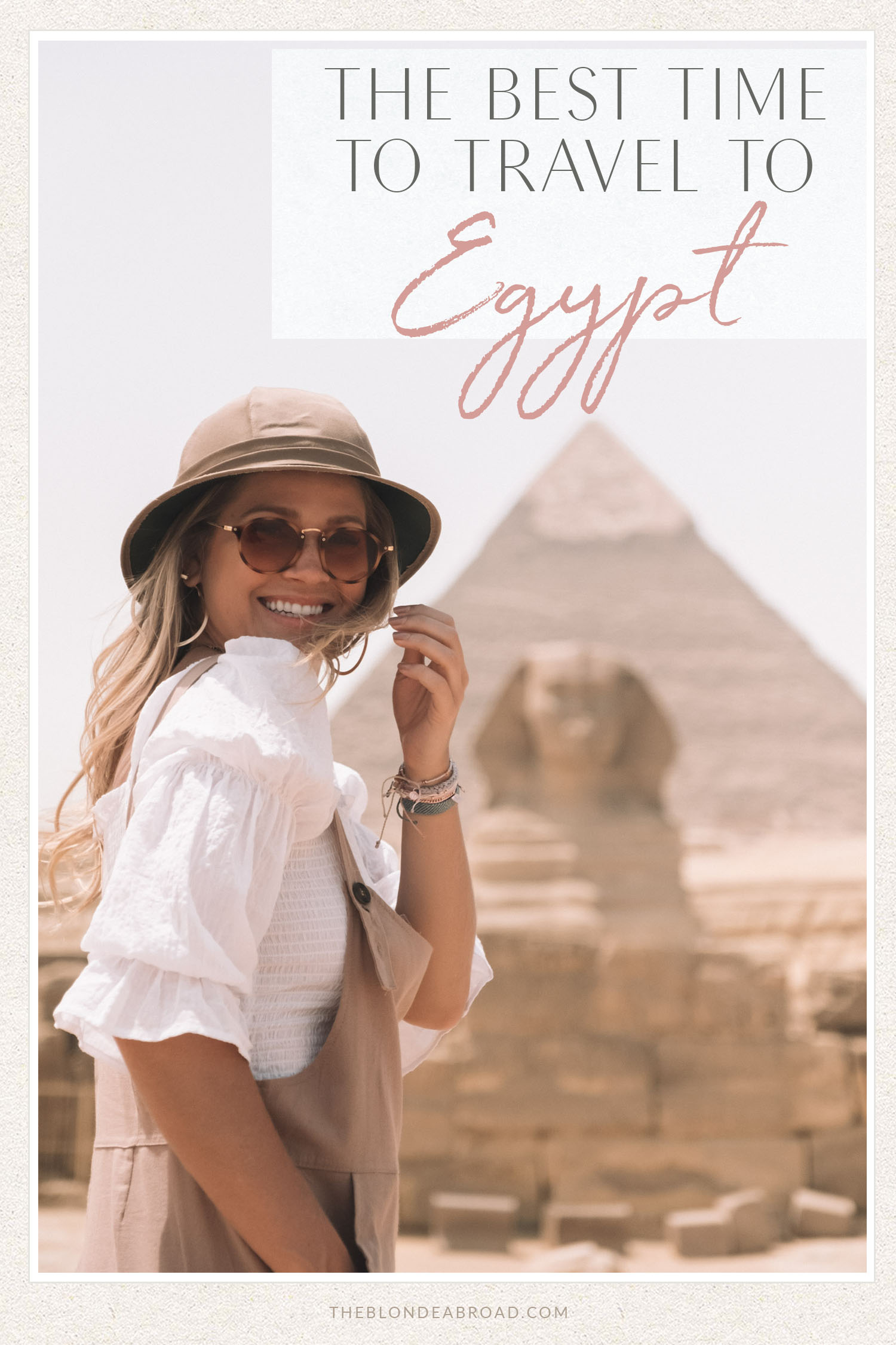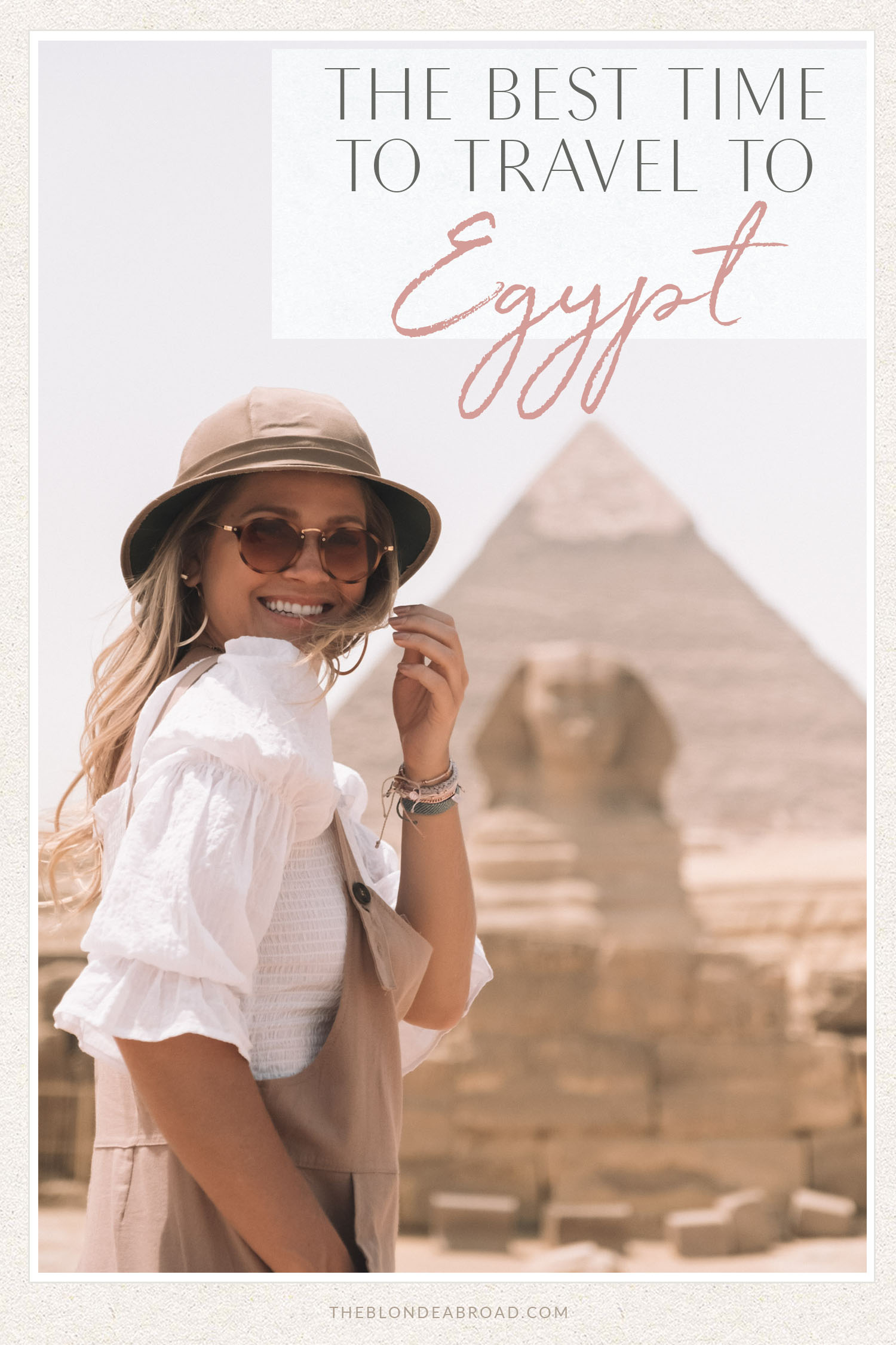 Egypt is one of the most mysterious destinations on the planet and it's been on the top of my bucket list for AGES. Now that I've been, I'm 100% convinced that it should be on the top of everyone's bucket list. Between the Nile, the Red Sea, Alexandria, Cairo, and pyramids that date back to 2500 BC, there's so much history and culture to experience.
Because the landscape is primarily desert, picking the perfect time to go can be a bit tricky. I visited this past April and although it was warm, it wasn't unbearable by any means.
So, if you're interested in visiting this mystic country, check out this guide to the best time to travel to Egypt!
And don't miss my 5-day itinerary for Cairo and the Pyramids!

The Pyramids at Giza
March to May
Springtime in Egypt is one of the most popular times to visit. The weather is warmer but it's still quite pleasant. April and May are also considered to be the best months to enjoy the Red Sea for diving, swimming, and soaking up the Egyptian sun.
However, there is a chance you will experience the Khamsin Wind—a minor yet hot sandstorm that sweeps through Egypt during April and May.
In April, Sham al Nessim, a Coptic festival, celebrates the arrival of spring. This occurs every year on Easter according to the Coptic calendar and is celebrated with picnics in parks and on riverbanks throughout Egypt.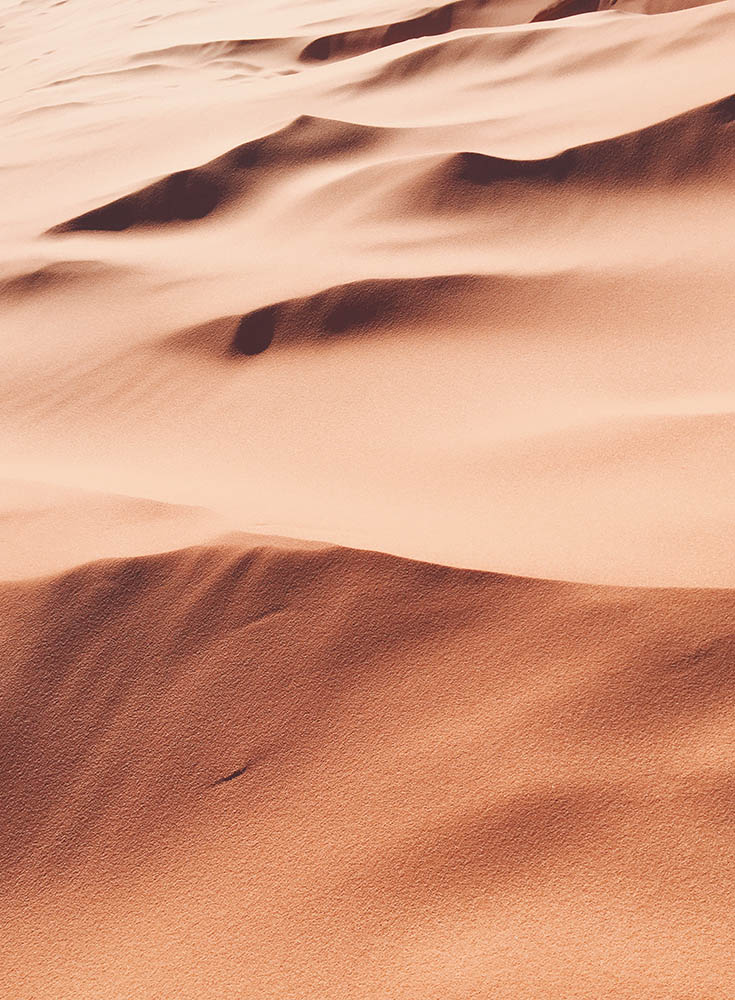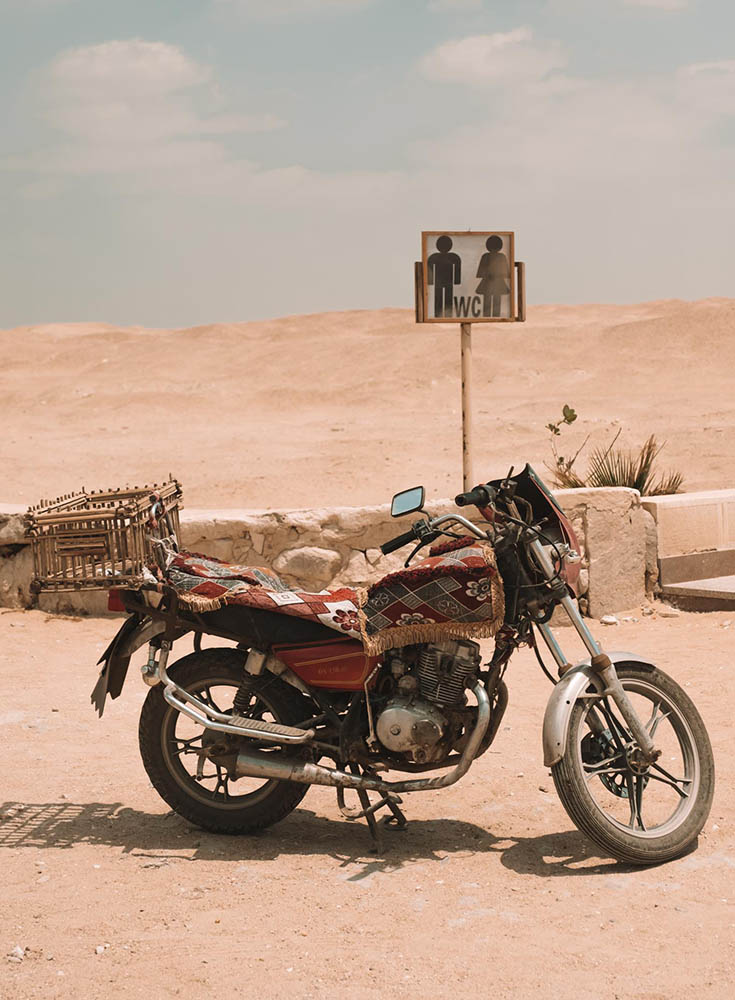 June to August
In summer, temperatures reach an average of 95 degrees and are met with extremely intense humidity. If you're willing to face the heat, this is one of the best times to visit the country as many people choose to avoid it.
Let's face it, climbing into a tomb in 100-degree weather can be very draining and many of the top attractions are located in the southern part of Egypt, which is even warmer than Cairo. But don't let me scare you away from it yet.
If your hotel has air conditioning and a swimming pool or you fancy cruising up the Nile, you'll have a very enjoyable time. This is especially true if you are staying at a Red Sea resort, where the temps typically only reach to be around 84 degrees.
Tourists aren't expected to fast, but many businesses close for much of the day; keep in mind that many cafes and restaurants don't even open their doors during the daylight. At the end of the month of fasting, Muslims celebrate at Eid al Fitr (Feast of Sacrifice), a religious festival that lasts for four days.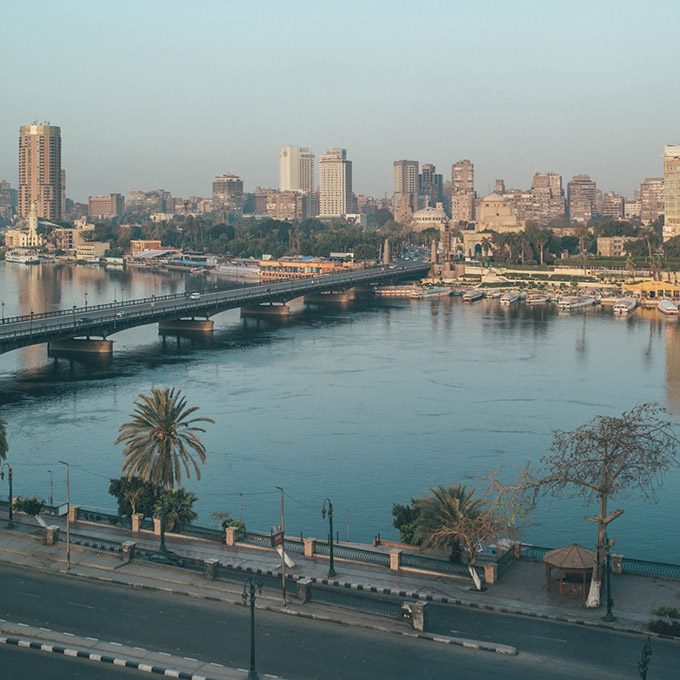 10 Tips for Egypt
Read More!
September to October
Much like spring, fall in Egypt brings cooler temperatures and affordable prices. Though it's still warm out, the sea breeze picks up, making it much more bearable. The Mediterranean Sea is still warm yet uncrowded so beach conditions are ideal.
During September, Wafaa Al Nil—the ancient festival devoted to the Nile River—is celebrated. The festival is filled with art competitions, poetry readings, concerts, and scientific discussions about health and pollution.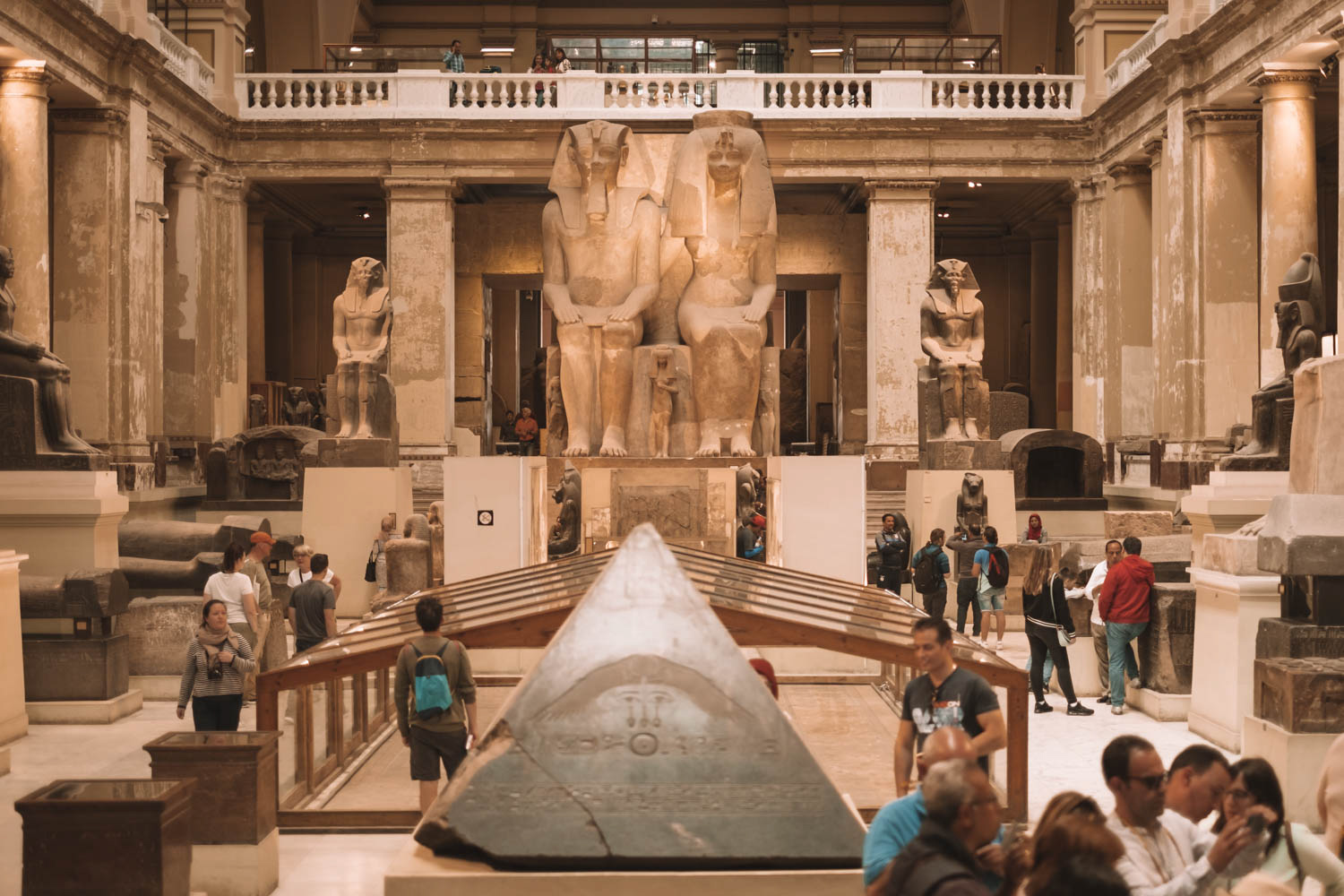 Egyptian Museum of Antiquities
November to February
Winter is the peak season for tourism in Egypt. Because the weather has cooled, tourists flock to the ancient sites, making the lines longer and the hotel prices skyrocket. During Christmas and New Years, hotels and cruises raise their rates significantly and they book up far in advance so you'll want to plan accordingly.
Winter also means a lot of festivals in Egypt, the first being Coptic Christmas which takes place on January 7th. At midnight, worshippers gather for mass and enjoy a feast together. The Abu Simbel Festival is held on February 22nd every year and it is a celebration of the eponymous temple.
Regardless of when in winter you decide to visit, pack long-sleeved shirts, jeans, and a jacket. The evenings can get extremely chilly.

Overall
Though it may not seem like it, Egypt is a year-round destination depending on your ideal activities during your visit.
This biggest thing to keep in mind while visiting is Ramadan, a holy month of fasting. While the last years Ramadan has been in May, June, and July—it can actually fall at any time of the year due to the differences in the Muslim calendar vs the Western calendar. So make sure to check on this!
Whether you're looking to lounge by the sea, visit the ancient pyramids, or soak up the celebration of the Egyptian festivals, there's a time to visit for absolutely everyone!