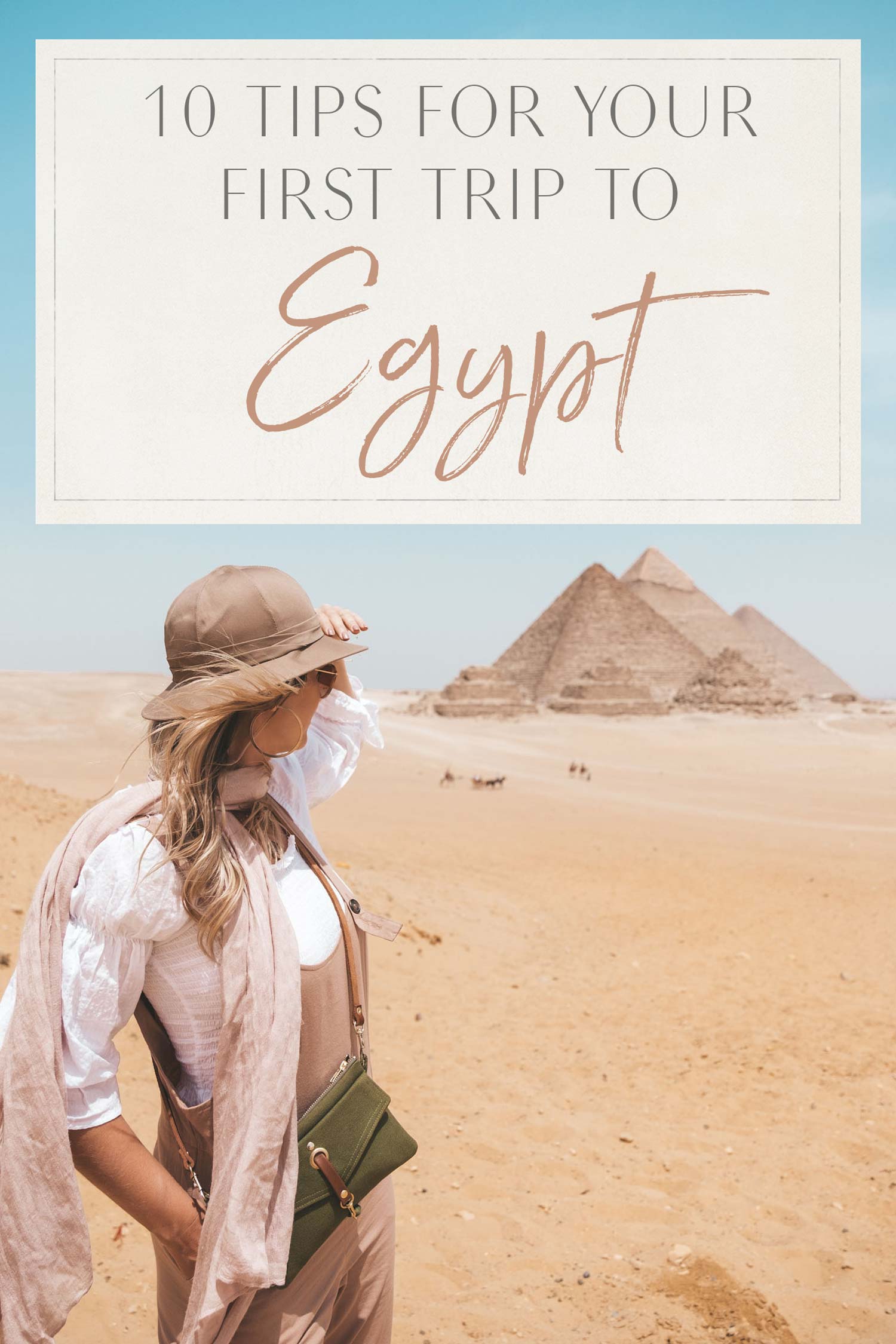 Egypt occupied a top spot on my bucket list for ages. With such a rich history and unique culture, it has always fascinated me. However, I'll be honest. I'd been holding off on traveling to Egypt because of the stories I'd heard of women having negative experiences there.
While I'd always argue that other people's travel experiences don't predict your own, I was hesitant to visit Egypt.
There's no wrong or right way to travel—that's for sure. And one person's experience doesn't automatically mean that it's going to be the same for someone else. Good or bad. I appreciate honest accounts of travel experiences because it helps me understand when I really need to do my research and decide if it's the right destination for me or not.
Some destinations I feel totally comfortable traveling to on a whim without doing an ounce of research. But, even with so much confidence in myself traveling on my own, there are still some places I research tirelessly and make plans to ensure my safety.
This was one of those places.
I'm so happy that I had such a positive experience on my first trip to Egypt. I met so many insanely friendly locals (a total stranger literally handed me their baby) and got to live out my lifelong dream of seeing the creations of Ancient Egyptians with my own two eyes.
Ready for a once in a lifetime experience? Here are my top ten tips for your first trip to Egypt!
And don't forget to check out my Ultimate Egypt Travel Guide!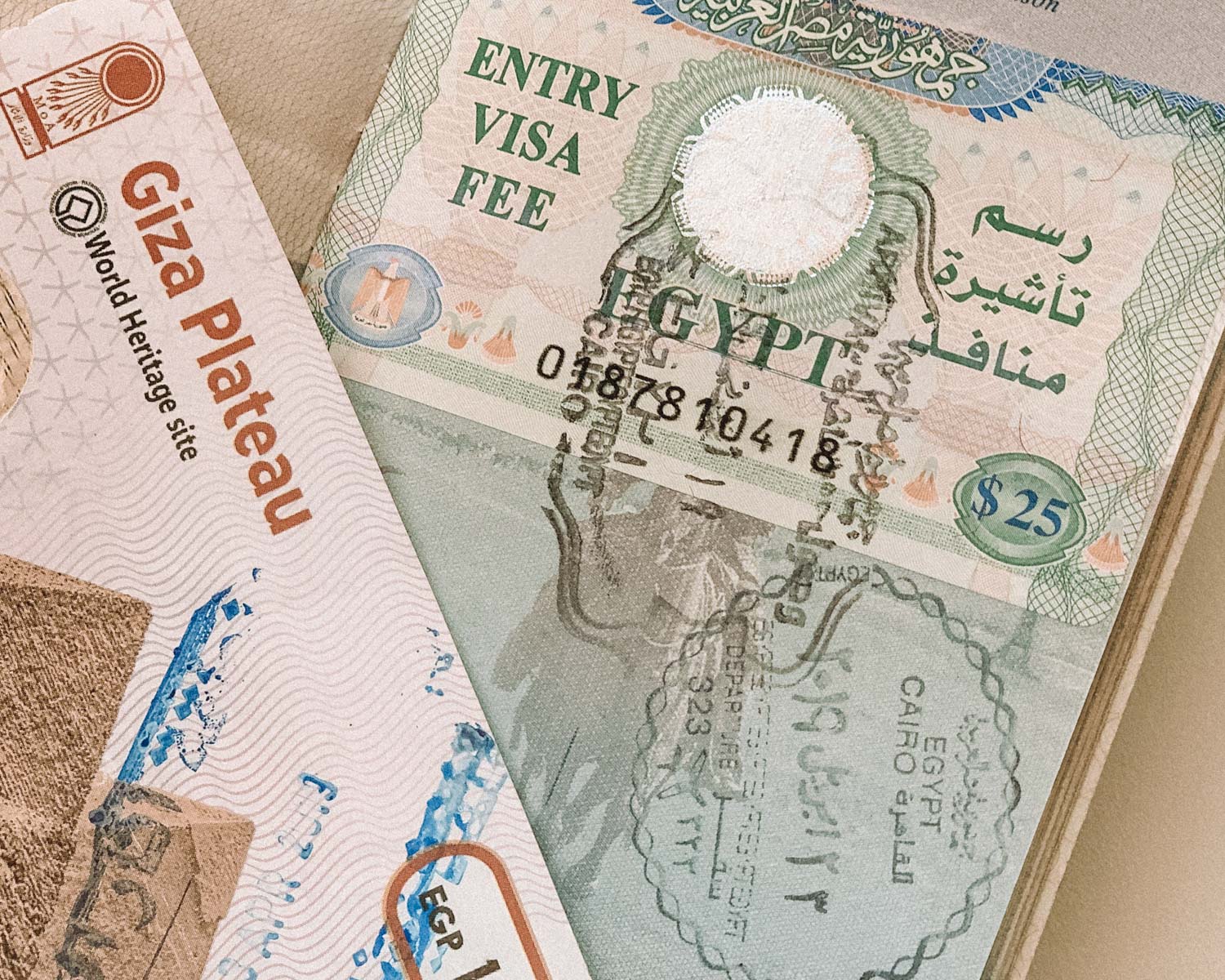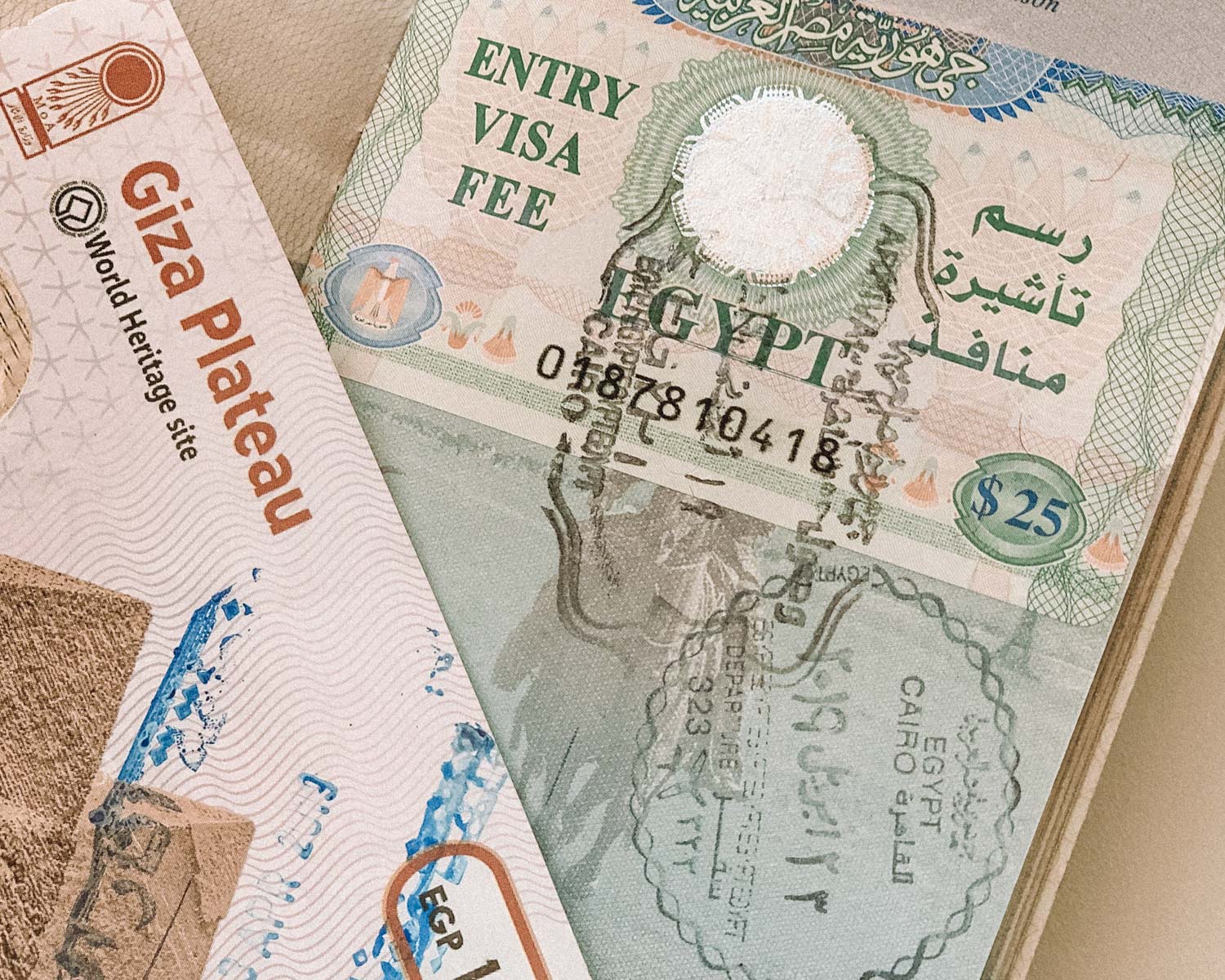 How to Get Your Visa for Egypt
For American citizens traveling to Egypt, you can get a visa on arrival. You'll need to have $25 cash and you'll need to pay for your visa at a special window before you go through immigration.
I booked a guide before I arrived, which was handy because the company already had my visa ready and took me through a VIP line!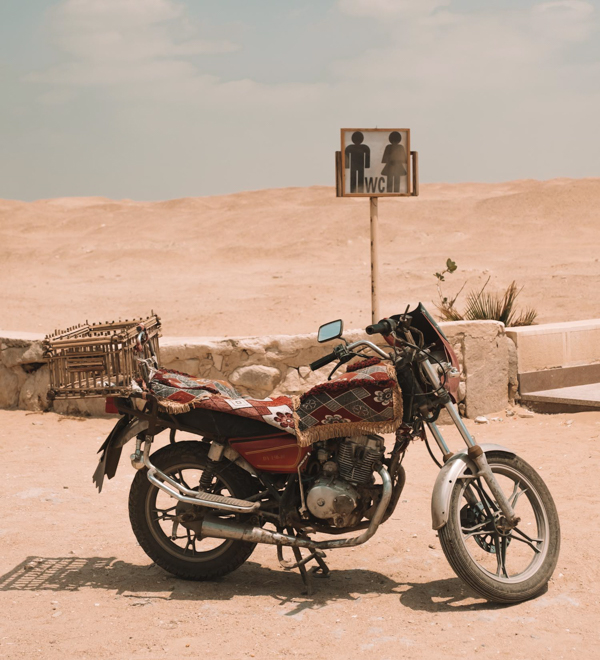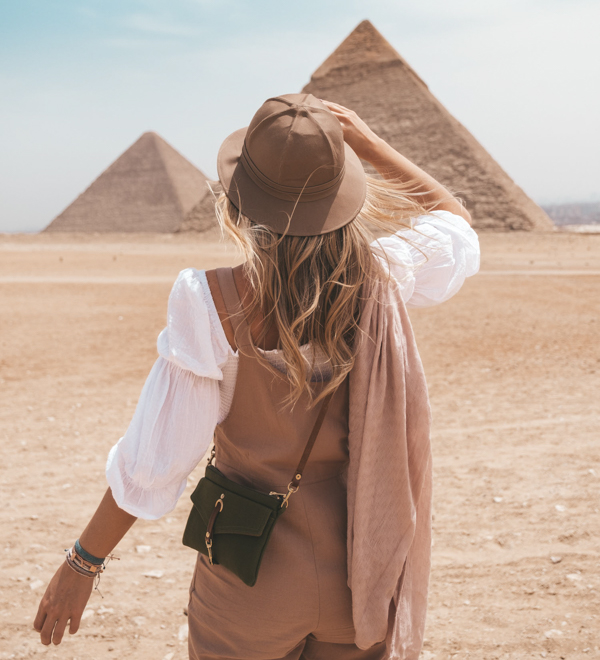 Forget the Drone
Do not bring a drone to Egypt! I knew in advance that drones were illegal to fly, but I didn't realize they weren't allowed in the country. Big mistake!
I was detained at the airport and questioned for three hours!
It doesn't matter if your drone never leaves your suitcase. You will have issues if you try to bring it in.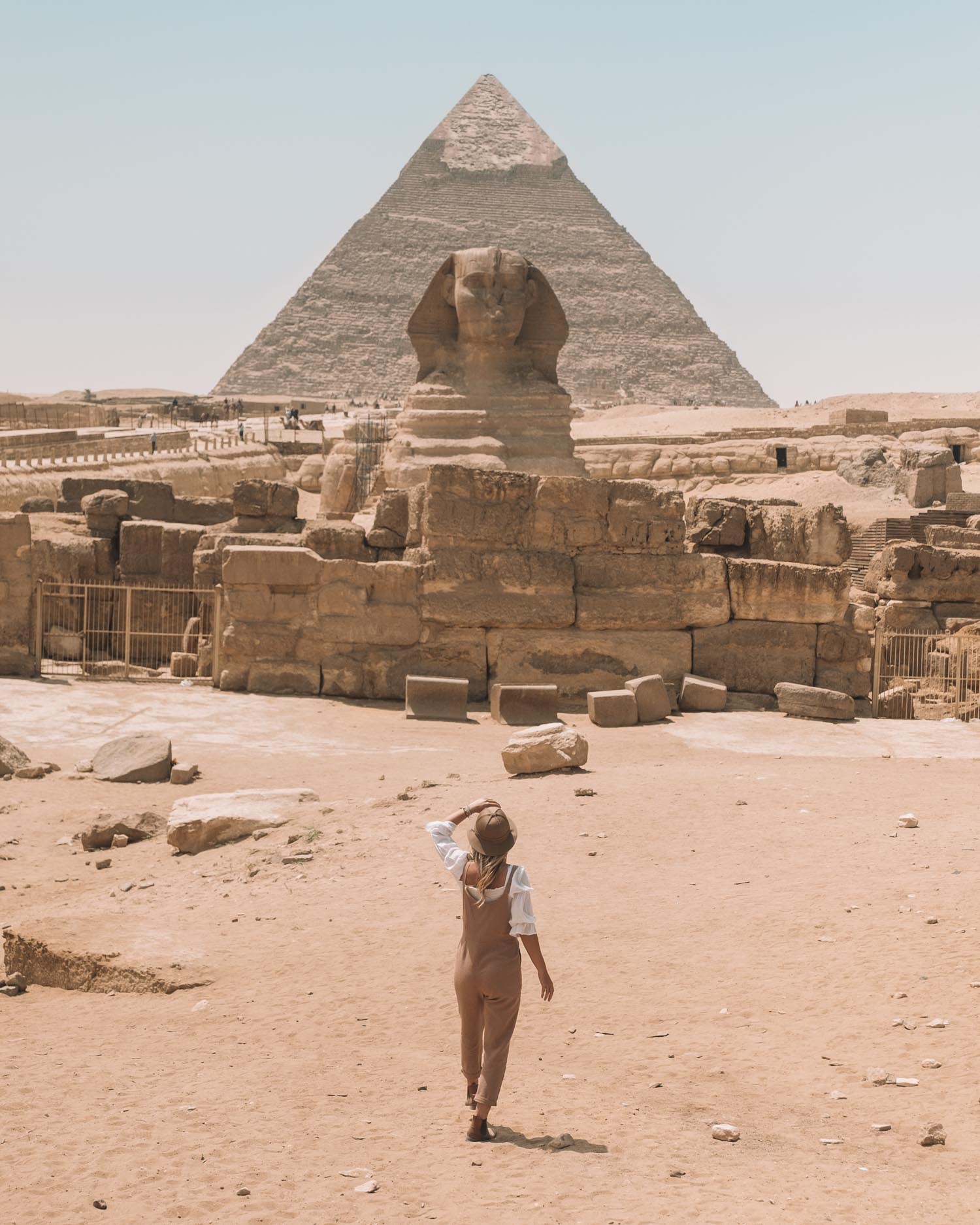 Pyramids of Giza
Brush Up on the History of Ancient Egypt
Before arriving in Egypt, spend some time reading up on the history of Ancient Egypt. I found that many tour guides didn't dig very deep. They covered a basic level of ancient Egyptian history and even gave me some incorrect information.
You'll appreciate the sights so much more if you have a deeper understanding of the history of places you're visiting.
I'd recommend listening to the "History of Egypt" Podcast before you go. If you're traveling to Cairo and Giza, you'll get pretty much everything you need in Episodes 1-5.
The library in Alexandria's website also has some really cool resources like a step-by-step guide to reading Hieroglyphics. I also found this Ancient Egypt website quite helpful. You can search by monument, dynasty, king, and queen. I like that there isn't so much information that it's overwhelming.
I continued to reference the Podcast and website once I was in Egypt too!

Hire a Guide if You're Traveling Solo
When I was planning to travel solo in Egypt, I didn't think twice about getting a guide. I wanted to feel safe and thought I would get a lot more out of traveling in a place with such a rich history with an expert.
I found having a guide made my experience SO much better. I never got harassed. Never felt uncomfortable. Never had an issue getting anywhere or questioning where to go.
However, I did feel a bit like I was being shuffled between the most well-known attractions without digging as deep as I would have liked. It felt a bit routine, like the guides sort of did the same thing for all tourists. I got a surface level briefing, went to touristy restaurants, and only saw "well-marked" attractions.
I'll cover my tips to avoid this in the next section!
Helpful Tip: Note that the max withdrawal at most ATMs is $250 USD. You'll need cash at most places around Egypt, so be sure to carry it with you at all times.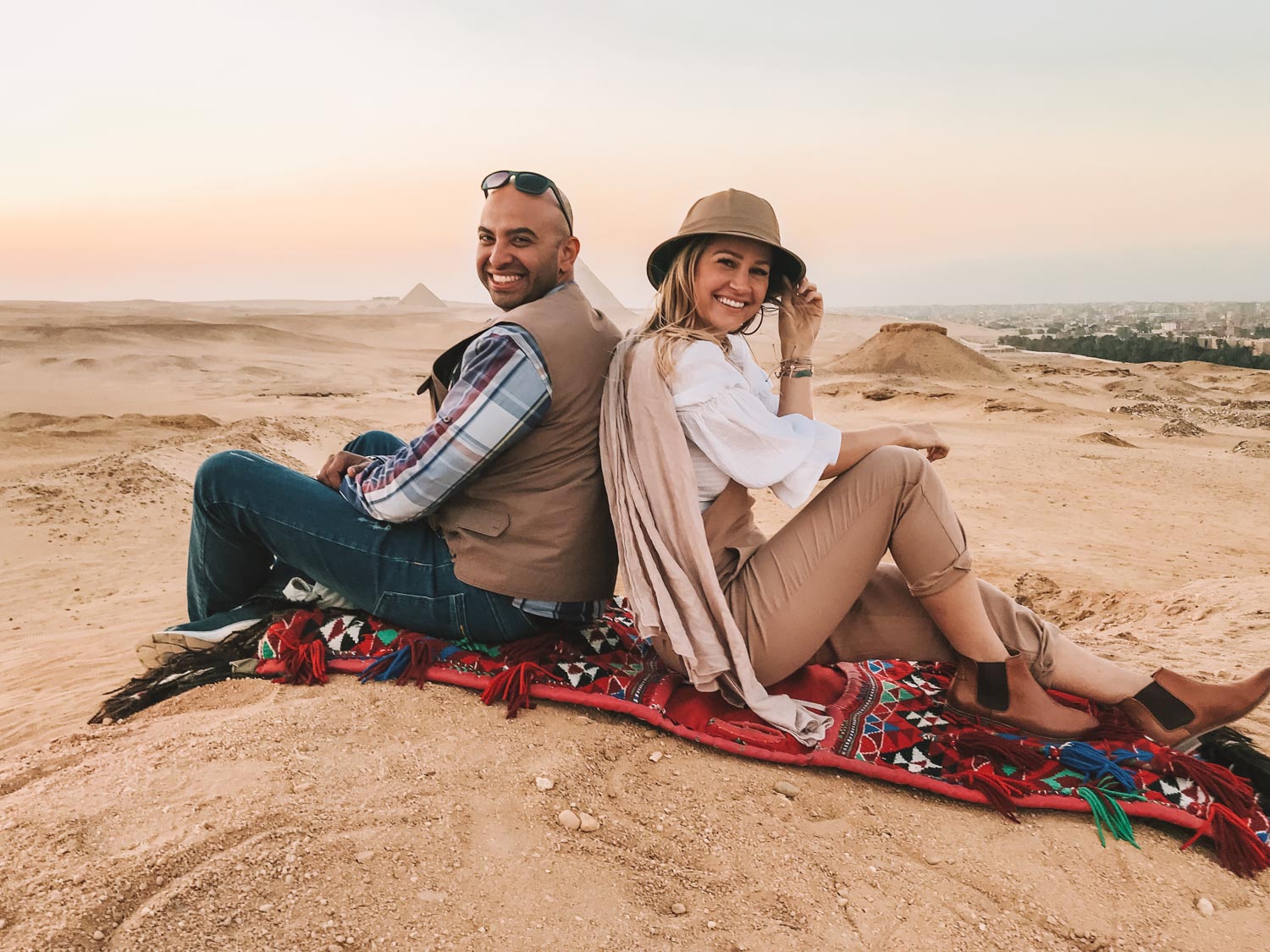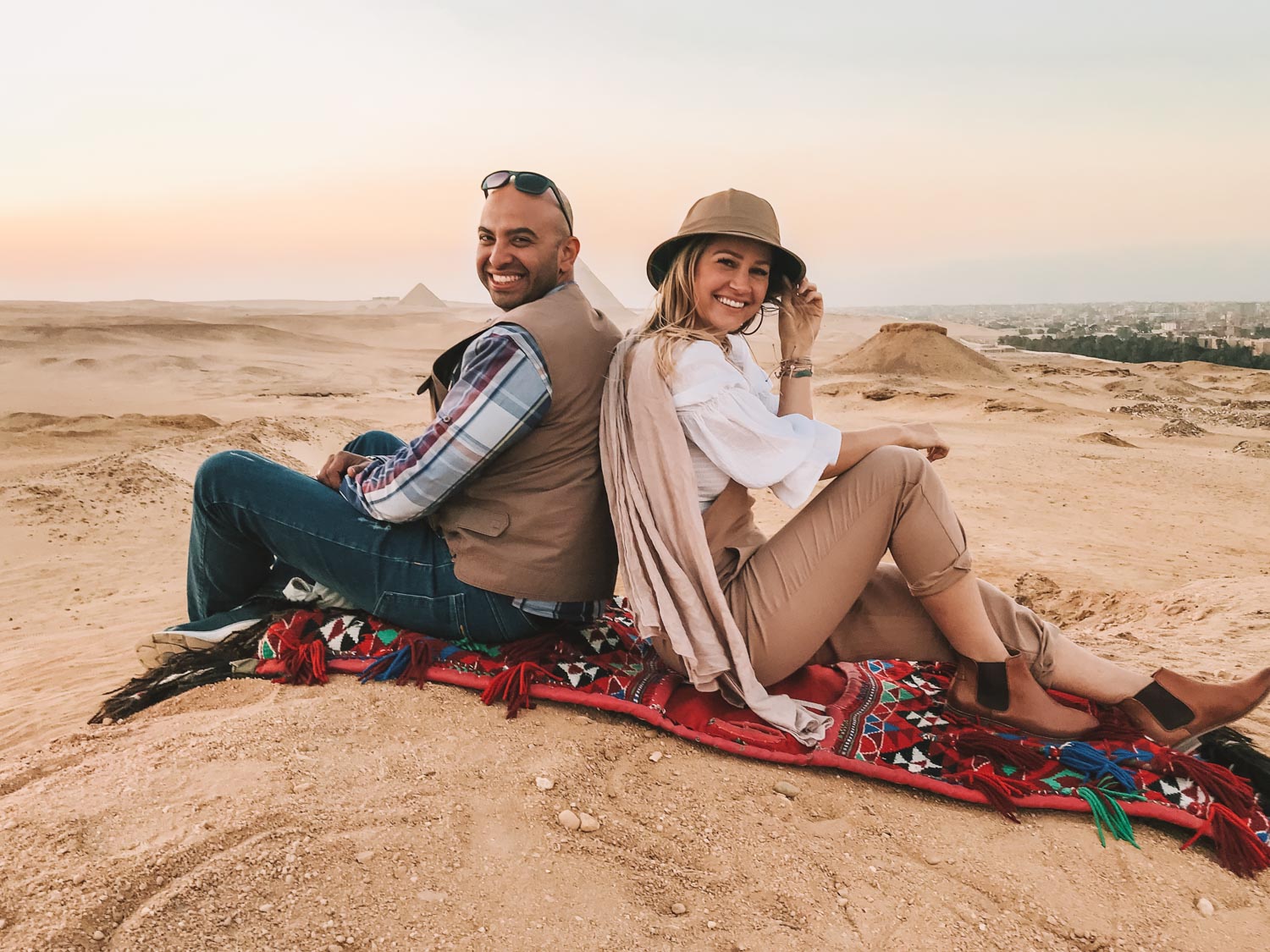 Research to Find the Right Guide for You
I take responsibility for my not-so-great guide experience. Normally, I plan every last detail of my travels from sightseeing to the restaurants. But, because I decided to hire a guide, I trusted that they would plan the best possible itinerary for me.
After speaking to quite a few people, I've found that Egypt might be unique in that, yes, you want a guide, but you should still be pro-active in planning your own itinerary.
When I return to Egypt, I will still hire a guide, but will clearly disclose that I'm looking for more of a chaperone than a tourist guide. I loved having a local with me, but I think I would have done a better job of sightseeing and going to the places that actually interested me if I had done my research and planned my own itinerary (like I normally do).
I did so much research on the history that I found it a bit frustrating to expect more of my guide than they could give.
If you LOVE trying new foods when traveling, research restaurants so you can eat at non-touristy places. As a foodie, I was dying to try local dishes but was really only taken to tourist spots.
All of that being said, there are AMAZING guides in Egypt. You just have to do your research. I was actually referred to a guide that is known to be very knowledgable and personable (featured in the picture above), but he was fully-booked and hosting other guests. He was only free one night and took me on a sunset trip to Giza.
I honestly got more information from him in 1 night than I did in 4 days with other guides.
So, do your research and establish what's most important to you before you go. If you are looking for a guide simply to feel safe and secure but like planning your own trips, make sure you take that responsibility in your own hands and share your wishes with the company. If you're looking for someone to enrich your experience with a deep understanding of Ancient Egypt, do your research.
Interested in Hiring My Recommended Guide? Email Me!
For privacy reasons, I didn't want to share his phone number and email in this post. Once you've entered your email, you'll get an instant response with his contact details! You'll also get infrequent emails with access to travel updates, giveaways and more!

Consider Joining a Tour
Alternatively, you could take a tour!
I personally love group tours but keep in mind that, again, not all are created equal. It's all about finding the right tour company for you. Do you like a more adventurous experience? Are you looking for something more budget-friendly?
I personally love a little luxury and getting to explore with other female travelers. That's why I started my own all-female tour company, TBA Escapes!
We're hoping to offer tours to Egypt in2022!
In the meantime, my friend Ryan of Pause the Moment hosts an amazing tour in Egypt. Additionally, my friend Alex of Alex in Wanderland is calling all scuba-loving ladies! She has been running an incredible dive + yoga retreat in Egypt!

What to See in Egypt
Egypt is such a diverse and beautiful country. There are countless ways to plan an itinerary for Egypt. I took a short trip to Egypt, basing myself in Cairo and exploring the nearby sights. While there is SO much more to see in Egypt and you could spend weeks there, here is my 5-day "sample platter" itinerary for Cairo and the pyramids!
Some highlights when basing yourself in Cairo include:
Saqqara Pyramid
Coptic Cairo
Egyptian Museum of Antiquities
Mosque of Muhammad Ali
Alexandria Day Trip
Khan el Khalili Souk
If you have 2+ weeks, your options are really endless. Look into taking a Nile cruise, or flying down to Aswan and Luxor (where most of the ancient Egyptian ruins are). You can also look into diving the Red Sea if you love scuba diving. There are dive resorts and liveaboard options to make all your underwater dreams come true!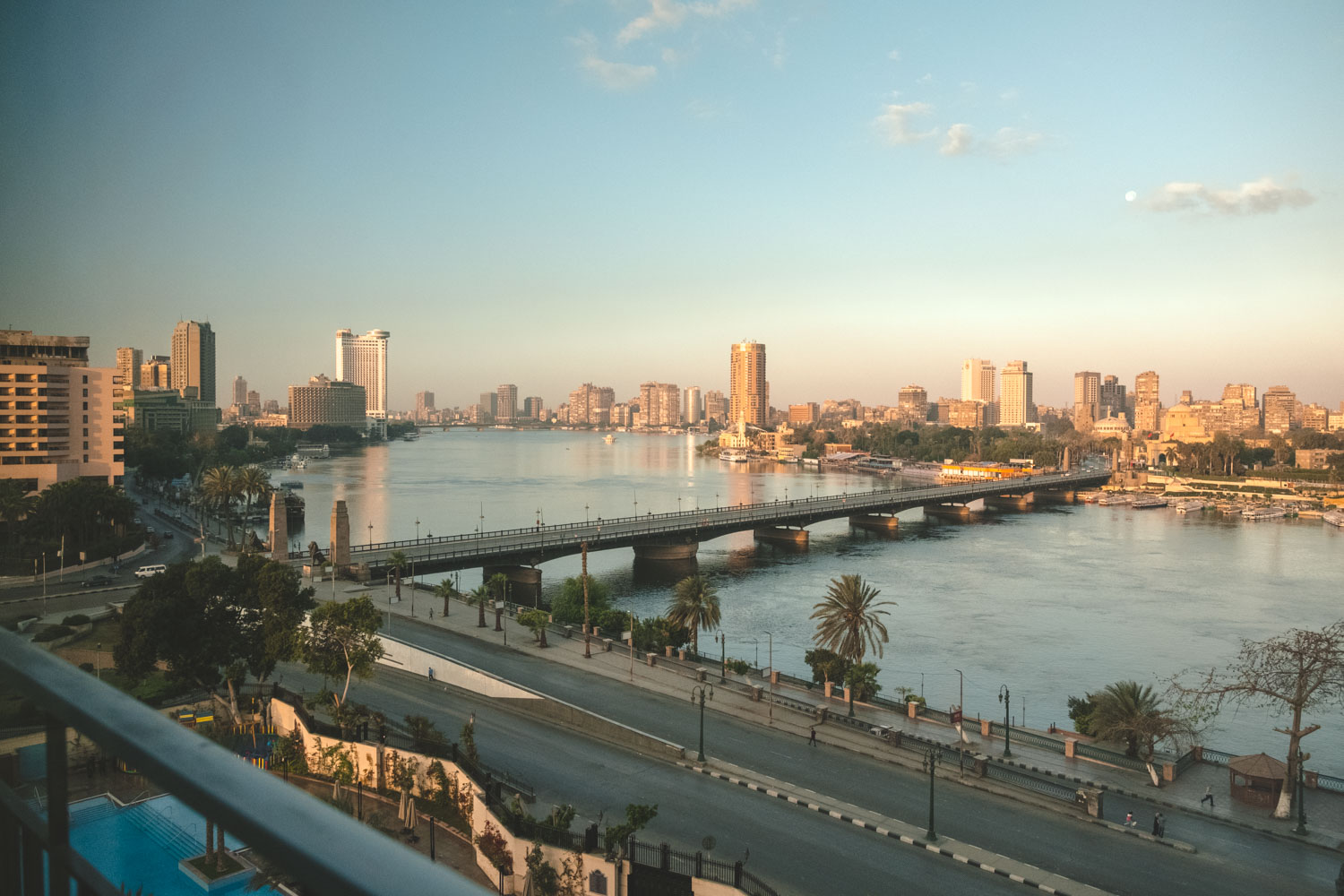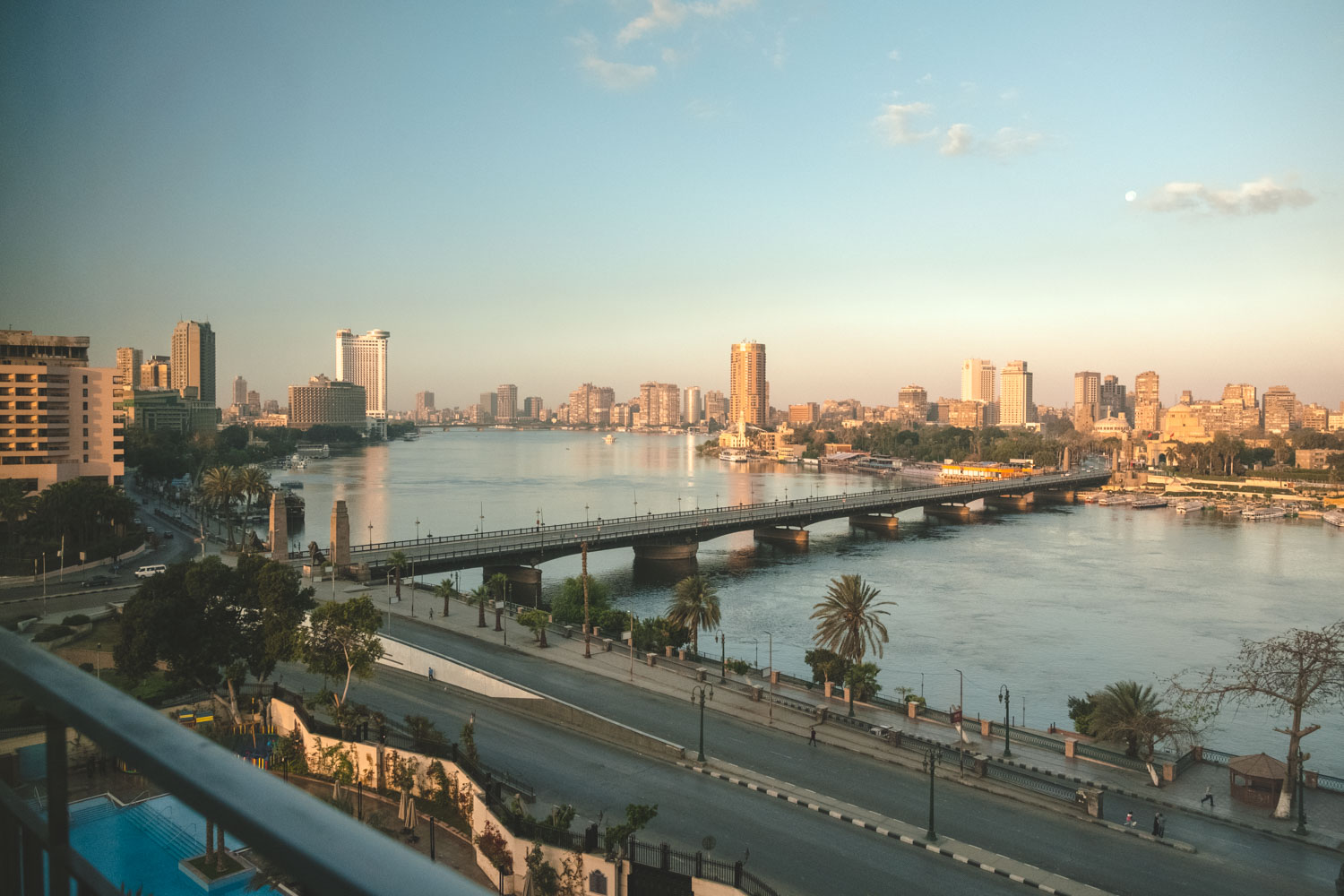 Mind the Traffic in Cairo
Cairo is a busy city with more than 15 million people. The traffic is crazy, and it is something you must plan around.
If you are traveling pretty much anywhere in Cairo, make sure to give yourself plenty of time to get around. I would definitely opt to NOT drive yourself. It's much easier to hire a driver, or even use Uber. Also, make sure you buy a comprehensive travel insurance policy!
Another thing to be aware of is that not all license plates will have numbers that you'll recognize.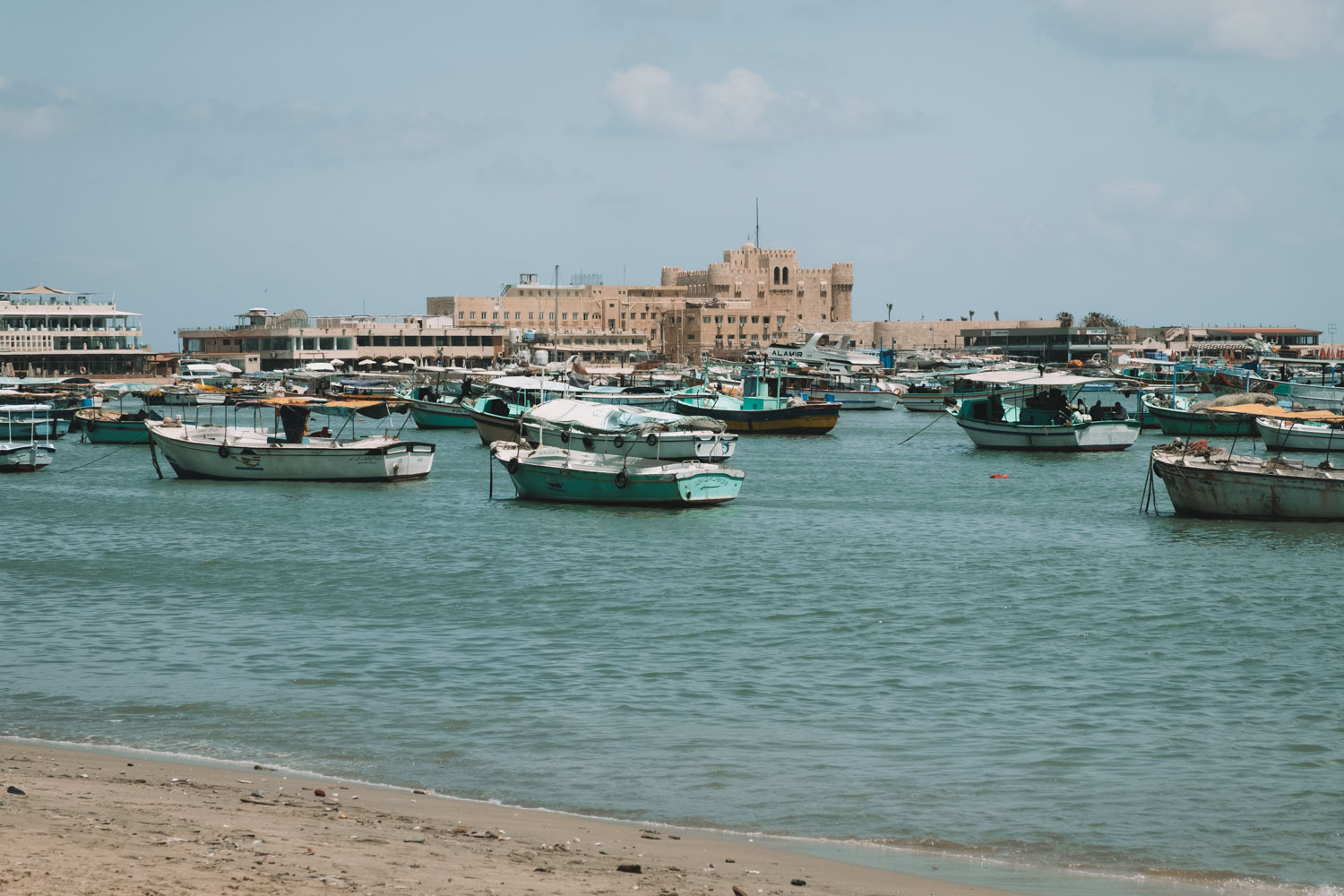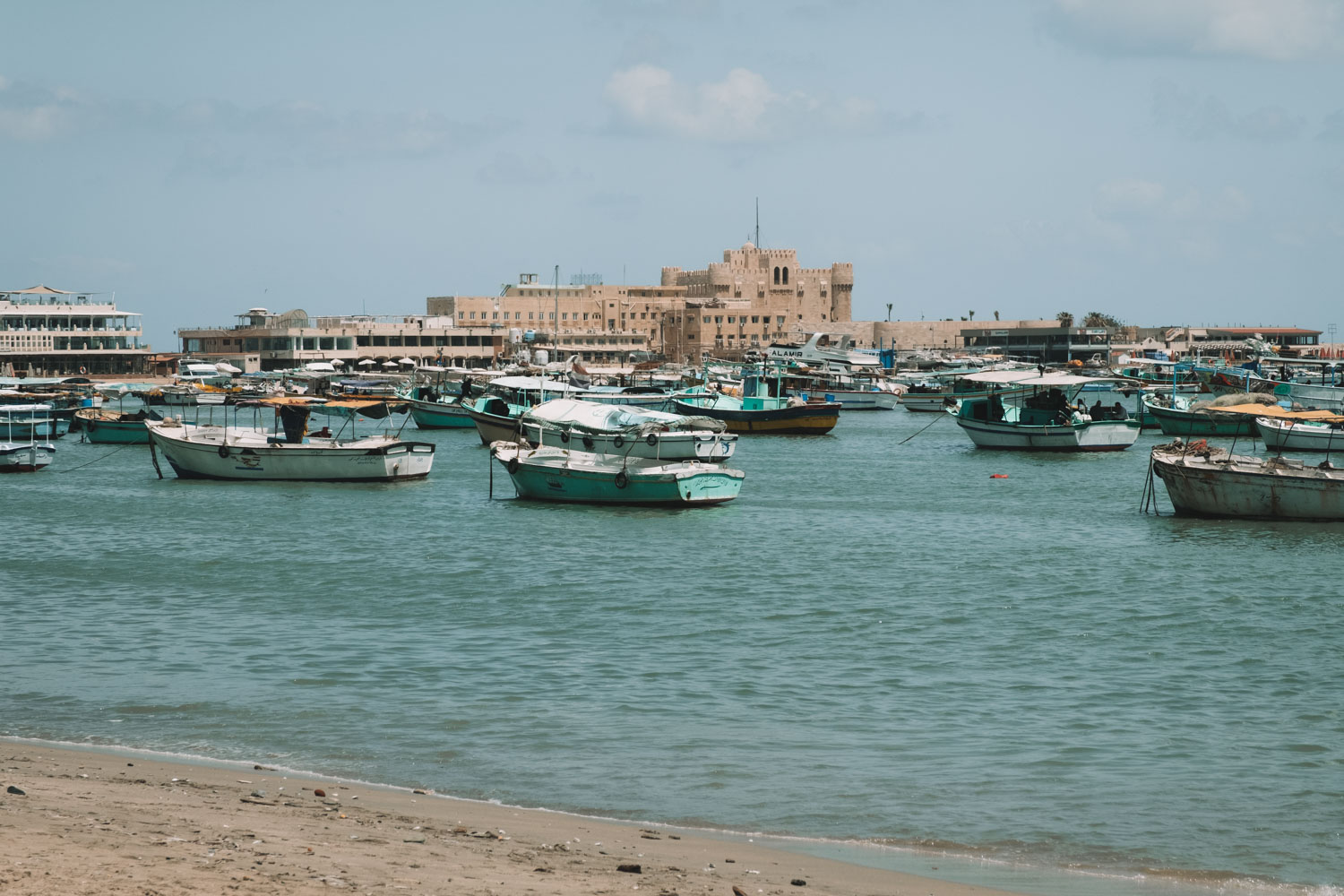 The Best Time to Visit Egypt
The summers can get crazy hot in Egypt, and if you visit in July or August, the heat is oppressive, making it difficult to explore. I think the best time to visit Egypt is in the winter months (November to January).
The temps usually reach around 70 degrees F in the afternoon, but it's also high season for the country. Plan your trip well in advance so you can avoid the seasonal increase in flights, tours, and accommodation as much as possible.
I visited Egypt in April, which is spring and also a shoulder season. The temperatures were warm and windy, but the heat of the summer months had yet to kick in. There were also far fewer people at top attractions like the Pyramids of Giza.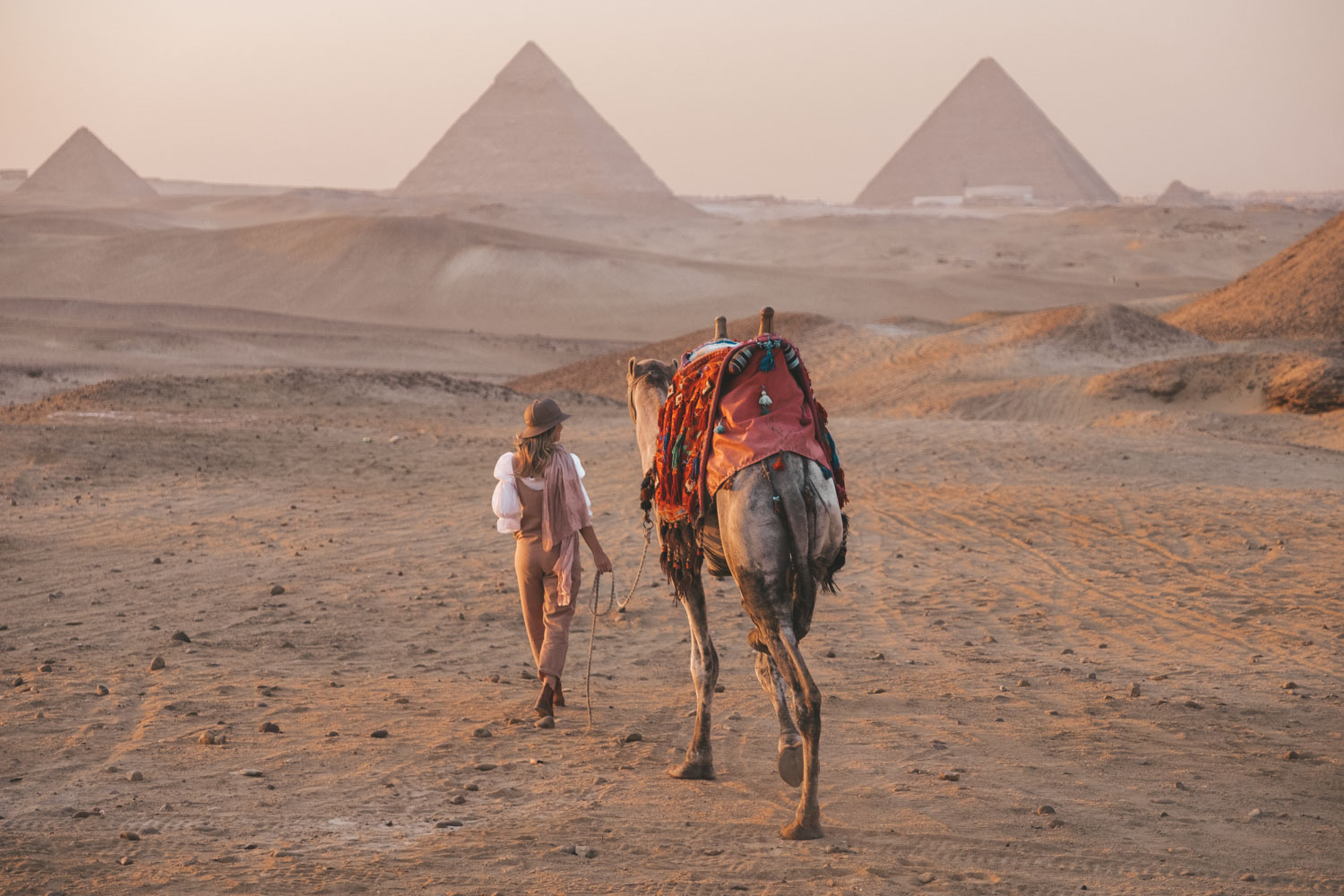 Pyramids of Giza
What to Do (and What to Skip!)
This is very subjective and everyone is different! However, here are some of my favorite experiences and ones I found a little anti-climactic.
Skip the Tour Shops: Your average tour guide will drag you through papyrus, Egyptian cotton, and Egyptian rug shops. Unless these are things you desperately want to purchase, insist on not going. They're a complete waste of time and the guides usually get a kick-back for bringing you there (which is the only reason they take you there). They're not interesting and are staged for tourists. Rather than suffer through an "as seen it on TV"-vibes demonstration, skip it.
Skip Interior Pyramid Tours: Many pyramids let you go inside. I skipped this altogether. I heard beforehand that the insides were quite cramped and there wasn't anything to see, so decide for yourself if you're willing to wait in line and know that it might not be the most exciting thing you've ever seen.
Try Local Restaurants: Find your own restaurants ahead of time. I'm a HUGE foodie and was actually really upset that I got taken to tourist restaurants. One of the restaurants I ate at was "ok," but there were no locals. There are some great restaurants, so research ahead of time and request (or at least suggest and see if they agree it's good) to have a bit more control over your experience.
Visit the New Egyptian Museum: Set to open this year, the Grand Egyptian Museum (GEM), AKA the Giza Museum, is going to be the largest archaeological museum in the world. I am dying to see this place! There will be 50,000 artifacts, including the first exhibition of King Tutankhamun's full tomb collection.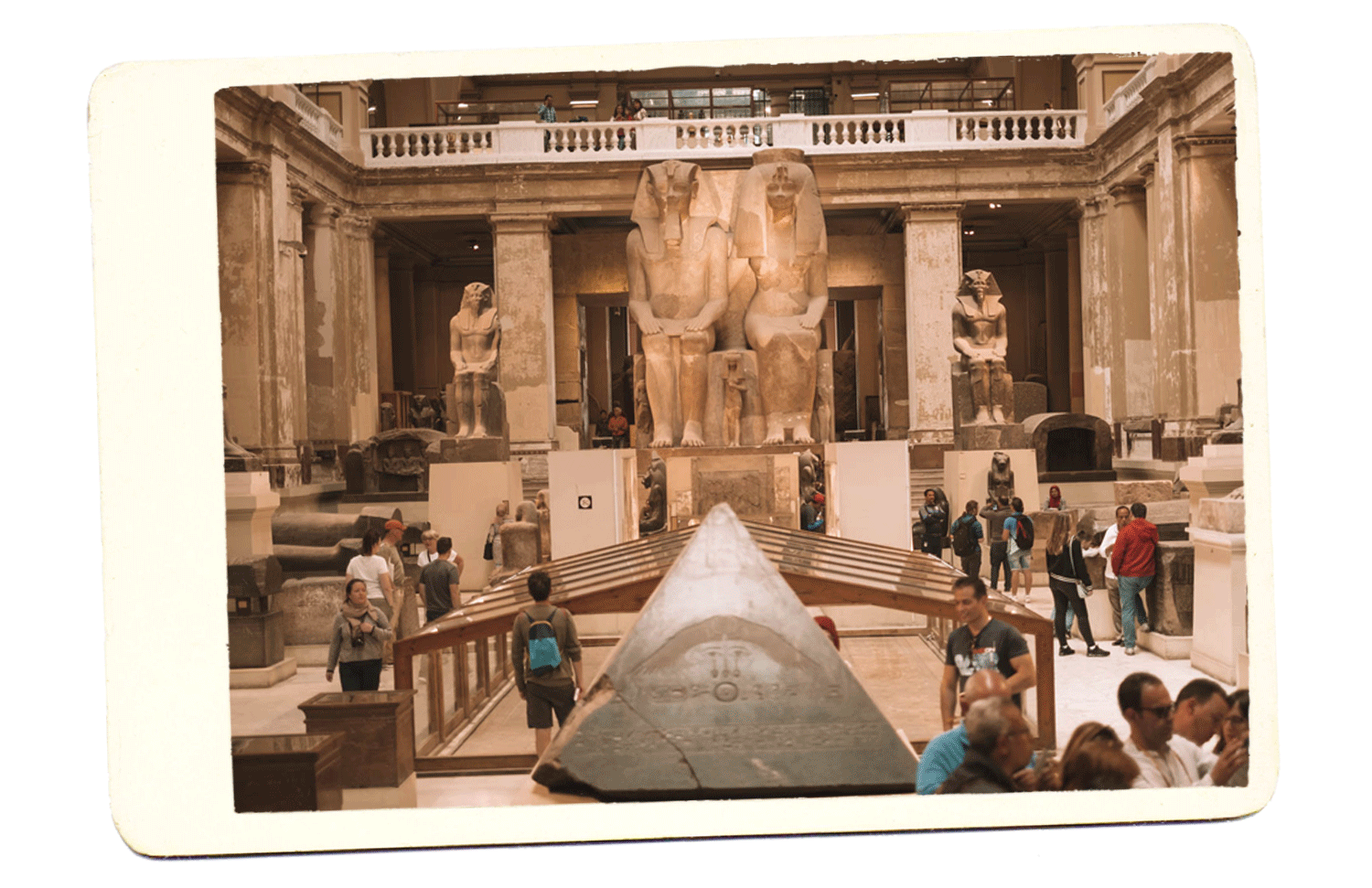 Bonus: Tips for Visiting the Egyptian Museum of Antiquities
If you visit before the new Egyptian museum is open, you can still visit the Egyptian Museum of Antiquities, built in 1835. If you love museums and are interested in ancient Egyptian history, I'd recommend allocating at LEAST 3 hours here.
I visited the museum with a guide and felt rushed. Unless your guide is a major history buff, you're better off going alone.
I would have loved to spend all day at the museum. Everything was well labeled with information, so I personally didn't find it beneficial to have a guide.
If you want to dig deeper, do some research ahead of time. I'd also recommend looking for a podcast or app with an audio guide.
Tip: Definitely go into the King Tut Exhibit at the Egyptian Museum of Antiquities. The Mummy Room costs extra but I thought it was interesting and money well spent.

Do you have tips for first-time travelers going to Egypt? I'd love to hear your recommendations in the comments below!