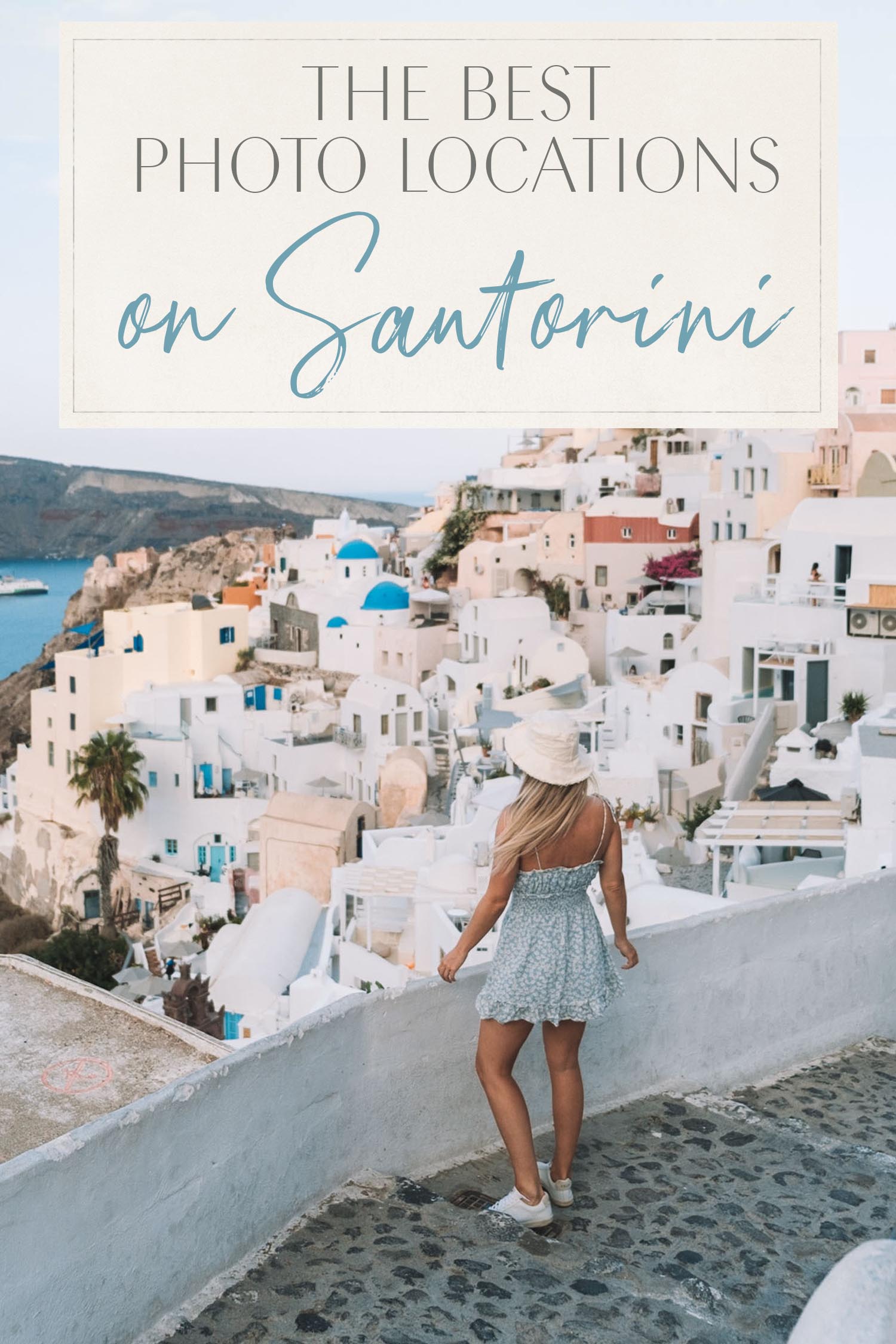 Exploring Greece during my fourth excursion around the country, one thing has become clear: this Mediterranean gem is more enchanting by the minute!
Every time I explore Greece, it is a completely different experience. From romantic escapes to heart-pounding adventures, you can choose your own adventure on each island.
One place I find myself going back to time and time again is Santorini. Taking a self-guided ATV tour around the island, there were stunning sights around every turn. I especially loved Oia for its "straight out of a postcard" beauty. Many of my best photos came from this corner of Santorini.
Whether you're looking for that gorgeous Instagram shot or just dreamy locations for that postcard backdrop, Santorini is chock-full of picture-perfect moments.
Want to create your own dream photo album? Here are the best photo locations on Santorini!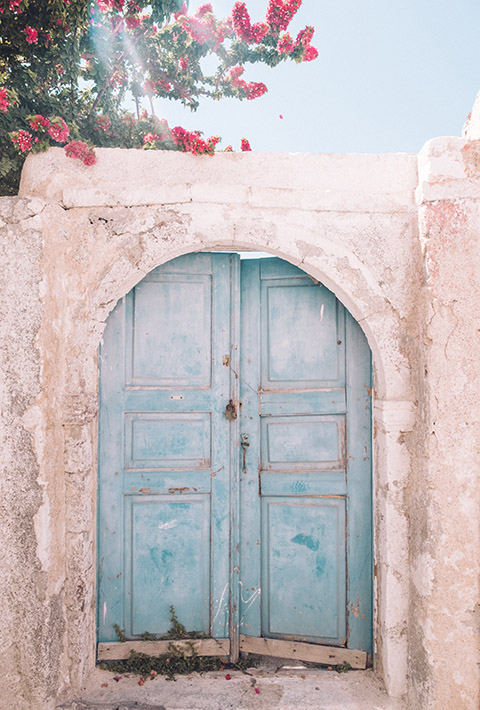 Know Before You Go
Some of the best photos spots in Santorini are well off the beaten path. In fact, I was surprised at just how tricky it was to find the vistas I'd seen on Instagram.
One challenge is that the island, particularly in the town of Oia, consists of countless winding streets and narrow alleyways. Things get hot and sweaty fast as stairway after stairway appears in front of you. Often after a long hike, you find yourself reaching a dead-end or private property.
Keep things chill — literally and physically! Take breaks in the shade and be sure to pack a hat and plenty of water.
It's essential to keep in mind that Santorini isn't just a vacation resort but people's full-time home.
Try not to be invasive and avoid walking around on roofs or other spots not intended as a public walkway. Even if it's technically part of a public space like a church and hotel, you'll be damaging old architectural treasures by marching over the roofs.
To avoid the crowds and have access to all of the best spots, start early in the morning. You'll have the gorgeous views you've been dreaming of, sans photo bombers.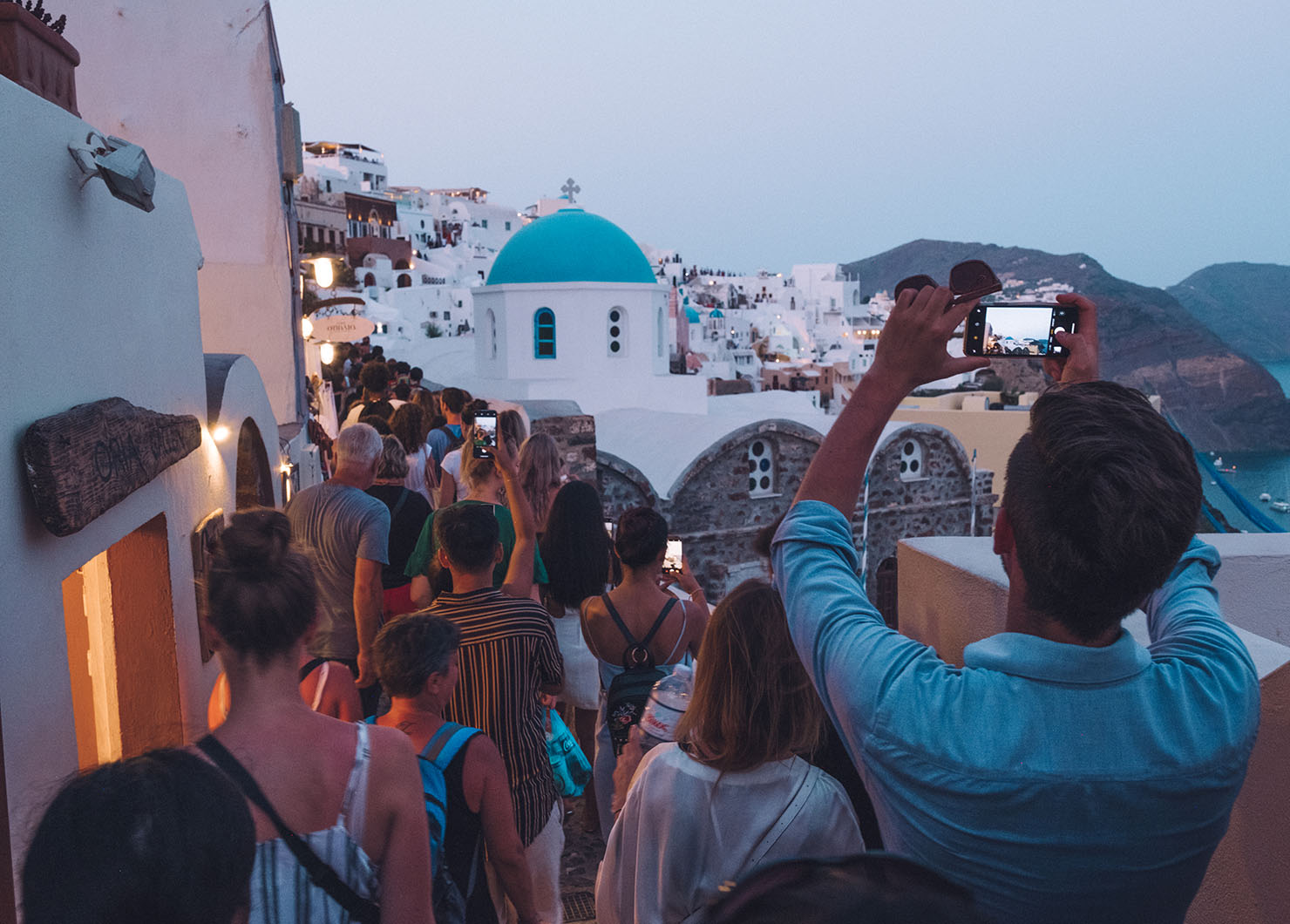 While you can get those iconic sunset shots—arrive prepared. I got some gorgeous sunset shots but snapped 'em while I was elbow to elbow with other shutterbugs. For a table at a restaurant with a famous view, be sure to book well in advance.
And get creative! The best pics aren't carbon copies of what you've seen online.
They are the little hideaways that you discover when you're just wandering around. Let the road guide you. You'll find that as soon as you get off the main streets, the island feels like a deserted paradise. If you want to find even more deserted treasures make your way over to Imerovigli.
Helpful Tip:
Before you go, check out my tips on How to Get Awesome Photos as a Solo Traveler. If you are traveling as a couple, bring a tripod too! There are dream backdrops that will give you the ultimate romantic portrait.



Castle of Oia
The ruins of this medieval castle offer a sweeping 360-degree view of the sea.
Also called Fort Londsa or Oia Castle, these Byzantine Ruins were the home of the Argyri family under Venetian rule.
This is a landmark site and is a hotspot at sunset as the crowds arrive and the music starts to play. Come ready for a crowd, and spend the time to get a view from a bit further back to get a shot of the windmills.
More than just a pretty spot, this castle has a cool history. During Medieval times, it was a watchtower to protect the island from pirates.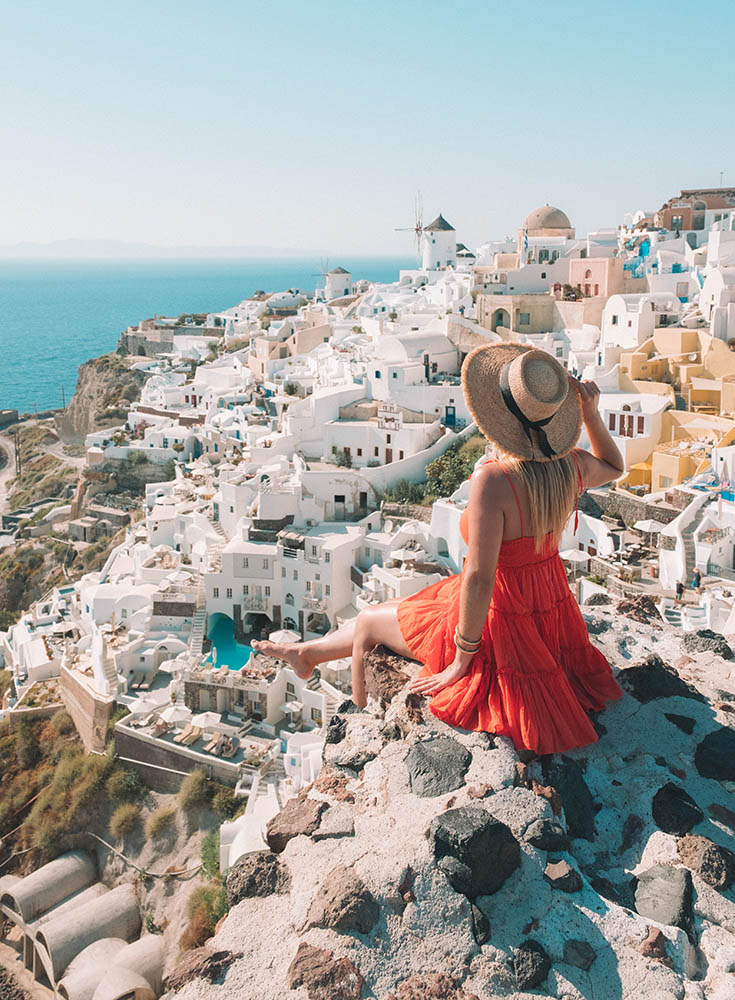 Oia Cliffside
Overlooking a rainbow of buildings on the west side of Oia, you will find some of the most beautiful views in Greece right here. The steps leading down the cliff to Amoudi Bay are one of the most popular spots for sunset pics and one of the instantly recognizable sights of Santorini.
During the summer, the sunset sets around 8:30. To beat the crowd, arrive around 6 pm. After sunset, the crowds will disappear quickly and you can get a superb evening view.
To get to Oia Cliffside, take the main road from Oia to the west. You will see a pathway that leads down to the bay. Make your way down, but stop before you get to the bottom for that perfect view from above.



Kastro Oia Houses
This pastel pink hotel is an Instagram darling. The views are breathtaking at sunset, but busy. To guarantee your spot, arrive early. You can come for dinner, or book a room with a remarkable view overlooking the bay.
Here are a few important lessons I've learned from years of trying to capture the perfect photos as a solo traveler!
Read More!


Anastasis Church
The iconic blue domes of Anastasis Church are easily one of the most iconic vistas in Greece.
As you arrive at the church, you will see two entryways. The right side is private. The left side is the public entry and you'll often see a line out the door. Arrive as early as possible in the morning to cut down on work time.
Don't forget — the path leading to the church is pretty darn charming, too!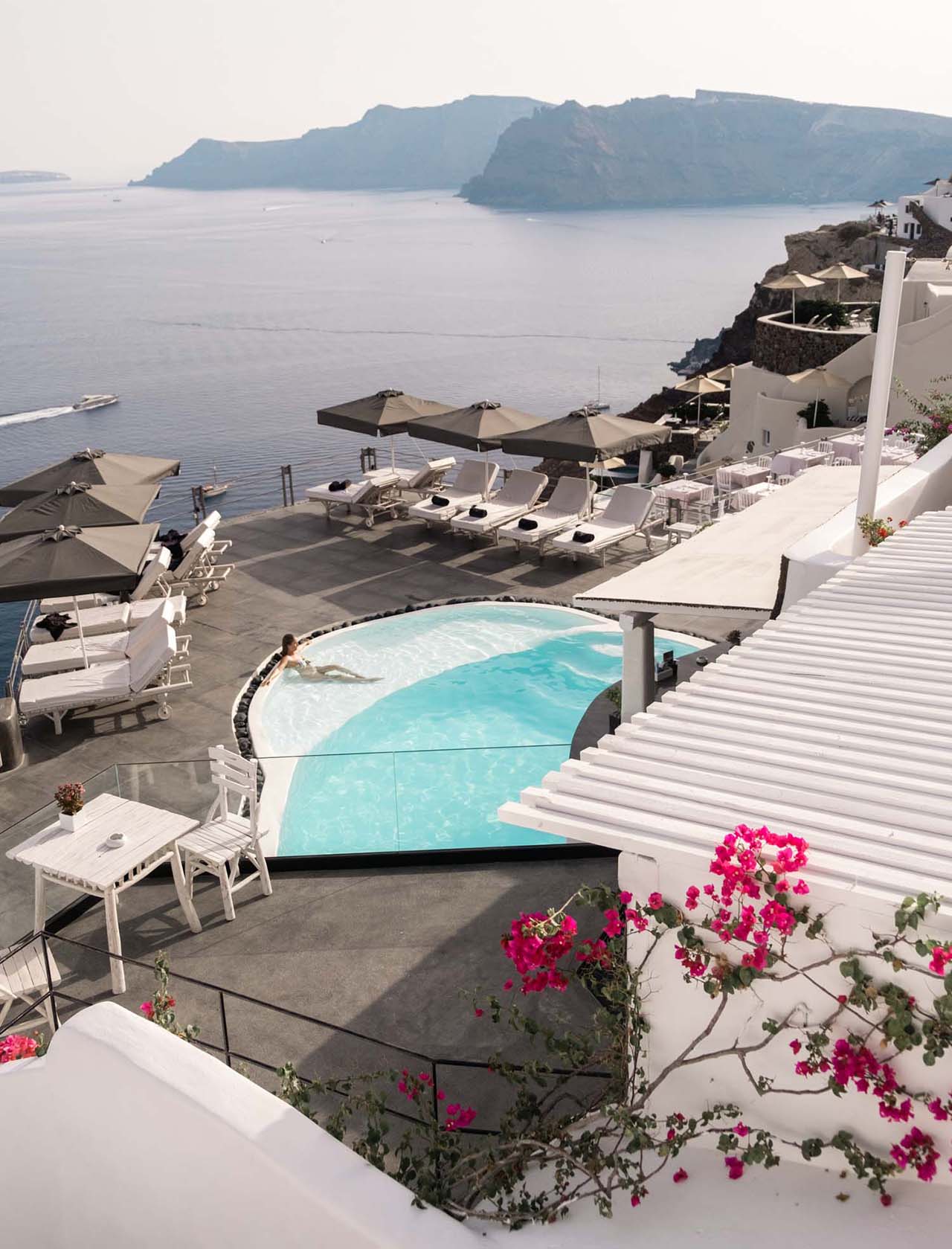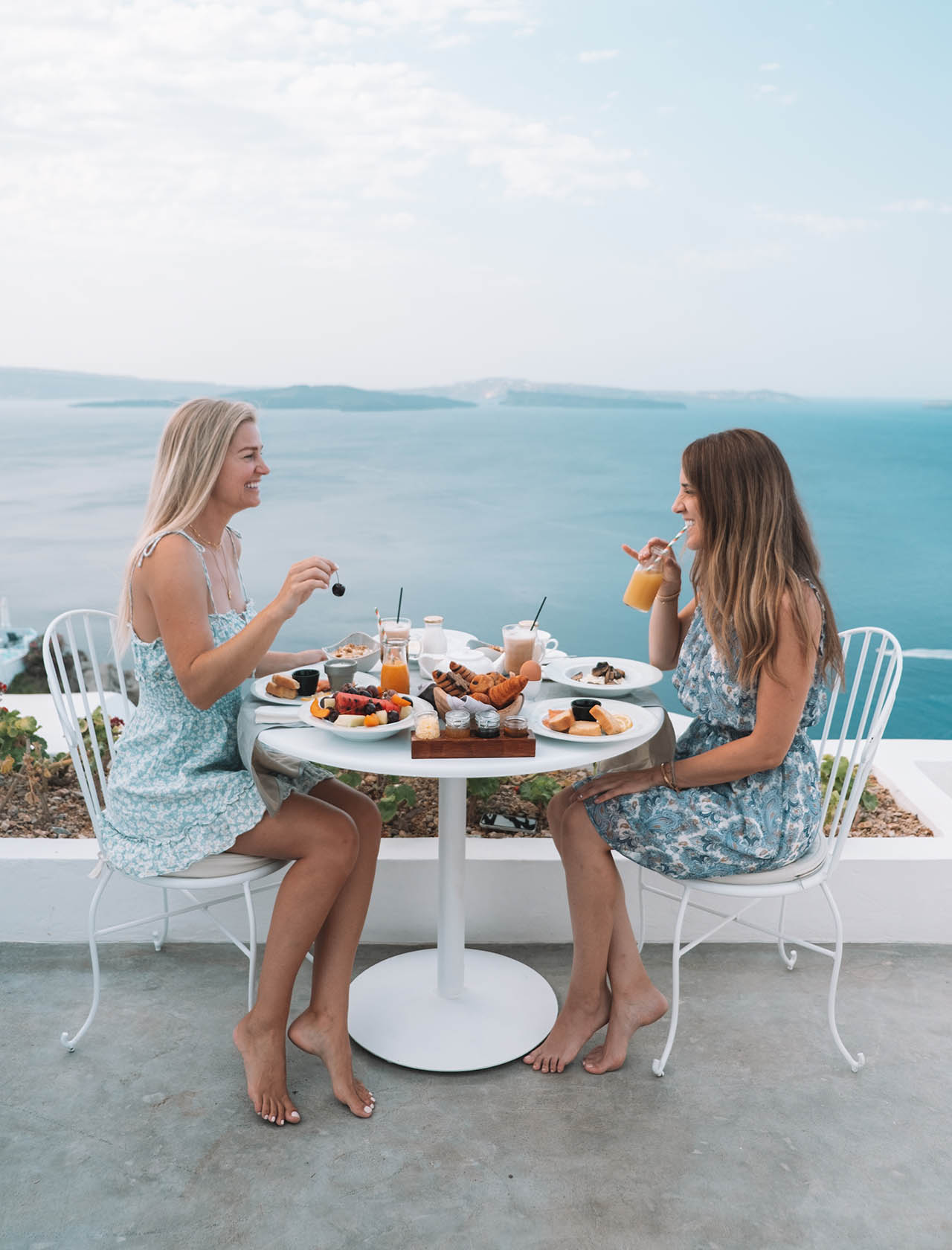 Andronis Boutique Hotel
In fact, I loved their seaside caves so much, I came back for a second stay. For a jaw-dropping view that you only have to get out of bed to see, this is the spot.

Perissa Black Sand Beach
The black volcanic sand here creates unique beach snapshots. Pack for a day out at the beach, or just swing by for a photoshoot and maybe some lunch.
Be sure to bring water shoes along with that camera. The black sand here gets sizzling hot! During the summer, it'll burn your feet in a flash.

The Church Bells in Fira Town
Hiking between Fira and Oia is one of the most romantic destinations for couples in Santorini.  Known as the Three Bells of Fira, this is Greek architecture at its finest.
As a heads up, it can be quite awkward to actually photograph the bells, so keep that in mind!
About a 5-minute drive north from the Three Bells is an area where you can hike out to Skaros Rock. While we didn't end up doing this—you could potentially start here first before heading down to the Three Bells.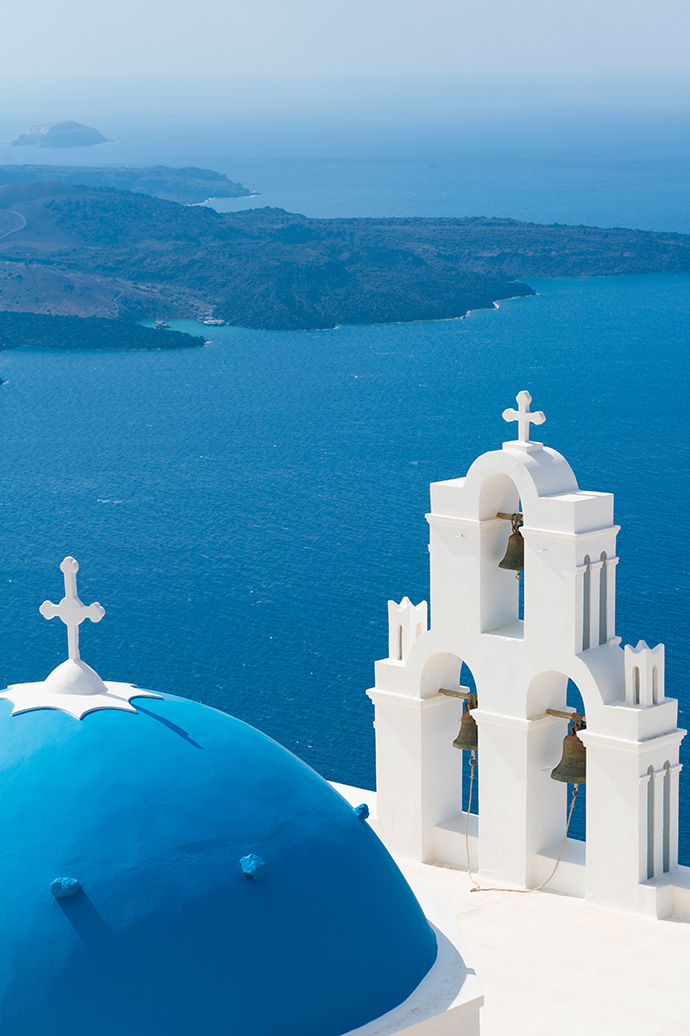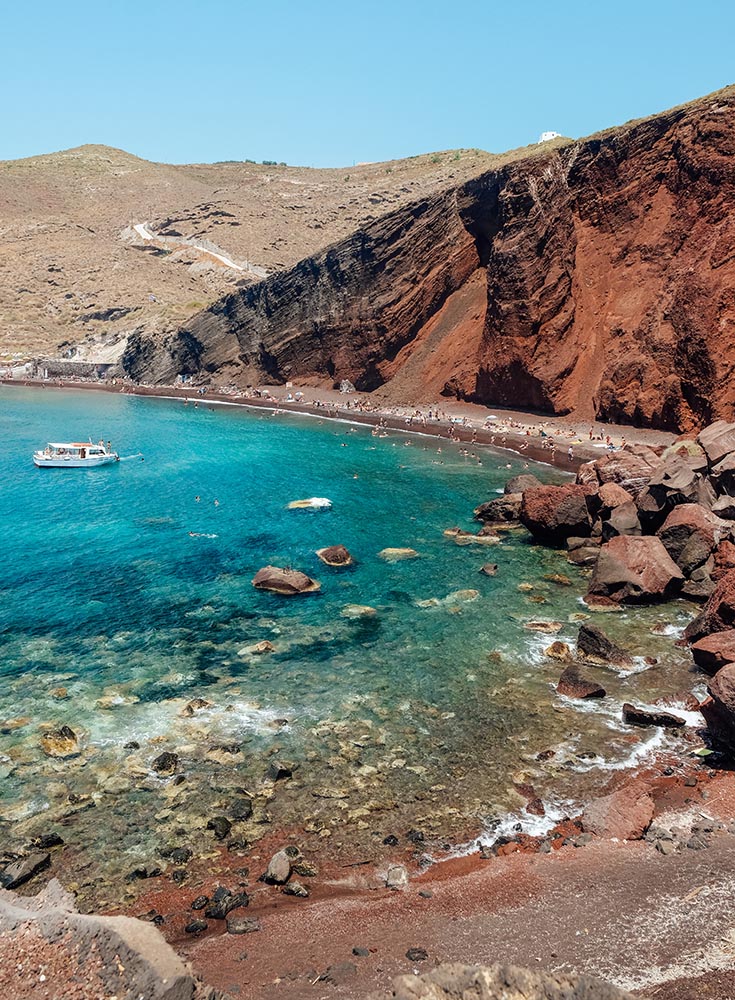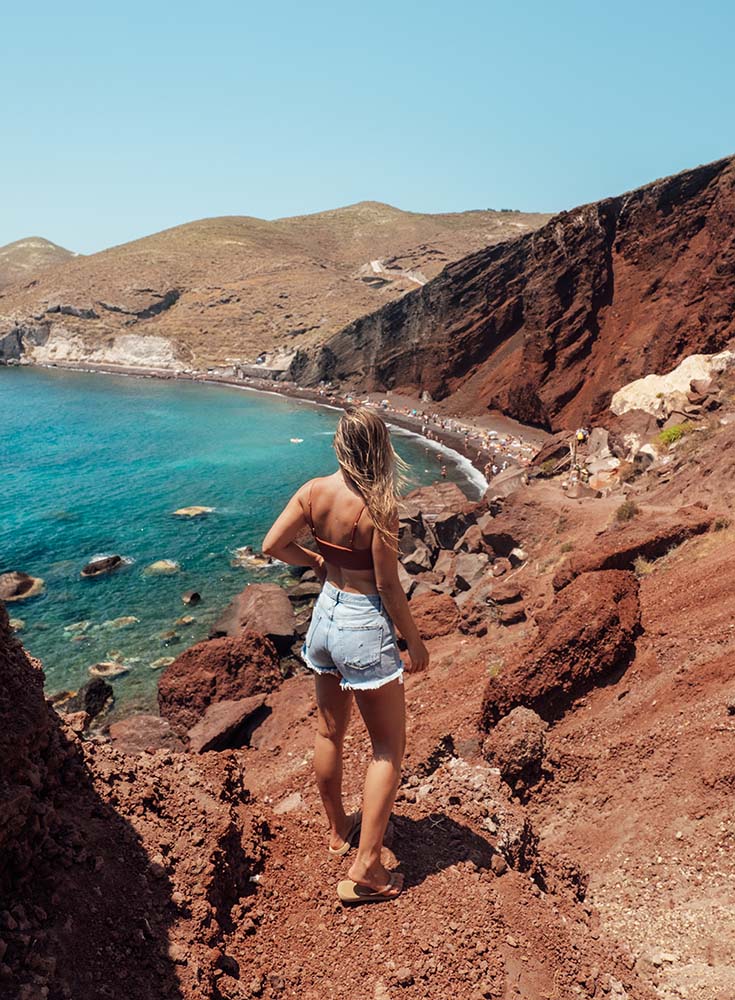 Red Beach
This stunner was one of the highlights of my ATV adventure around Santorini. The lush merlot seascape creates an otherworldly effect on your photos.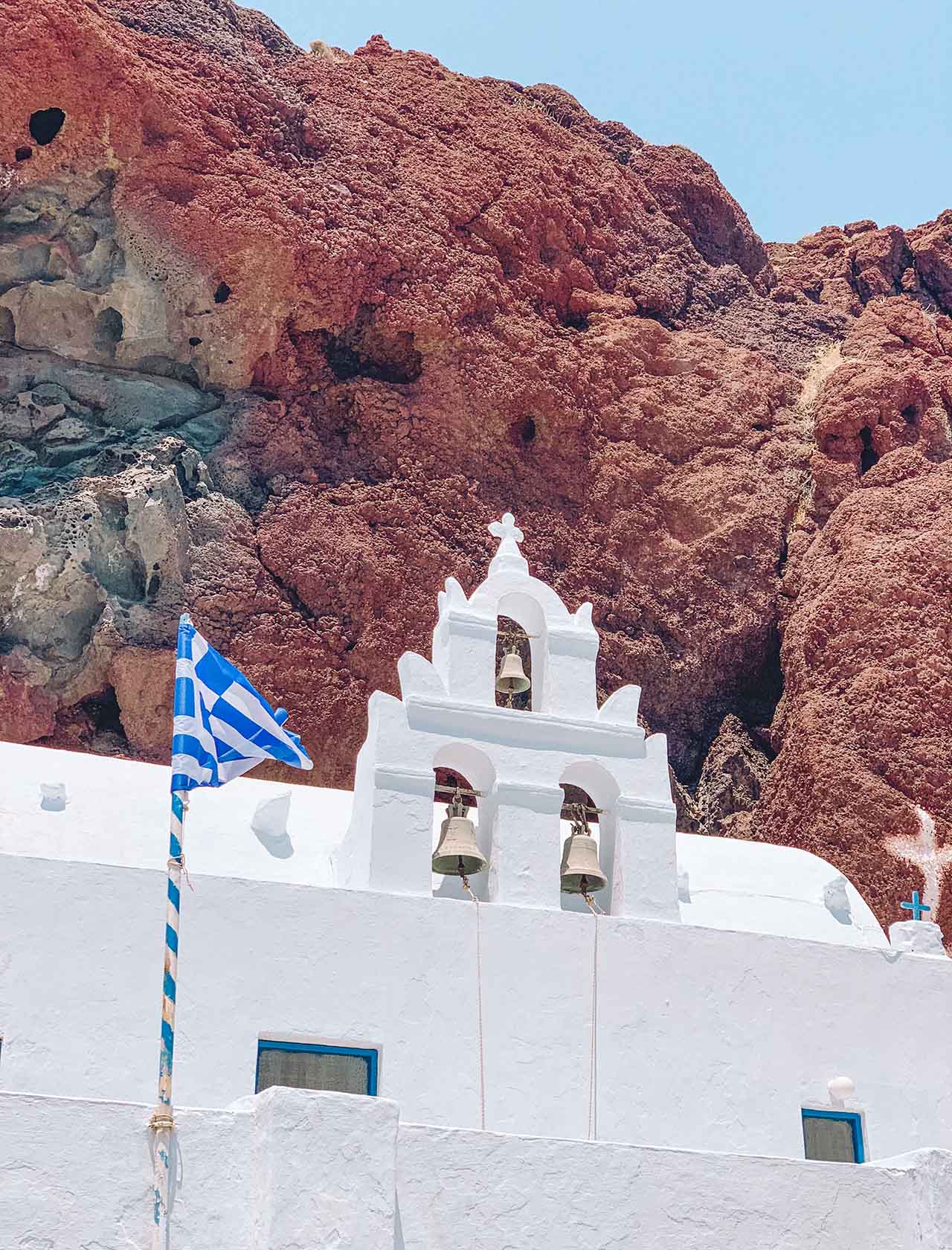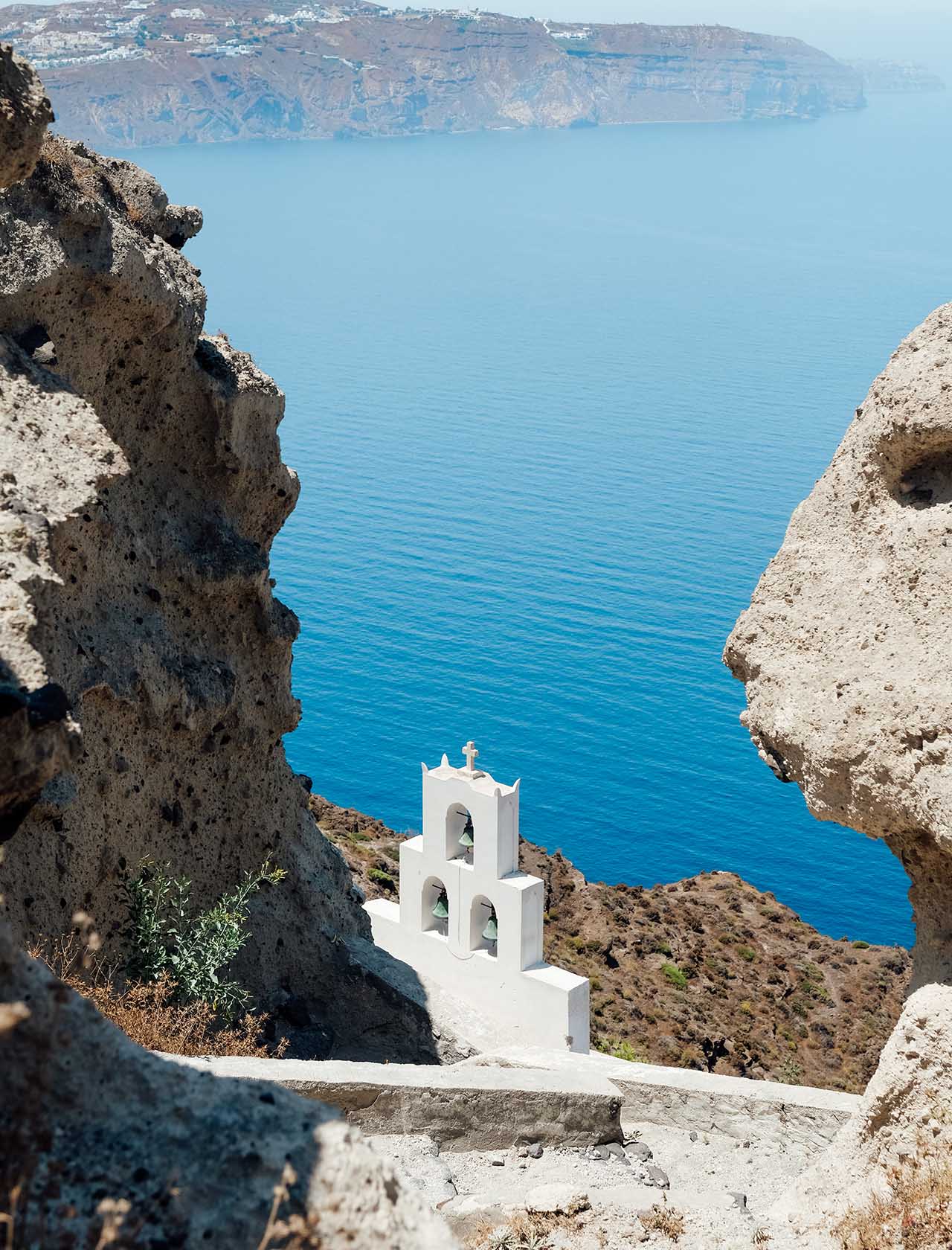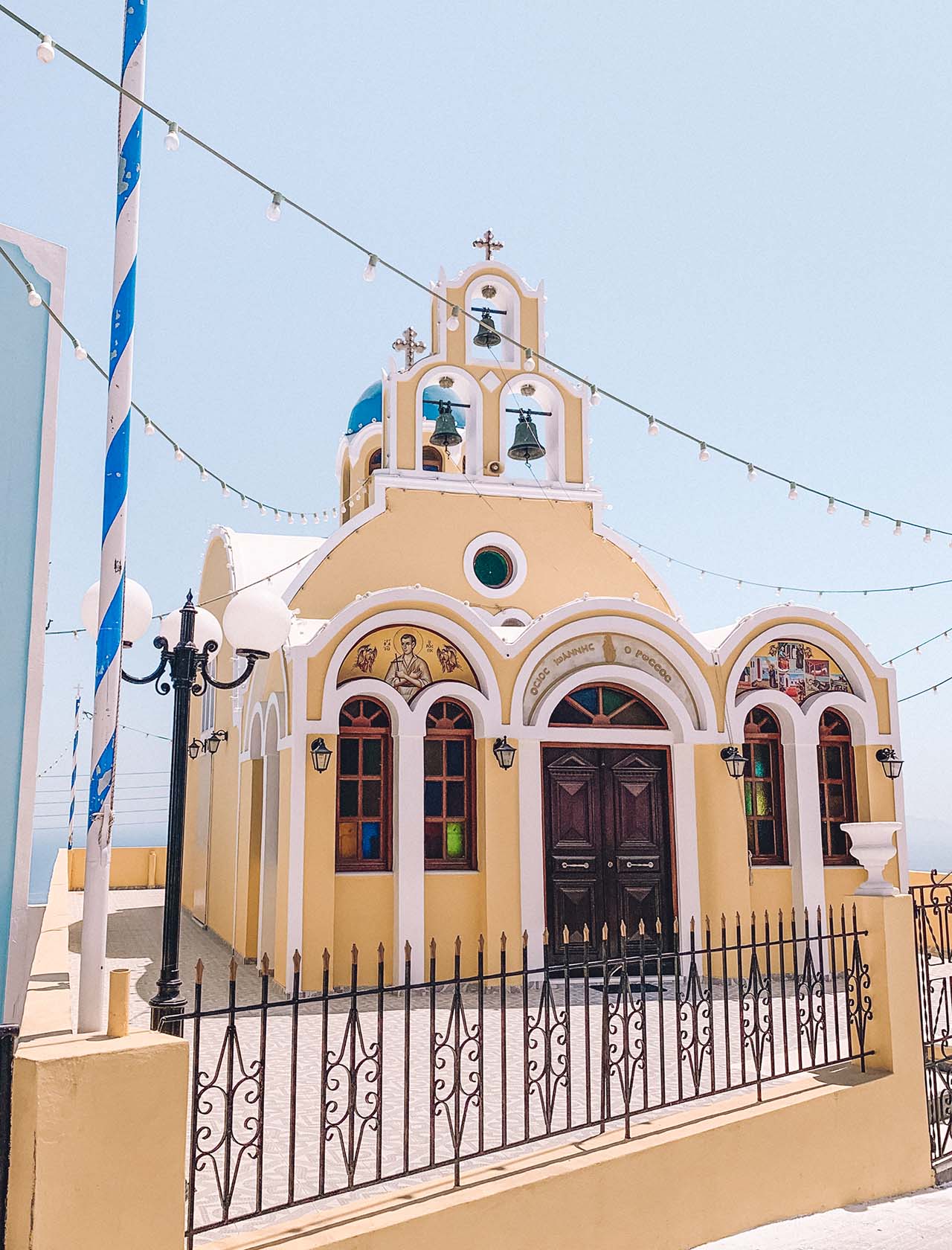 Megalochori
The quaint Greek village of Megalochori was another one of the highlights of my ATV excursion.
Down the cliffside, you'll find churches like Agios Nikolaos carved into the stone. Keep your eyes open for the Heart of Santorini, a little heart-shaped hole in the stone that offers an unforgettable view. It's located just a few steps away from the church.
Here you can pop by an area that's referred to as the "Heart of Santorini." It's a small heart-shaped hole that naturally carved into the caldera, and you can see the ocean through it.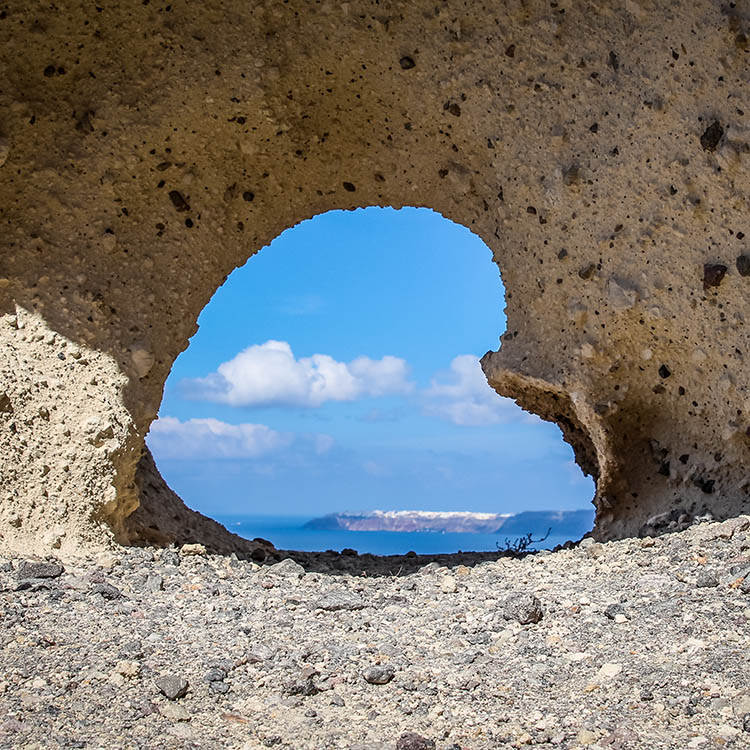 What photo spots or dreamy Instagram moments have you found in Santorini that you absolutely have to share? Let me know in the comments below!
Check out my 20 Photos to Inspire You to Visit Santorini for more inspiration.