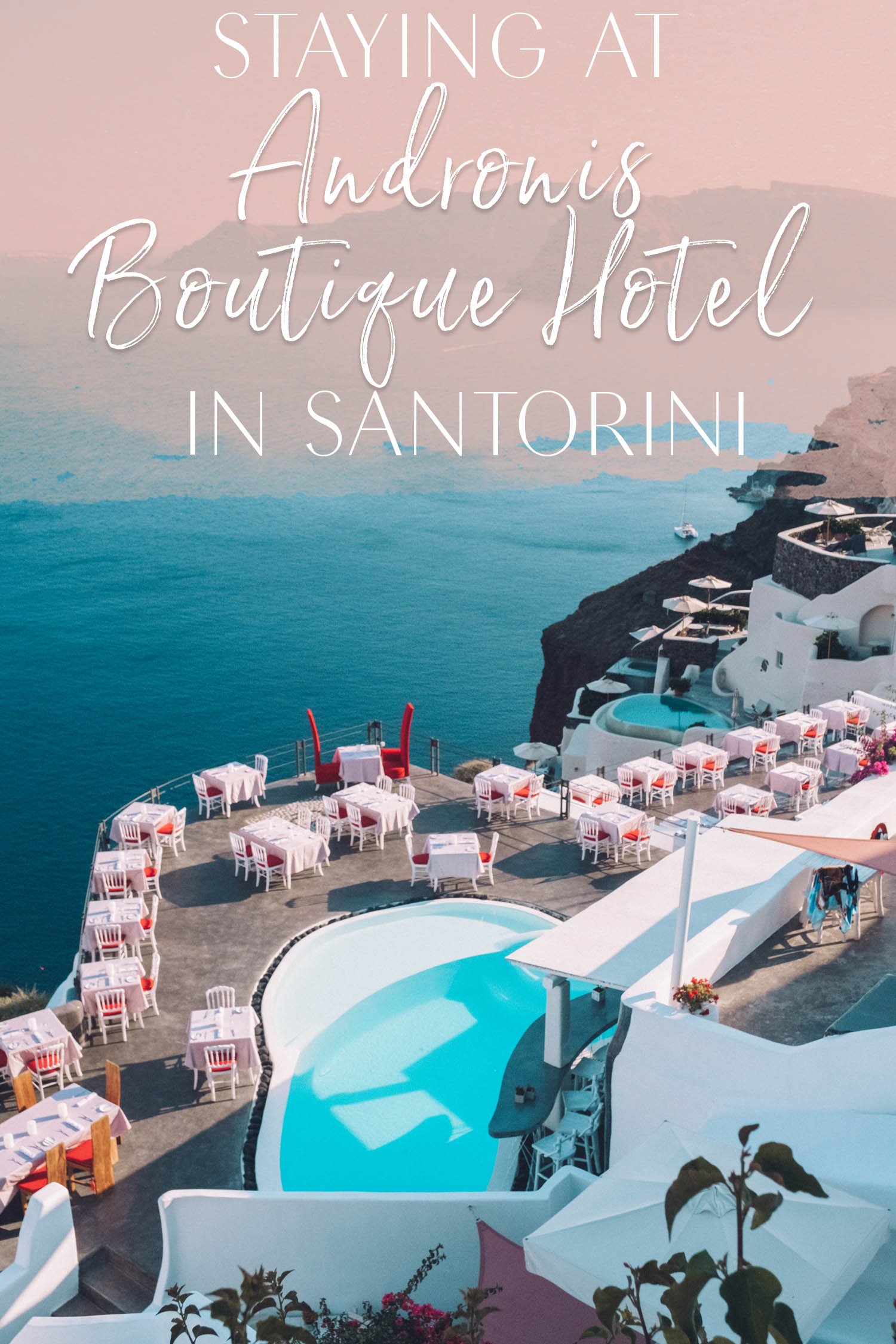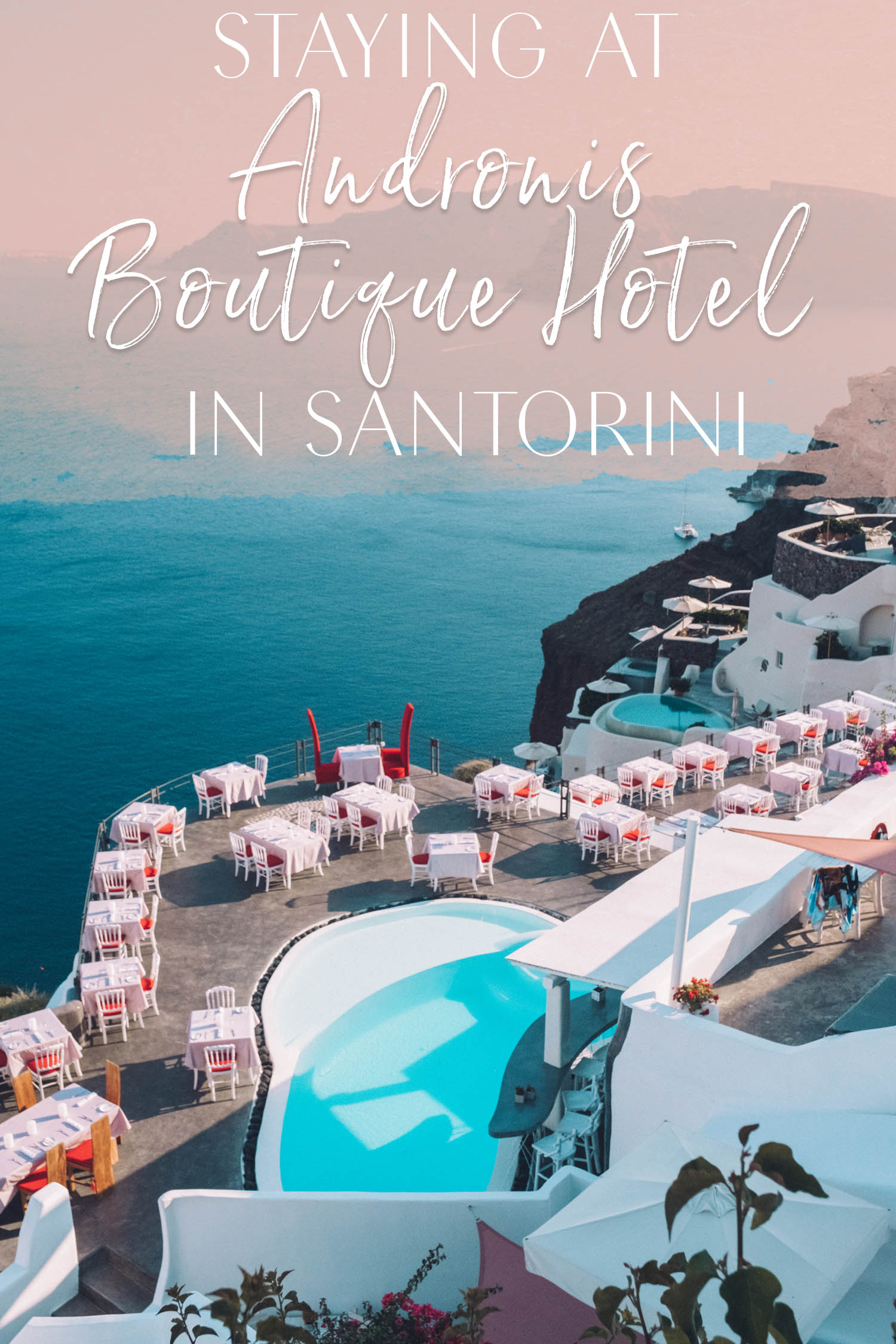 I'm feeling salty and sun-kissed! My recent trip to Greece was an absolute dream. It's been about five years since I was last in the Mediterranean and I won't stay away for that long anymore!
During our trip, I explored Santorini for the first time, and let me tell you—it's as perfect as the postcards!
I'll admit I've been wanting to visit ever since my Sisterhood of the Traveling Pants days. It looked so glamorous…in reality, it was hot, hot, HOT. Luckily, I spent plenty of time lounging around the pool during the heat waves.
During our visit, we stayed at the Andronis Boutique Hotel and I loooooved it! It's by far the best hotel I've ever stayed at in terms of customer service. The staff is unbelievable. Anything you need or want they were on top of it—they would even move your pool chair for you. Talk about top-notch service!

Oía, Santorini
Getting There
If you're island hopping around Greece, you can simply take a ferry to Santorini. If not, you can fly directly into Santorini National Airport.
The journey to Oía is a quick 25-minute drive from the airport if you take a taxi. It will cost you about 55€, so it's a more expensive option but you get a bit more privacy. If you're looking to save a little extra money, there are shuttle buses that will cost you 15€ per person.
Contact the concierge at Andronis Boutique Hotel to arrange an airport or port transfer for you!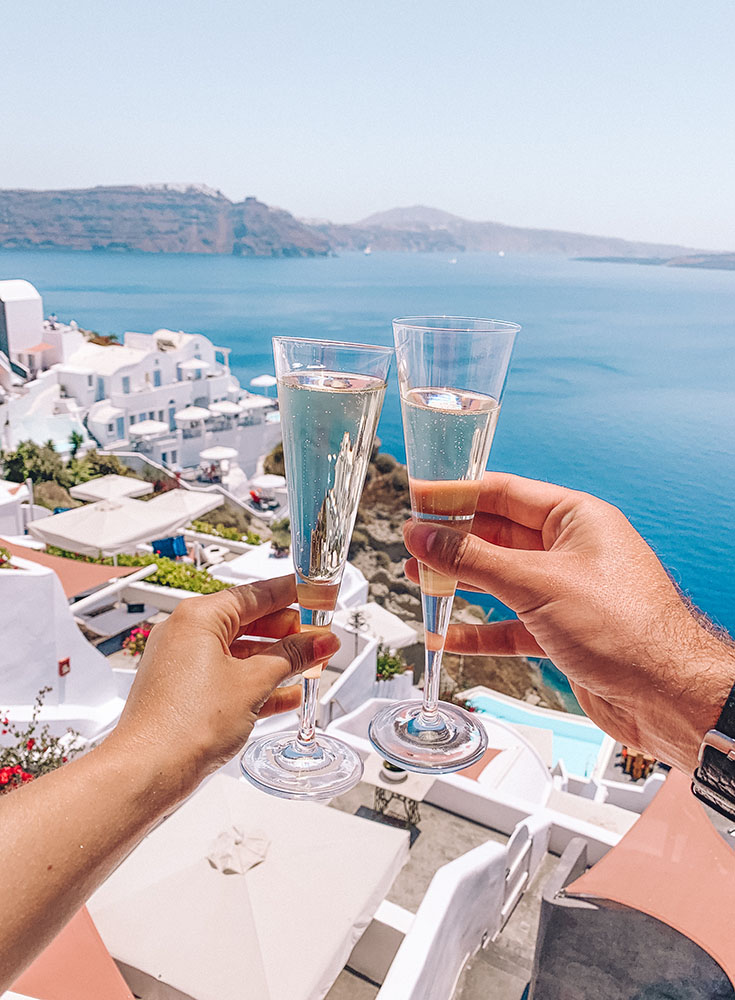 About the Property
No matter where you turn, the Andronis Boutique Hotel offers stunning views of the Aegean and it's quite a hot spot for honeymooners. The posh hotel won the 2018 Conde Nast Traveler Readers' Choice Awards and Jetsetter named it one of the best hotels for romance.
Let me tell you—I'm not surprised!
That view with the champagne is what you see when you first check in to the hotel. Yes, please, always!!

Andronis Boutique Hotel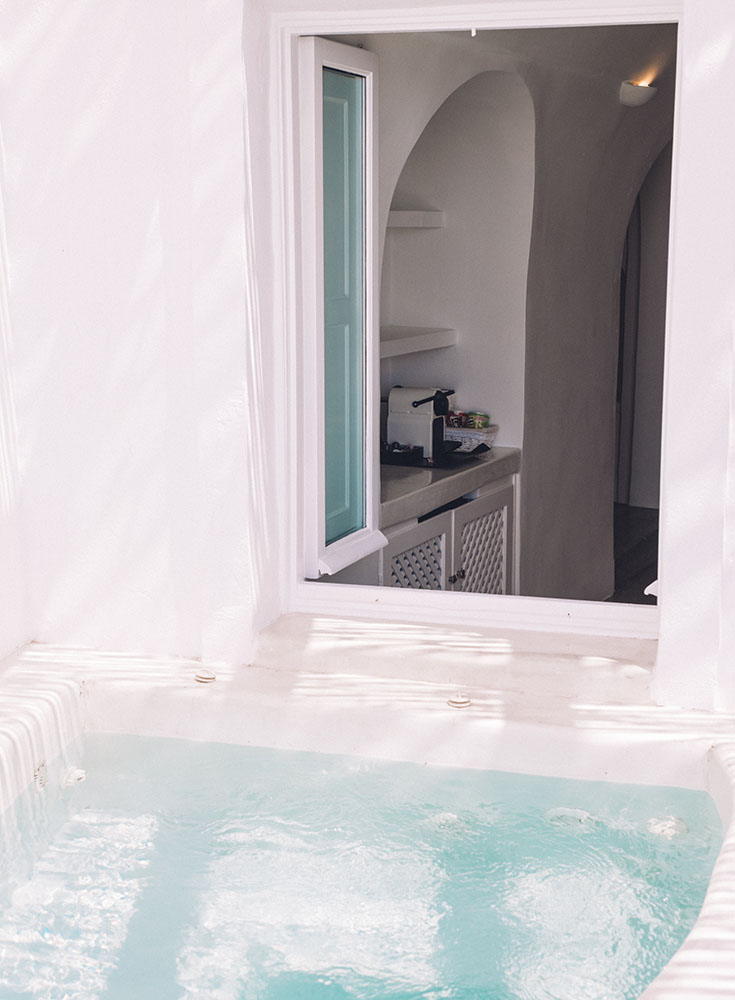 The Rooms
The layout of the hotel ensures that all suites are completely private. Every room has a view and every room is different.
Talk about dreamy!
The 23 cave-like suites all have their own private entrance, living rooms, secluded balconies with sweeping views, king-sized beds, walk-in rain showers, and a private jacuzzi. I was especially fond of the aesthetic—crisp white walls and minimalistic décor.
I stayed in several rooms just to get an idea of the property. I started in the 2 Bedroom Villa which would be great for families. I then moved onto the Elegant Suite which was the perfect romantic hideaway.
I also thought the Pool Suites, the Water Retreat, and the Cave Pool Suite were absolutely breathtaking. You truly can't go wrong with the suites at the Andronis. In case you're wondering, these photos are from a Normal Suite (yes, that's the Normal Suite!!).
Note: This property does not accommodate children due to its construction on the cliff and no facilities for little ones.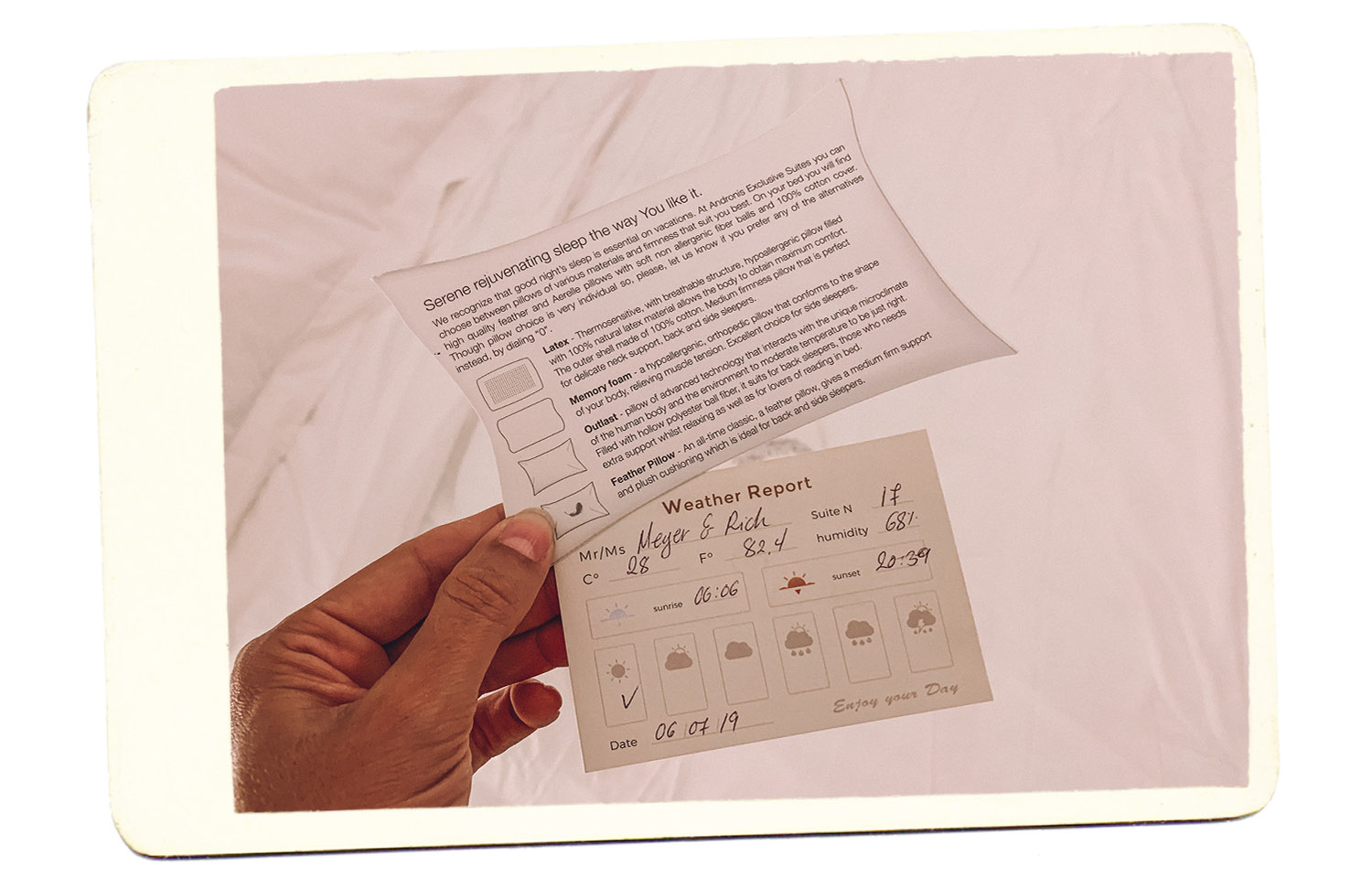 They even had a card for custom pillow selection, which I thought was an especially sweet touch!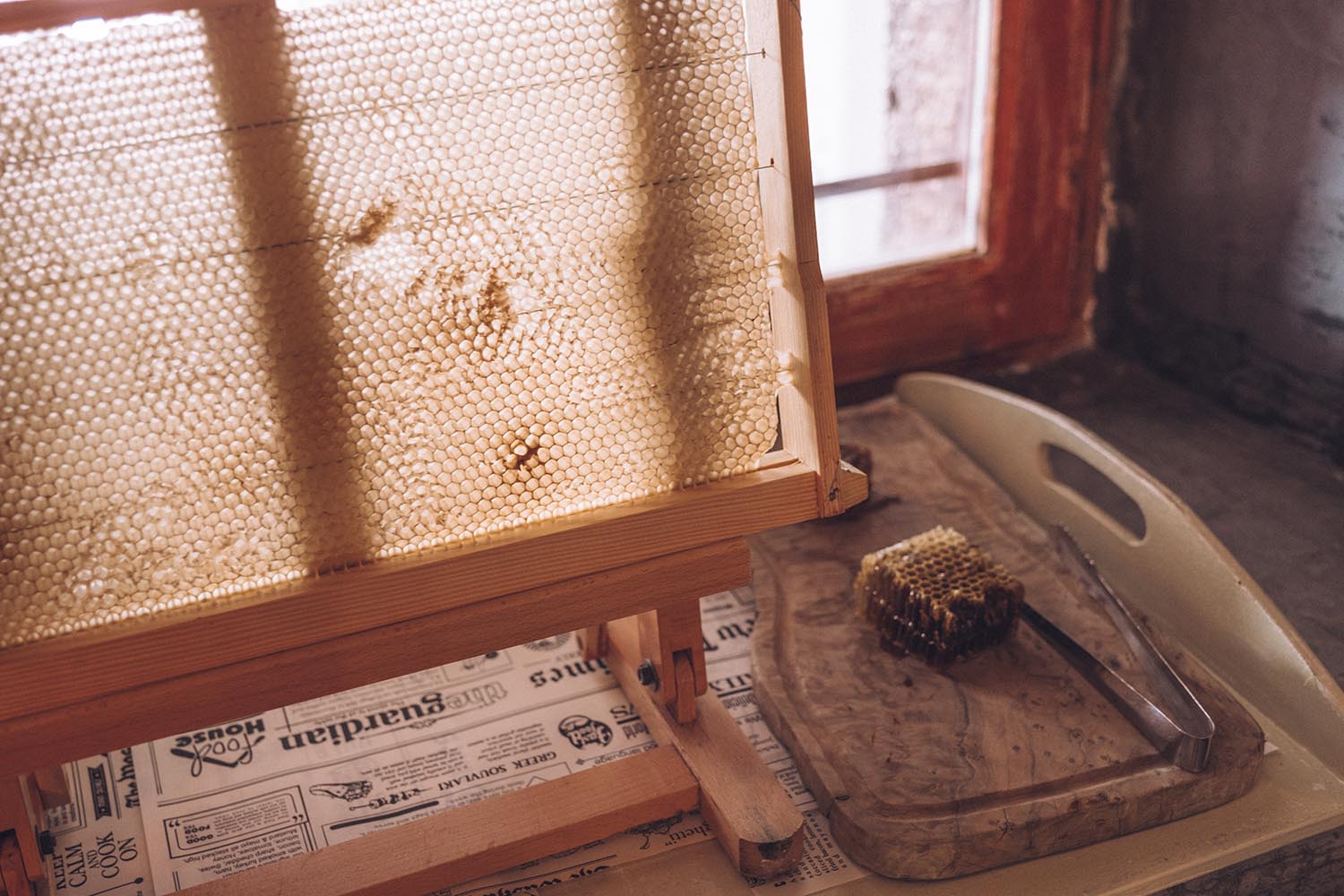 Dining
Breakfast is included in your stay, so believe me—I sampled a ton of the local honeycomb! Aside from breakfast, I was particularly in love with…and in awe of Lauda Restaurant.
Lauda Restaurant
While fine dining in highly touristic locations like Santorini doesn't always present you with a ton of "local culture," Lauda is different! It was actually the first restaurant on Santorini—back when only about 300 people inhabited the island. Can you imagine that?
Lauda was built in 1971 and was Oia's first restaurant. It's where all of the locals gathered to talk and drink (and use the village's only phone!).
One of my favorite things about this place is to honor their history and the tradition of the island, they use local, fully-organic ingredients to serve up an insanely delicious tasting menu.
I tried the Discovery Menu, aka the 9-course dinner, and was truly blown away.
Some of my favorites included the sea urchin and the yellowtail with seaweed. I substituted the lamb for fish (which they so gracefully allowed) and it hit the spot. I would definitely recommend eating here even if you choose to stay elsewhere as it is quite the experience.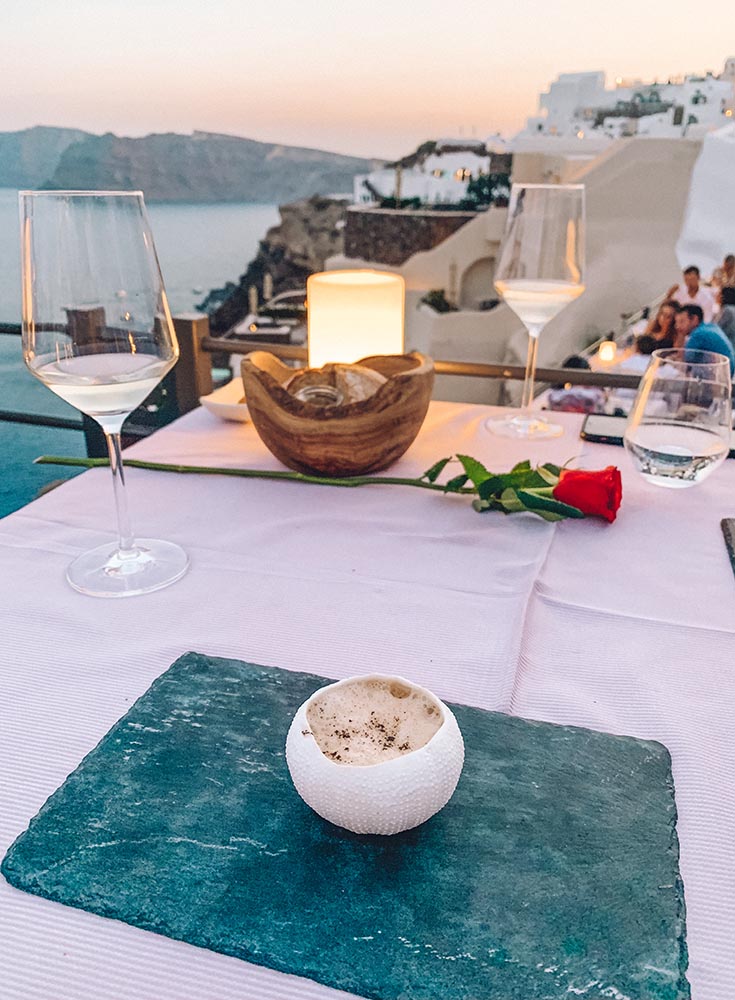 Above is uni with coffee and then Greek yogurt with spoon sweets—which is similar to a sour cherry. So delicious!
We loved the Greek yogurt with spoon sweets so much we actually ordered it to our room (it's not even on the menu but again, their customer service is amazing!!).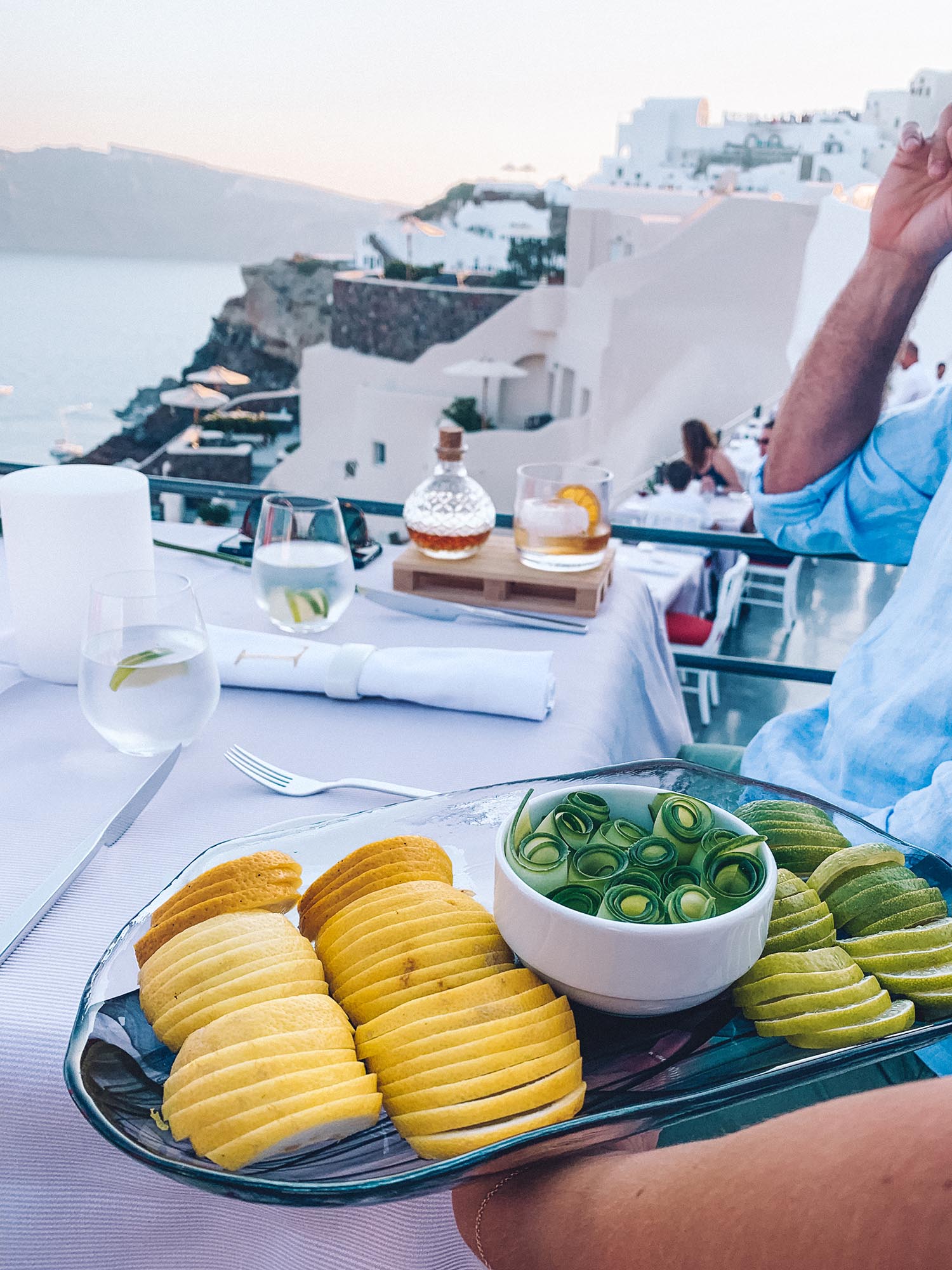 They also have a water flavoring tray with slices of lemon, lime, and cucumber. All about those fresh goodies!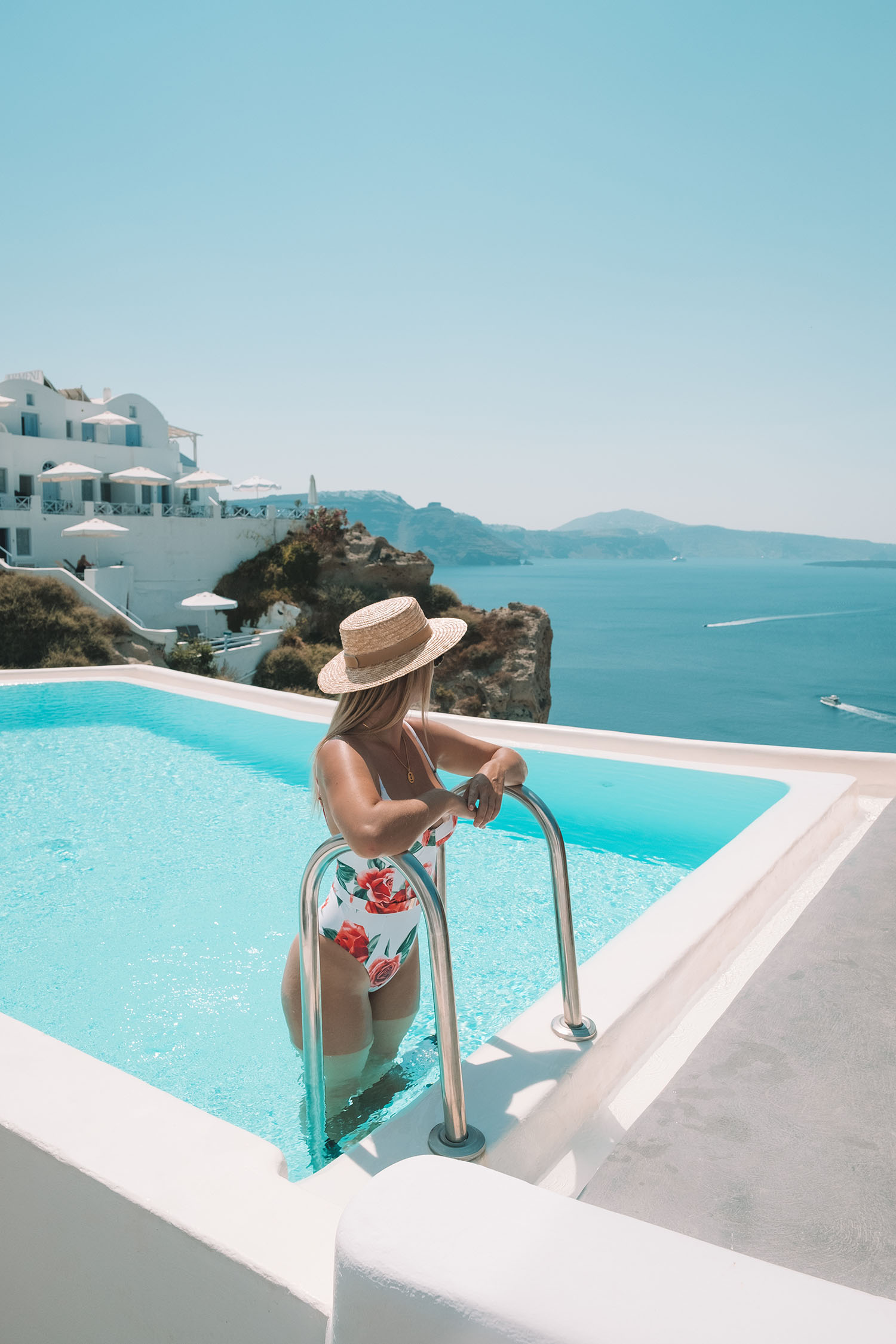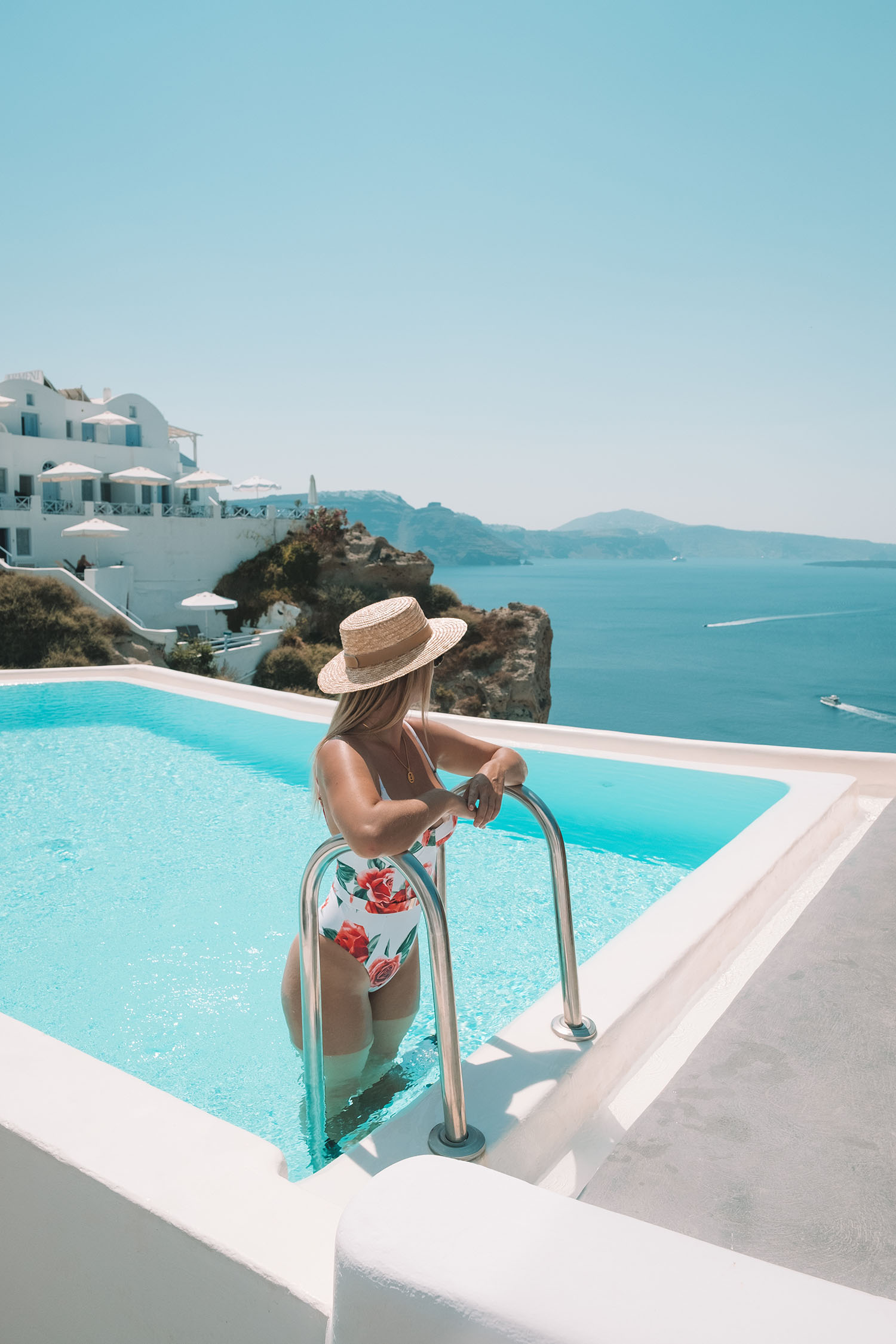 The Pool & Spa
The gym and spa are located at this sister property—Andronis Arcadia, but it's not a far walk at all (about ten minutes or so!).
Alternatively, the pools at Andronis Boutique Hotel are heavenly and you definitely don't want to miss out!
The pool was the ideal temperature for the summer in Santorini. It was cool but quite refreshing and I spent my fair share of time hanging out in and around it. 🙂


Activities
We did a self-guided ATV tour of the island and had the best time! There are a lot of other fun activities to do on the island.
Catamaran Sailing
What better way to see the Aegean than to sail it by catamaran? The boat stops by all major sites, including the Hot Springs and ends with a delicious BBQ with local wine as the sunsets.
Scuba Diving
Greece has some of the best scuba diving in the world so if you're anything like me, I highly recommend exploring the underwater world of Santorini. The geology and volcanic activity have created an unbelievable home for some beautiful sea creatures.
Wine Adventure
What would a trip to Greece be without a wine tour? The Santorini Wine Company offers a wide variety of wine and gastronomy tours where you can learn about the soil, the microclimate, and the techniques used to make Greek wine so special.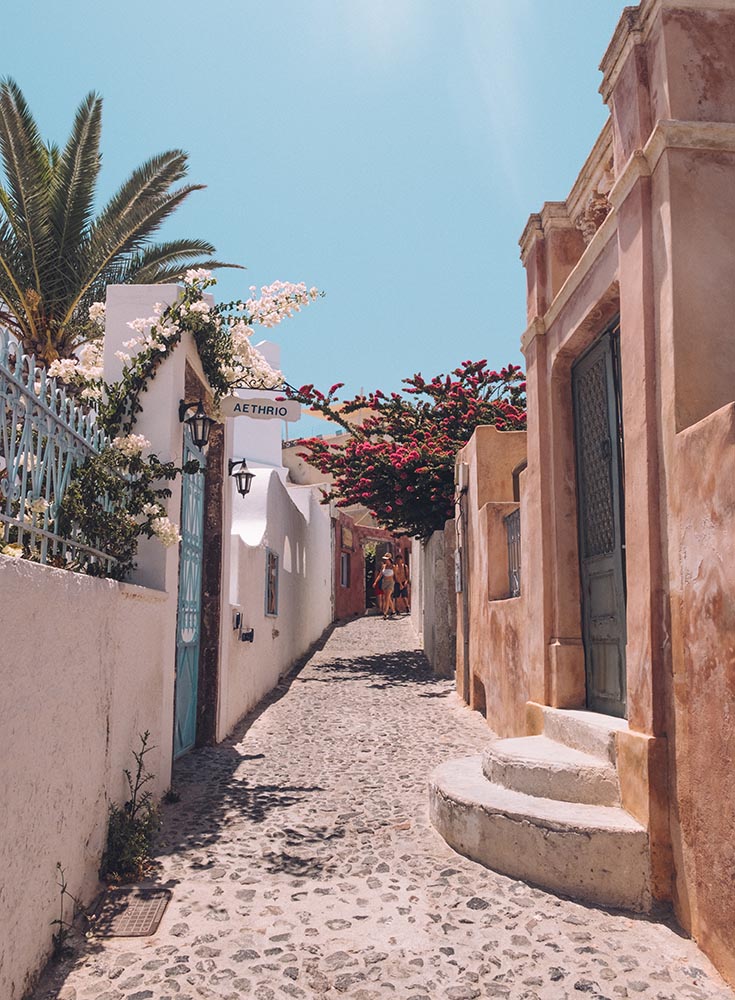 Santorini Walking Tour
If you're looking to explore Santorini like a local, I highly suggest taking a walking tour through the villages. You get to explore hidden gems that many don't know about, walk along ancient cobblestone streets, and take in every ounce of scenery that Santorini has to offer.
Helicopter Flight
Taking a helicopter tour lets you see Greece from a whole new point of view. Fly over famous islands like Mykonos, Crete, and Rhodes, and the fascinating capital of Athens for a once-in-a-lifetime experience.
Photo Safari
If you've been following my blog or Instagram then you know that I am a big fan of photo safaris. The semi-private photo tour lets you explore new spots of Santorini while improving your photography skills.

In My Opinion
Overall, I absolutely loved staying at Andronis Boutique Hotel—in my mind, it was the definition of an ideal boutique hotel. I would 1000% stay here again…and again.
I was blown away by the views, the private suites, and the top-notch customer service. I would absolutely recommend this hotel to anyone visiting Santorini.
Even if you don't stay here, take a walk around the property and prepare to fall in love!

More Information
Hotel: Andronis Boutique Hotel
Location: Oía, Santorini, Greece
Accommodation: Luxury
Price Range: $$$

Thank you to Andronis Boutique Hotel for hosting me during my stay. As always, thoughts and opinions expressed here are entirely my own.
Want to earn points for your hotel stays and earn miles toward your next adventure?