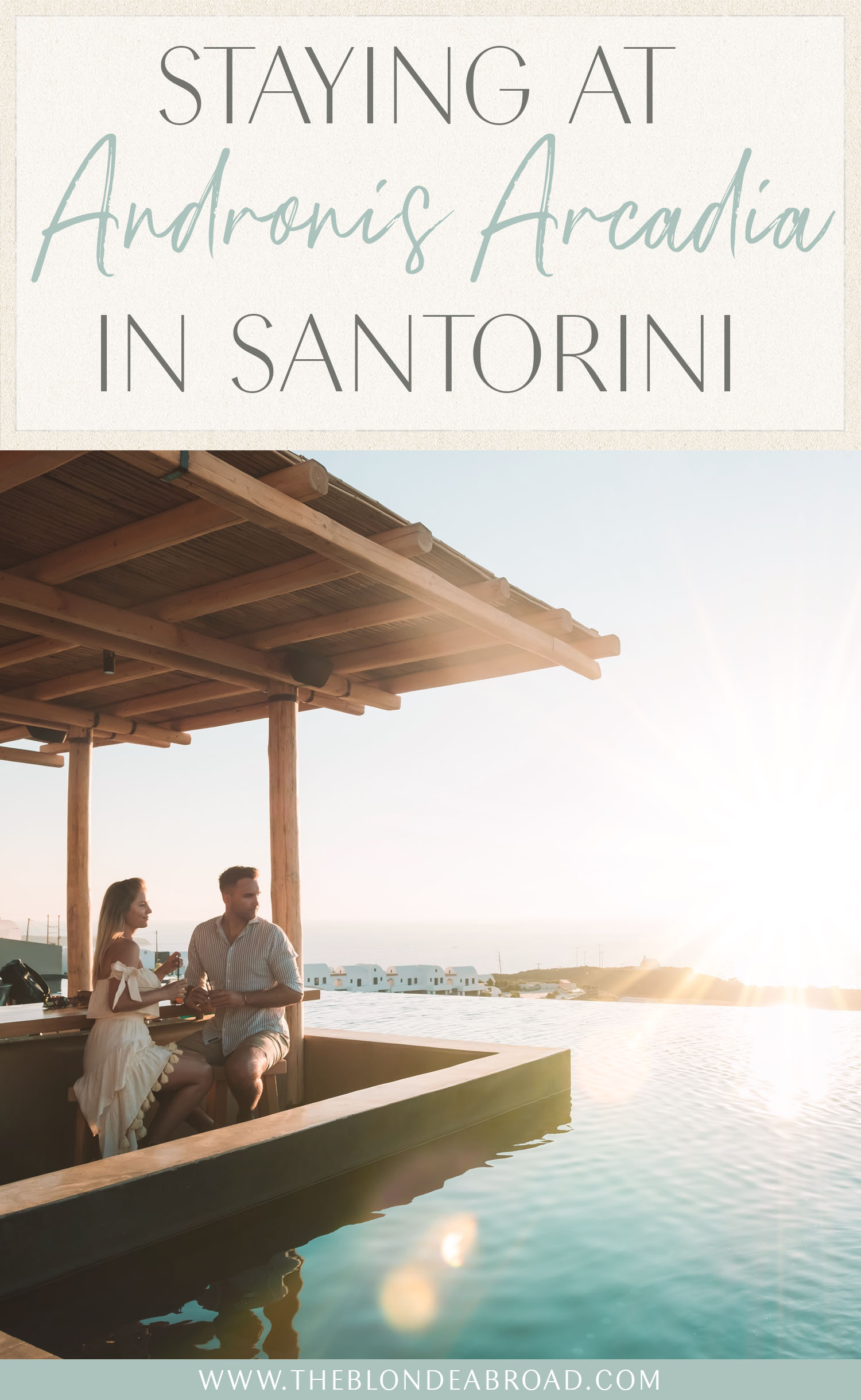 During my most recent trip around Greece and the Mediterranean, staying in Oía on Santorini was my TOP priority! I have been wanting to visit since The Sisterhood of the Traveling Pants days…and I can imagine it might be the same for some of you!
Just like the Andronis Boutique Hotel that I stayed at, the Andronis Arcadia is located in Oía, and it's just as pretty as postcards make it out to be.
Although it just opened this past June, there are some kinks the hotel needs to work out. That said, it's a beautiful property comprised of nothing but suites, unforgettable views, and a fun party atmosphere.
If you're looking for a taste of Mykonos while in Santorini—as in those cool party vibes—you'll find that at Andronis Arcadia.
Here's what it is like to stay at Andronis Arcadia!

Getting There
Getting to Santorini is pretty simple! You can either choose to fly directly into the airport (Santorini National Airport), or you can take a ferry if you decide to island-hop.
Once you arrive in Santorini, it's about a 25-minute taxi ride to Oía, which costs about 55€ per vehicle. So just keep that in mind!
The hotel also provides airport transportation—so contact their concierge to arrange for this!

About the Property
When most people think of Santorini, they think of crisp white buildings and incredible views. The Andronis Arcadia is quite different and might have you feeling like you're in Mykonos instead. The property definitely has more brown hues and an overall sort of desert vibe.
One draw is that you're only about a 5-minute walk to those picturesque cliffs Oía is known for!
Andronis Arcadia aims to bring a fun pool area and live tropical house music to Santorini—drawing in a younger crowd. If you're looking for a party in Santorini, this might be the ideal place for you!

The Rooms
There are 6 different room types at the Andronis Arcadia. The Four-Bedroom Villa, Two-Bedroom Villa, Executive Suite, Sunset Suite, Eden Villa, and the Family Suite. No matter which one you choose, you have access to a private pool, a modern bathroom, and a contemporary sitting room. All the rooms are pretty basic but they get the job done!
I stayed in the Sunset Suite and it was complete with a master bedroom, large bathroom, and a private infinity pool. It had just enough for me and Meyer.
The one thing I did enjoy about the property is that they use local and natural products!

Dining
The breakfast here is phenomenal! They bring out a platter of local pastries and traditional breakfast goodies and a tray of butter and different preserves along with honey.
Then a waitress comes around with a Greek yogurt cart and you have the option of a chia seed yogurt or full cream Greek yogurt and an array of toppings—fresh fruit, sesame seeds, pumpkin seeds, Brazil nuts, macadamia nuts—you name it!
I loved this!
You can also order off a two-page breakfast menu that has so many juices and it's included in your stay. I'm alllllll about a good breakfast menu!
Opson
Opson prepares traditional Greek dishes, inspired by meals enjoyed by philosophers such as Aristotle, Plato, and Omiros. Using fresh vegetables from the kitchen's garden and other local delicacies, the menu is a contemporary spin on dishes like eel, trout, calamari, and lentils.
Oishii Sushi Bar
Oishii Sushi Bar
This open-air sushi bar features the infinity pool and the Aegean Sea as a backdrop was my favorite restaurant on property. The menu includes classic rolls such as spicy tuna, salmon avocado, and crab rolls along with special rolls like shrimp tempura and Peruvian rolls.
Althea
If you're a seafood lover, Althea will have you falling in love at first bite. It's all about traditional Mediterranean delights here!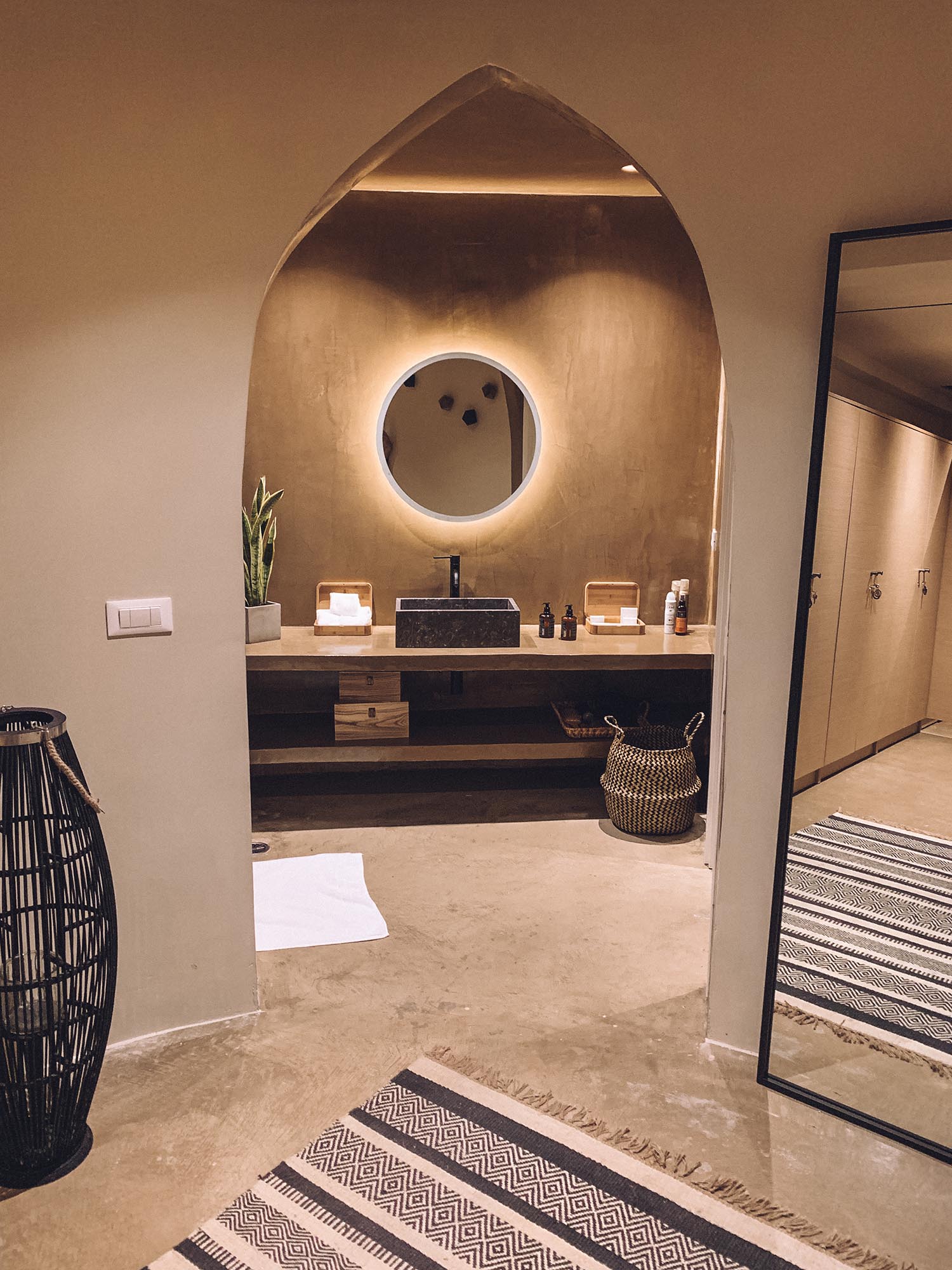 The Pool & Spa
A visit to the Evexia is a sure-fire way to escape the non-stop party and get your relaxation on. During our stay, we opted for the 'Couples Connect' experience and the spa treatment was absolutely phenomenal.
Scrub, massage, and sound healing? Yes, PLEASE!!
There are multiple options for massages, therapies, and facials. There's also a steam room and a sauna, along with a gym.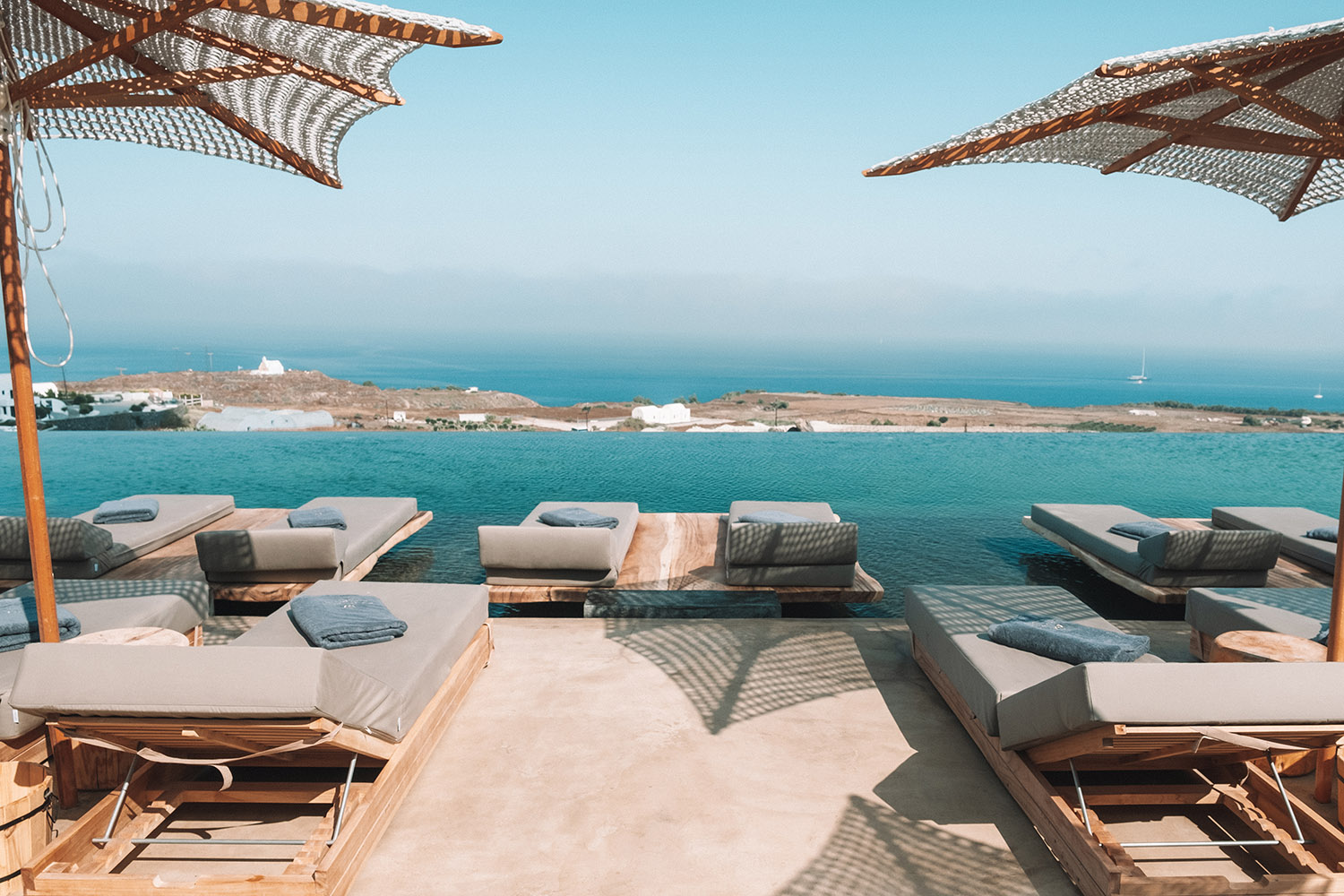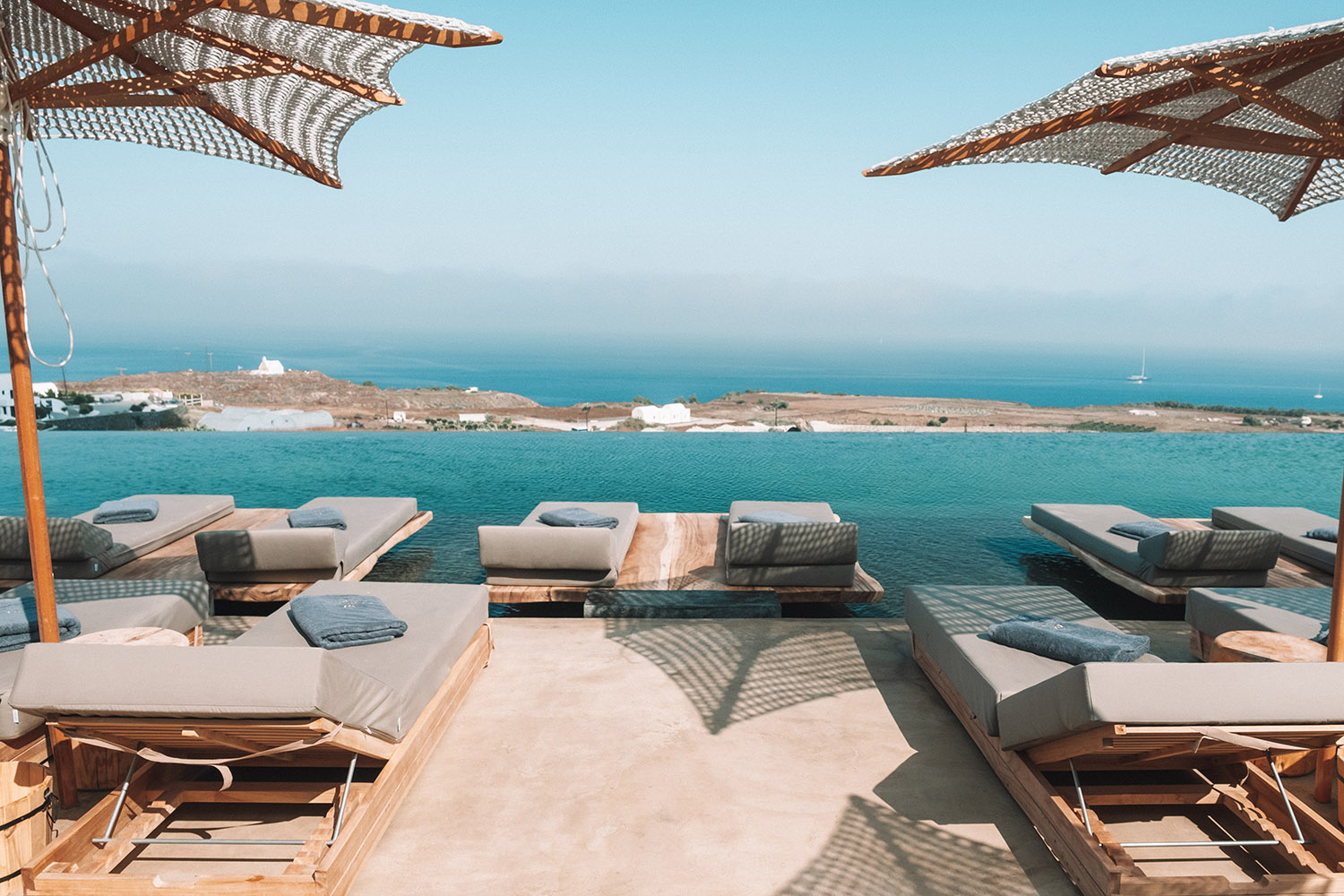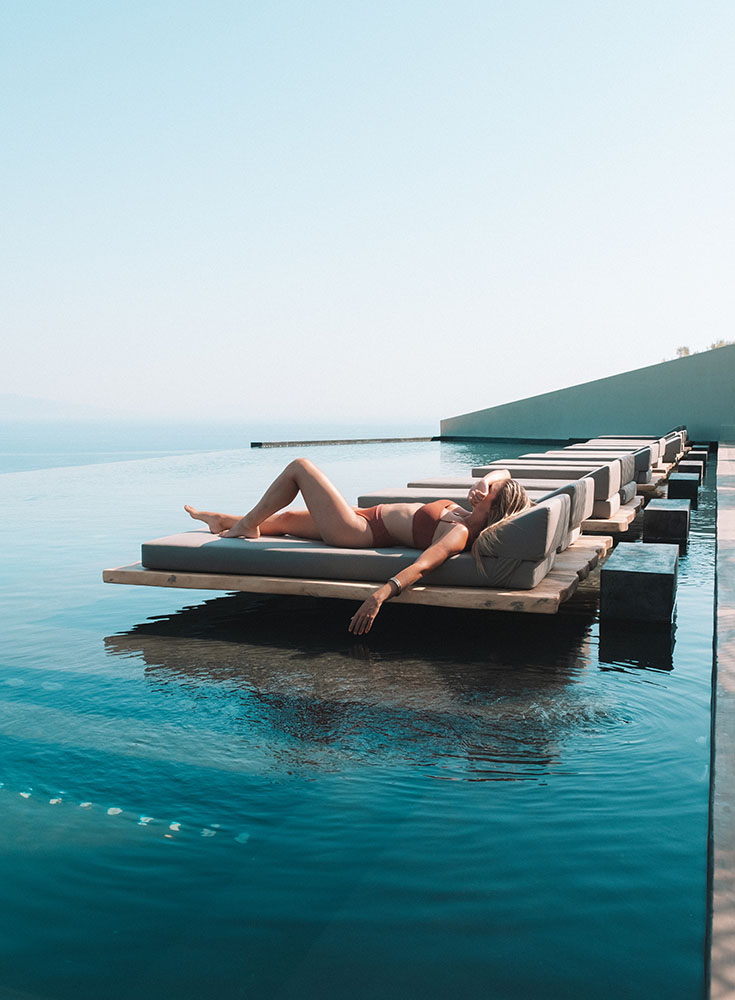 Their infinity pool was also incredible and during the summer you have FANTASTIC views of the sunset. Most of the other hotels in Oía have an obstructed view of the sunset, so you have to wander around to get a clear view, but at Andronis Arcadia, you can watch the sunset from the pool!
Even if you aren't staying at Andronis Arcadia, I would highly recommend heading to their pool and bar for sunset as they often have DJs and live music. The day we were leaving they had Jimmy Sax coming to perform, so they're definitely wanting to bring the party and crowds!

Activities
Hotel Live Music
Looking to chill out by the pool or get your party on? Then this is definitely the place!
Catamaran Sailing
What better way to see the Aegean than to sail it by catamaran? The boat stops by all major sites, including the Hot Springs, and ends with a delicious BBQ with local wine as the sunsets.
Scuba Diving
Greece has some of the best scuba diving in the world so if you're anything like me, I highly recommend exploring the underwater world of Santorini. The geology and volcanic activity have created an unbelievable home for some beautiful sea creatures.
Wine Adventure
What would a trip to Greece be without a wine tour? The Santorini Wine Company offers a wide variety of wine and gastronomy tours where you can learn about the soil, the microclimate, and the techniques used to make Greek wine so special.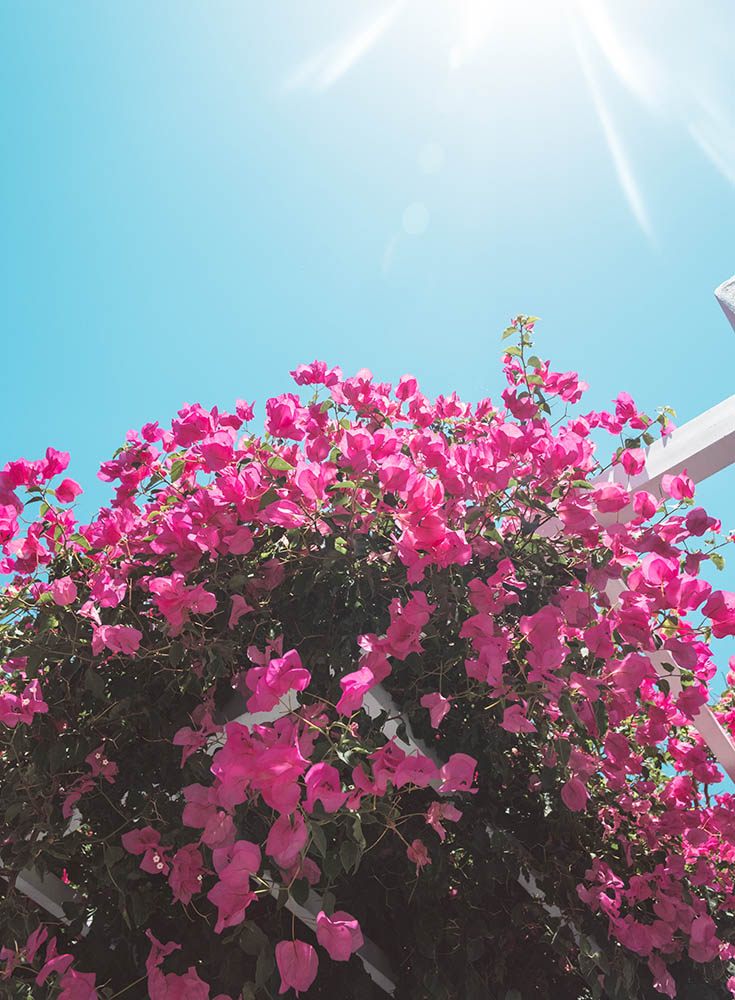 Santorini Walking Tour
If you're looking to explore Santorini like a local, I highly suggest taking a walking tour through the villages. You get to explore hidden gems that many don't know about, walk along ancient cobblestone streets, and take in every ounce of scenery that Santorini has to offer.
Helicopter Flight
Taking a helicopter tour lets you see Greece from a whole new point of view. Fly over famous islands like Mykonos, Crete, and Rhodes, and the fascinating capital of Athens for a once-in-a-lifetime experience.
Photo Safari
If you've been following my blog or Instagram then you know that I am a big fan of photo safaris. The semi-private photo tour lets you explore new spots of Santorini while improving your photography skills.

In My Opinion
Overall, it's a very non-typical Santorini property. Social events by the pool are what this place aims to be known for, so if you're looking for more of a party vibe and you want to meet others, you might just love this place!
Since the property had only been opened for a month, it's understandable that they are still getting things up and running. I will say that customer service was unfortunately subpar… It seemed to me that the staff (aside from those working at the spa) was a little too cool, and not attentive at all.
However, their goal is to improve as much as possible in the coming weeks and get live music playing at sunset several times a month.
If you're looking for the typical Oía experience whilst in Santorini, this place probably isn't for you. But if you're into more of a party scene and looking for a fun environment, it might be your cup of tea! Then again, if you're looking for parties—you might just want to head to Mykonos.
Also, it's probably better if you're traveling in a group, rather than going here for a romantic holiday!


More Information
Hotel: Andronis Arcadia
Location: Oía, Santorini, Greece
Accommodation: Luxury
Price Range: $$$

Thank you to Andronis Arcadia for hosting me during my stay. As always, thoughts and opinions expressed here are entirely my own.