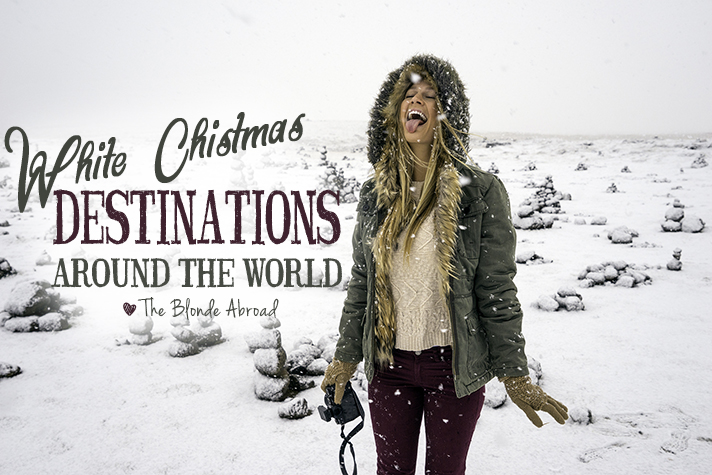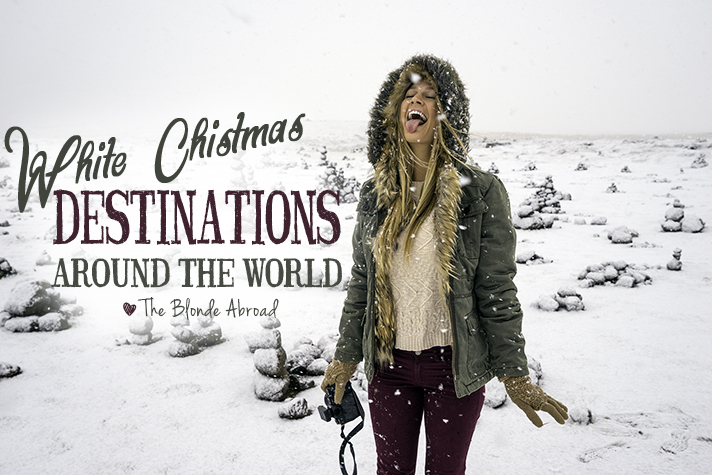 Have you been dreaming of a white Christmas? We've all seen the magical images of snowflakes falling outside a window while the Christmas tree stands inside next to a warming fireplace.
People like me that are from warmer destinations (like Southern California where Christmas includes a beer on the beach) sometimes long for the fairytale winter wonderlands we see in movies.
Traveling somewhere snowy to feel the Christmas spirit, take a sled pulled by horses and sip mulled wine is a dream for many people around the world.
If you're looking for a winter wonderland, consider these top white Christmas destinations around the world!

Bern, Switzerland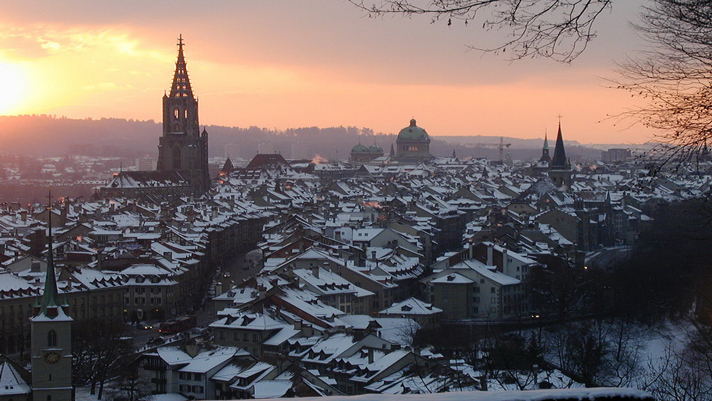 Bern is one of the cutest towns I've EVER seen in my travels and is famous for its Christmas card worthy setting. The Old Town is a magical place during winter, with Christmas Markets selling everything from handicrafts to Glühwein (mulled wine) to keep you warm.

Strasbourg, France
Strasbourg is the most historic place in Europe for Christmas markets. The first European edition of a Christmas market happened here in 1570, so Strasbourg has had years to perfect it!
The Christkindelmarik (you'll be forgiven if you can't pronounce it after a few glasses of mulled wine) has some beautiful decorations and amazing Christmas treats. Plus, it's all within view of the stunning Strasbourg Cathedral!

Quebec City, Canada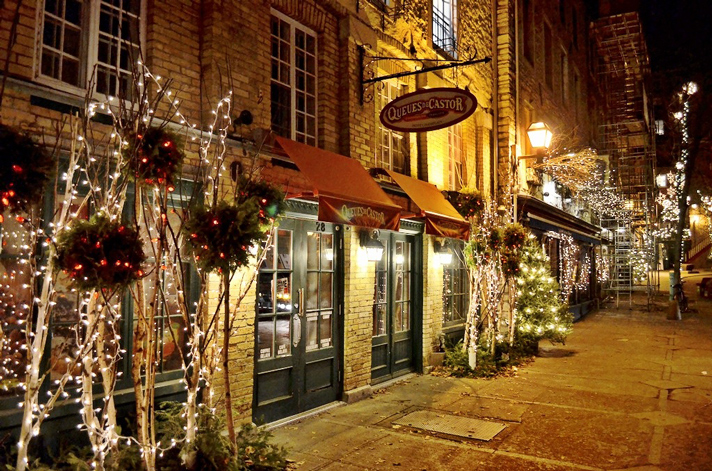 Beautiful French architecture combines with North American Christmas culture in this part of the world. Old Québec transforms into a beautiful Christmas village where lights glisten as snow falls.
Cuddle up in the Petit Champlain quarter for one of the most romantic holiday destinations in North America.

Prague, Czech Republic
The picturesque river, historic bridge, and idyllic clock tower make this city feel like something out of a Disney movie! Prague is well-known for its stunning setting that can be experienced year-round.
But, the holidays are particularly magical. You'll feel like quite the princess (or prince) walking through the tinsel-covered trees with lights glowing in the street.

Reykjavik, Iceland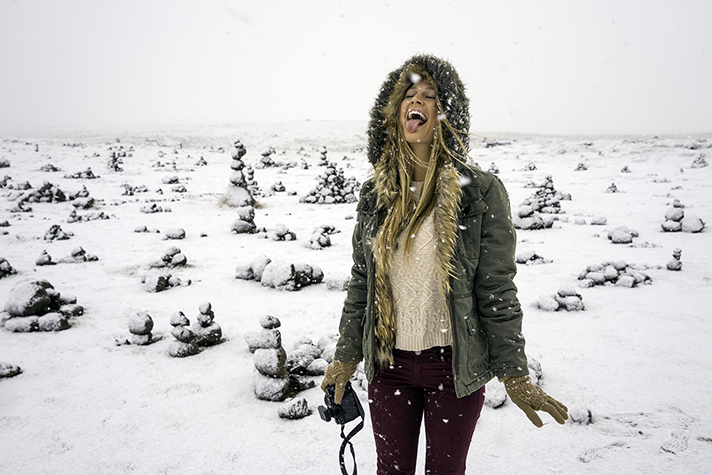 Generally, the snow starts around September in Iceland, so you're guaranteed a white Christmas. This colorful and cute city makes for an authentic experience of the white Christmas scene.
Cheerful Christmas markets pop up just about everywhere. There's also a Christmas Village just outside the city will make you think you've stepped into a snow globe.

Lapland, Finland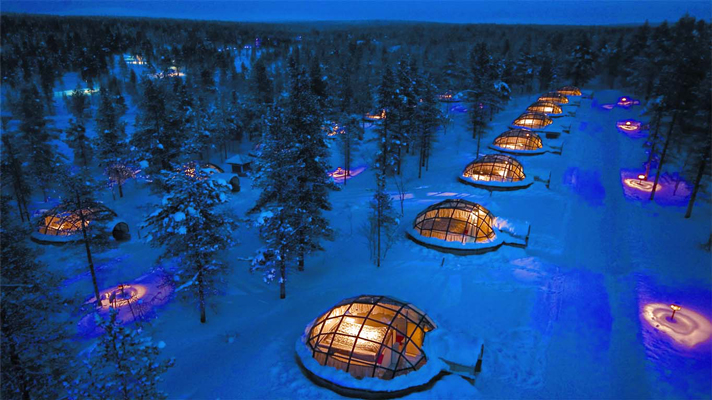 You'll be amazed at how well the Finns can put on a celebration in the cold Lapland of Finland. Enjoy some glögg (Finnish mulled wine) to warm you up, then head out and enjoy the Christmas markets and meet some real-life reindeer.
For a truly special experience, book your stay at the Kakslauttanen Arctic Resort where you can watch for Santa flying in the sky from within your glass igloo.

New York, USA
New York knows how to celebrate the holidays, making it a top place to spend Christmas. Famous for holiday window displays, the Rockefeller Center ice rink & Christmas tree, a snow-speckled Central Park and chestnuts roasting on an open fire (or, hotdog stand) it's a truly iconic holiday destination.

Nuremberg, Germany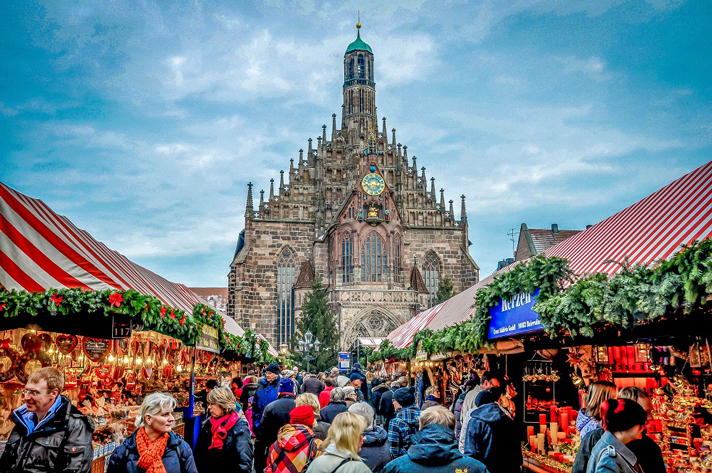 Picture perfect Christmas markets can be found in this historic city. Smell the mulled wine, nibble on some roasted almonds and indulge in Nuremberg-style bratwurst and gingerbread.
It's Christmas, so eat and drink guilt-free as you enjoy the German festivities as they unfold before your eyes!

Edinburgh, Scotland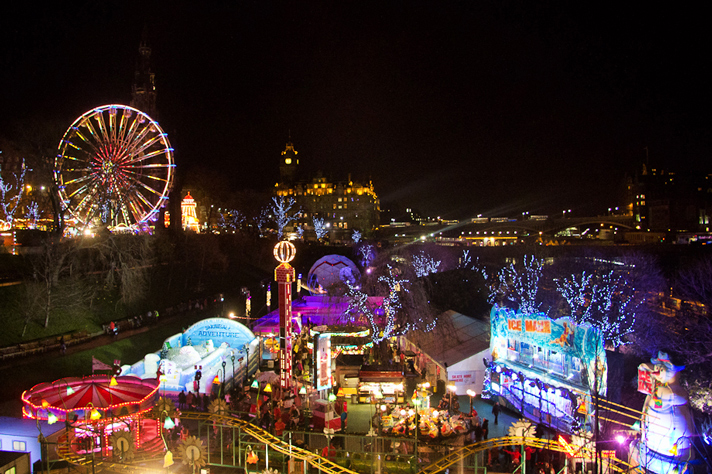 Edinburgh knows how to celebrate Christmas! Stop by some of the amazing festivals and markets where there is real-life reindeer, a Ferris wheel, ice skating rink, carnival games and stalls selling hot chocolates and mulled wine.

Tromsø, Norway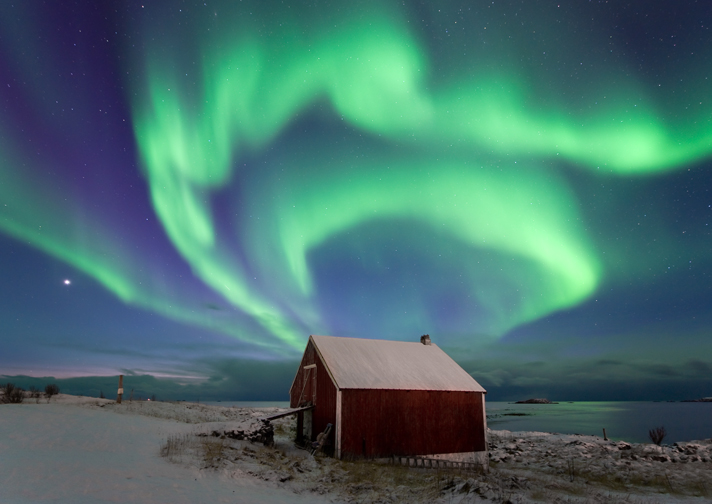 If the Northern Lights aren't a big enough draw to get you to a white Christmas in Norway, then how about the Northern Lights dazzling over traditional Norwegian wooden houses sprinkled in snow?  Oh, and add a crackling fireplace and some delicious Norwegian Christmas baked goods.
While the sun doesn't shine at all in Tromsø during the month of December, you can enjoy Christmas lights, open fires and outdoor coffee brewed at all hours.

Where are your ultimate white Christmas destinations?