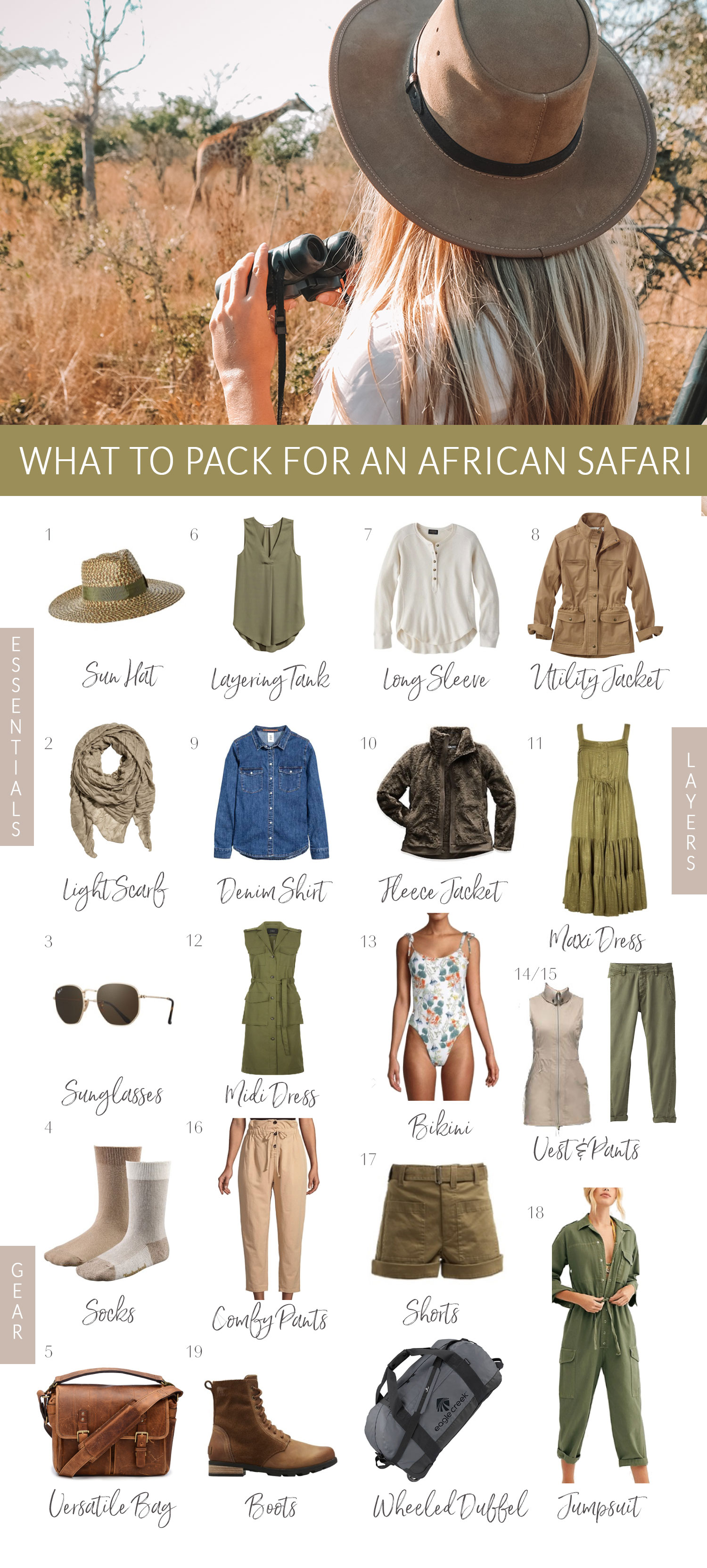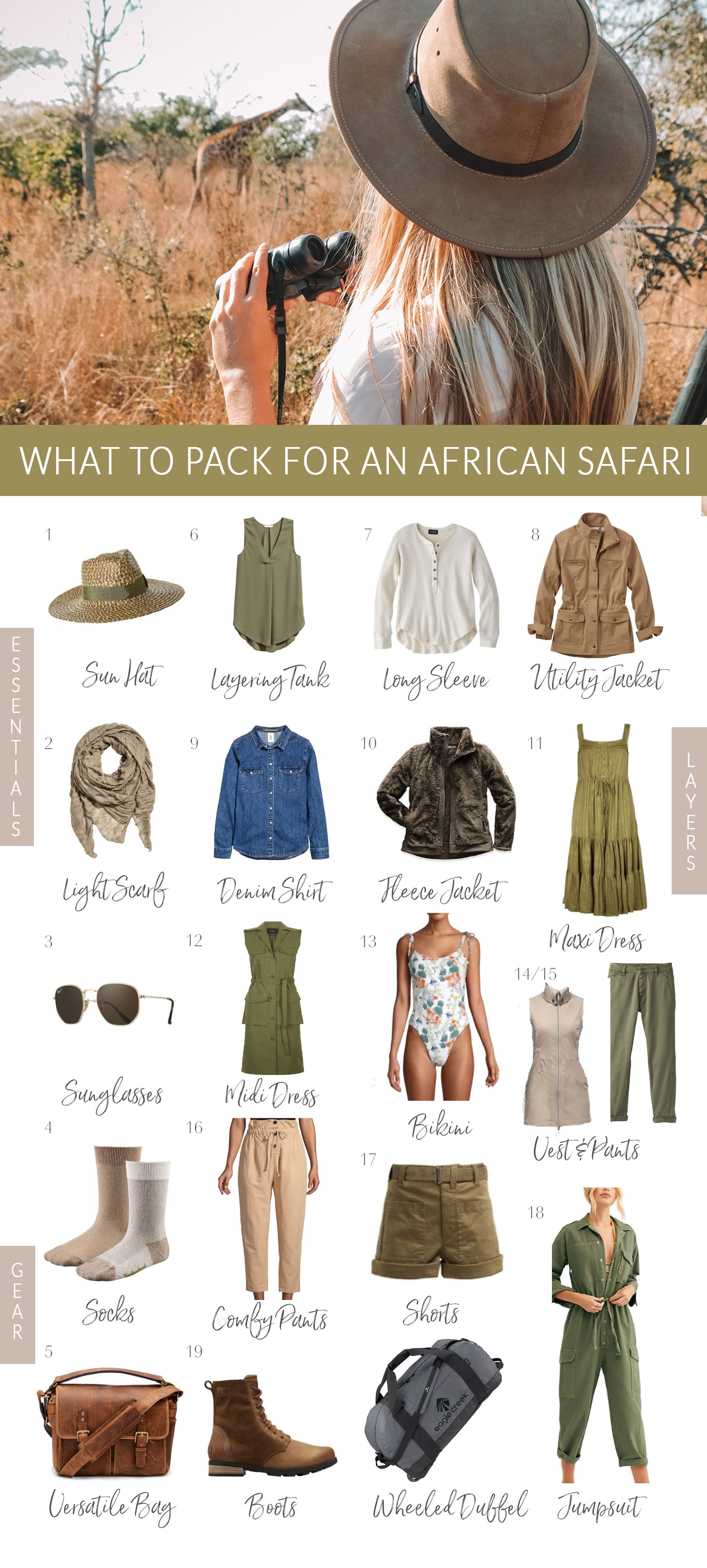 Updated: October 2019
An African safari was one of my biggest bucket list experiences and, I'll be honest, at first, I was confronted with a completely new packing dilemma — what should I pack for a safari?
I had done an elephant safari in Sri Lanka and spent a couple of days at Gondwana Game Reserve in South Africa, but since then, I've explored many game reserves throughout the top safari destinations in Africa, including Namibia, Kenya, Botswana, and South Africa, and have refined my safari packing list.
When you're staying in and exploring the bush, my best advice is to choose comfort above all things. But, comfortable doesn't have to mean frumpy. A cute safari style is easily achieved with comfortable layers that will keep you warm on early morning game drives and cool during hot afternoons back at your accommodation.
Use my packing ideas below, but revise as needed based on weather and season for your own safari trip!

My African Safari Trip Details
Location: Kenya
Travel Dates: Late-March
Season: Beginning of Wet Season
Weather: We had beautiful weather around Maasai Mara in late-March. However, March to May marks the wet season across much of Kenya.
In the peak of the rainy season most other parks, especially in the highlands and the coastal parks, can be problematic with regards to heat, humidity, and continuous rain. June through October and January-February are typically high season and offer the best weather.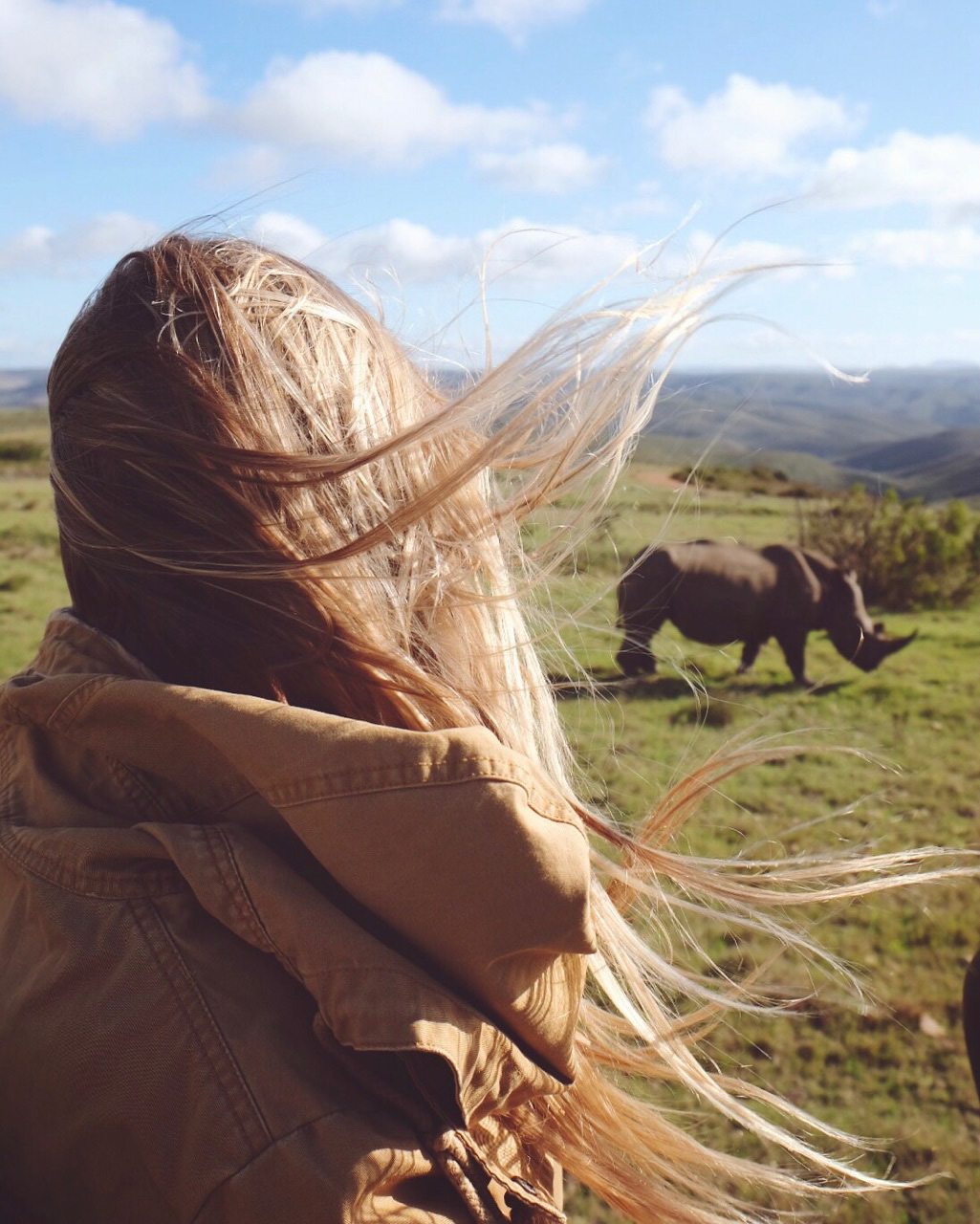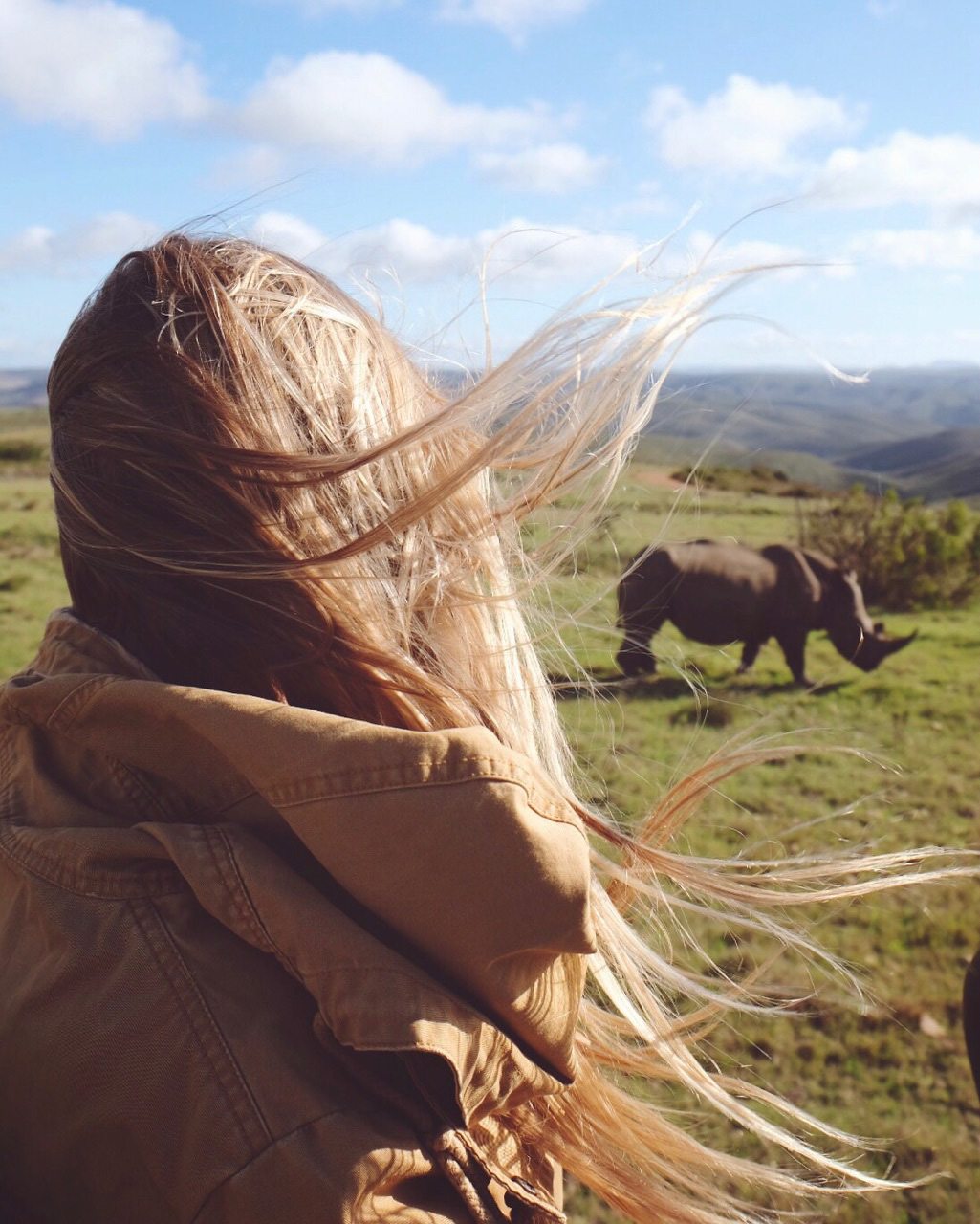 What to Expect on an African Safari
Depending on the destination you're traveling to, most game drives are in the early morning (around 5 or 6am) returning around 11am and in the evening (around 4pm) returning just after sunset.
Helpful Tip: "Safaris" are typically referred to as "game drives" around Africa.
Morning Game Drive: It is typically quite cold on the early morning game drives, so you'll want to wear lots of layers and remove them as the morning sun gets warmer.
When staying at Mahali Mzuri and Cottar's Camp in Kenya, they provided hot water bags on our early morning game drives to help keep us warm as well!
After exploring for a few hours, your guides might set up a bush breakfast or coffee and tea for you to enjoy before heading back. You'll typically return to your accommodation before the heat of the day really sets in.
Evening Game Drive: Your evening game drive starts when the warm sun is still up, but expect the temperature to drop quickly — especially at sunset. Most evening game drives involve a couple of hours of exploring and end with sundowners (evening drinks at sunset) and snacks before heading back.
You'll definitely want to have layers for your evening drive as it can get pretty chilly with the wind.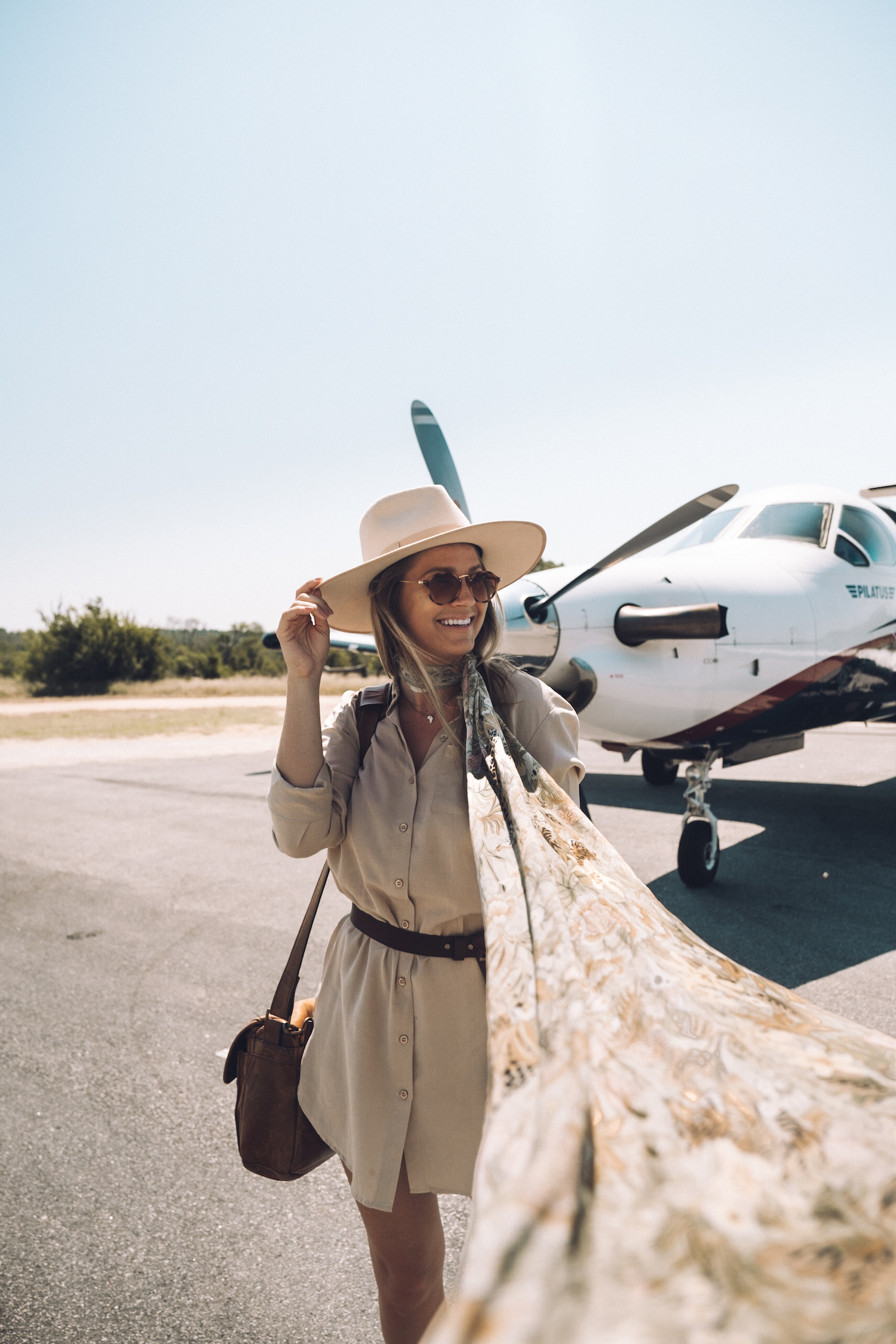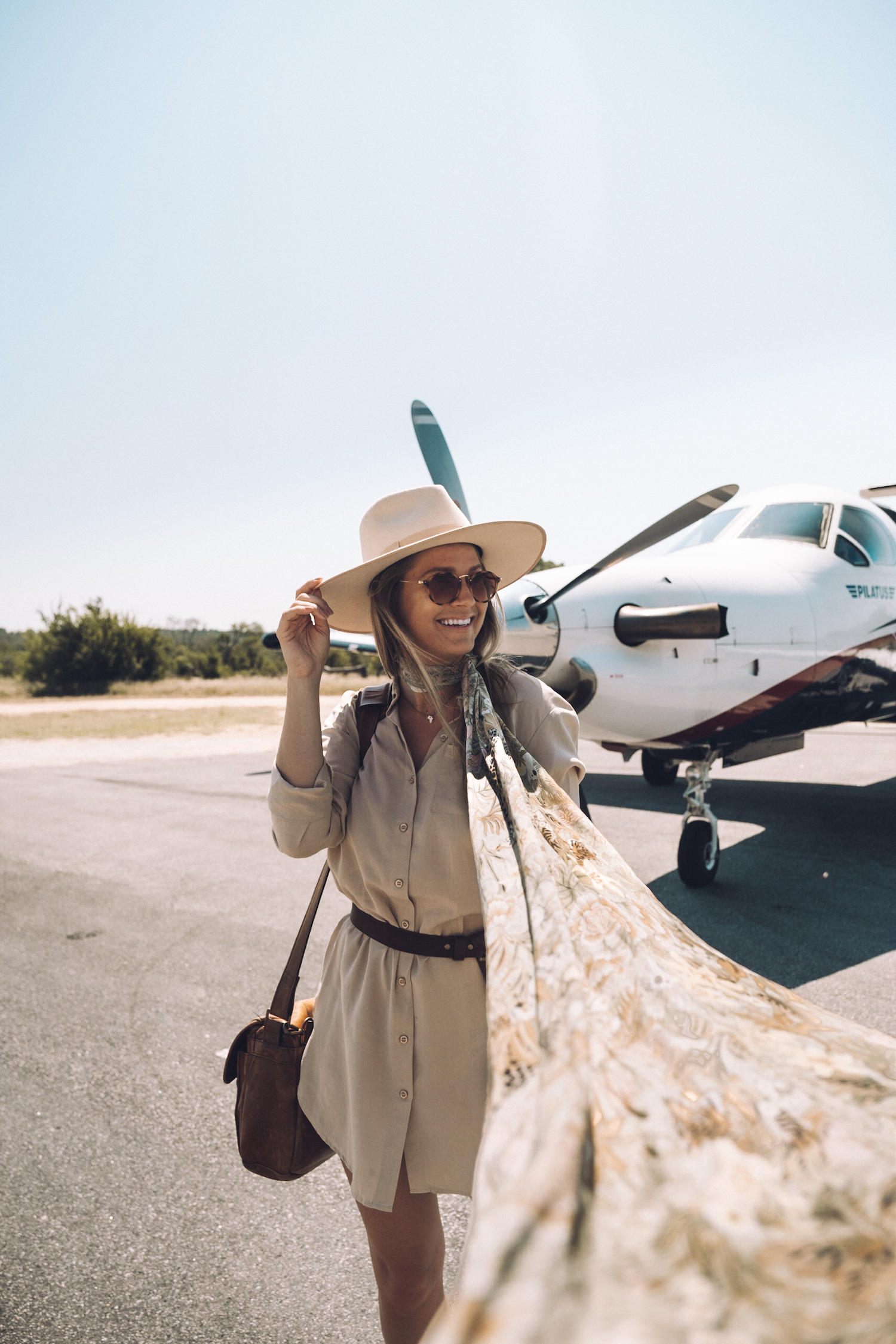 Luggage Requirements and Baggage Allowance
Triple check your luggage requirements and baggage allowance if you have to take a bush flight. When traveling from Nairobi to the Maasai Mara, my flight with Safari Link had some pretty strict requirements.
Unfortunately, they only allowed 15 kgs / 33 lbs inclusive of hand luggage. That meant all of my camera gear and camera bag (zoom lenses, cameras, etc.), my purse, toiletries, and clothes all had to weigh less than what I'd normally pack in a carry-on.
I ended up having to leave behind a ton of clothes and even my tripod. It was a HUGE bummer but they are very strict with their policies. Fortunately, they offered free luggage storage. But, if you are connecting in multiple airports and not returning to your original airport, you'll need to take everything with you.
You also might not be allowed to use a hard suitcase if they require "soft" suitcases. That means you'll need to use a soft bag, like a duffel bag.
I always travel with this wheeled duffel bag that collapses easily!
My advice, again, is to triple check your airline luggage requirements, pack LIGHT and use a soft duffel bag.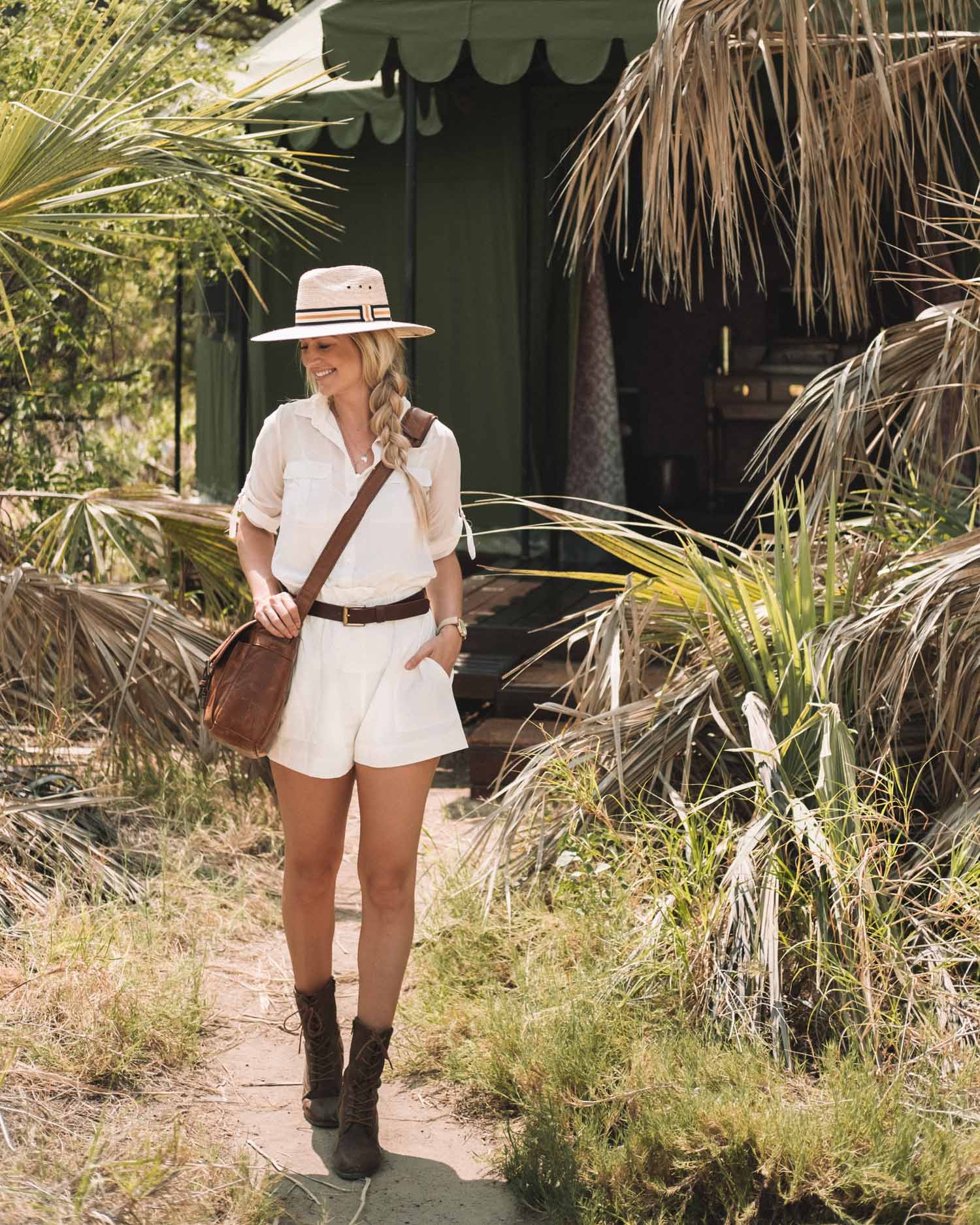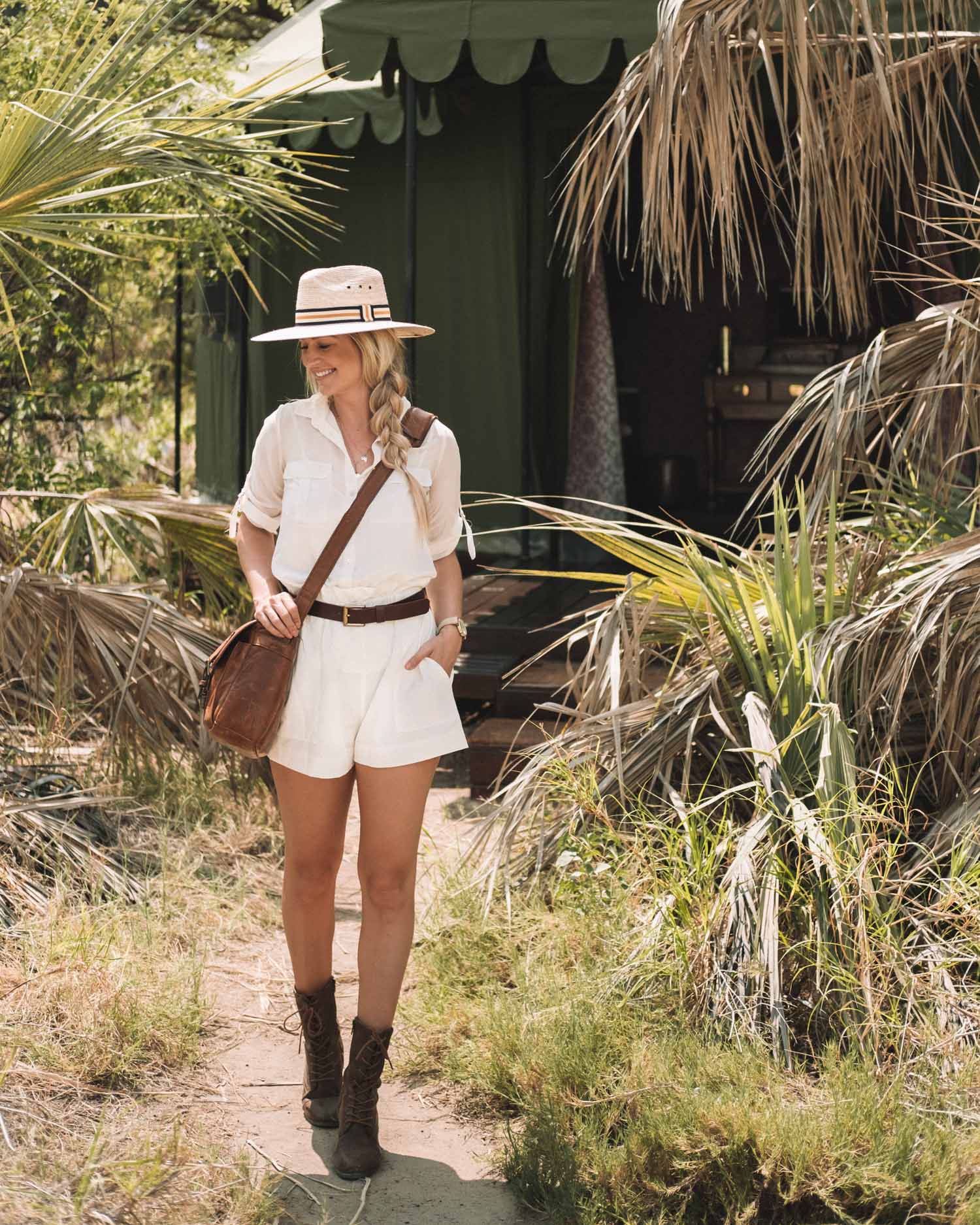 What to Pack for an African Safari
Keep in mind neutral, earth tones for your safari wardrobe! Dark colors will attract heat, and make sure to avoid blue or black clothing as they attract tsetse flies (if you're in an area with them).

Essentials
1. Sun Hat // You'll definitely need a wide-brim hat to protect you from the rays. Pack 1 or 2 just to be safe, and make sure they aren't thick material that will make you sweat!
2. Light Scarf // I pack a scarf on every trip but you'll want one on safaris. Not only will it keep you warm on the sunrise and sunset game drives, but it can also be used to keep the dust out of your face.
3. Sunglasses // Protect your eyes, and keep some dust out of them while you're at it.
4. Socks & Underwear // Trust me on this, bring a LOT of socks and undies. You get pretty dirty while on the game drives and you'll want to keep changing to feel fresh.
Helpful Tip: You'll also want to bring along gloves for warmth and earplugs for the nighttime noises. *cue hippo snoring*
5. ONA Camera Bag // I typically travel with the ONA Camps Bay backpack, since it can fit all of my gear, however, since I had to pack lighter for the safari, a bag like the ONA Prince Street Messenger was an awesome choice. It's made of high quality, sturdy materials, and it can fit all of my camera gear, my drone, and my laptop.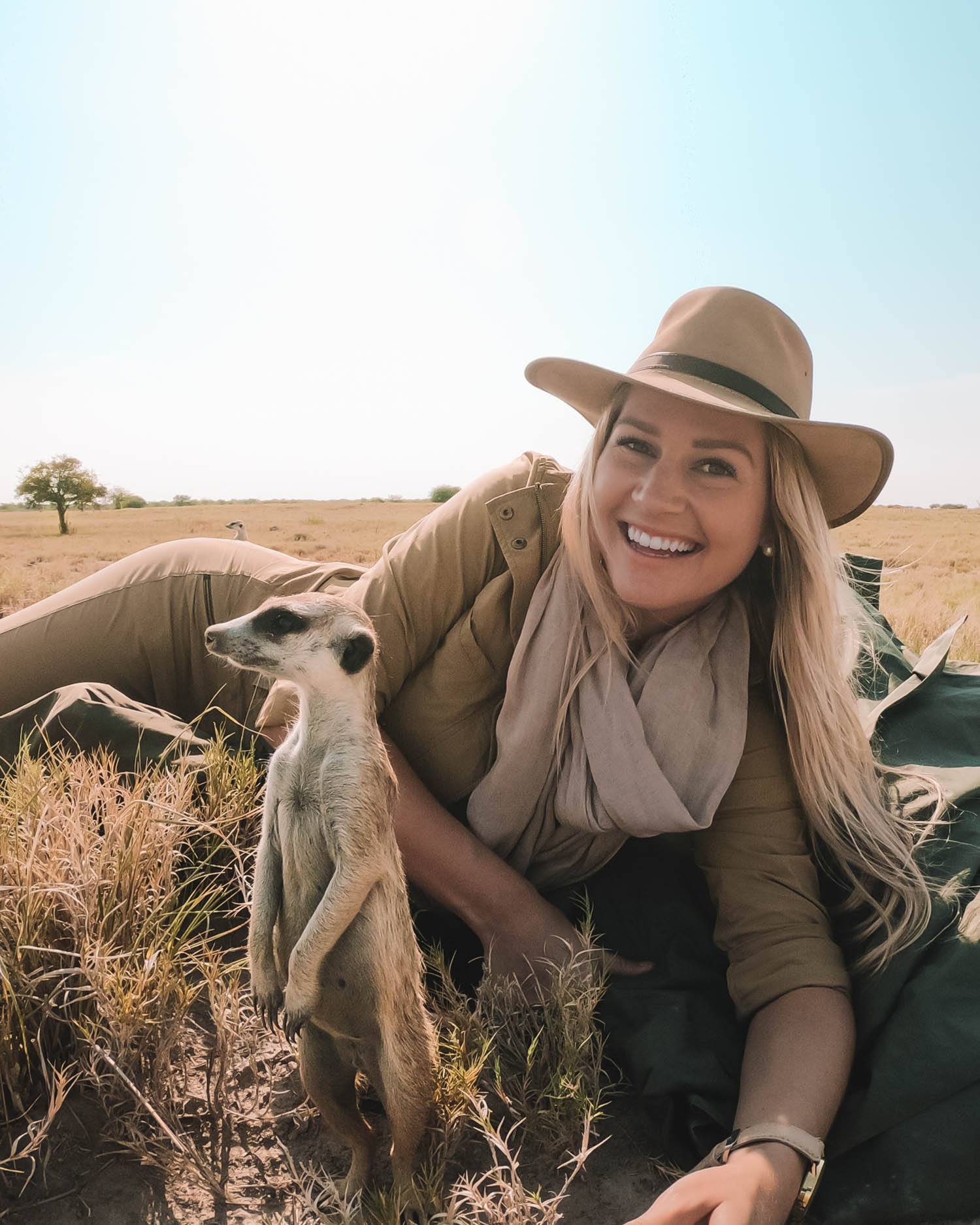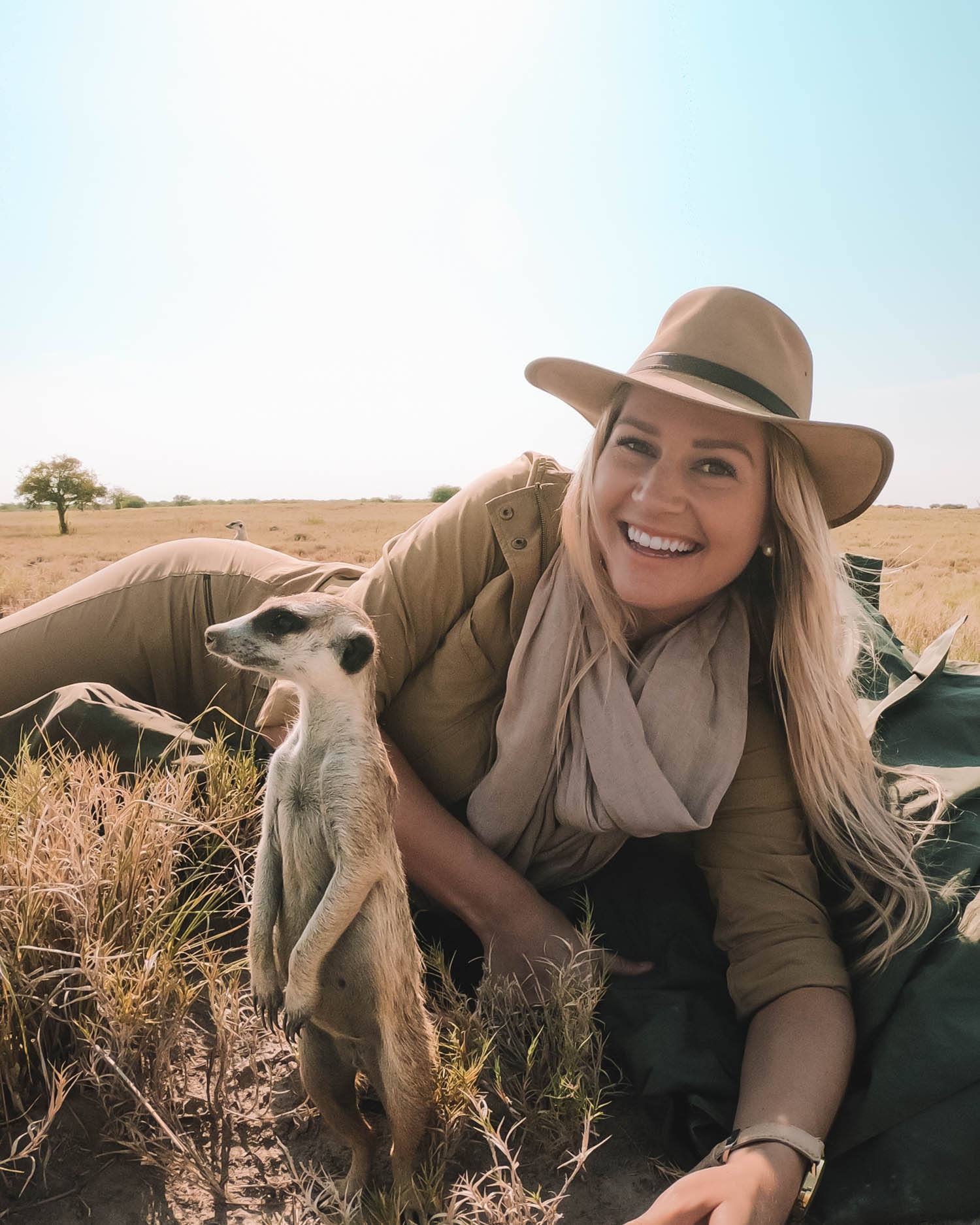 Tops + Layers
6. Layering T-Shirt // In some cases, you'll leave before the sun comes up and be out until midday, so you want to layer, layer, layer to avoid freezing or overheating throughout the day.
7. Long Sleeve Blouse // Great for layering, and offers more sun protection. Opt for a thermal long-sleeve for some warmer layers.
8. Utility Jacket // I highly recommend bringing a thicker jacket for colder mornings and evenings. Plus, pockets are great for storing camera lenses for easy access.
9. Denim Shirt // They look super cute under vests and jackets and are perfect for layering.
10. Fleece Jacket // Don't forget a super warm, and comfortable, jacket for sunrise or nighttime drives. A fleece checks both boxes!
If you are a "cold" person, meaning you're always cold, I would highly recommend bringing a down jacket for extra warmth on the early morning drives! Check the weather before you go and use your best judgment.
Helpful Tip: Most safari tours and game reserves will have ponchos for you should it rain! Save some room in your suitcase and skip a raincoat.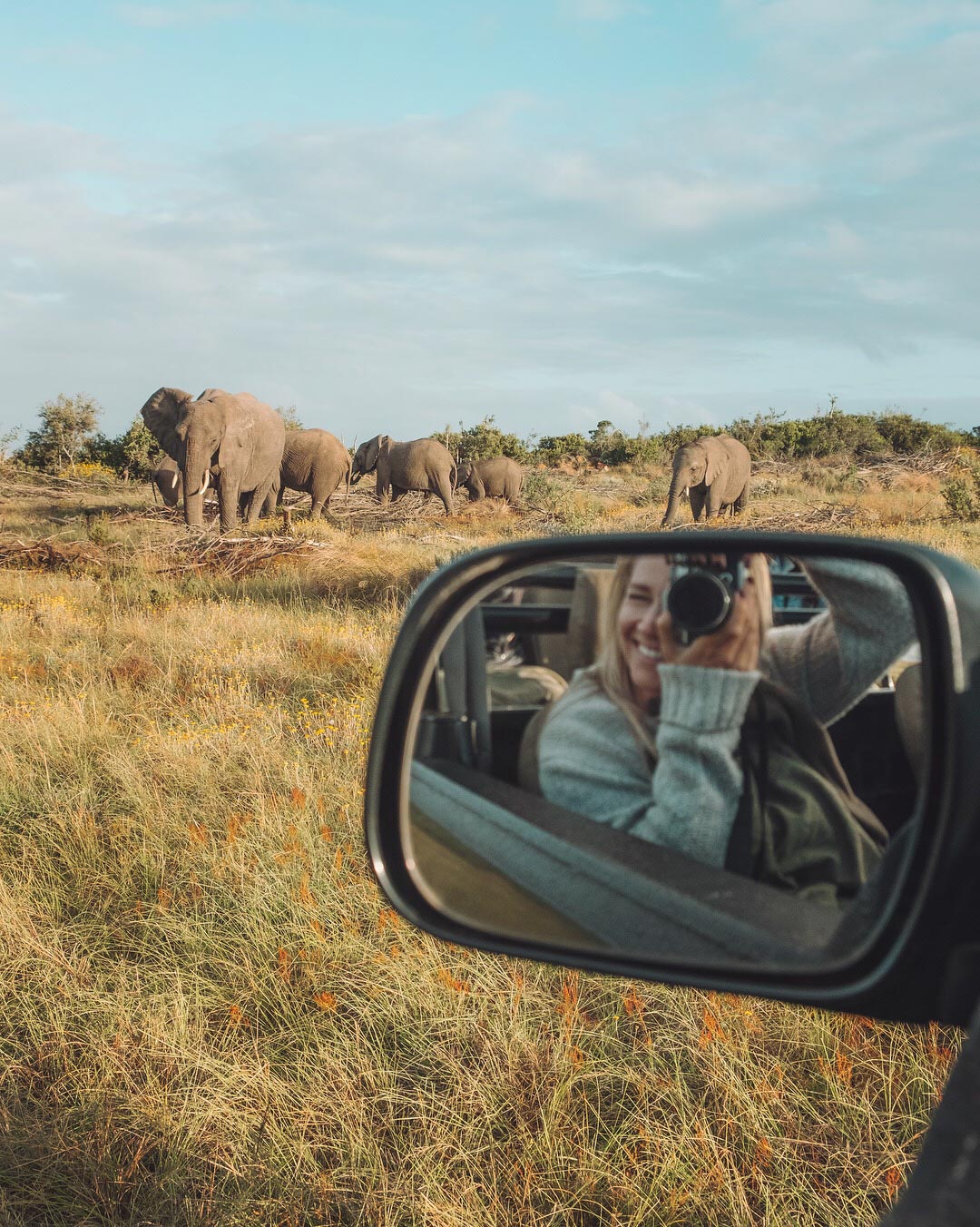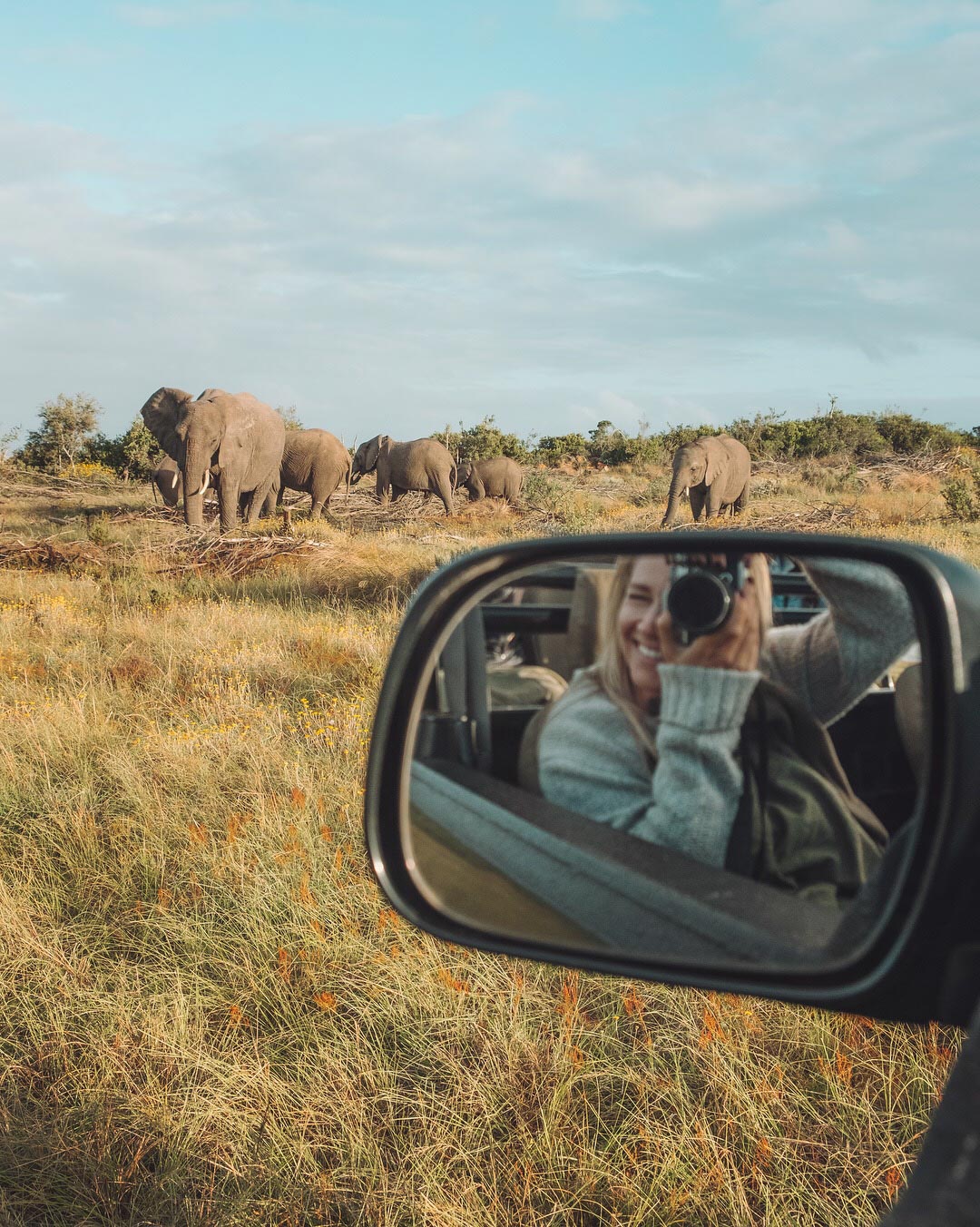 Dresses
11. Dinner Dress // You'll probably want a nicer dress or outfit to put on after cleaning up, and for dinner at the lodge.
12. Maxi or Midi Dress // A longer dress with breathable fabric is great when you're sitting for long periods of time. And you can layer with a jacket and boots for a game drive if it's warmer out!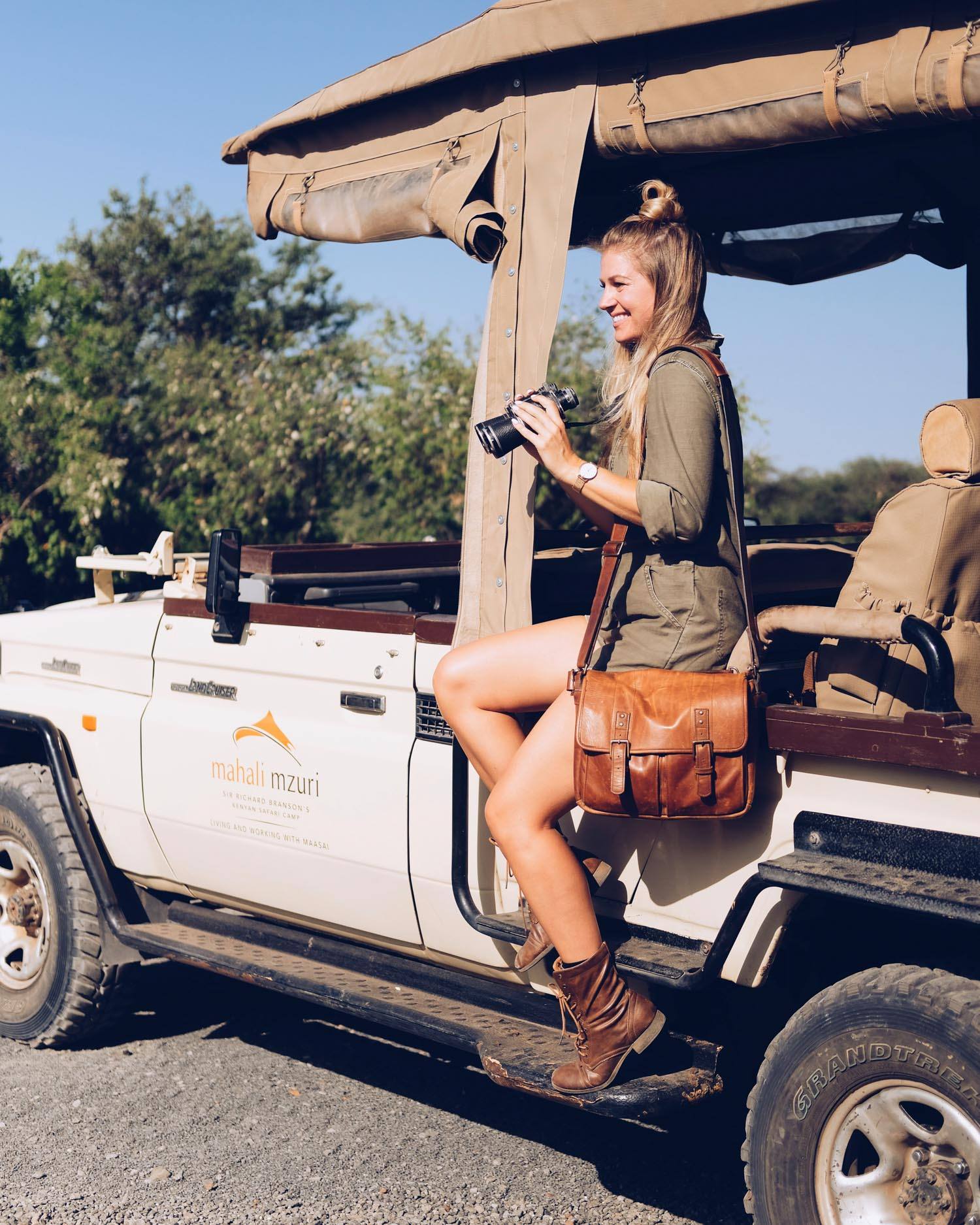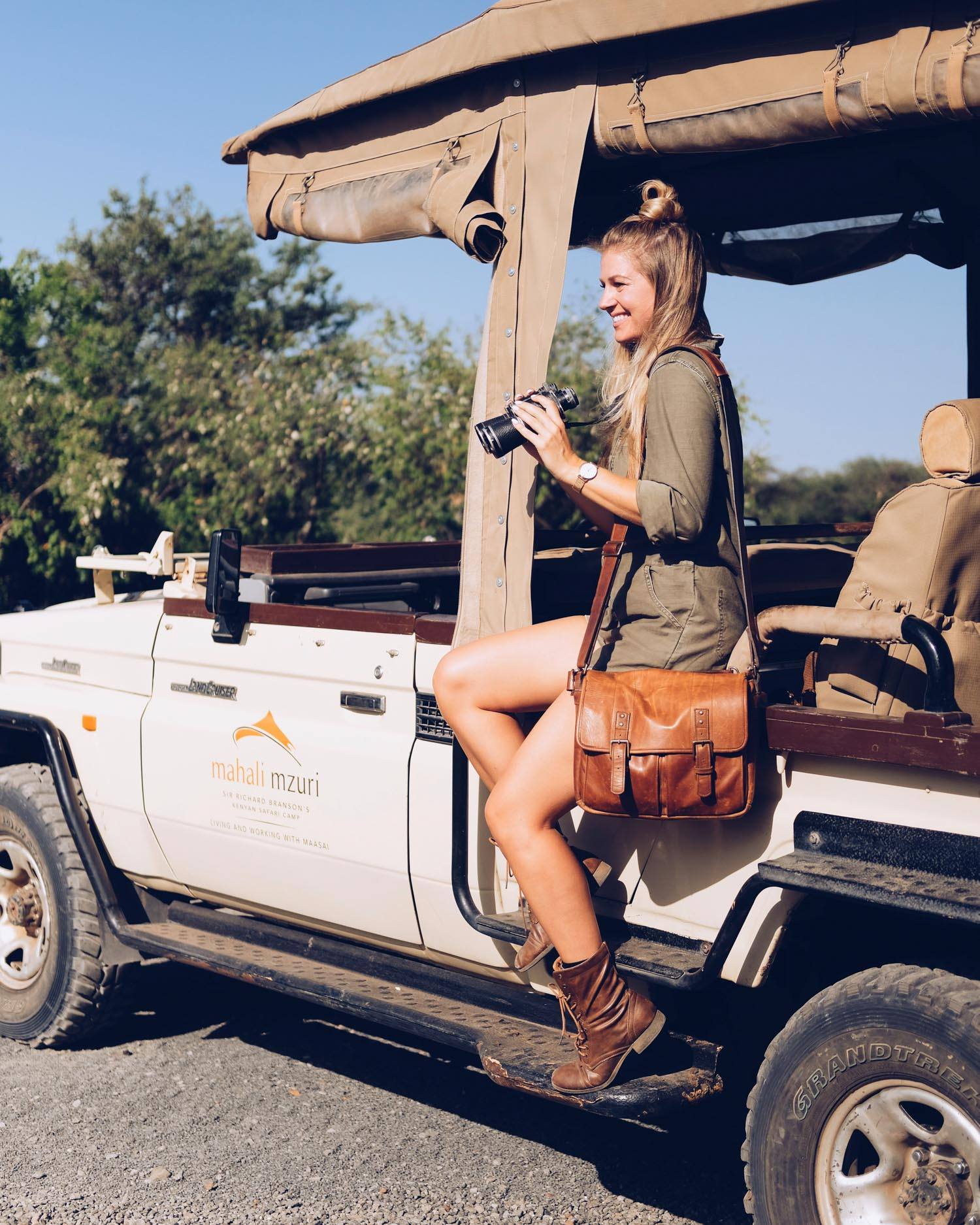 Outfits
14/15. Utility Vest + Skinny Cargo Pants // I love these styles from Anatomie! The Kate Skinny Cargo Pant is made of a lightweight, stretchy fabric with tons of pockets, and the Safari Jacket It's nice to have an extra layer between your shirt and coat that doesn't add bulk to your sleeves.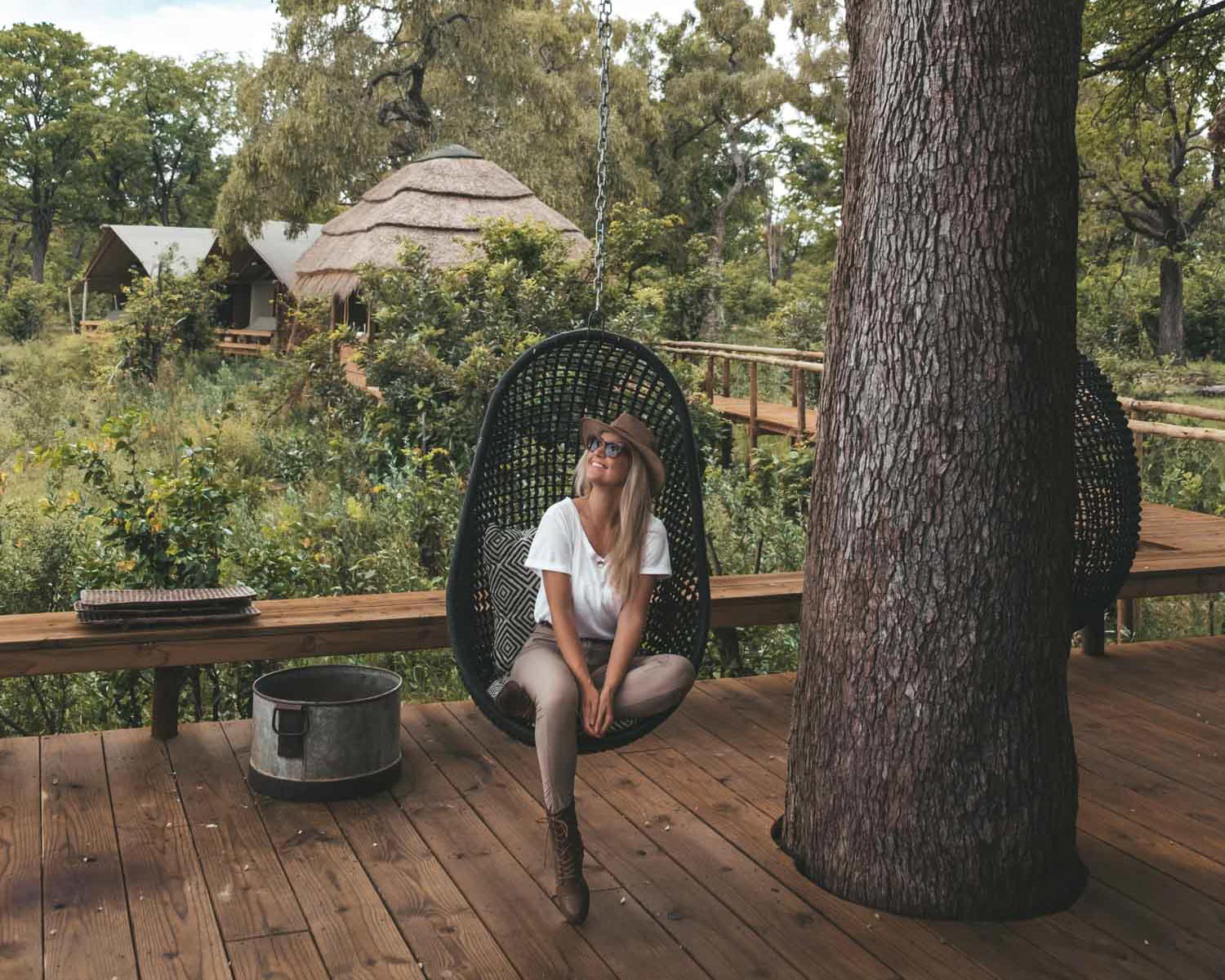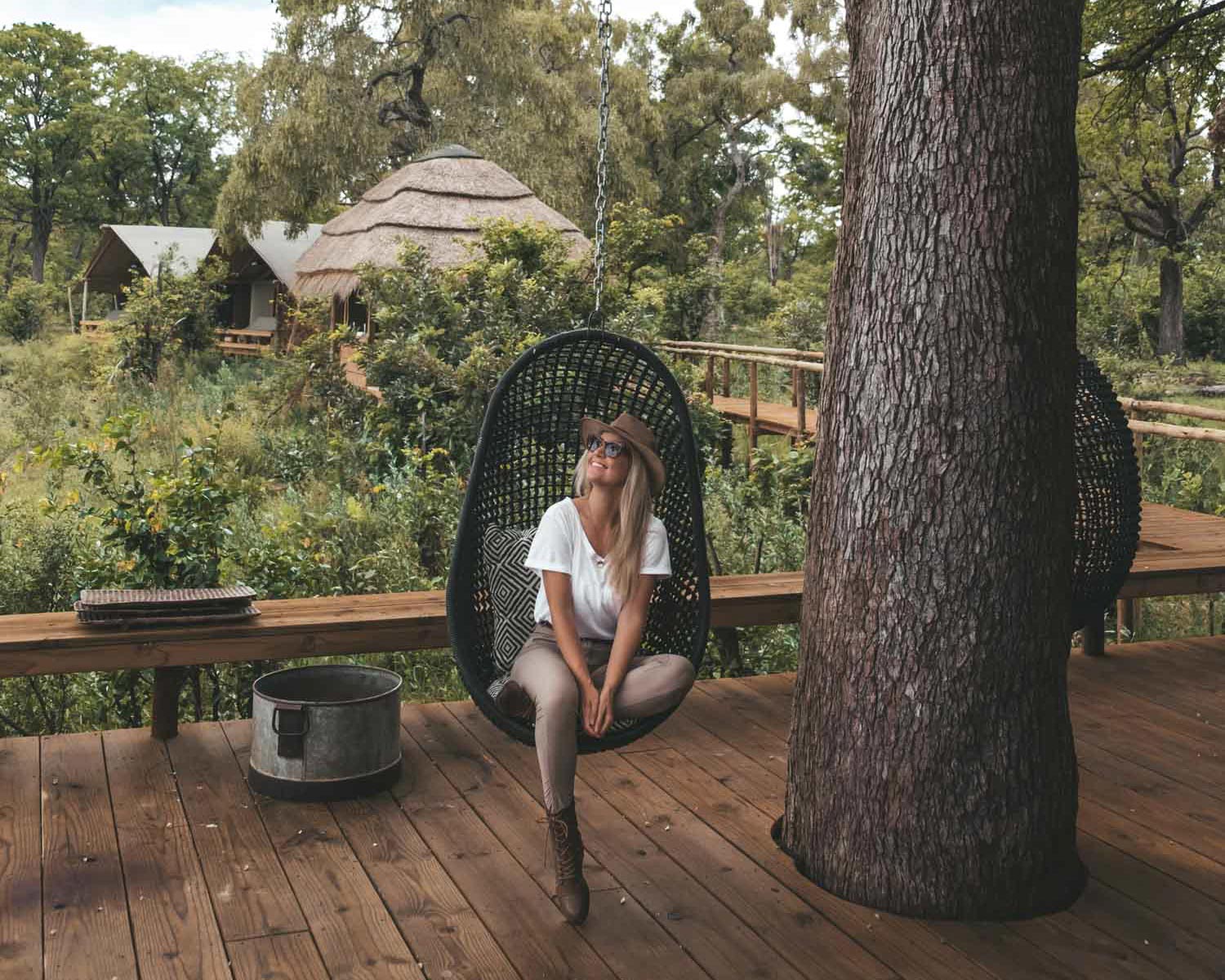 Bottoms
16. Comfy Pants // Believe me when I say, I wish I had brought a cute pair of sweatpants to wear every single day. You're sitting for long periods of time, in the early morning and evening and you'll want something warm and comfortable. I'd also bring a pair of leggings to change into after the morning game drive, or to layer under your dress or pants if you're cold!
17. Shorts // Loose shorts are definitely the way to go. Make sure the fabric is breathable!
18. Jumpsuit // You can't go wrong with a jumpsuit outfit, especially with sleeves!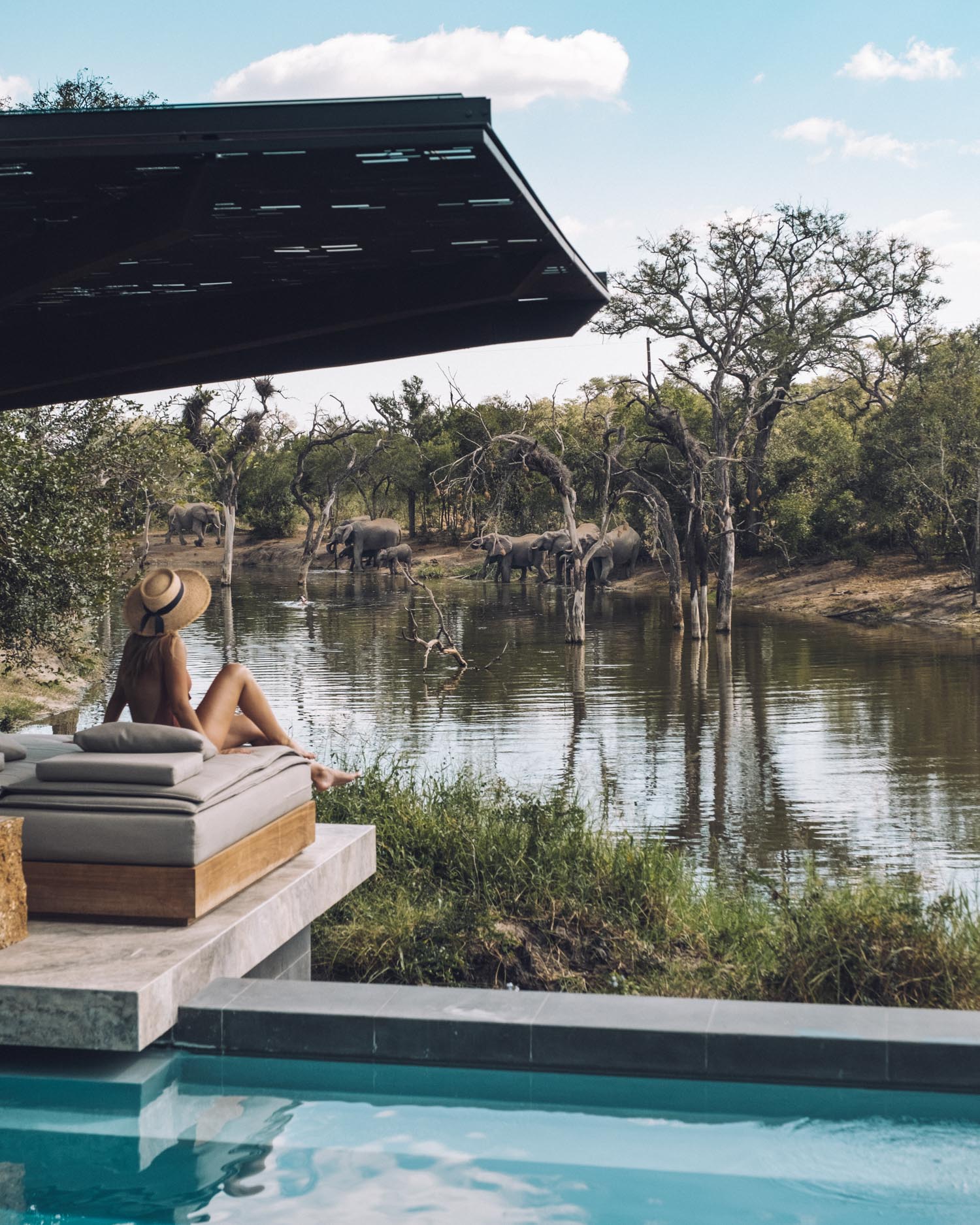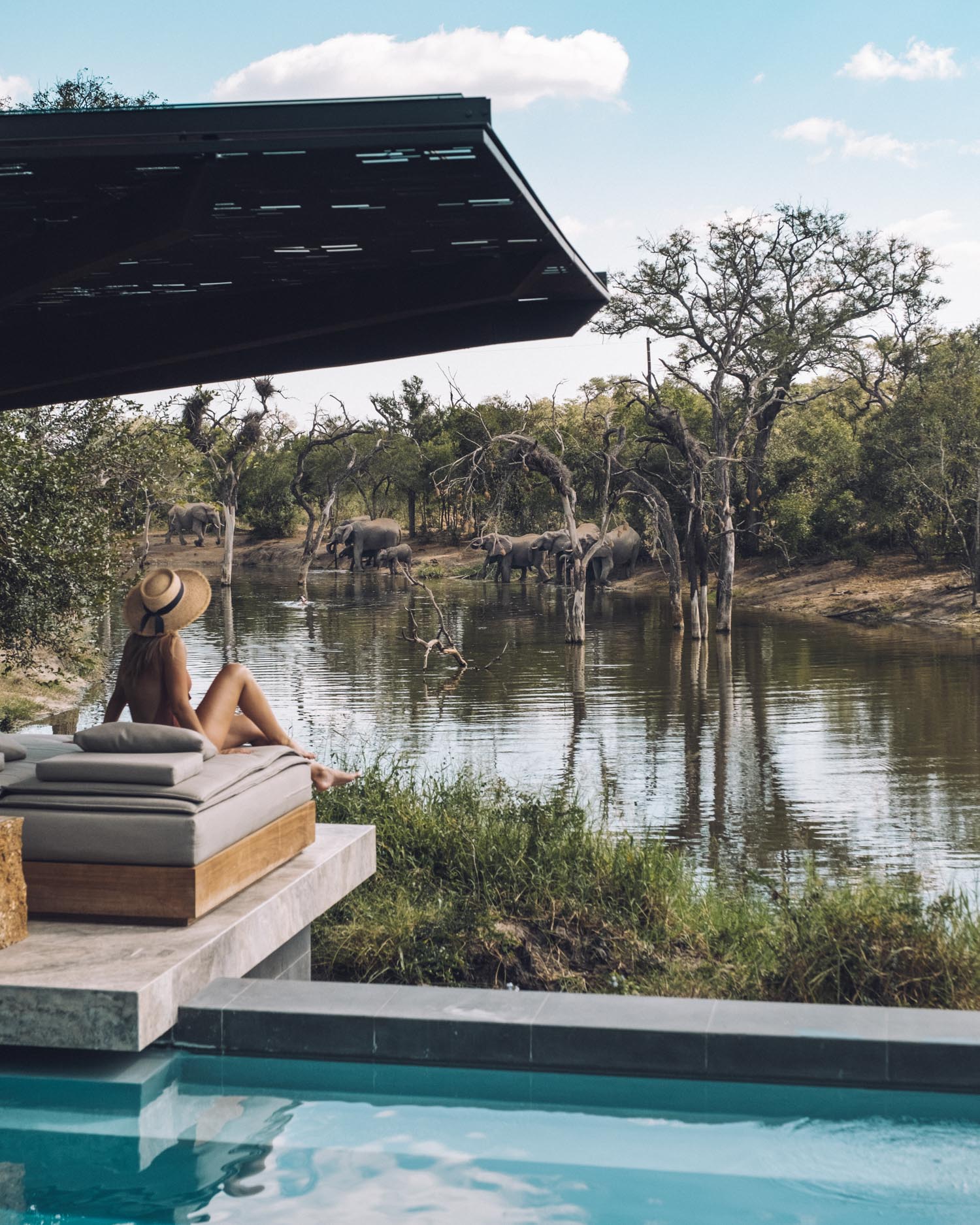 Bikini
13. Bikini // I don't go anywhere without one! Your lodge or camp will most likely have a pool area for a dip during the heat of the day.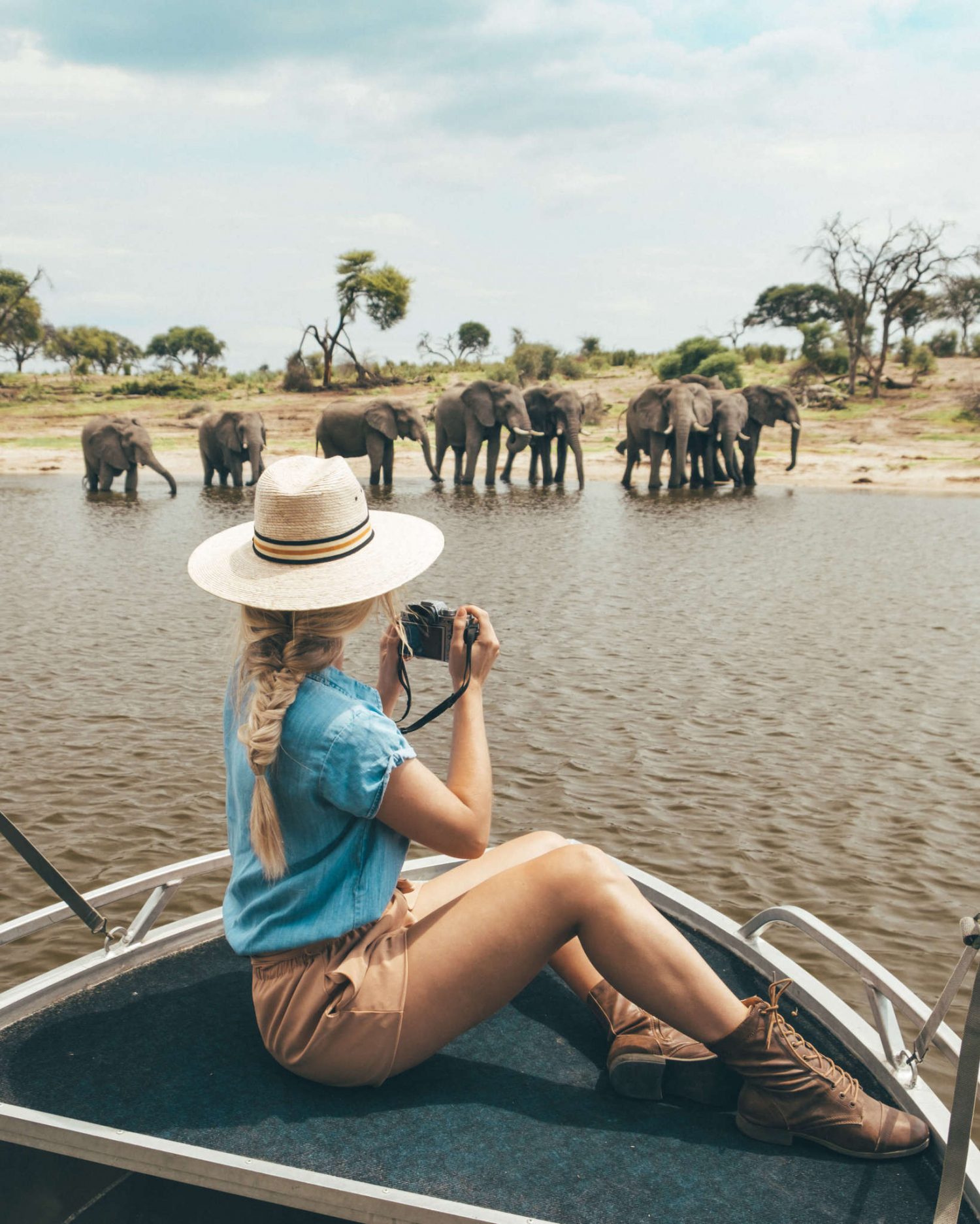 Shoes
19. Boots // You only need one pair of shoes… and by shoes I mean boots. You'll need to wear boots any time you're out of your lodging area to avoid stepping on anything — including critters. Find one pair that you love!

Please note that some of the links above are affiliate links, and at no additional cost to you, I earn a small commission if you make a purchase. That income goes to supporting this website and keeping it free for you and everyone else! As always, ideas and opinions expressed in this post are entirely my own.