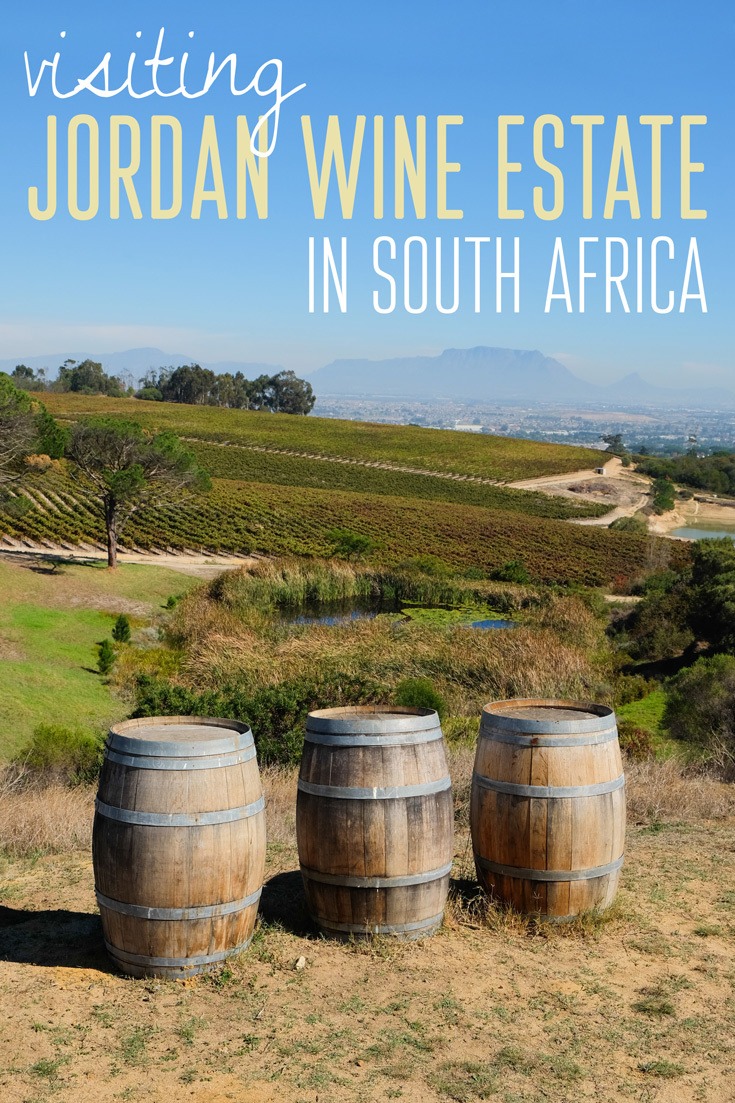 As I've told you before, I am crazy for South Africa's Cape Winelands. Stellenbosch, in particular, has so much to offer and is refreshingly different from any other wine region I've traveled. It's also quickly becoming my new favorite weekend getaway from Cape Town.
I've been fortunate to be able to visit Jordan Wine Estate on a few occasions.
This place has been making world-class wines for almost twenty-five years and has quickly built up an impressive name for itself, with a reputation for great food, wine, and accommodations.
Here's my experience visiting Jordan Wine Estate in South Africa!

The Estate
While Jordan Wine Estate has been in operation only since 1993, the history of the farm actually goes back more than 300 years. The land has changed hands many times and was first acquired by the Jordan family in 1982 when Gary Jordan's parents purchased the land. A decade later, it was taken over by Gary and his wife Kathy.
This husband-and-wife duo has been on a mission ever since to make amazing wine while also helping women in the UK and South Africa by establishing an initiative to bring them into the wine industry to start their own careers.
With its location just forty-five minutes outside of Cape Town in the gorgeous Stellenbosch region, Jordan Wine Estate is slowly changing the world of South African wine. And the location, by the way, is breathtaking.
From the hillside vineyards, there is a sweeping view of Table Mountain, False Bay, and the Stellenbosch Winelands.

The Wines
Jordan Wine Estate has a few different ranges. There's the Chameleon range, which was created to cover the research costs involved in the conservation efforts developed to protect the Cape Dwarf Chameleon. Preventing these little reptiles from becoming endangered is definitely a cause that we can all drink to.
There are also the estate varietals, which you can buy on-site or online, and the Bradgates, which are only available in the Jordan tasting room and a limited range of restaurants and shops. Finally, there are the Reserve wines, which are the real stars of the show. This range features the 2015 Nine Yards Chardonnay, 2013 Cobblers Hill, and 2014 Mellifera Natural Sweet.
So you'll definitely want to try these while you're there!
Find your favorite at one of the Jordan Wine Estate's classic tasting and cellar tours, where you can check out three to six different wines. Here are some of the more popular experiences:
Classic Wine Tasting: Tasting of 6 wines — R50
Tasting of their 3 Reserve Wines: Tasting of Nine Yards Chardonnay, Cobblers Hill & Mellifera — R120
Harvest Tour Experience: Experience the harvest activities in the cellar, taste juice and fermenting wines from tank, plus additional wines — R180
Wine Safari: Tour of the vineyards in an open, safari-style Land Rover, with stops to experience the spectacular views of False and Table Bays — R400
I was lucky enough to do the wine safari on the property, and to experience the "Synergy of Soul and Soil at Jordan" as they say. It was truly stunning, and the wine was some of the best I tasted in the Cape Winelands.
Jordan Wine Estate has a delicious selection of Jordan Estate olives, fresh bread, and locally cured meats. So, I would HIGHLY recommend adding on the cheese and/or meat platters to your tasting experience– you won't regret it!

The Food
If you're craving some freshly baked bread during your time at Jordan, head over to The Bakery. You can choose from a selection of charcuteries, bread, dips, cheeses, and pastries.
If you're looking for more than a light snack, head over to the Jordan Restaurant. This place is all about locally sourced, seasonal ingredients. There are a vegetable and herb garden right outside the door along with a wine-barrel fish smoker and wood-fired oven.
On the restaurant's tranquil terrace, you can take in some of the greatest flavors from around the world. The famous Chef George Jardine is in charge of the kitchen and has led award-winning restaurants in the UK, Indonesia, Malaysia, and Australia.

Accommodations
After loading up on amazing food and wine, you'll want to do nothing more than curl up in a comfy bed and call it a night. Fortunately, there are suites nestled inside of the Jordan Wine Estate. With panoramic vineyard views, the Jordan Luxury Suites have an effortlessly chic boutique hotel vibe.
The suites have added touches like Egyptian cotton linen, Nespresso coffee machines, and complimentary Jordan Estate wine—all with a veranda perfect for lounging and taking in the view. Most rooms also feature a free-standing bath and fireplace in a separate lounge area, which is a pretty great selling point.
After all, is there any better way to end a day of wine tasting than with a long bubble bath followed by some unwinding in front of a fire?