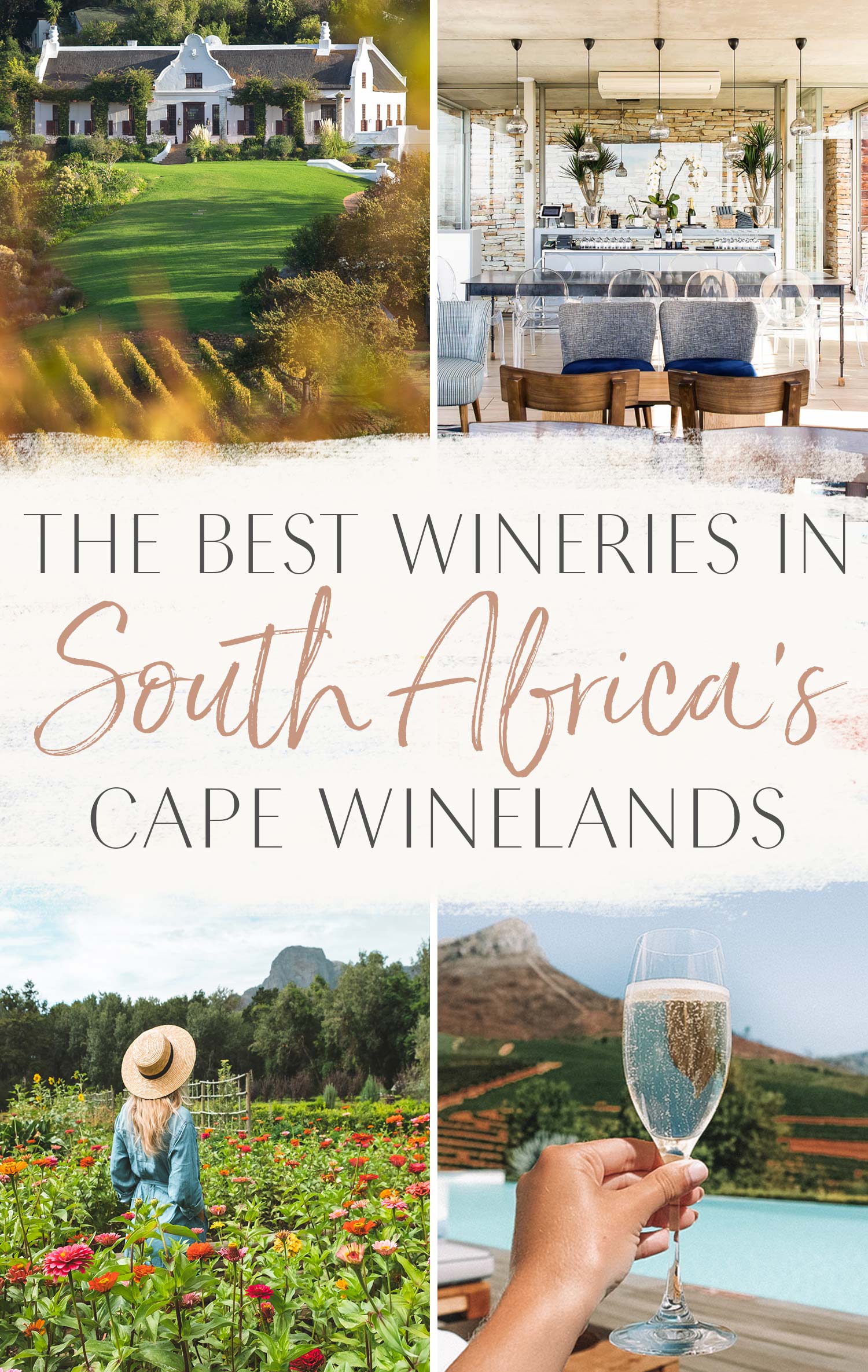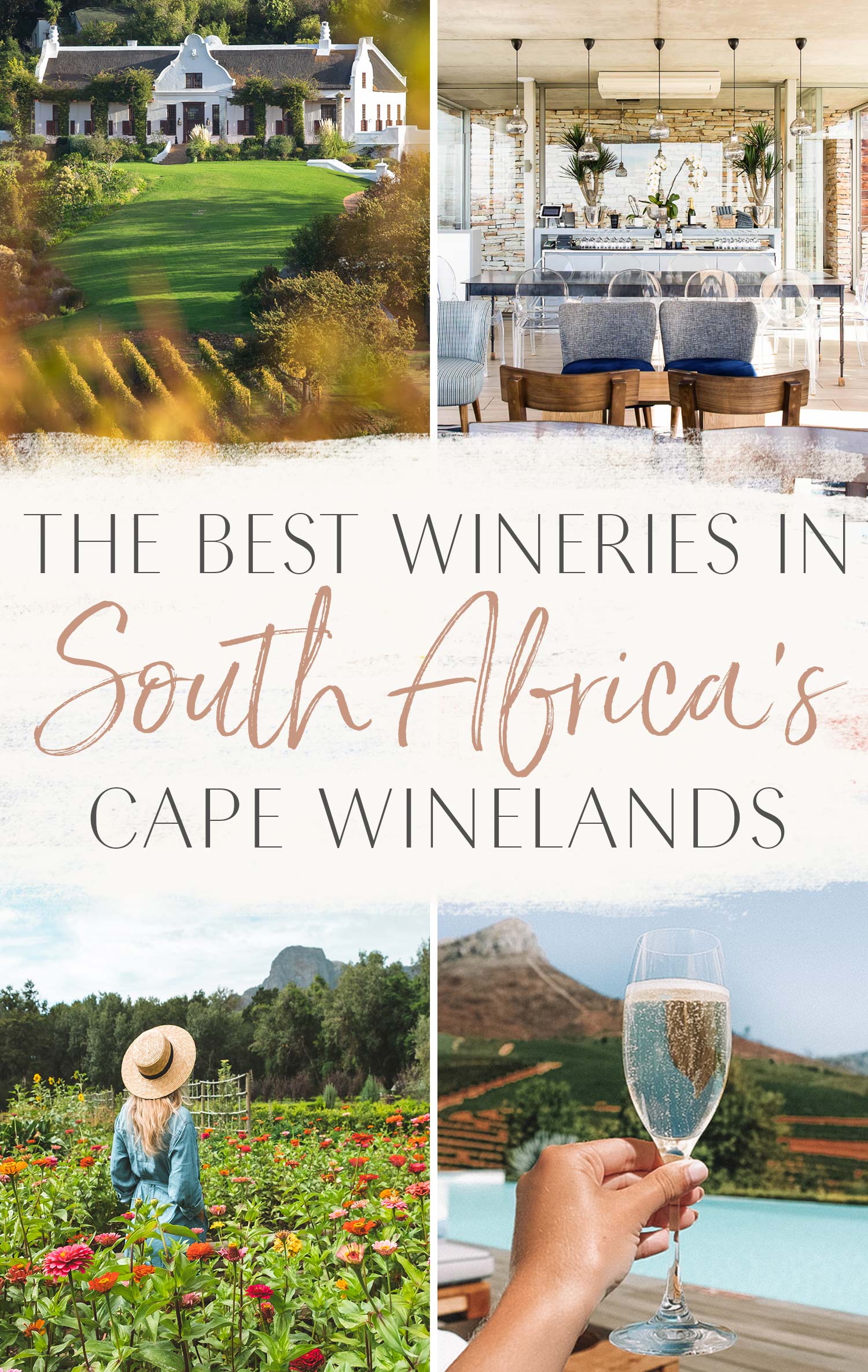 One of the best things about living in Cape Town is the proximity to Stellenbosch and Franschhoek—also known as the Cape Winelands. South Africa's Cape Winelands is, in my humble opinion, one of the best wine regions in the world. There are hundreds of wineries with tasting rooms, restaurants, and even day spas!
The Winelands are only a 30-40-minute drive from the city, so they're the perfect addition to any Cape Town itinerary!
While Stellenbosch and Franschhoek are the most well-known wine regions around Cape Town, Constantia, Paarl, and Durbanville are also amazing wine destinations just outside of the city.
Ever since my first visit to South Africa three years ago, I've made it my mission is explore as much of the Cape Winelands as possible! With wine traditions that span more than 300 years, it's a wine lover's paradise.
Here are the best wineries in the Cape Winelands!

Franschhoek
Franschhoek is one of South Africa's top wine destinations. The town is famous for it's rolling vineyards and is home to some of the best restaurants in the country. It also offers boutique luxury accommodation as well as cozy B&Bs.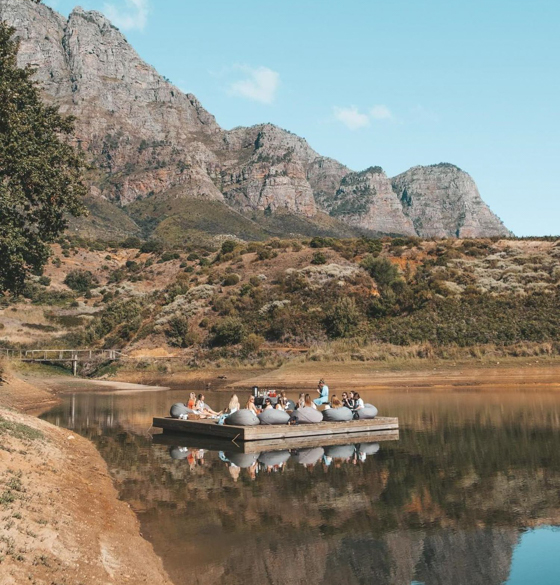 Boschendal
Boschendal is the backdrop to the "Winelands" portion of me bespoke TBA Escapes All-Female Tour in South Africa. It's one of the oldest wine farms in the country and has been producing farm-to-table food and award-winning vintages since 1685!
If you have time in your itinerary, I recommend spending at least one night in their beautiful Werf cottages. The rooms include sweeping views of the mountains as well as cozy fireplaces, picture-perfect swimming pools, and fully-equipped kitchens.
Whether you stay at the property or not, be sure to visit on a weekend and enjoy one of their boxed picnics!
Babylonstoren
Located at the foot of the Simonsberg mountains, Babylonstoren is also one of the oldest wine farms in South Africa. It's also Instagram heaven! The wine farm has eight-acres of gorgeous gardens that you can explore, before or after a wine tasting. Book dinner at Babel or enjoy one of their beautiful platters to pair with wine in their tasting room.
While it's possible to see everything as a day trip from Cape Town, staying at Babylonstoren is an experience in itself.
Bablyonstoren is also one of my favorite wine farms for shopping. Their Farm Shop and Scented Room are picture-perfect and are great for picking up a souvenir (or three!). My all-time favorite spa is also at Babylonstoren, so I would recommend planning a full-day here for anyone that wants a little pampering too!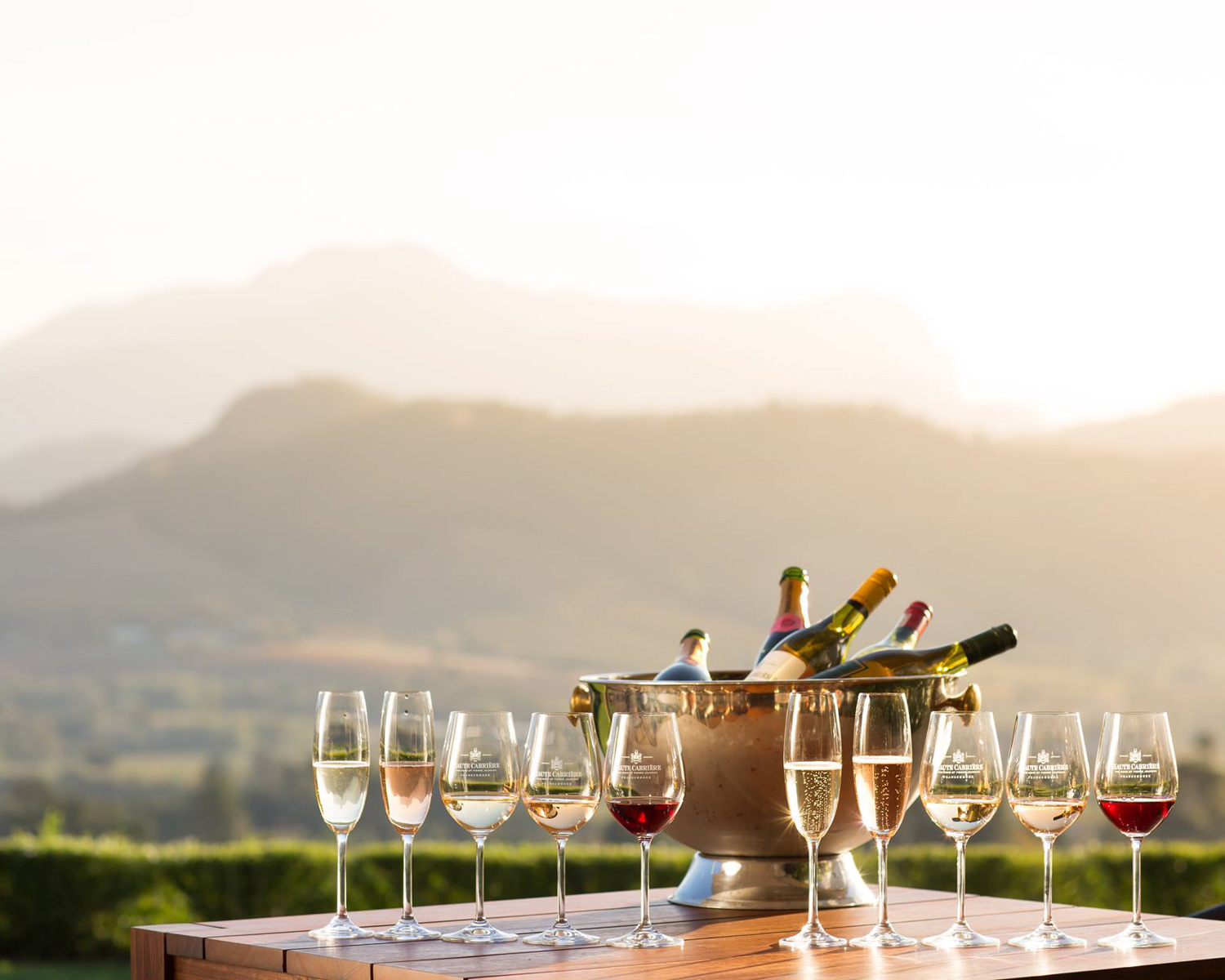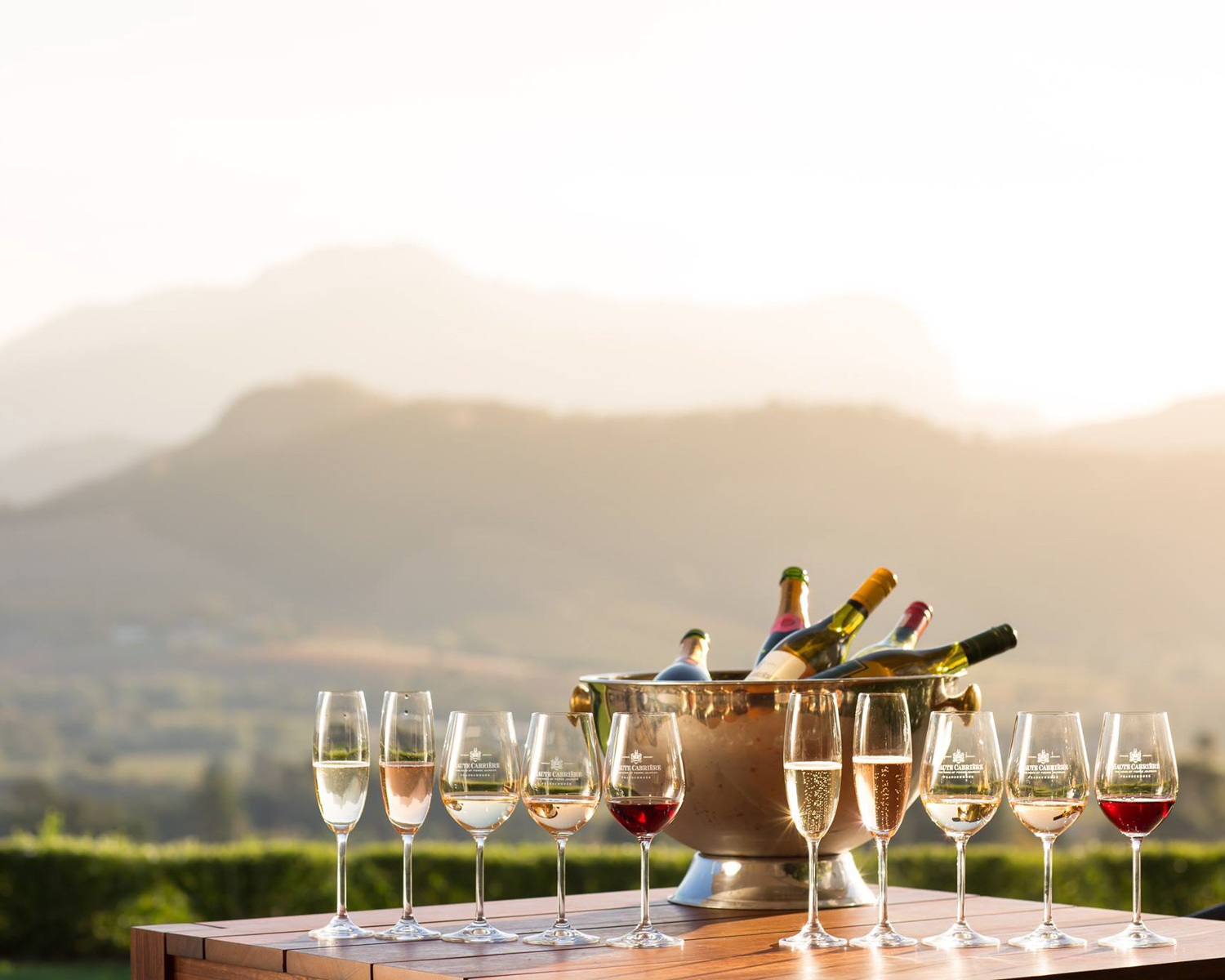 Haute Cabriere
Haute Cabriere is a wine farm with a rich and fascinating history. It can trace its roots back to 1694 when French Huguenot Pierre Jordan was given a piece of land in Franschhoek.
A man named Achim von Arnim eventually bought the land with the plan to plant vines of Chardonnay and the vineyard has been going strong ever since! Haute Cabriere has, in my opinion, the absolute BEST views in Franschhoek! Their tasting room is a sort of "cave" and, on a sunny day, their outdoor patio looks out over the entire valley.
Don't miss out on tasting their legendary Pinot Noir and Chardonnay wines!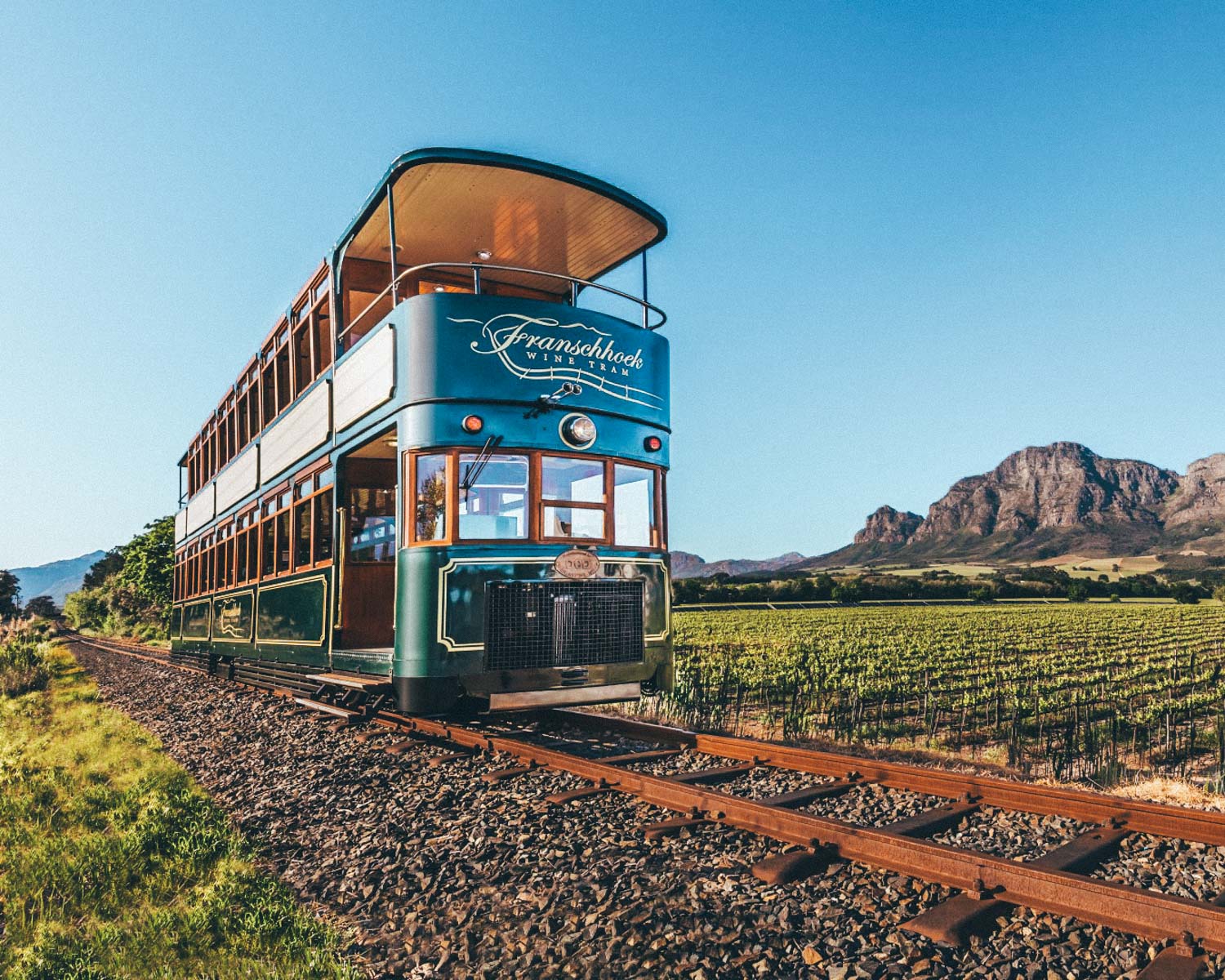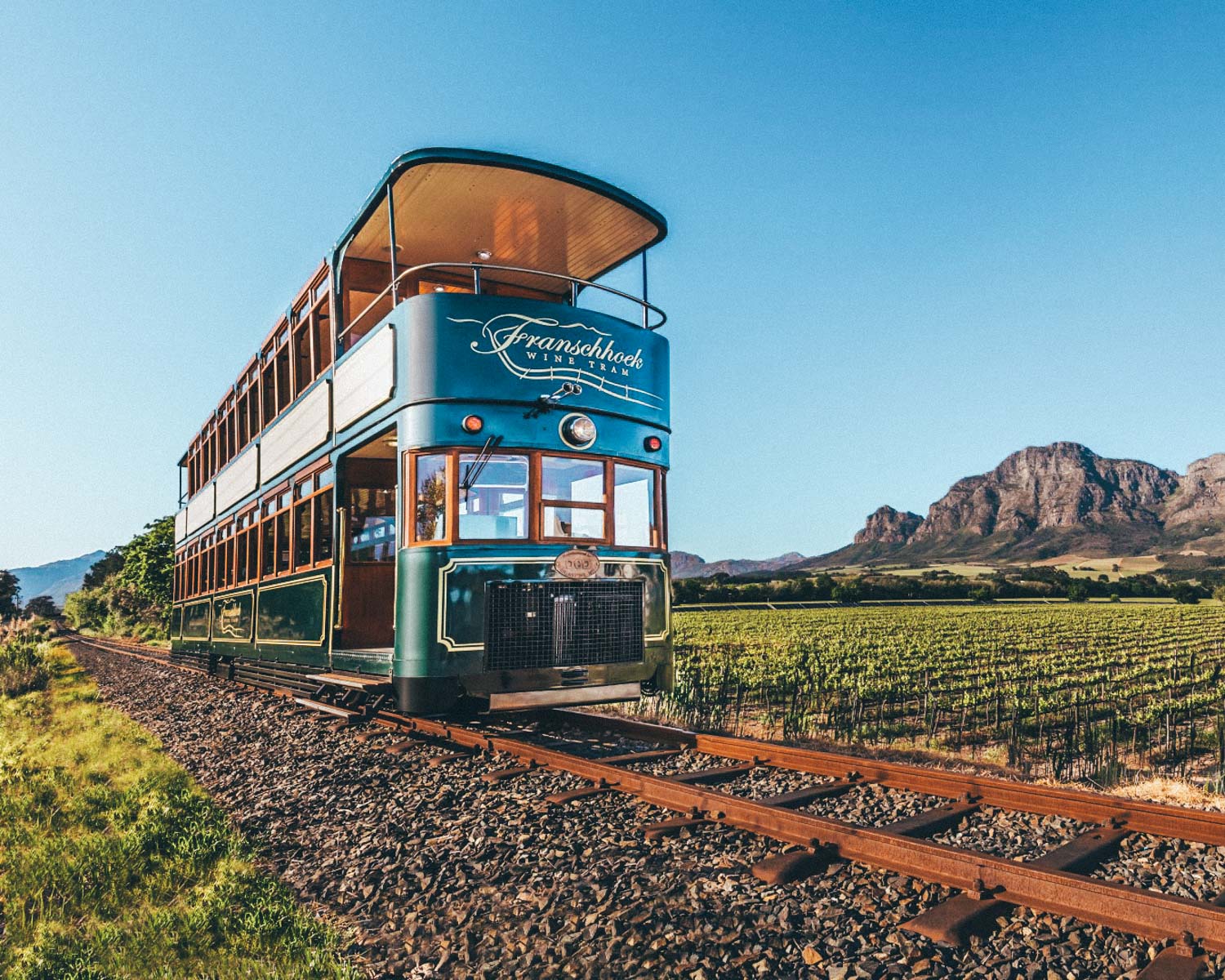 Franschhoek Wine Tram
The Franschhoek Wine Tram is a hop-on-hop-off tour and is the best way to explore Franschhoek Valley's vineyards. You can choose from eight different lines and spend as much time as you'd like at each stop.
A tour will cost you R240 per person and does not include the wine tasting fees at each estate. You can budget around R 25 – R 75 for a tasting at each farm.

Stellenbosch
Stellenbosch is a university town and is one of the biggest tourist attractions in the Western Cape. With it's beautiful Cape Colonial architecture and an abundance of wine farms, it's the perfect weekend escape from the city and a glimpse into the Cape Winelands.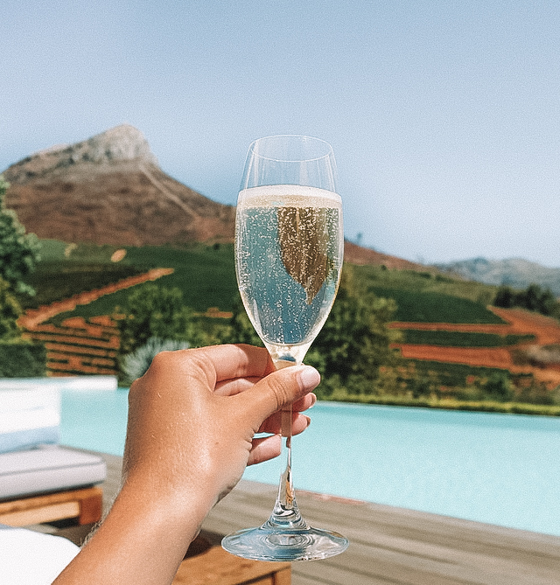 Delaire Graff Estate
Delaire Graff Estate is the epitome of luxury and one of the most well-known wine estates in Stellenbosch. You absolutely need to book at one of their mouthwatering restaurants, Delaire Graff Restaurant and Indochine. On one visit, I had the tasting of West Coast oysters and THE BEST risotto I've had in my entire life. On another occasion, I enjoyed lunch at Indochine, which is known to be one of the best restaurants in all of Cape Town.
The servers are wine pros, so they gave us recommendations for local wines that paired perfectly with our meals.
After lunch, sit back and relax at the spa where you can partake in half-day services or full-day services. You can be pampered for hours, unwind in the jacuzzi, or get your tan on by the infinity pool.
Jordan Wine Estate
I've been fortunate enough to visit Jordan Wine Estate on a few occasions, and it lives up to its reputation for great food, wine, and amazing accommodation options. The estate itself has only been in operation since 1993 and has a few different ranges to try.
The highlight of a trip to Jordan Wine Estate is the wine safari. It's a tour of the vineyards in an open safari-style Land Rover that stops to give you spectacular views of False and Table Bays.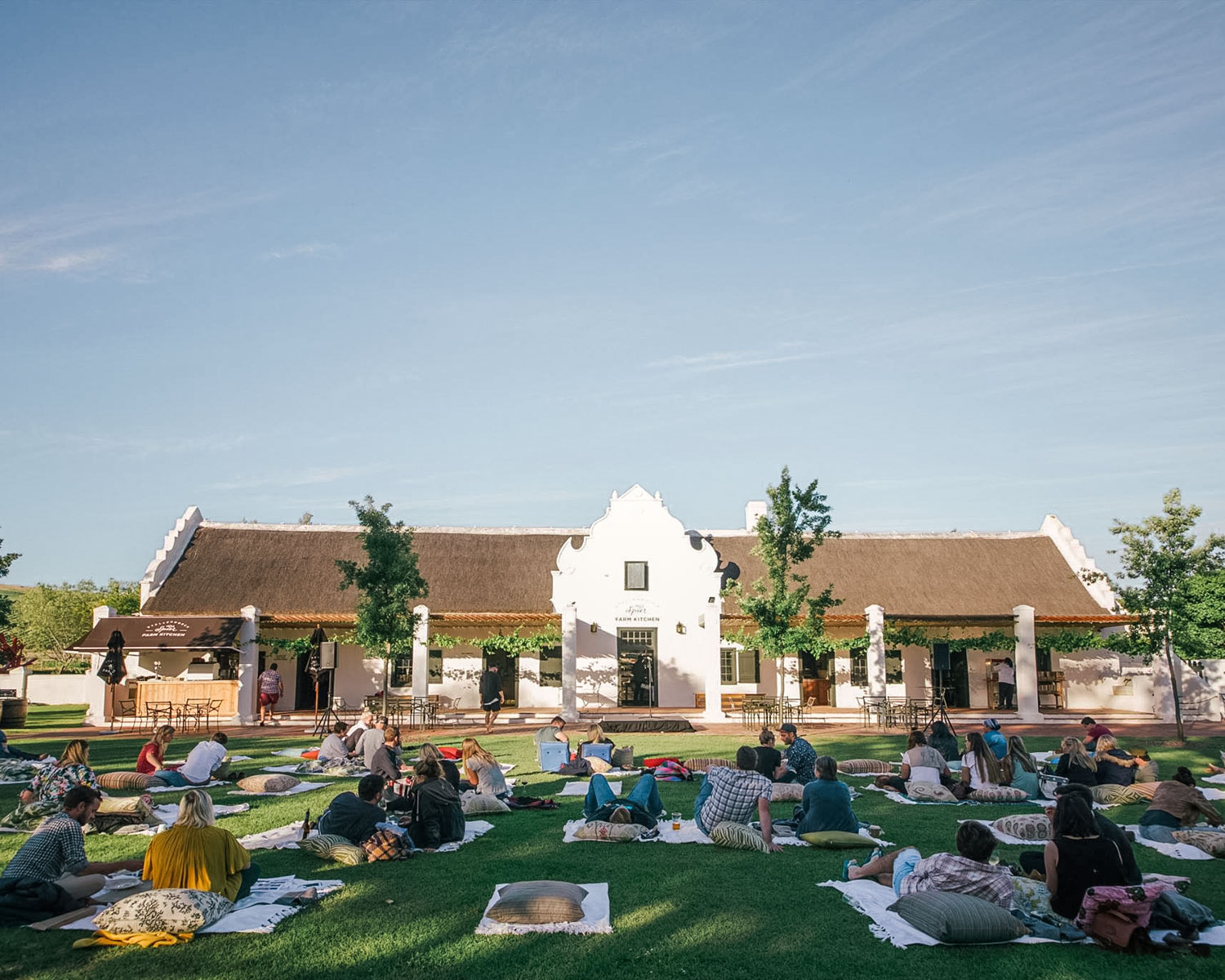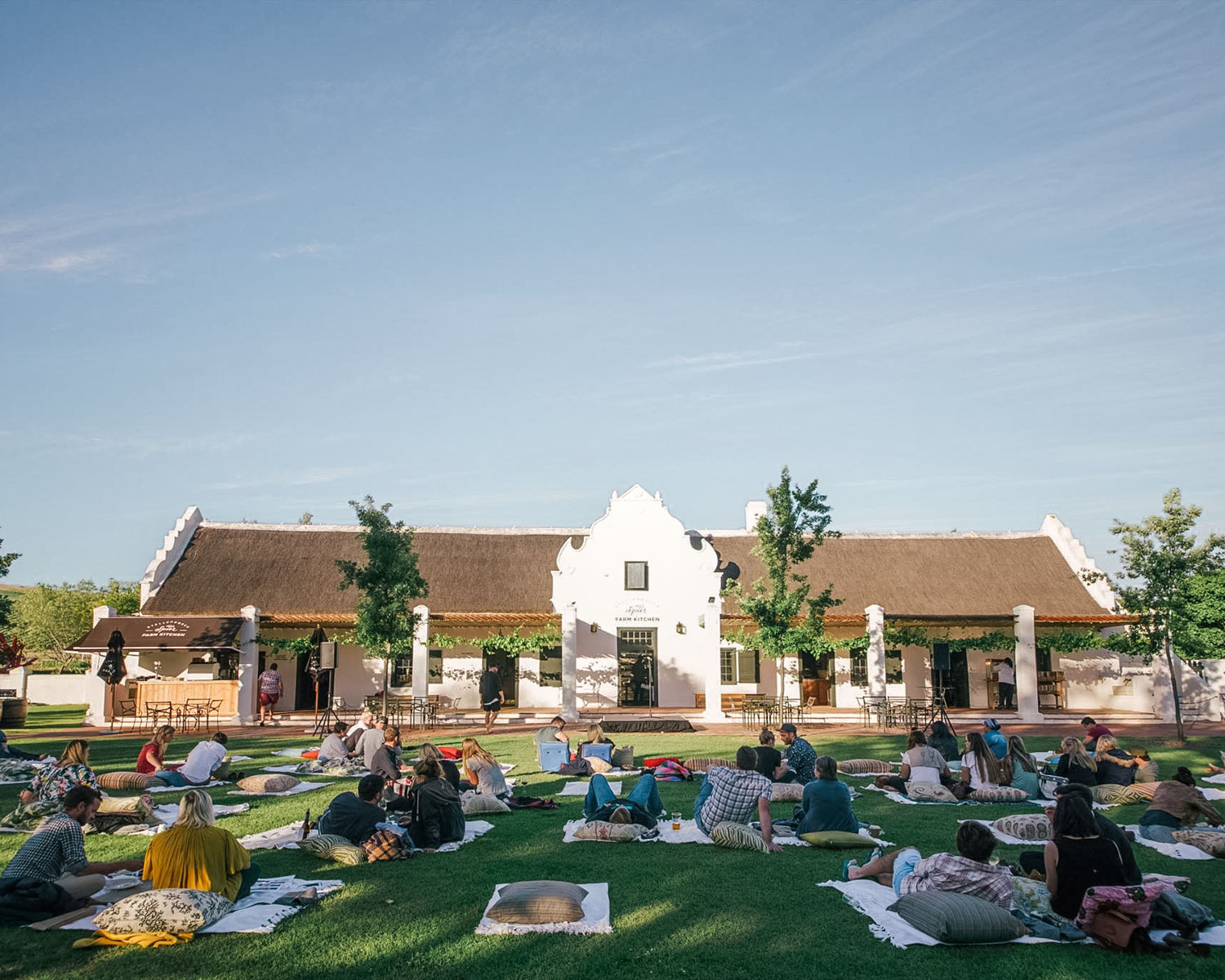 Spier
Spier has over 2700 acres of pastoral pastures, leafy vineyards, and spectacular scenery. The property dates back to 1692 and includes South Africa's first dated wine cellar.
Spier hosts picnics on their lawns in the summer months and has a state-of-the-art wine tasting room that overlooks the Spier dam. The tastings include multiple wines, the option to do a chocolate and wine pairing, and even a grape juice tasting for the kids!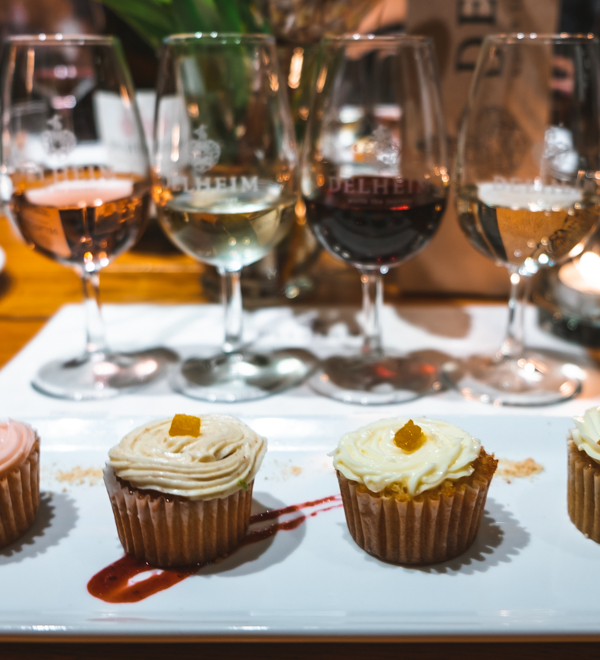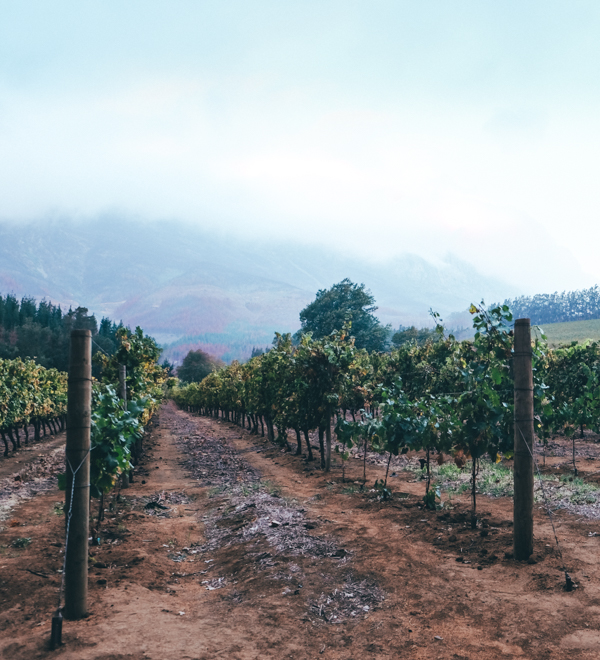 Delheim Wine Estate
High up on the slopes of Simonsberg Mountain, 50 km away from Cape Town, sits Delheim Wine Estate. The winery specializes in Chenin Blanc, Chardonnay, Sauvignon Blanc, and Weisser Riesling.
The Vera Cruz property of Delheim Wine Estate has 100 hectares of land, planted with both red and white varieties. The reds are predominantly Cabernet Sauvignon, Merlot, Pinotage, and Shiraz.
The highlight of a visit to the winery is the Cellardoor. Here you can experience a wine and cupcake pairing, a charcuterie board and wine pairing, and cheese fondue!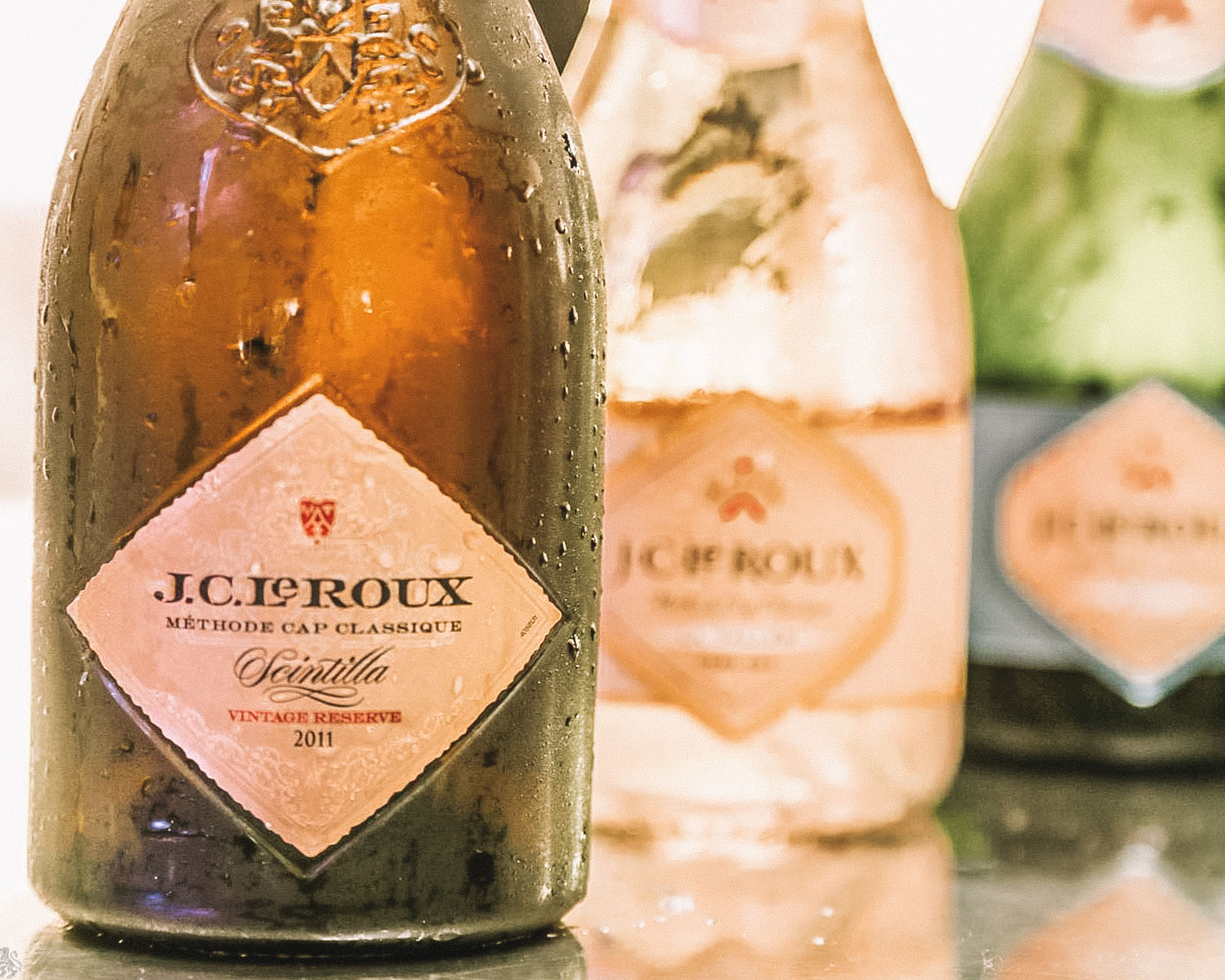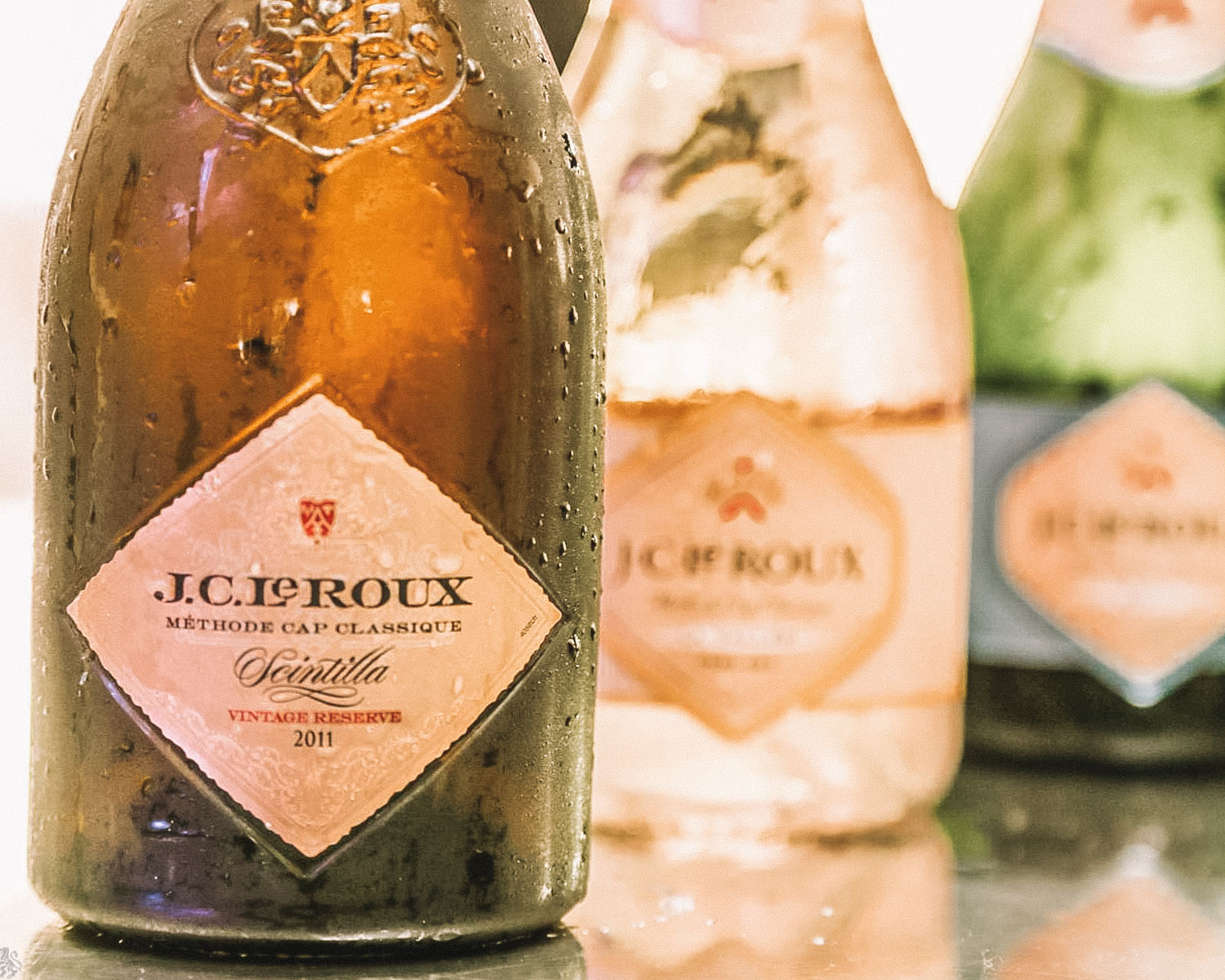 The House of JC le Roux
The House of JC le Roux is the leading home of sparkling wine in South Africa. In 1982, it was established as South Africa's first dedicated sparkling wine cellar and has been successful ever since.
They were the first in the country to start selling a sparkling red wine and the first to launch a sparkling wine made solely from Sauvignon Blanc grapes. The tasting room is open seven days a week and allows you to try their versatile sparkling wines.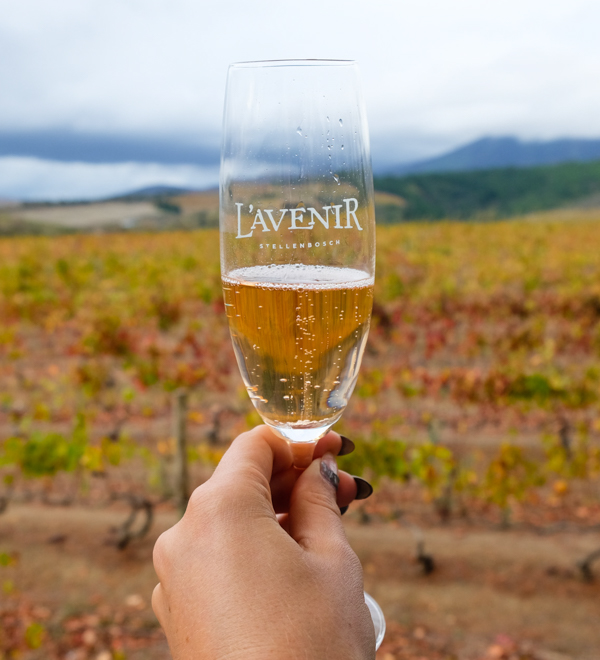 L'Avenir
Nestled in the valley below the Simonsberg Mountains, L'Avenir is a 4-star lodge and wine farm. I visited the vineyard during my first trip to Stellenbosch and had an amazing time in their tasting room.
If you choose to stay at the lodge, you will find a rim-flow pool overlooking the dams, home-cooked breakfast on the deck, mountain biking and trail running, and a cozy fireplace to warm up near when the nights get chilly.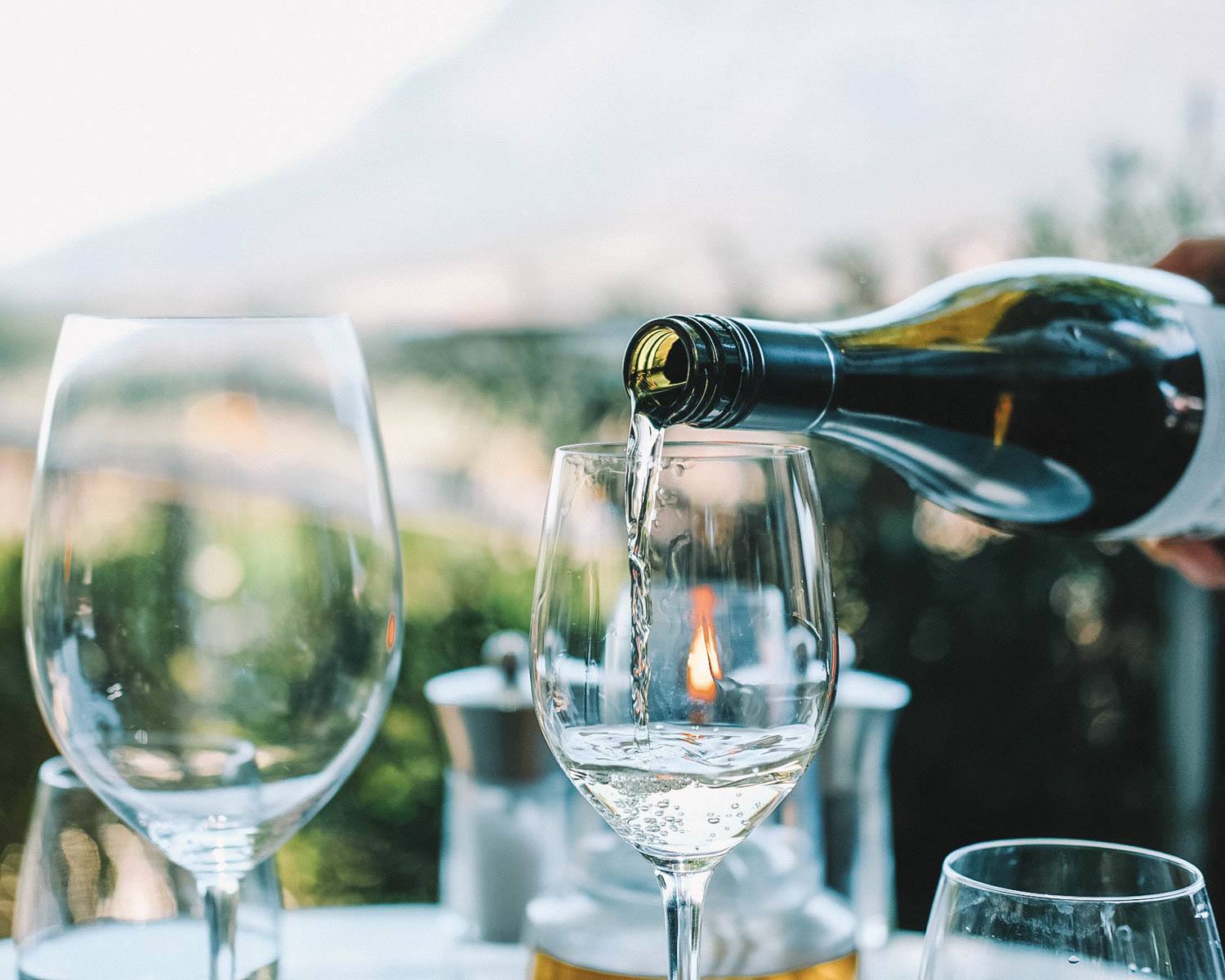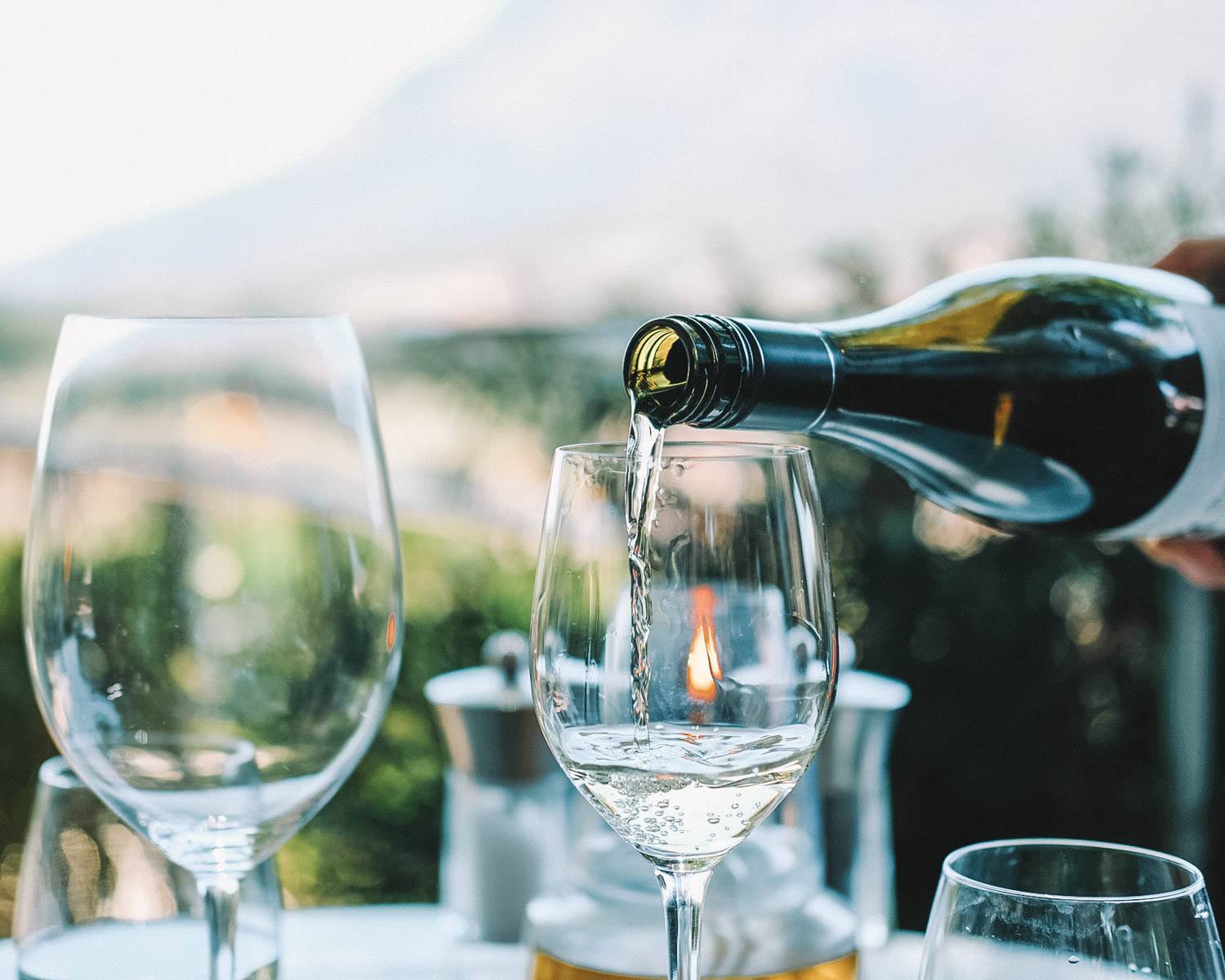 Waterkloof Wines
In 1993, Paul Boutiot began his search for the perfect vineyard site. It took him ten years, but then he found a small area facing False Bay and Waterkloof Wine Estate was established.
Waterkloof exports most of their wine, but tastings are available every day from 10 AM to 5 PM. The best part? It takes place in a large glass building on the slope of the Schaapenberg!
Lanzerac Wine Estate
Steeped in history dating back to 1692, Lanzerac is a historic landmark. Positioned in the Jonkershoek Valley, it offers beautiful views of mountain ranges, lush vineyards, and gardens shaded by oak trees.
The property itself hosts a five-star hotel, acclaimed bars, restaurants and delis, a tasting room, and a chic spa. Plus, Lanzerac is home to the world's first bottle pinotage which you can sample at their wine tasting room.

Constantia
Constantia is the oldest wine producing region in South Africa, dating back to 1685. The Constantia Wine Route is comprised of 9 wine estates, all offering a unique experience! Plus, t's only a short 15-20 minute drive from Cape Town's city center.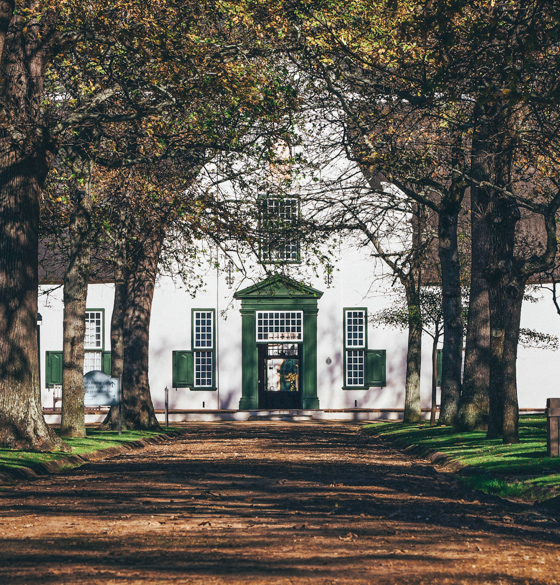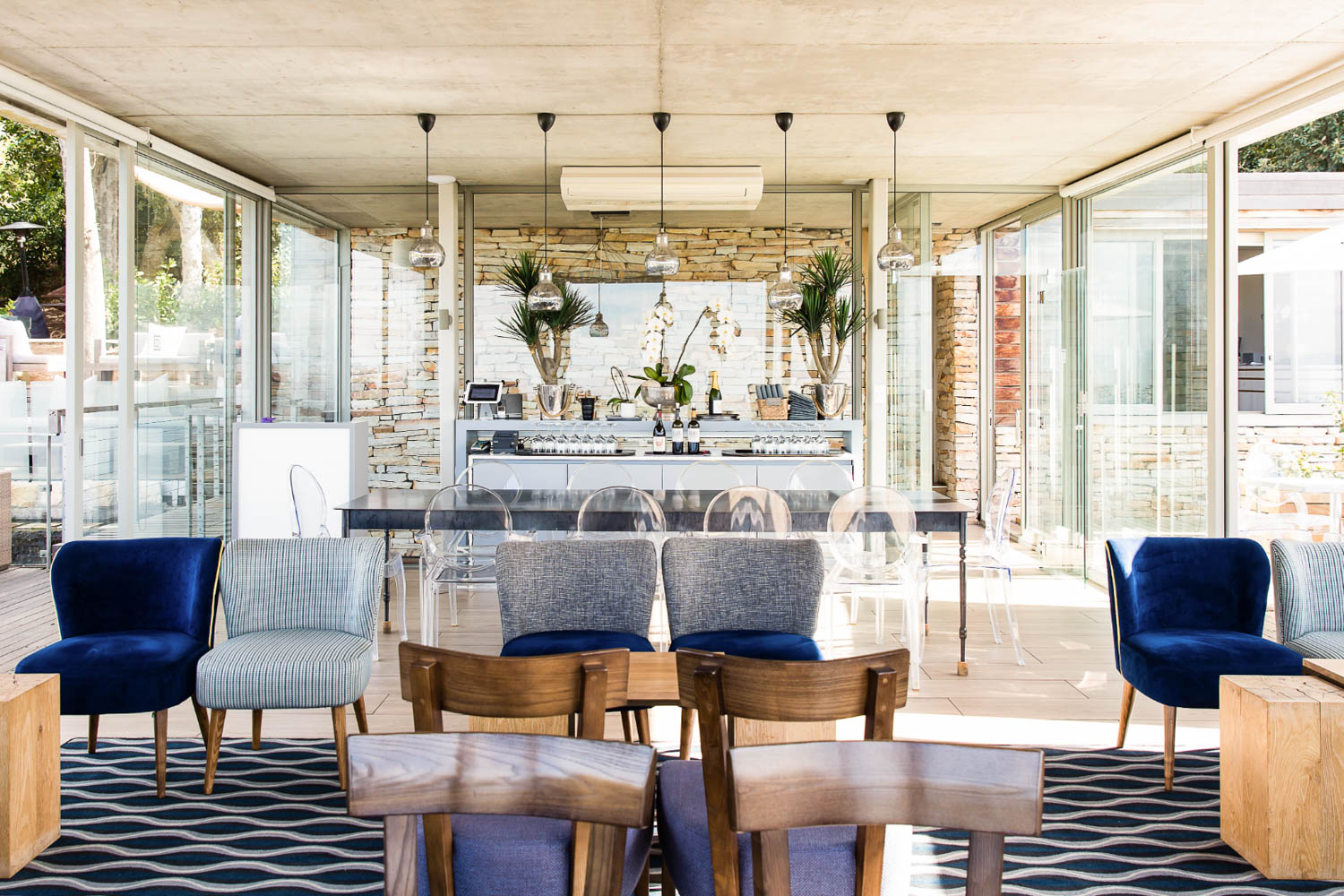 Beau Constantia
Home to Chef's Warehouse, one of the best restaurants in all of Cape Town, Beau Constantia is a boutique wine farm with a loyal following! Their tasting platters are phenomenal and a foodie experience all in themselves, and the award-winning wines are truly worth the hype.
The vineyards have panoramic views of the Stellenbosch and Helderberg Mountain ranges making for an idyllic wine and dining experience any time of the year.
If you want to visit, be sure to make a reservation for wine tastings, as well as Chef's Warehouse, ahead of time.

Constantia Glen
Definitely the most popular wine farm in the Constantia area, Constantia Glen is all-around amazing! The vineyards are cradled between the Constantiaberg range and Table Mountain.
I can say from experience that their wine and chocolate pairing is fantastic! They are known for their South African Bordeaux style blends.
If you're heading there, book you wine tastings ahead of time online—you'll want to book seating in the Glass House (if it's not too warm out) or the Veranda!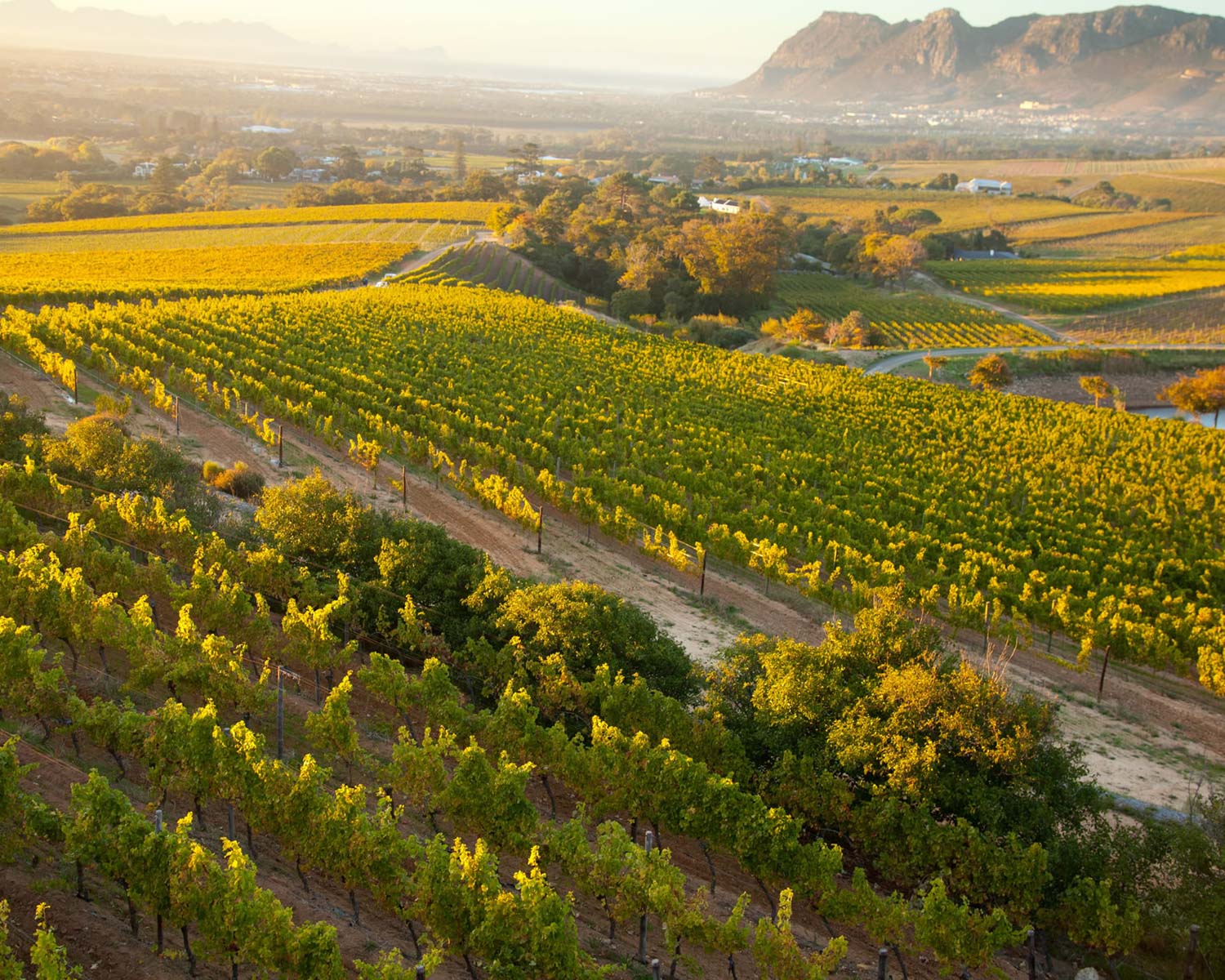 Klein Constantia
Dating back to 1685, Klein Constantia is described as one of the most beautiful wine estates in the CapeWinelandss. Set amongst ancient trees, the weather is always cool, allowing the land to produce some of the world's best wines, especially the Vin de Constance.
The winery also produces limited volumes of Perdeblokke Sauvignon Blanc, Métis Sauvignon Blanc, Methode Cap Classique Brut, Riesling, Chardonnay, and an Estate Red Blend.

Paarl
The Paarl Wine Route is famous for it's full-bodied, spicy red vintages and crisp white wines. Paarl is best known for its Shiraz, Chenin Blanc, Chardonnay, and Pinotage. It's the second oldest wine region in South Africa and is only a 45-minute drive from Cape Town.
Nederberg
Established in 1791, Nederberg is one of the most popular wine farms in South Africa. It's a must-see for any foodie who wants to experience the creme de la creme of wine tasting in the Cape Winelands.
The magnificent manor house, completed in 1800 is now a national monument and is a fine example of Cape Dutch architecture. Nederberg is also known for their events calendar and frequently host music concerts on their grounds!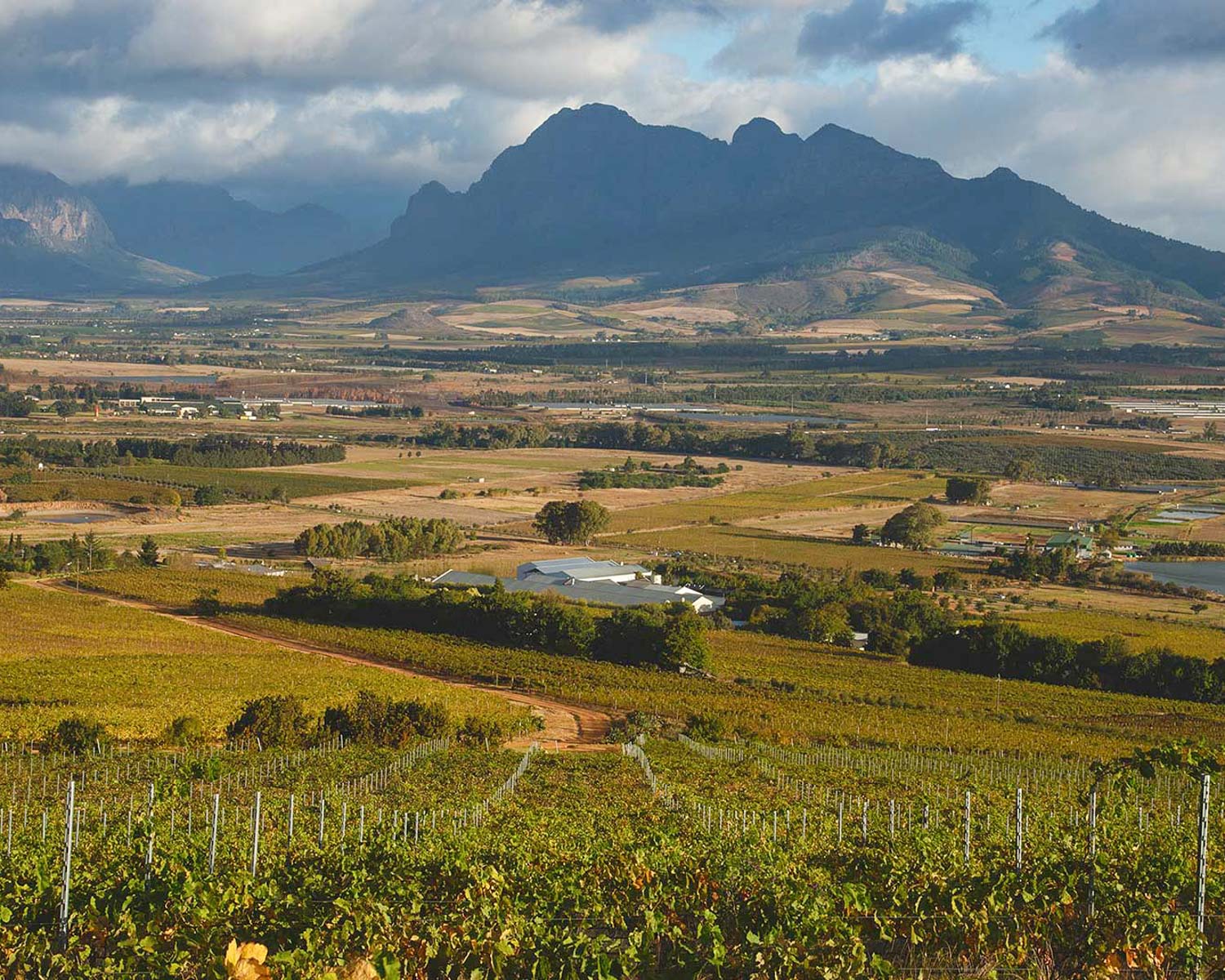 Fairview
Fairview's first wine was bottled in 1974. Since then, the wine farm has focused on introducing Mediterranean grapes such as Viognier, Tempranillo, Sangiovese, and Petite Sirah to the Cape Winelands.
Fairview is also known for crafting artisanal cheese — especially their fresh Bloemcool range. If you want to get the full Fairview experience, I recommend taking part in their wine, cheese, and olive pairing.

Durbanville Wine Valley
The Durbanville Wine Valley consists of 12 wineries and some of the best fine dining restaurants in the Western Cape. Located in the Tygerberg Hills, it's only a short 20-minute drive from Cape Town.
Durbanville Hills
Located a mere 20-minutes away from Cape Town, Durbanville Hills offers spectacular views of Table Mountain and extraordinary wine. The winery is renowned for its Sauvignon Blanc as well as its unique Table Mountain wine safari!
While the tasting room is located in Durbanville, their wine safari is in the city on Table Mountain. I went with my mom and we had an incredible afternoon on our safari while sipping on some of the best wine in the region.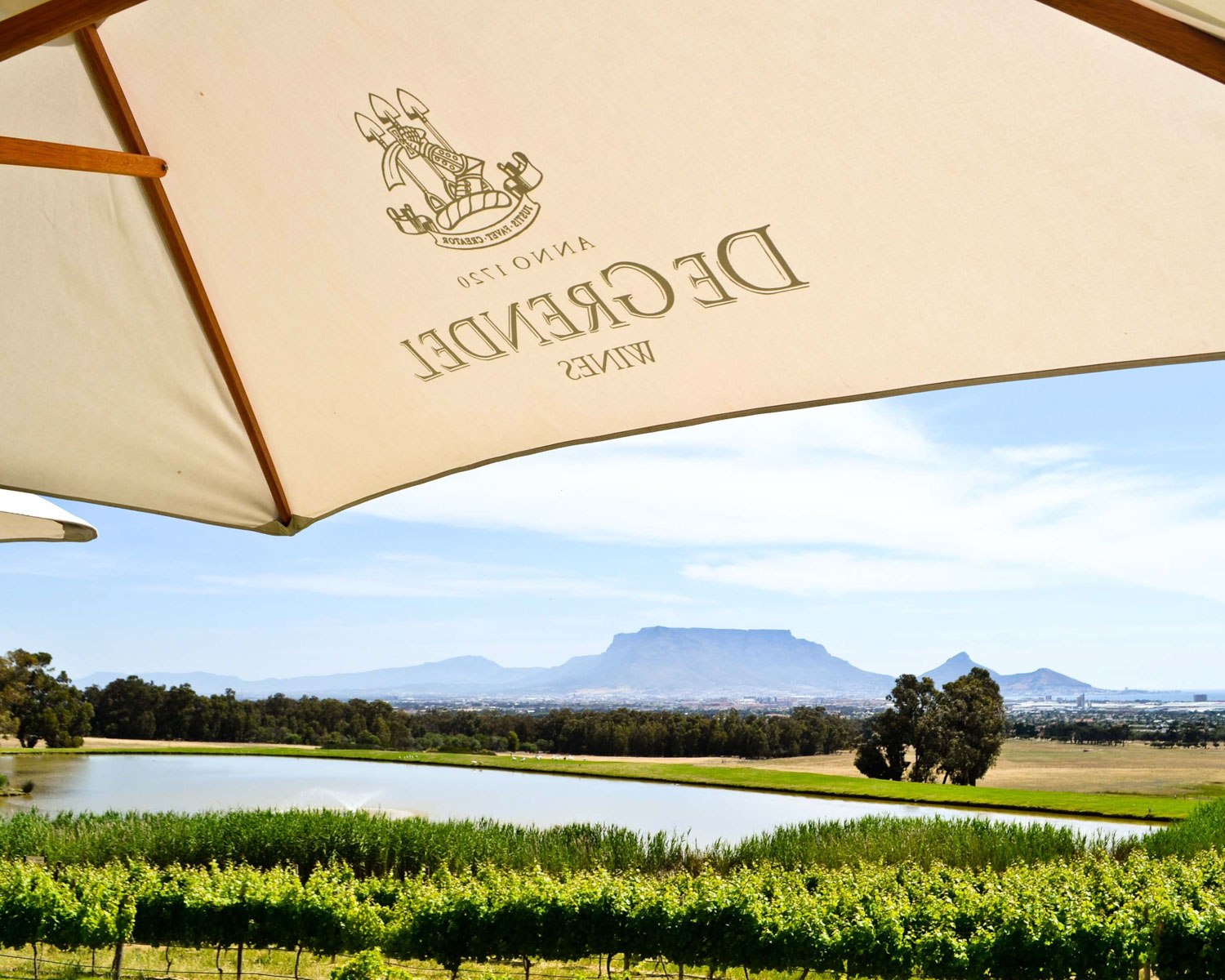 De Grendel
In 1999, almost 200 years after the last vines were destroyed, Sir David Graaf planted new vines and turned De Grendel into the successful warm farm it is today. De Grendel is home to a supreme range of reds and whites and has an elegant tasting area and an on-site gourmet restaurant.
You absolutely have to try their Sauvignon Blanc, Rose, Pinot Noir, and Merlot!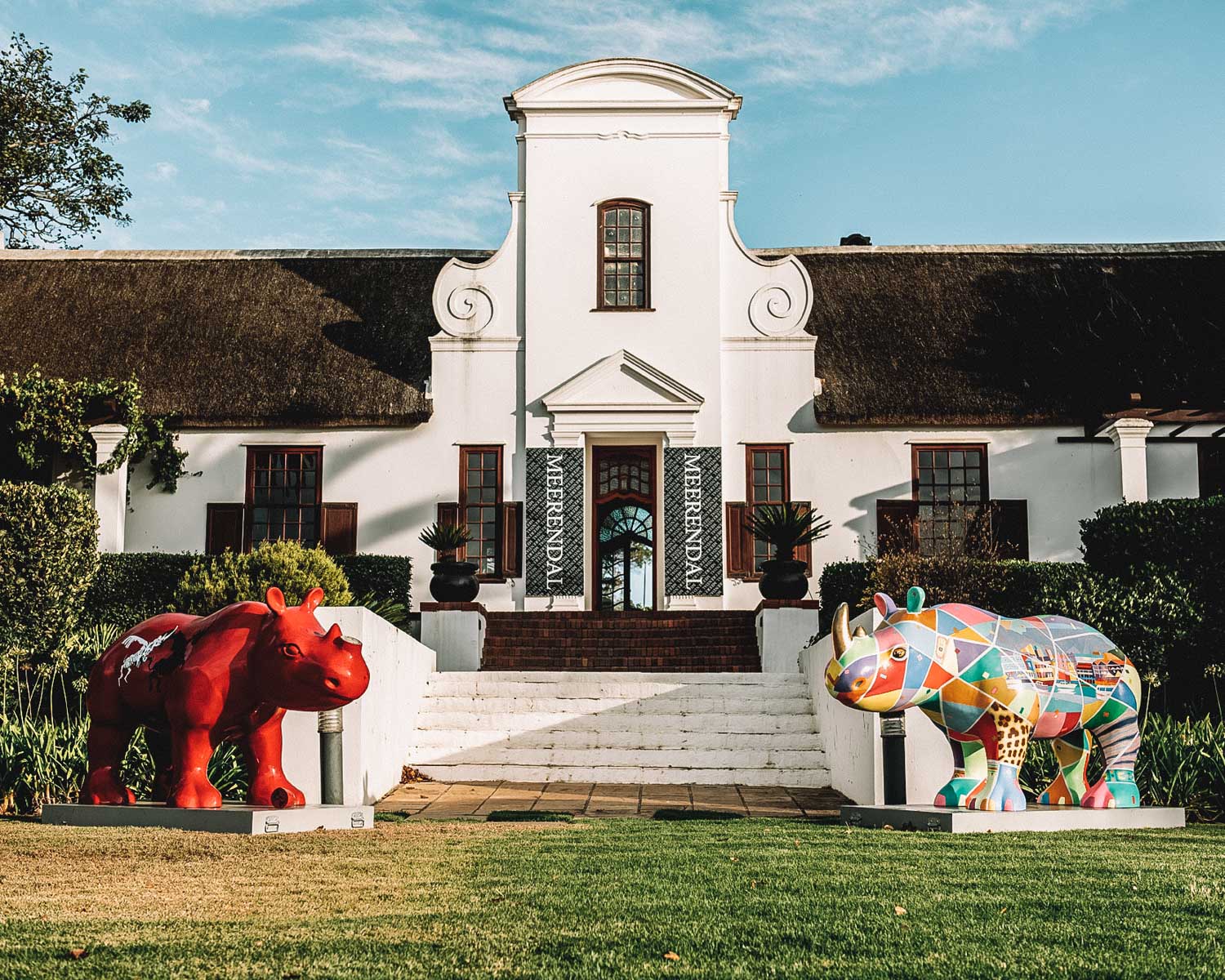 Meerendal
Meerendal is a 300-year-old wine estate and one of the top wine farms in the Cape Winelands. It produces high-quality Shiraz, Pinotage, Merlot, Sauvignon Blanc, Chardonnay, and Pinot Noir, all of which you can sample in their tasting room.
It is also home to the Crown Restaurant & Wine Bar and a luxury boutique hotel that's perfect for a weekend getaway from Cape Town!

Overall
You could spend days upon days exploring the wineries in the Cape Winelands. Not only does South Africa produce some of the best wine in the world (at a really affordable price), but the wineries are also some of the most picturesque that I've ever come across!

What are your favorite wineries in the Cape Winelands?
Let me know in the comments below!