I am such a wine lover so when it came to figuring out what I wanted to do for my birthday, I knew that it would have to be a staycation at Lanzerac Wine Estate in Stellenbosch, South Africa.
About a 40-minute drive from Cape Town, in the heart of South Africa's largest wine producing district, is this charming oasis. Established in 1672, it's the third oldest farm in the area (so cool!).
Lanzerac Wine Estate embraces its history yet delicately balances it with the present—so think (luxe) rustic charm with modern conveniences.
If you want to live a weekend in luxury, taking in the breathtaking views and gourmet food, it's the perfect place for you. It was truly the best way to relax, unplug, and of course, indulge in some of the tastiest wines. Cheers to another year around the sun! 🙂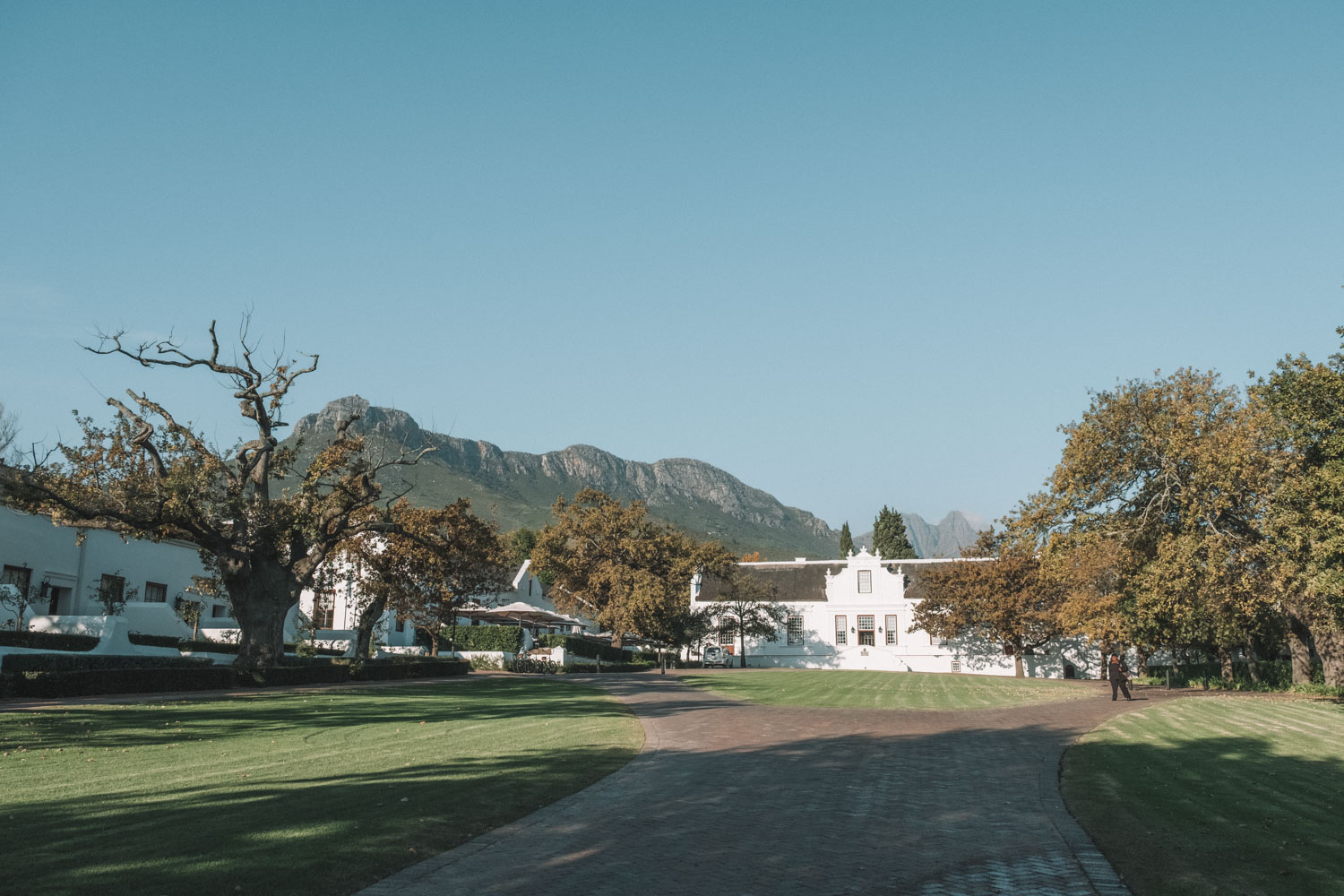 Getting There
It's positioned in the idyllic Jonkershoek Valley, right outside of the town. Getting there isn't too bad, either—it's about an hour drive from the heart of Cape Town.
If you feel like exploring Stellenbosch during your stay, there is a complimentary transfer service offered between the hotel and town at set times. So you can get the best of both worlds: explore the city, the unwind with allllll the wine.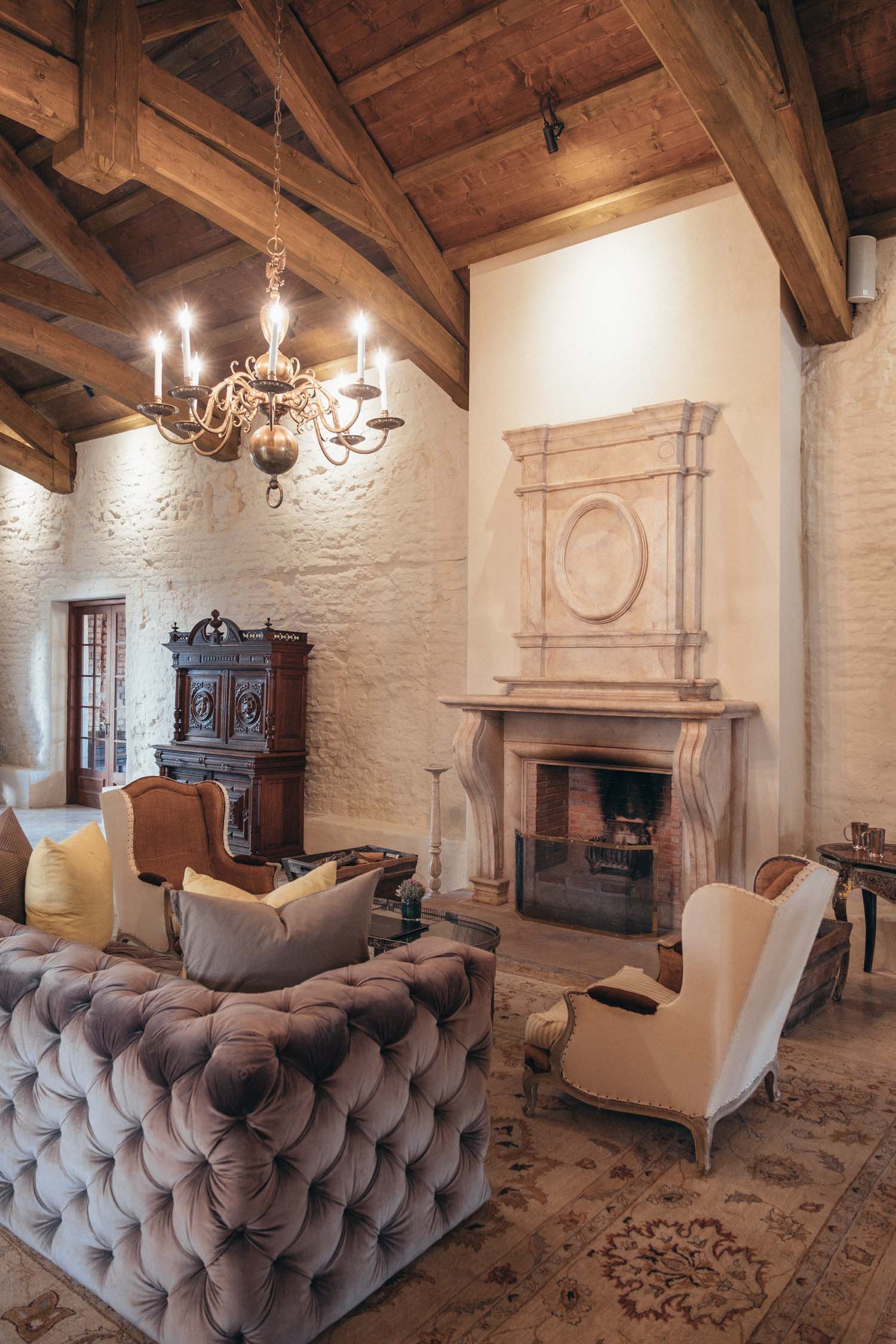 About the Property
As one of the oldest properties in Stellenbosch, it's rich in history. Though a tragic fire burnt a portion of the hotel, in July 2018 it re-opened its doors, with the same glory and glamour that put it on the map.
While staying there, you'll experience sweeping mountain views, endless rows of lush vineyards, and gardens shaded by large oak trees.
Along with incredible service and small unforgettable details amongst the property (hello, mountain views!), you also have access to the cellar and wine tasting center where you'll embark on a journey of the senses…with wine and chocolate!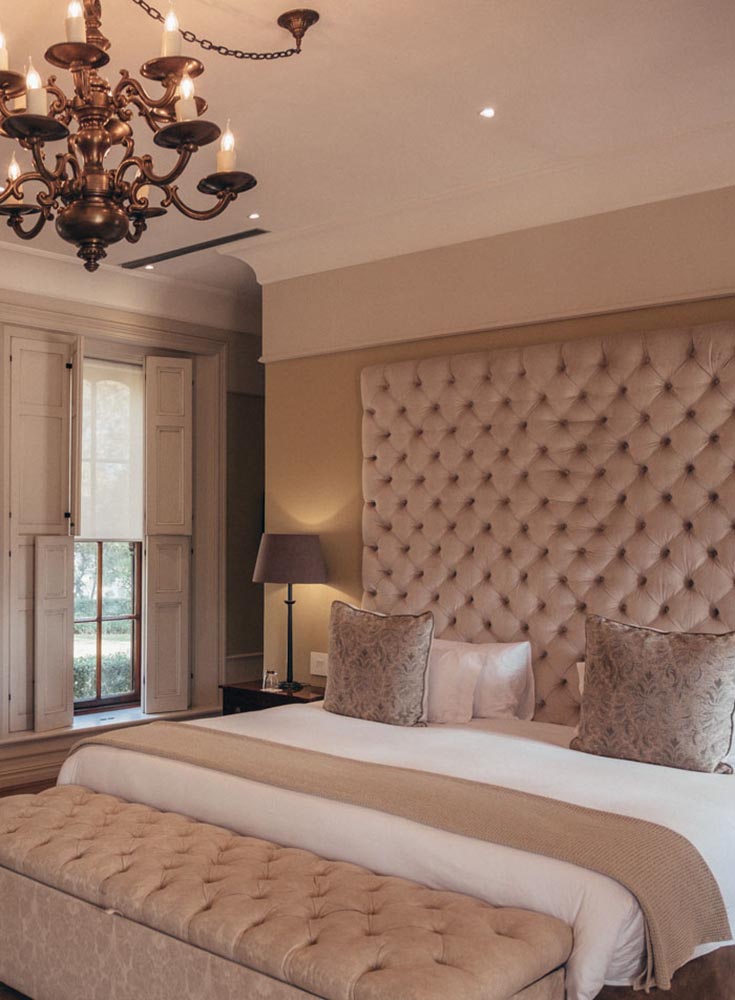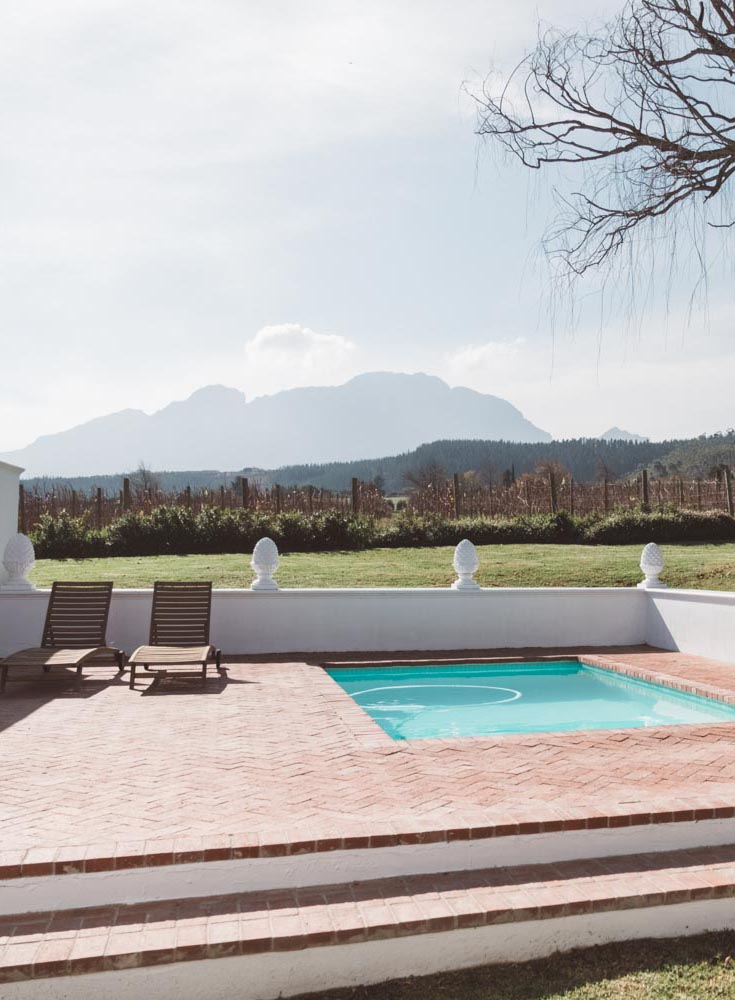 The Rooms
The five-star hotel is home to 53 ensuite bedrooms and suites, with many including private patios that overlook the mountain range and vineyards. Talk about STUNNING! I honestly believe that every room is beautiful, but I especially love the décor of the luxury rooms.
Accommodations also include air conditioning, heated flooring, satellite TV, tea and coffee facilities, 24-hour room service…so basically everything you could need and more.
Each room reflects the history of the property and has you feeling as if you've been transported back to the 1600s. But you know, like a modern 1600s with contemporary amenities and bathrooms…and WiFi.
We stayed in a suite with our own private pool. Happy birthday to me! 😉
Our suite included daily breakfast, use of the spa's hydro facilities, a wine tasting and cellar tour, along with other luxury amenities.

Dining
Manor Kitchen
During our stay, we had a complimentary breakfast along with dinner at Manor Kitchen. Using the best local, seasonal ingredients, guests can indulge in a large breakfast buffet or treat themselves to an elegant dinner.
No matter which you choose, you get a glimpse of the creativity that goes into each dish through large-scale windows that look into the kitchen.
Dinner dishes include beef filet, seabass, and venison Wellington…and believe me, we dug in!
Craven Lounge
Visiting the Craven Lounge for a pre-dinner drink is a must during your stay at Lanzerac!
The Lounge has an extensive list of spirits (both local and international), wines, and craft beers. The décor is especially cozy and if you're a cigar lover, you can indulge here.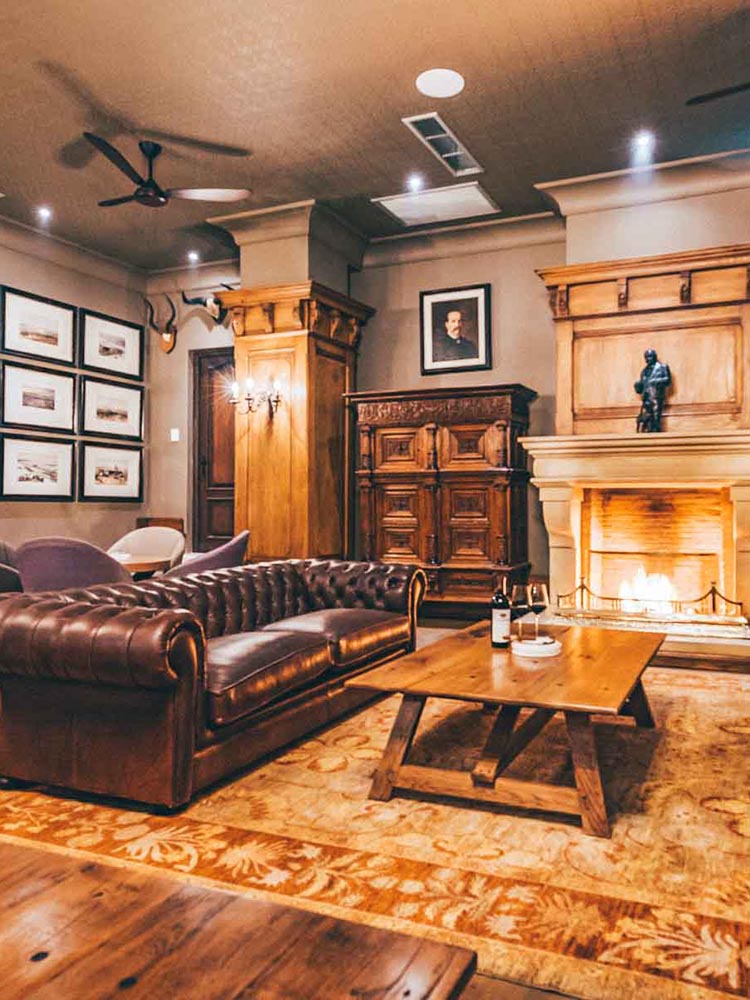 Taphuis
If you want to fully immerse yourself in the hotel's history, grab lunch or a cocktail at Taphuis—one of the property's most historic spots. Serving travelers since the 1960s, the country-inspired bar is complete with rough stone walls, brick floors, and exposed wooden ceilings.
You can choose to sit indoors against the impressive handcrafted bar and fireplace or outside on the terrace with garden views.

Complimentary Breakfast
During your stay, there is a full continental breakfast buffet and hot breakfast on order, complete with tea and coffee to help get your day started.
Don't mind if I do!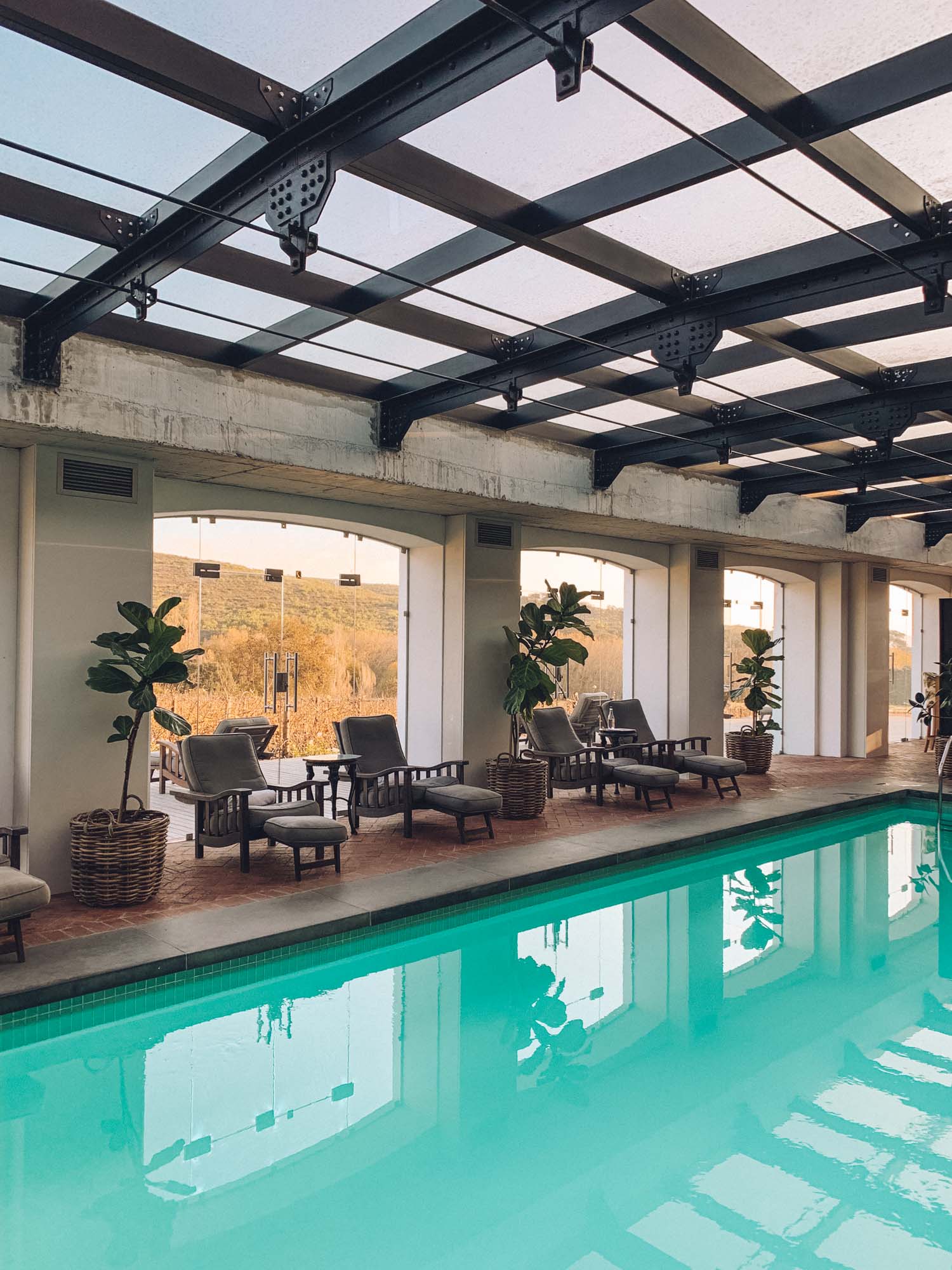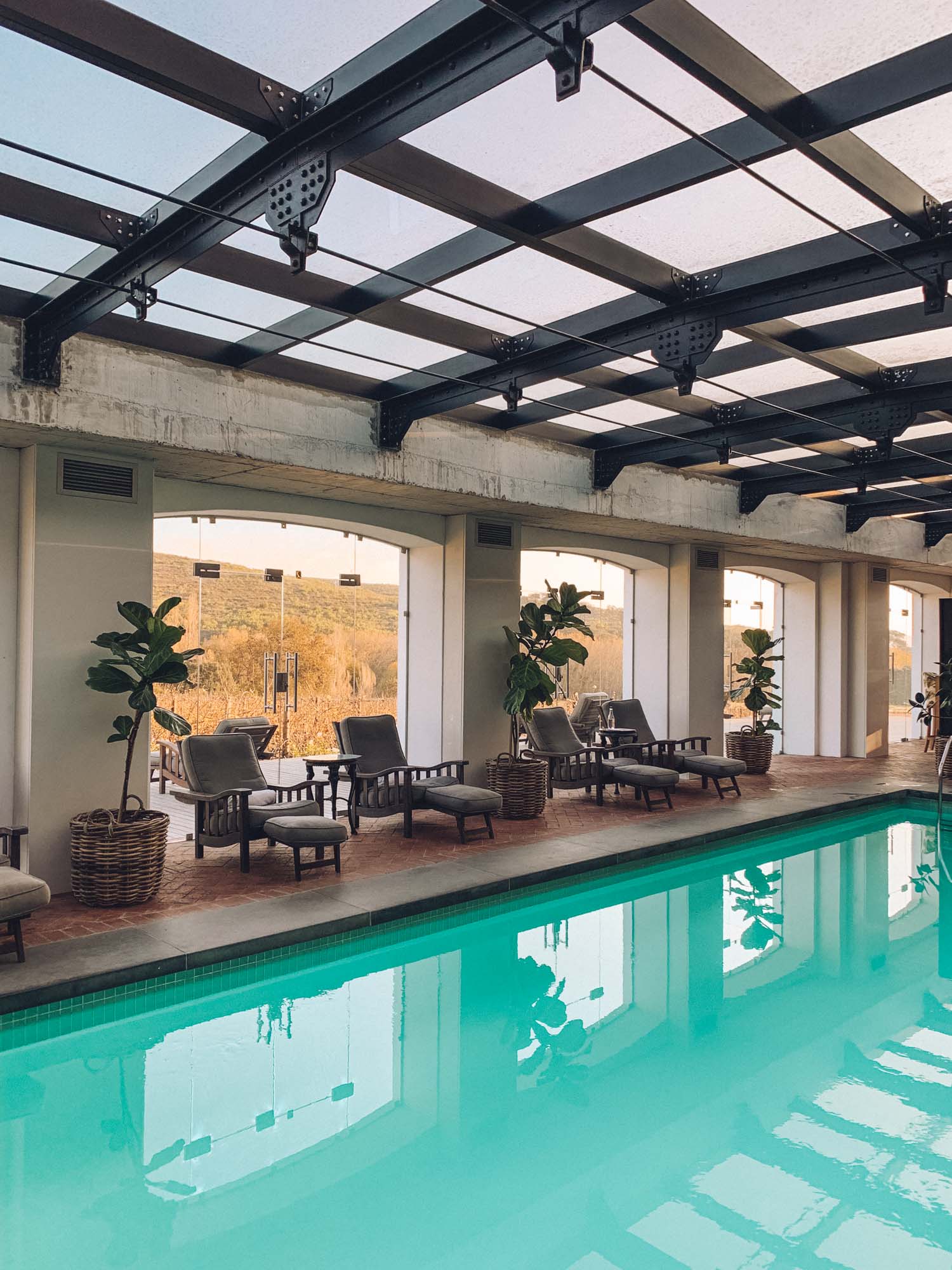 The Spa
I LOVE a good massage. You too?
Their spa facilities are some of the best in the area and they truly focus on helping you unwind. It's one of the only indoor, heated pools I know of in Cape Town and it's sooo nice in the winter!
You can bet that we swam in the warm water after dark. They also have a jacuzzi, too, if you're looking for a late night soak.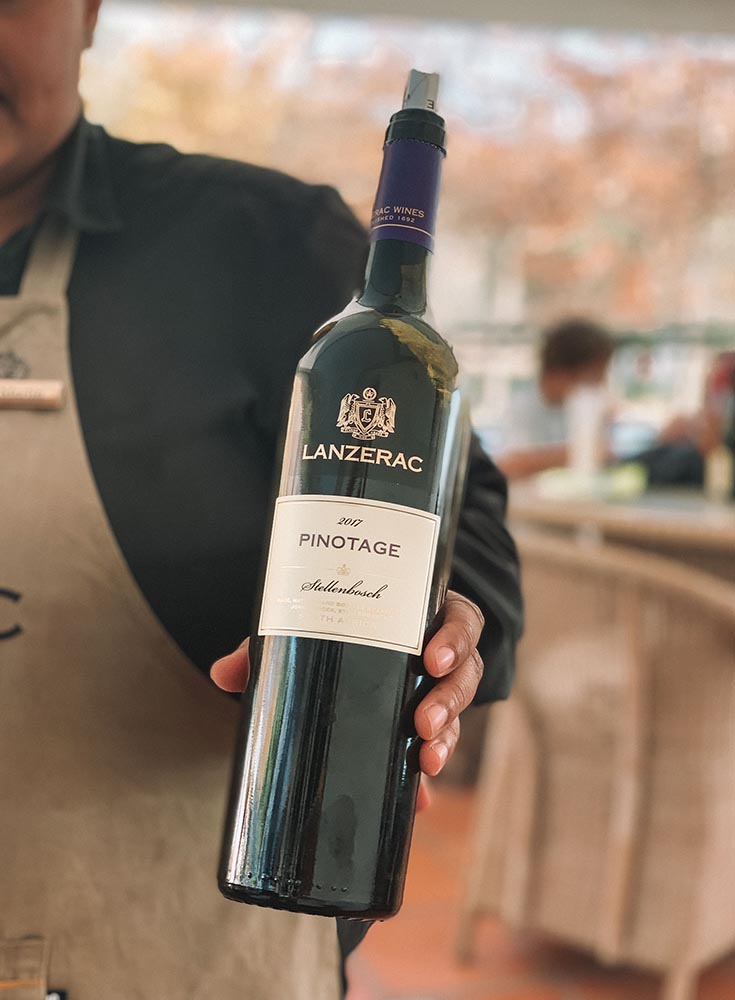 Activities
Wine tasting is quite popular here, and for good reason!
I highly recommend doing the wine and chocolate pairing or their Premium Range tasting of 5 wines. Feeling like you might need something to nibble on? You can also dine in the tasting room!
My favorite part was the Ploughman's Platter and their quiche of the day with a salad—quiche is one of my FAVORITES, so I'm pretty particular and this one was SO GOOD.
Guests staying on the Lanzerac property are offered a complimentary wine tasting of 5 Lanzerac Estate wines in the Lanzerac Tasting Room. Want to dig a little deeper? You can also take a complimentary cellar tour of the Lanzerac Winery (tours run daily at 11am).
Home to the first Pinotage (that's South Africa's signature variety—it's a cross between pinot noir and Cinsaut), Lanzerac takes its wine seriously. Going to a tasting or pairing is a must whether you're staying or visiting!

In My Opinion
Lanzerac Wine Estate was the ideal place to ring in another year around the sun. You feel like you're living a life of luxury while sipping on some of the best wine in the world. What more could you ask for?
Cheers to that!


More Information
Hotel: Lanzerac Wine Estate
Location: Stellenbosch, South Africa
Accommodation: Luxury
Price Range: $$$


Thank you to Lanzerac Wine Estate for hosting me during my stay. As always, thoughts and opinions expressed here are entirely my own.