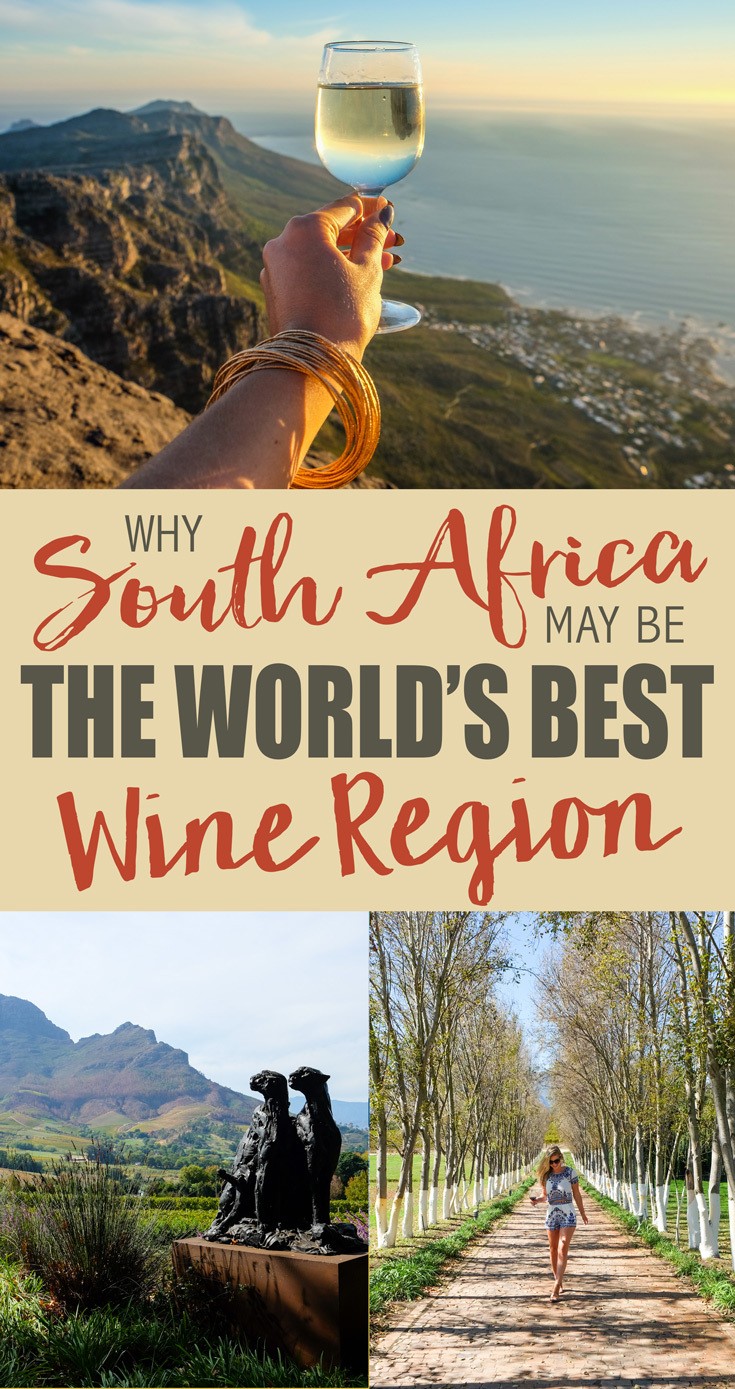 In case you haven't heard the big news… I am in love! I have fallen completely head over heels for South African wines.
South Africa is truly one of the most stunning countries I have ever visited and its wine regions are second to none. While there are a countless number of ways this beautiful, diverse country will sweep you off your feet.
Here's why I think South Africa may by the world's best wine region!

It's a Place of Indulgence
You can get some serious bang for your buck in South Africa. Unlike in wine regions of France, Italy, or California, you can seriously indulge in South Africa without breaking the bank.
Go out for 10-course tasting menus and polish off a bottle of wine with your travel mates. It'll hurt your waistline much more than your wallet!

Boutique Accommodations Abound
Speaking of luxury, South Africa is the place to go all out from morning till night. After eating your meal fit for a queen, put your feet up in a luxe hotel room. And forget about cookie-cutter resorts!
I am talking about über lavish boutique hotels that are unlike anything you have ever seen. You can stay in South Africa for a fraction of the price of accommodations in the United States or Europe.
I got to experience one of a kind rooms at Manna Bay Boutique Guest House in Cape Town and a luxurious stay at the Makeja House in Stellenbosch!

It's So Unpretentious
While there is a clear absence of arrogance here, the attention to detail is obvious at every single hotel and restaurant. Most of the wineries are family-owned farms. While most wineries and vineyards are known to have an air of sophistication and class, the South African winelands offer a comfortable and understated elegance.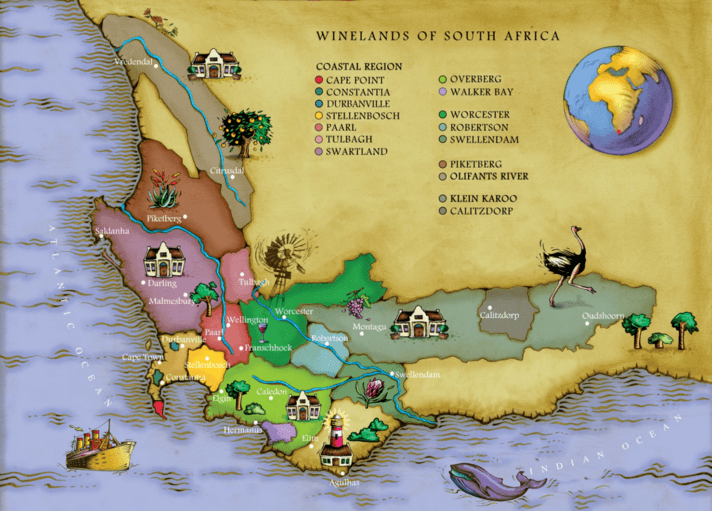 The Winelands are Expansive
South Africa has 60 different wine regions, which span over a whopping 247,100 acres. You can spend weeks exploring the countryside or just take a quick trip from the city. The renowned Stellenbosch region is just 30 miles from Cape Town.
You can also taste test the wonders of Franschhoek, which is less than an hour's drive away.

South African Food Is Amazing
Drop all of your preconceptions about African food. In South Africa, you will find a major emphasis on local, family businesses and natural, organic eating.
Sustainable seafood is a big thing in the coastal regions and in the Winelands you'll find the nation's best chefs. Enjoy farm-to-table dining in Joostenberg Bistro & Deli or sample the locally-sourced, organic ingredients foraged from artisanal growers at Waterkloof Wines.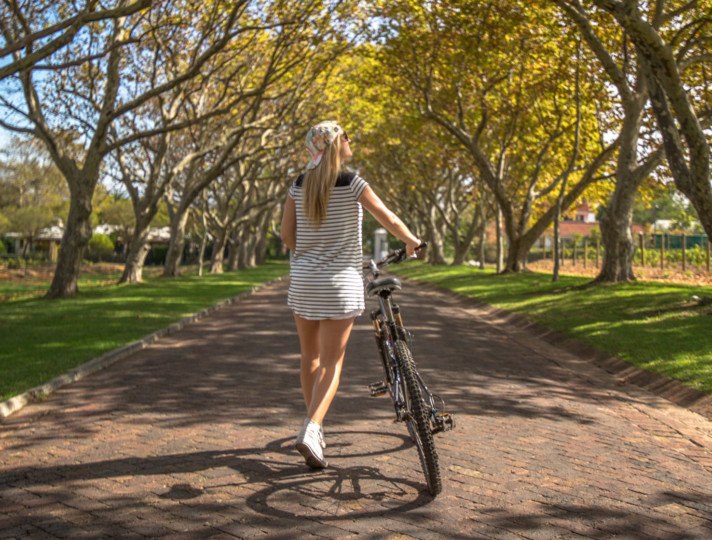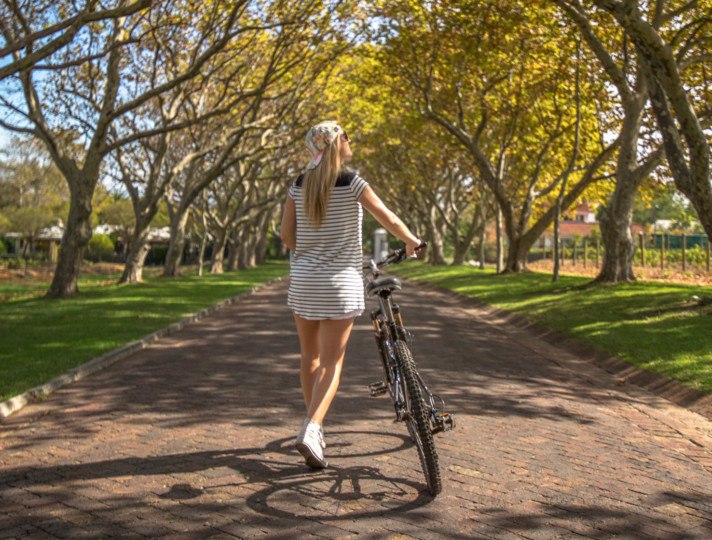 It's Fun for All Ages
South Africa isn't just about wine sipping. It truly is a place for all ages. The town of Stellenbosch is one of the best known wine regions and is also one of the biggest university towns in South Africa.
So, while most people wouldn't relate a wine destination to pumping nightlife, that's not the case in Stellenbosch. There are countless bars and clubs to attract visitors that are looking for more to do after a day of wine tasting.
Much of the wine region is also home to incredible cycling routes and hiking. You can visit local museums or go on a family road trip around the Cape Peninsula Road as well!
Every region is multifaceted and there's truly something for everyone.

Unique Approaches to Wine Tastings
Cupcakes and wine, anyone? How about a salt and wine pairing? Go beyond simple wine and cheese tastings—South Africa is full of fresh thinkers and it reflects in everything that the locals do. Especially with unique pairing menus like the salt and wine pairing at Fleur du Cap and the cupcake and wine pairing at Delheim.

You Can Travel for Next to Nothing
Not into luxury hotels? If you want a dirt cheap place to lay your head, look no further than South Africa. It's the perfect place to pinch pennies without having to forgo comfort.
Not only is it the least expensive wine region I've ever been to, but it is also top notch. You can go to $5 wine tastings or splurge on a four-course gourmet meal for less than $15.
Here's a comparison on wine regions around the world and their costs!
WINE REGIONS
SOUTH AFRICA
TUSCANY, ITALY
LA RIOJA, SPAIN
NAPA, USA
TASTING OF 5 WINES
R 65 or $4-5 USD
17 EURO or $20 USD
10-15 EURO or $11-17 USD
$20-$30 USD
FOOD & WINE PAIRING
R 110 or $7-8 USD
25 EURO or $28 USD
18-20 EURO or $20-23 USD
$45-$65 USD

365 Days of Amazing Weather
South Africa is renowned for its sunshine. With average summer temperatures of 77 degrees and winter temps that rarely dip below 50 degrees at night, it is always a good time to be in South Africa.
Bring a light jacket if you will be traveling to South Africa in winter (and remember that winter runs from May to September!) or remember to pack your bikini and shorts for Christmas break.

Unique Varietals That'll Blow Your Mind
In the mood for some Pinotage? How about a nice glass of Chenin Blanc? Any true wine lover will be enamored by the opportunity to try a bevy of unique wine varietals that you can only find in South Africa.
So, when you are ready for an adventure filled with endless sunshine, top-notch wine, and world-class luxury, join me on the trip of a lifetime to South Africa. You'll fall in love before you're even checked into your hotel!