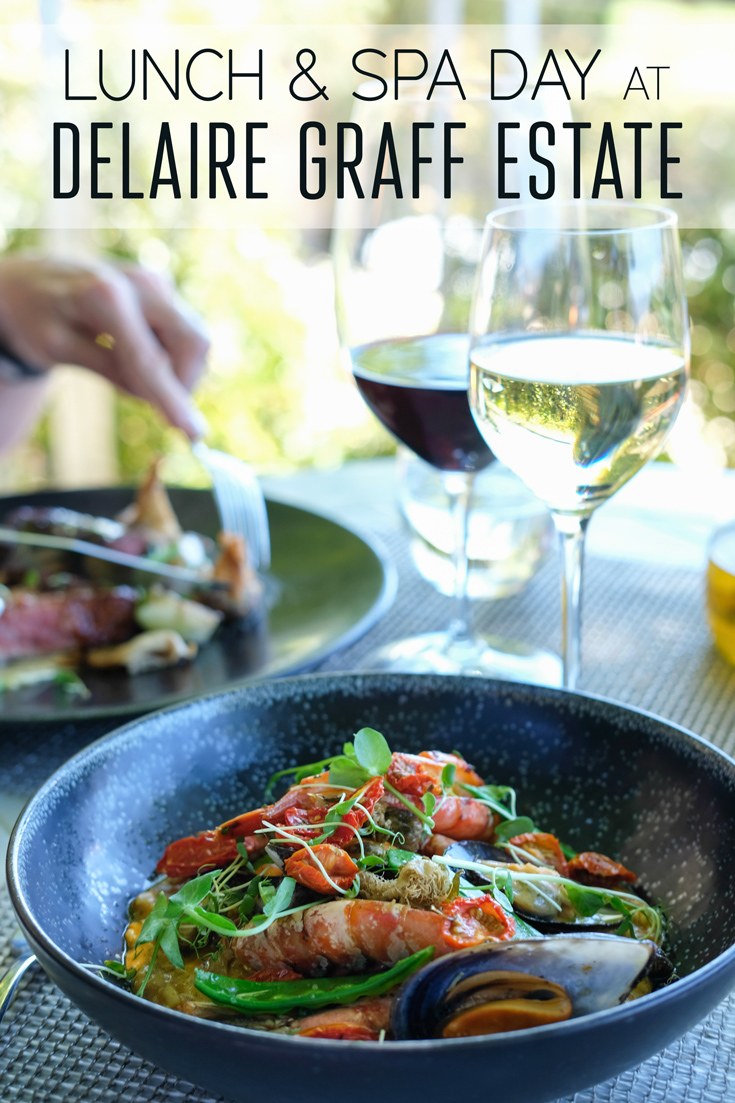 Delaire Graff is the epitome of luxury and one of the most well-known estates in The Stellenbosch Winelands. It's known for its state-of-the-art winery, refined restaurant, and exclusive lodging options.
It's pure sophistication.
I had visited the Stellenbosch region on my first trip to Cape Town, and I fell head over heels in love with the region. The wine is delicious and the wineries are gorgeous yet unpretentious.
My mom recently visited me in Cape Town so I wanted to treat her to a luxurious girls' day in Stellenbosch. And, I knew that Delaire Graff was just the place!
Less than an hour outside of Cape Town, it is the perfect day trip for locals and visitors alike. This beautiful estate is nestled in the mountains and overlooks endless hills of vineyards.
The estate has elegant boutique accommodations, coupled with South African hospitality, that are perfect for a staycation or weekend getaway!
We started our day with lunch at the Delaire Graff Restaurant — it's all about ultra-fresh, classic favorites with South African flair. In fact, the estate has its own greenhouse dedicated to growing fruits, vegetables, and herbs for the restaurant.
I had the tasting of West Coast oysters to start– an amazing trio of oysters with passion fruit & citrus, sparkling jelly, and tempura with squid ink aioli. My mom opted for a starter of seared tuna with a sesame crust, chilled vichyssoise, and topped with caviar.
My main dish was THE BEST risotto I've ever had. Filled with prawns, mussels, fennel jam, mange tout, and confit cherry tomatoes & crispy capers, it was to die for!
My mom went for the Josper grilled beef filet main which was a stunning plate of oxtail wonton, tongue, miso purée, bok choy, and oyster mushrooms. Of course, the servers at the Delaire Graff Restaurant are wine pros and gave us recommendations for local wines that would complement our meals.
The results were mouthwatering!
The menu at the Delaire Graff Restaurant is ever-changing and is based on local foods that are available seasonally, so it's worth checking it out a few times. I highly recommend planning some extra time to relax on the terrace.
The view is incredible and it's the perfect spot for a wine tasting.
After lunch, we made our way over to the Delaire Graff Spa. This striking spot has half- and full-day packages. You can be pampered for hours, unwind in the jacuzzi, splash around the infinity pool, or opt to eat lunch at their Asian-inspired restaurant, Indochine.
With a holistic menu of beauty and relaxation, the spa has you covered from head to toe. It only uses top-notch products, like Swiss Perfection, Aromatherapy Associates, Terres d'Afrique, and Margaret Dabbs London, and the whole place smells dreamy.
My mom and I opted for massages and the spent the afternoon soaking up the sun, and sipping poolside! The spa offers Swedish-style massages and enhancing treatments, like hot stone, cool marble, or Bellabaci Cups.
With award-winning wine and first-class hospitality, Delaire Graff is a must-visit for any wine lover. The property is stunning and you'll definitely want to plan some extra time to explore the grounds.
It's a botanical paradise with an impressive collection of South African art and delicious wines– a perfect girls' day out!