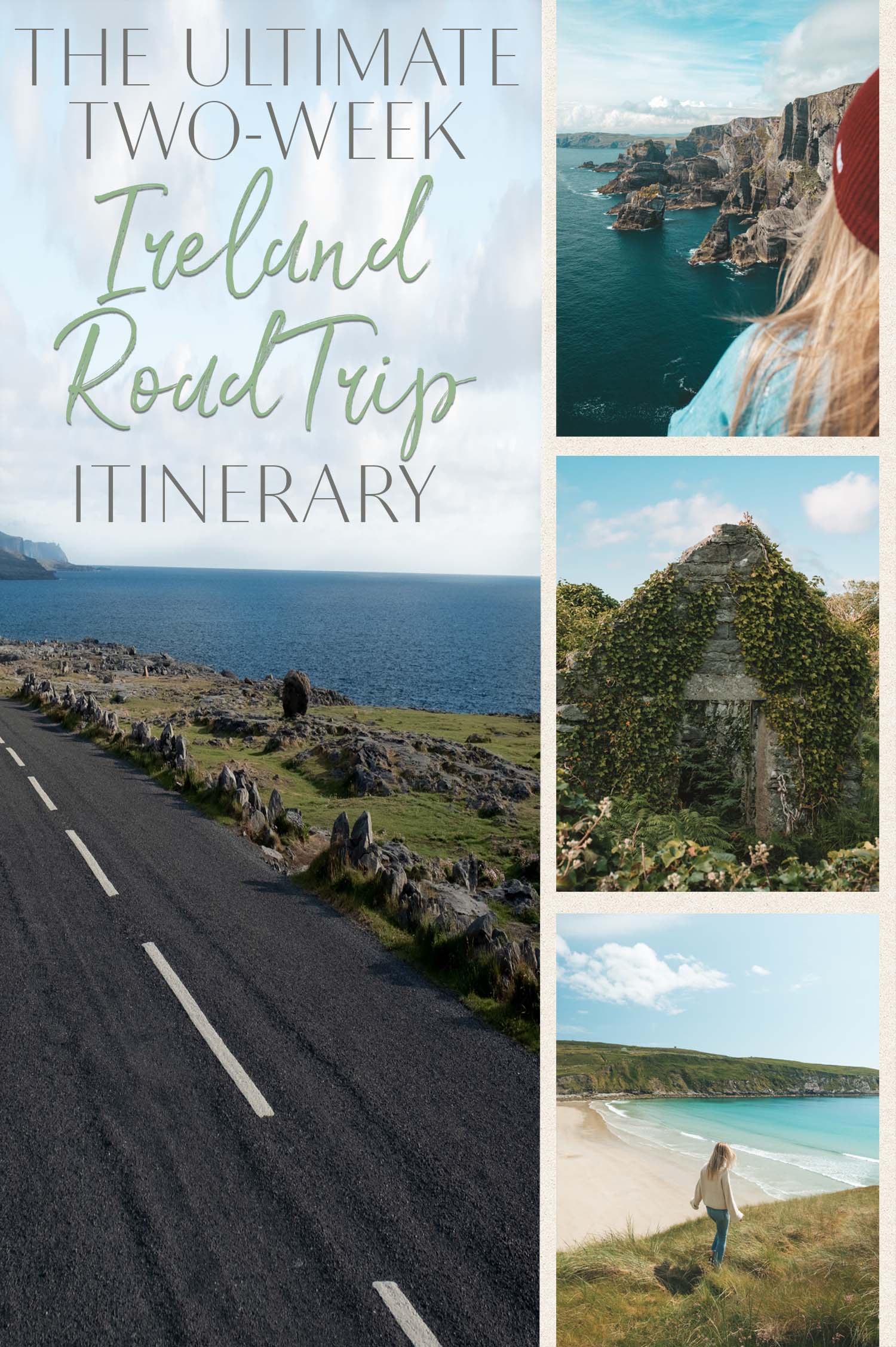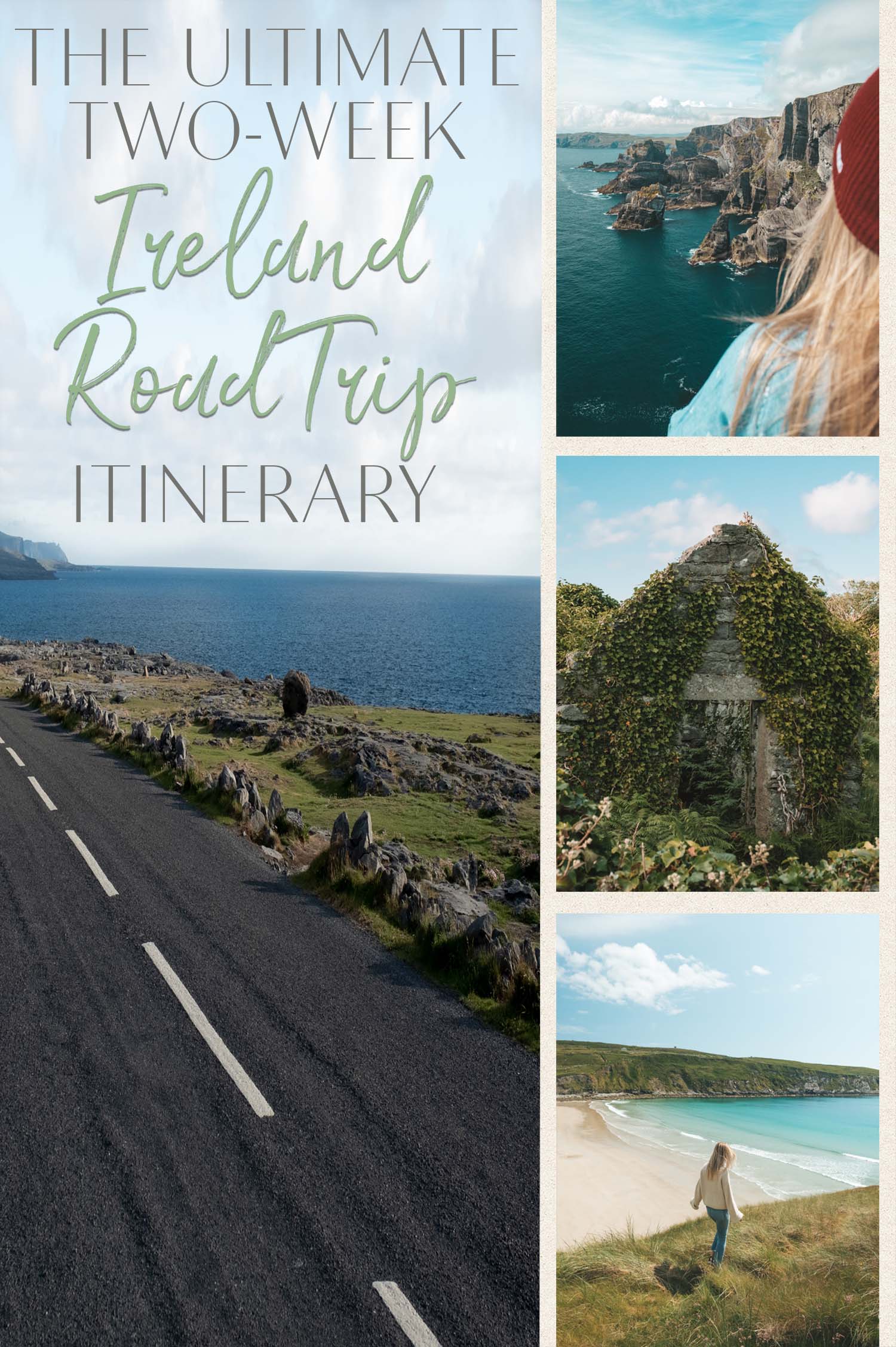 I visited Dublin ages ago and had been dying to go back ever since. While Dublin is a great time, I knew I had barely scratched the surface. The Emerald Isle has so much to offer and it truly takes a full round-trip to take in the beauty…and what better way to do that than by taking a road trip through Ireland?
The best way to see Ireland is to rent a car and circle the island. I did a similar road trip in Iceland and it's held a special place in my heart ever since. Visiting the villages and sites far from the tourist path connects you with a country in a way you can't experience during a quick city break.
Looking to find the gold at the end of the rainbow? I've planned the ultimate excursion for a two-week road trip around Ireland!
Do keep in mind that you are covering an entire country in two weeks so it can be a bit fast-paced. If there are days where you feel like just hanging out in the pub or soaking in that rare bit of sun in the emerald countryside, go for it!
The best itinerary is a flexible itinerary.
If there's anything you're dying to see or do, book early to make sure you have a reservation. For the rest, go with the flow.
Here is everything you need to know to plan your ultimate two-week Ireland road trip itinerary.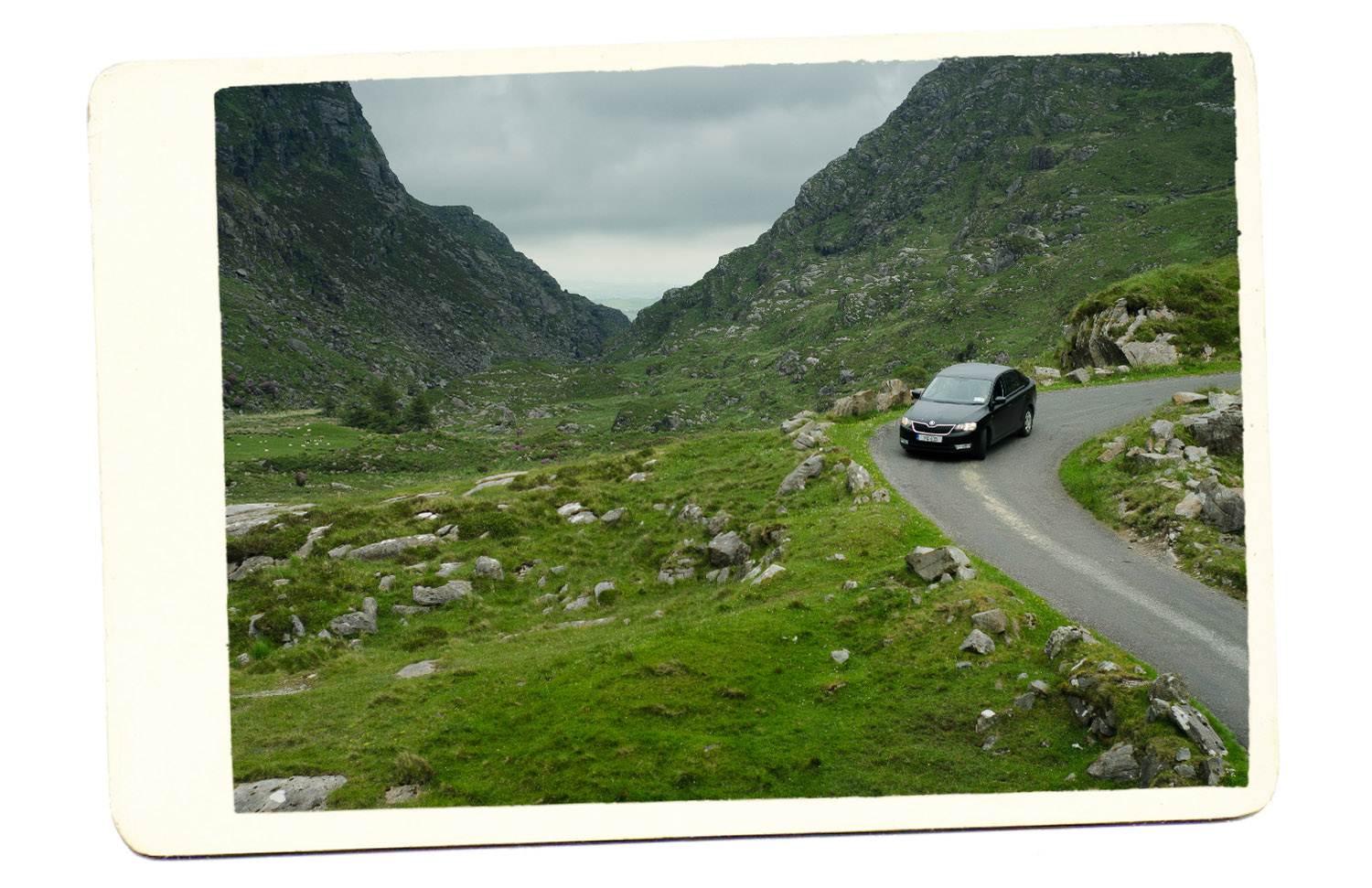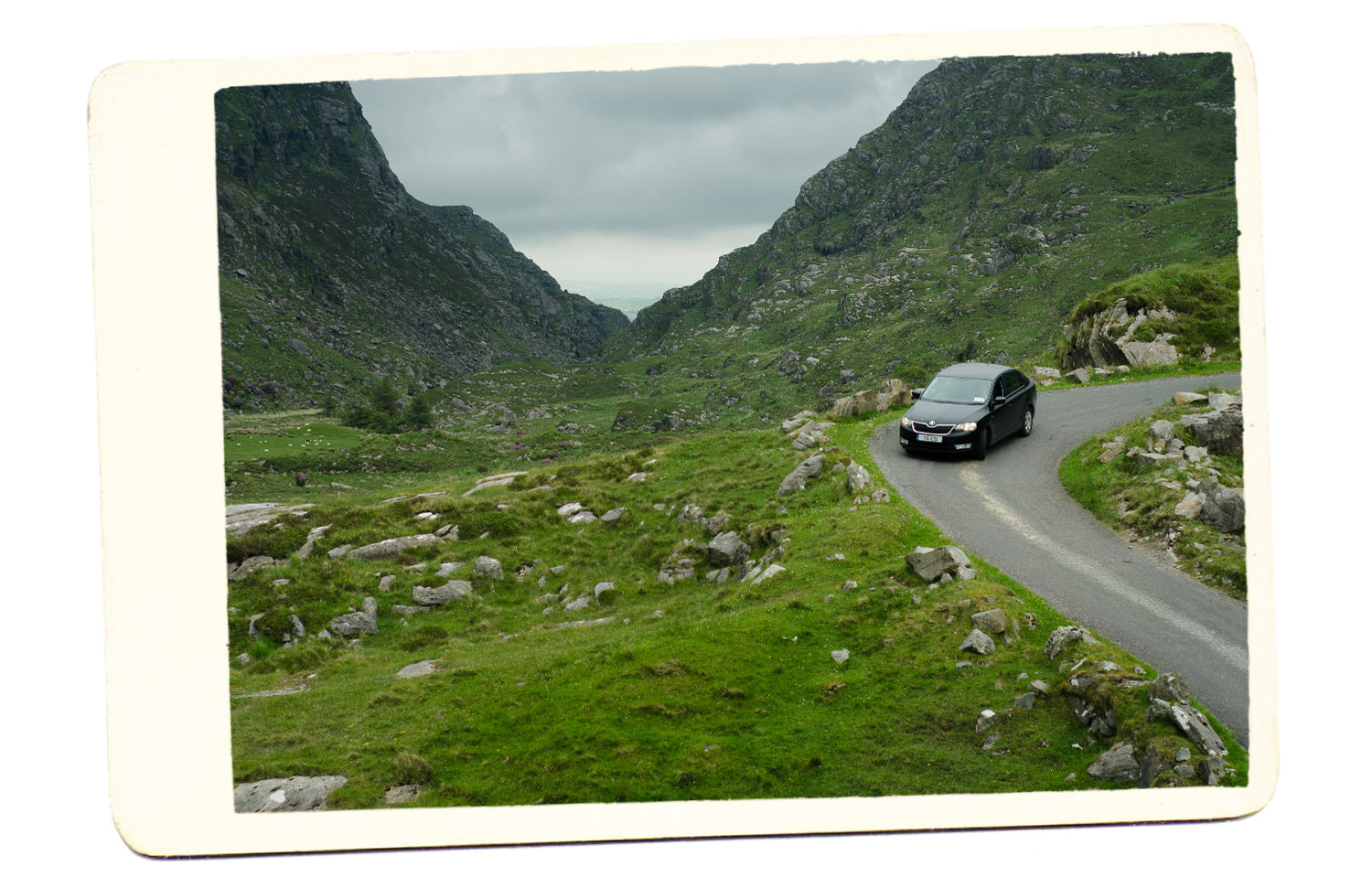 Get Prepped
Before you set off on your road trip through Ireland though, come prepared.
Driving in Ireland isn't for the faint of heart! Unless you are coming from the UK, Australia, South Africa, or elsewhere that drives manuals on the left side, this will be a new experience. On top of that, the roads are SO narrow. When you rent a car, opt for the very smallest vehicle option you can find.
At most rental places you can find an automatic car, but just in case—be prepared and book ahead of time!
Some roads in Ireland are so tiny that you will find yourself driving off the road. This is especially true on the southside (anywhere south of Dublin/Galway). I learned that American Express won't even offer their normal rental car coverage because of the crazy conditions. That definitely says something!
While that may sound a bit scary, go for it! It is something you will want to be prepared for, but it's totally manageable and worth it.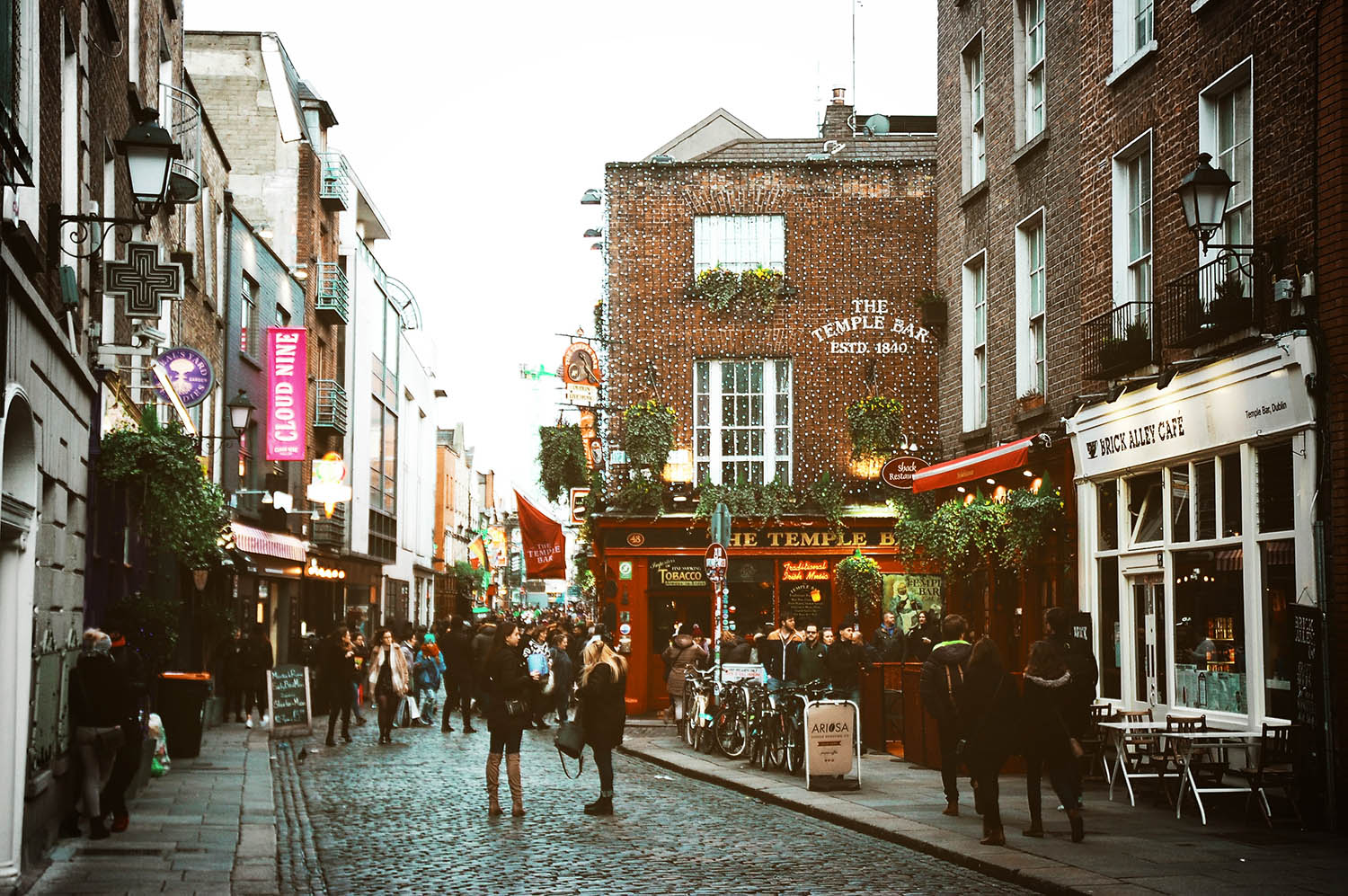 Temple Bar, Dublin
Day 1
Arrive in Dublin
The majority of flights go into Dublin and it's a good starting point. I'd recommend booking your round-trip tickets to and from here because it'll allow you to do a full circle. And there is so much to see in Dublin! You will definitely want to visit twice.
Dublin is a completely walkable city and it is easy to cover a lot of ground in a short time.
Trinity College will start you in the heart of the city. You can walk the campus there and see the renowned Book of Kells. After Trinity, stroll down the iconic Grafton Street until you reach St Stephen's Green—Europe's largest park.
If the sun is on your side, continue down to another Georgian era park: Marrion Square. This is a dream destination for a stroll and it'll bring you onto the National Museum of Ireland and the National Gallery.
While Dublin is known as an expensive city, all of this is free! The only thing you'd have to pay for? If you want to get up close and personal to the Book of Kells!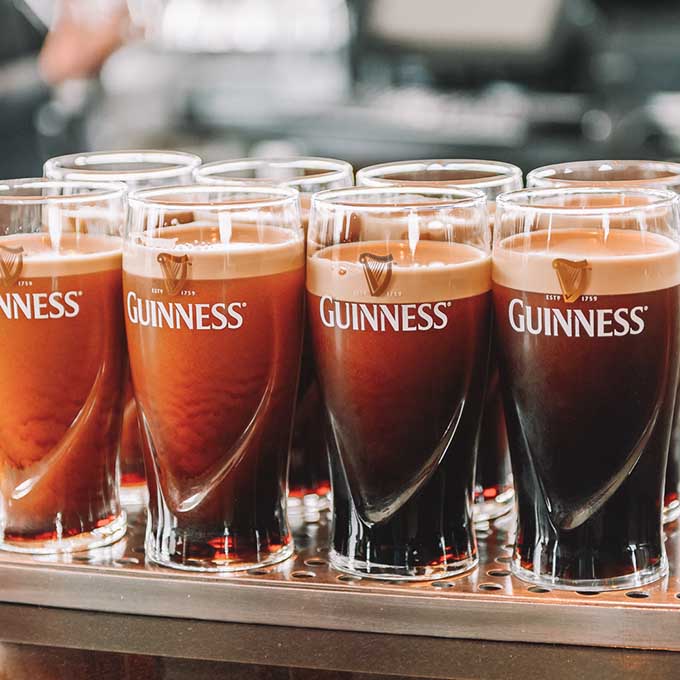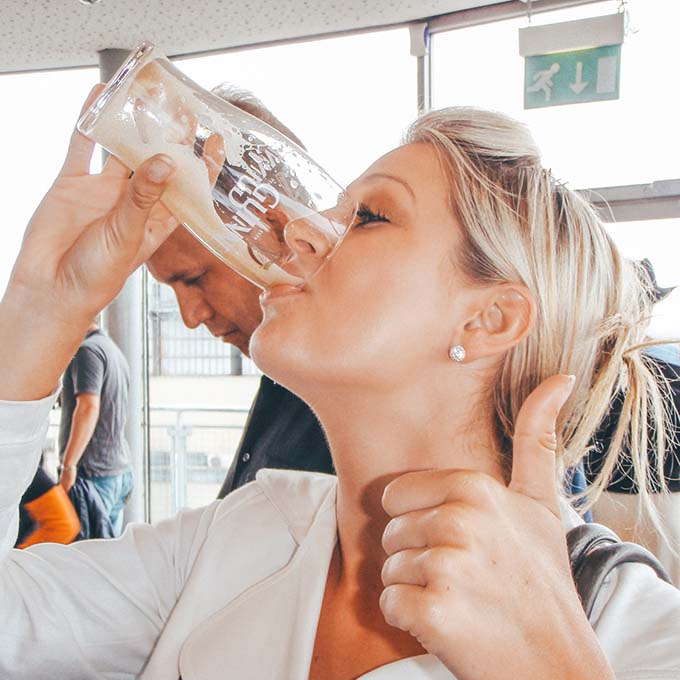 Visiting the Guinness Storehouse
Drink Up!
Day 2
Explore Dublin
You'll want a second day in Dublin and I'd recommend staying in the city center so you don't lose any time to commuting.
Start your day with an Irish breakfast then go snap some pics of the twelfth century Christchurch Cathedral.
Walk over to Dublin Castle, which is admittedly a bit of a tourist trap but has a beautiful exterior. Right behind Dublin Castle, you will find the Chester Beatty Library, which has free admission and a fascinating collection of European and Chinese cultural artifacts.
It's widely considered to be one of the best small museums in Europe and has impressive claims to fame like displaying the largest collection of Chinese jade books and the top illuminated Qu'ran collection on the planet. Nearby, you will find Ireland's largest church, St Patrick's Cathedral, and its gorgeous garden.
The Guinness Storehouse is open until 7 pm and it is the best way to getting your evening going. You can learn to pour the perfect pint and get a panoramic view of Dublin. Opt for the Connoisseur Tour for the best experience.
Go thirsty!
Another good place to get a view of the city is from the Poolbeg Lighthouse. It is on the outskirts of the city, so plan ahead to get there around sunset for an unforgettable panoramic.
In the evening, do a self-guided pub crawl around town. Start from the top of George Street then make your way south to see where the locals go for a night out on the town.
Bonus:
If you find extra time or want to stick around for another day, there is so much more to see. Kilmainham Gaol is an essential historical site and Marsh's Library is another good place for any history buff. If you would prefer to opt out of the pub crawl or stay another night, I'd suggest booking tickets for the Abbey Theatre.


Day 3
Dublin to Kilkenny with stops at Castletown House and Glendalough
Start your day taking the 30 minutes or so drive out to the beautiful Georgian estate of Castletown House. Get a glimpse into Ireland's rich past then continue onto Powerscourt Estate (about a 45-minute drive). This beautiful estate is another prime photo op and it is the site of Ireland's largest waterfall.
End your day of exploring the countryside at the Glendalough Monastic site. Just another 30 minutes from Powerscourt, you will find these fascinating ruins. Plan ample time for them! This is a great place to hike and it's open 24/7.
After you have explored the outskirts of Dublin, move onto the quaint town of Kilkenny. You'll find a range of beautiful accommodation picks and it is the site of Ireland's most visited castle. Dedicate a good hour for a self-guided tour there.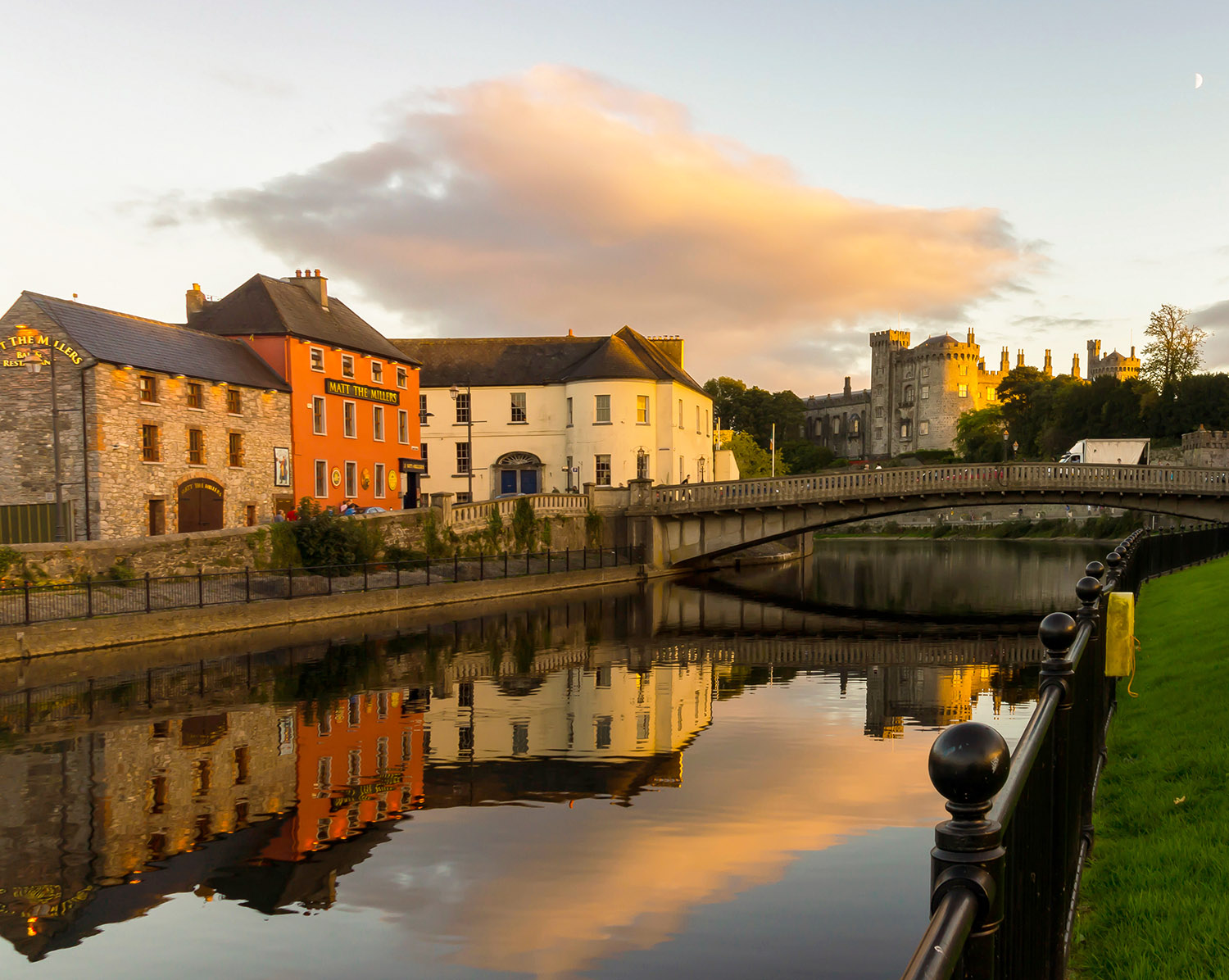 Kilkenny
Day 4
Kilkenny to Waterford with stops at Kells Prior, Rock of Cahsel, and Hook Lighthouse
Spend the morning wandering the enchanting streets of Kilkenny. This medieval town is renowned for its local handicrafts and it's full of hidden gems.
About 20 minutes outside of town, Kells Prior will get you off the tourist path and into a twelfth-century Augustinian monastery. It's free and open from dusk until dawn. On a clear day, you will want to take a long walk through the ruins.
About an hour from the Kells Prior is the Rock of Cashel. One of the most fascinating medieval religious sites and most visited places in Ireland, this religious site will transport you to another time.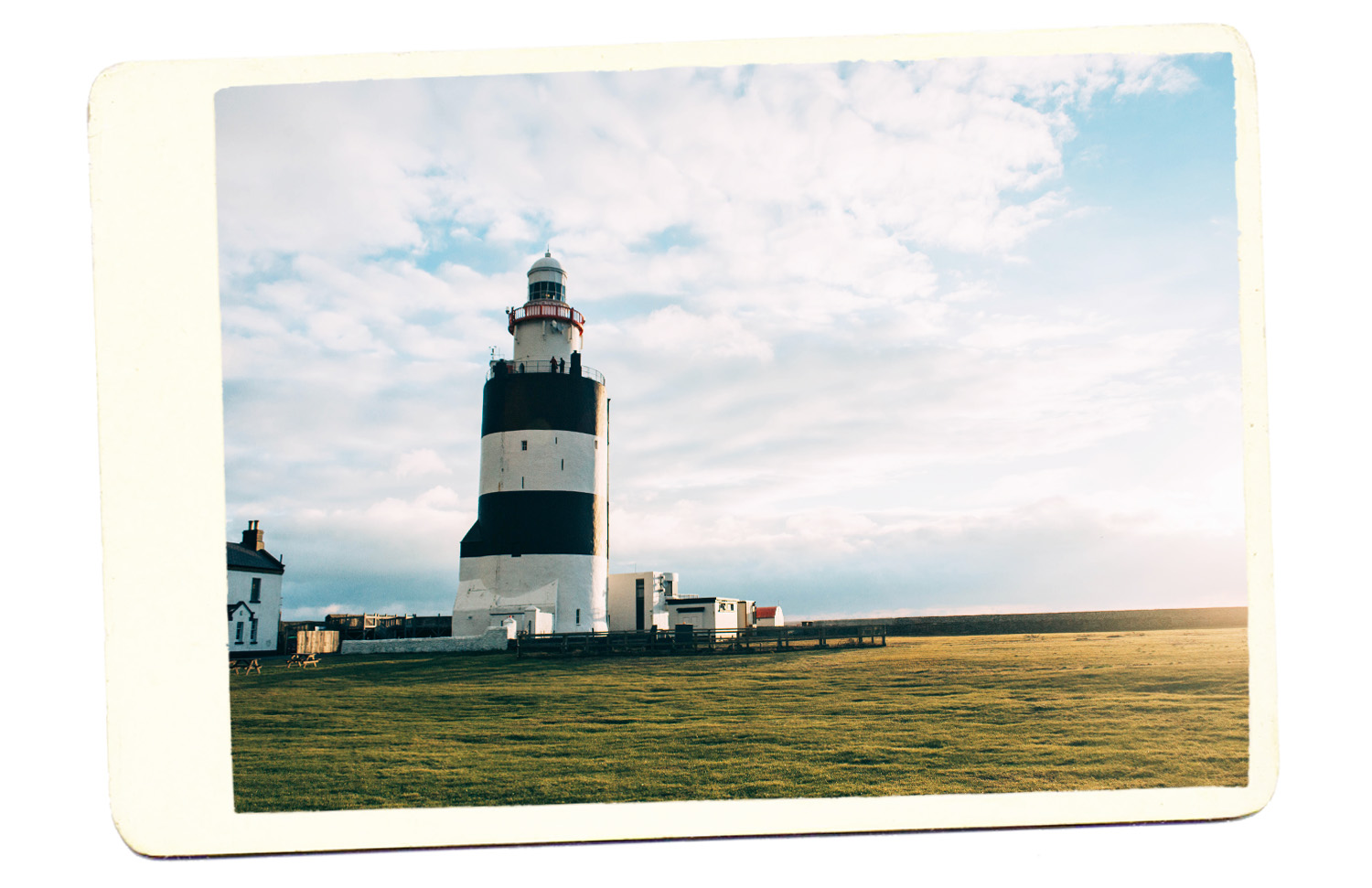 From the Rock of Cashel it is about two hours of driving time to the Hook Lighthouse. The world's oldest working lighthouse will give you a stunning view of the east coast of Ireland. It's just open until 6 pm though so plan accordingly. There is a 30-minute guided tour that provides access up the 115 steps for beautiful views.
From the Hook Lighthouse, you are nearby Waterford, which is famous for its rich and well-preserved Viking history as well as the locally hand-crafted crystal. After a long day of exploring, you can sneak in an evening here!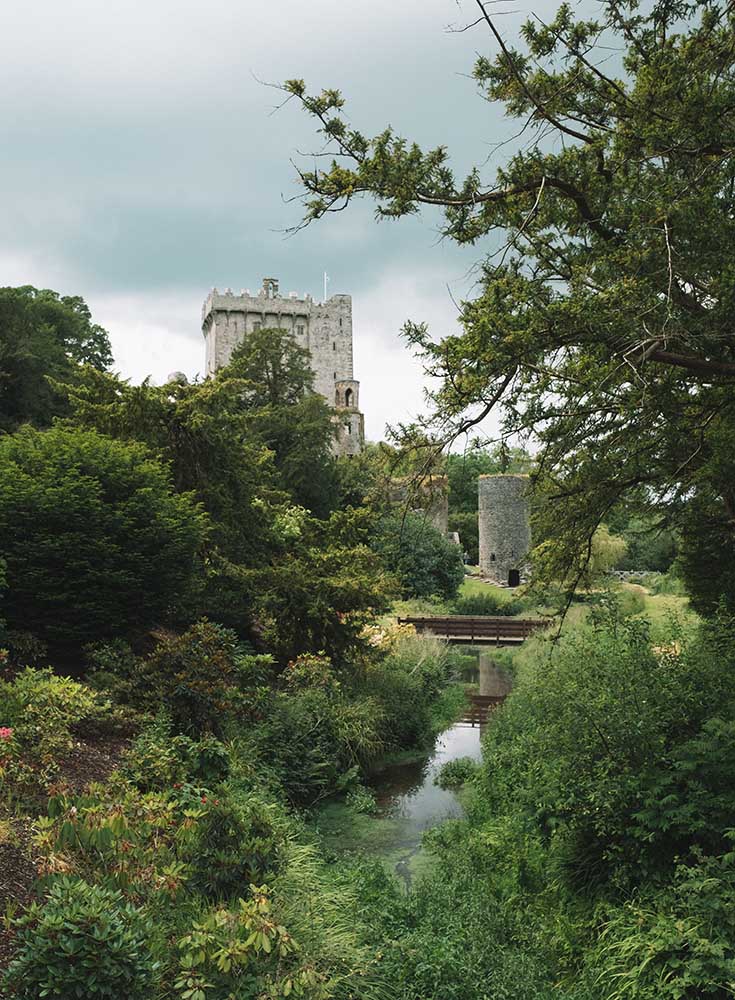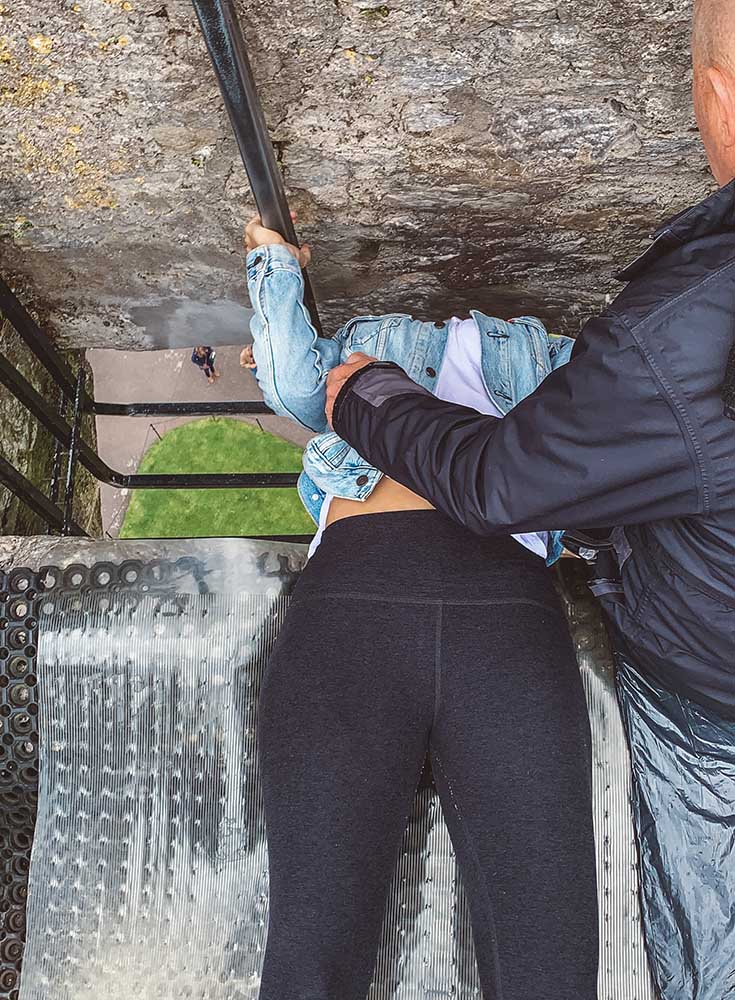 Day 5
Waterford to Killarney with stops at Cork, Blarney Castle, and Sheep's Head Peninsula
Waterford to Cork is a just under two hours so start your day early. And come hungry! The English Market is a must-see and it is full of delicious Irish food. The Farmgate Café is the crown jewel and it'll fill you up for a day of exploring.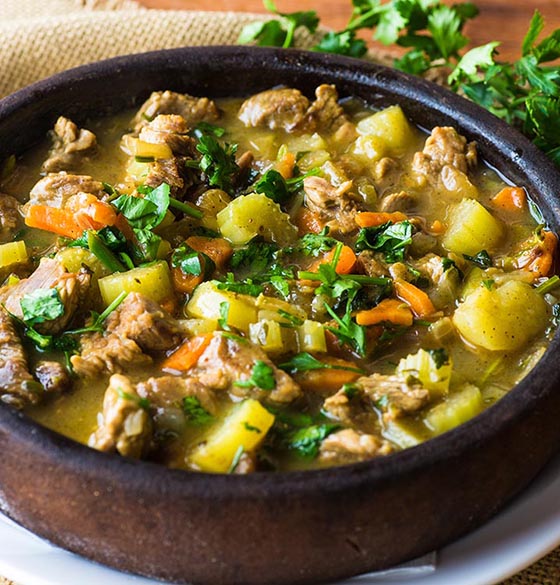 Irish food probably isn't what you expect (corned beef and cabbage is actually an Irish-American dish)! Check out my 10 local foods to try in Ireland before you go.
Read More
You could easily spend a couple of days exploring Cork. It's the second biggest city in Ireland, after Dublin, and it has a lot of offer. If you have time, I'd highly recommend sticking around but, if you are on a time crunch, keep moving. The true magic of Ireland lies in the countryside!
Ireland's most popular tourist attraction, Blarney Castle, is 20 minutes from Cork.
Yes, kissing the Blarney Stone is cliché and touristy but do it! If you are already in Cork, it is well worth the detour. There is a famous poem about how kissing the stone will give you that famous Irish gift of gab—which you will experience all over the island in spades!
What would a road trip through Ireland be without visiting the Blarney Castle? 😉
For one of the best views in Ireland, continue on the two-hour drive from Blarney to Sheep's Head Peninsula Hike. This two km (just under one mile) walk will take you to the Sheep's Head Lighthouse where you'll find a jaw-dropping view of the cliffs over the sea.
From the lighthouse, it is a two-hour drive to the town of Killarney. This is the starting point for the Ring of Kerry and an ideal place to lay your head for the night.
I detoured to Mizen Head, between Killarney and Cork, and it was one of the highlights of my trip!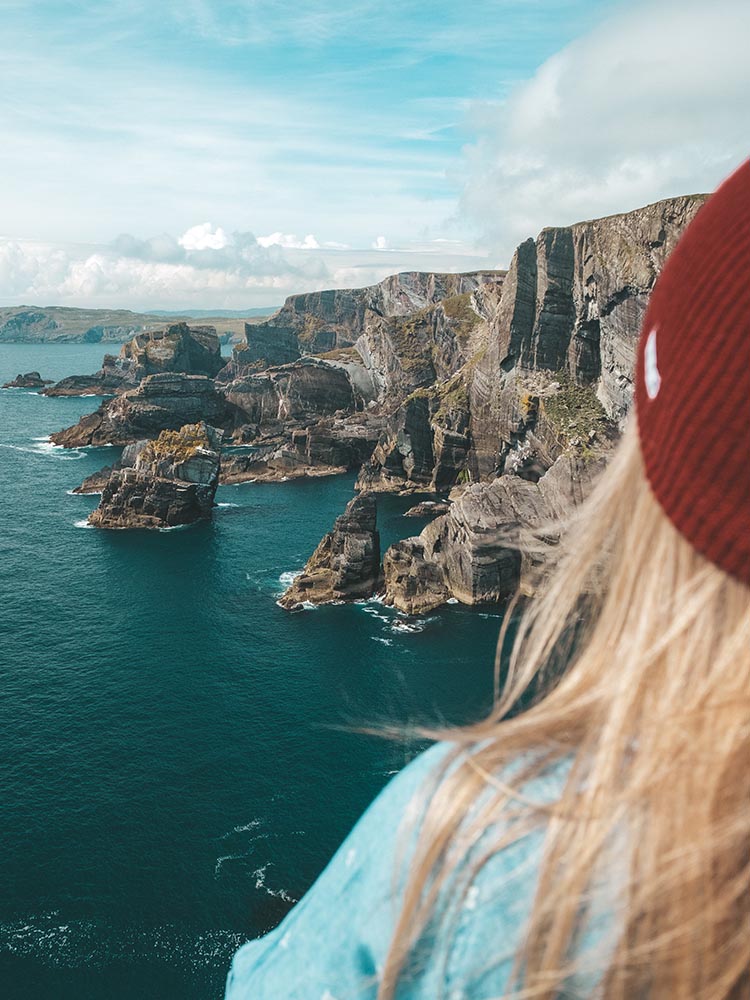 Helpful Tip:
In Ireland, "beach weather" tends to mean cold and ultra windy. Even in summer, you'll find morning around 50 degrees F with intense winds and periodic rain. Dress in layers and bring a waterproof jacket for days out… Heads up, umbrellas are quickly eaten up and spit out by the seaside winds!

Day 6
Ring of Kerry
The Ring of Kerry is one of Ireland's greatest attractions. Touring the Iveragh Peninsula, 179 km (110 miles) circular path winds through the rugged coastal landscape and through the rural seaside villages.
While the Ring of Kerry gets all of the attention you've got to add on the arguably even more beautiful Ring of Skellig. This 32 km (20 miles) detour is full of unmissable photo ops.
It's best to start early on the Ring of Kerry and go clockwise.
The buses will be going this direction and you don't want to be facing off against them on narrow roads! There are so many gorgeous sites like Skellig Rocks, Valentia Island, Cahergal Stone Fort, Portmagee, Kells, and Cahersiveen. Spend time for an extra stop like Killorglin to try the famous West Coast seafood.
It is such a scenic route and one of the best things about going solo is that you can linger anywhere that catches your eye.
Go your own pace taking the ring all the way back to Killarney then spend the night there again.


Day 7
Killarney with a Boat + Biking Journey
From Killarney, you can start your day by setting to the sea. Take in the beauty of the Wild Atlantic Way. A boat departs from Ross Castle at 11 am for a 1.5hr cruise of Inisfallen, Brickeen Bridge, Meeting of the Waters, Old Weir Bridge, Long Range, and Upper Lake.
Before you go, rent a bike!
There are a few options around Killarney where you can grab a bike and they will allow it on the boat for a hybrid day of exploration. The boat will take you over to Lord Brandon's Cottage by around 12:30 pm. There's a café and bathrooms over there so you can refresh before you take off.
Start your biking journey with the 5 km (3 mi) climb to Gap of Dunloe then slightly longer path down to Kate Kearney's Cottage where you can take another café break. From there, cycle down the minor roads toward Killarney and back to St. Mary's Cathedral. You will get back into Killarney around 3:30 pm.
It's a 23 km (14 mi) cycle trip in total so you'll want to come prepared with food and sunscreen.
Once you are back into town, take the short trip out to Aghadoe. The hilltop has sweeping views of Killarney and onto the islands and lakes beyond.
Spend the evening at Miltown Malbay. This beautiful little village is one of the premier places in Ireland to take in the local culture of traditional music.
Once you are ready to call it a day, I'd recommend one more night in Killarney or nearby.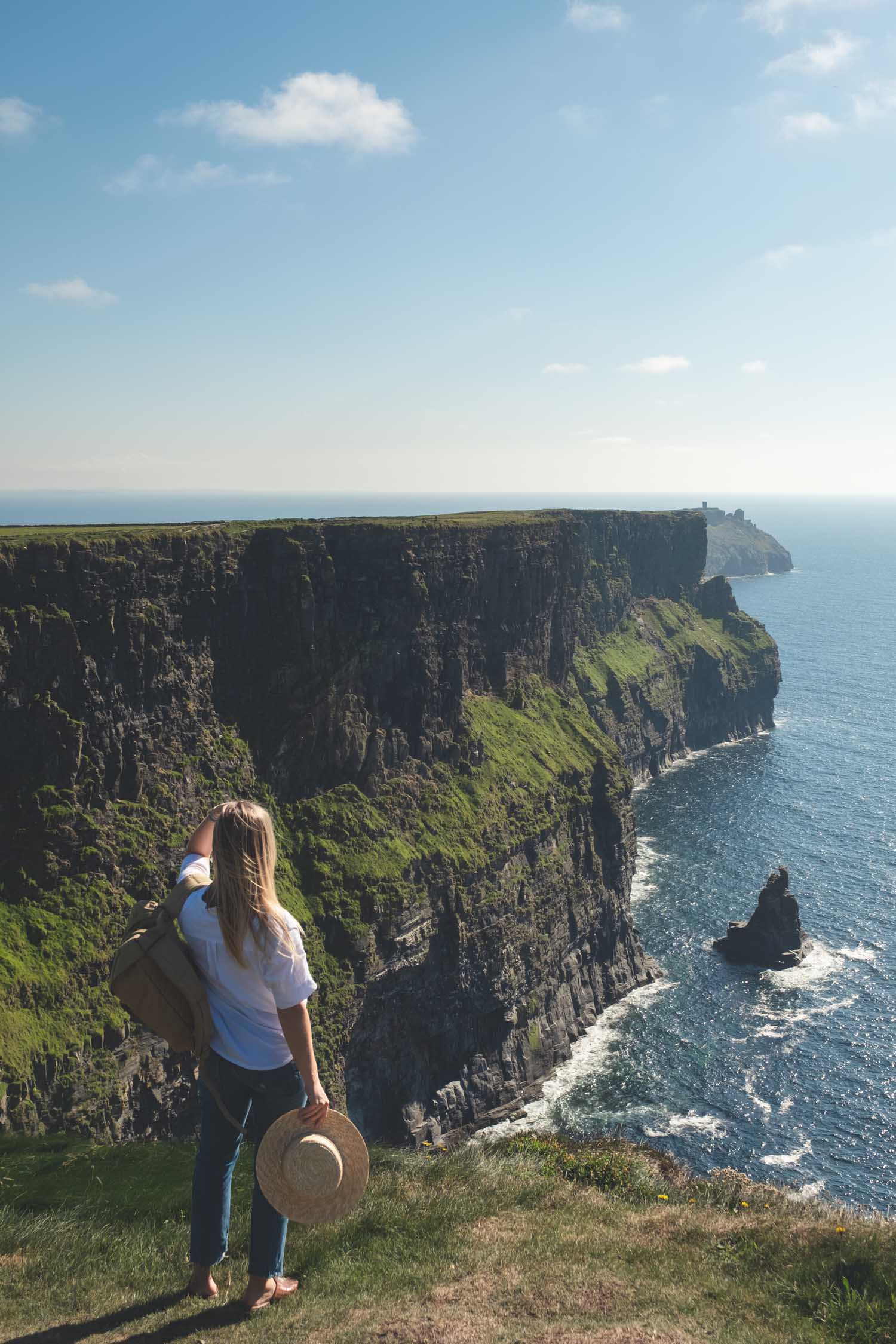 Cliffs of Moher
Day 8
Killarney to Galway with stops at White Strand Beach and the Cliffs of Moher
Start your morning early for the two-hour drive to White Strand Beach. It is a stunning swimming beach with perfect kayak conditions. Just up the beach, you will find the surfing beach of Doughmore Bay or you can continue on up to Lough Donnell, where you can fish from 1 March to 30 September.
Another renowned spot, the Spanish Point, is a gorgeous beach for wandering around and exploring the cove and craggy cliffs.
20 minutes up the road from the beach is the quaint town of Ennistymon. Wander the postcard-perfect main street and explore the brightly colored shops and pubs. If you can arrive here by lunchtime, it's a good spot for a long break.
Ireland's most famous landmark, the Cliffs of Moher, is 20 minutes outside of Ennistymon. You will need ample time for this place.
From here you can walk north on the Doolin Trail for a 7 km (4.3 mi) journey or 5.5 km (3.4 mi) southbound down Hags Head. Either way will give you epic views!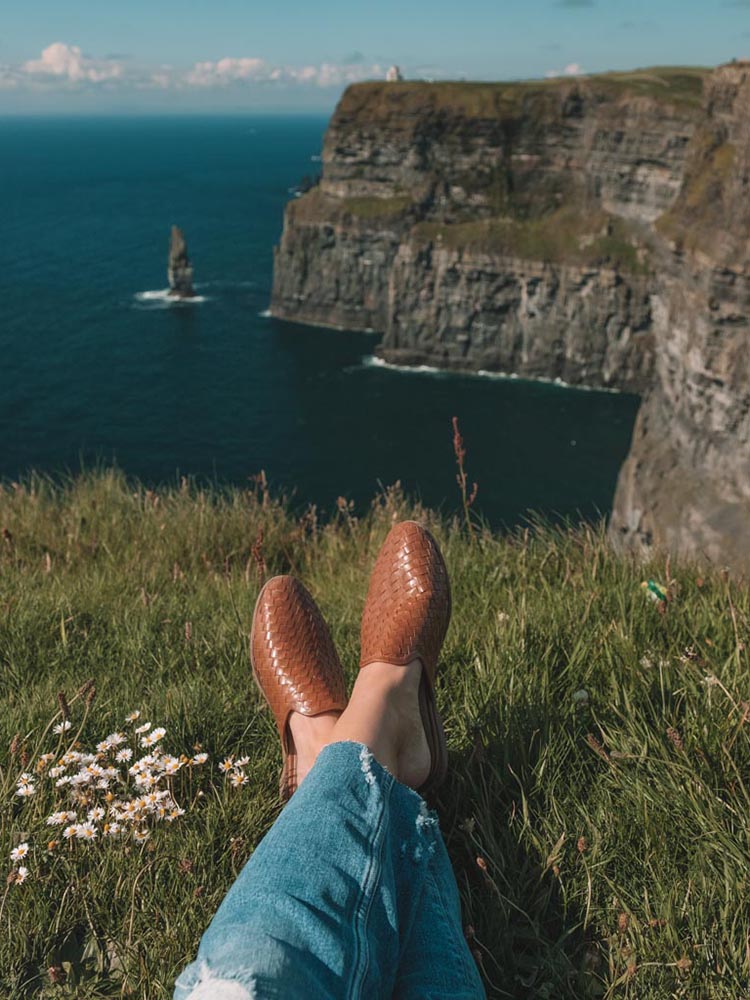 Arriving at the Cliffs of Moher in the early afternoon will give you ample time to wander around then take in the mesmerizing sunset over the cliffs.
You will find a few bed and breakfast around the Cliffs of Moher or you can continue onto Galway, which is about an hour and a half up the coast.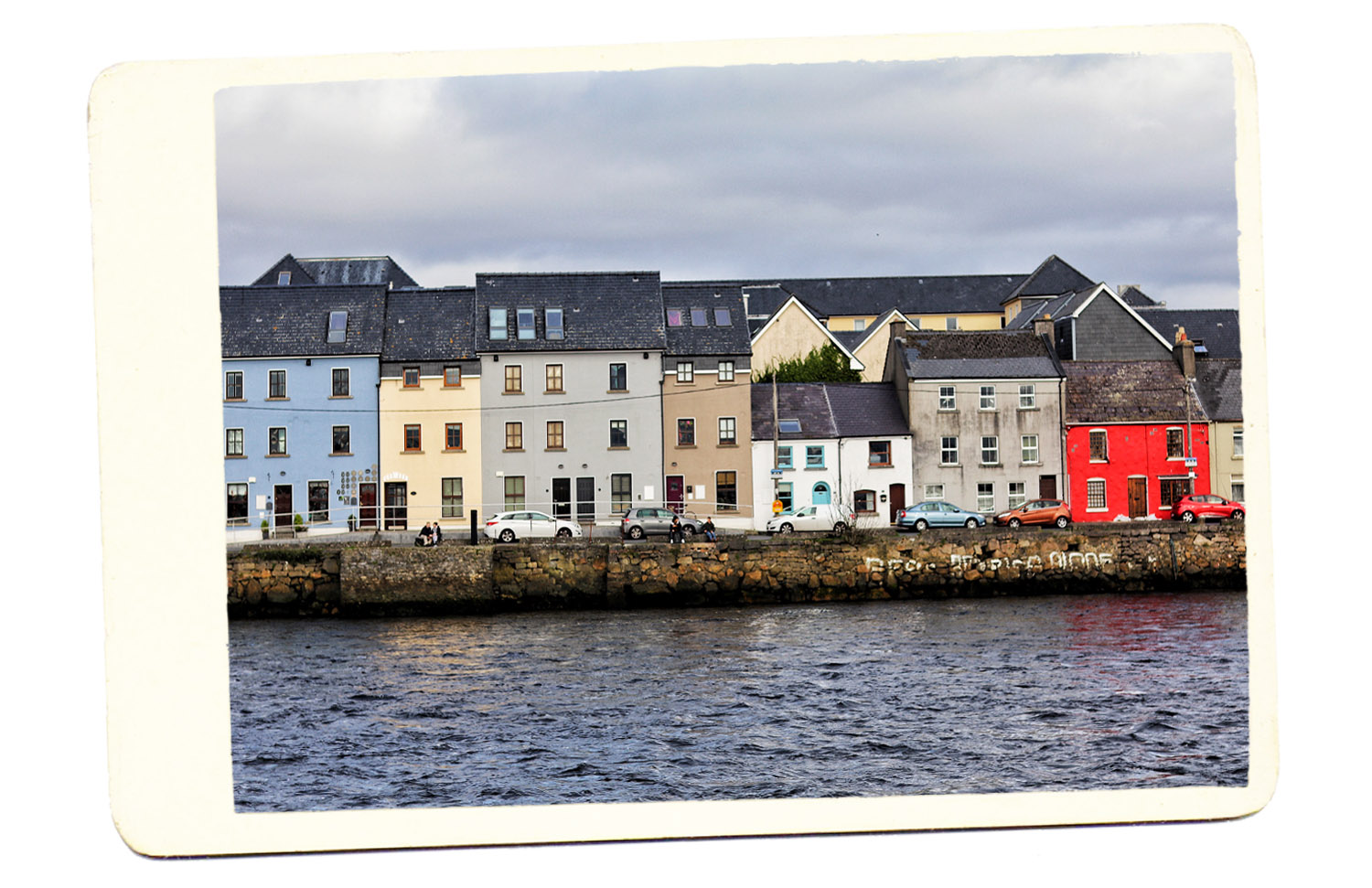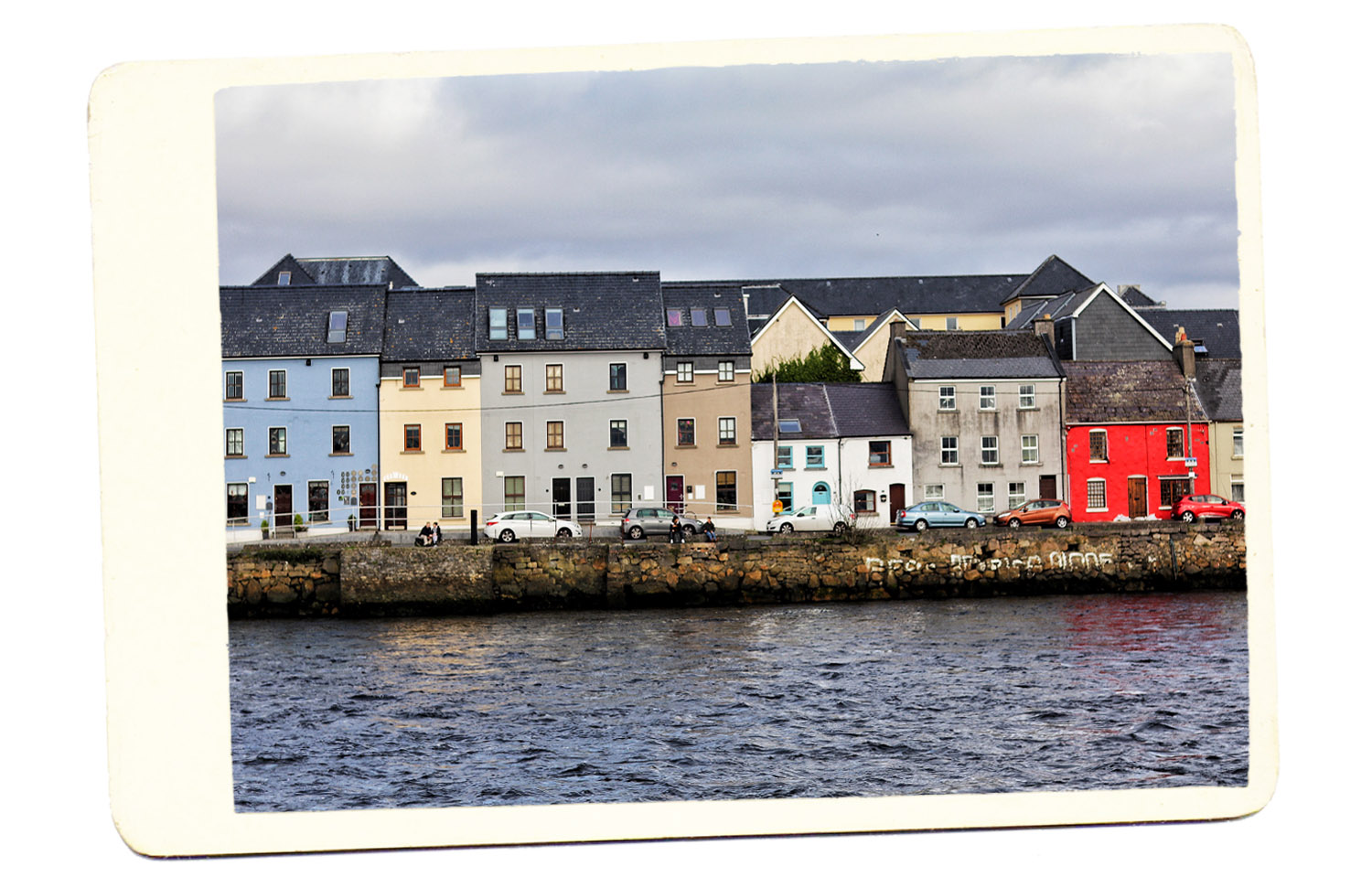 Day 9
Galway
You will want at least the better part of a day to explore Galway if not more. It is a very walkable city and it's easy to simply see where the day takes you.
Start off with a walking tour of the Spanish Arch, Galway Cathedral, Hall of Red Earl, Lynch's Castle, Eyre Square, and Salthill Promenade. If you're lucky enough to arrive during the weekend, be sure to shop the Galway Market.
If you run into some sunshine while you are in Galway, make the most of your time there with a quick trip out of town.
Connemara is about an hour away and has a lovely hidden beach and shimmering black lakes. Oughterard is 30 minutes from Galway and nestled on Ireland's largest lake, Lough Corrib.
While you are exploring the Irish countryside, you will find incredible castles all over the island. They no longer house royalty but are celeb hotspots and are perfect for a night you want to treat yourself!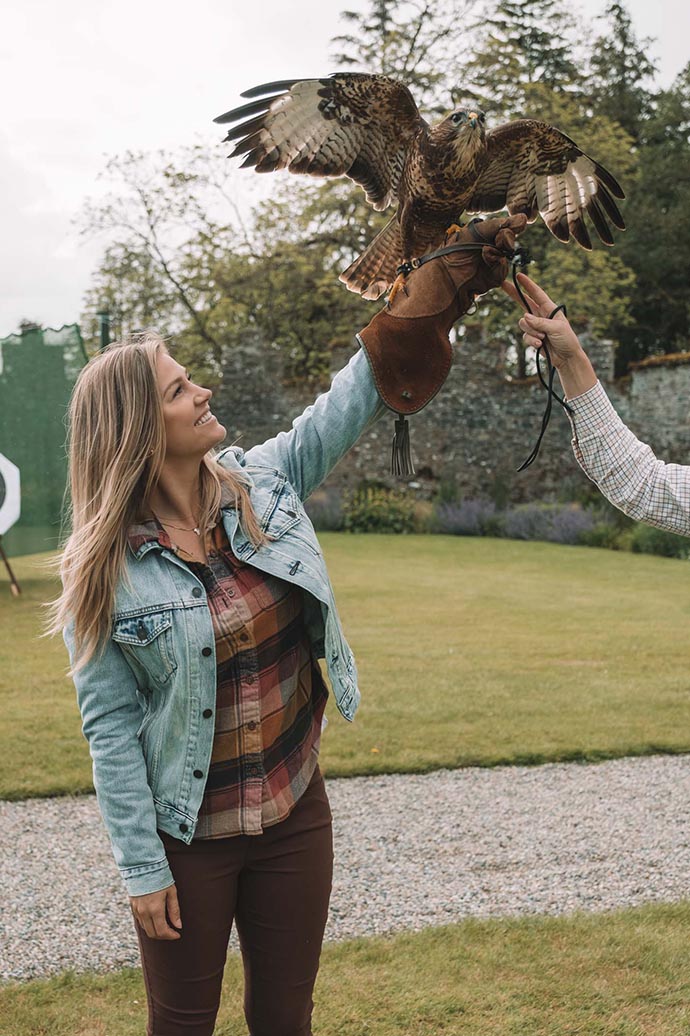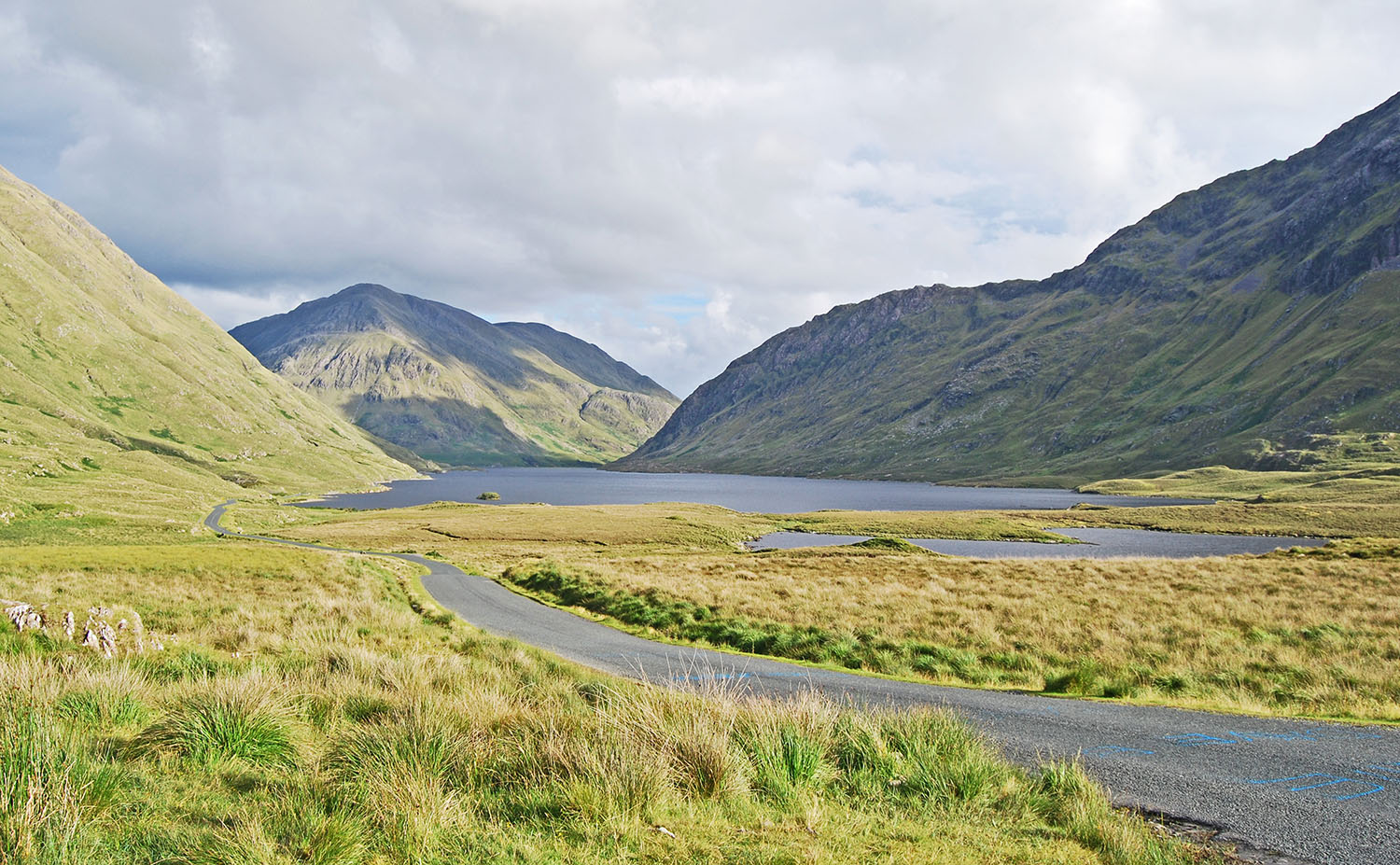 Doo Lough Valley
Day 10
Doo Lough Valley
If you spend the night at Ashford Castle, you will want to start the day early and make the most of your time on the ground by exploring the paths and tools in the early morning.
However you start your day, Doo Lough Valley is a must.
Spanning the R335 between Delphi and Louisburgh in County Mayo, this is a historically rich and stunning spot. Learn about the Doolough Tragedy of 1849 at the Doo Lough Famine Memorial and explore the layers of this dynamic region. It only takes about an hour to drive but plan more time to really take it all in and have a few stops.
Once you are ready to stretch your legs, go to Croagh Patrick. This 764 m (2500 ft) tall mountain is the site of St. Patrick's pilgrimage and his 40-day fast. It takes between three to four hours to climb. While you don't need equipment, it is a tough hike so bring proper shoes and come ready.
When you are ready to take a load off, you'll find some lovely countryside hotels along with bed and breakfasts. You could also continue onward to Westport, which is about 15 mins up the road.


Day 11
Westport to Derry with stops at Donegal Castle, Slieve League, and Gweedore
Start your day driving up the northwest coastline of Ireland. From Westport to the 15th century Donegal Castle, it is about 2.5 hr. There are a few eye-catching sites along the way, so don't rush it!
The Fairy Bank Walk is a just a mile long from River Eske to Donegal Bay and there are fairy doors hidden throughout!
Past Donegal city, you will find the Slieve League. Some of the highest seaside cliffs in Ireland, this place is truly breathtaking. While the Cliffs of Moher tend to steal the show, Slieve League's cliffs reach are actually three times higher (woah!).
Another 40 minutes from Slieve League, you will find one of Ireland's most beautiful beaches: Maghera Strand. Park in the lot outside of the farm just before the dunes. Walk westward to a rocky promontory full of caves (it may be washed out at high tide so plan accordingly).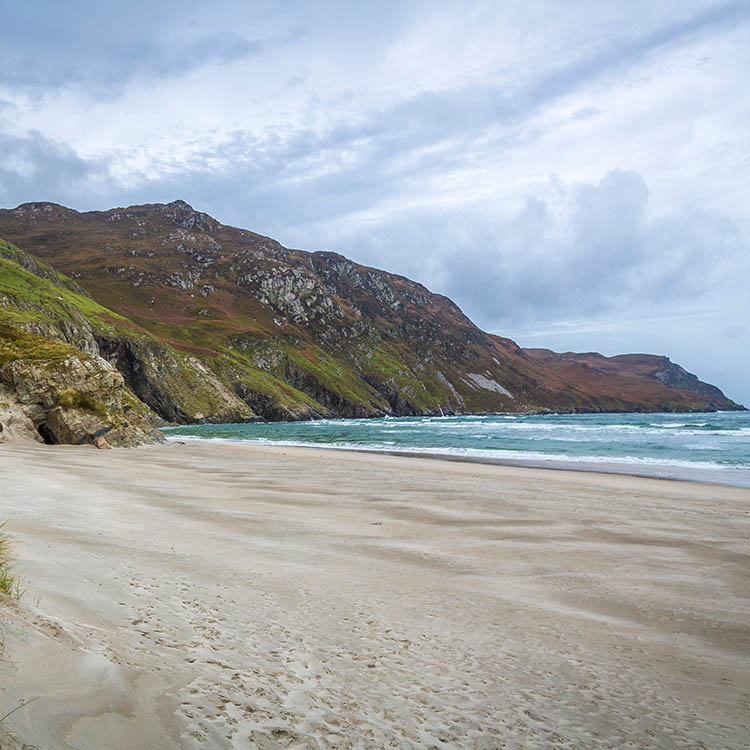 An hour and a half north of Slieve League is Gweedore, the largest Gaelic-speaking community in Ireland. A world away from Dublin, this is a fascinating place to take in the other side of Irish culture.
Continue up the Wild Atlantic Way to the Dunfunaghy Scenic Drive and onto Horn Head with its striking quartzite cliffs.
Plan time for Malin Head, AKA Banba's Crown, Ireland's northernmost extreme point. Be sure to take a detour over to Pólifreann or Hells Hole too for an unforgettable vista.
At the end of the day, it's an hour drive onto Derry, which is a good place to spend the night so you can start bright and early.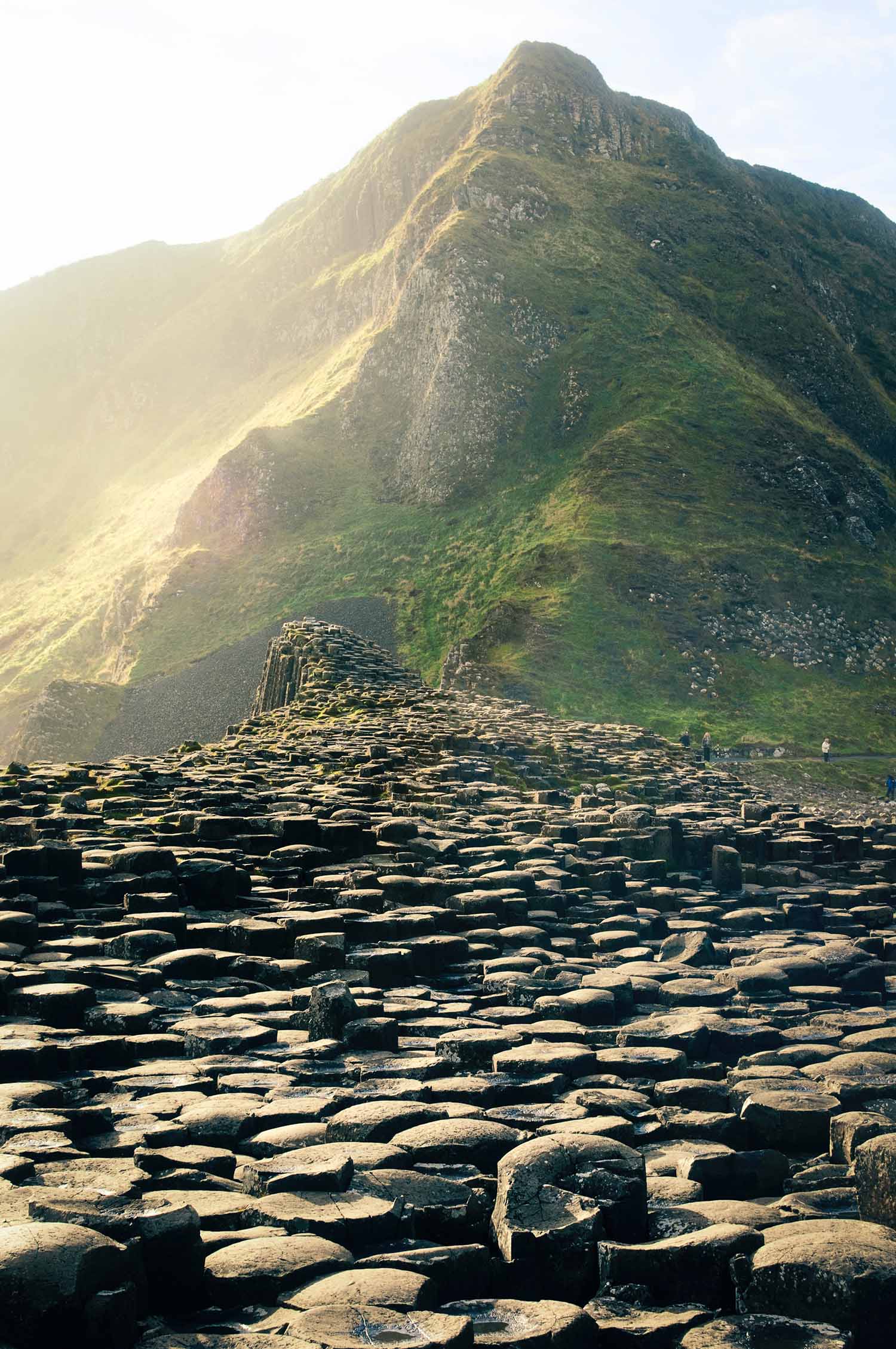 Giant's Causeway
Day 12
Derry to Belfast with stops at Bushmills, Giant's Causeway, and Dark Hedges
Derry is home to the only surviving city walls in Ireland and you will want at least an hour to walk along them and take in the history.
Continue on one hour outside of Derry to Bushmills for a tour of the local whiskey distillery. Try a few samples and learn about the history, then hit the road for Northern Ireland's greatest site, just ten minutes down the road.
The UNESCO World Heritage site of Giant's Causeway is an essential stop! Take the clifftop path along Shepherd's Steps to the Amphitheatre Viewpoint at Port Roestan, with a pass by the Organ to Chimney Stacks Headland.
From there continue down the Causeway Coast. Explore the beautiful village and Iron Islands of Ballintoy. Cross the long rope bridge then wander the 18th-century beech trees of the Dark Hedges made famous by Game of Thrones.
There are quaint little inns all over the North Coast or you can continue down to Belfast to end your night.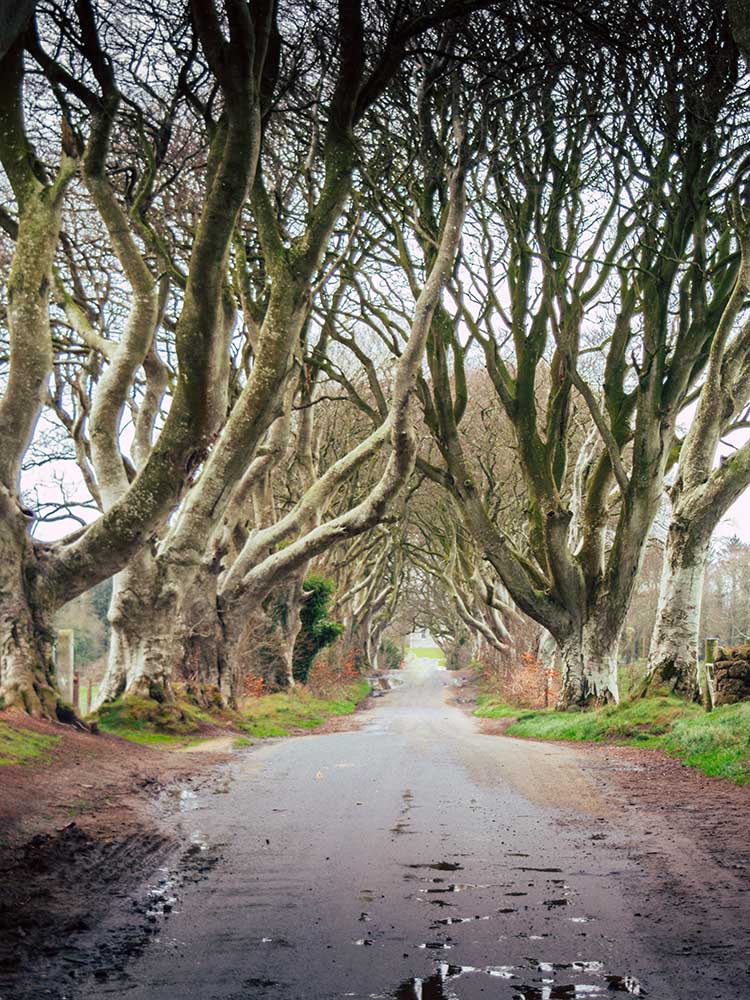 Day 13
Belfast to County Meath
Start your day in Belfast with brunch at the late nineteenth century St. George's Market, the oldest continually operating market around.
From there, move to Belfast's most beloved attraction: the Titanic. The infamous ship was built here and there are truly unique relics that you won't find elsewhere.
In the afternoon, move onto County Meath for an hour and a half drive to the Irish Balloon Flights. You will definitely need to book ahead of time but it's worth it. Sail through the sky for a view of Ireland like you've never had before.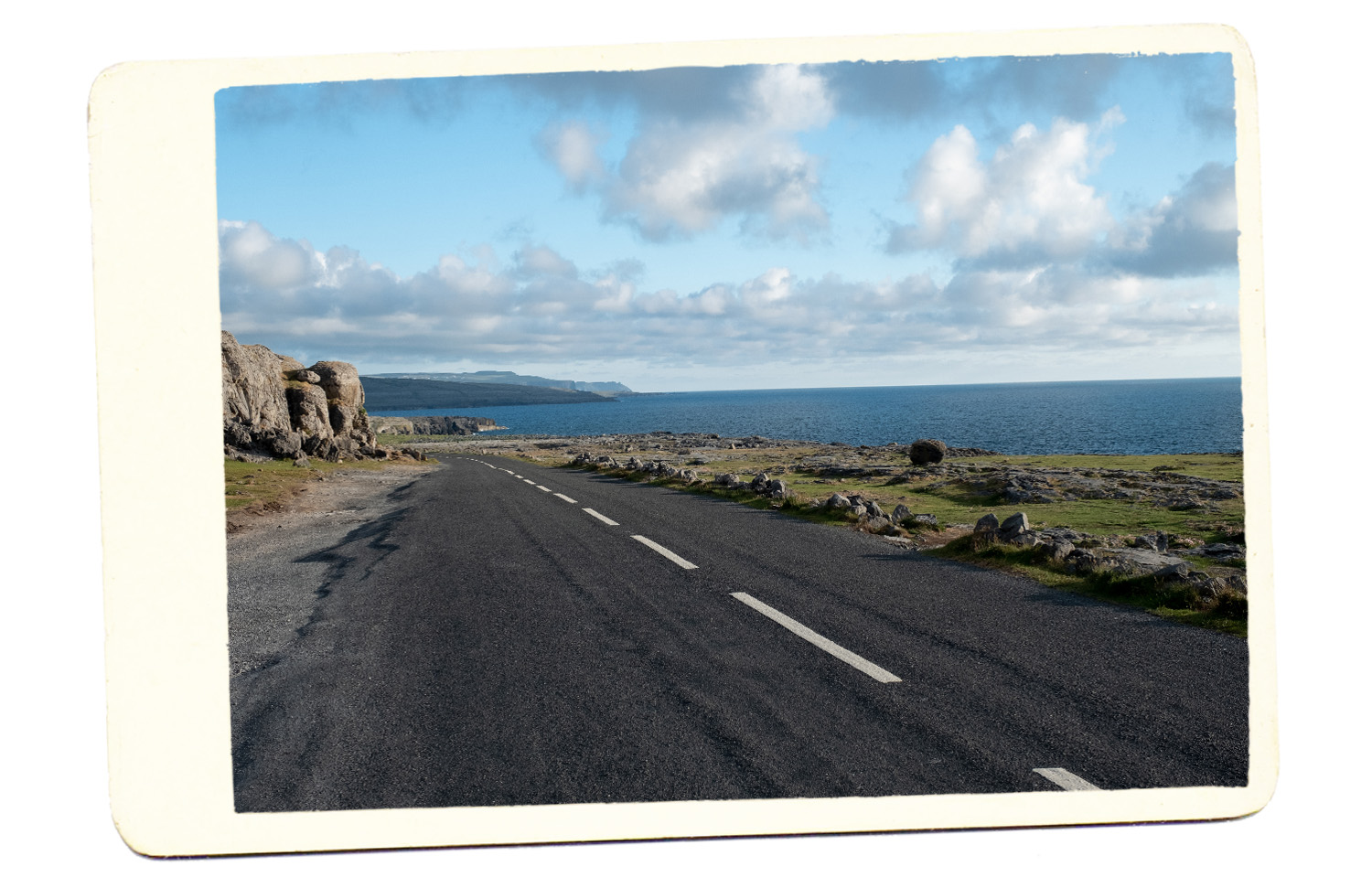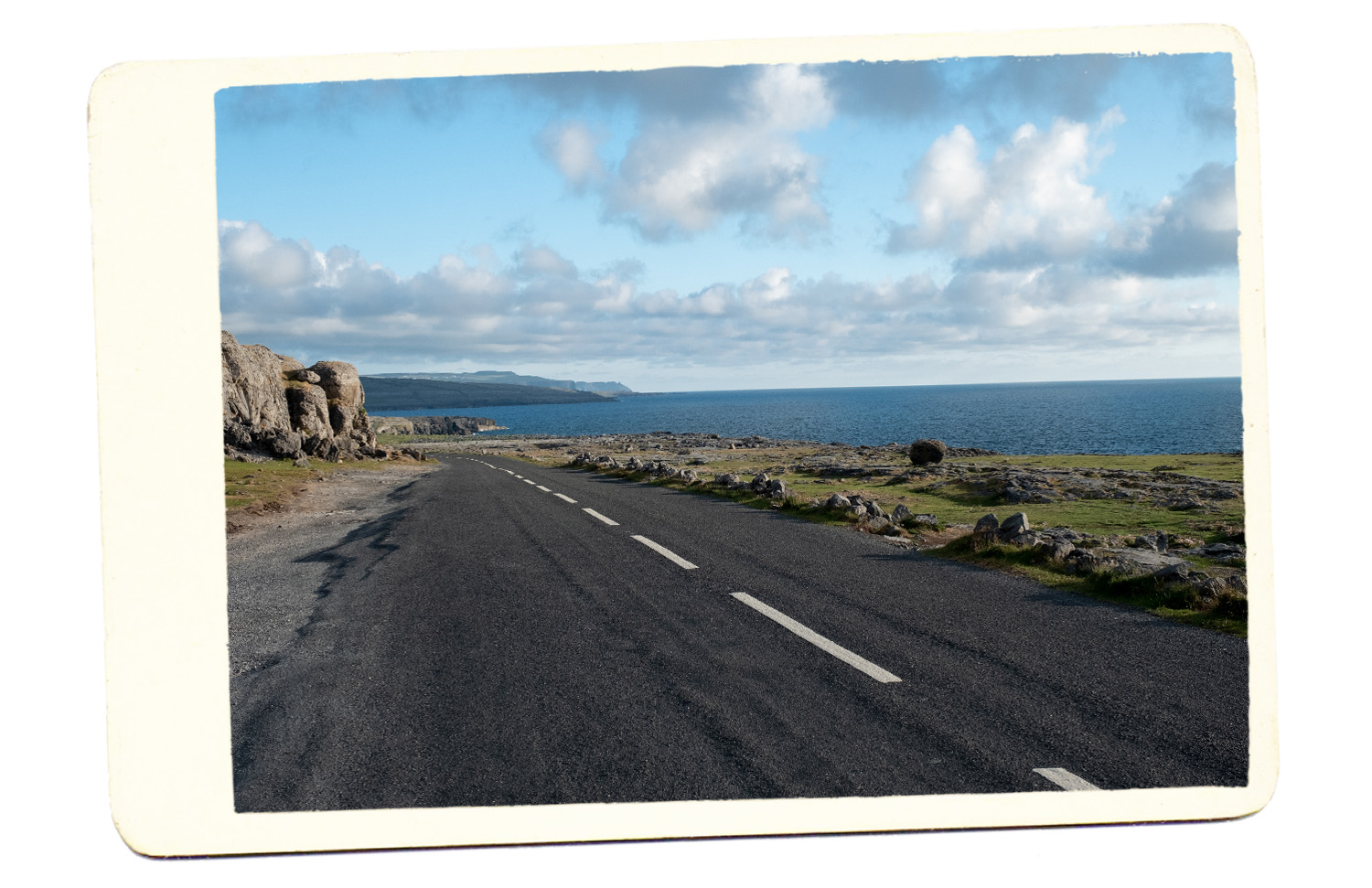 Day 14
Back to Dublin
Back to Dublin to say good-bye to your Irish dream! Like all of the cities of Ireland, you could really spend a solid three days exploring to really scratch the surface. If you can sneak in a few hours in Dublin, you'll find no shortage of things to do.

Plan Your Trip
Want to use plan your own road trip? I love using Roadtrippers to plan out my stops—figure out how long I'm driving in between them, and find popular spots and pit-stops along the way.

Have you been to Ireland or are you planning a trip there soon? I'd love to hear about which places you'd include on a road trip around the Emerald Isle in the comments below!