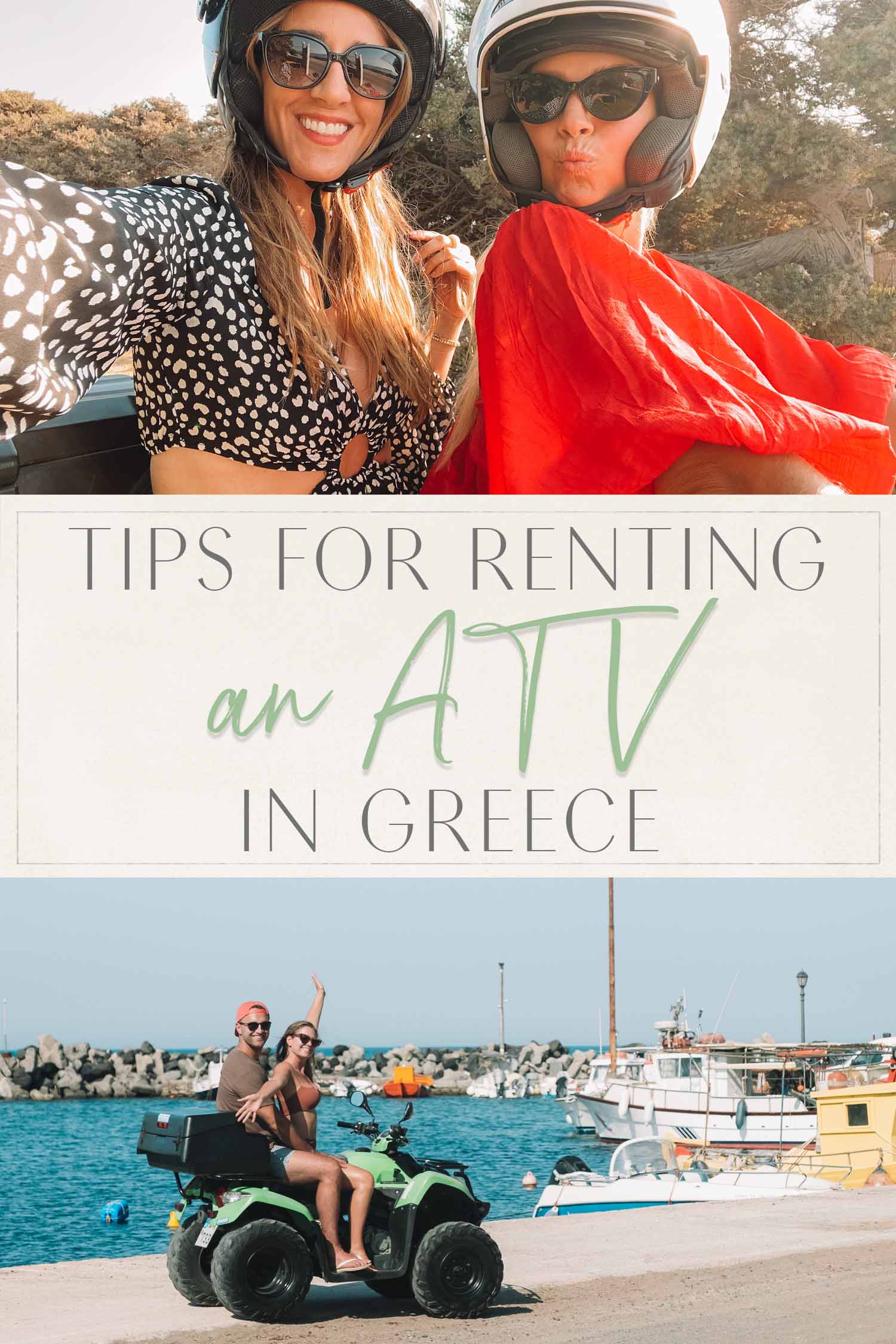 What is better than lounging poolside in the sun-soaked Greek islands and splashing in the endless turquoise seas? How about exploring Greece on an ATV!
Getting your own set of wheels to explore the secret coves and hidden wonders of this magical Mediterranean country is a must. Even after countless adventures around Greece, some of my best memories are of my self-guided ATV tour around Santorini.
More than just a fun outing, ATVs are actually a practical means of transport in Greece. While the dramatic seaside cliffs and narrow winding alleyways are all part of the local charm, they make it tricky to get around in a car.
As soon as you arrive, it's easy to see why all-terrain vehicles are the preferred mode of transport for locals and tourists alike — and they're a perfect way to add a kick of adventure to your trip!
Thinking about renting an ATV in Greece? Here's what you've got to know before you go.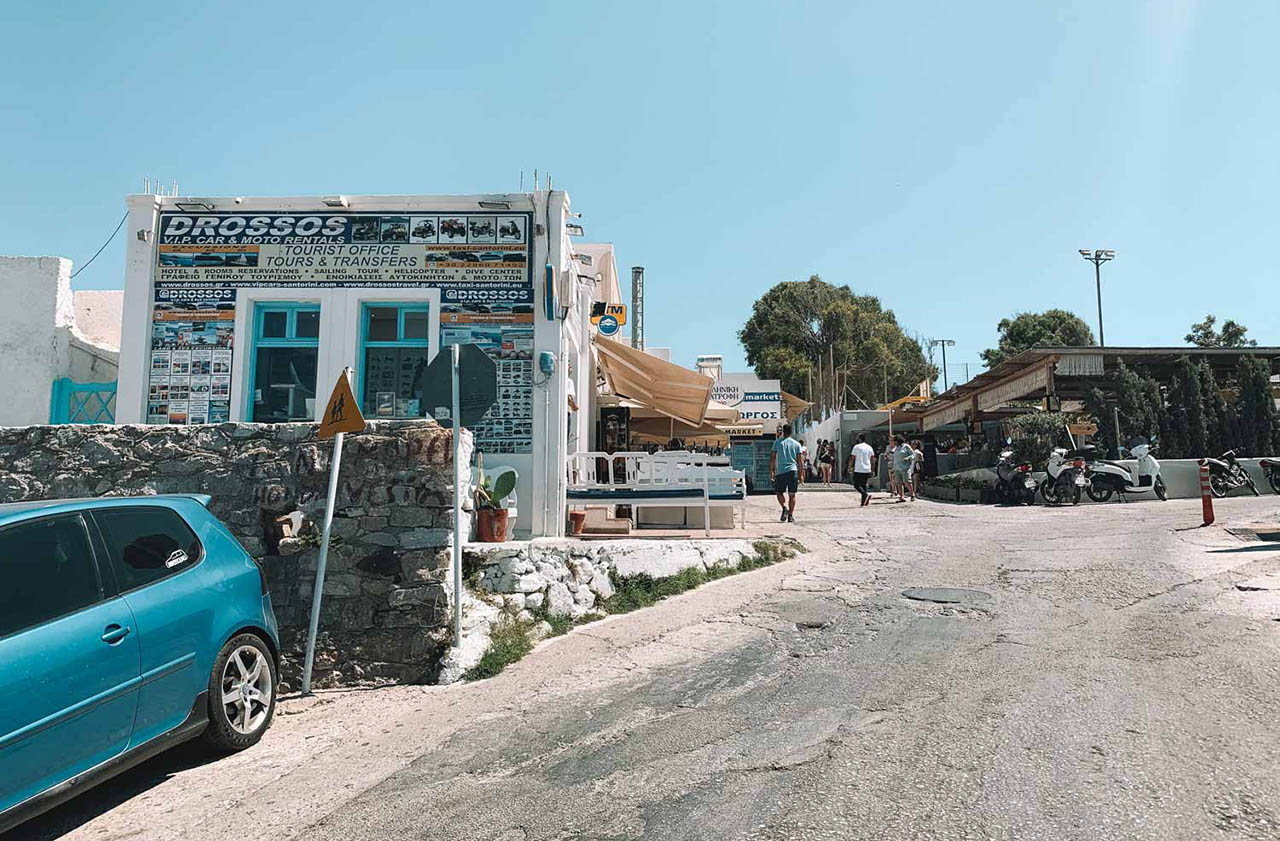 The location we rented our ATV from in Santorini (Santo Moto)
Where to Rent an ATV in Greece
When it comes to renting an ATV in the Greek Islands, there are a few variables to consider. Not only is each island different, but demand and availability are highly seasonal.
In my experience, renting an ATV in Santorini was relatively easy because Oia has a range of different options. In Milos, on the other hand, it was a real challenge. There were fewer options and exploring during August meant that demand was at its absolute peak.
While we were lucky enough to get the last ATV at our rental agency, we watched everybody else get turned away.
Regardless of which island you visit, plan ahead.
Start by checking with your hotel to see if they organize ATV rentals. Some properties, even small bed and breakfast type spots, will make arrangements for you so don't be shy to ask.
If your accommodation doesn't offer vehicle rentals or recommendations, plan early. Renting an ATV in the Greek Islands is a bucket list experience for a whole lot of people and things do sell out.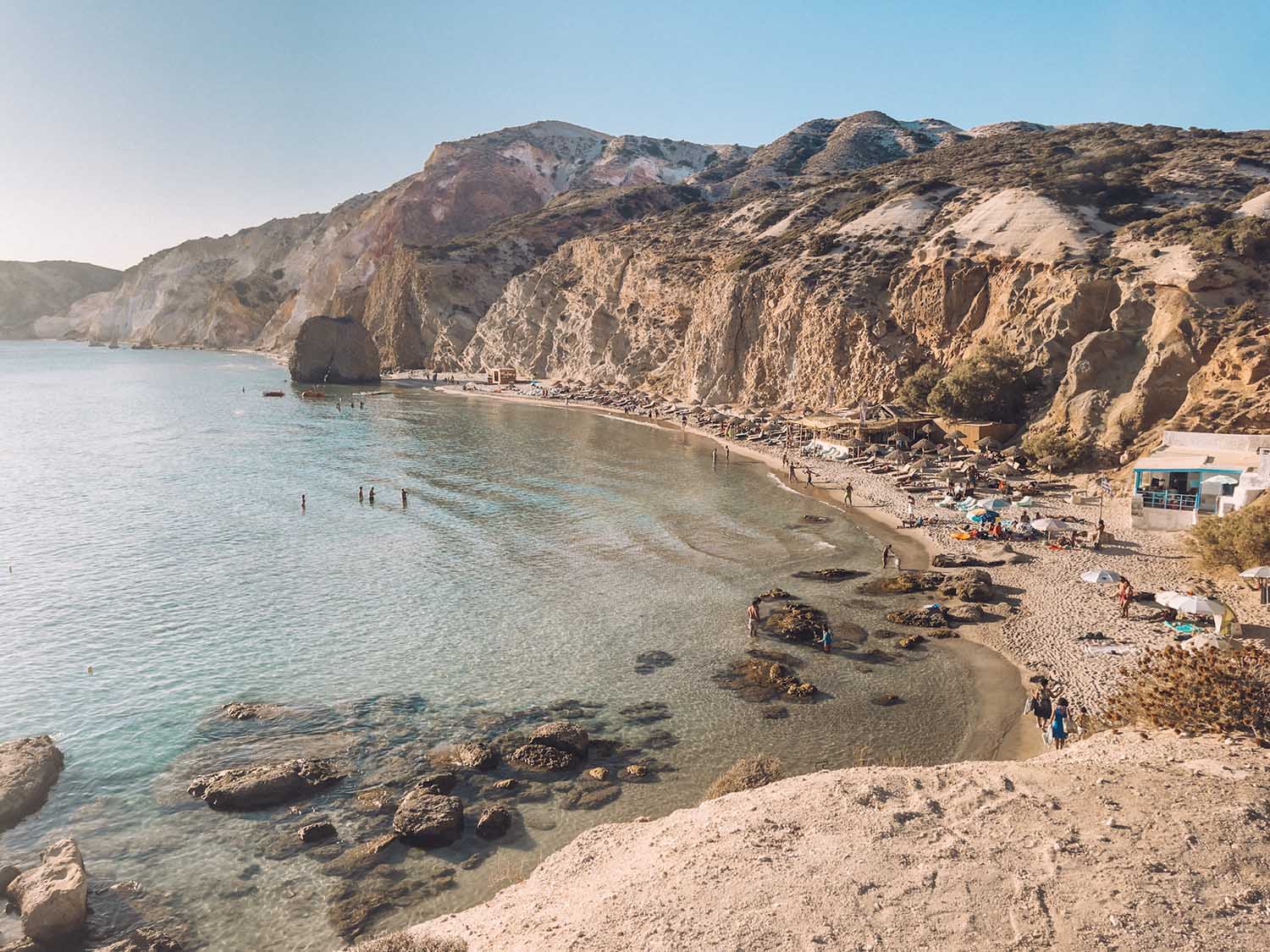 Milos, Greece
How Much Does It Cost?
While exploring the islands can get expensive, renting an ATV won't break the bank. Most vehicle rental spots around the islands charge from 30 to 50 euros per day, depending on the season and the model.
When you are booking, shop around a bit. I saw rental companies on the same street charging completely different prices. Do your homework, and don't necessarily jump on the very first option.
People often overestimate the cost of traveling in Greece. Sure, the sky's the limit if you want a luxury Mediterranean getaway, but you can travel the Greek Islands on a budget with a little planning.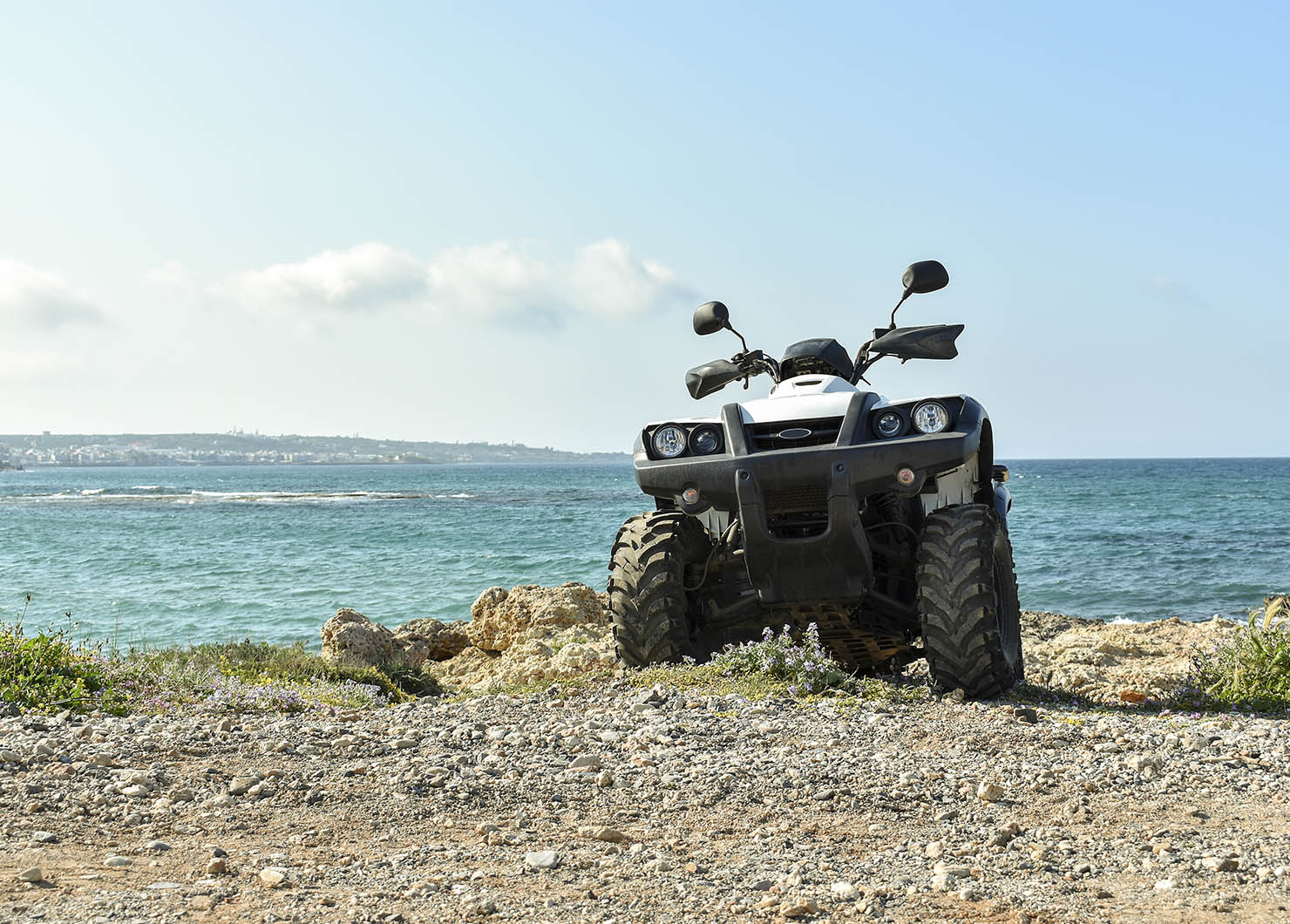 What Size ATV Should I Rent in Greece?
When you're looking at quad bike rental options, you'll see different sizes or cubic capacity (CC) options. The more powerful that your bike is, the more you are going to pay.
Although I've often found that smaller vehicles are better on narrow island paths (I'm looking at you, Mallorca!), the opposite is true here. Having more power can be a major asset on the steep pathways you face when driving in the Greek islands.
You'll find ATV options running from 150cc to 450cc at most vehicle rental companies.
If you're riding around with two people on the back, opt for at least a 300cc model. Islands are known for their dramatic cliffs and high peaks, like Crete, are more suited for the 425cc and 450cc options.
Trust me, bigger is better here! If you're struggling to get up a hill and you've literally got a busload of people on your bumper, it'll be stressful.
Consider the terrain and plan accordingly.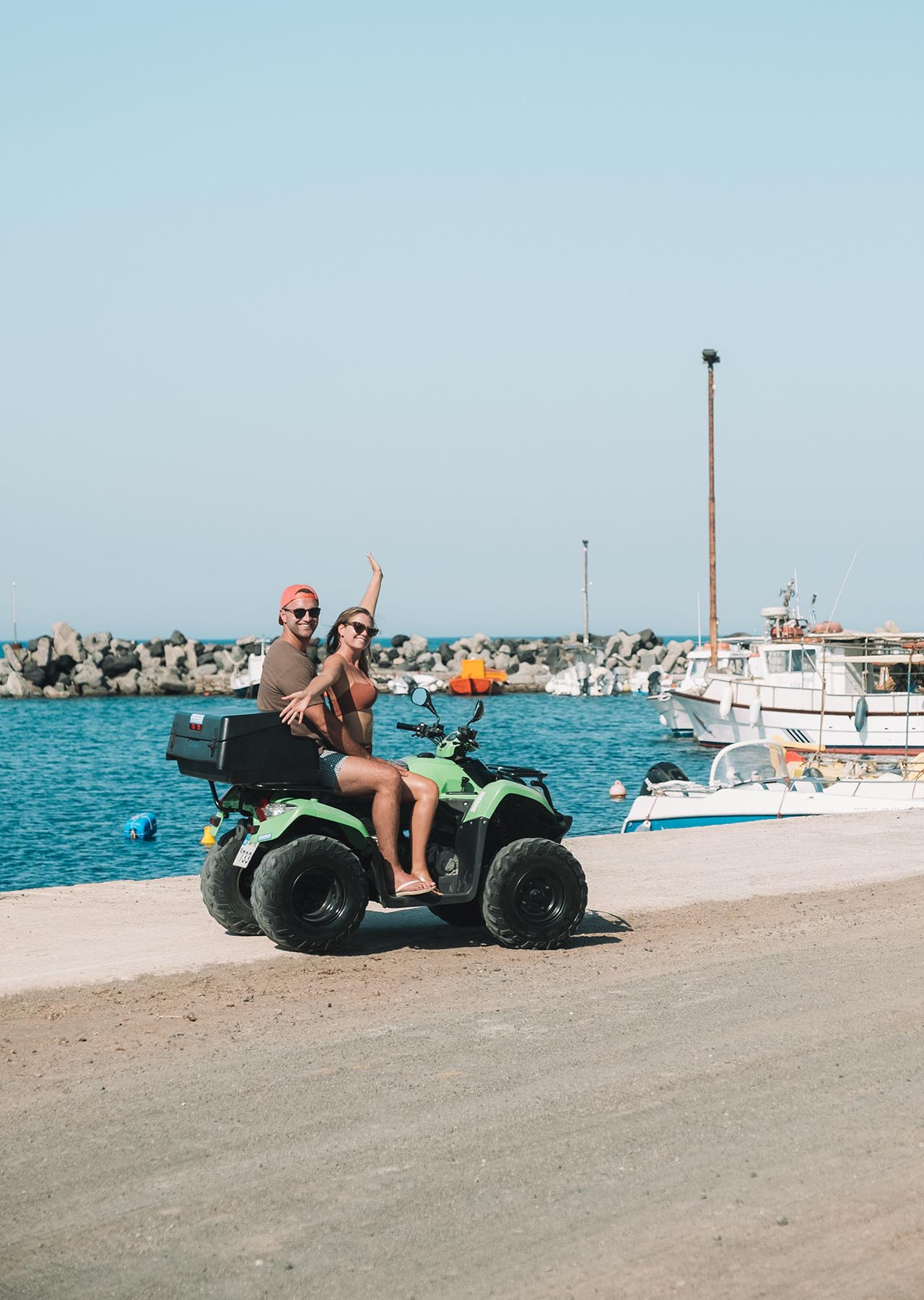 Do I Need an International License?
Planning Note
It's crucial to be aware that you need a motorcycle license endorsement to be able to rent a scooter or ATV in Greece. While there is plenty of outdated and incorrect information around the web, this is absolutely the case now.
Be sure to check with your rental company before you go. Ideally, chat with them before your trip so you know what to expect. If you find yourself arranging things at the last minute, do try to contact the company at least one day before you collect your rental so you're not surprised on arrival.
We went to get information on the ATV before renting and they were able to provide us with all the info we needed: an International License was required. The good news? It's actually super easy to get.
You can obtain the International License here for only $29 and get it emailed to you to print within a few hours of ordering.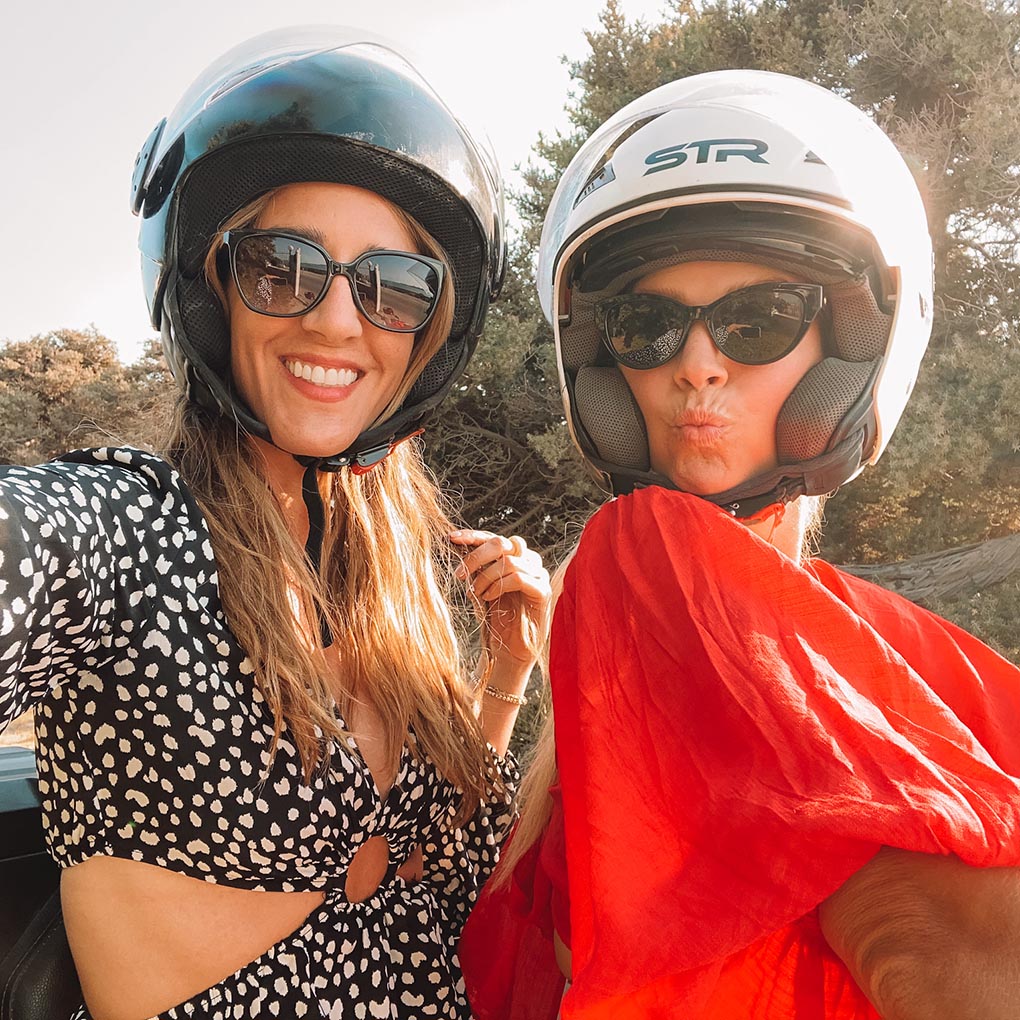 Helpful Tips for Driving an ATV in Greece
First things first: cover your assets! The seats of ATVs can get smolderingly hot. Most of the time they are black and during the summer, it can feel like you're touching the sun itself.
We kept a towel over the seat so it was less intense. Even wearing just our swimsuits all afternoon, we were a couple of sweaty messes by the end of the day! If you're traveling during the summer, come prepared.
Pro Tip: Keep that towel on your seat when you park! It'll make a big difference in how much heat it absorbs in the parking lot.
Fortunately, most of the ATVs you'll find have a little box to store things. Pack plenty of towels, water bottles, and sunscreen. The sun can get intense so you'll want to stay hydrated and keep applying sunblock.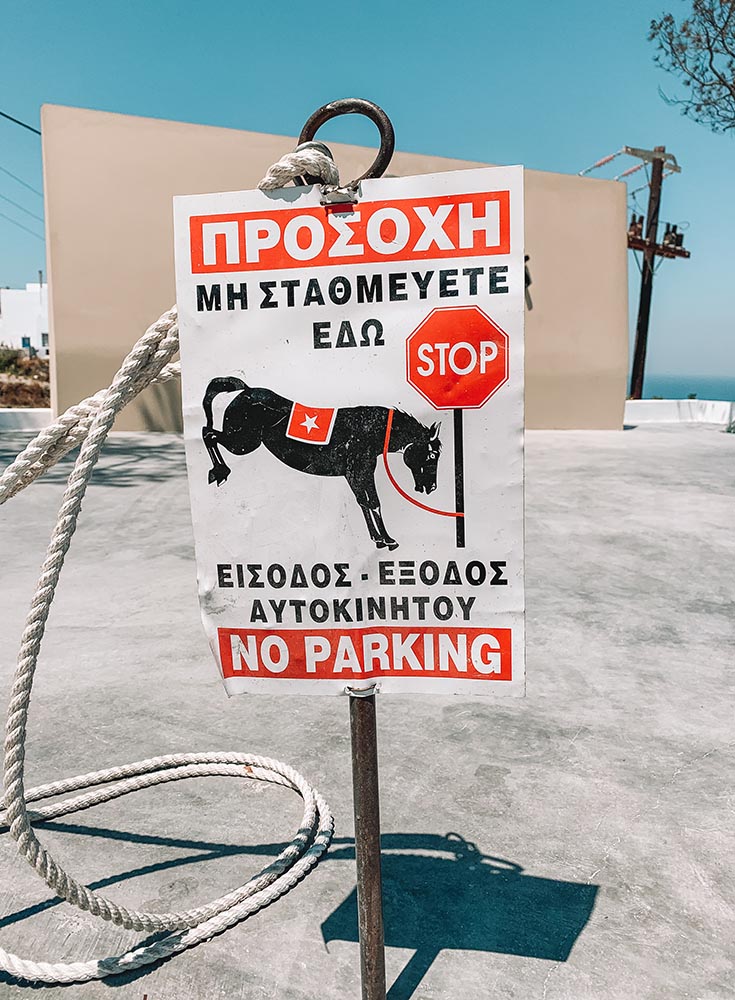 ATV Safety
It's all too easy to fall into ultra laidback vacation mode, but be cautious on the roads. Stay mindful of the roads, just as you'd be driving any other vehicle.
There are quite a few bending roads without guardrails, so always be vigilant. Keep it steady around the corners and save your daredevil skills for cannonballs at the hotel pool.
As you are exploring, be sure to always carry your license and always, always wear your helmet.
It's truly imperative to your safety. Not only do you risk your life without a helmet, but you'll get a hefty fine and risk having your travel insurance invalidated when you're caught without one.
Sure, it seems nice to have your hair flowing in the wind but it's not worth it. I've known far too many people who have been seriously injured while traveling without helmets. Even if you are an incredibly safe driver, you're sharing the road with careless drivers.
You never know what might happen, so play it safe.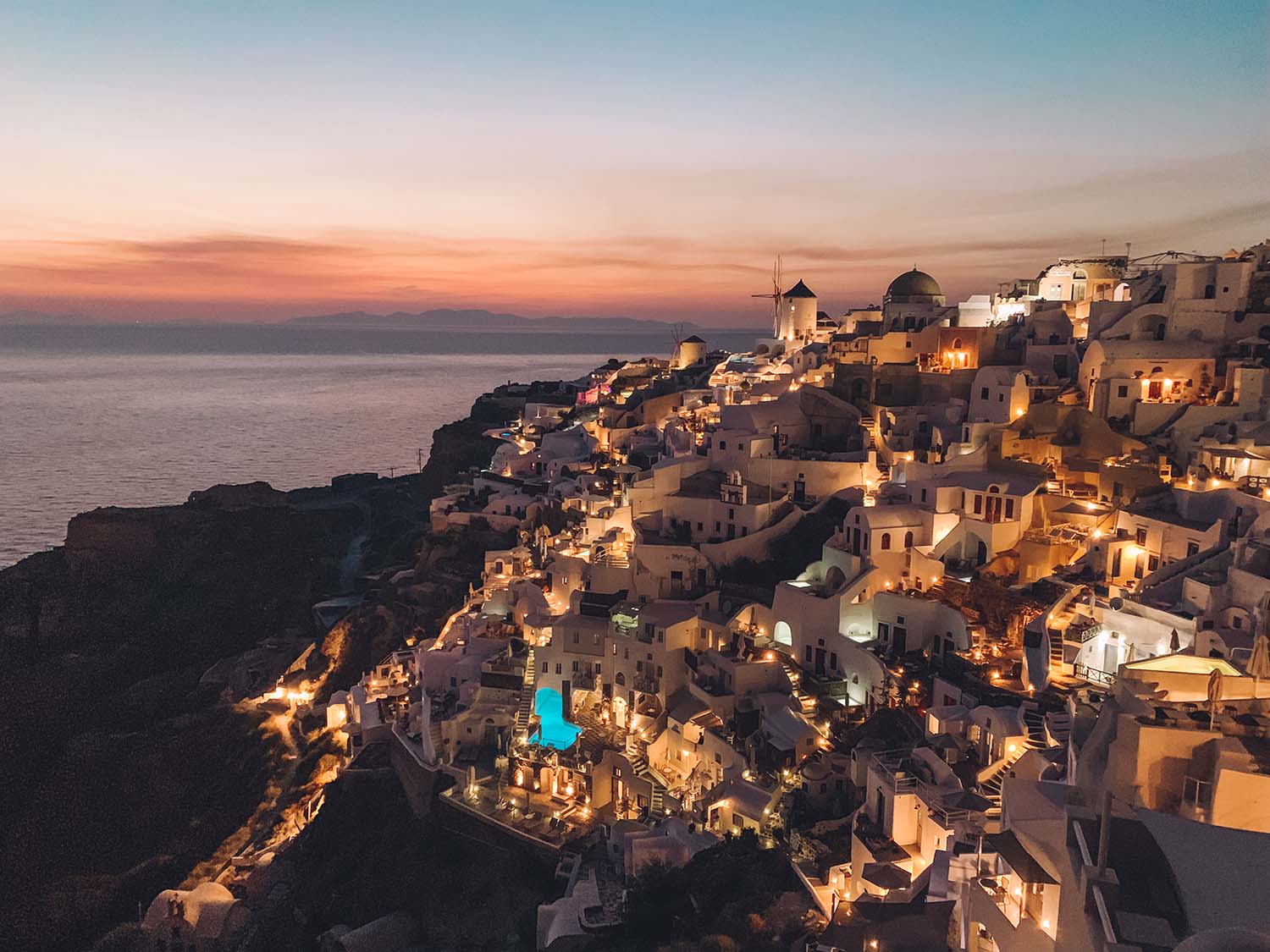 Get Insurance
Even the best-laid plans can go sour. Having travel insurance is always a good idea, and doubly so if you are going to be renting an ATV.
After learning the hard way, I always get travel insurance when I am globe-trekking these days (here's why). Whenever I'm driving in a foreign country, I always make sure I am fully protected from anything that might happen.
I always had a great experience with World Nomads travel insurance and have saved myself some serious cash by being protected, so check it out before you go.

Ready for your ATV adventure in Greece? Keep on reading my complete guide to everything you should know about Greece before you go.
Debating when to go to Greece? Jump over to my guide on the best time to visit the Greek Islands.