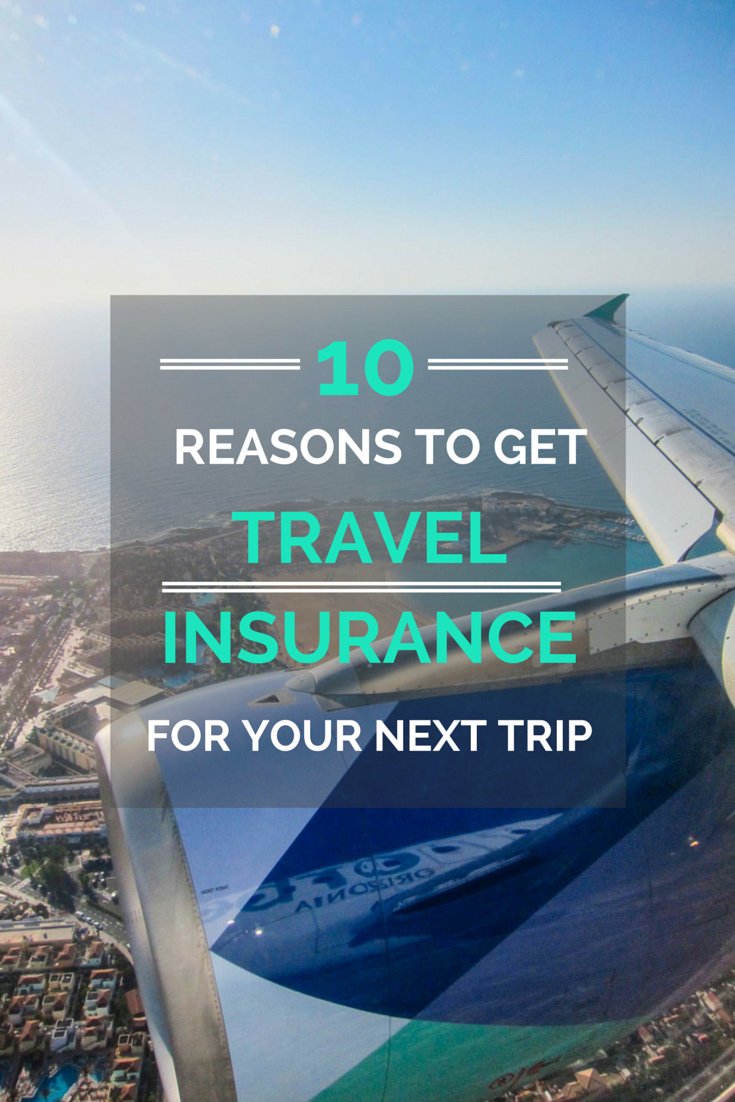 Travel insurance is one of the most important things that you can purchase for any international trip and, whether you are going abroad for a week or embarking on a year-long trip around the world, it is something that you should consider very seriously.
Some people will be happy with the general policies available, while the tailored packages provided by companies such as World Nomads Insurance can be tailored to suit your needs. The policies can cover personal loss, theft, damages, and medical as well, so when I've needed to see doctors abroad, had luggage stolen or missed my flight, I was covered.
Here are ten reasons to get travel insurance for your next trip!

– Health Treatment and Evacuation Cover –
Many Americans think that their existing health insurance policy will also cover them if they need treatment abroad, but in the majority of cases this is simply not the case.
From car accidents to adventure sport injuries, having cover for your treatment and evacuation from a country if required can be a vital part of the travel insurance, which otherwise can costs tens of thousands of dollars in certain situations.

– Cancellation of Connections –
If you are traveling on a route which has more than one flight, or train journeys with multiple connections, many travel insurance policies will cover you for those missed connections.
They can cover alternative transport arrangements on to your destination, and will also have a help line that can help you to find accommodation if you are stranded because of a missed connection.

– Losing Your Documents Abroad –
This is often considered to be one of the biggest disasters that travelers can encounter, and losing documents can make it very difficult to get home, or even to get through security at the airport.
Good travel insurance will include cover help to replace your documents and to assist you to get home should anything happen to those documents.

– Theft and Pickpocketing –
Losing money, electrical items or jewelry can be a horrible experience while you are abroad, and one of the key features of travel insurance is that it will help you to replace these should they be stolen while you are away.

– Illness Before Your Trip –
One common reason that can lead to trips being canceled is if you suffer with an illness before you travel, and are no longer in a fit state to travel. Including this as a part of your travel insurance cover can make a big difference, especially if you are planning an expensive or memorable trip that would make it very difficult to replace if you weren't able to travel.

– Your Travel Provider Goes Out of Business –
Depending on the country in which the company providing your travel arrangements is based, there may be some cover through travel associations. However, by making sure you have good travel insurance it can reassure you that should anything happen, you won't be left out-of-pocket by this kind of incident.
While it seems unlikely, this happened to one of my best friends when we were traveling in Greece. She had a flight booked from Athens to London and, upon arriving at the airport, learned that the airline she was traveling with declared bankruptcy the day prior, leaving hundreds of travelers without flights. She ended up losing her money on the canceled flight and had to book a last-minute flight that cost her over $400.
If she had travel insurance, she would have been covered for all of those expenses.

– Adventure and Sports Coverage –
If you are planning on doing any adventurous activities or sports while you are away (including scuba diving, sailing, skiing, etc.) this coverage can be vital. Whether you lose your golf clubs while you're traveling or are injured in a heavy skiing fall, making sure that you are covered for such accidents can be a great help.

– Terrorism or Civil War –
Although this is relatively uncommon, if you are traveling to countries that may be at risk of terrorism or are politically unstable, it can be necessary to cancel your travel plans. If this is covered in your policy, then being reimbursed for those journeys that you don't use can be very useful, and save a big loss on your part.

– Lost Luggage –
Unfortunately, luggage going missing while being looked after by your airline or coach company is more common than many people imagine. It can mean that you have to purchase clothes and other items that you will need while you are away and, as well as covering these costs, travel insurance can also help with the cost of the luggage if it is never recovered.
I've had my luggage delayed twice on trips and World Nomads insurance reimbursed me for each day it was delayed. At the time, I had no idea if my luggage was lost or simply delayed, so insurance gave me peace of mind that, should my luggage never arrive, I would be covered to replace those items.

– Assistance with Emergency Prescriptions –
While losing medicine may not leave you needing immediate medical help, filling an emergency prescription is something that many insurance companies will help with if your medicine is lost or stolen abroad. This can definitely help to reduce any stress over getting important medicine replaced.

Learn more about World Nomads Insurance and get covered for your next trip!

Disclosure: Please note that some of the links above are affiliate links, and at no additional cost to you, I earn a commission if you make a purchase. World Nomads Insurance is my go-to because I have used their insurance first-hand for over five years and have provided amazing support and coverage. I would never recommend anything I don't personally love. If you would like to get Travel Insurance and would like to support this website in some way, using these links will help do exactly that.