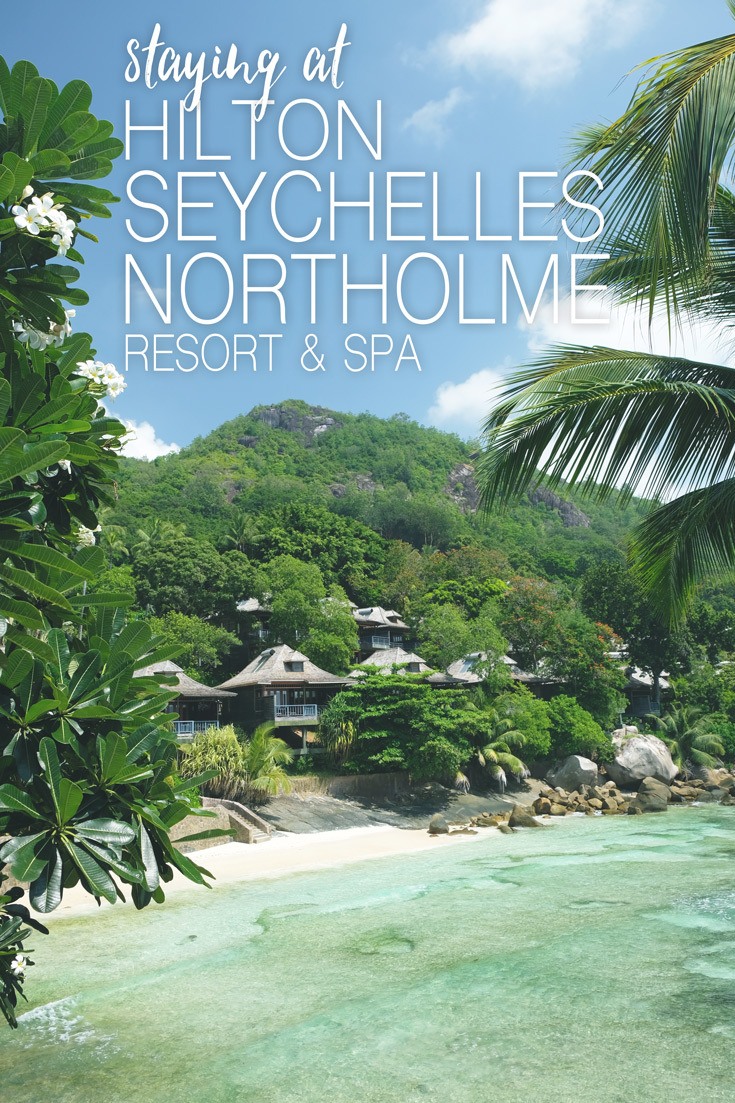 On the west coast of Mahé Island, you'll find some of the greatest beaches of the Indian Ocean. This virtually untouched land has a lush tropical landscape, white-sand beaches, and turquoise seas.
In the heart of it all, you'll find a small, hidden paradise at the Hilton Seychelles Northolme Resort & Spa. With perched villas offering panoramic ocean views, this is exactly what I had in mind when I pictured my dream tropical getaway.
I stayed at the property for a few nights before jumping around to some other islands, and boarding the Crystal Esprit yacht, to explore more of the Seychelles archipelago.

The Hotel
While you might never want to leave the beach, the Hilton Seychelles Northolme Resort & Spa has everything you'd want for a stunning vacation. With a sparkling infinity pool, luxe spa, state-of-the-art fitness center, and incredible snorkeling, there is always more to see and do.
Fun fact: it's actually the smallest Hilton hotel in the world!
Have you ever watched a Bond movie and drooled over its crazy exotic locales? This exact hotel was inspiration for James Bond creator, Ian Fleming. He saw the stunning villas of the Hilton Seychelles Northolme Resort & Spa and knew that it was exactly the kind of place where 007 would stay.
And, who am I to argue? If it's chic enough for James Bond, it's definitely a place I'll lay my head.

The Rooms
There are a few different villa options at the Hilton Seychelles Northolme Resort & Spa. The King Hillside Villa offers you a home away from home in a lush tropical forest that overlooks the Indian Ocean.
If you prefer to be closer to the water, you'll love the King Oceanfront Villa. Both villas measure at just under 1,000 square feet and offer whirlpools and balconies with breathtaking views.
For an upgrade, check out the Grand Ocean View Pool Villa.
This 1,399-square-foot wooden villa has panoramic ocean views and a private swimming pool. You'll also find an oversized whirlpool bath and lounge chairs that you'll want to live in; you'll feel like a tropical goddess here.
Ready to seriously treat yourself? You need the Presidential Villa.
This überluxe two-bedroom villa has sweeping views of the Indian Ocean, Beau Vallon Bay, and Silhouette Island, and you'll have your own private pool and outdoor deck to take in the view. There's a bathroom en suite as well as in the main area, both of which feature a whirlpool bath.

The Food
The restaurants at Northolme offer authentic Creole dishes and an elegant take on along Seychellois cuisine. Along with fantastic food, you'll find panoramic island views, and you'll definitely want bring your camera when you check out the Hilltop Restaurant!
The alfresco Les Cocotiers Restaurant is the perfect spot to dine under the stars for a long, leisurely dinner.
Afterward, head over to the Ocean View Bar and Restaurant to have a drink or two on the split-level balcony. You'll be able to enjoy live music and amazing tropical cocktails. Be sure to get there early at least one evening so that you can see the sunset from the balcony.

Activities
The Hilton Seychelles Northolme is set among the many tiny coves on Beau Vallon Bay. Adjacent to the hotel, there's a beautiful secluded beach that's perfect for relaxing, catching some rays, and sippin' on fresh coconut water!
It's also a dream spot for beach hopping. Be sure to snorkel in the lagoons, and take a glass-bottom boat cruise. There's also a weekly calendar of activities that changes all the time, so spend a minute checking in with the Hilton's Recreation Host to see what's new.
Want a seriously, unforgettable experience? Go for the helicopter tour!
Once you are ready to unwind, get to the spa to choose one of the Hilton Seychelles Northolme Spa's three signature treatment journeys.
Finally, if you can bring yourself to leave this stunning spot, you are actually just fifteen minutes away from Victoria, the capital city, and there's plenty to explore there. Check out the Victoria Market, or take a hike to a viewpoint overlooking the island. There's so much to do on Mahé!


More Information
Hotel: Hilton Seychelles Northolme
Location: Mahé Island, Seychelles
Accommodation: Luxury
Price Range: $$$

Thank you to Hilton Seychelles Northolme hosting me during my stay. As always, thoughts and opinions expressed here are entirely my own.