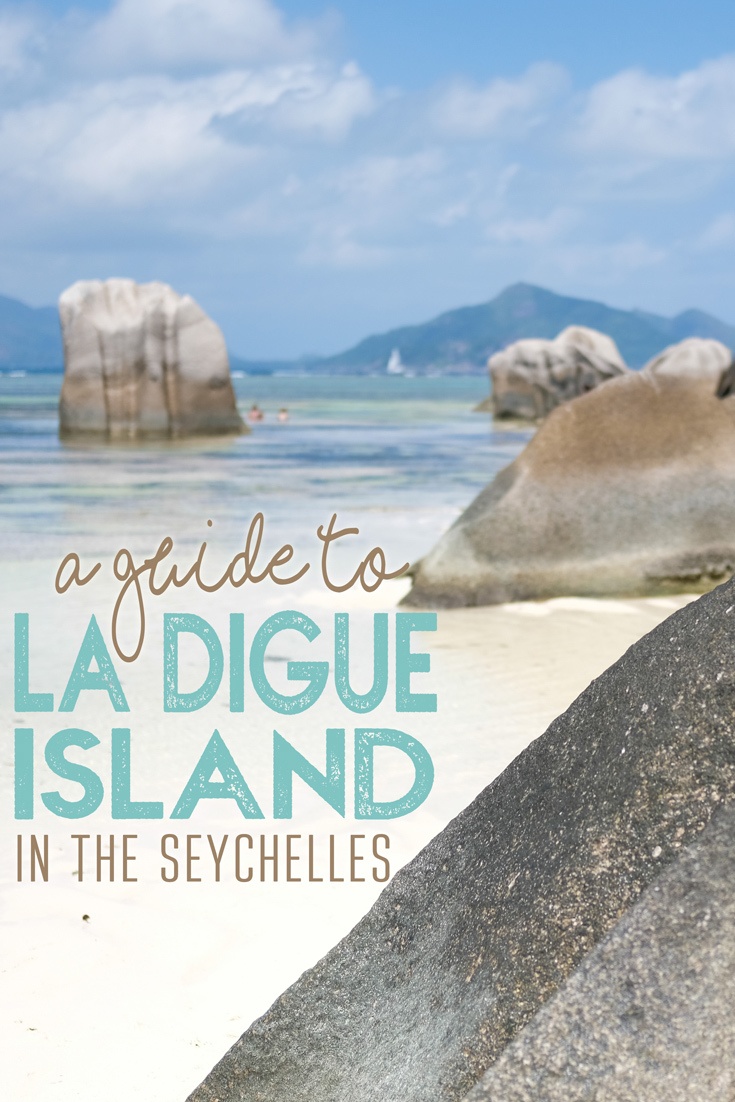 Ready to truly get away from it all? If you're looking to live on "island time," then La Digue is your destination. It has the third largest population of the Seychelles, but you'd never know it.
Most visitors to the Seychelles will hit Mahé Island, Praslin Island, and La Digue due to the close proximity and efficient ferry system.
La Digue Island is all dirt roads and stunning natural beauty. I fell in love with the gorgeous bays, granite rocks, turquoise water, and vibrant coral reefs in this incredible place.
Here's my experience exploring La Digue Island in the Seychelles!

Getting To & Around La Digue
La Digue Island is the third largest island in terms of population, but only has about 3,000 people! The island is still the third most-traveled island in the archipelago since it is so accessible from Mahé and Praslin, but it still has a tranquility about it.
Air Seychelles offers short island hopper flights from Mahé to Praslin, but nothing from La Digue—unfortunately, there's no airport on La Digue, only a helipad. However, and there is a fast catamaran service between Praslin and Mahé, so it is easily accessible. I visited La Digue during a stop on my Seychelles cruise!
There are very few cars on La Digue—I even heard there are only 6 taxis. The island spans just over ten square kilometers (or four square miles), so it's easy to get around on foot or on a bike.
I'd recommend opting for a bicycle!
When you get into port, you'll see a few different bike rental places, and they'll get you set up to ride anywhere you need to on the island.

What to Do on La Digue
La Digue Island is all about getting outdoors and enjoying the dazzling surroundings. I joined a cycling tour and rode through the vanilla plantations and towering palm trees. Exploring the area with a local brings it to life, so I'd highly recommend connecting with a guide.
Despite being a small island, La Digue has some great tour companies with highly knowledgeable guides.
You can learn about the flora and fauna of the island while you explore the panoramic views from the top of the island. There are options for all kinds of interests– biking, walking, kayaking, and rock climbing tours to name a few.
Surfing is also popular on the islands, and there are lots of opportunities to sign up for some surfing lessons around La Digue; it's an idyllic spot to learn.
The sunset, sunrise, and full moon tours are especially amazing.
Anse Source D'Argent beach is one of the most photographed beaches in the world, and it is an absolute must-see. To get to the beach, you'll have to pay an entrance fee at the L'Union Estate (100 SCR or $7 USD) which also allows you to explore the park– there, you can find a museum, old coconut mills and giant tortoises!
Before you leave, be sure to visit some of the small shops in La Passe area to find a souvenir. You'll find tons of tropical-style jewelry, and you can also get incredibly beautiful black pearls.
For the ultimate Seychellois souvenir, you can find shops around the islands that sell Coco de Mer nuts. I bought mine on Praslin Island. Just make sure someone at the shop organizes an export permit for you!
Top Things to Do:
Anse Source D'Argent & Grand Anse Beaches

Vanilla Plantation
Snorkeling, Diving, Surfing & Kayaking
Bike Tours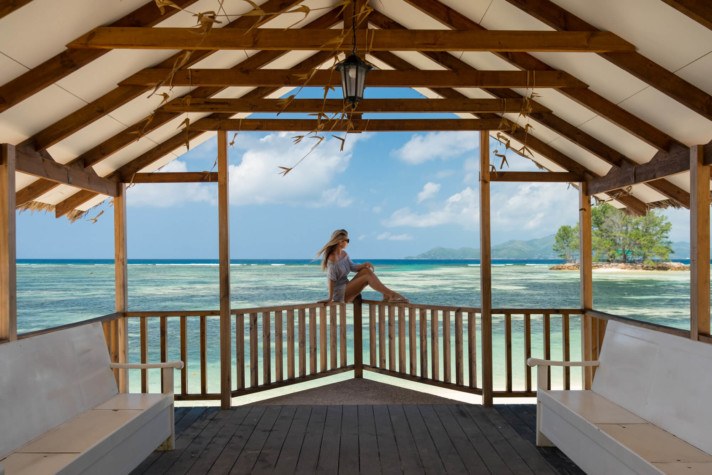 Where to Stay on La Digue
Despite its relatively tiny size, there are lots of accommodation options around La Digue Island. I only visited the island on a day trip, but here are a few of the top-rated spots:
Le Domaine de L'Orangeraie: the perfect blend of tropical style meets modern chic, these airy villas are the top luxury pick.
Casa De Leela: set in the center of town, this place has just three self-catering bungalows and four apartments tucked away in a lush tropical garden.
Chateau St Cloud: nestled in the foothills of Eagle's Nest Mountain, this colonial-era villa has a beautiful garden, a sparkling pool, and spacious rooms.
There are lots of guesthouse options on the island too. Many of them offer bicycles and homemade creole food. Here are some top-rated guesthouses:
Chloé's Cottage: just between Grand Anse beach and the famous Anse Source d'Argent, there are two self-contained apartments that are ideal for a quiet escape.
Pension Socrate:

for a cheap and cheery pick, you can't go wrong with this quaint little guesthouse.

Beryl's Guesthouse: for a quiet house with tasty Seychellois creole food, this is a prime pick close to the beach.
A big thank you to The Seychelles Islands for hosting me during my time in the Seychelles. As always, thoughts and opinions expressed here are entirely my own.