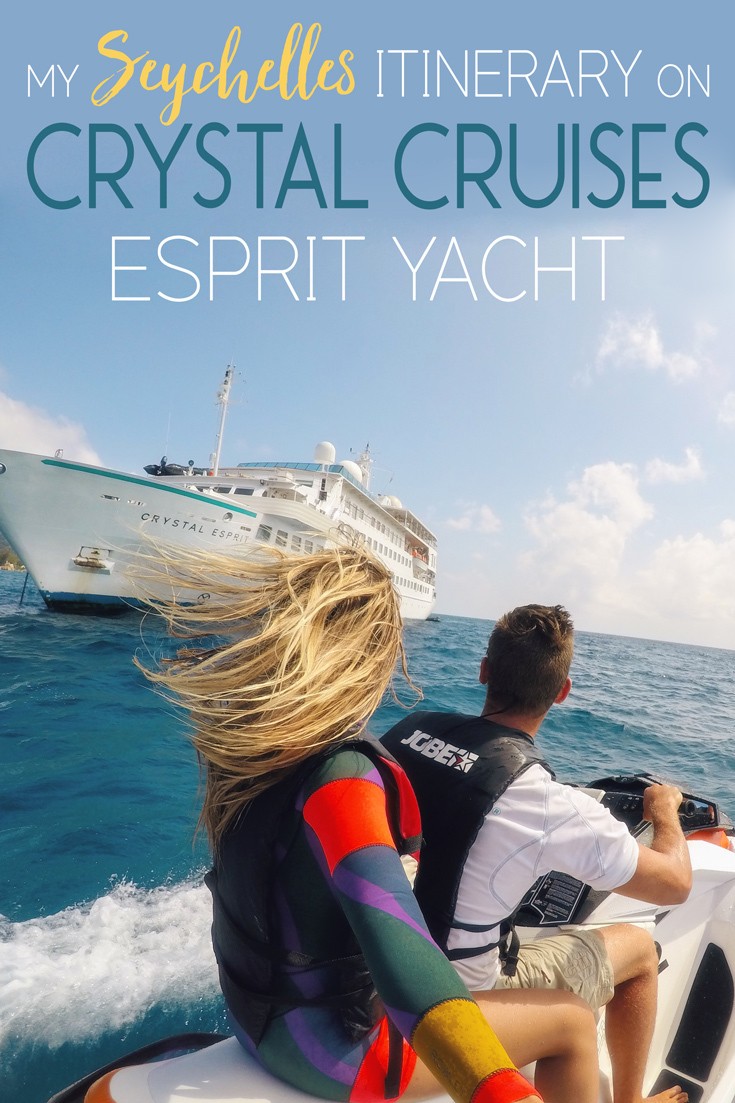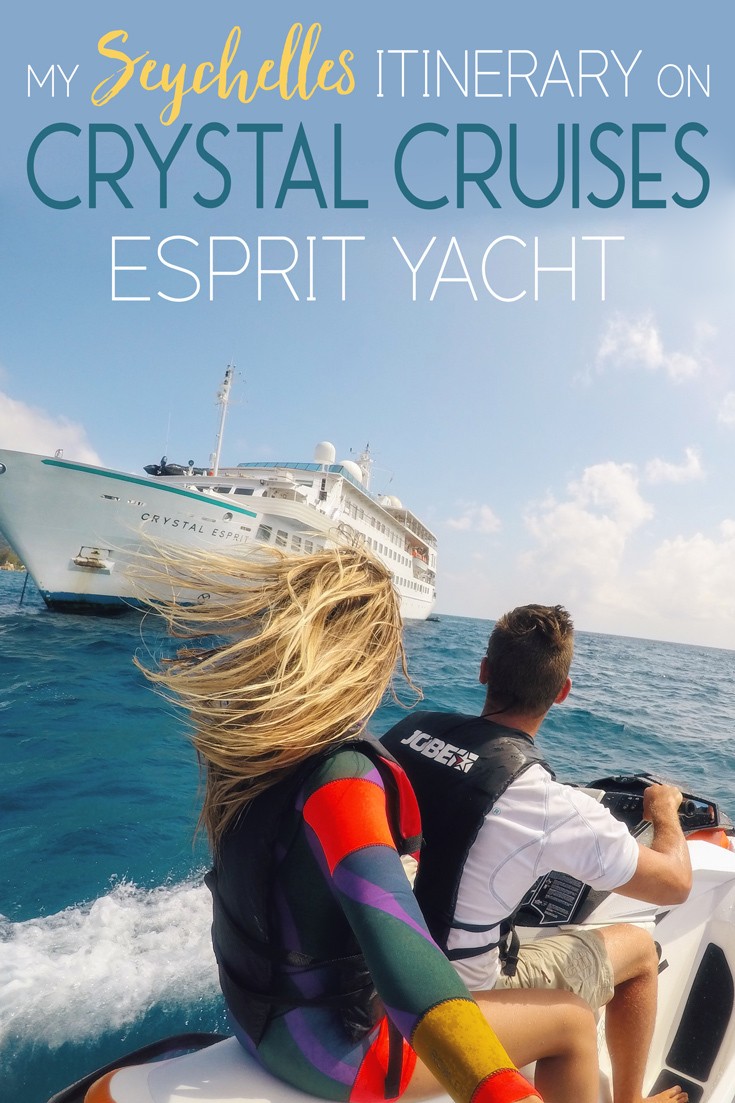 During my time exploring the Seychelles Islands, I was lucky enough to spend some time on the Crystal Esprit Yacht and check out more of the beautiful archipelago.
This is actually my second time sailing with Crystal Cruises only– the first was over New Years 2015 when I took my mom aboard the Crystal Symphony for her first international trip! This time, I was even more blown away. 
Crystal Cruises is truly the ultimate in luxury & adventure travel.
Not only does the Esprit yacht feature luxury staterooms and all-inclusive Michelin-level dining, guests can kayak, snorkel, paddle board, jet ski and dive down on the yacht's personal submarine.
Here's a little more about my 9-day Seychelles cruise and all of the amazing stops we had along the way!

Day 1: Victoria, Mahé
Mahé is the largest of the 115 Seychelles islands and has a stunning capital city, Victoria. The city is quaint and has somewhat limited activities, but you'll be blown away by the historical architecture and local culture.
On Mahé, exotic trees line up along the white sand beaches for miles and miles. There are also tons of coconut plantations and empty beaches, all surrounded by distinguished granite peaks.
There's no shortage of natural beauty!
The night before boarding the Crystal Esprit yacht, I stayed at the Eden Bleu Hotel which is located right at the marina. It's a great option for anyone that's look for accommodation before boarding the yacht.

Day 2: Sainte Anne Island
Sainte Anne island was the first stop on with Crystal Esprit. Imagine palm trees shading idyllic sandy beaches– this is basically as close to paradise as you can get!
We took the yacht tender to a beautiful white sand bar where Crystal had set up snorkeling equipment and stand up paddle boards for us to enjoy.
Sainte Anne is also home to lots of sea turtles and a healthy marine life. Historically, the island was a commercial whaling outpost, but now the island is part of the Sainte Anne Marine National Park, and offers peace and quiet for visitors to experience nature and wildlife.

Day 3: Cousin Island
Cousin Island is about a mile from Praslin, and one of the most eco-friendly islands you can visit. The island is Special Nature Reserve protected under Seychelles law, and overseen by Nature Seychelles, a national nonprofit organization.
And due to conservation efforts, there are SO many birds. Everywhere.
Cousin Island is such a paradise for nature lovers. You'll find mangroves, dense forests, freshwater swamps, a rocky southern coast, and sandy beaches all around. Crystal Cruises also offers a birdwatching shore excursion at this port, and I'd highly recommend it. You'll see countless land and seabirds as well as giant tortoises.
(Just don't forget your mosquito repellent — they're really bad here!)

Day 4: Praslin Island
Praslin, the second largest island of the Seychelles, has a lot to offer visitors– it was definitely one of my favorite stops. The island has stunning beaches, like Anse Lazio, emerald waters, and overgrown jungles.
What makes Praslin one of the most unique islands is that it's home to Vallée de Mai Nature Reserve.
This protected forest is full of rare fauna, and most famously the endemic coco de mer palm– a tree that produces the world's largest seed and palm flower. This seed, or "double coconut", takes 7 years to grow while the tree takes 50 years to mature!
The reserve is one of Seychelles' two UNESCO World Heritage Sites and has been nicknamed the Garden of Eden. I joined the excursion to Vallée de Mai and Anse Lazio beach and would highly recommend it. Other excursions include helicopter rides, deep sea fishing, and golf.
(Other guests that opted in for golfing said it had some of the best views of any golf course they've ever seen!)

Day 5: La Digue Island
If you're looking to get off the grid and live on "island time" then La Digue is your destination. It is the third largest inhabited island of the Seychelles in terms of population, but you wouldn't even realize. The island is purely dirt roads with very few cars, and such stunning natural beauty.
I fell in love with the gorgeous bays, granite rocks, turquoise water, and the vibrant coral reefs.
I joined the cycling tour and rode through vanilla plantations and towering palm trees on my way to Anse Source D'Argent beach — one of the most photographed beaches in the world!

Day 6: Laraie Bay, Curieuse Island
Just sailing into Laraie Bay on Curieuse Island was an amazing experience. The harbor is filled with hundreds of giant parrotfish, and the landscape is breathtaking.
In addition to Praslin, coco de mer palms grow on Curieuse as well.
There's such lush vegetation, and takamaka trees, hanging out over the red sand beaches. The island is also known for its giant tortoises, which took me back to memories of my Galápagos cruise. Native to many Seychelles islands, the tortoise had once been almost extinct, but thanks to a conservation program, they have been reintroduced to the island.
Today, you can see tortoises roaming freely!
This is the day that Crystal Esprit normally takes out their submersible, so be sure to sign up in advance to reserve your spot. The Crystal Esprit is the only passenger yacht with a submersible in the world and it's a once in a lifetime experience.
Aside from a spin in the submersible, you can also head to the beach for snorkeling and paddle boarding. In the evening, all guests are invited back to the island for a "Fun in the Sun" social hour with champagne and caviar on the beach, compliments of Crystal Esprit.
When we returned to the yacht, the swim deck was set up for swimming off the back of the ship. It was such a special treat and one of my favorite days on the trip!

Day 7: Aride Island & Big Sister Island
If you are a bird lover, then you'll love Aride Island. The island is one of most important seabird habitats in the Indian Ocean, and there are more species there than on any other island in Seychelles.
But, you'll be surprised to know that the island is very small, only 1 mile long, and the population consists only of rangers, conservation officers and volunteers.
Make sure to schedule a nature hike!
Crystal Esprit offers a stroll, but if you're capable, opt in for the hike. It's a somewhat steep climb but the view from the top is absolutely breathtaking. This was actually my favorite experience on the entire cruise! Once we reached the outlook, our guide called out into the distance, and hundreds of frigate birds went sailing into the horizon.
We sat for nearly 20 minutes completely awestruck by the countless birds sailing before us.
Big Sister Island is not actually on the itinerary because it is only reachable in ideal conditions. Luckily, we had a day of perfect weather and were able to spend the afternoon there. Big Sister is a private island and is home to my favorite beach in all of the Seychelles — the sand was light pink and was as soft as baby powder.
Need I say more?!

Day 9: Back to Mahé
Before disembarking, we spent our last day back on Mahé. You'll have the option to join a tour of Victoria Market and the Botanical Gardens. [TIP: If you have your heart set on purchasing a Coco de Mer to bring home, the Botanical Gardens have them for sale.]
While saying goodbye to the Crystal Esprit is hard, it's a great way to end an unforgettable experience.

A big thank you to Crystal Cruises for hosting me during my time onboard. As always, thoughts and opinions expressed here are entirely my own.