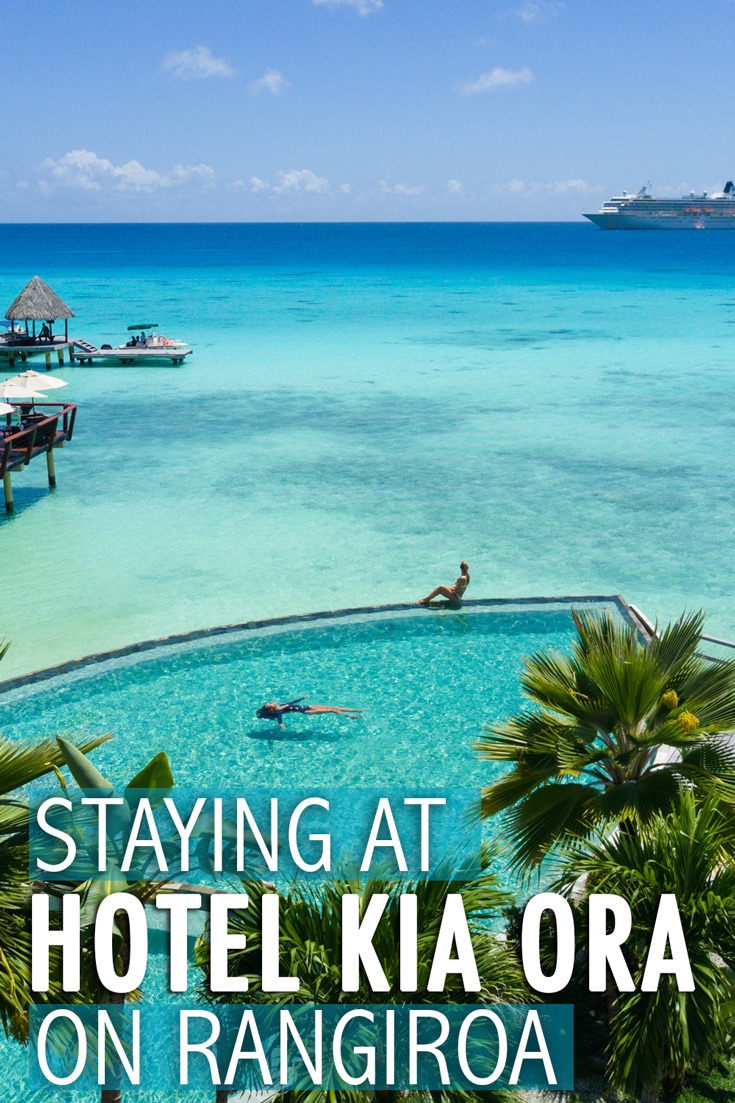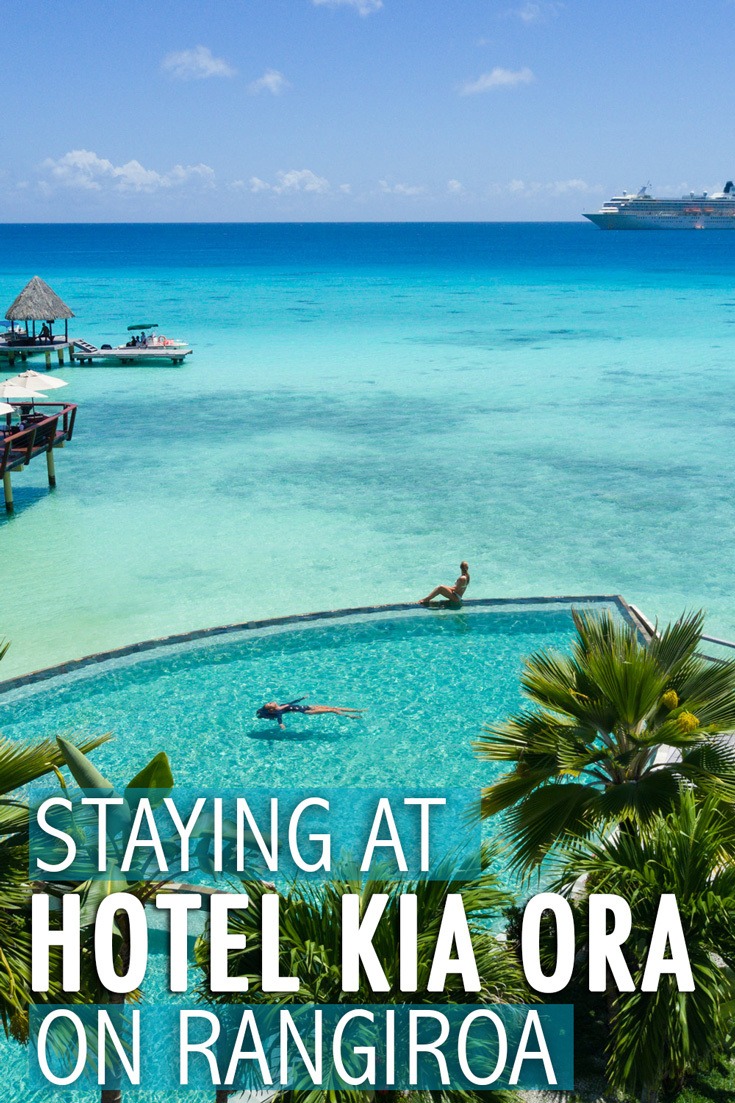 French Polynesia is like a tropical postcard. With dazzling blue water, white-sand beaches, and gorgeous architecture, this place is as close to paradise as it gets.
The second largest atoll in the world, Rangiroa is located between two bodies of water– the Moana-tea, or the Peaceful Ocean, and Moana-uri, the Wild Ocean. Whether you're on the hunt for the perfect beach or the best diving in the world, this is the place to be.
Here's my experience exploring Rangiroa and staying at Hotel Kia Ora!

Getting There
I flew into Papeete, Tahiti, on Air Tahiti Nui then took an Air Tahiti flight to Rangiroa. The flight stops over in Bora Bora, which is actually perfect for island hopping.
You can hit multiple resorts and see more of the island, so I'd definitely recommend taking your time getting to Rangiroa.

The Hotel
Once a dive resort, Hotel Kia Ora on Rangiroa is now a four-star hotel. If you're looking for a chill spot on a private island, this is it. The atmosphere is relaxed, and offers a top-notch, relaxing getaway!
You can relax at the Poekura Spa with a traditional Polynesian massage, hot stone massage, or a luxe skin treatment. After you are feeling zen, splash around the infinity pool and Jacuzzi.

The Rooms
There are a few different room options with beautiful lagoon views. The Pool Villas feature a private pool and garden surrounded by white coral walls. With a locally made Polynesian decor, this place is effortlessly chic. Our pool villa was super spacious, and I adored the outdoor bathtub.
The private beach bungalows are another great pick. Each one has an outdoor Jacuzzi with a terrace looking out onto the lagoon. The overwater bungalows, with a deck overlooking the lagoon and an impressive aquarium, are a French Polynesian classic.
Whatever option you decide to go for, you'll get free Wi-Fi, a powerful AC, a fridge, an iron, a coffee and tea set, a cozy bathrobe, and all of the other things you need to feel at home.

The Food
One of the best things about being right on the water is that you can get ultra-fresh fish. At Hotel Kia Ora Resort, you'll get seafood directly from the lagoon in front of you.
From the fresh fruit at the breakfast buffet to the water bar over the Rangiroa Lagoon, you'll find an ample selection of food here. And, the view is even better. Try vivid, colorful Polynesian-French fusion food while you look into paradise and watch the fish swim beneath your feet.
Be sure to try some of the local coconuts, vanilla, and Rangiroa honey.

Activities
The diving around Kia Ora is absolutely incredible. It's a long trip to French Polynesia, and it's worth every minute when you see the underwater world here. There are amazing reefs, and you've got to check out the Blue Lagoon where you can swim with black tip and lemon sharks.
Not into diving? The snorkeling is awesome too.
Once you are ready to get out of the water for a bit, rent a bike. This is the perfect way to see the island. Explore the Apator Village, and get a feel for the local area.
While Rangiroa is big for an atoll, it's still a very small island, and you can easily explore everything on two wheels. Plan on spending at least one afternoon cycling around and getting a glimpse into everyday French Polynesian life.
Another must-see when you are in French Polynesia is a local show.
Every Wednesday and Sunday, Hotel Kia Ora Resort on Rangiroa has a Polynesian dance and BBQ buffet night. It's an authentic experience that will give you insight into age-old traditions.
Tahitian music has a unique style that is all about drums, guitar, and ukulele. There's a wide array of local dances and many songs that are unique to Rangiroa Island too. And, if you are even going to master the hula dance, this is the place to do it, so don't miss out!


More Information
Hotel: Hotel Kia Ora
Location: Rangiroa, French Polynesia
Accommodation: Mid-Range Luxury
Price Range: $$

Thank you to Hotel Kia Ora for hosting me on my recent trip to Rangiroa. As always, opinions and ideas expressed here are entirely my own.
Want to earn points for your hotel stays and earn miles toward your next adventure?