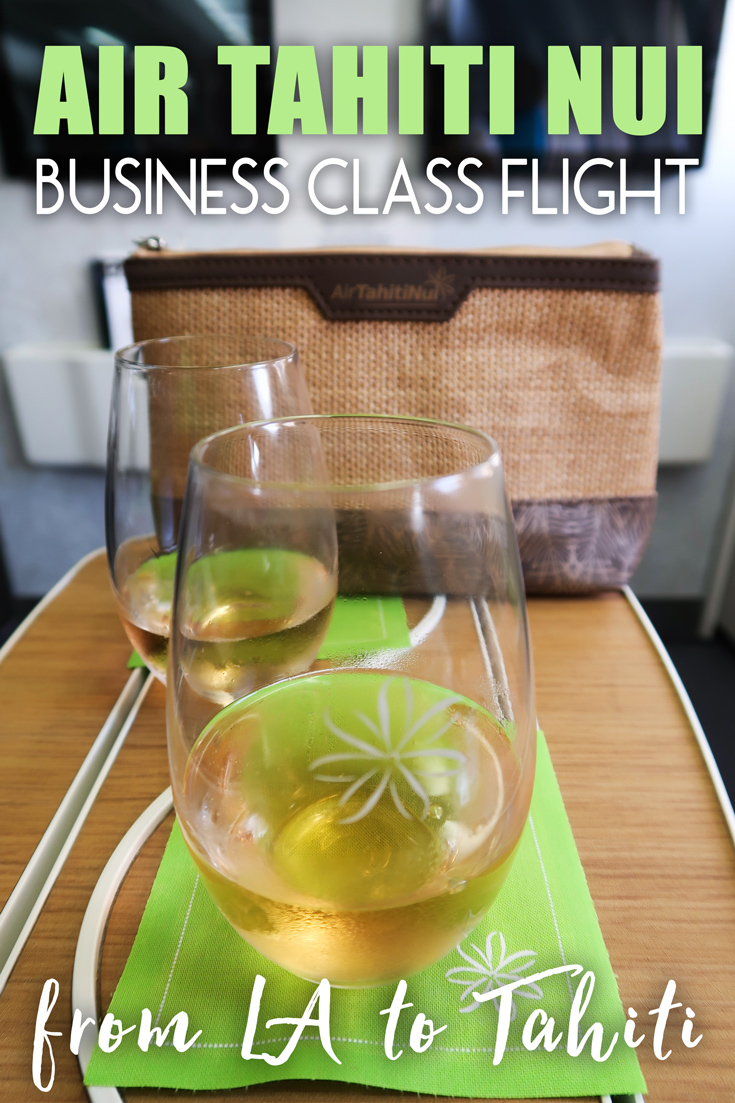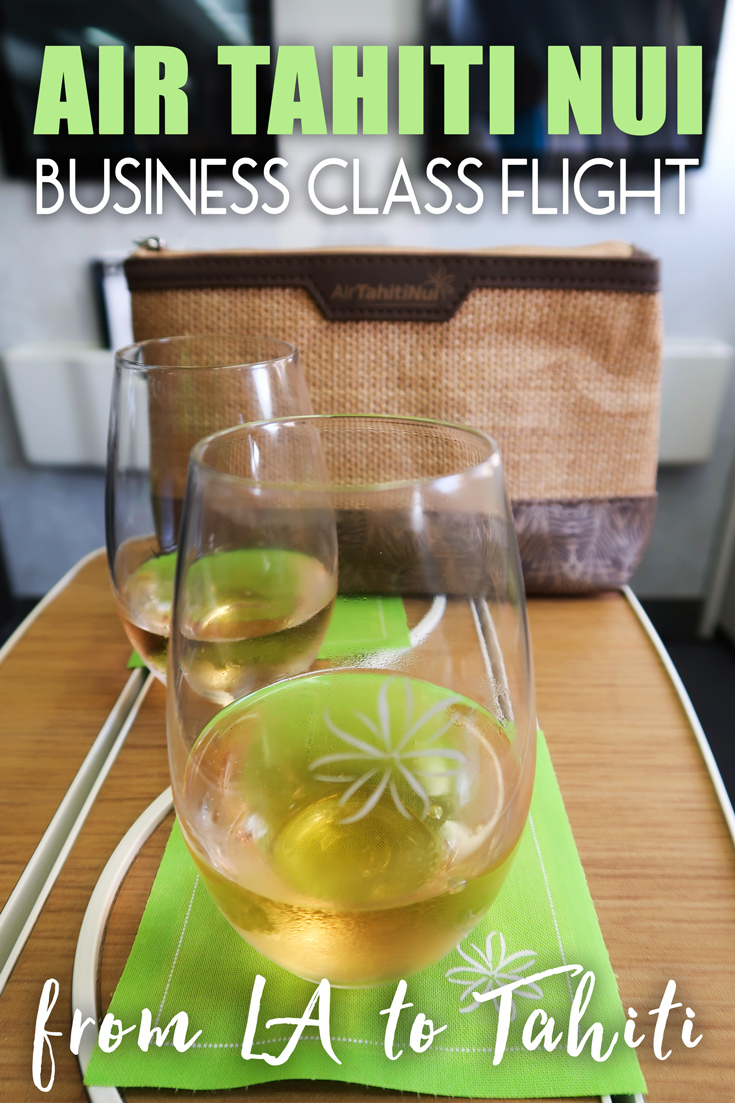 When it comes to long-haul flights, having a bit of room to spread out makes traveling much more comfortable. Arriving feeling refreshed and ready for an adventure also means that you can hit the ground running rather than needing a day in bed to feel alive again.
Air Tahiti Nui is well-known as the preferred choice for direct flights from LA to Tahiti, but also operates long-haul flights all over the world. On my trip from California to French Polynesia, I was upgraded to business class and got to experience their premium service first hand.
Here's my experience flying Air Tahiti Nui business class!

What to Expect
I took a non-stop flight from LAX to Papeete, Tahiti. The flight lasted just under eight hours, which definitely makes for a long day of travel– but it is shorter than flights to a lot of other tropical destinations. I was seriously surprised as to how close the French Polynesian islands actually were!
Business class passengers on Air Tahiti Nui get priority check-in, access to a VIP lounge, and priority baggage service. On trips across the globe, these little perks save some serious time and make travel as stress-free as possible.
HELPFUL TIP: If you have been looking to get a travel reward credit card, I recommend applying for one before a big trip or purchase. Some of the biggest benefits are earning points to use for free flights and hotels. Plus, many cards offer additional points when making travel-related purchases. Some cards also offer travel protection when you pay for a trip with the card.
My personal favorite is the Chase Sapphire Reserve (for frequent travelers) or the Chase Sapphire Preferred (if you're just starting out)! Check out my favorite travel reward credit cards!



Upon Boarding
I was greeted with a glass of champagne, which is always a special touch before takeoff 😉 The whole Air Tahiti Nui experience is very tropical!
As soon as you get on, you are gifted a Tiare — Tahiti's national flower.
With beach-inspired decor, the cabin is aqua and sand colored with tropical accents. Even the cushions are designed to look like handcrafted Tahitian textures known as tifaifai. After countless flights in drab-looking cabins, this was a seriously cool bonus.

Amenities
The little Air Tahiti Nui toiletry kit was basic but handy, and it came in a cute beach-style zippered bag. I was stocked up with socks, an eye mask, earplugs, lip balm, a toothbrush, and toothpaste to stay fresh during the flight.
Plus, you can reuse the bag on future trips!
I did love that the amenity bag wasn't stuffed with items I'd never use. Instead of creating waste, the airline attendant came around with a basket of "just in case" essentials including razors with shaving cream, moisturizer and ballpoint pens.

Seating
The Air Tahiti Nui business class seats are what made it all worthwhile. They've got a hook for handbags and little storage compartments so you can keep everything organized during the flight. There was ample space surrounding the seats to keep everything handy without feeling crowded.
The seats themselves recline to "nearly lie-flat" at a 160-degree angle, so you can keep adjusting until you find a sweet spot– perfect for sleeping, which is critical during a long-haul flight.
They are also designed to optimize privacy so you never feel like your neighbors are looking over your shoulder.

Food and Drink
A blend of Polynesian, French, and international flavors, Air Tahiti Nui's fare is impressive. It's got a great selection of wine and a wide range of food. The seafood was amazing and definitely exceeded my expectations for airline food.
Air Tahiti Nui is also good at dealing with dietary restrictions of all kinds, which is another culinary essential.
It has eleven different meal types that will work for the vast majority of diets. Just call the airline about your needs forty-eight hours before your flight and you will be well fed and happy.

Entertainment
Air Tahiti Nui business class offers tablet-quality, twelve-inch touch screens. There's an easy-to-use menu that will guide you through all of the movies, TV shows, music, games, and features of your destination. The on-demand options give you a few dozen movies and TV shows with a range of language options.
Of course, like on any airline, the on-board entertainment can be hit or miss for me so private entertainment is always essential. Air Tahiti Nui business class has a good setup for using your own electronics.
There is enough space to spread out and it has got conveniently located outlets and USB charging ports.

Thank you to Air Tahiti Nui for partnering with me on my recent trip to French Polynesia. As always, opinions and ideas expressed here are entirely my own.