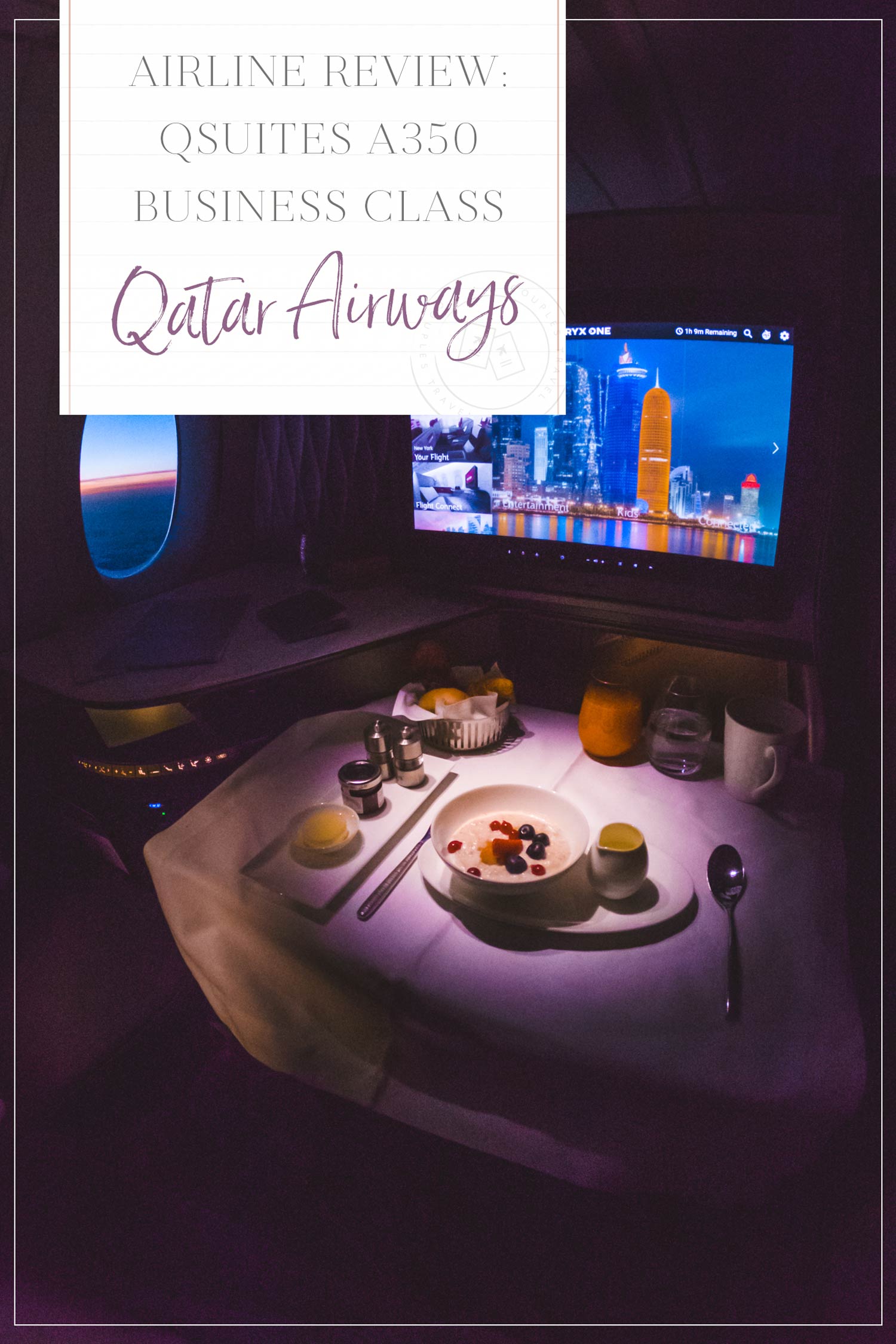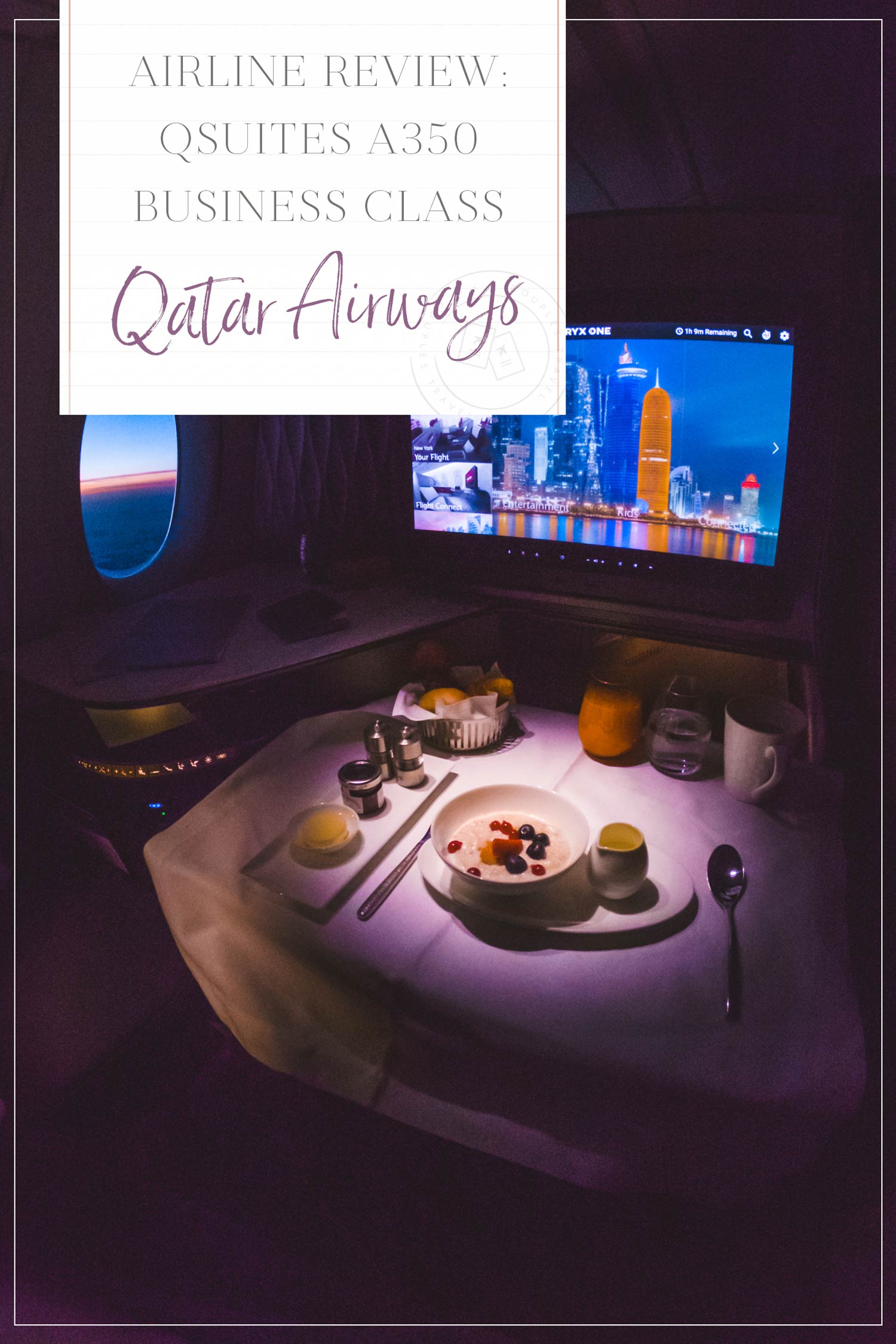 Ever since I got my first travel credit card, I've been swiping up a storm to collect miles. It's helped me book luxury hotels and long-haul flights (for "free" with points) in destinations all around the world.
But, over the last couple of years, I've stocked up enough miles to treat myself to business class.
When you travel as much as I do (and run multiple businesses at the same time), jetlag becomes a major problem. I often don't have time in my itinerary to spend a day catching up on sleep, and I need to be productive when I fly to stop my emails from piling up.
Last year, I flew from Doha to NYC to experience Qatar's new QSuites. It's the airline's first suite-style business class, and it was an over-the-top experience!
Ready to take luxury travel to new heights? Here's my review of Qatar Airways QSuite Business Class!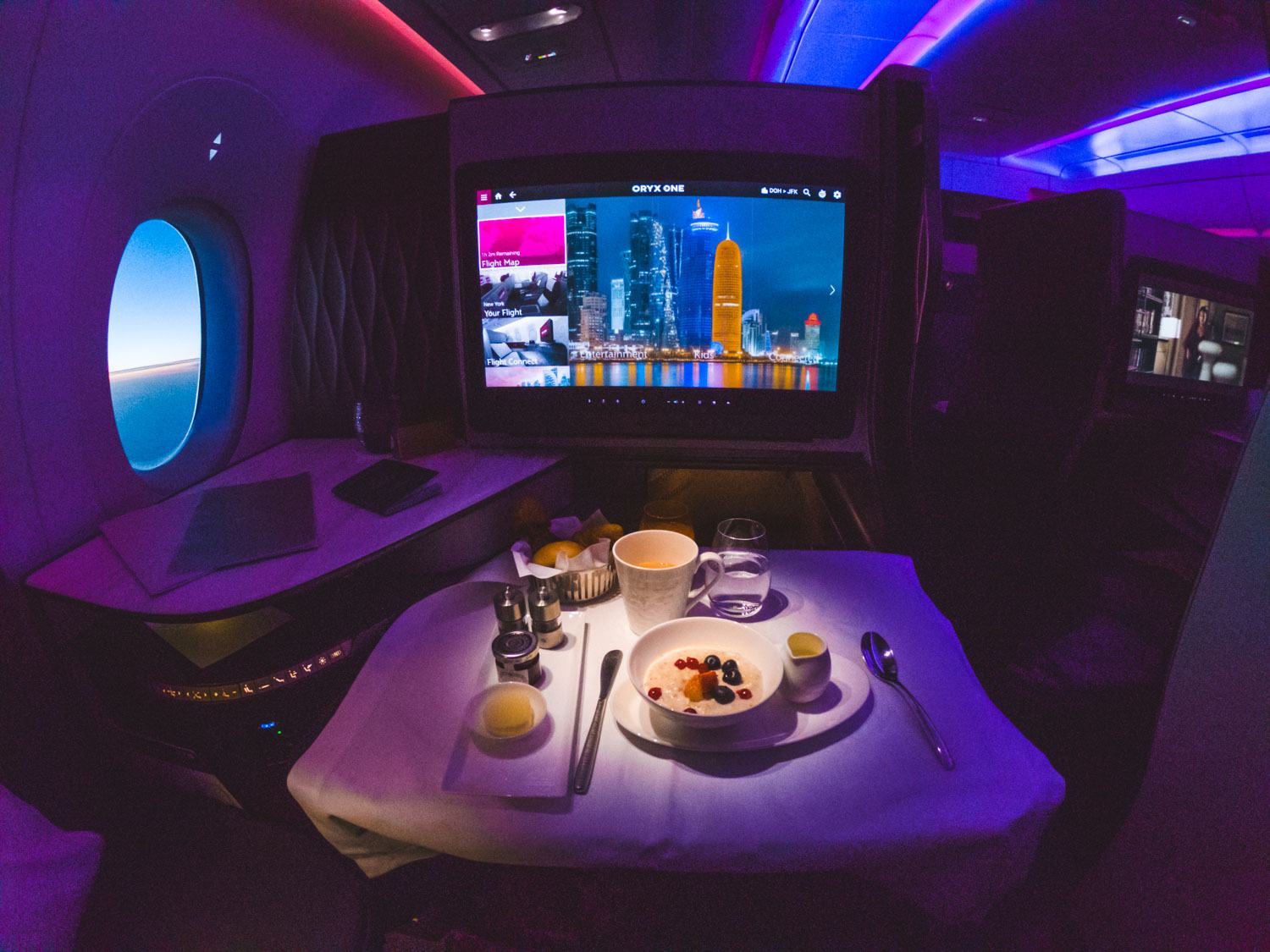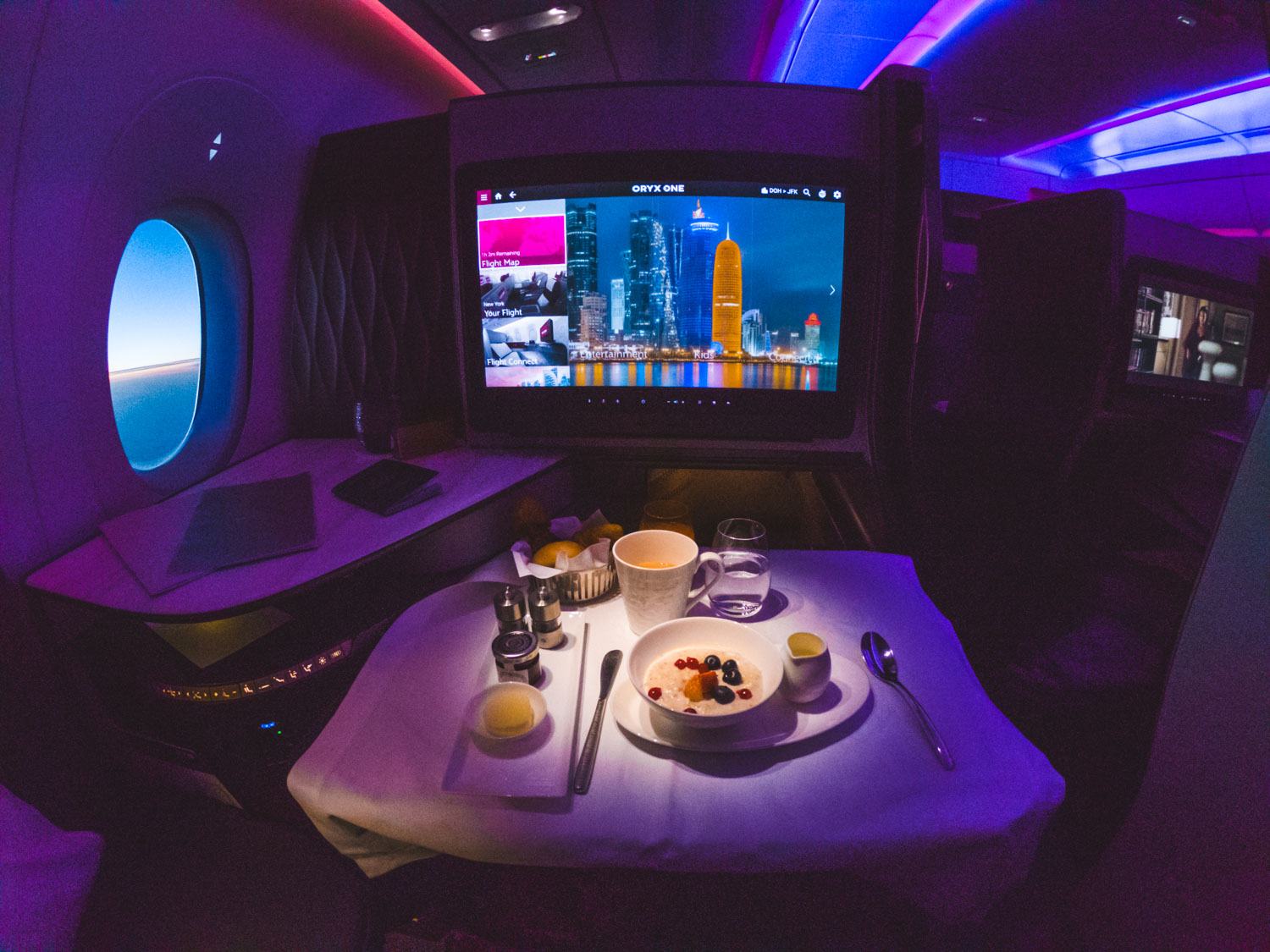 Qatar Routes Featuring QSuites
The QSuites only appear on a select number of routes and aircraft. You'll find Qatar's award-winning QSuite business class on flights to and from the following destinations:
Asia-Pacific
Bangkok (Flight no: QR 830/831)
Bengaluru (Flight no: QR 572/573)
Canberra (Flight no: QR 906/907)
Colombo (Flight no: QR 668/669)
Hong Kong (Flight no: QR 816/815, QR 818/817)
Maldives (Flight no: QR 672/673, QR 674/675)
Mumbai (Flight no: QR 556/557)
Shanghai (Flight no: QR 870/871)
Sydney (Flight no: QR 906/907)
Singapore (Flight no: QR 944/945)
Europe
Amsterdam (Flight no: QR 273, 274)
Berlin (Flight no: QR 77/78, QR 81/82)
Frankfurt (Flight no: QR 67/68, QR 69/70)
London (Flight no: QR 1/2, QR 5/6, QR 7/8, QR 15/16)
Paris (Flight no: QR 37/38)
Stockholm (Flight no: QR 171/172)
Zurich (Flight no: QR 95/96)
Munich (Flight no: QR 57/58, QR 59/60)
Middle East
The Americas
Chicago (Flight no: QR 725/726)
Houston (Flight no: QR 713/714)
New York (Flight no: QR 701/702)
Washington (Flight no: QR 707/708)
**This information is as of 2018, so double-check before booking future travel!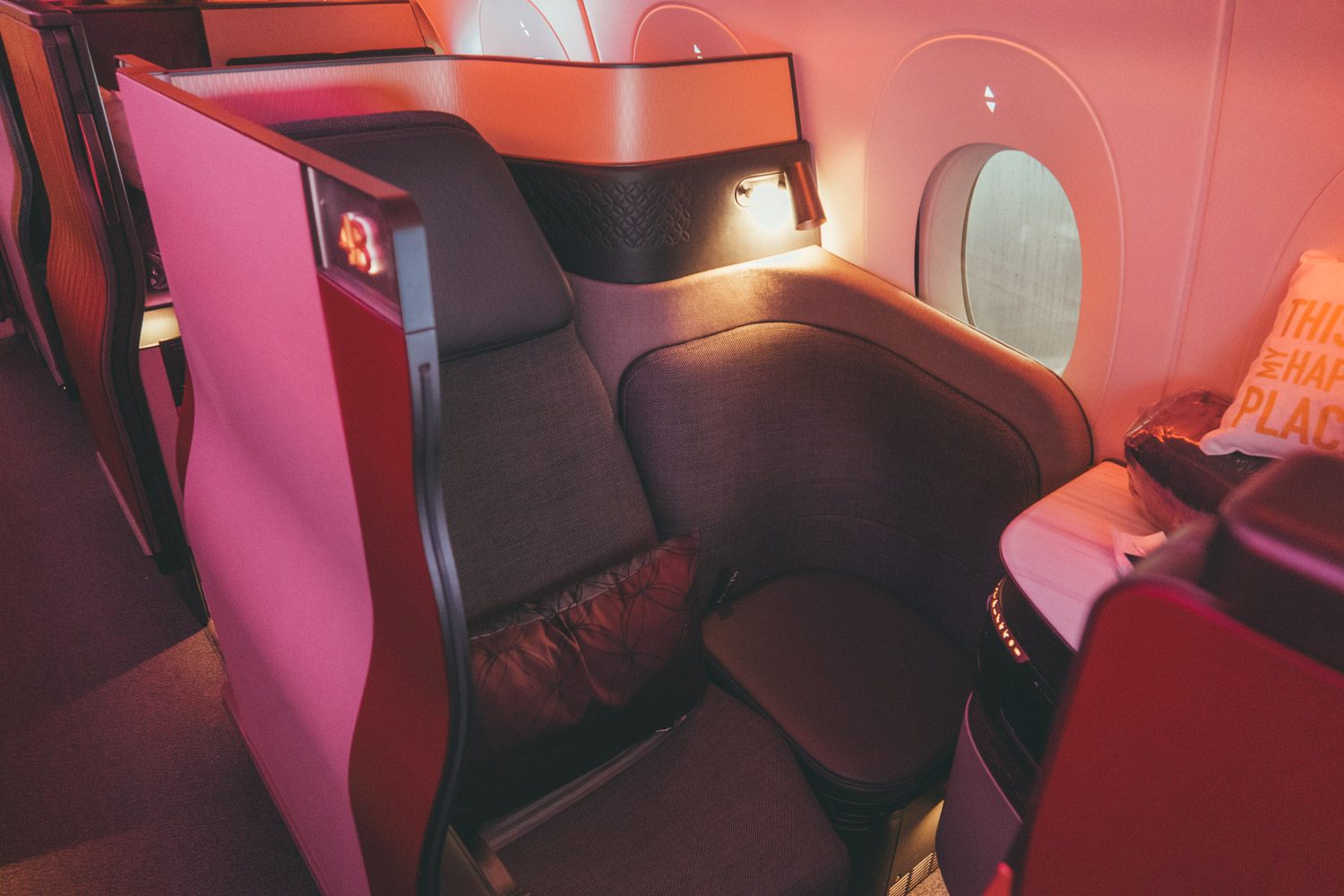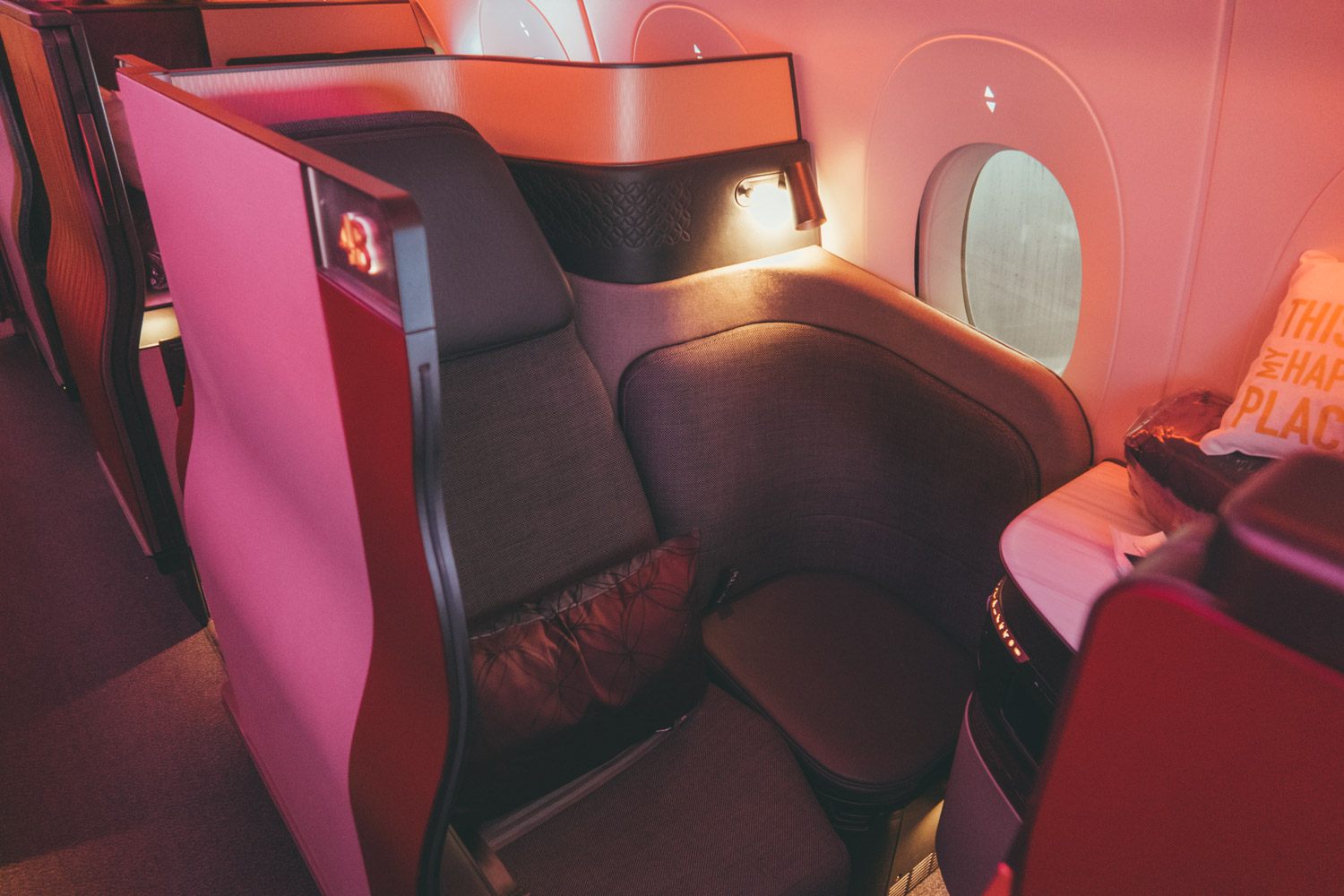 The QSuites
As soon as you take your seat, your dedicated flight attendant will take your drink order. You can choose from bubbly or a variety of alcoholic and non-alcoholic beverages of your choice. Qatar's signature drink is a glass of mint lemonade served with a warm towel.
Each seat has its own private suite—the first of its kind for a business class offering! If you're traveling with someone, book the two middle suites, and you can convert them into a double bed suite. 
How cool?!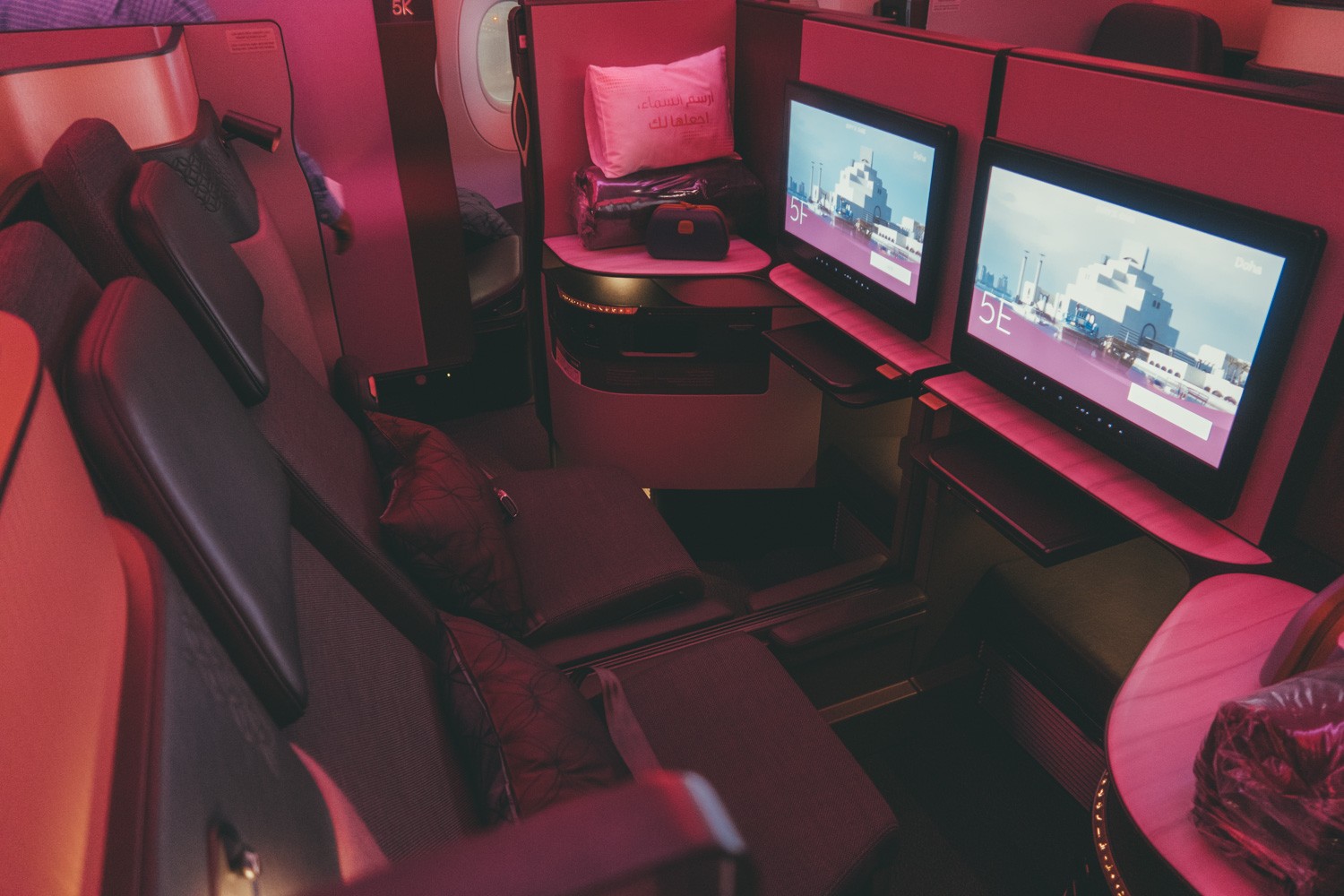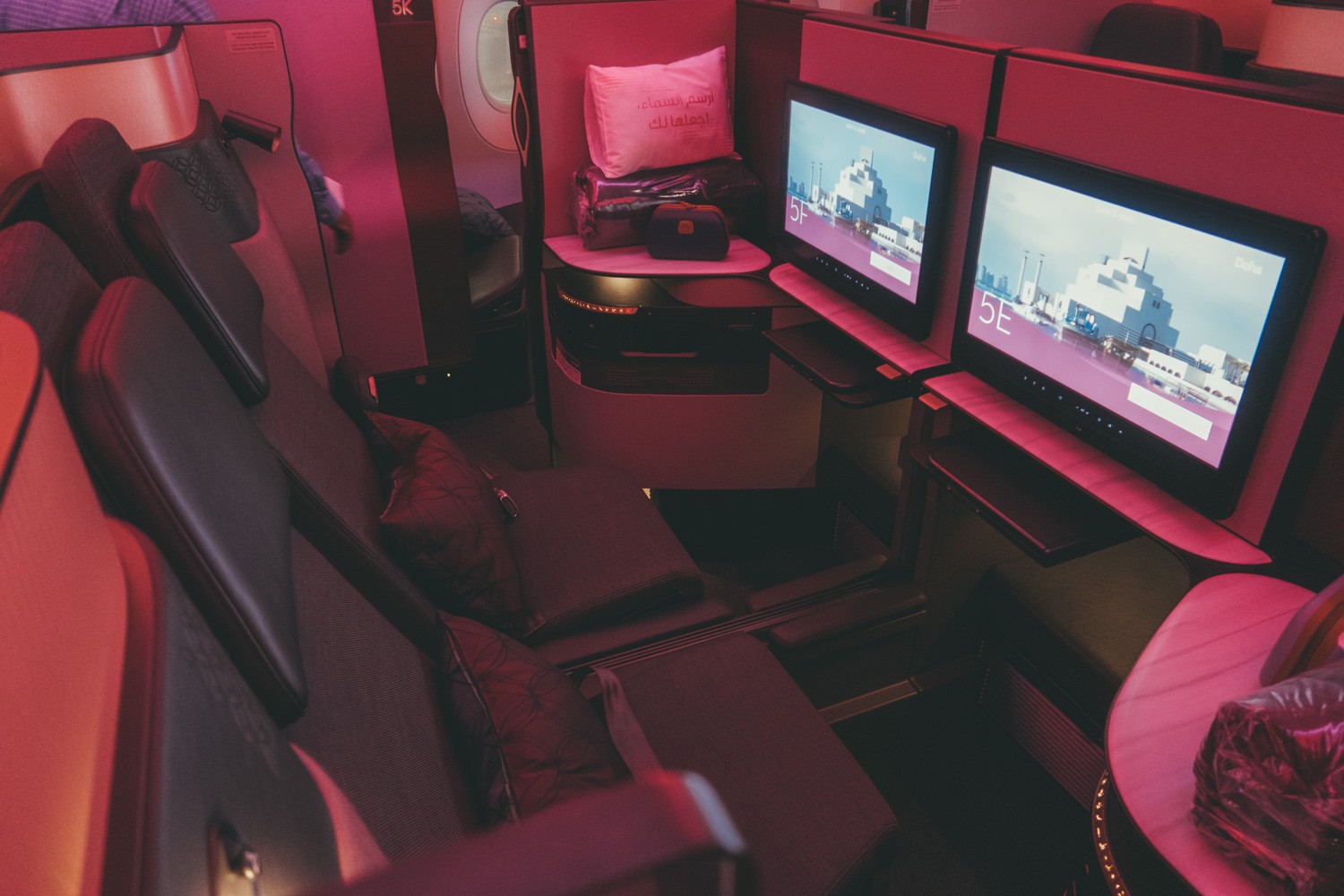 Another cool thing about the QSuites is that you can take down the center compartment of the middle section and make a huge 4-person suite. It's an excellent option for traveling families and business travelers!
Each suite comes with an all-in-one control and power center with a USB port and universal plug. You'll have enough power points to plug in your phone and laptop.
You'll find a storage compartment underneath the armrest with a bottle of water and noise-canceling headphones.
The beds recline to a flatbed of 79 inches. The comforter is one of the most comfortable I've ever had on a flight (a HUGE, soft, velvet blanket), and I managed to sleep for several hours.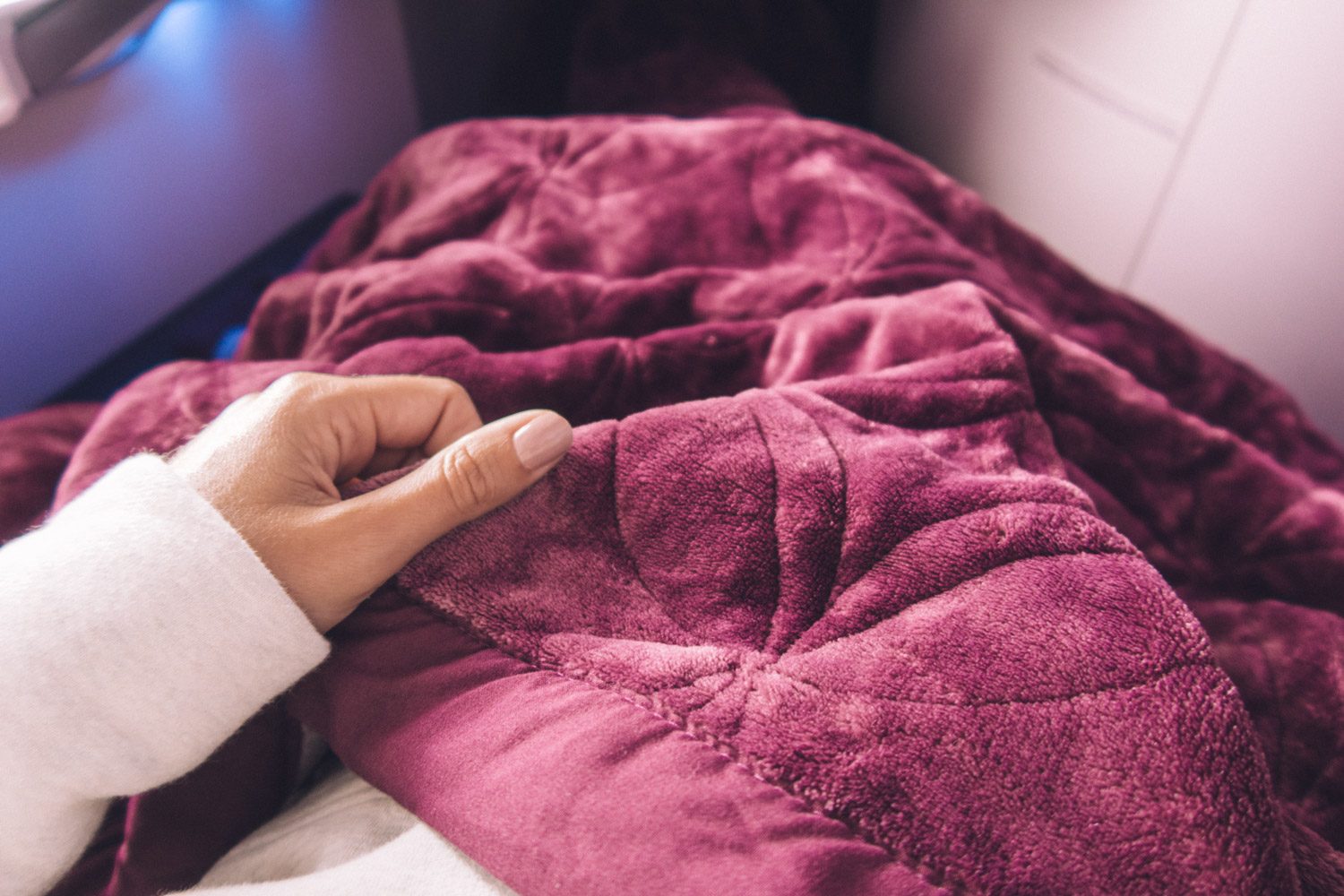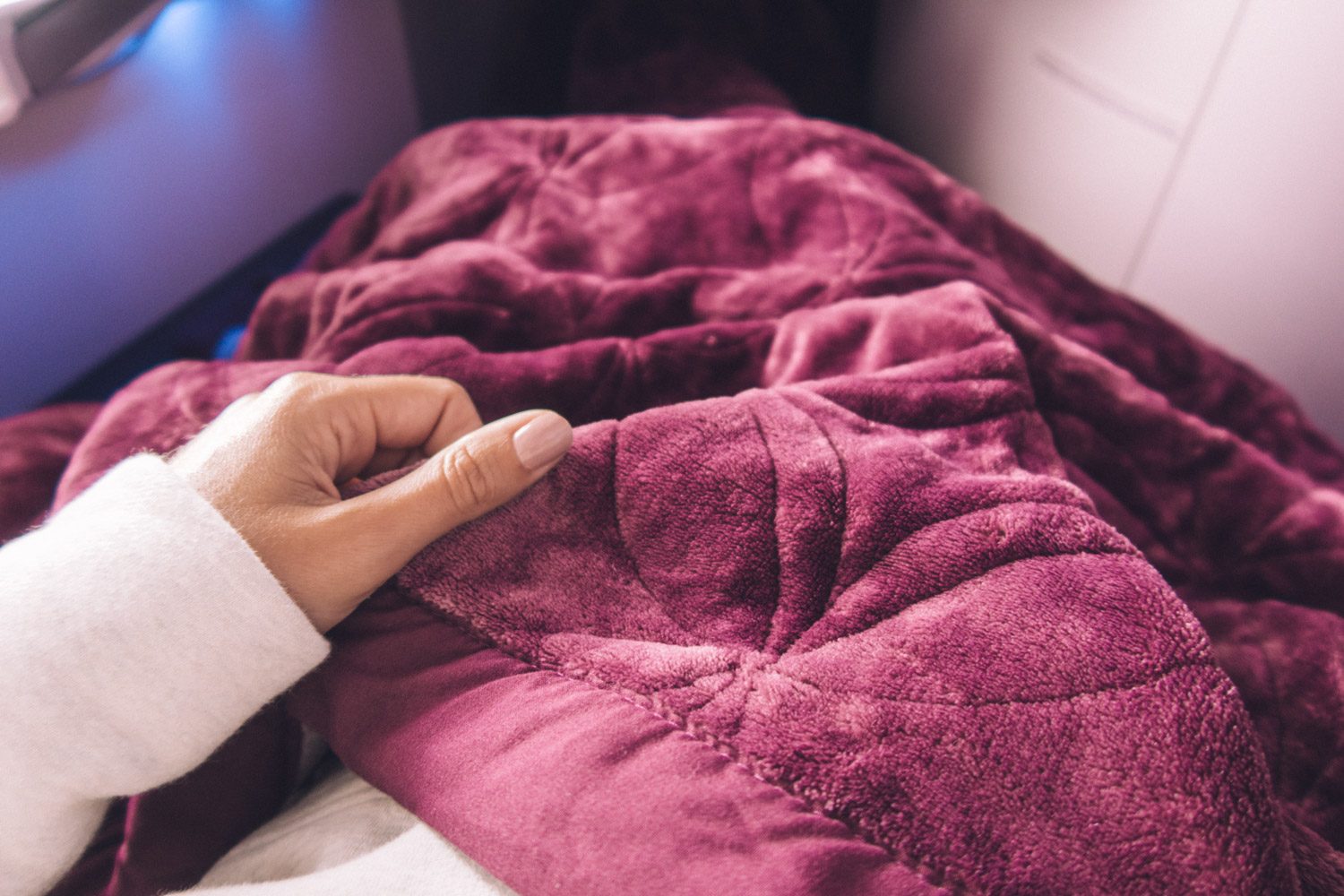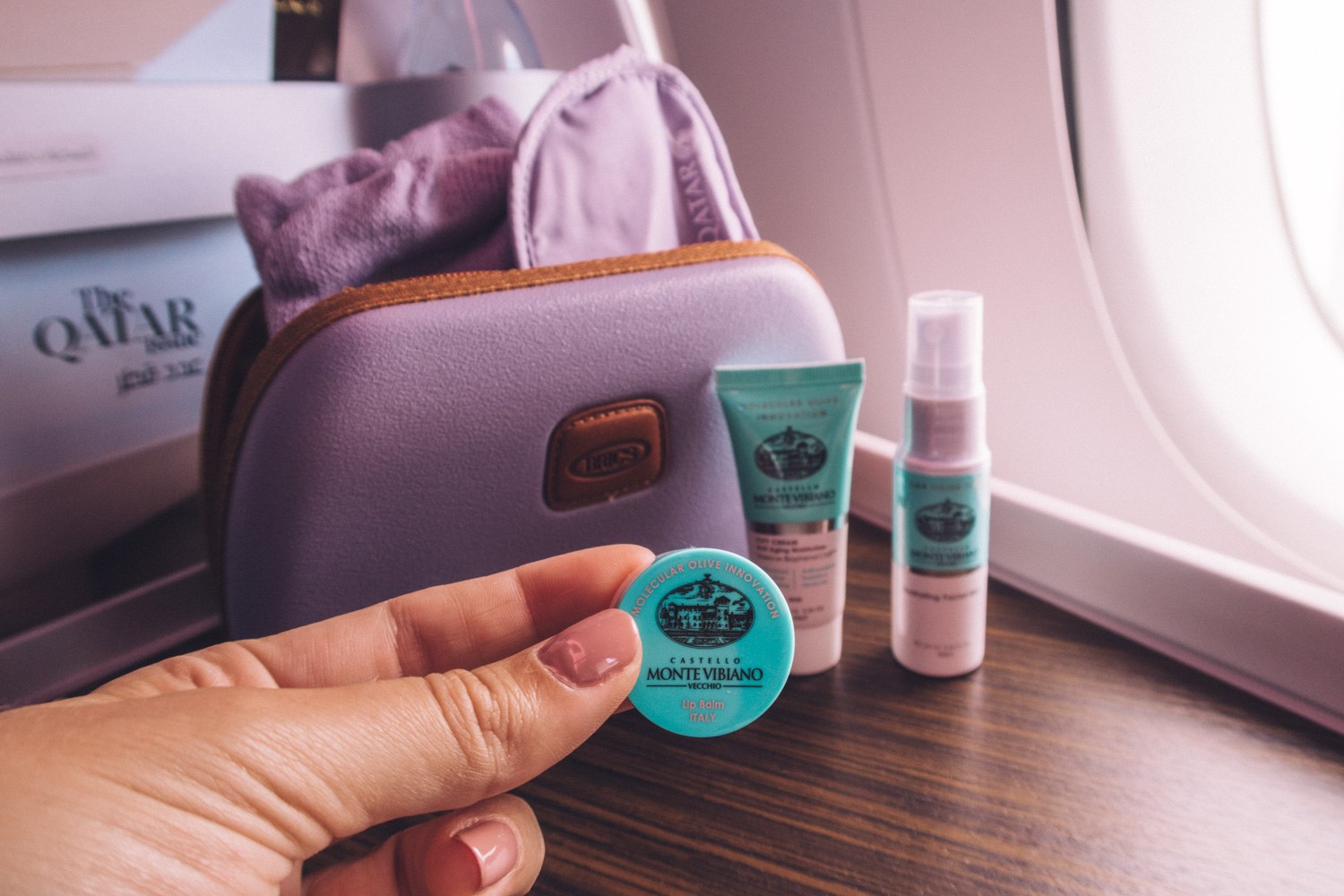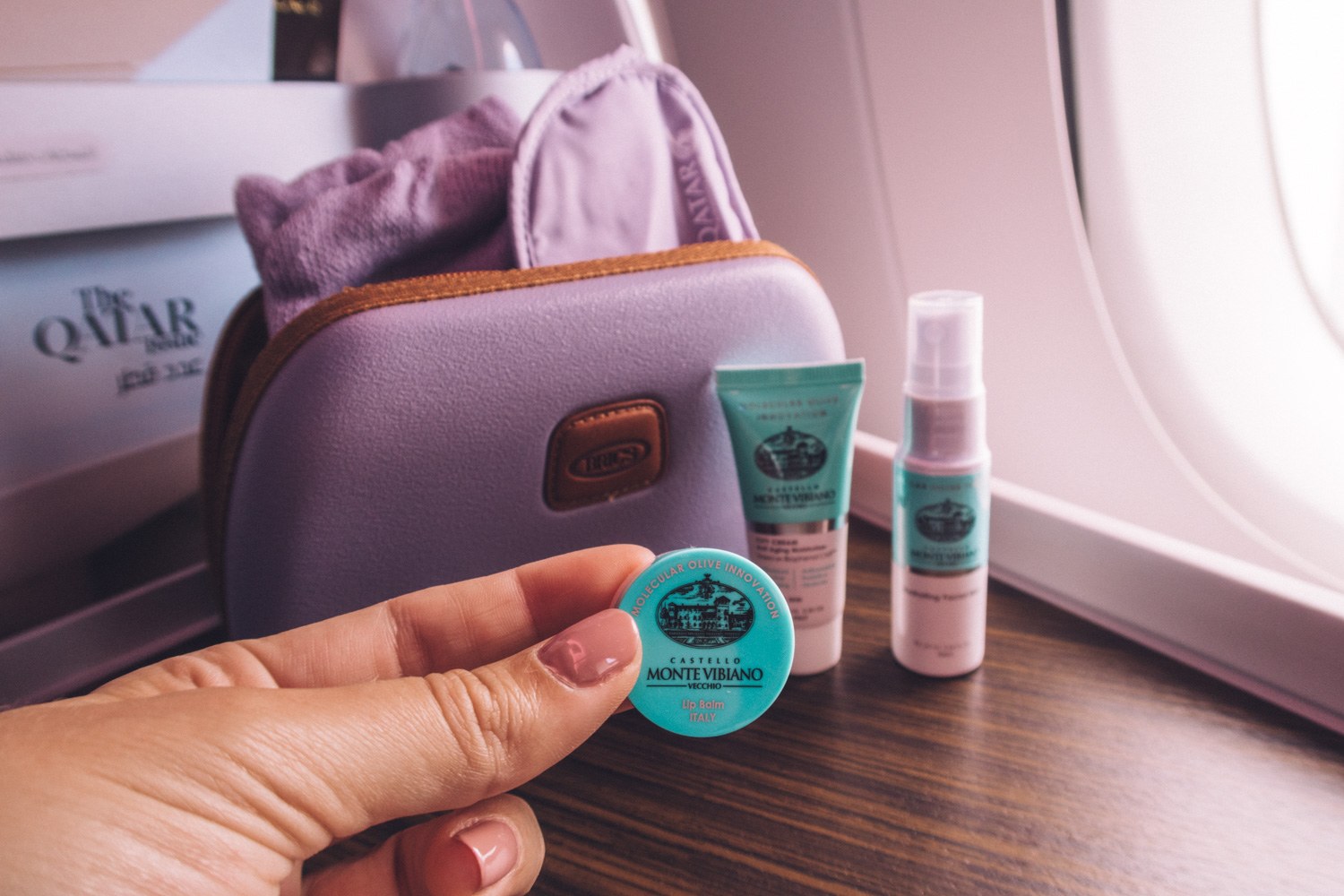 Amenities
Once you settle in, the flight attendants come around and pass out White Company pajamas (if you're flying at night) and slippers. You'll also receive a hard-cover amenity kit from Castello Monte Vibiano.
It includes a hydrating facial mist, moisturizer, lip balm, eye mask, socks, and earplugs.
The QSuites feature In-Flight WiFi. The first 30-minutes are free and, while it's not the fastest connection, you'll be able to check emails and check your social media platforms.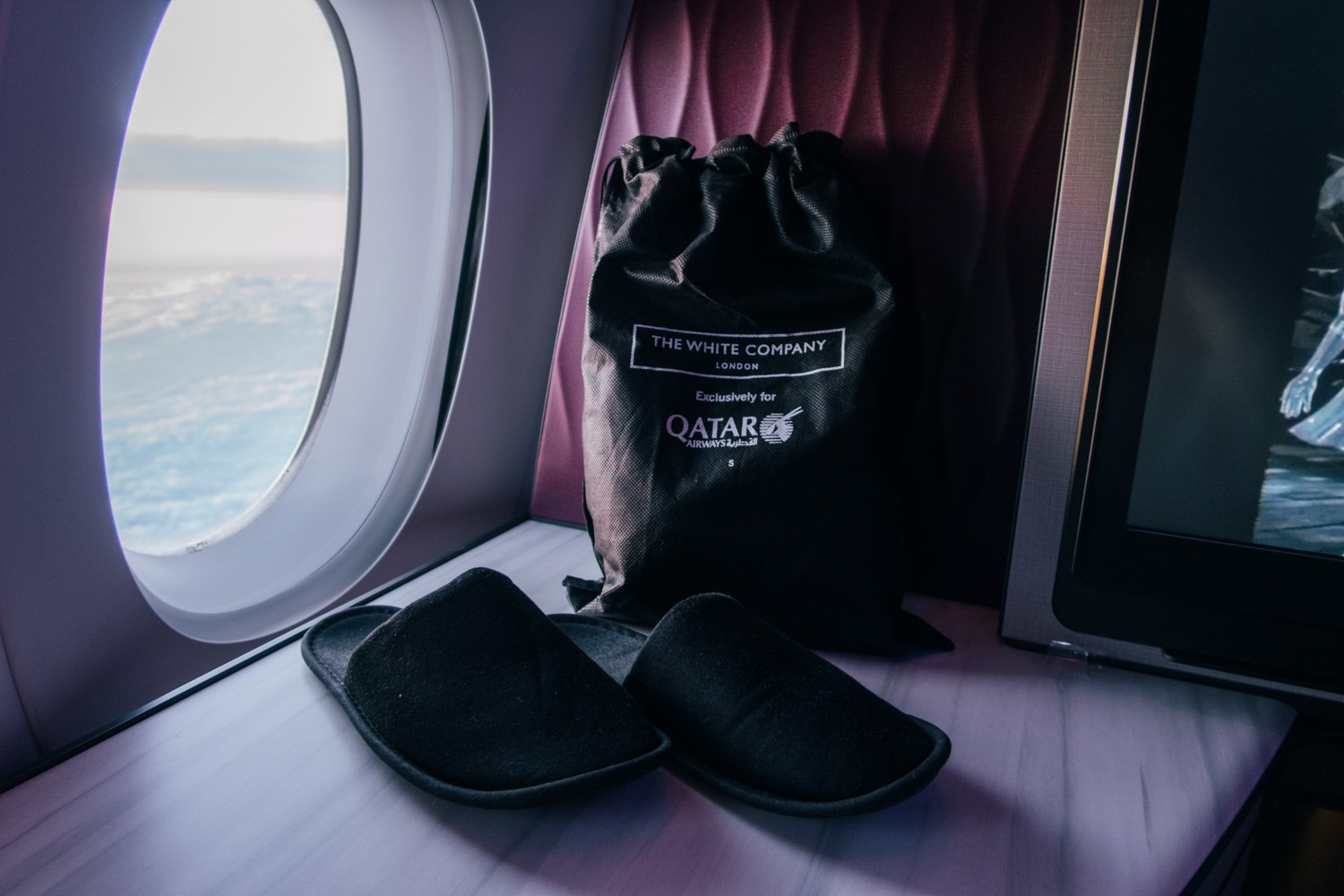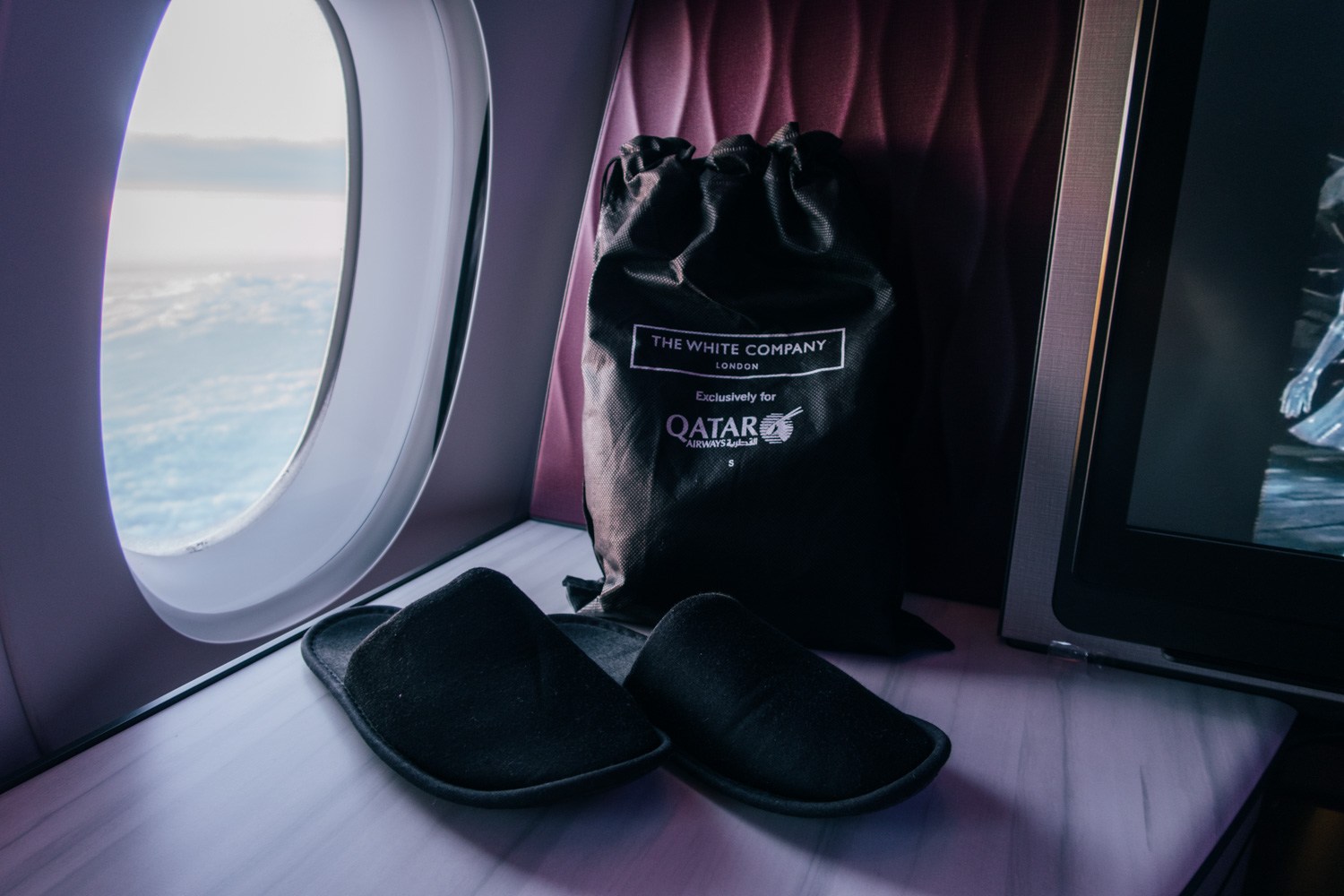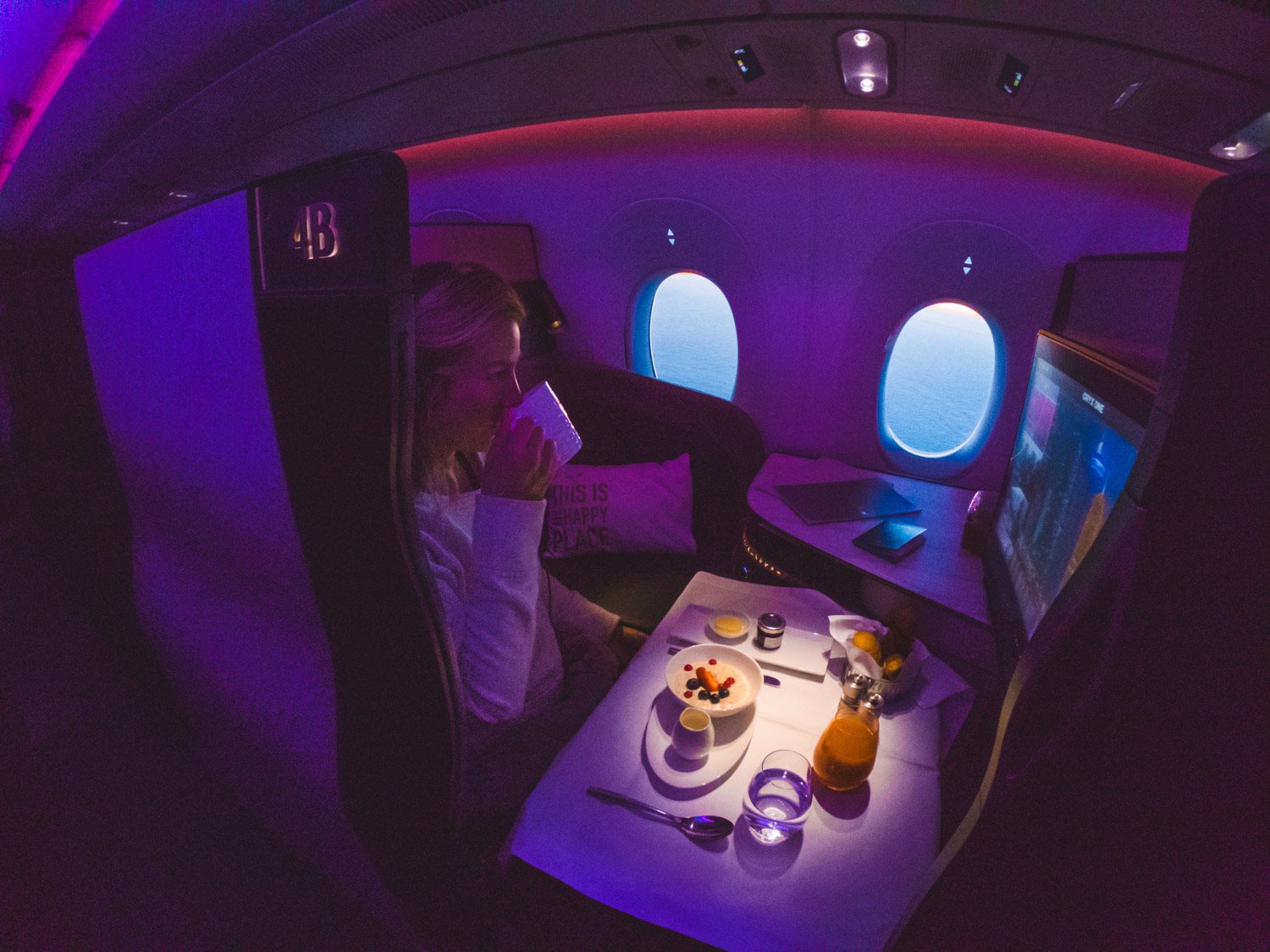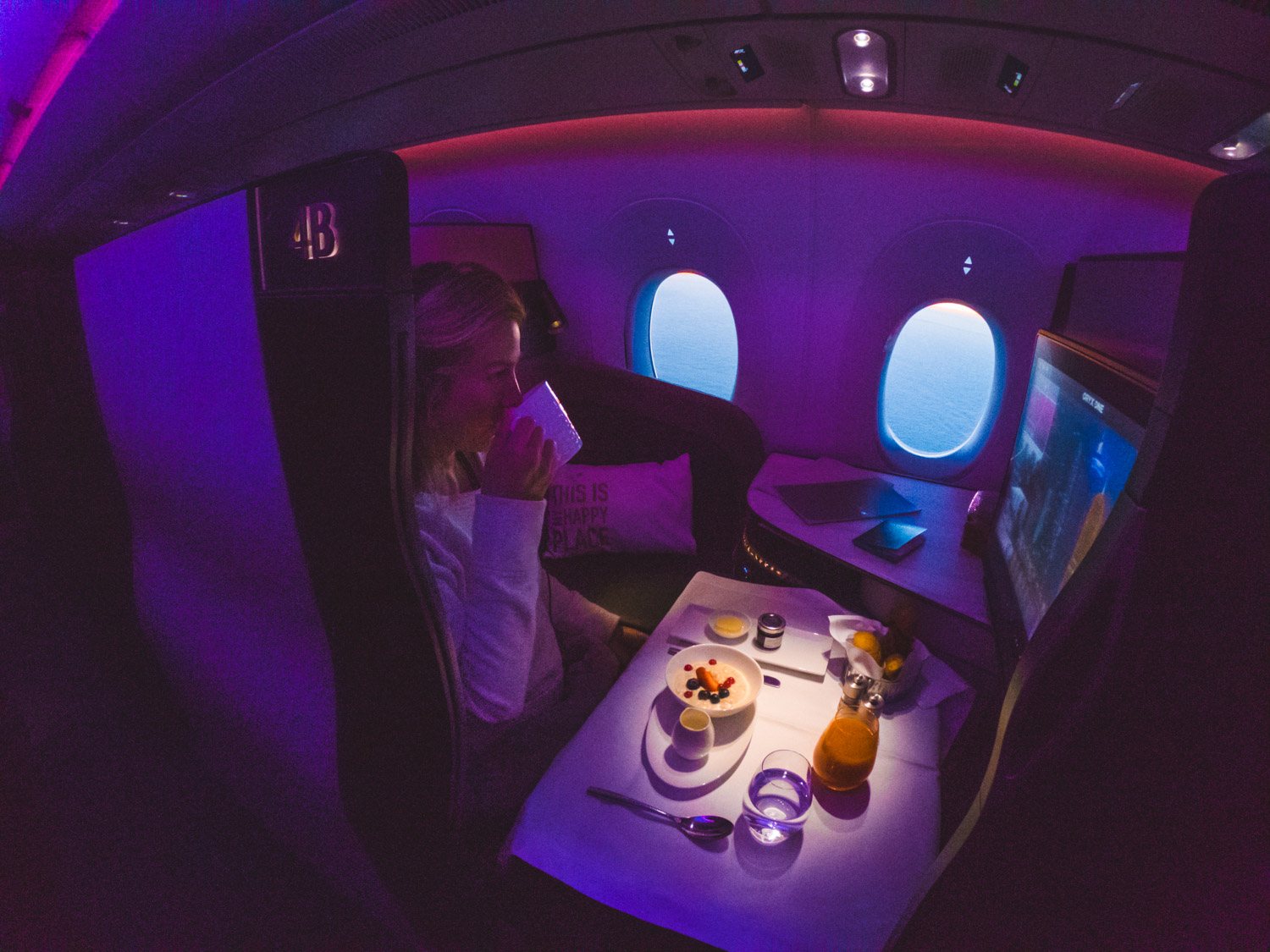 In-Flight Entertainment
One of my favorite things about Qatar's business class is its excellent in-flight entertainment system. You'll have a 21.5-inch monitor and a choice of over 4,000 movies, TV series, and documentaries to watch.
I was traveling home for the holidays so I caught up on all my favorite Christmas movies!
The media panel also has contactless NFC capabilities. You can use the Qatar Airways app to stream your own pre-selected playlists.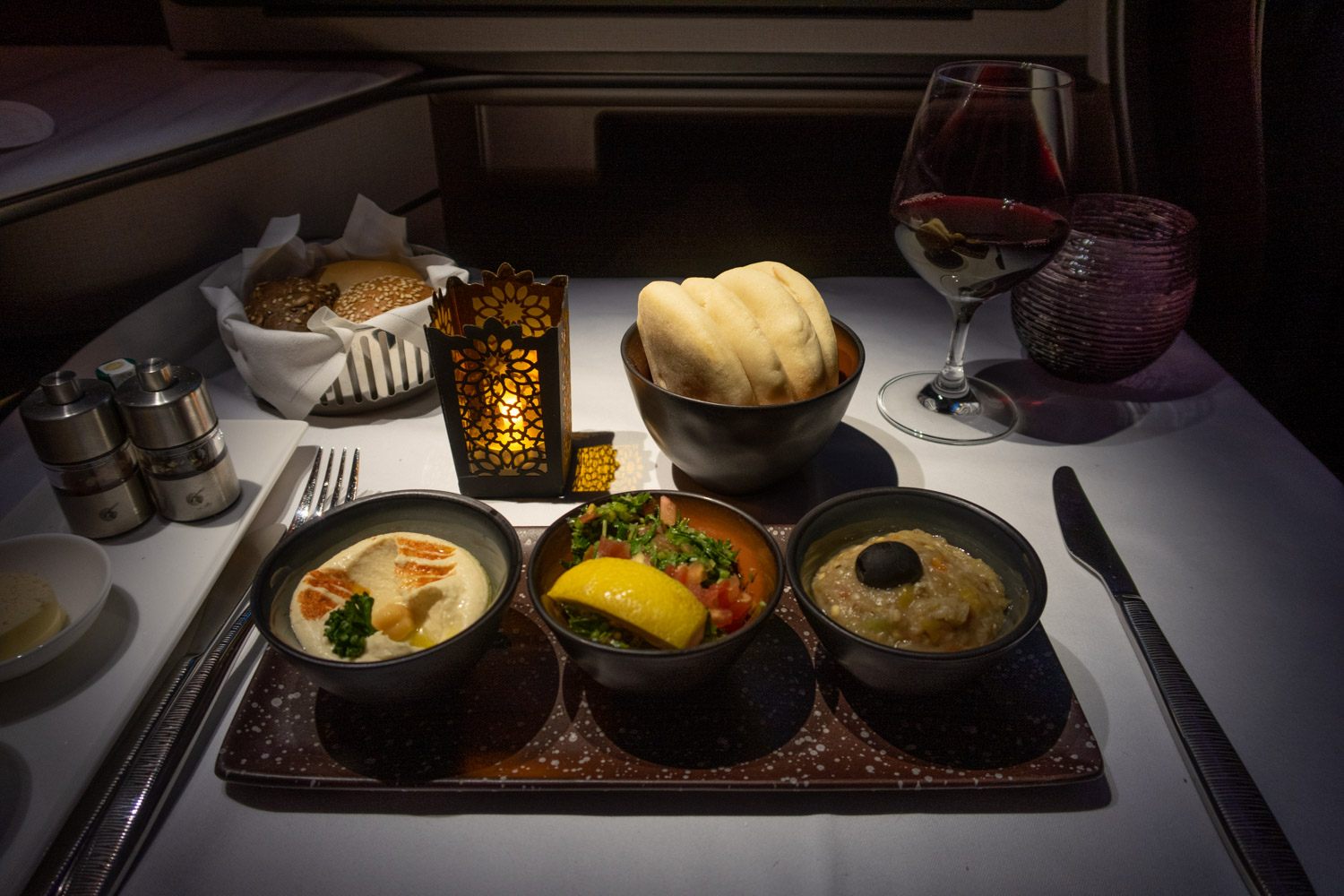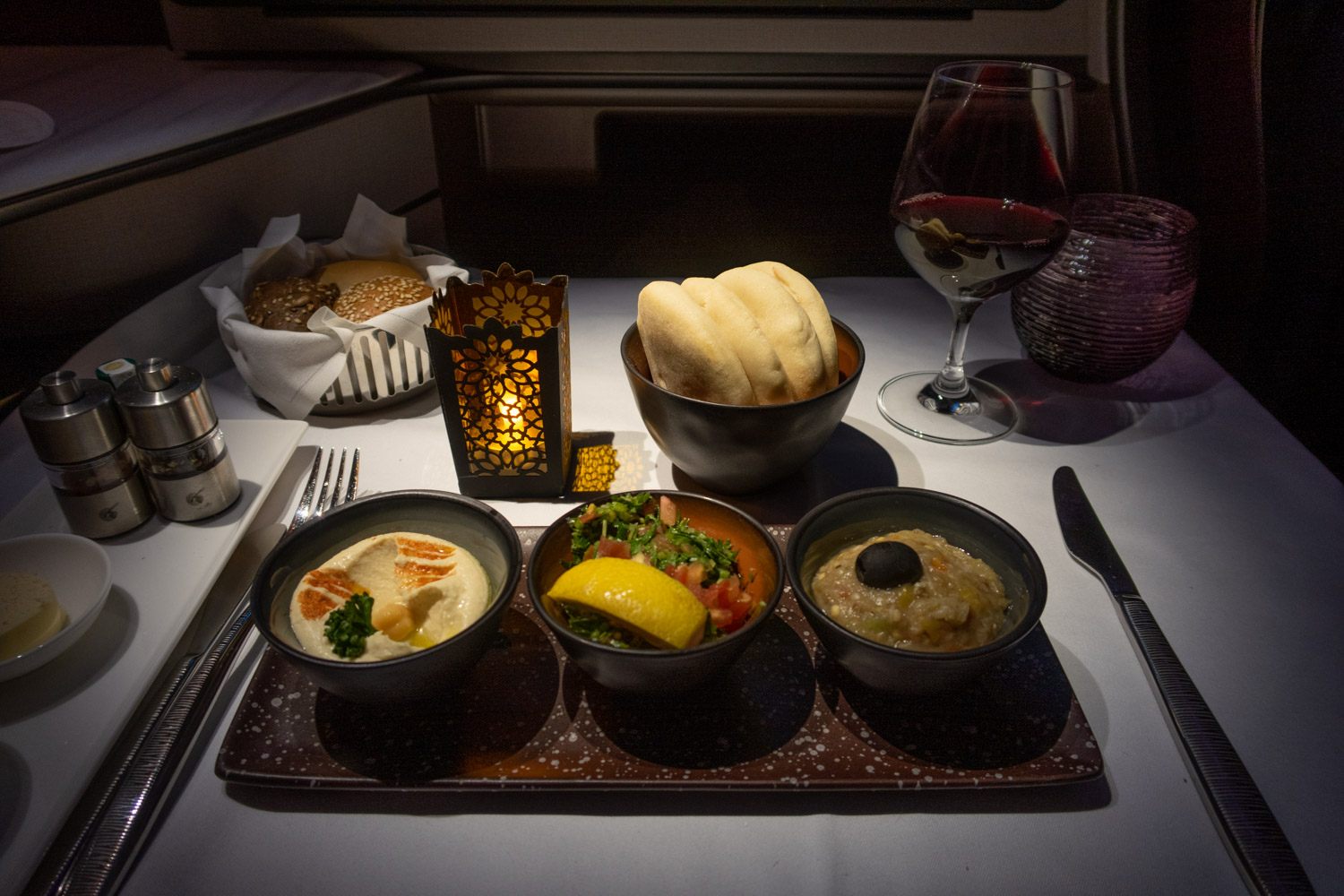 Food + Drinks
Qatar will always outshine other airlines when it comes to food and drinks. It's one of the few where you can order your food whenever you want. Their open-style dining means there are no set meal times, so you can order whatever and whenever you want.
You can start with dessert and end with a starter– it's entirely up to you!
Another thing that I love is Qatar's "mocktail" menu. Usually, if you don't drink alcohol, you're limited to soft drinks, coffee, and water. But they have tons of creative non-alcohol beverages to keep the experience exciting.
Since I was traveling at night, my menu included dinner and breakfast options.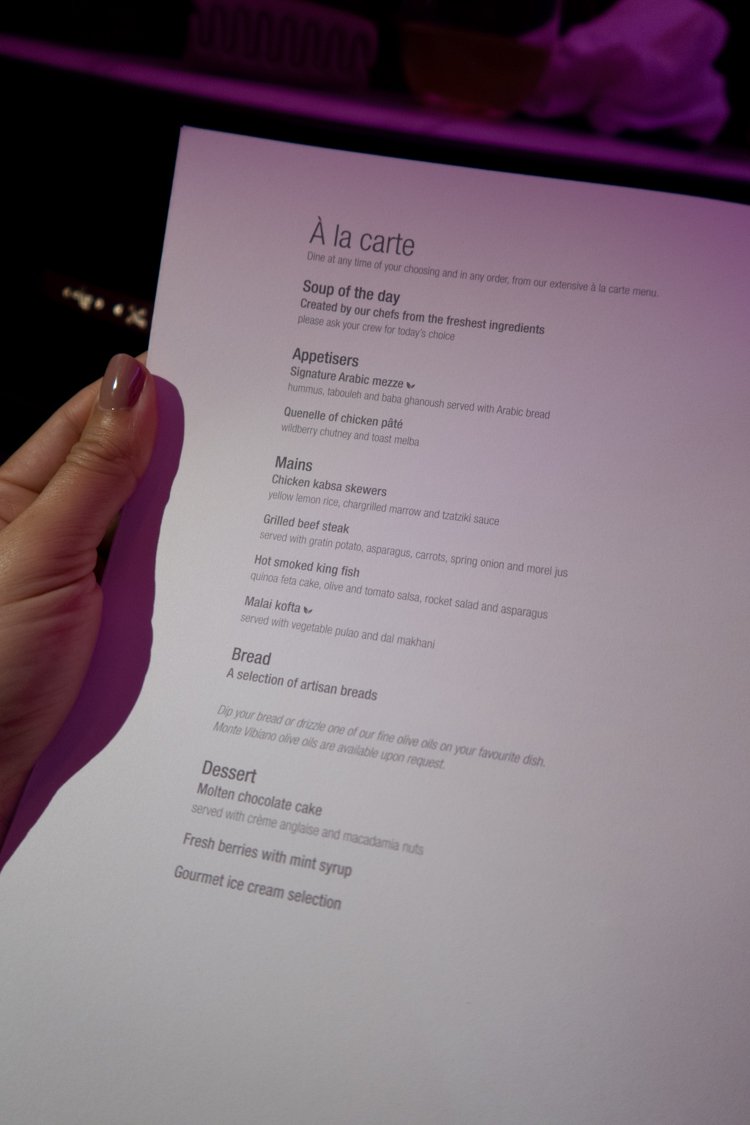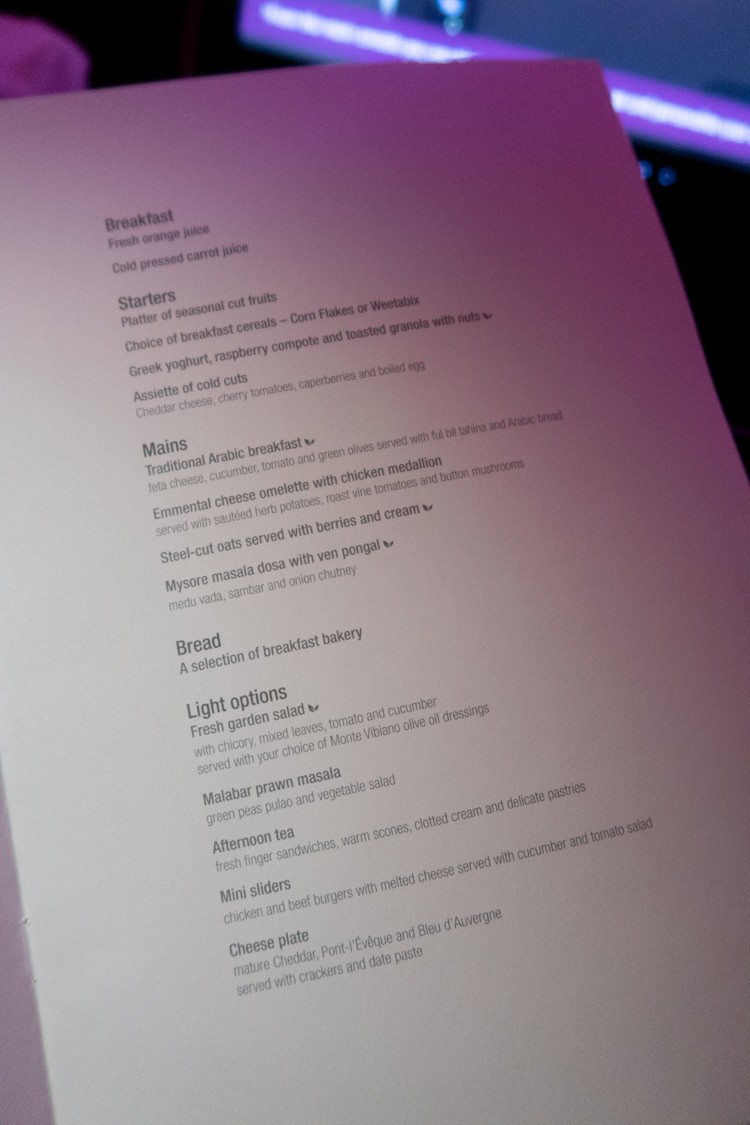 For dinner, I was served an amuse-bouche made with tofu and ordered the soup of the day and mixed mezze starter. I wanted to sample more stuff, but it was a late night flight, and I couldn't muster up the hunger.
I tried to make up for it at breakfast so, before we touched down in NYC, I ordered a mix of orange and carrot juice, the greek yogurt with raspberry compote and the steel cut oats with berries and fresh cream.
For small bites throughout the flight, you also have a snack platter menu!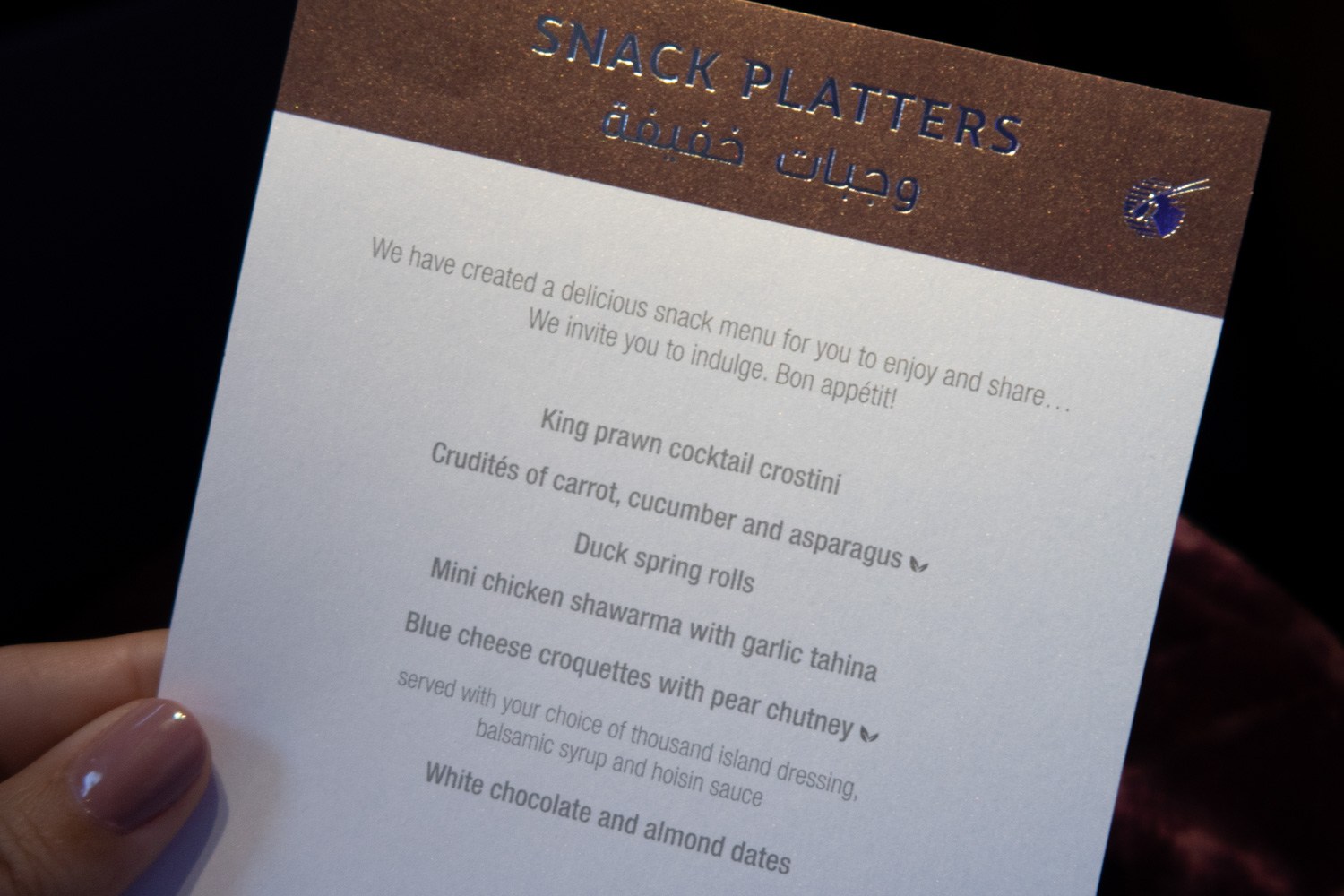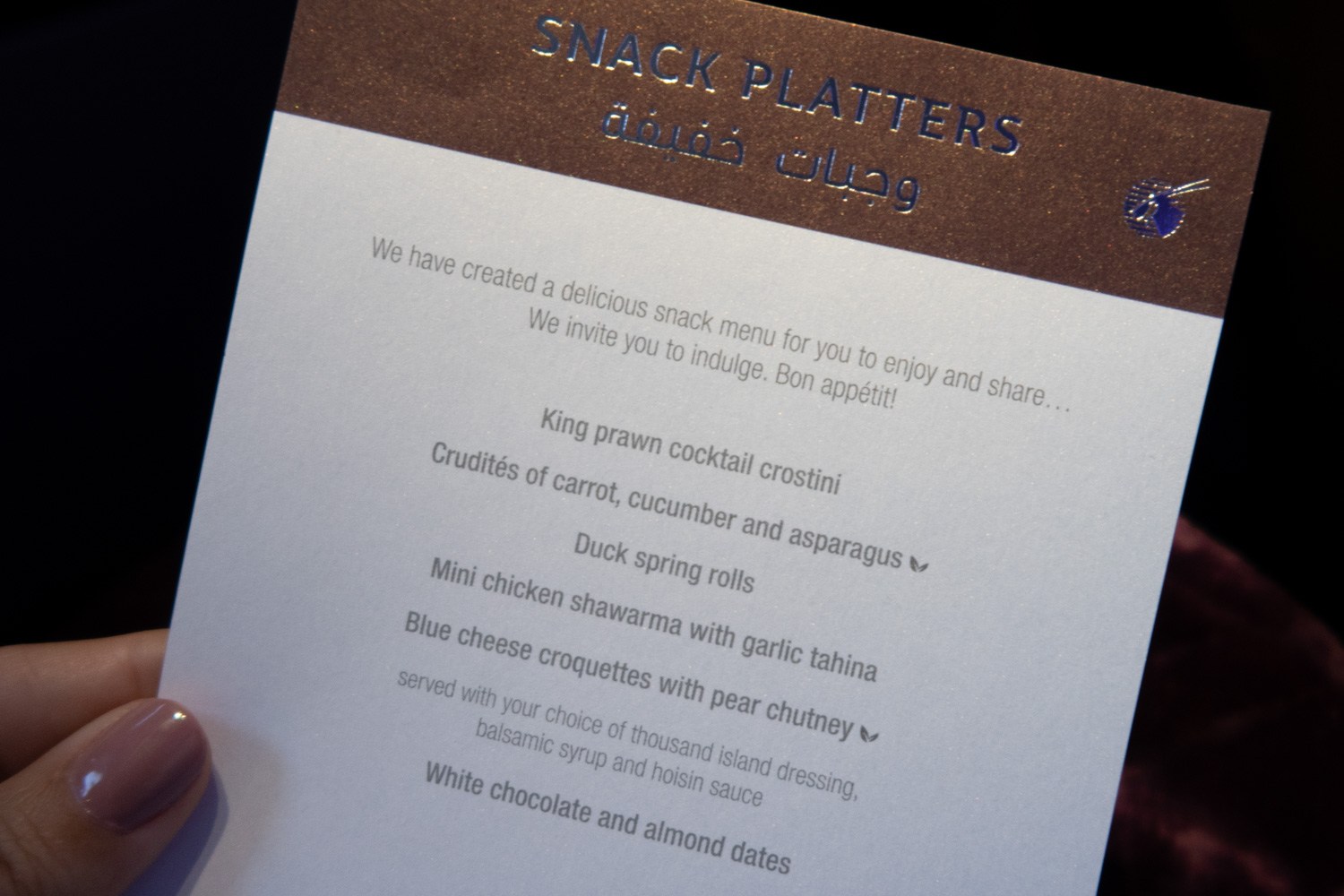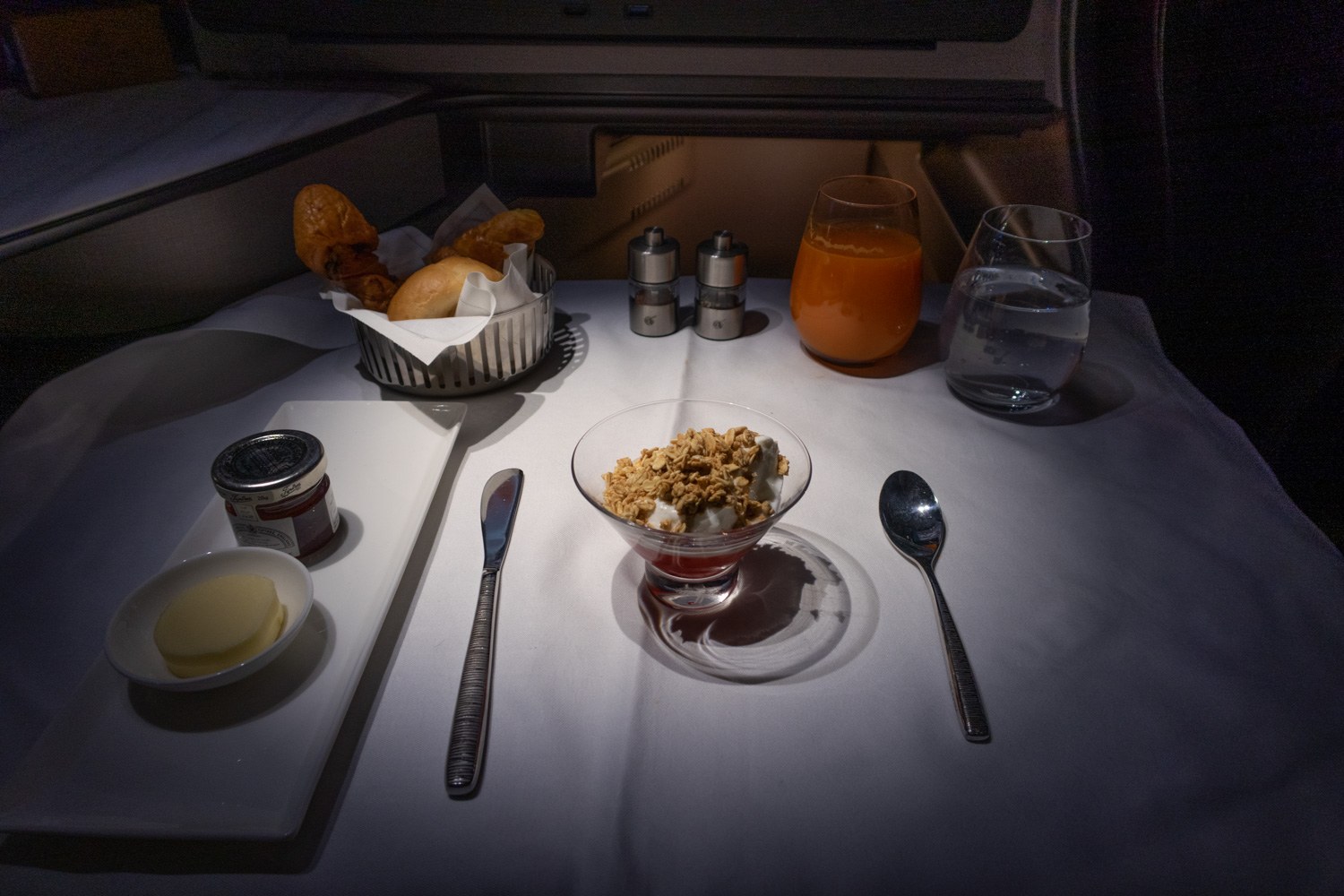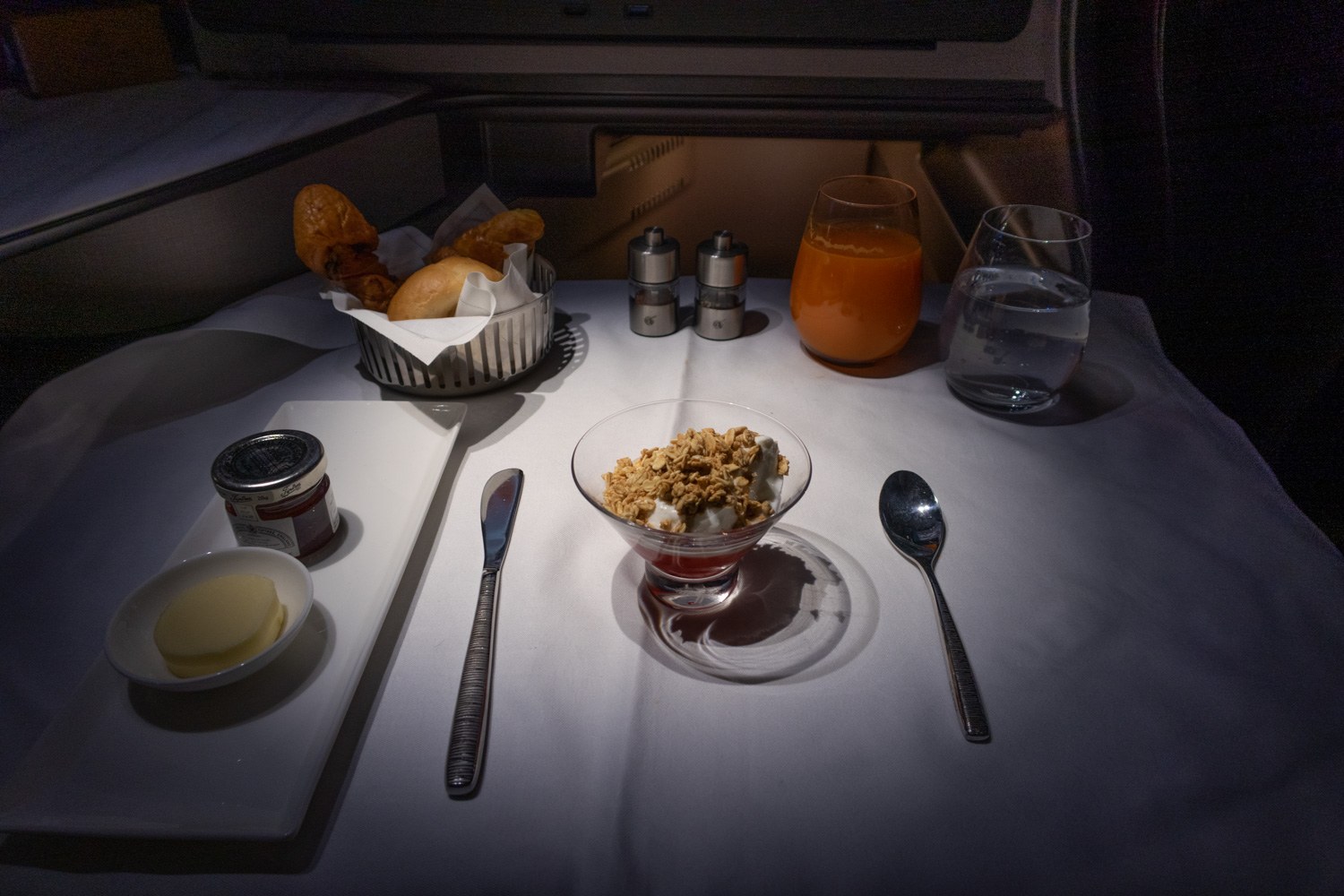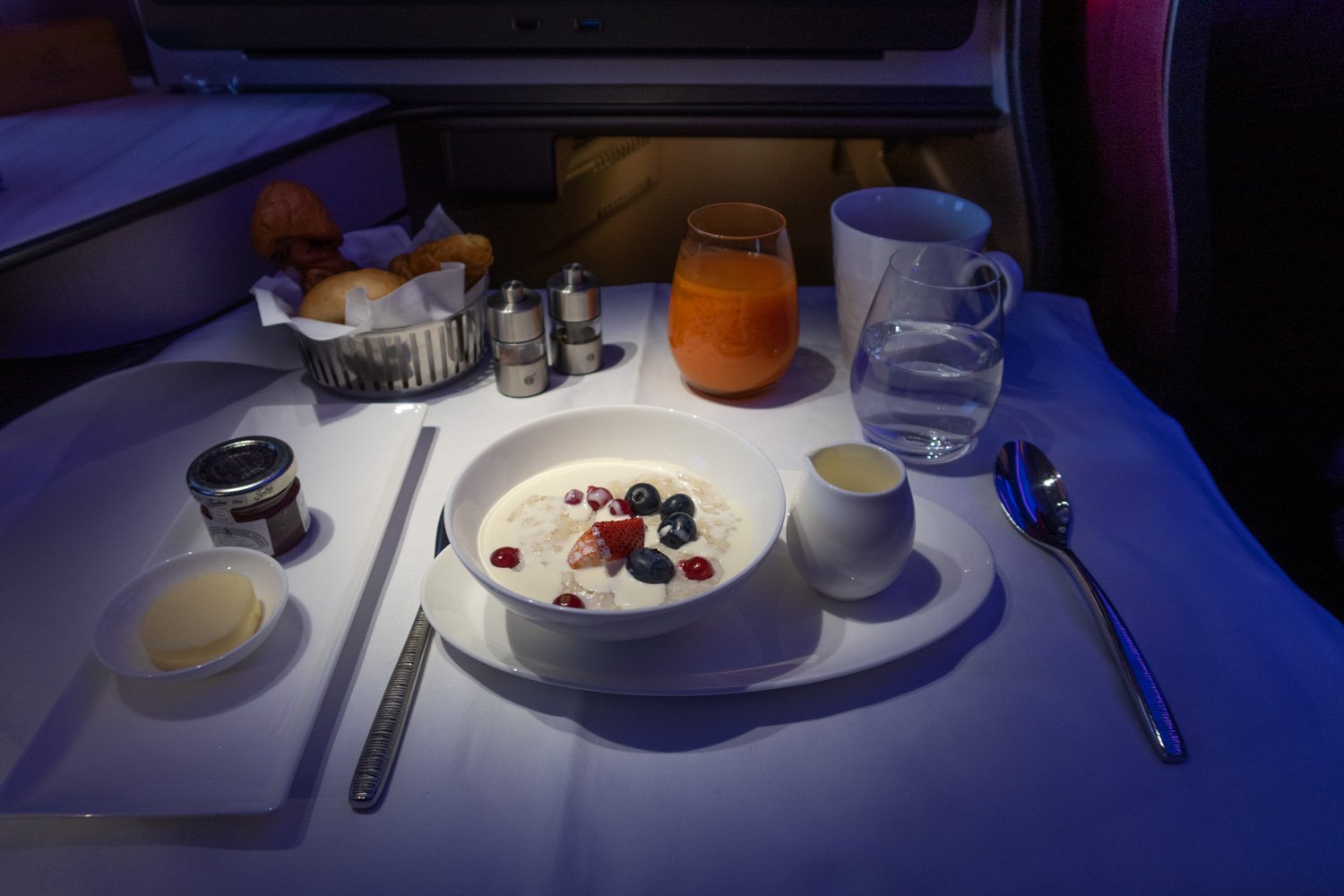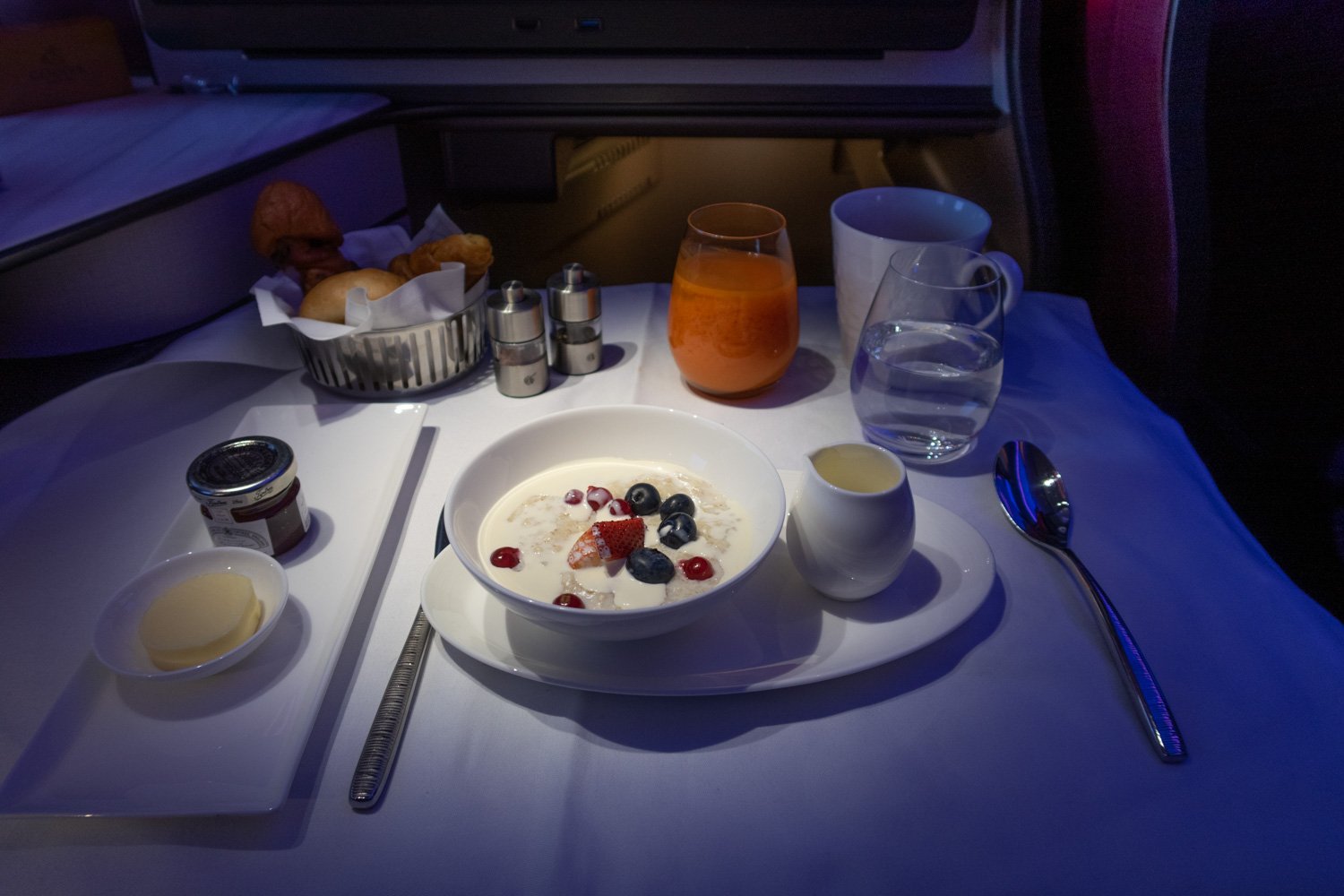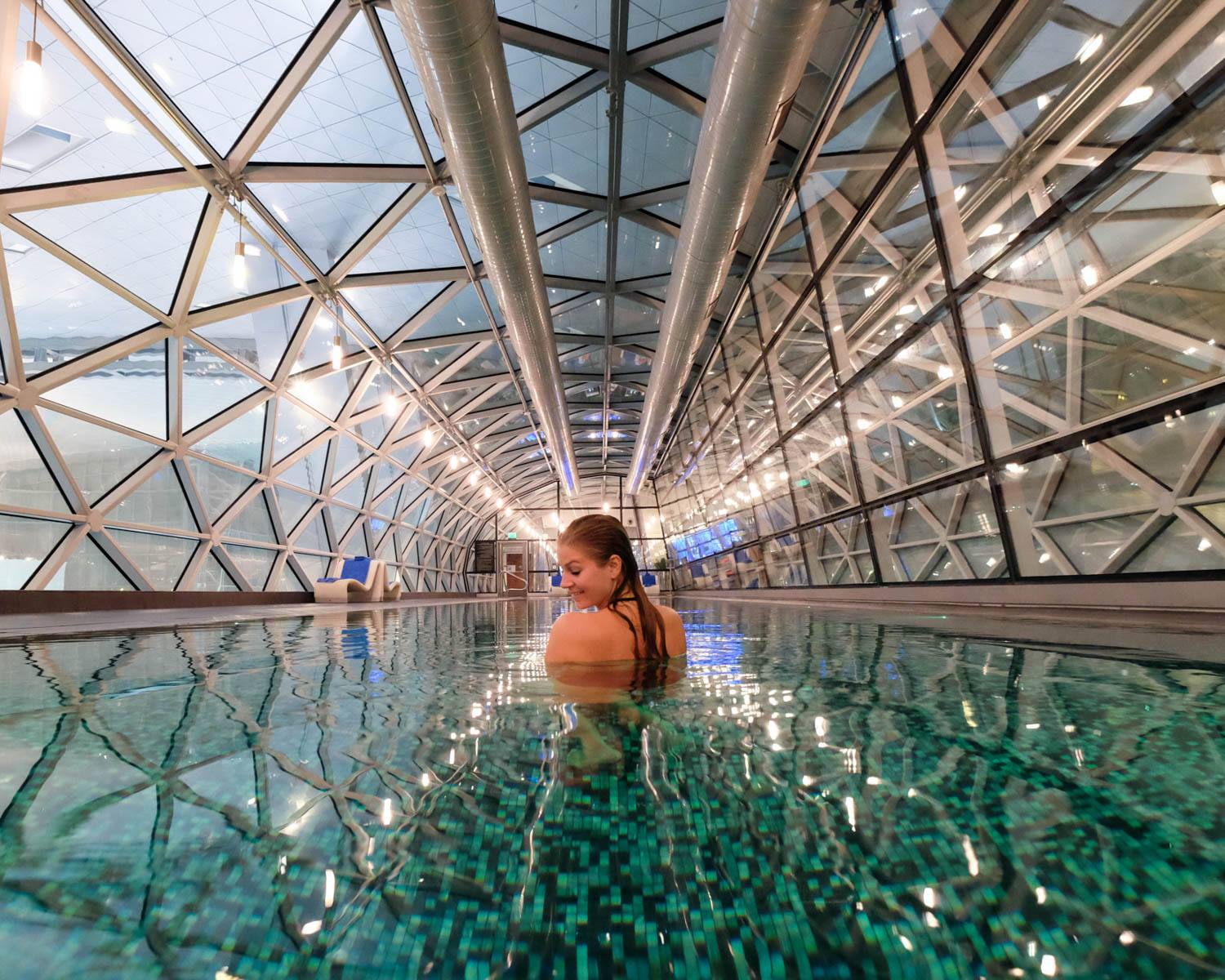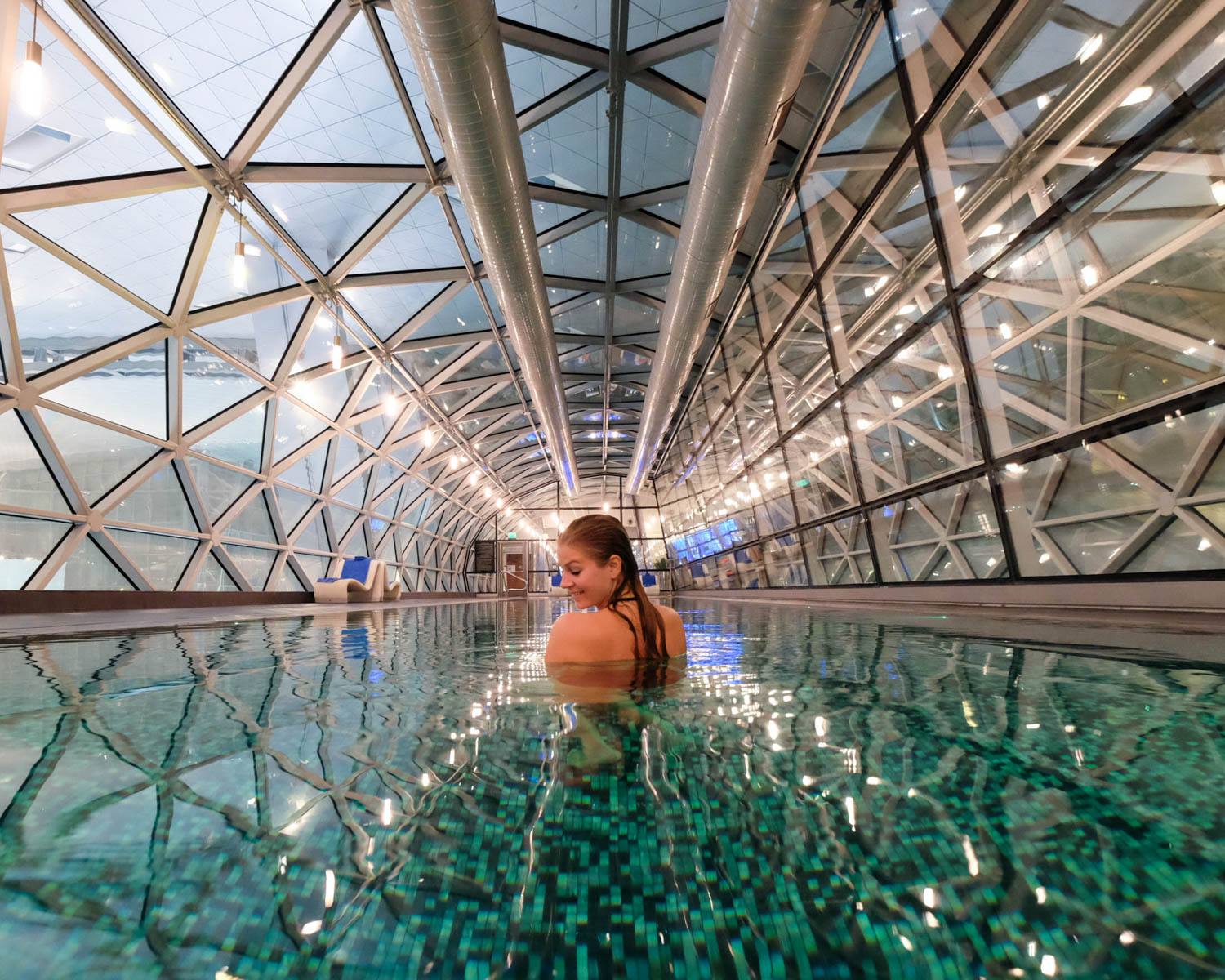 Hamad International Airport
While I waited to board my flight in Doha, I had a short layover at Hamad International Airport. My business class ticket gave me access to the exclusive Qatar Airways Business Class Lounge.
There's a delicious 24-hour buffet, or you can order from a selection of made to order dishes. You can charge your devices and catch up on any work with the complimentary WiFi.
If you have the time, there's also a Vitality Wellbeing & Fitness Center n the airport. Book yourself in for a massage or go for a dip at the beautiful indoor swimming pool.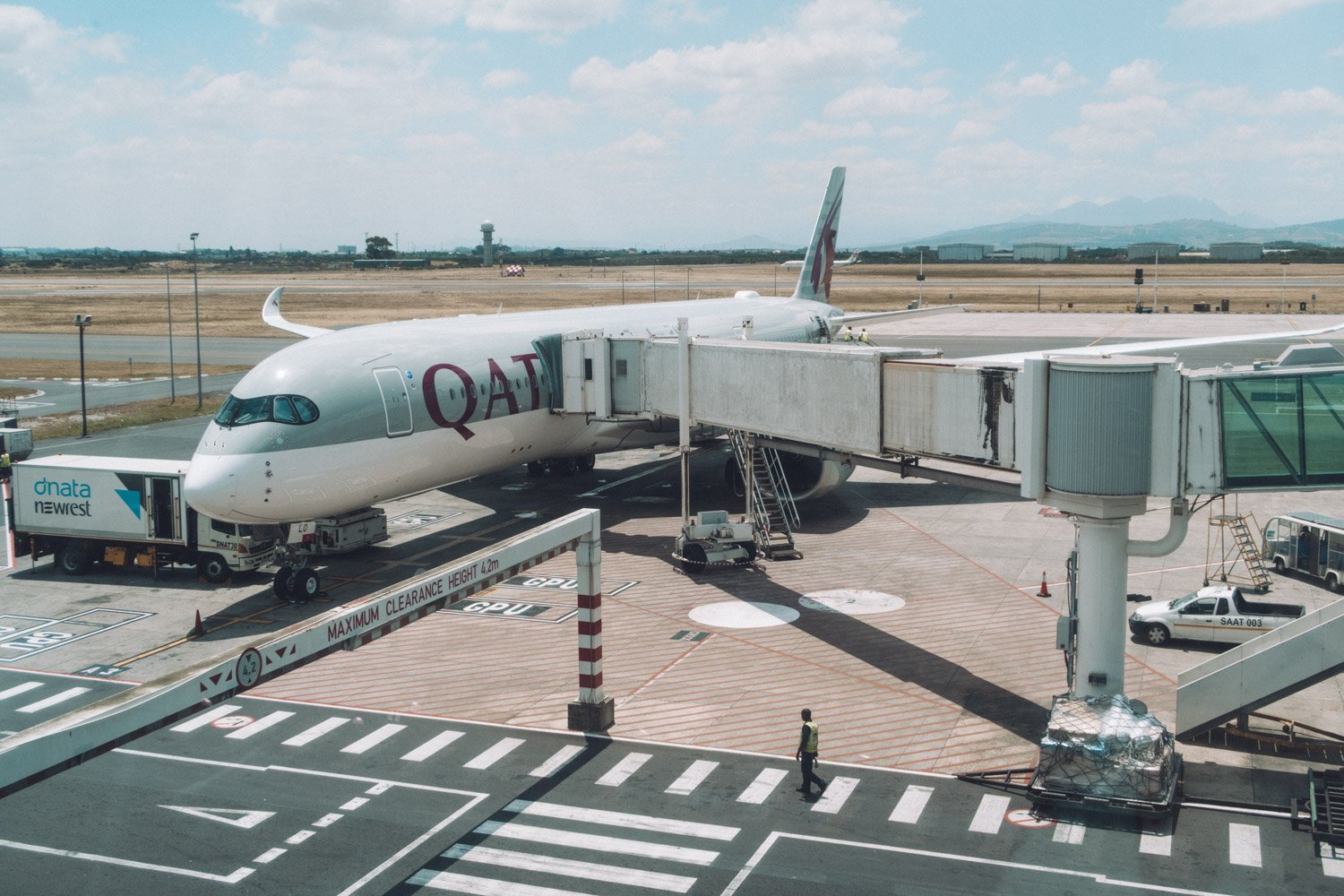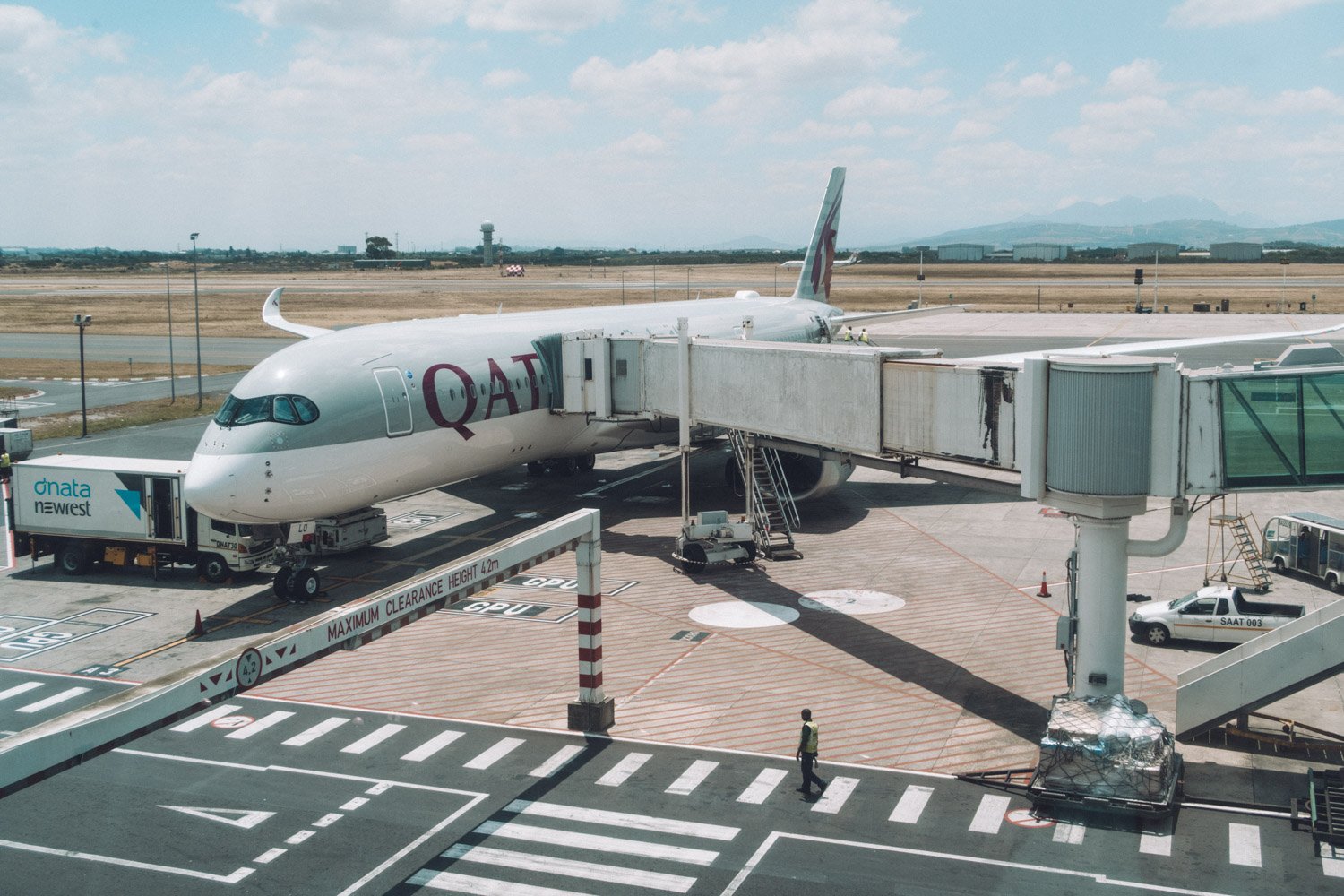 Overall
The Qatar QSuites have an unbeatable WOW factor. With an endless amount of entertainment, luxurious bedding and amenities, and plenty of privacy, I no longer dread my long-haul flights between the USA and South Africa.
If you're looking to burn some miles, I highly recommend splurging on the QSuites! It's an incredible experience, and you can't go wrong with an award-winning airline like Qatar.

Have you flown the Qatar QSuites before? What was your experience like? Let me know in the comments below!