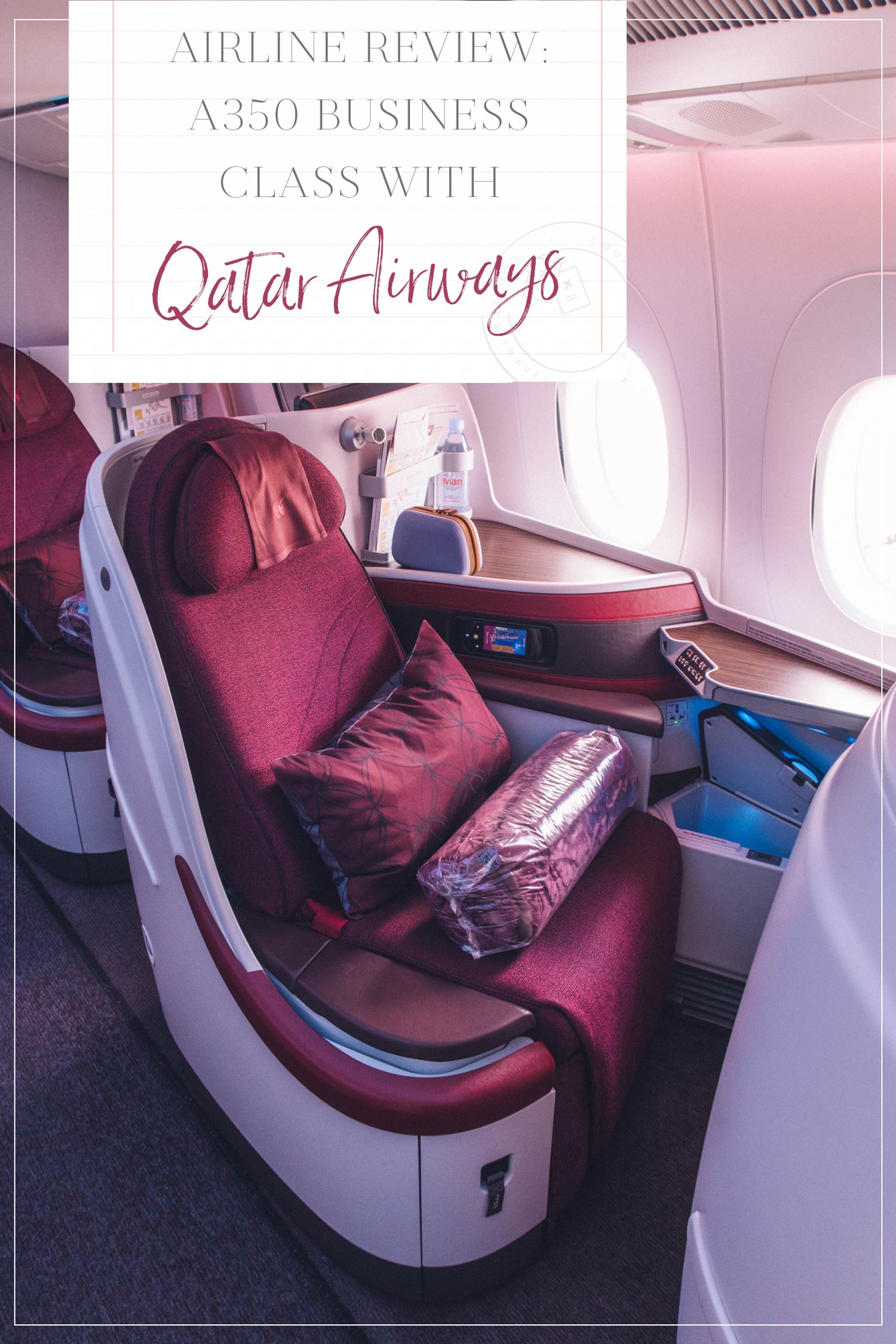 Since moving to Cape Town, I've been traveling back to the states a few times a year to visit friends and family. With it being such a long haul journey, I've been putting all my airline miles to good use by upgrading my flights.
It's really worth it on trips like these – especially if you're running a business and traveling as much as me.
On my most recent trip back home, my friends from The Points Guy flew me from Cape Town to NYC to experience Qatar's award-winning business class! On this first leg of my flight from Cape Town to Doha, I flew onboard their luxury A350-900.
(On my second leg from Doha to New York City, I got to fly the Qatar QSuites – don't miss my review here!)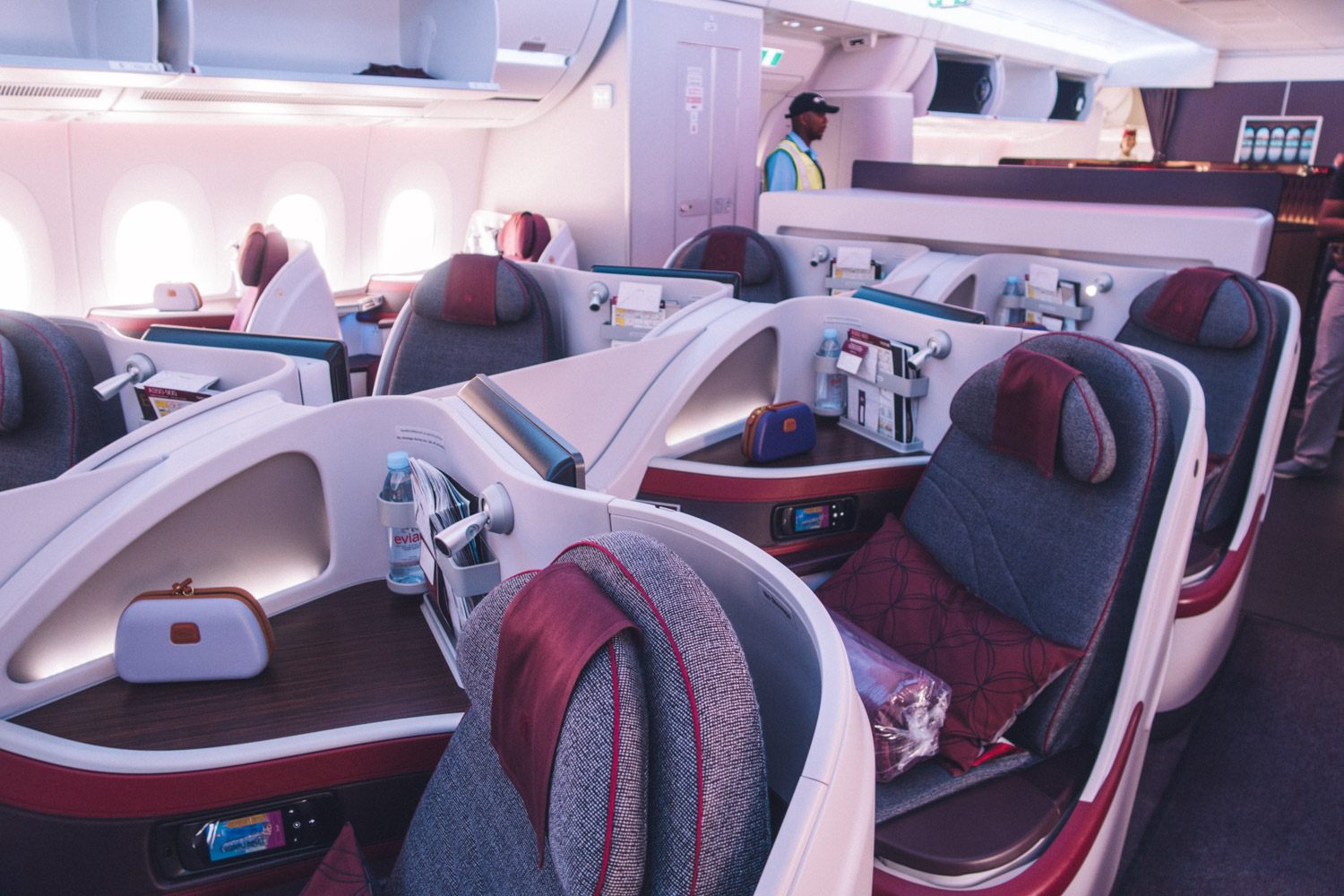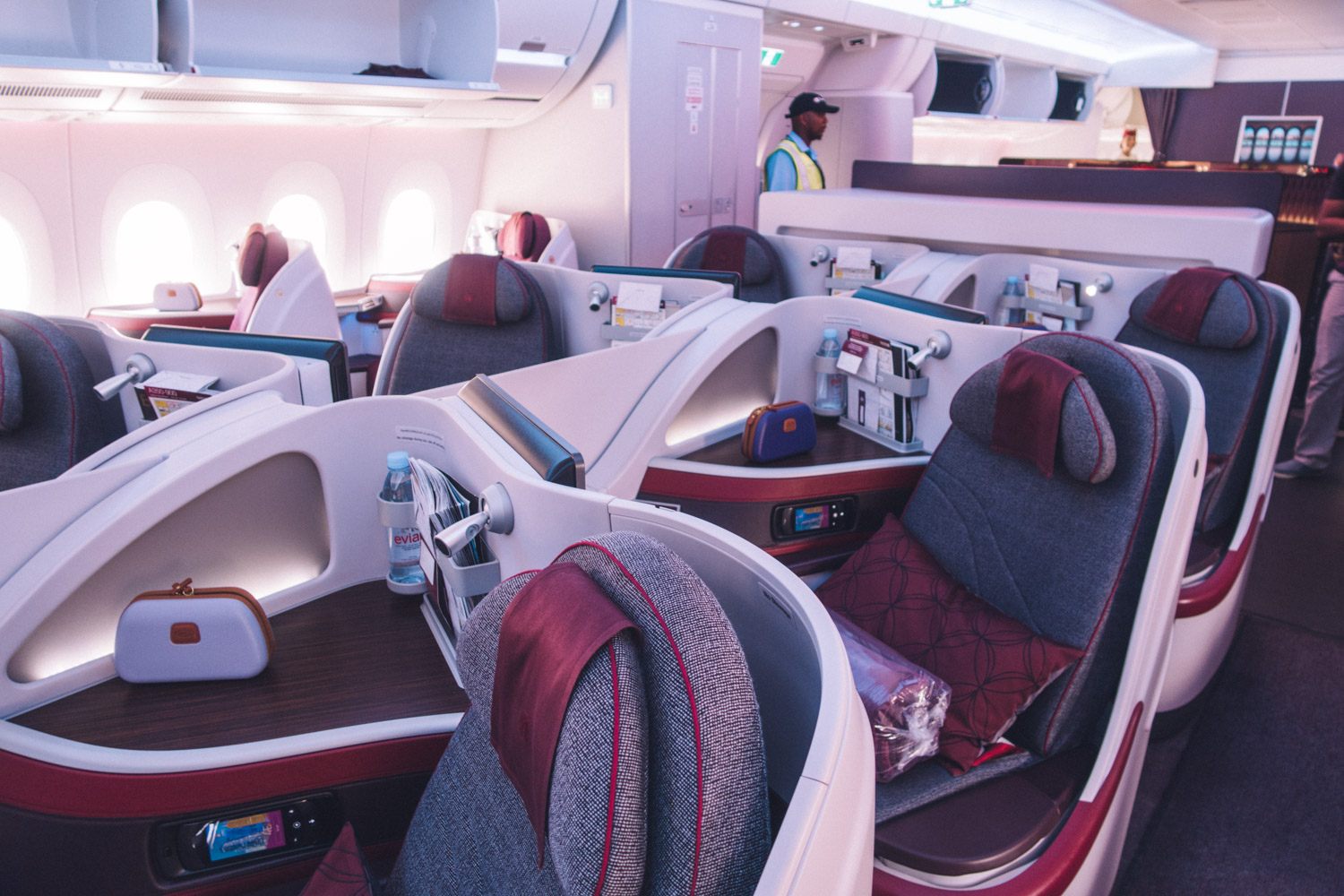 Business Class Seats
As soon as I boarded the flight and took my seat, my dedicated flight attendant came over to introduce herself. She also offered me a glass of champagne or a non-alcoholic beverage. I chose their signature mint lemonade and a warm towel.
The seat layout means that every passenger has direct access to the aisle. The middle seats don't get quite the same level of privacy as the ones by the window. If you're traveling solo, pick a window. If you're traveling with someone, pick a middle seat, however, you'll be separated by a divider.
While there is no overhead storage above the middle seats, so everyone stores their luggage above the window seats. Each seat has more than enough personal spaces and extra legroom that you won't find on the A330 or A340.
You'll also have access to a USB port and universal plug to charge your devices, remote control for your seat, a reading lamp, and adjustable armrests.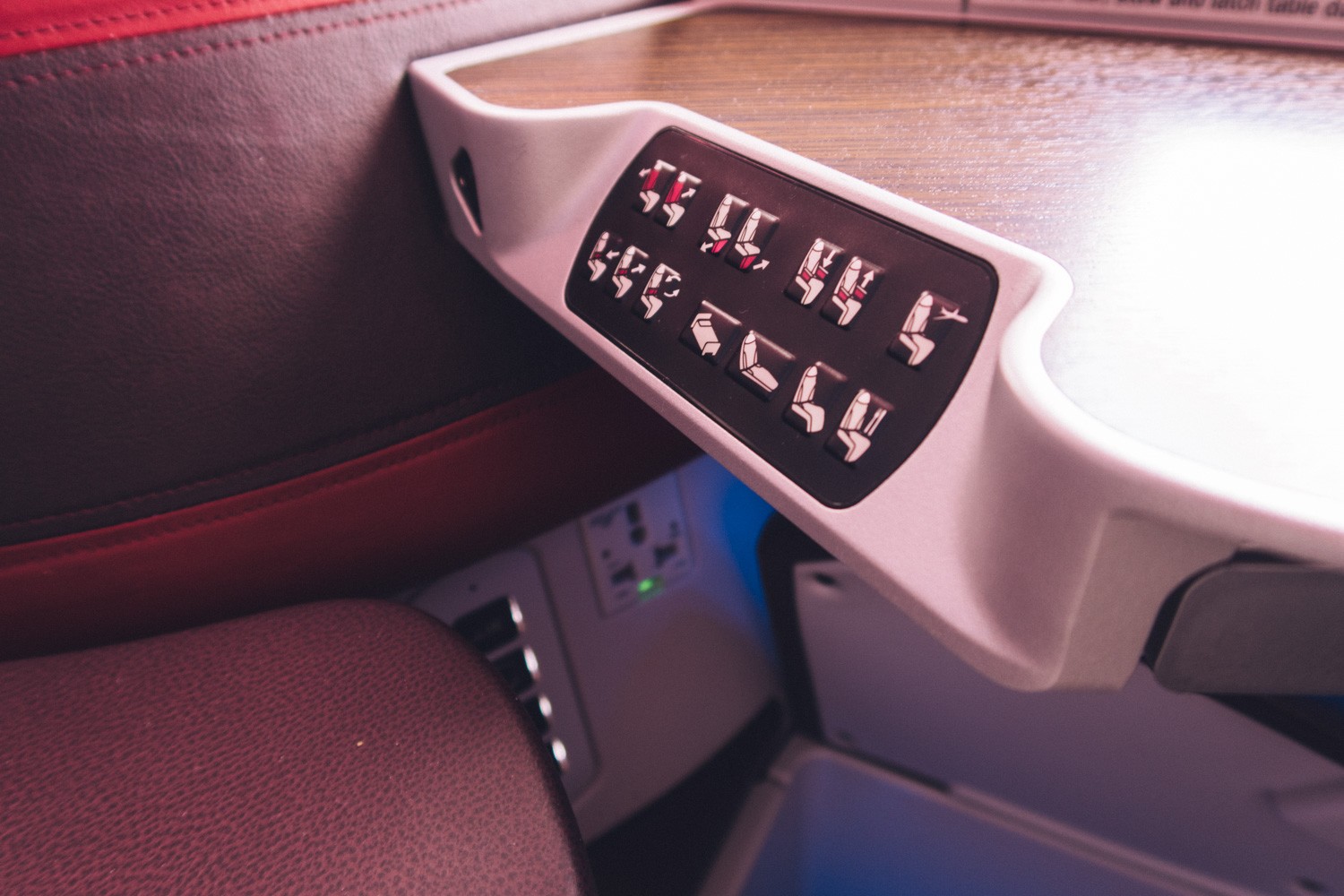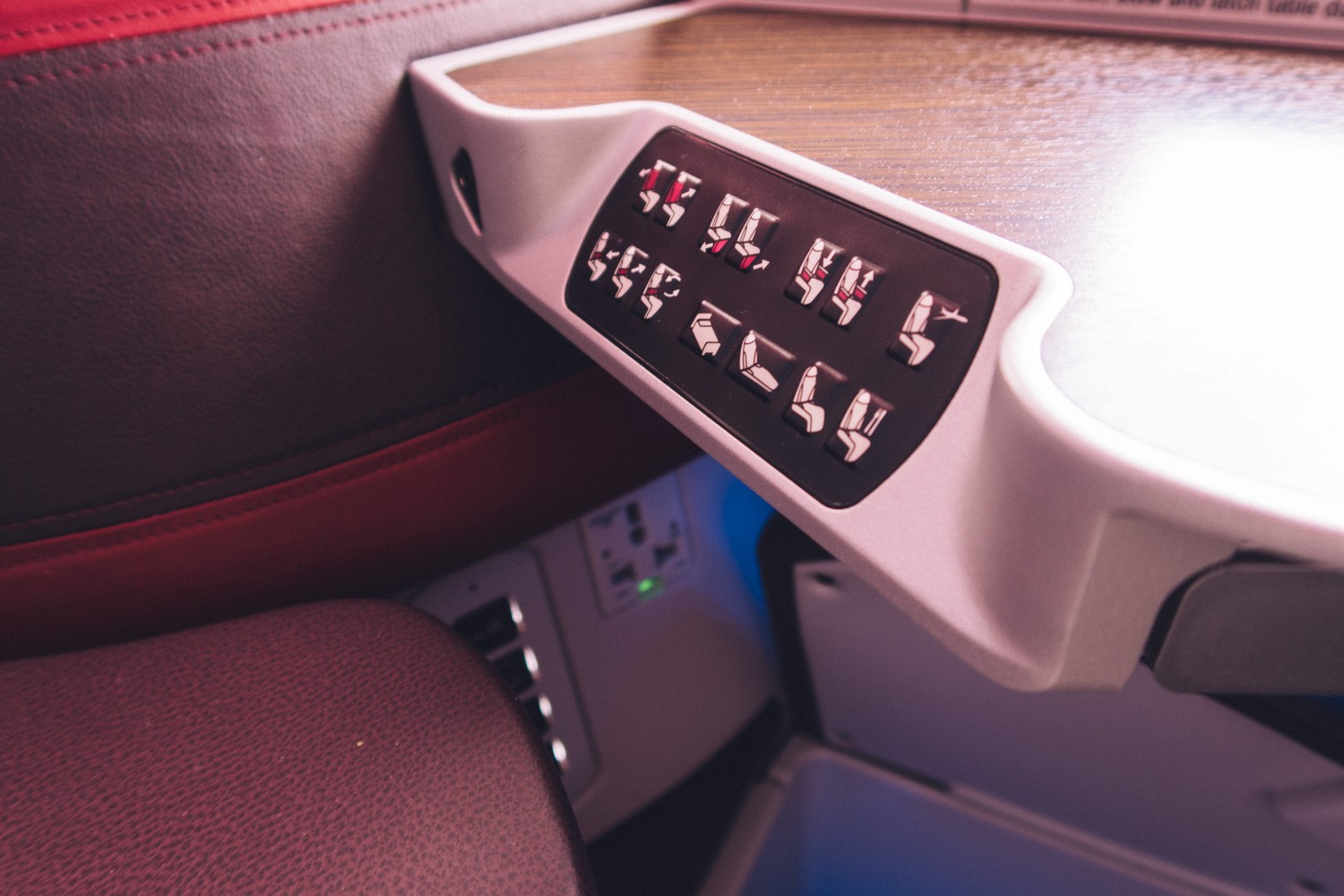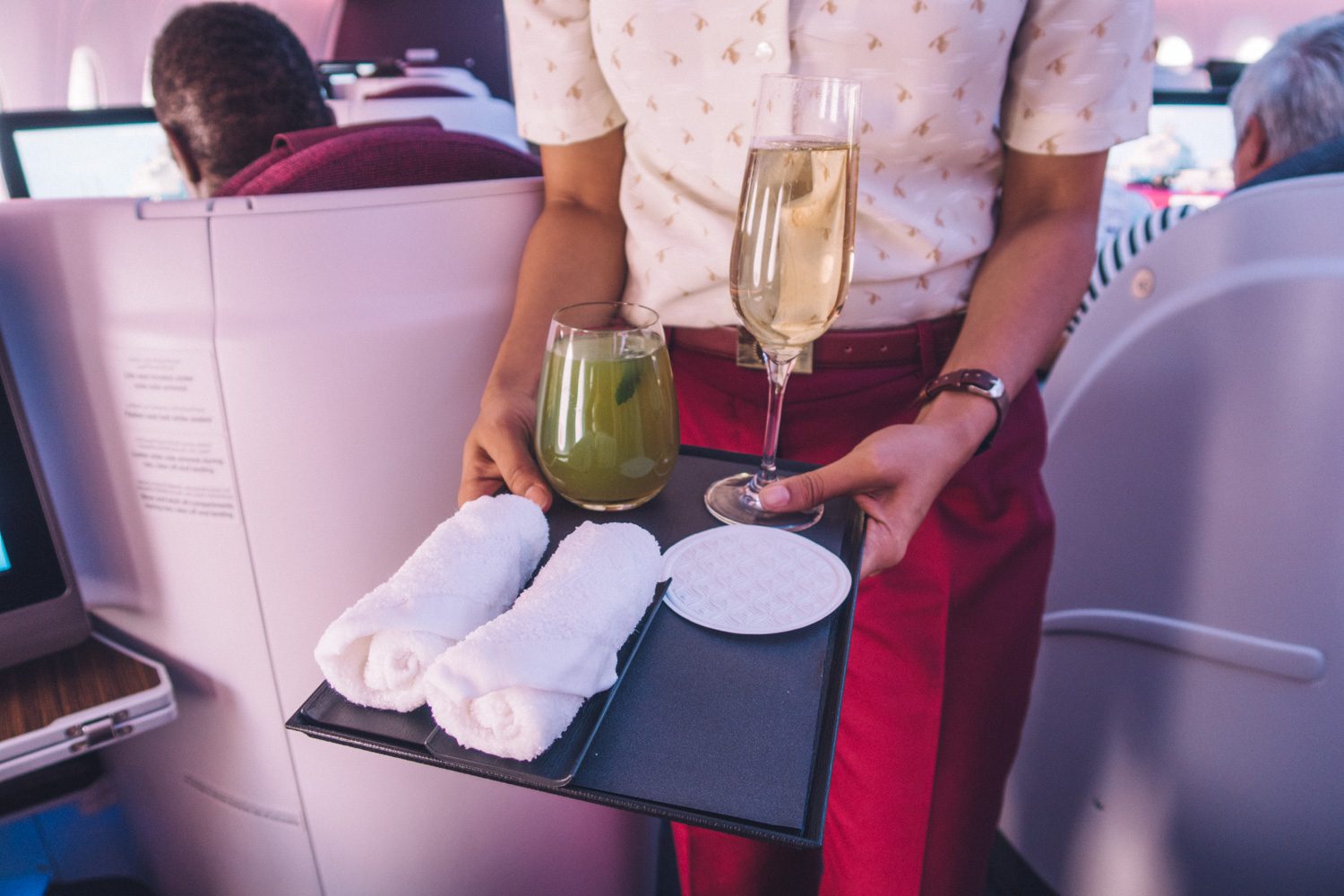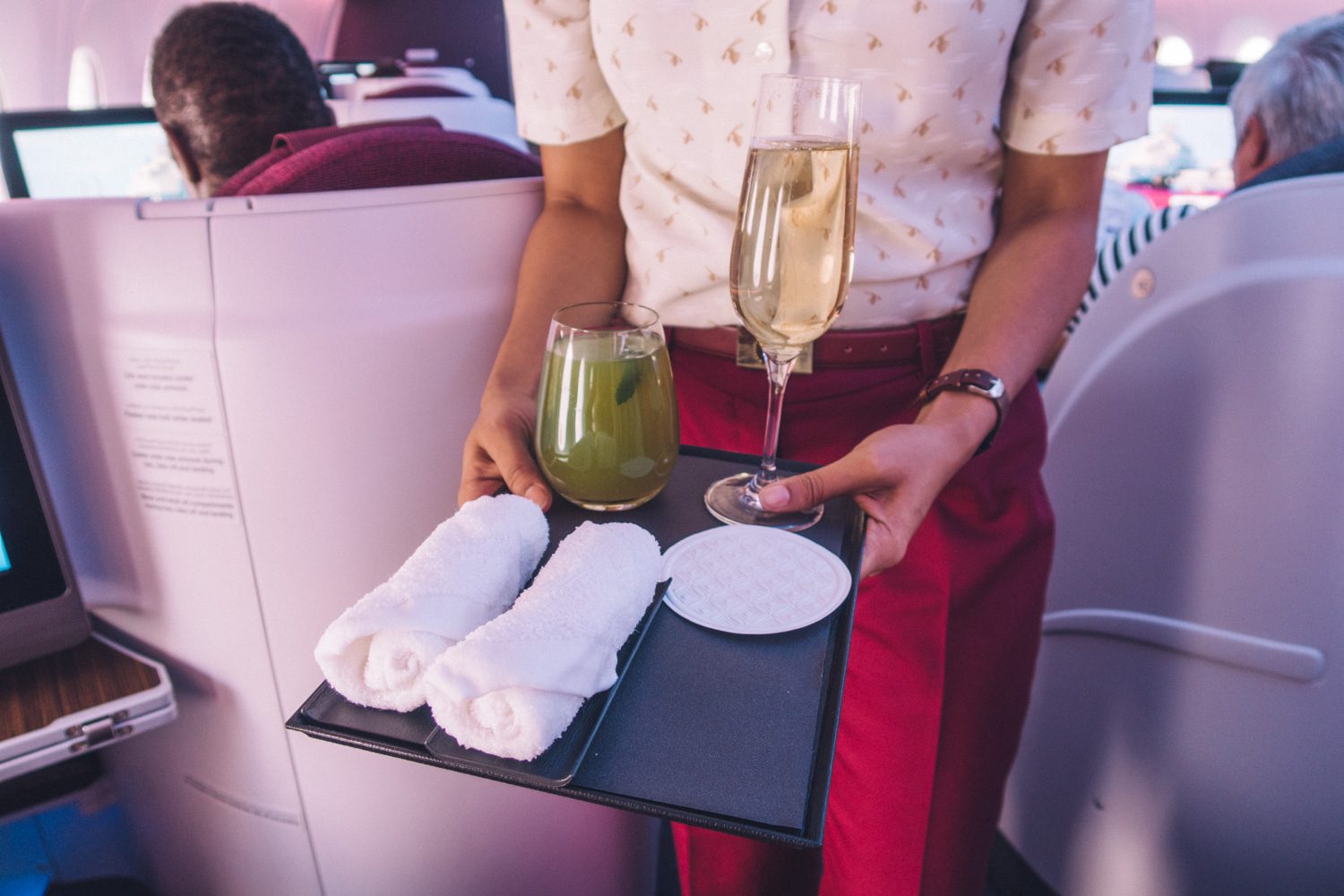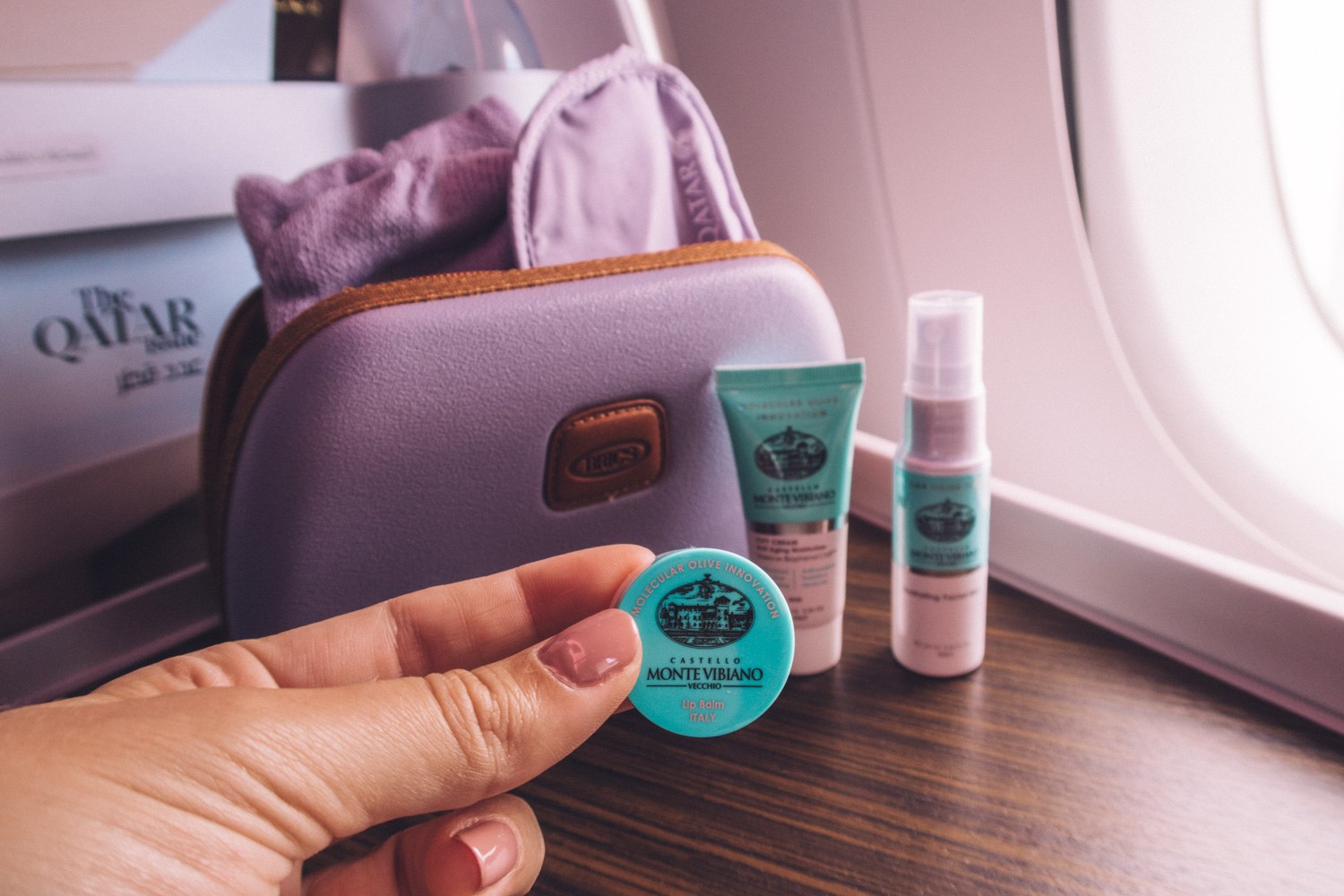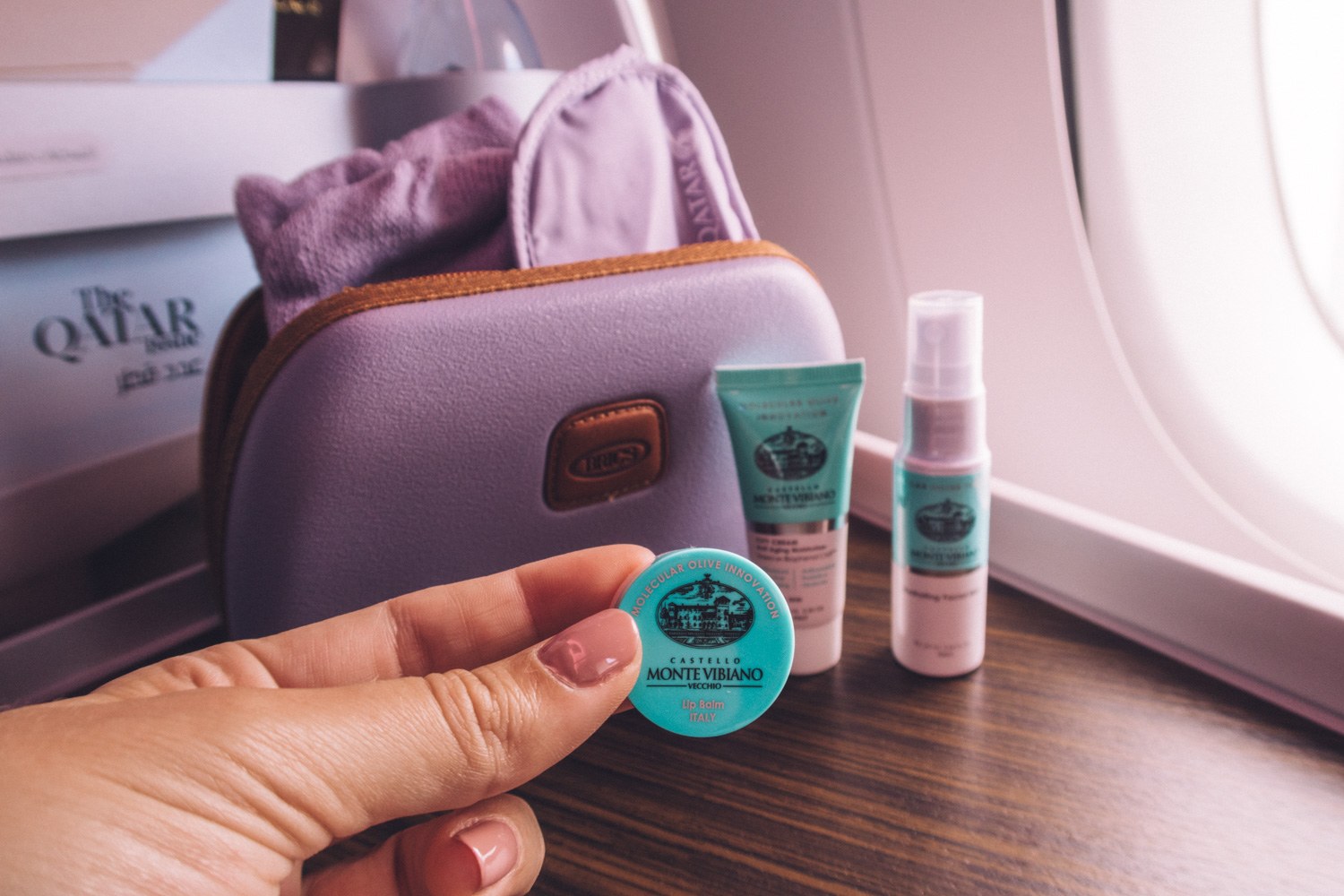 Amenities
The A350 business class comes with plenty of luxurious amenities. Guests get an amenity kit by Castello Monte Vibiano Collection containing a hydrating facial mist, moisturizer, lip balm, face mask, socks, and earplugs. The toiletry case is also really nice! It's a luggage-style case that I'll definitely be re-using on future trips.
Other amenities include a 17-inch LCD screen, noise-canceling headphones, Evian water, a super-luxe blanket, and a pillow.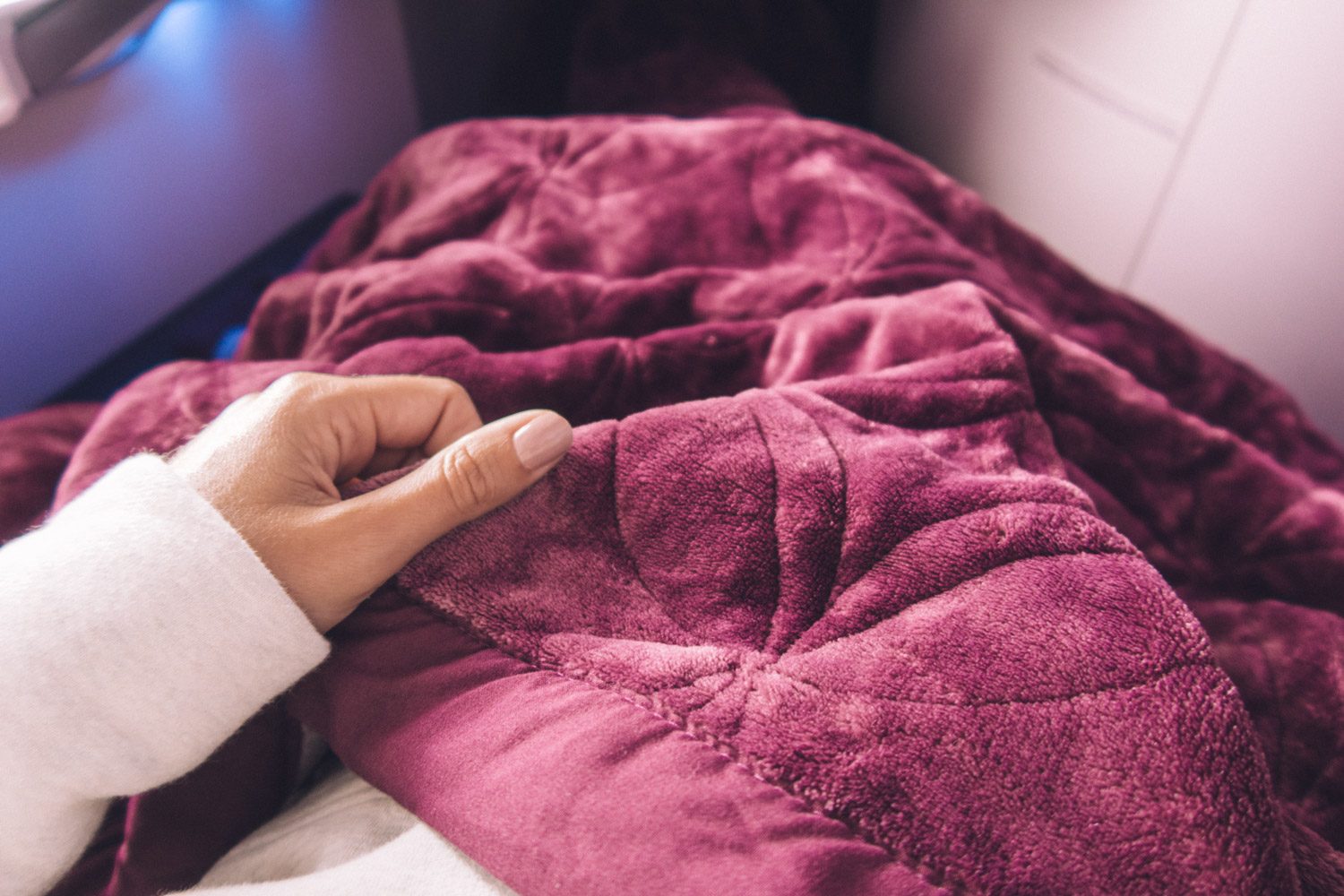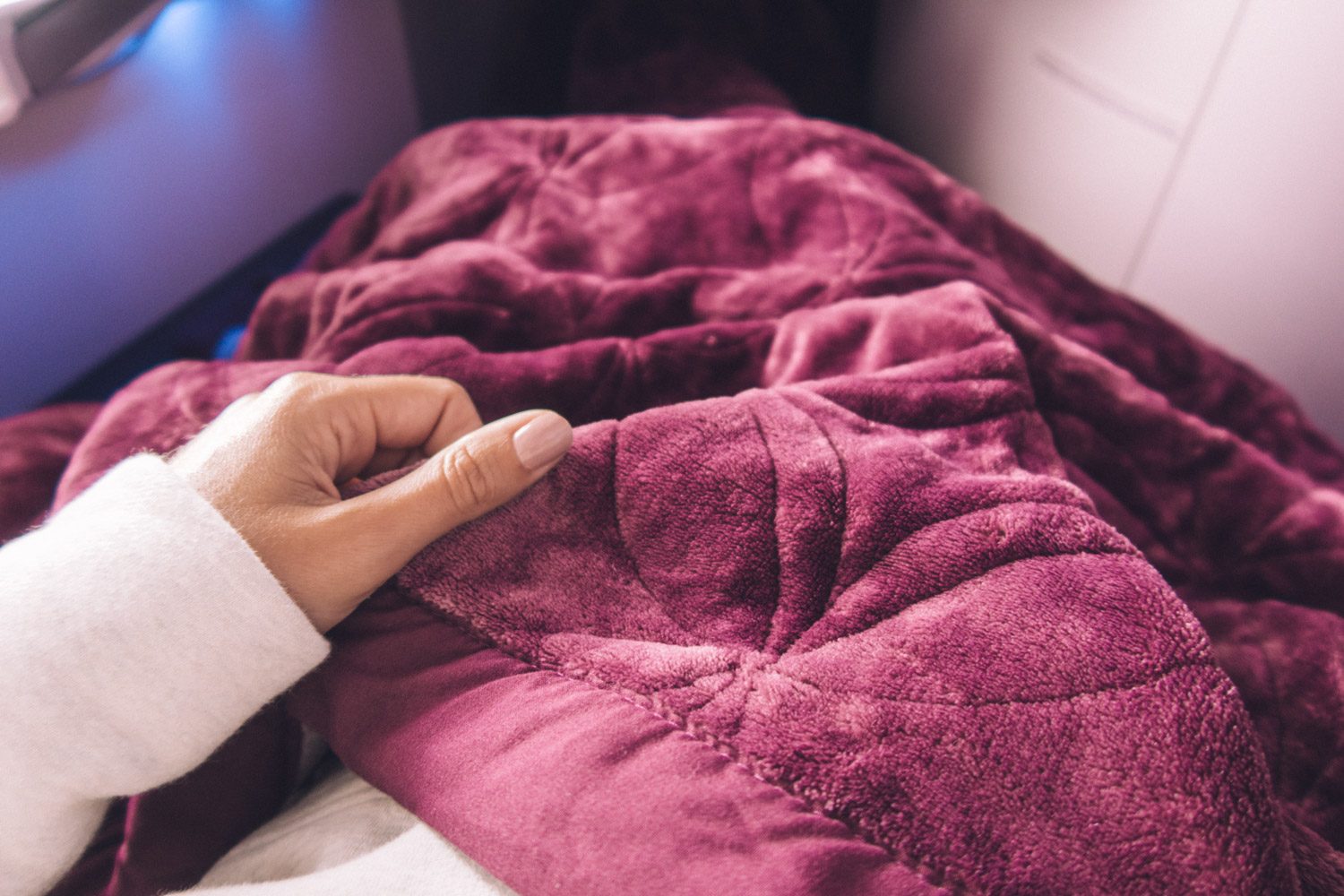 In-Flight Entertainment
The Oryx One entertainment system had a great line up of Hollywood blockbusters, documentaries, and TV shows. You can watch everything from Ted Talks to Vogue talking to Taylor Swift about her biggest style influences.
I chose not to work during this flight and instead, binge-watched holiday movies to get me in the Christmas spirit!
There is also Wi-Fi onboard the A350. The first 30-minutes are free and, if you need more time, it's relatively inexpensive.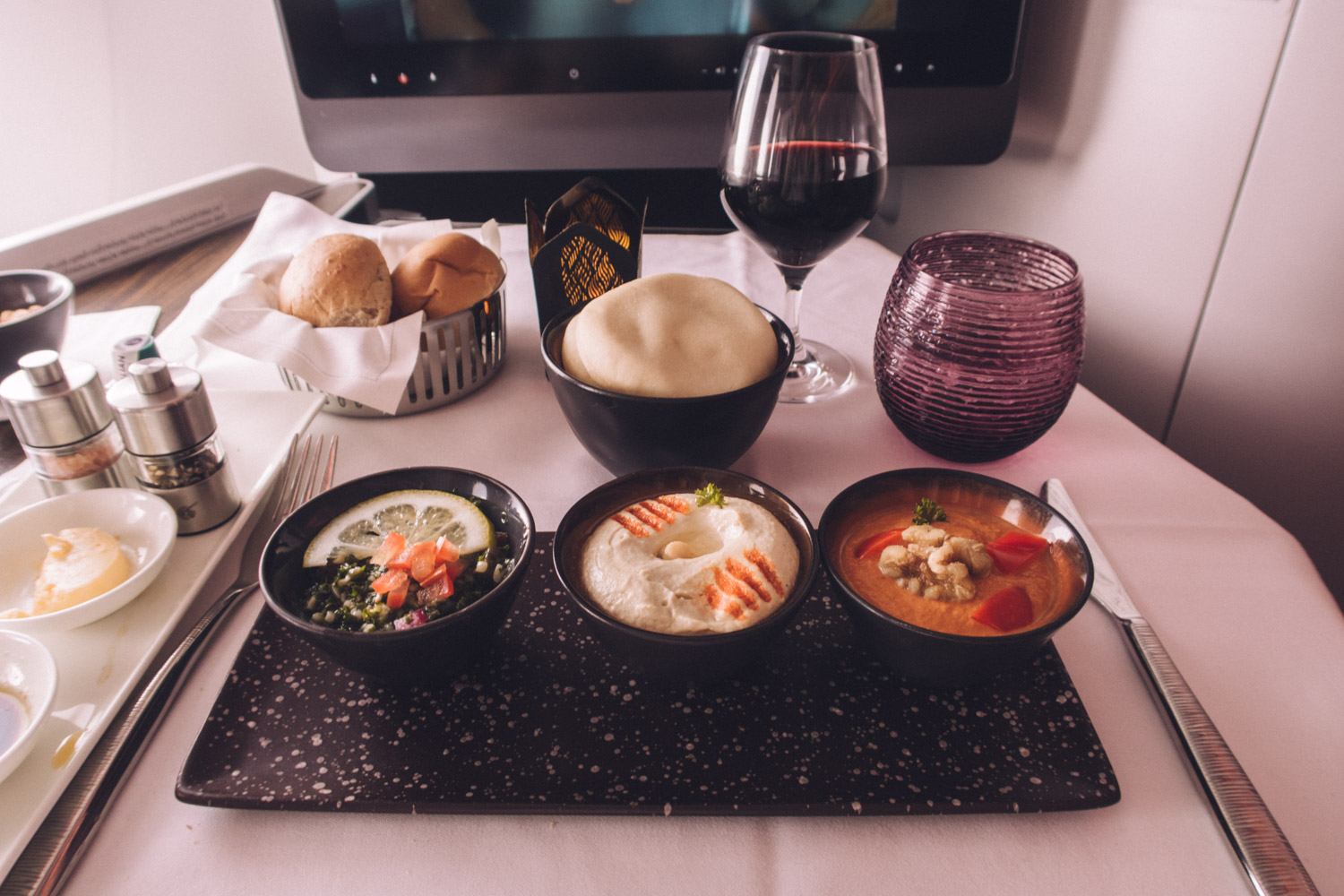 Food + Drink
Qatar doesn't hold back when it comes to their impressive a-la-carte menu. Unlike other airlines, there's no set mealtime. With their open dining plan, you can eat as much as you want, whenever you want, and eat your courses in any order you like.
I also love that Qatar has a whole mocktail list. If you don't drink alcohol, you're not limited to soft drinks, coffee, and water.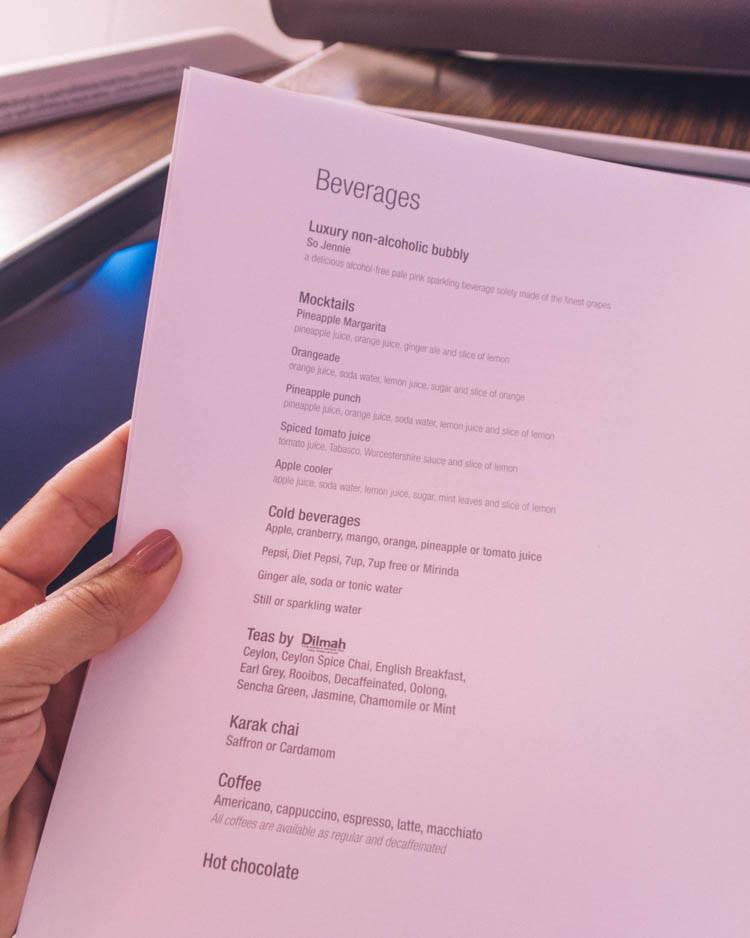 The dishes are beautifully presented and come with little extras like freshly baked bread, olive oil, and balsamic vinegar. I'm obsessed with their itty-bitty salt and pepper grinders—it totally adds to the luxury of their in-flight dining experience.
All meals come with the option of a light starter like a mixed mezze platter and a dessert. The cakes, ice cream, and mousses look like nothing you'd find in the economy section.
The quality and presentation are what you'd expect to find in a French boulangerie!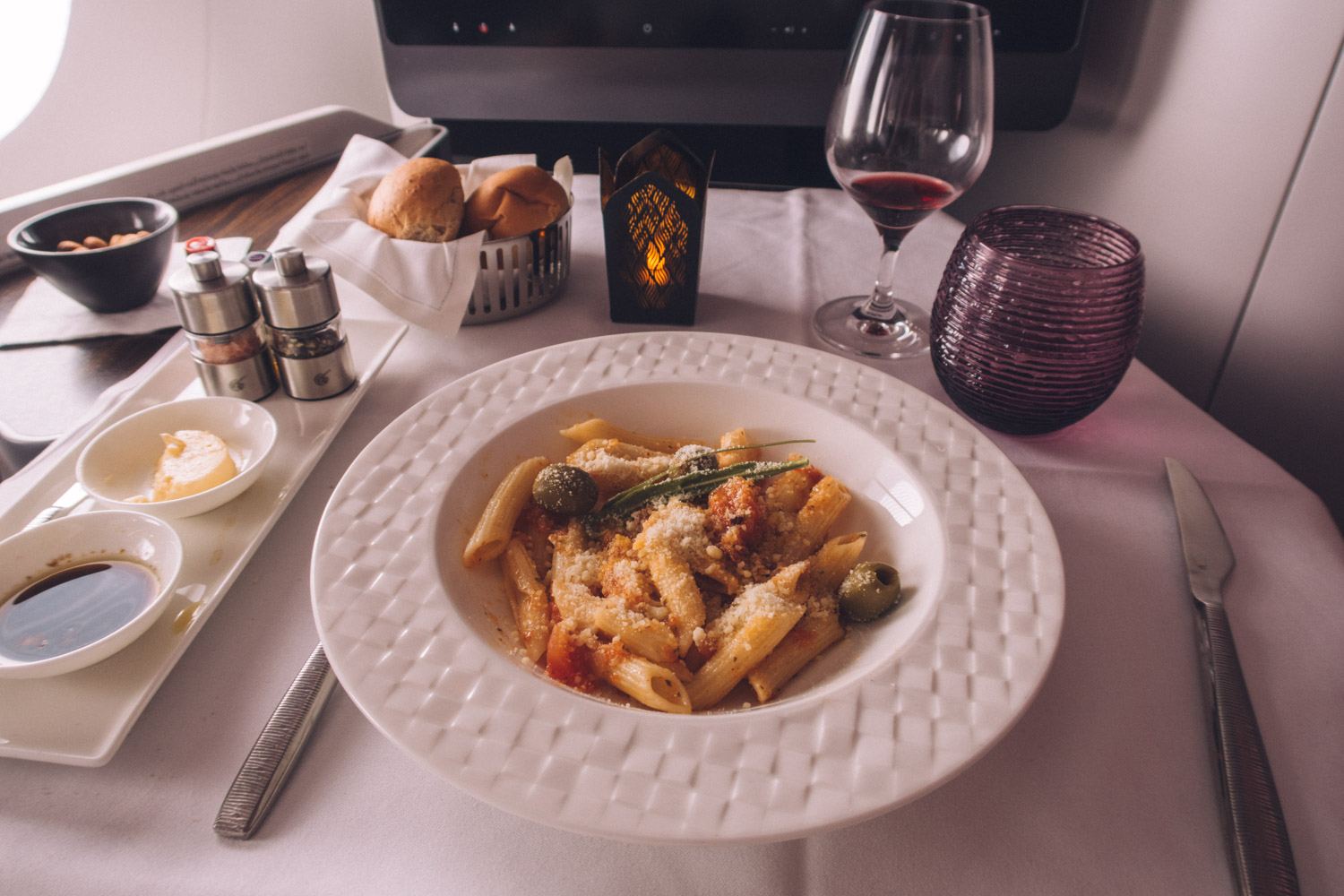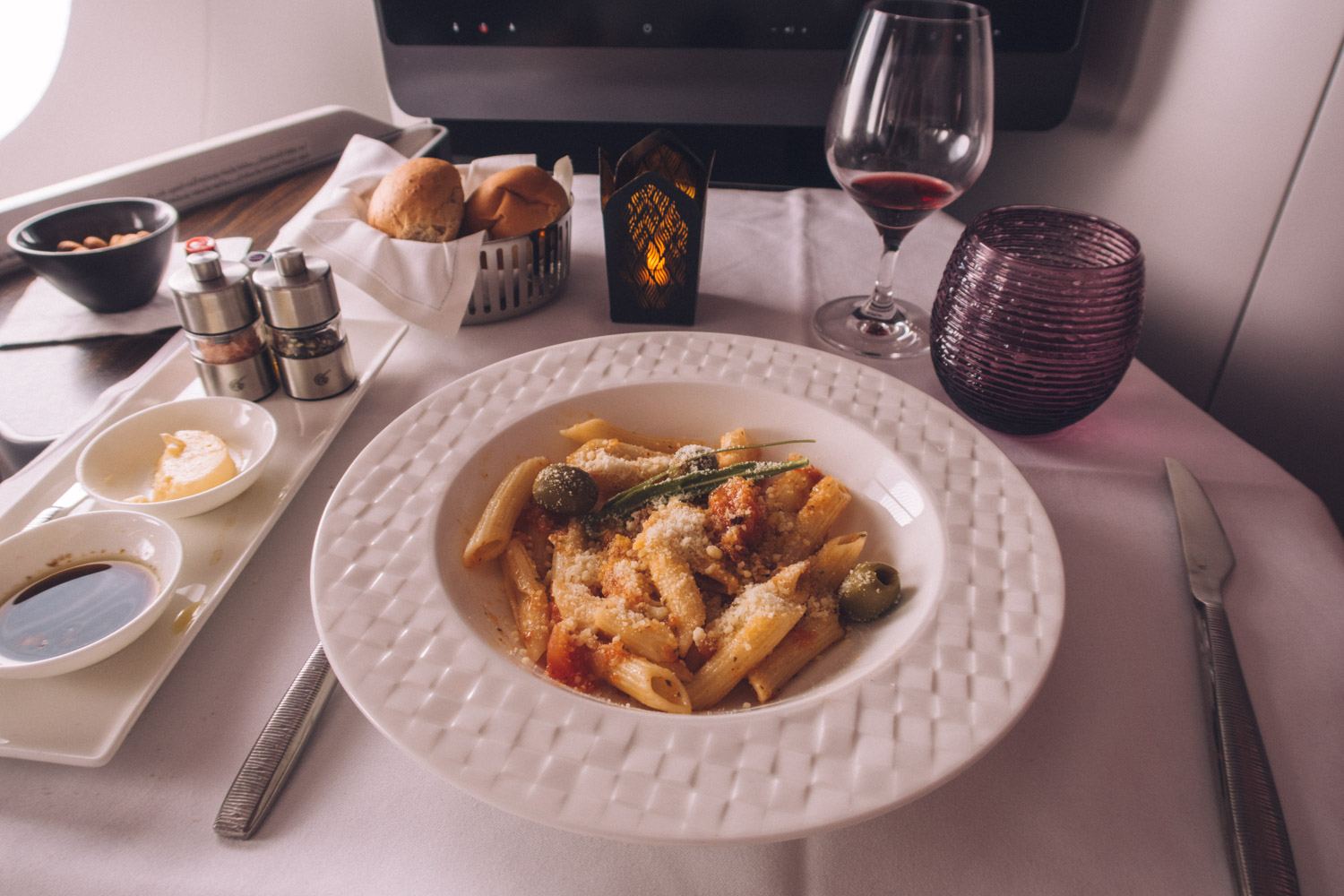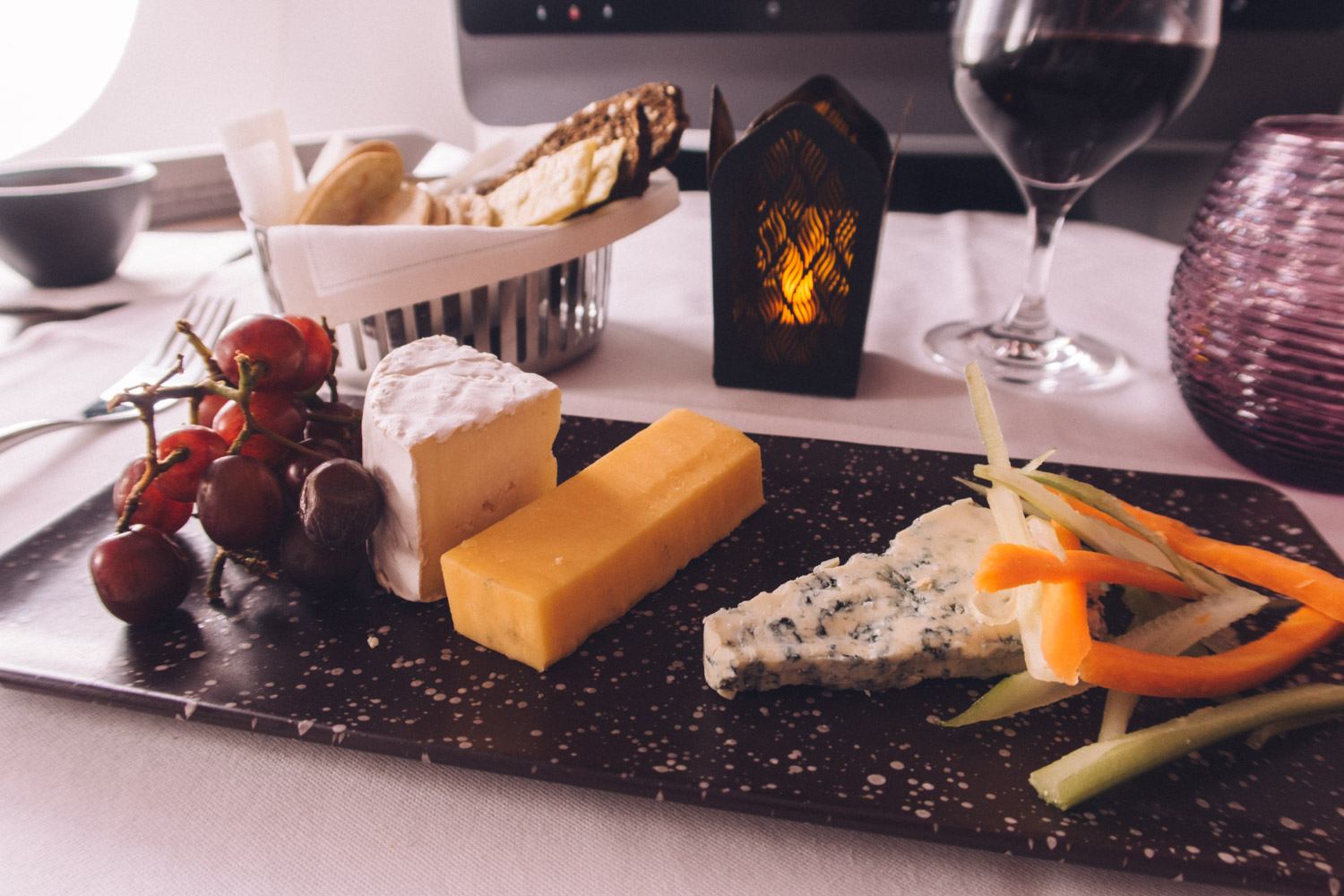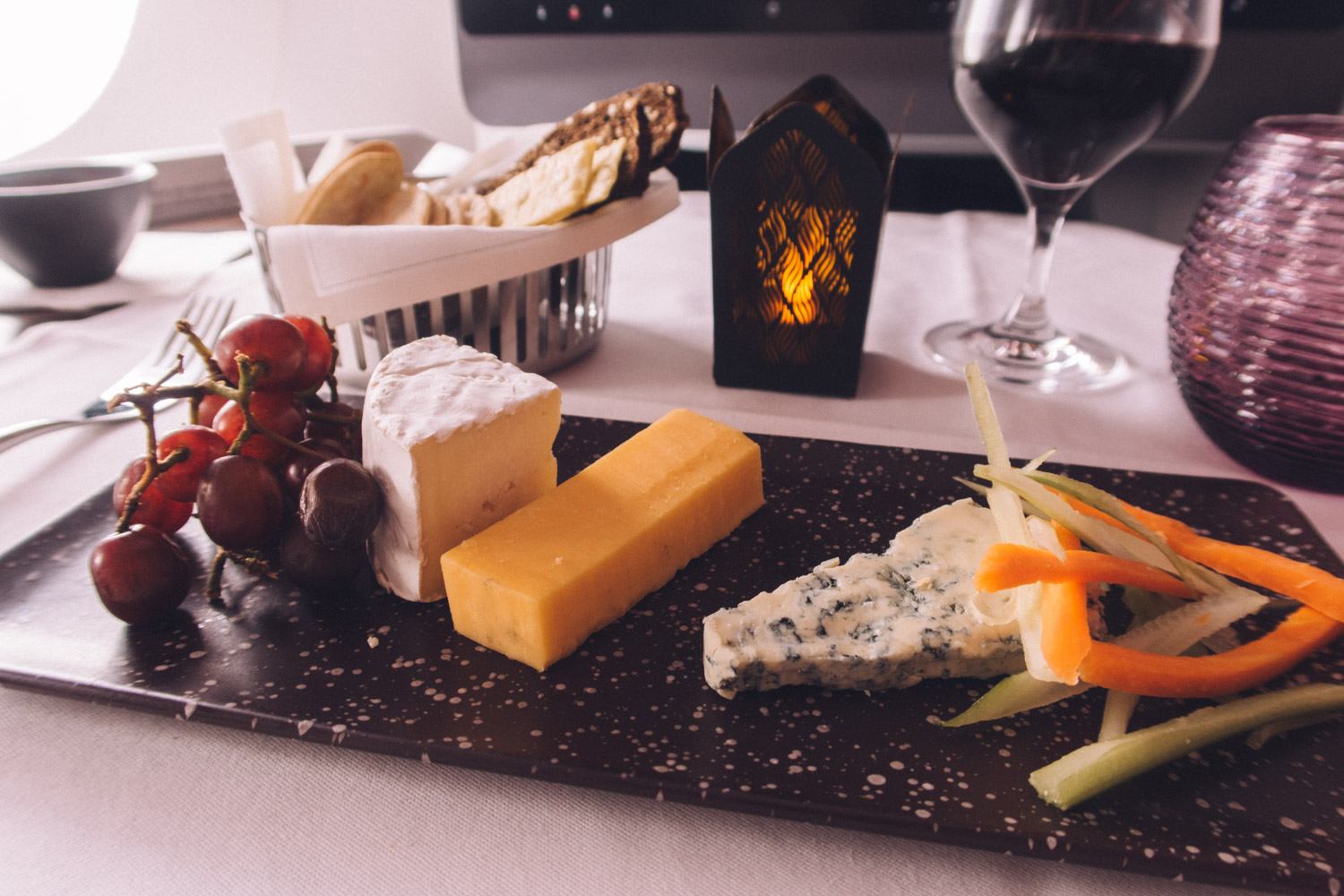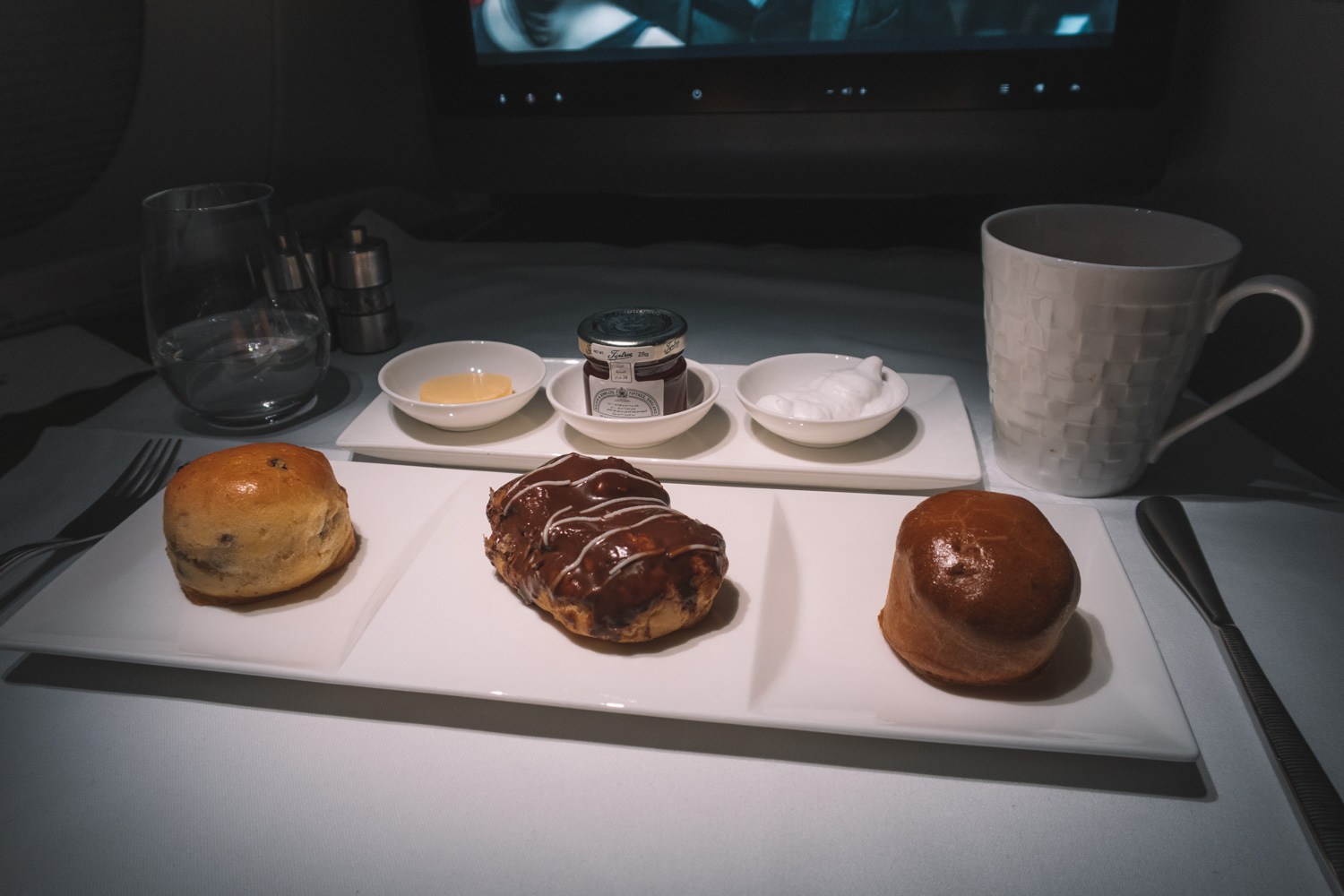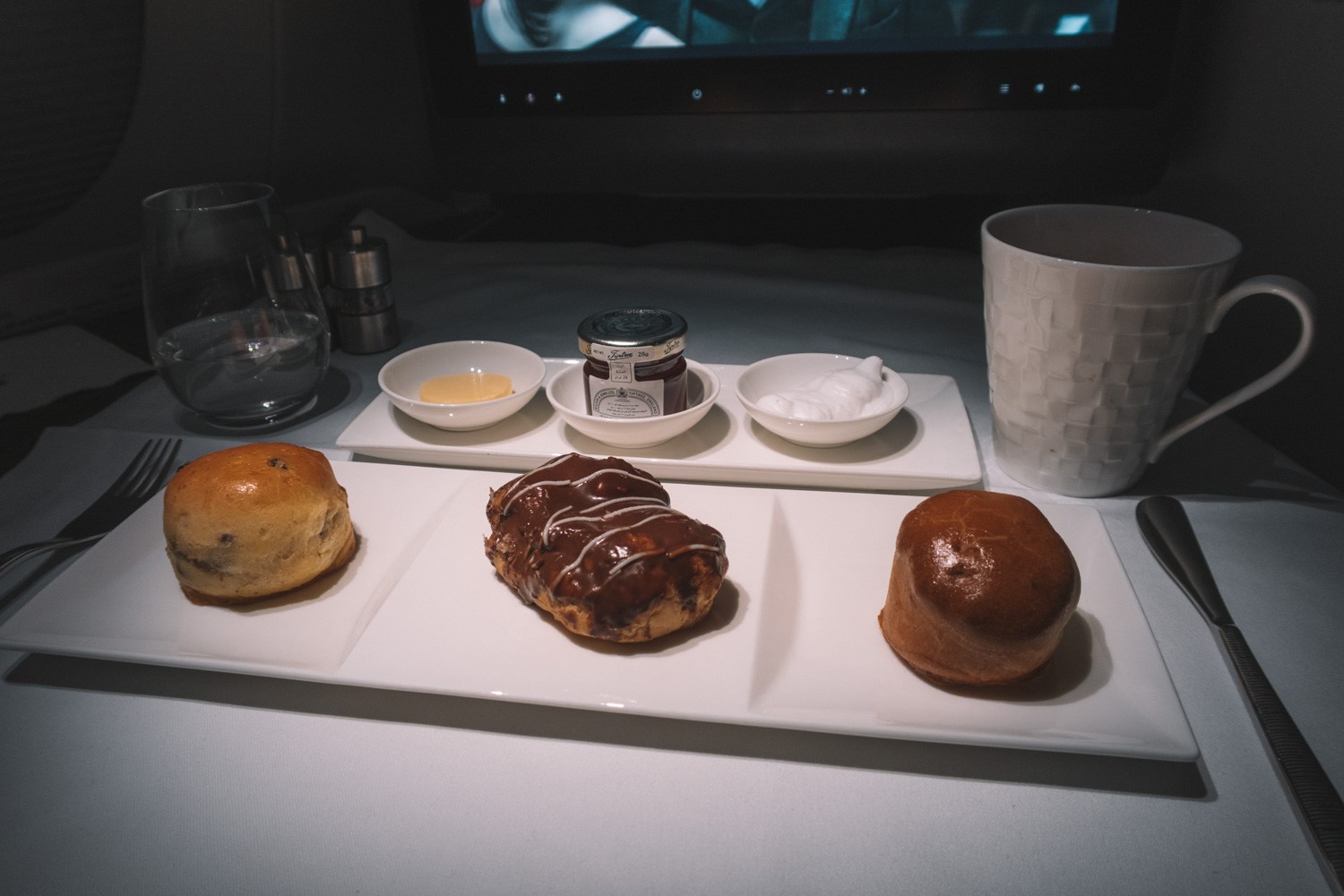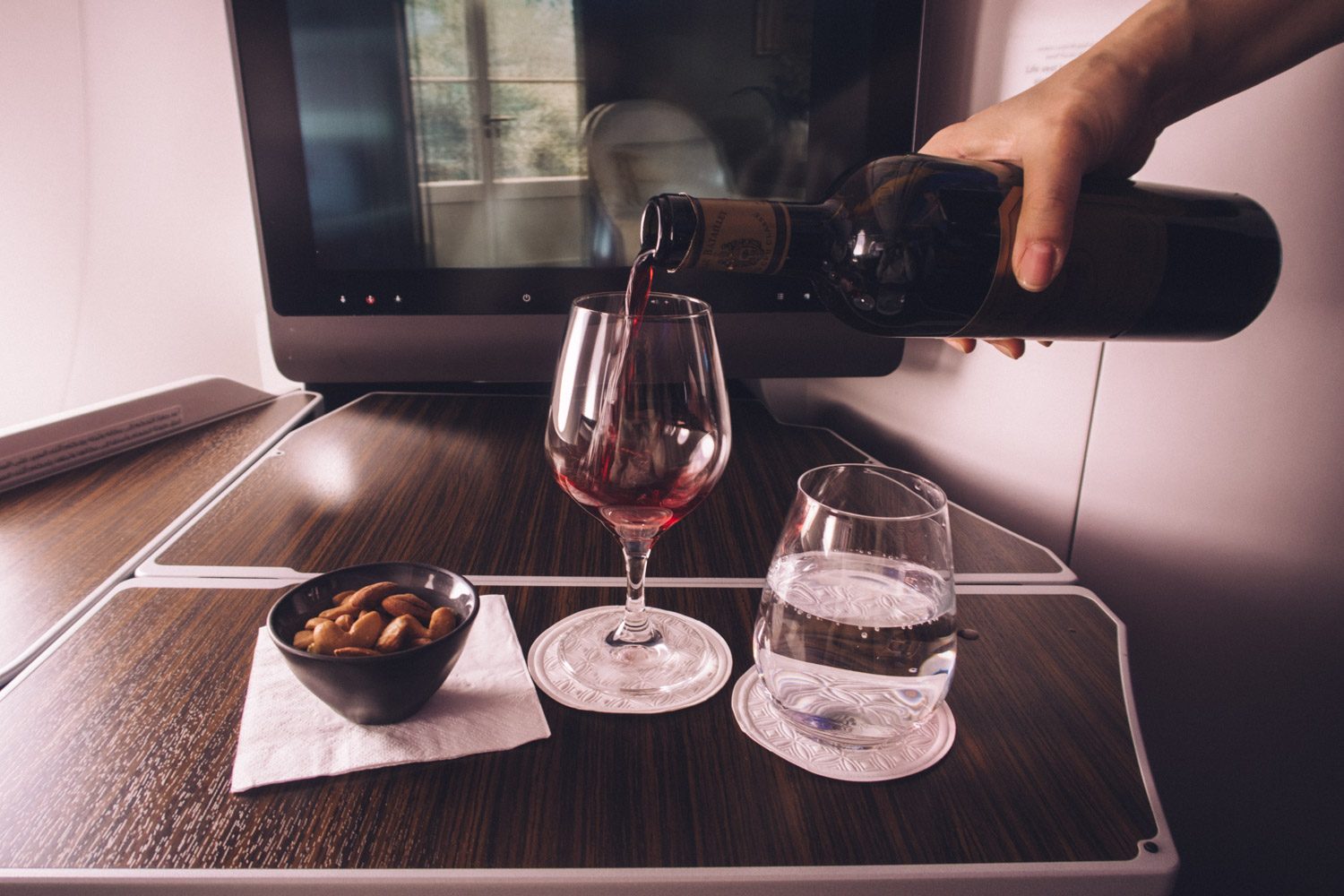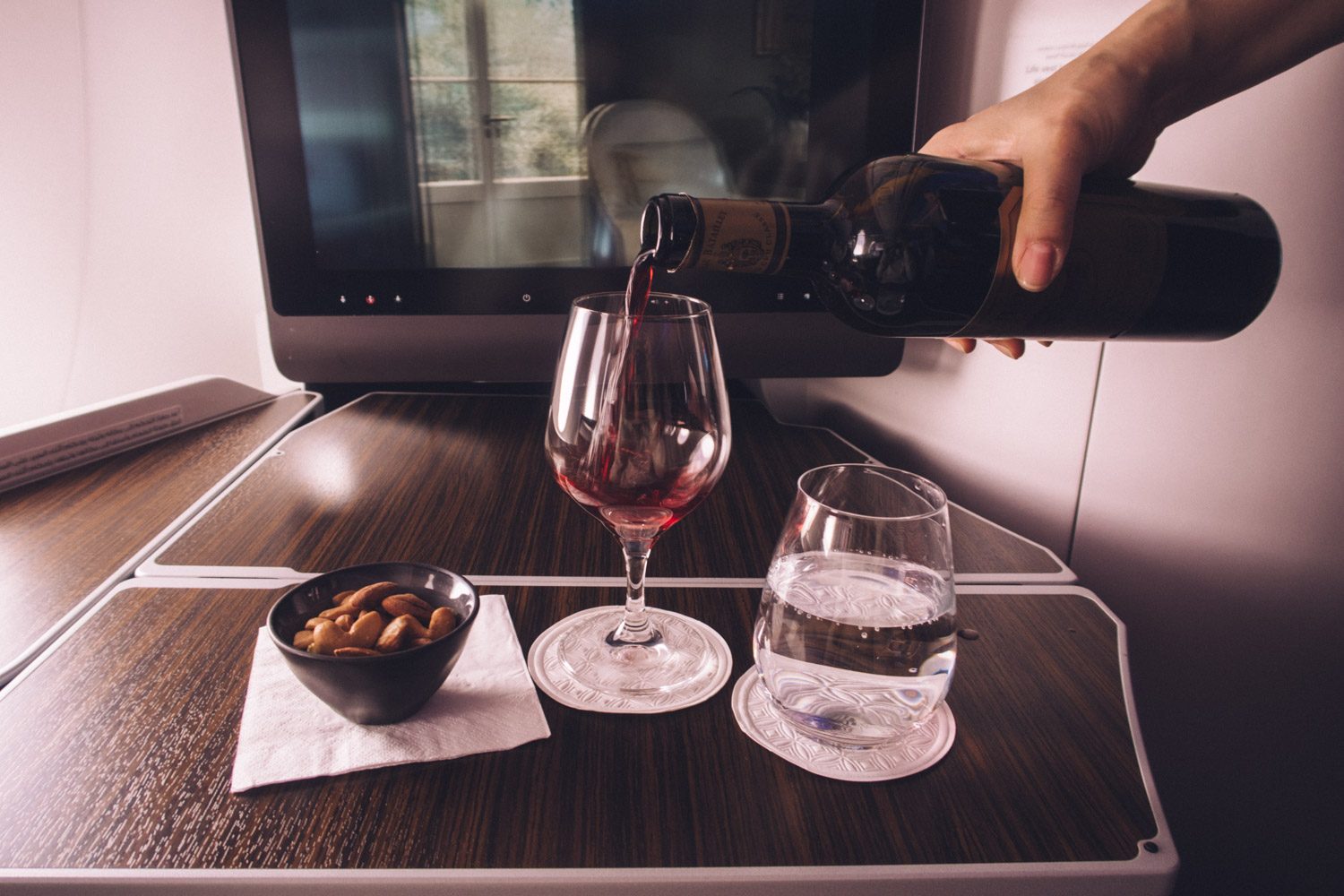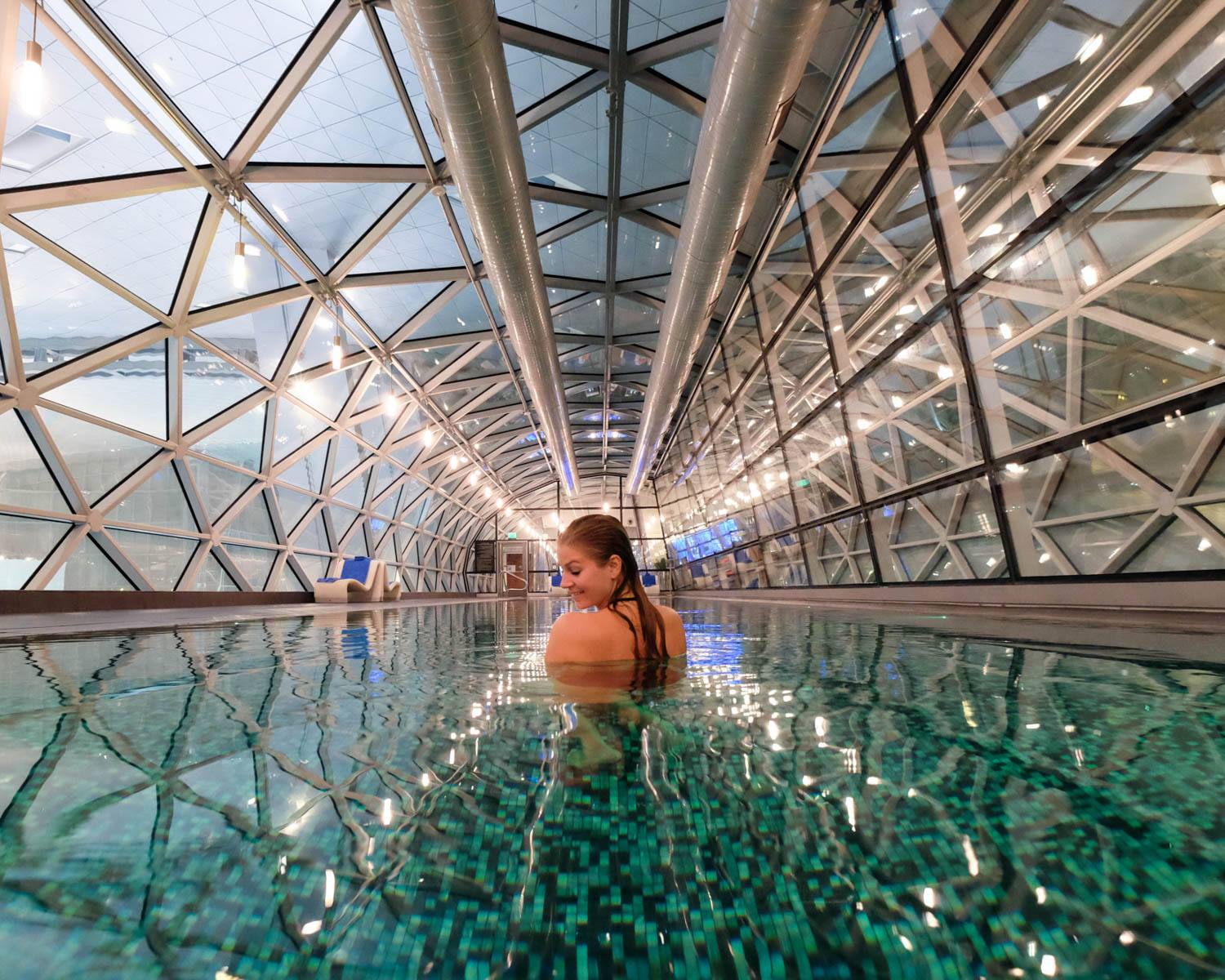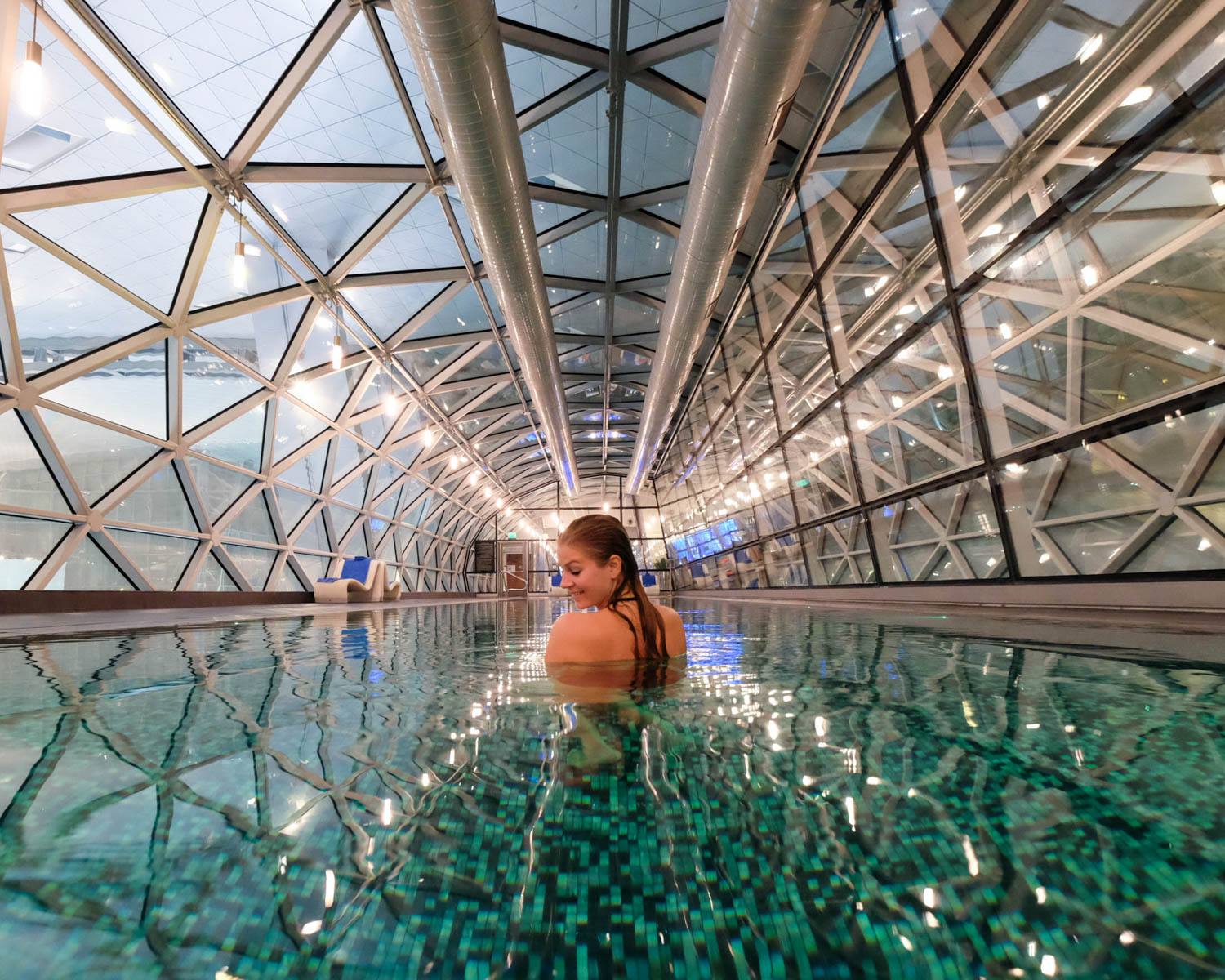 Hamad International Airport
After landing in Doha, I had a two-hour layover at Hamad International Airport. My ticket gave me access to the exclusive Qatar Airways Business Class Lounge.
Inside you'll find a 24-hour buffet as well as a selection of dishes made to order. There's a bar serving a wide range of wines, beers, cocktails, and champagne and plenty of plug sockets,
If you've got a longer transit time, book yourself in for a spa treatment at the Vitality Wellbeing & Fitness Centre. There's also a beautiful swimming pool, a full gym, and a hydrotherapy tub.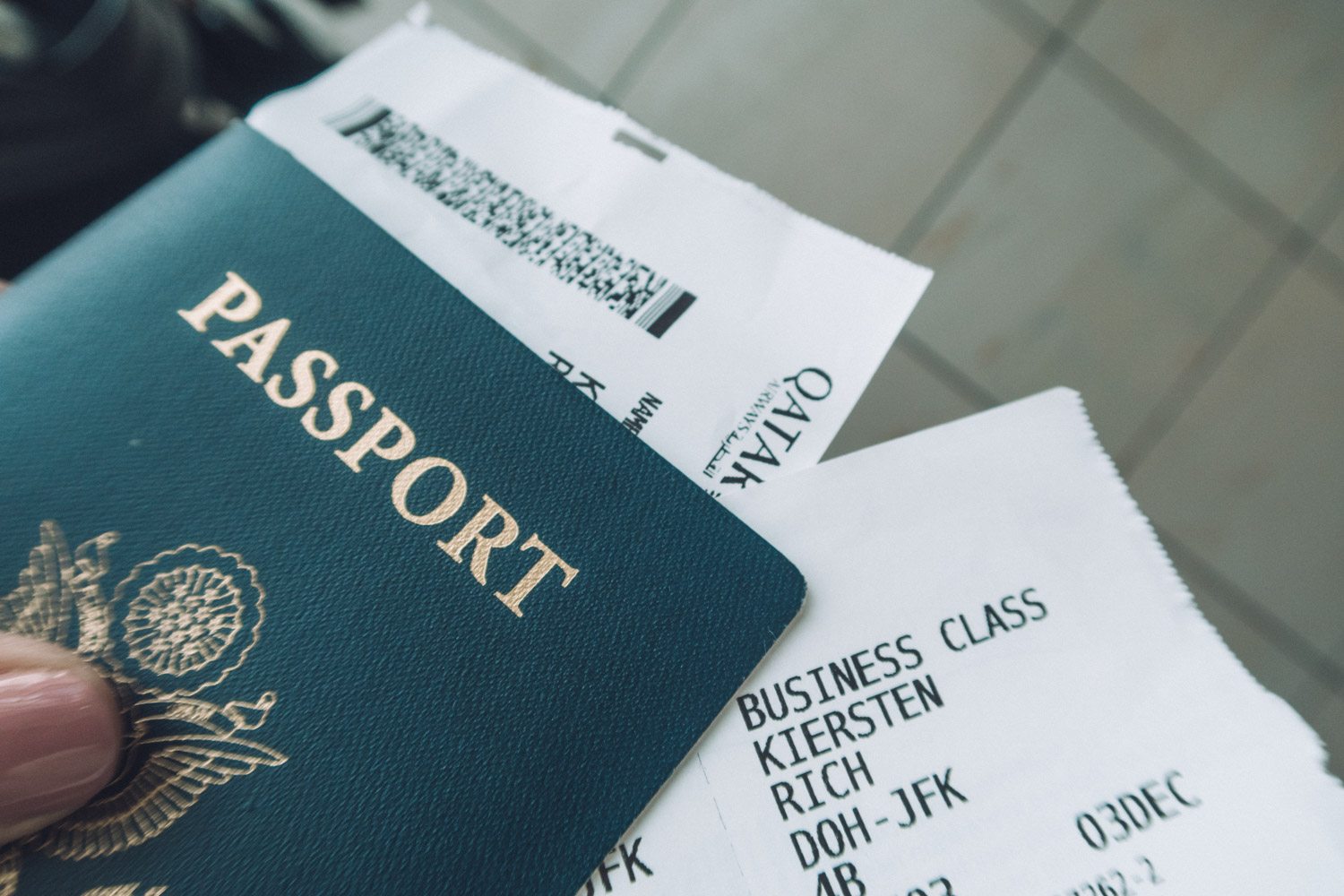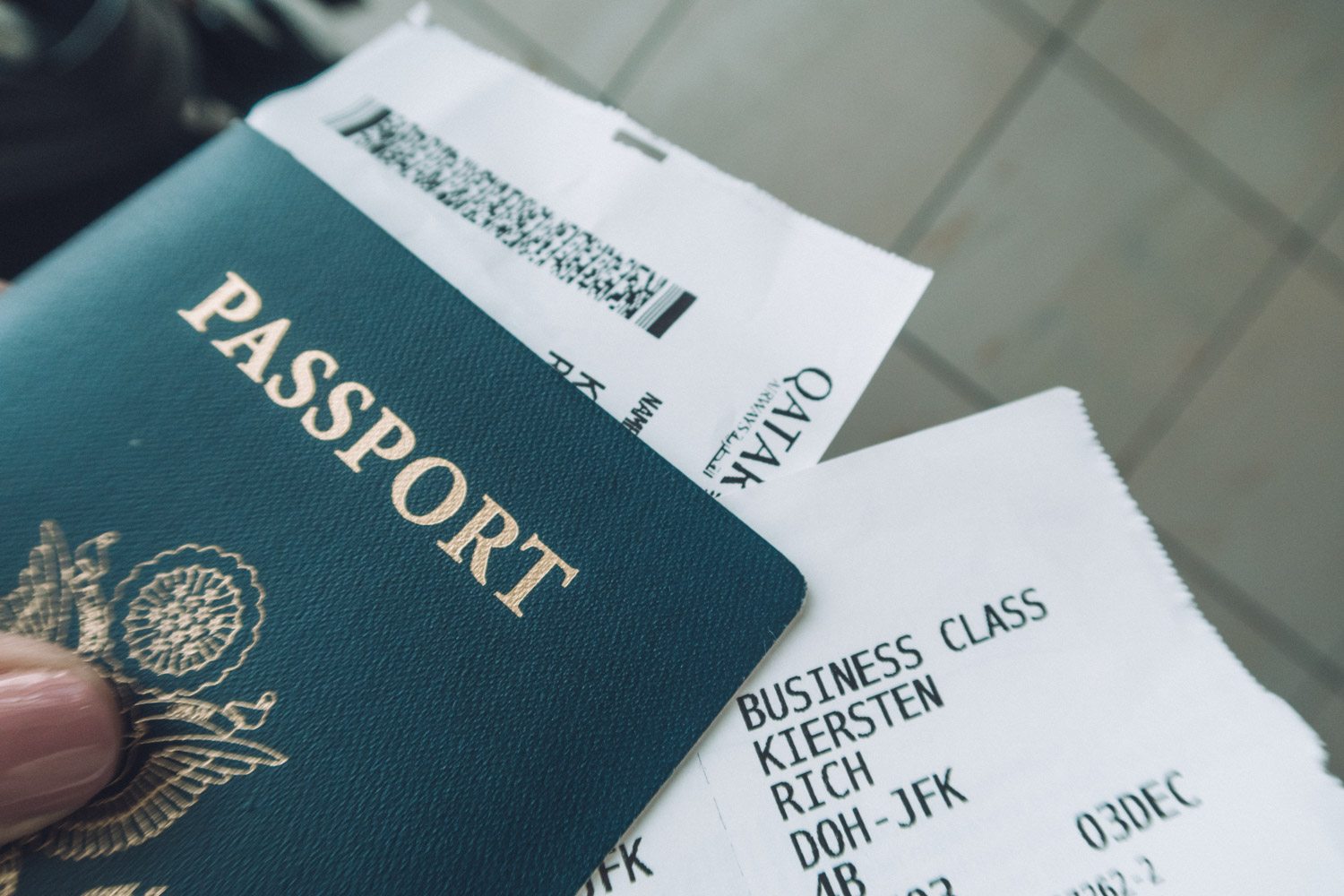 Overall
Flying business class with Qatar from Cape Town to NYC meant that getting to the US was a comfortable, stress-free experience. I was able to sleep on my flight, catch up on some work, ugly cry on the plane to some of my favorite holiday movies, and eat to my heart's content.
The staff goes out of their way to make sure you have an enjoyable flight, and their attention to detail makes flying with Qatar an exceptional experience. If you want to spoil yourself with a seat upgrade for your next long-haul flight, I highly recommend Qatar!
HELPFUL TIP: If you have been looking to get a travel reward credit card, I recommend applying for one before a big trip or purchase. Some of the biggest benefits are earning points to use for free flights and hotels. Plus, many cards offer additional points when making travel-related purchases. Some cards also offer travel protection when you pay for a trip with the card.

Have you flown business class with Qatar before? What was your experience like?