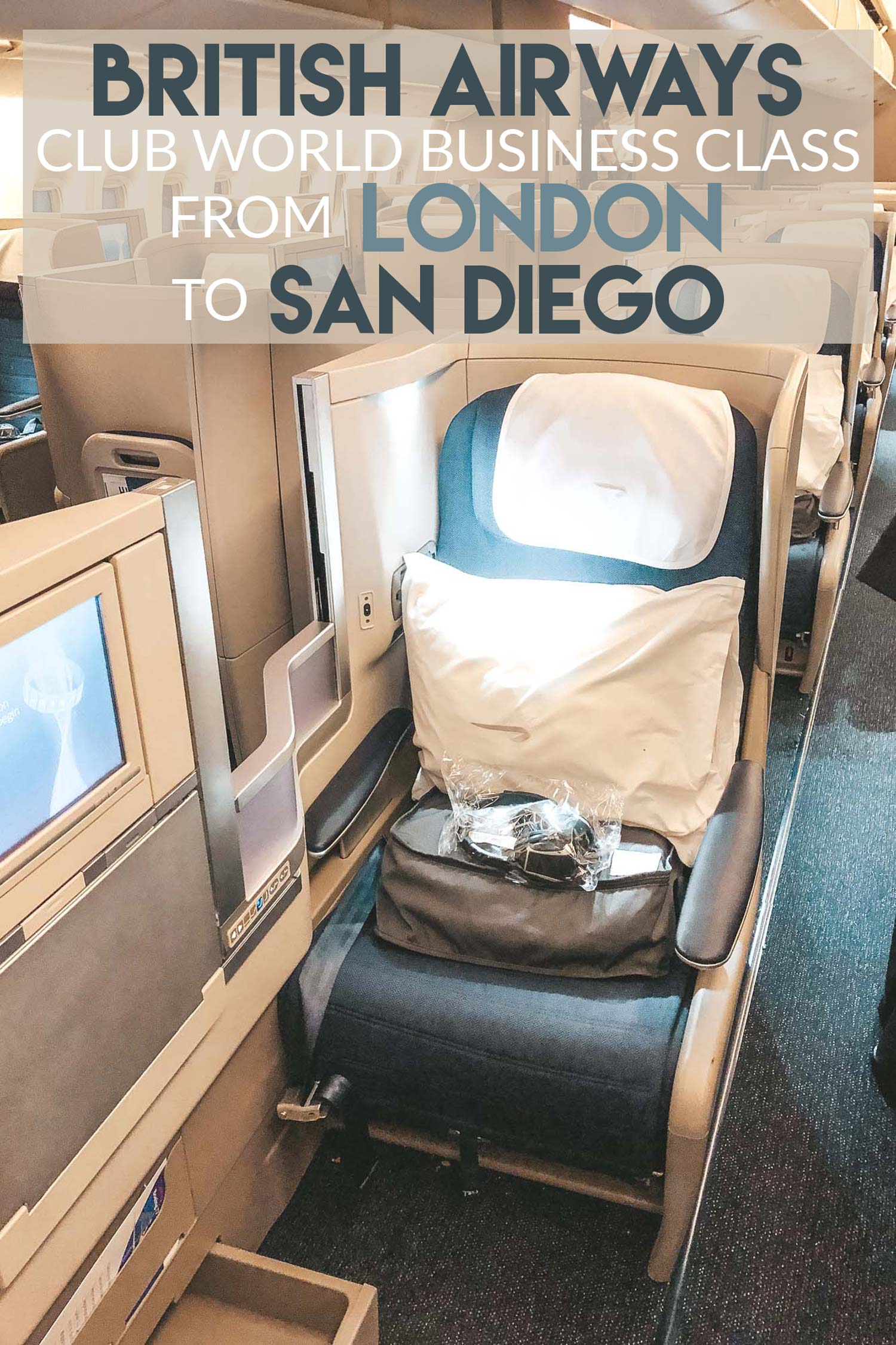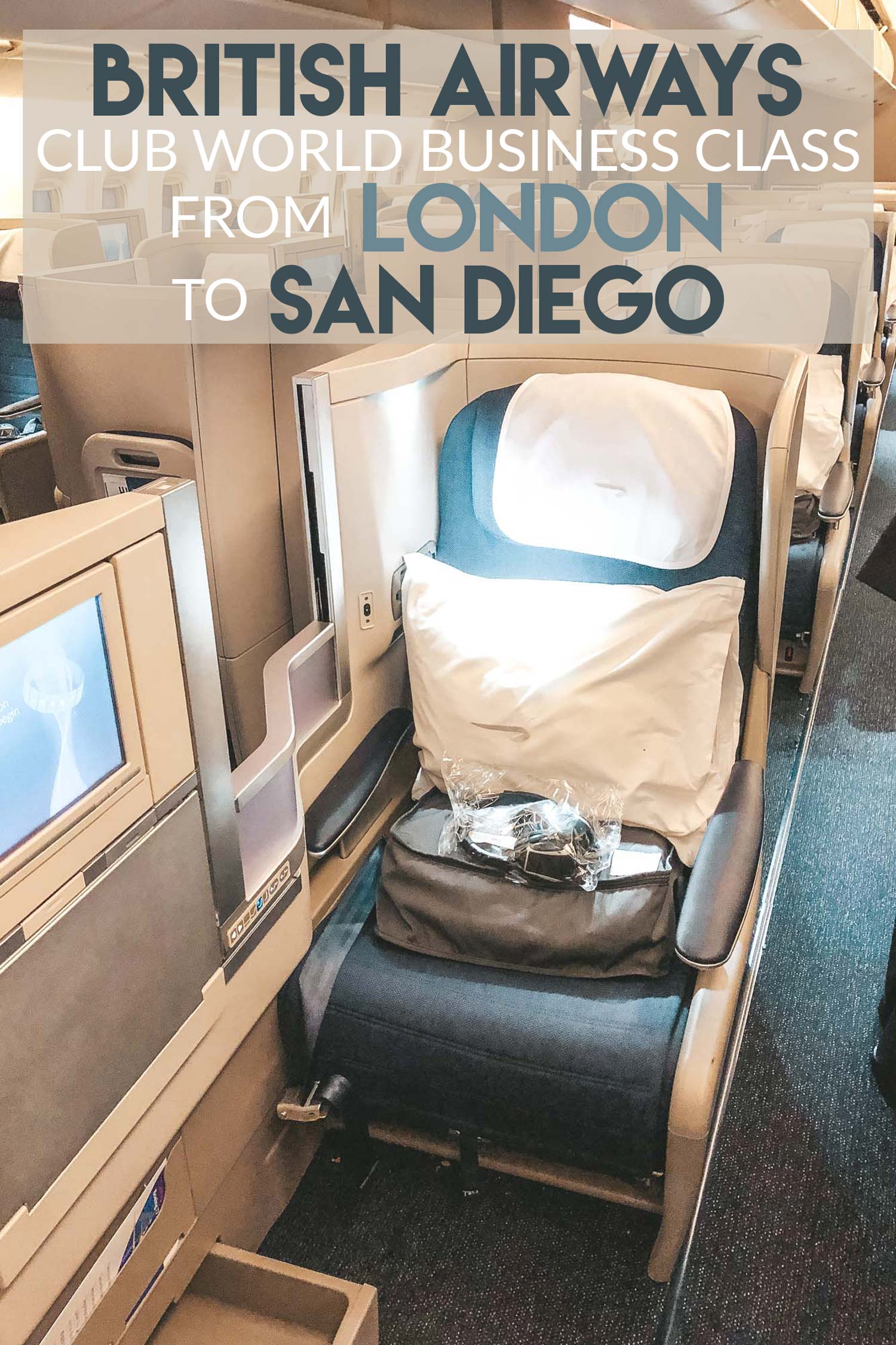 London is one of the most exciting cities in the world. There is just so much to do. You could spend a year exploring the British capital and barely scratch the surface.
While it's definitely a must-see destination, it's a long trip from the west coast of America. On my recent trip from London, I opted to upgrade to British Airways Club World Business class (always save your airline miles to make this more affordable!) to make the journey easier. The trip is just over 11 hours, and it is infinitely better when you have got some room to spread out.
Crossing the pond? Here is what to expect on a British Airways Club World business class trip from London to San Diego.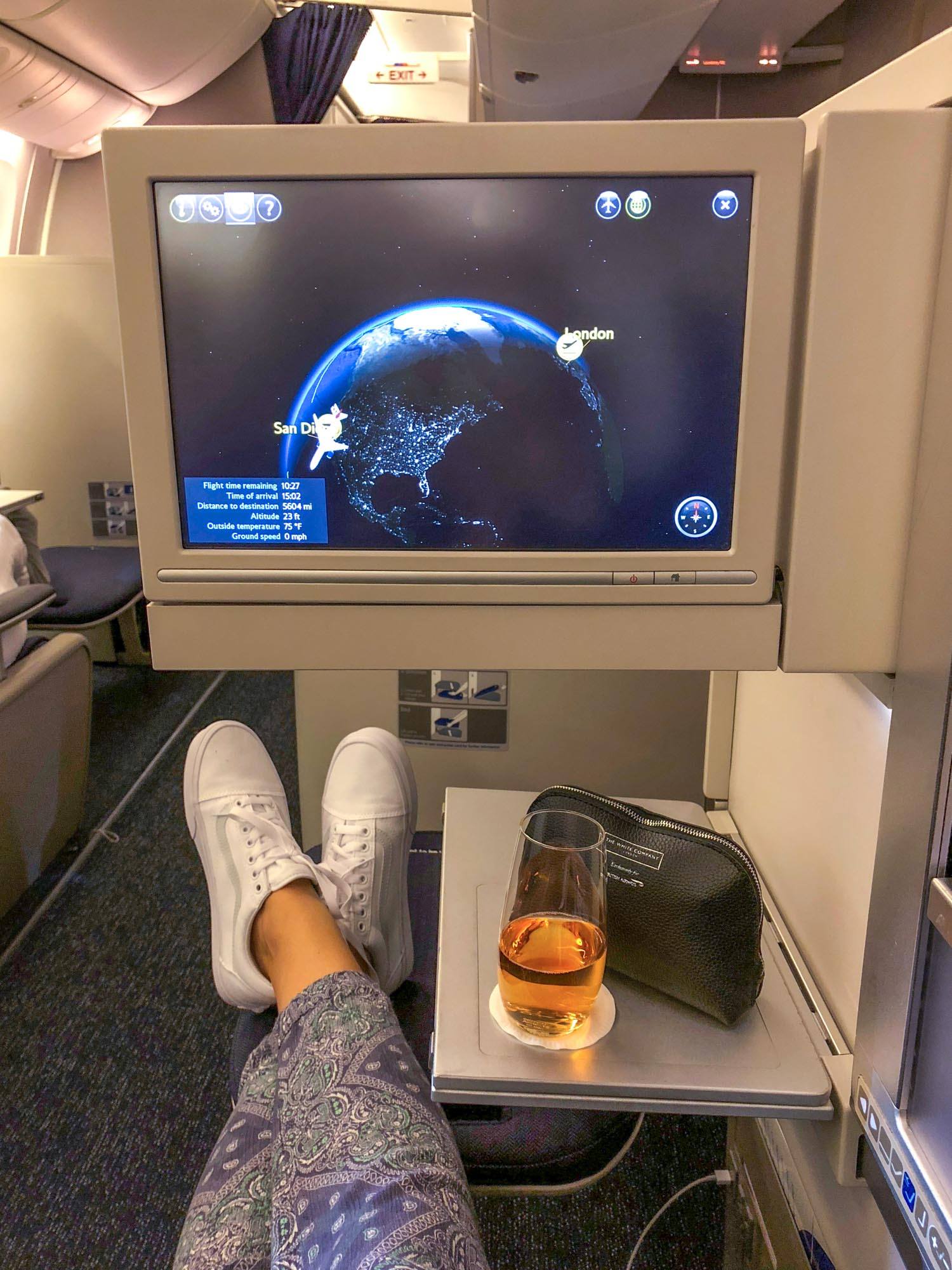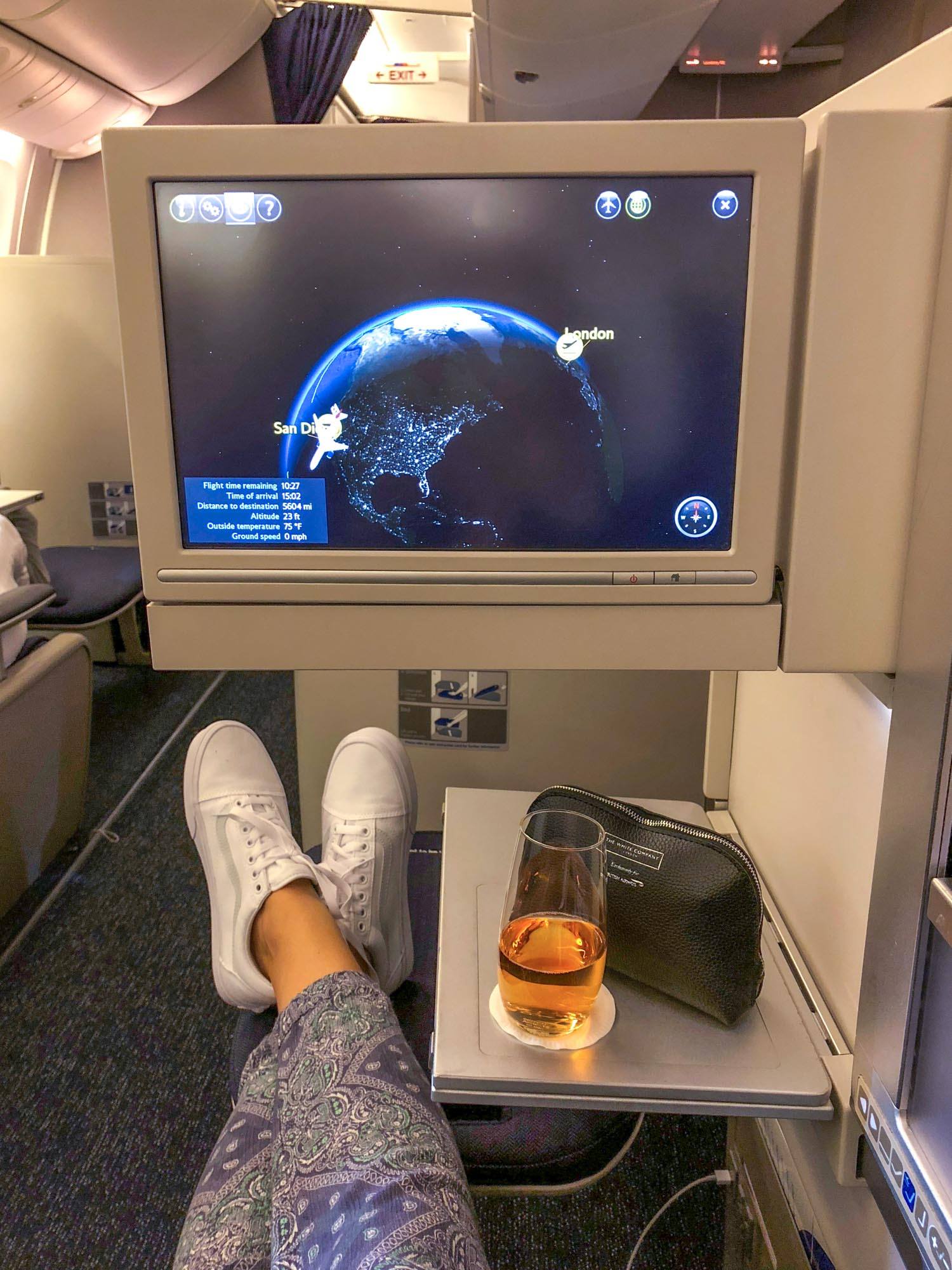 What to Expect
A British Airways Club World ticket gets you your own dedicated Club World check-in desk at most airports and Fast Track security at London Heathrow, London Gatwick, and New York JFK. Once you are in your terminal, you can relax in the luxury lounges.
While British Airways' expedited services are limited in the United States at the moment, you do get Fast Track arrivals at London Heathrow if you are a non-EU passport holder.
They've also got a swanky business class lounge in London where you can refresh on arrival. In London Heathrow Terminals 3 and 5, you can pop into the arrivals lounge for a quick bite, shower, and even clothes pressing.
They also do facials and massages from Elemis! Plus, when it comes time to board the plane, Club World Business class passengers get priority boarding.
Check out my tips for flying in and out of London Gatwick!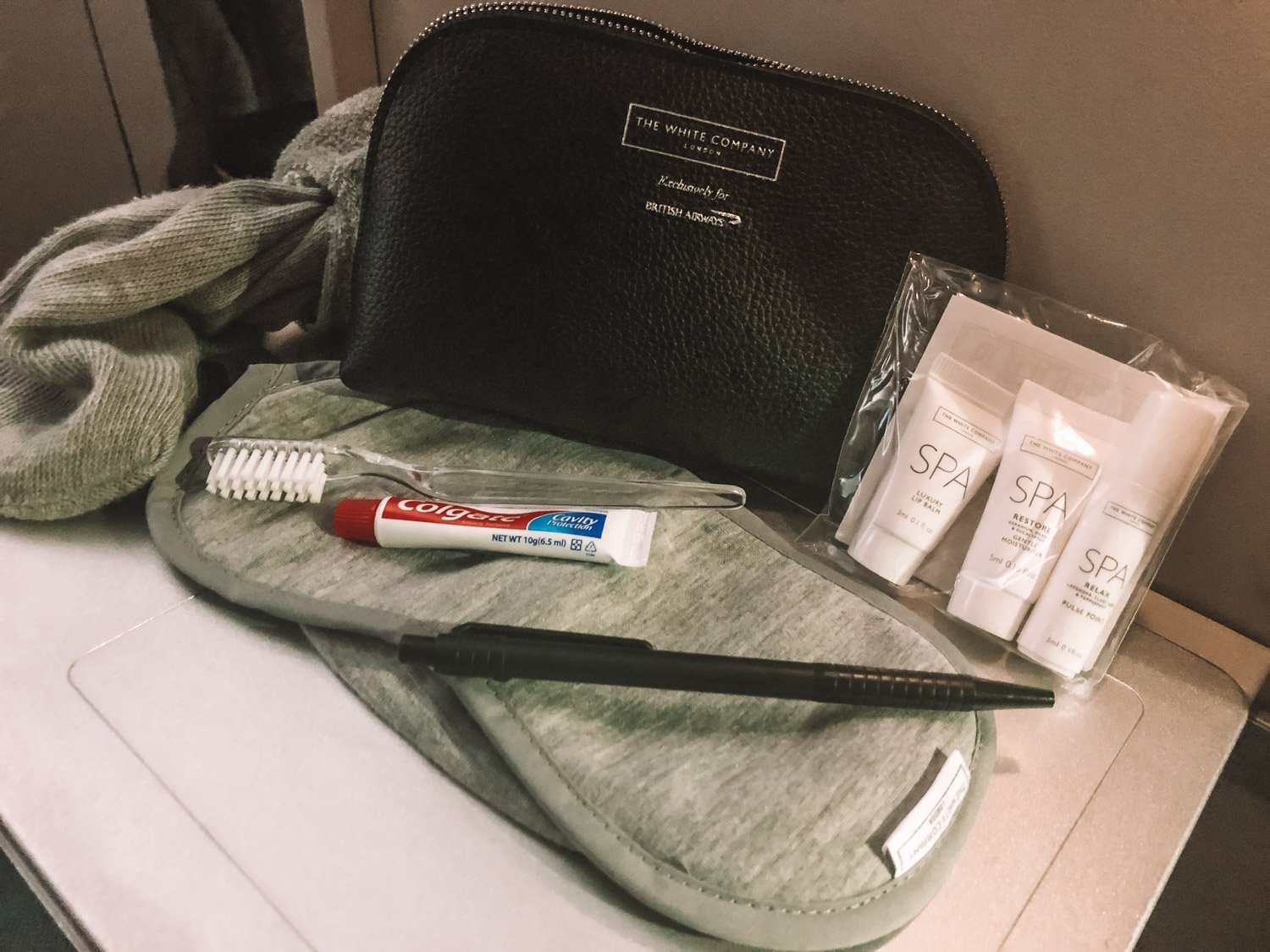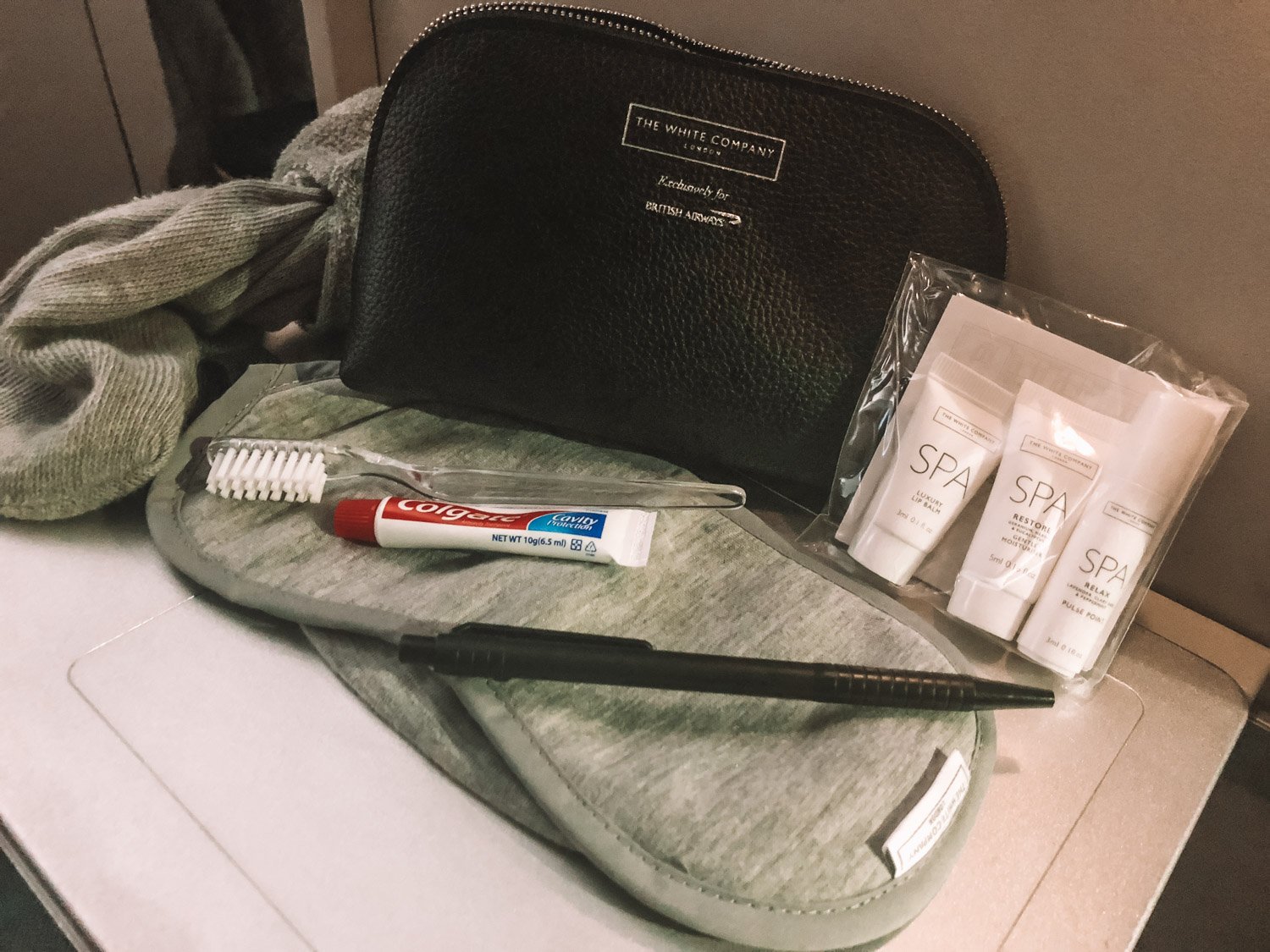 Amenities
Once you are boarded, you will be greeted by an amenity kit from the UK luxe lifestyle brand, The White Company. The kit features toiletries from Elemis so you can freshen up mid-flight.
In your seat, British Airways Club World Business class has all of the bells and whistles that you would expect from an upgraded flight. Each seat has a 10.4-inch screen with noise canceling headphones.
They offer hundreds of options for on-demand movies, TV shows, audiobooks, and games.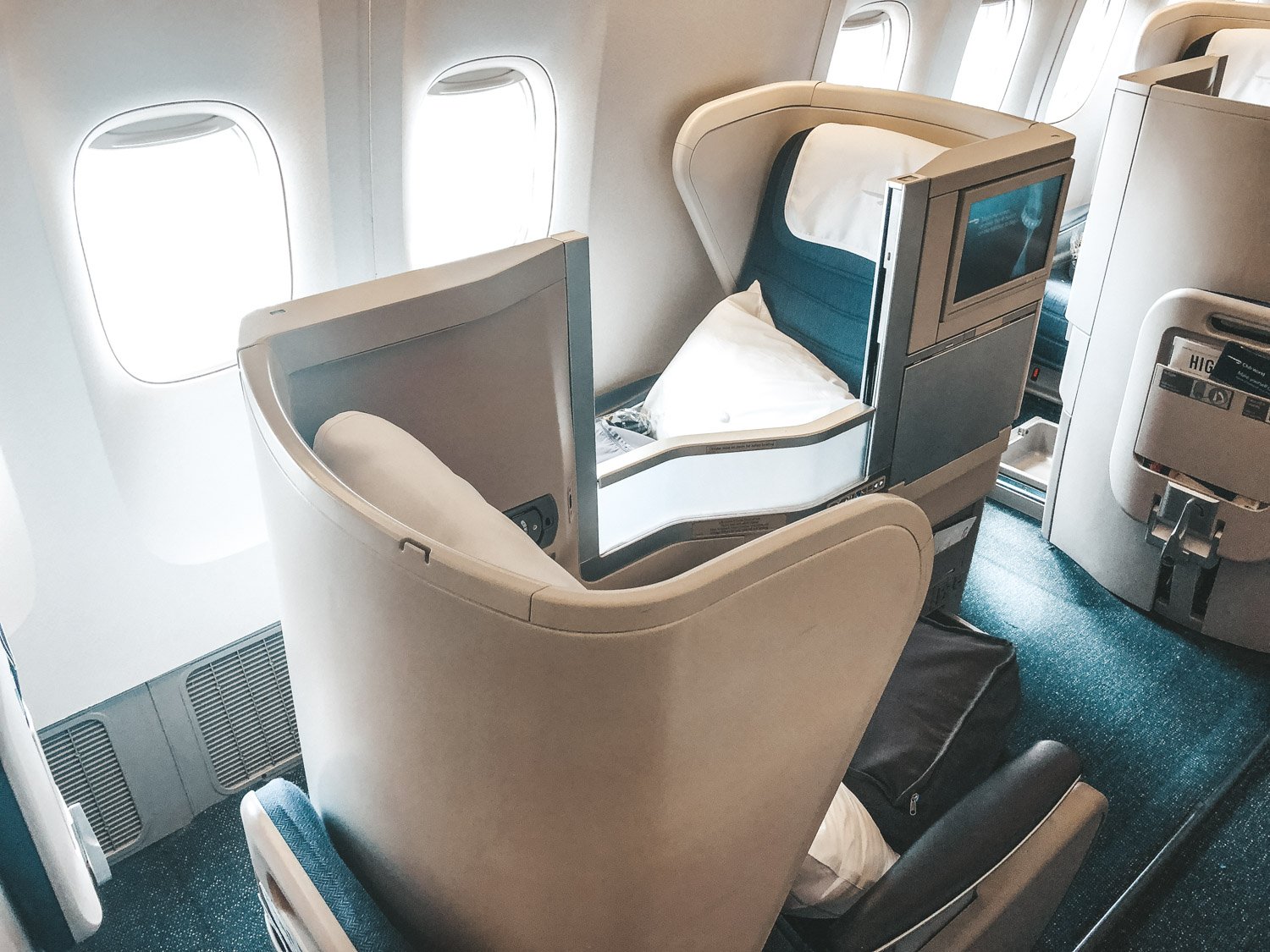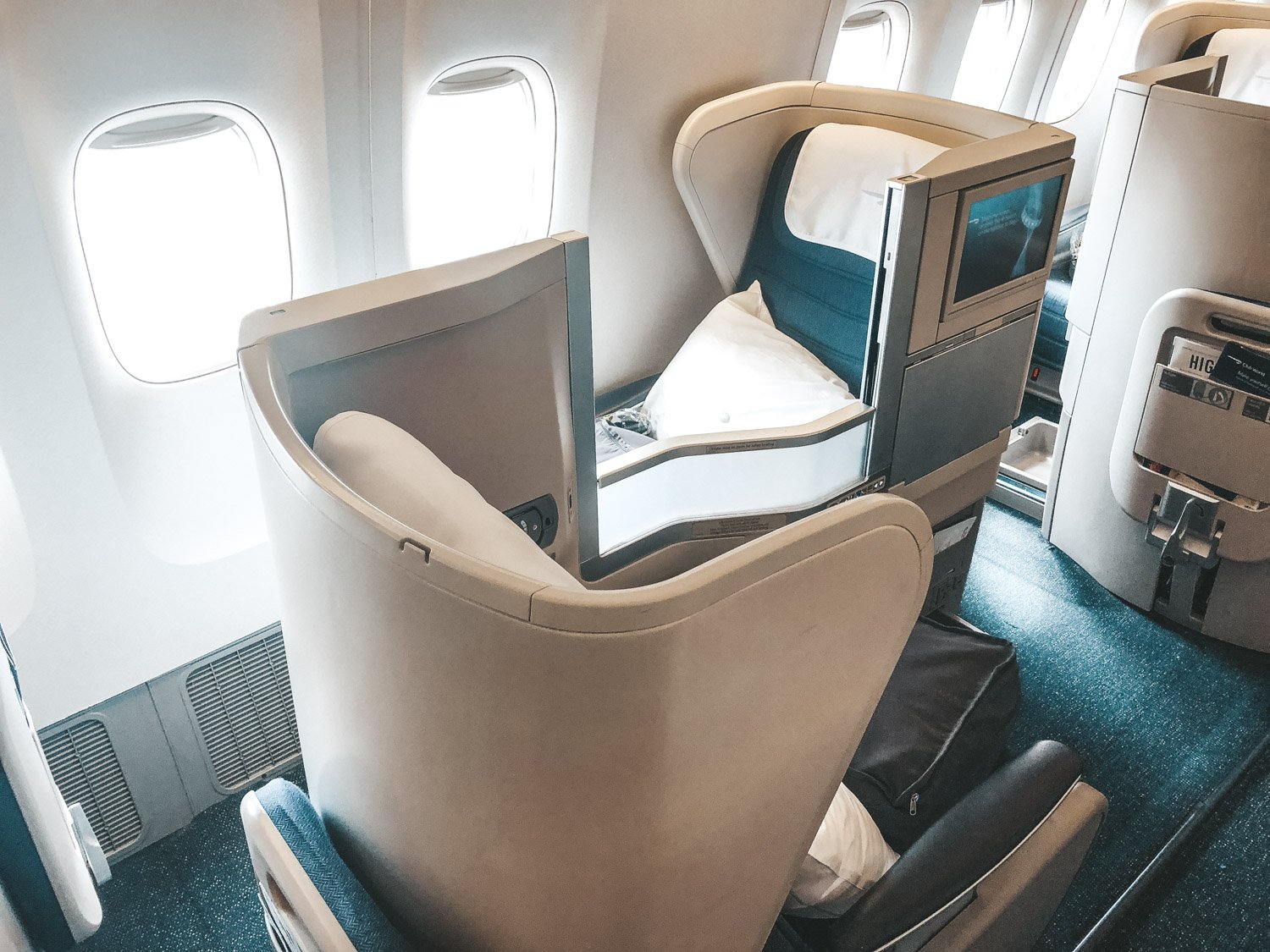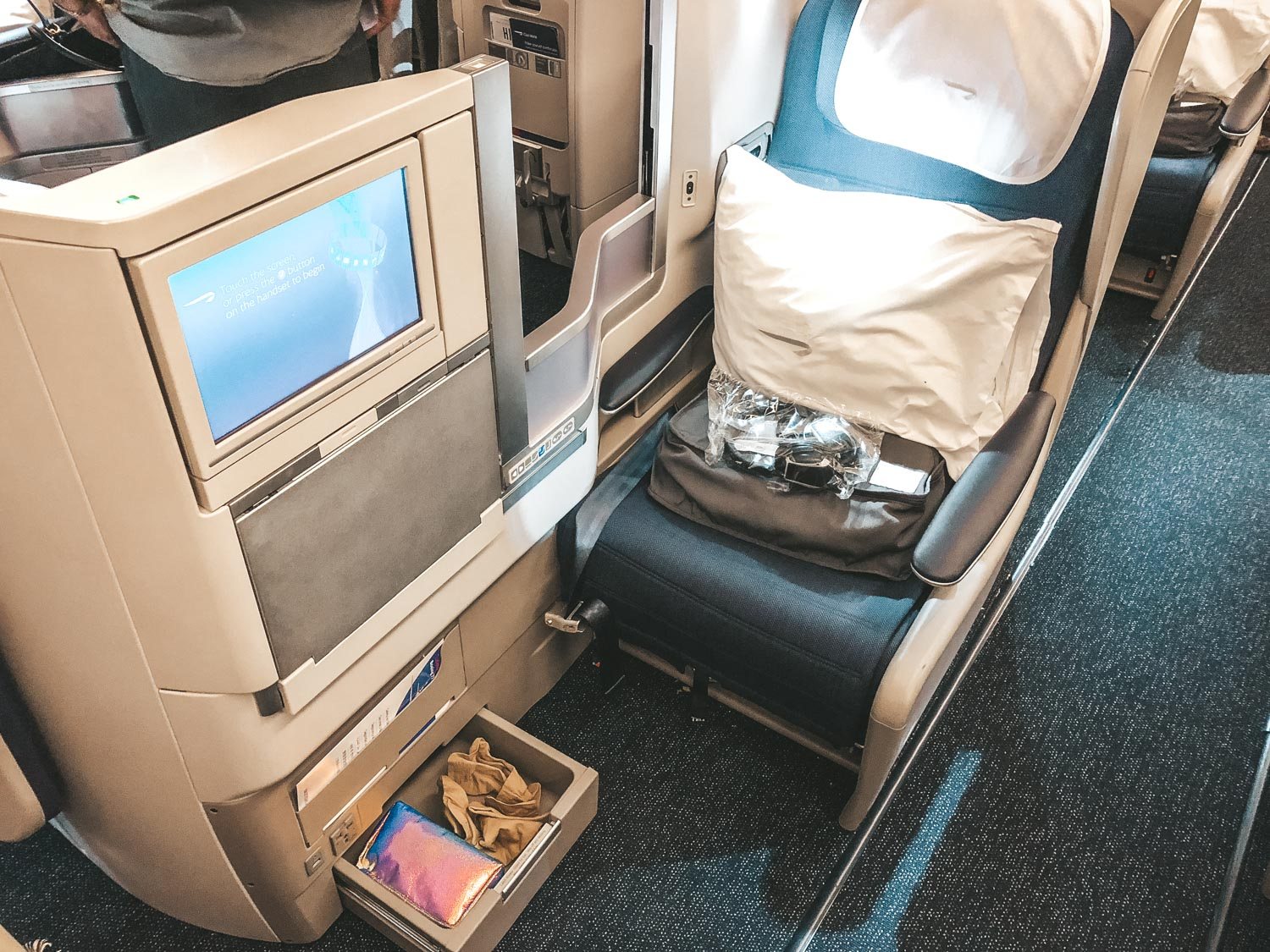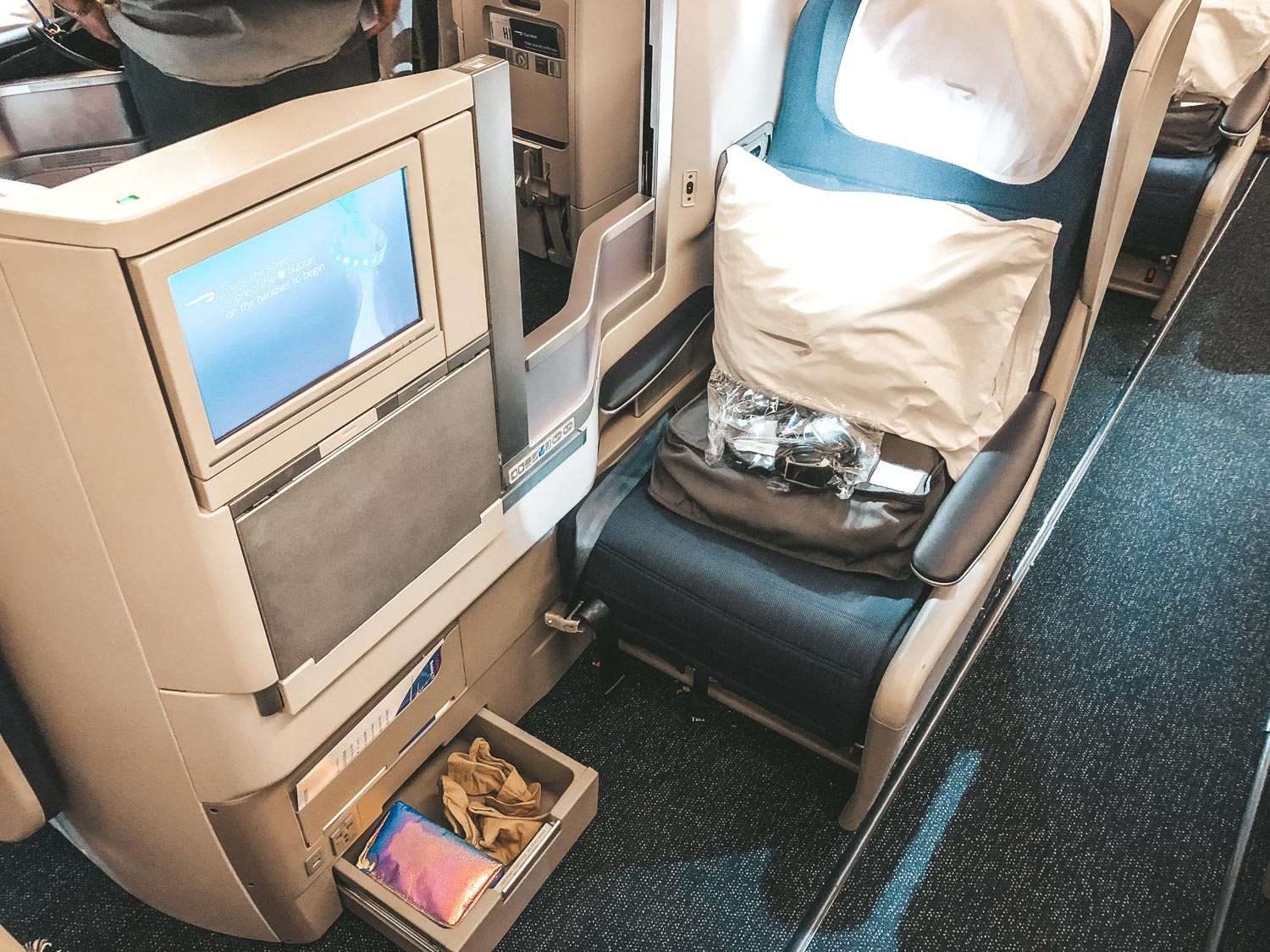 Seating
BA Club World Business class seating is what makes all of the difference! When you are looking at such an incredibly long day of travel, having a comfy place to get settled into is essential.
On the London to San Diego flight, you get a chair that lies fully flat into a 6-foot-long bed. There is an adjustable headrest and lumbar support so you can get comfortable in pretty much any position.

Every seat has ample storage and power supplies so you can bring all of your gear and be ready for the long haul.
Be aware that there are a lot of seats in the Club World Business Class section and they are pretty close together.
If you're on an inside seat in any given row, you will have to climb over the person on the aisle seat to get out (be aware that the window seat can get a bit cramped so if you are claustrophobic, opt for the aisle). The aisle seats don't have as much privacy and they are a little brighter.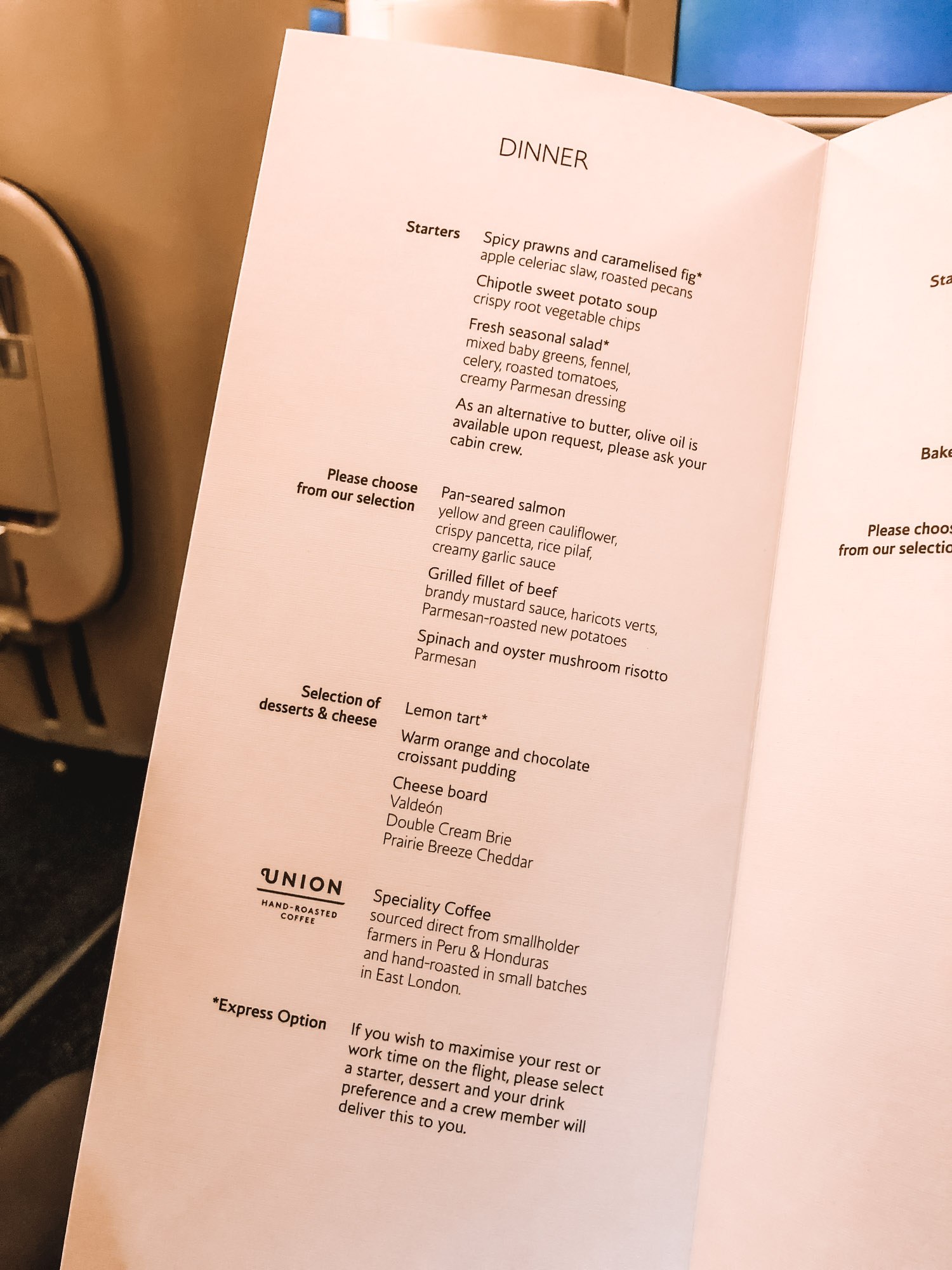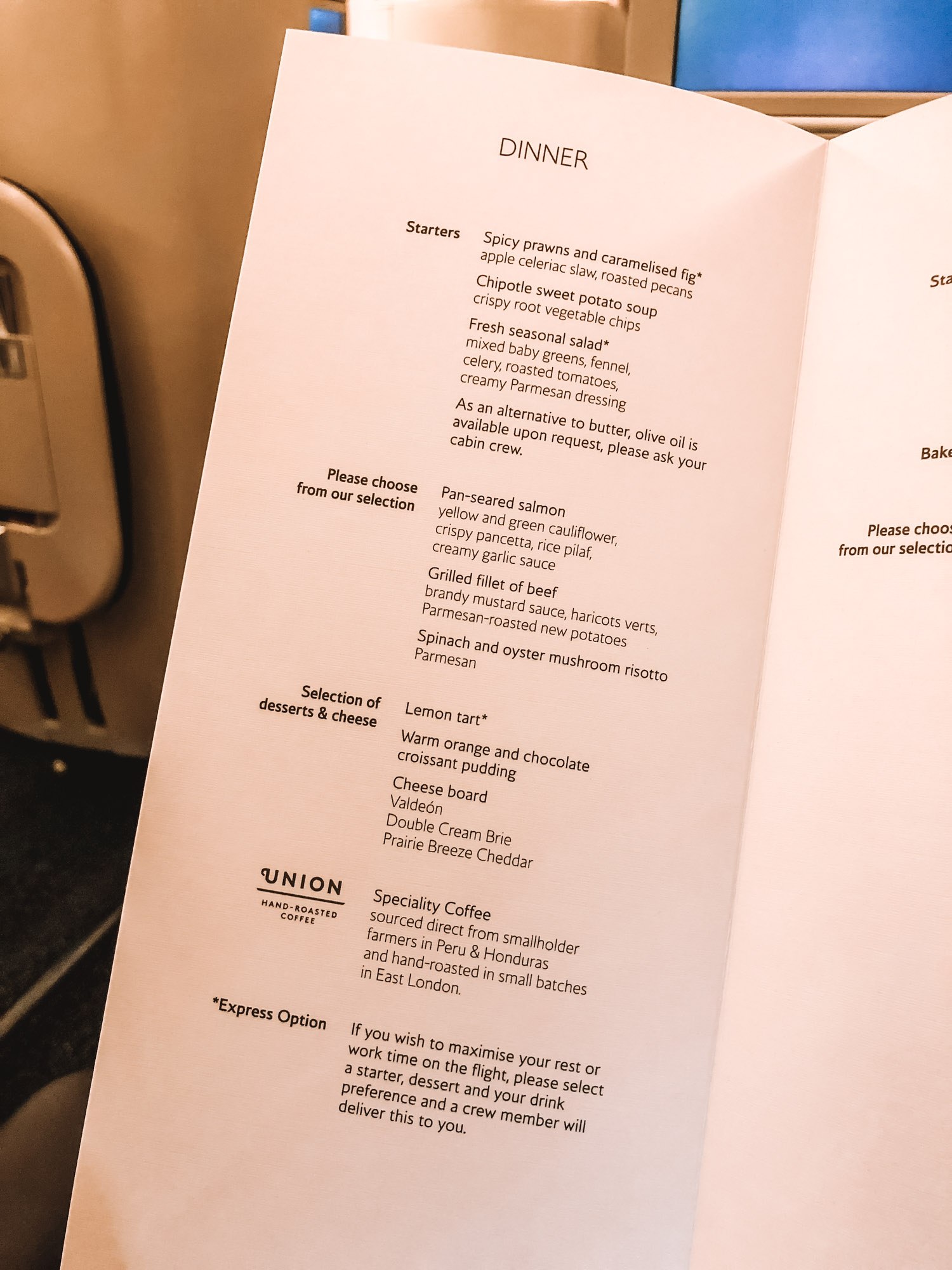 Food + Drink
The food on British Airways is all about fresh and local ingredients. They have created a restaurant-style experience with newly upgraded table settings. They roll a trolley by your seat with a good selection of starters, desserts, and cheeses. There is also an impressive range of soda, spirits, and wine.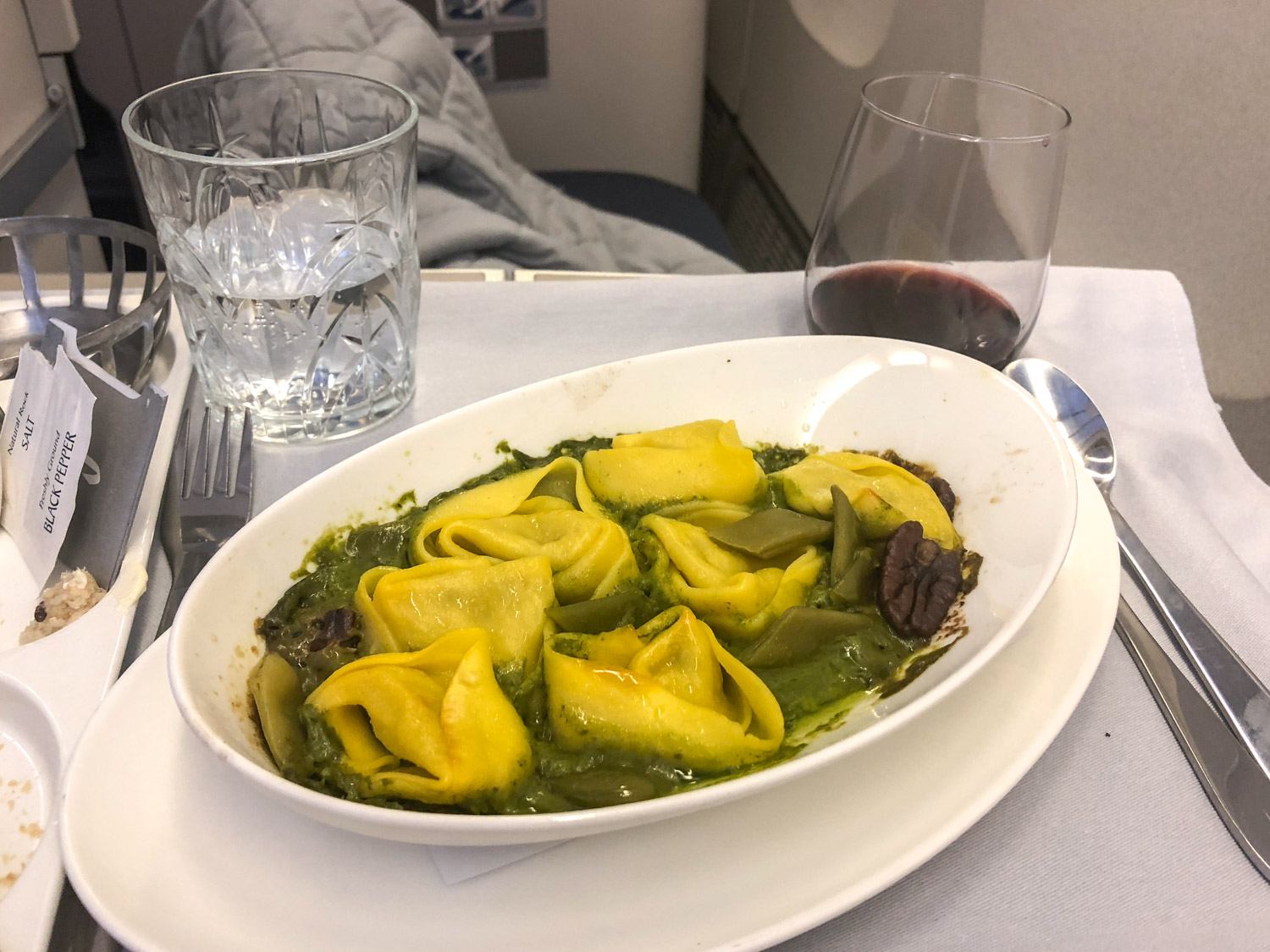 To perk you up, they have their own signature award-winning Union Hand-Roasted Coffee from London.
Meals in British Airways Club World Business class are three courses and suit pretty much any dietary requirements. As always, if you have any specific dietary needs, you will want to get onto their website at least 24 hours in advance to include that info with your reservation.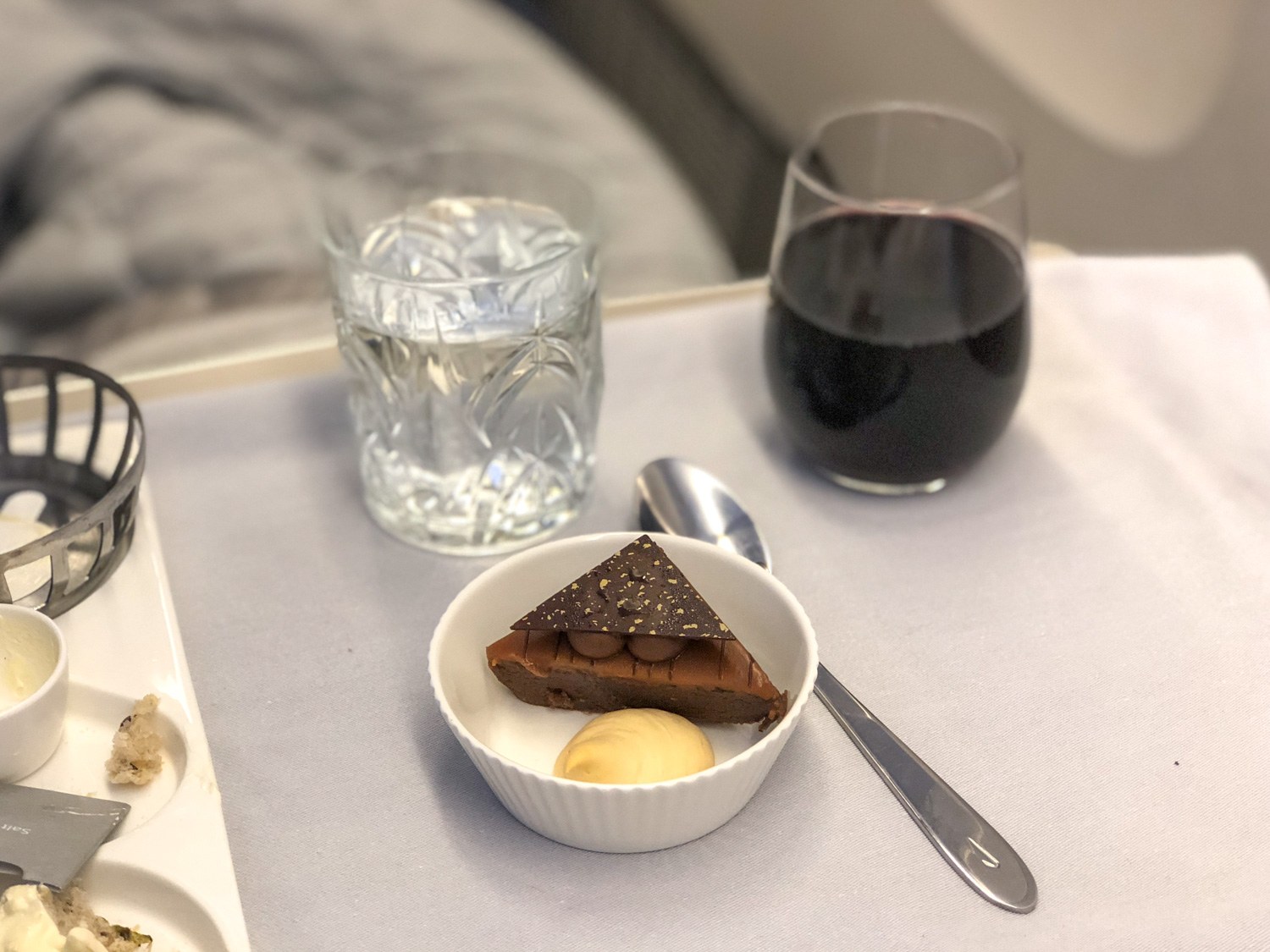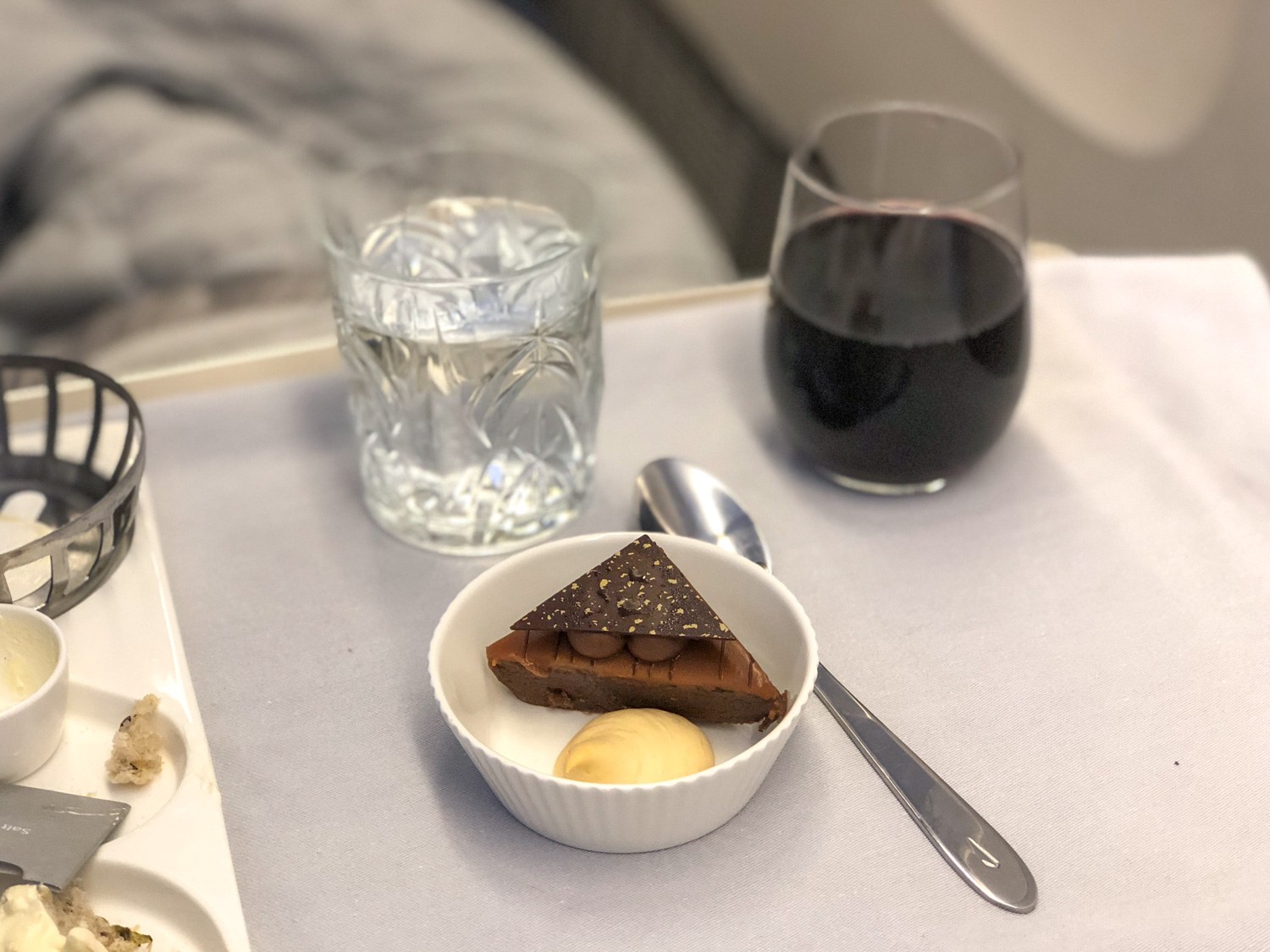 Note: I also flew the San Diego to London leg and there wasn't too much of a difference. The change was based on the time of day I was flying. If you fly in the afternoon, you will get lunch and dinner while if you fly at night, you will get dinner and a light breakfast.
HELPFUL TIP: If you have been looking to get a travel reward credit card, I recommend applying for one before a big trip or purchase. Some of the biggest benefits are earning points to use for free flights and hotels. Plus, many cards offer additional points when making travel-related purchases. Some cards also offer travel protection when you pay for a trip with the card.
My personal favorite is the Chase Sapphire Reserve (for frequent travelers) or the Chase Sapphire Preferred (if you're just starting out)! Check out my favorite travel reward credit cards!