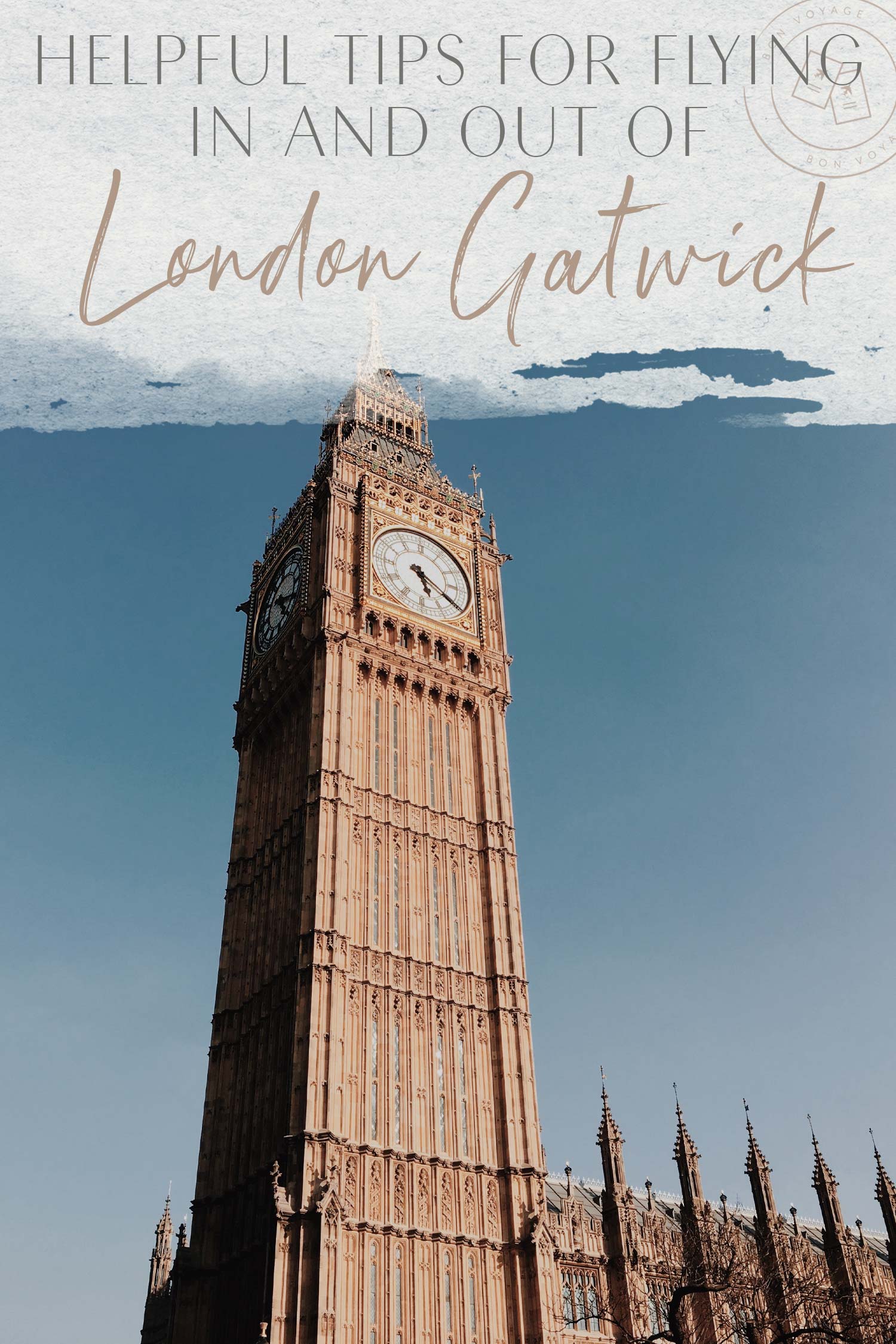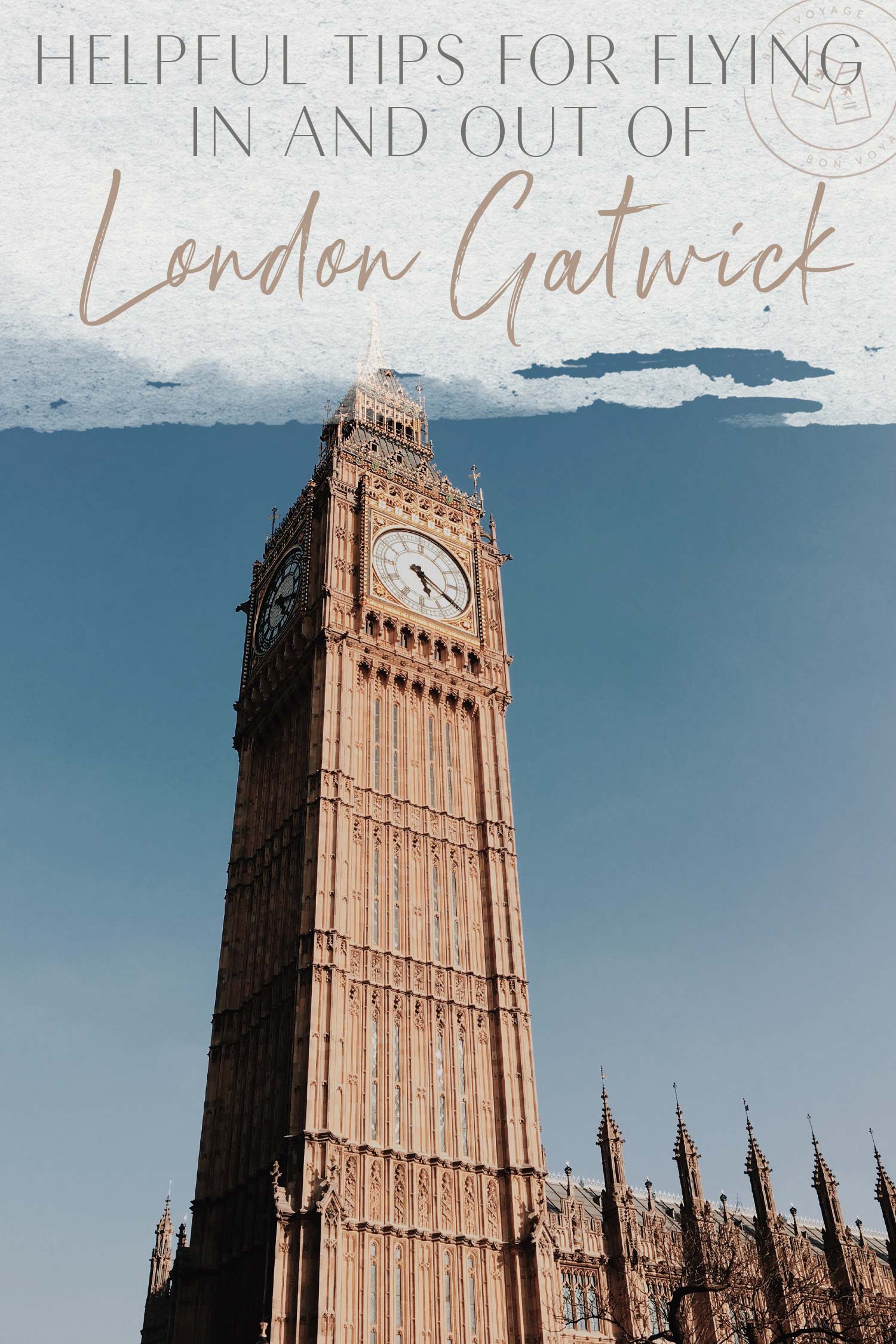 Updated: November 2019
London Gatwick is the world's busiest single-runway airport. It's located about 30 minutes from London and serves more than 200 destinations (more than any other UK airport) in 90 countries.
Many people choose to fly in and out of London Gatwick as it serves a lot of discount airlines and flight tickets can be a bit cheaper than Heathrow Airport- even if it's the same destination.
If you're headed out of there here are a few helpful tips for flying in and out of London Gatwick!

Passport Control: Everyone arriving at Gatwick has to go through passport control. This can mean wait times of 5-20 minutes or an upwards of 1 hour depending on the amount of travelers.
As with most European airports, there are there are two separate queues for European Union (EU), European Economic Area (EEA), British nationals and Swiss national and all other nationalities.
Flight Connections: For international connections, you will not need to clear passport control or Customs. For international to UK and Ireland connections, you must clear passport control and Customs.
Helpful Tip: If you have a chipped EU passport, then you can use the ePassport gates when you arrive at Gatwick.

Helpful Tips for Departures
Terminals: There are 2 terminals (North and South). To check which terminal you are departing from, check your booking or use Gatwick's helpful "Which Terminal." Transferring between terminals on the inter-terminal transit is easy, free, operates 24 hours a day and takes just a few minutes.
Carry-On Restrictions: You are allowed just one piece of hand luggage (must not exceed 56cm x 45cm x 25cm). Most airlines do also allow passengers to carry a handbag too but check with your airline in advance to be sure.
Carry-On Liquid Allowance: You may only carry small amounts of liquids, gels, creams, and pastes (in containers no bigger than 100ml) – and all these items must be inside ONE transparent re-sealable bag (maximum size: 20cm x 20cm) which will be screened separately at security.
That means every little tube of makeup, cream, gel, etc. needs to fit in a SINGLE plastic bag. It's not much space, so don't plan to pack your entire toiletries bag in a carry-on!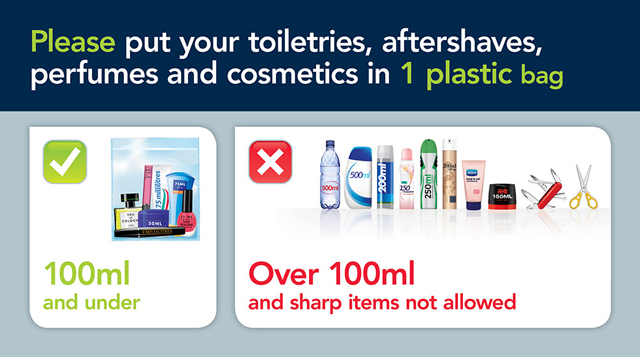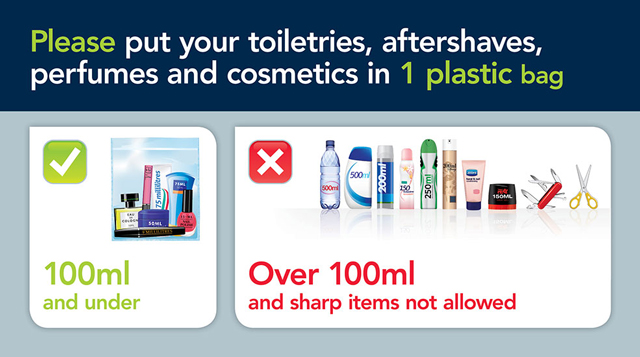 Boarding Times: Boarding usually begins around 45 minutes before departure.
What to Expect at Security:
Have only your boarding card ready for inspection – your passport is not required at security.
Have all your toiletries, aftershaves, perfumes and cosmetics (in containers of 100ml or less) in ONE transparent re-sealable plastic bag for security staff to x-ray separately.
TOP TIP: Making sure your plastic bag containing your liquids are in your hand rather than in your hand luggage before you get to security may help speed you through more quickly.
Remove coats and jackets. they will be screened separately while you walk through the security archway.
Take your laptop, tablet (ie.iPad) and any other large electrical items from your hand baggage to be x-rayed separately.
TOP TIP: Leaving any large electrical items in your hand luggage when you come through security will result in your bag being searched, which will slow you down through security.
You may be asked to remove your shoes and belt before going through the security archway.
IMPORTANT: All passengers flying into or out of the UK should ensure that any electronic devices carried in hand luggage – mobile phones, tablets, etc  – are sufficiently charged so that they can be turned on if required. Please be aware that if your device does not switch on, you may not be allowed to bring it on to the aircraft.
Helpful Tip: Forgot to print your Ryan Air boarding pass? Don't pay that fee! A SurfBox printing facility is conveniently located before security and charges 50p per page for printing.

Getting To and From
Fastest (Gatwick Express): Gatwick Express is the fastest rail link between the airport and central London. Non-stop trains run to and from London Victoria every 15 minutes and take 30 minutes. (Online: £17.70 single one-way)
Fast (Southern Rail): Travel with Southern Railway to and from London Victoria and Gatwick and save some money. Journey approx. 40 minutes. Book online for best prices. (Online: Starting at £13 single one-way)
Cheapest (By Bus): Easybus is your cheapest option, with fares as low as £2 if booked online in advance.
By Car: Gatwick is 28 miles (45km) south of London, linked directly to the M23 at Junction 9 and to the A23 London-Brighton road.

Eating
Gatwick has several restaurants that you might be familiar with as an international traveler. These popular restaurants include Starbucks, Nandos, and Pret a Manger.
There are also a lot of different spots to grab a drink (it is Britain after all)! Some of these bars include The Red Lion, The Flying Horse, and The Beehive.

Lounges
Gatwick has multiple different lounges you can use in both terminals. This includes the No1 Lounge and Clubrooms which you can enjoy for a small entry fee. Here you'll have access to a wide variety of drinks, food, and other amenities. You can book on Gatwick's site to save on entry fees.
The airport is also home to airline lounges such as Emirates, Virgin Atlantic, and British Airways.

Parking
Gatwick Parking offers both short and long-term parking options:
5-minute bus ride to your terminal with buses every 10 minutes, 24 hours a day
Safe and secure parking with frequent patrols, security fencing and CCTV coverage
Self-parking facility – you find your own space and keep your car keys with you
Prices: Short-term parking starting at £3 / Long-term parking £20 per day for the first day and £15 for subsequent days (See full list of Gatwick Parking Prices)
Helpful Tip: There is no charge for stays under 2 hours in the long-term parking.  

Airport WiFi
There is Wi-Fi! You'll get 45-minutes of free Wi-Fi during your visit.