Hong Kong is one of the most dynamic places on the planet. This vibrant city has a culture unlike anywhere else I have ever been (along with fantastic food!).
While it's a place that I think deserves a spot on every traveler's bucket list, it is also incredibly far away. I'm talking around 13 hours in the air.
Whenever I have a long haul flight, I think it is always worth upgrading to business class (remember always to keep saving those travel miles). On my recent trip from Hong Kong to California, I boarded American Airlines in Flagship Business Class!
"Flagship" is the name of American Airline's international Business class. Booking a Flagship Business class ticket allows you priority access throughout the airport (plus your bags will come out first at your destination!) and many other in-flight benefits.
Want to fly home in style? Here is what you should know about American Airlines Flagship Business Class from Hong Kong to LAX.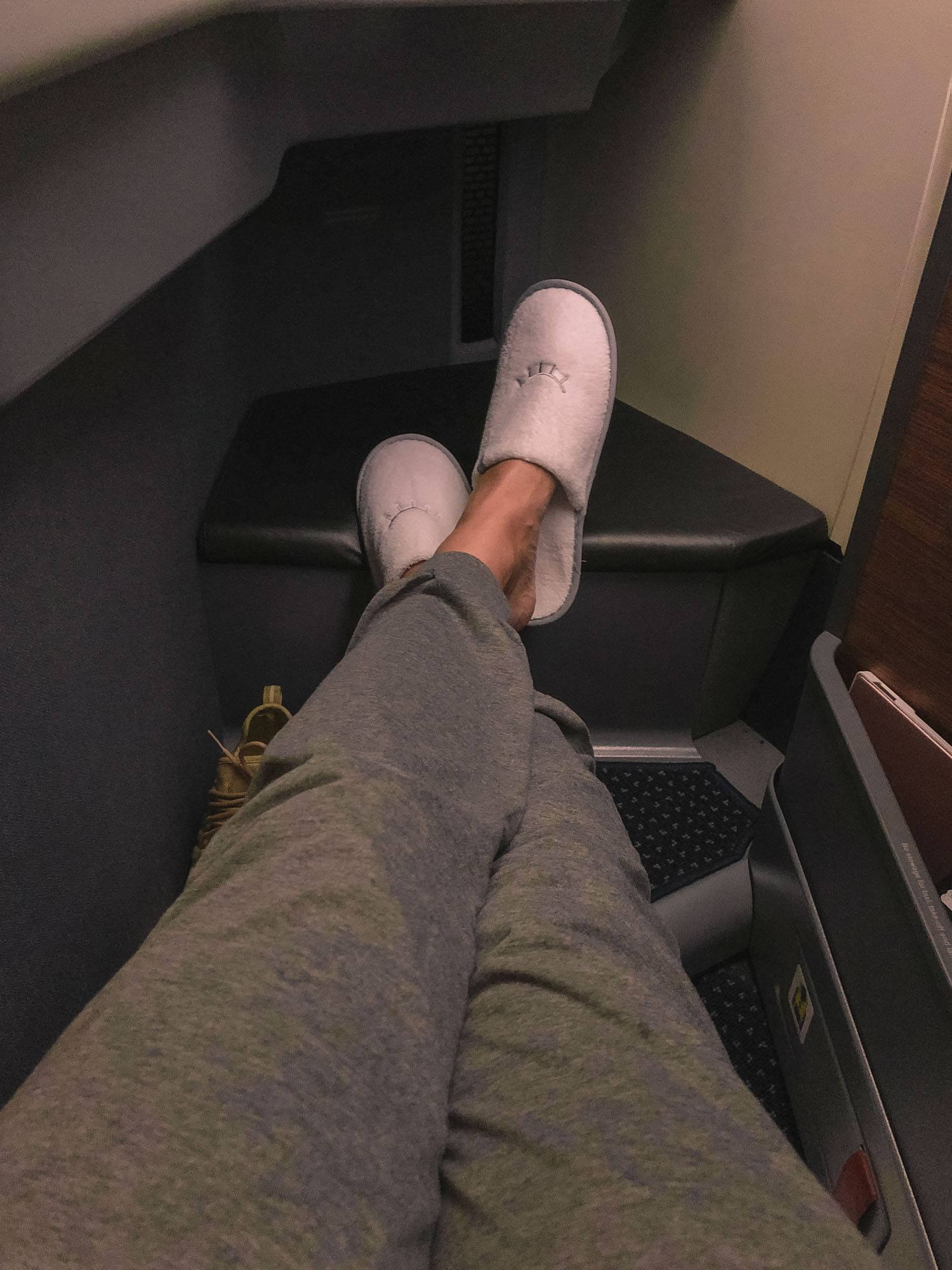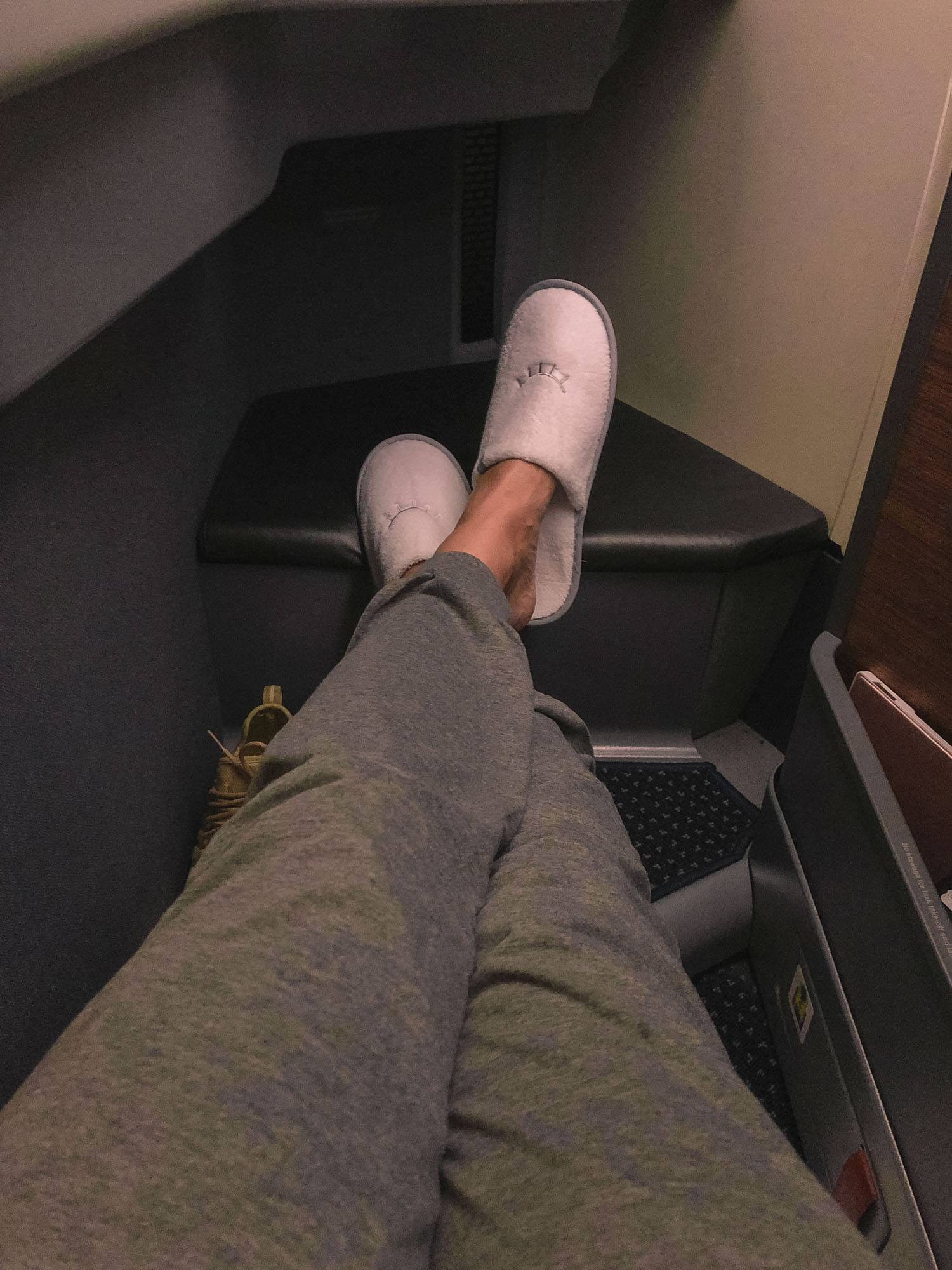 What to Expect
The perks of American Airlines Flagship Business class starts when you arrive at the airport. Keep your eyes peeled for the "priority" signs at the American Airlines counter, at security, and at the gate.
You can bypass the lines and make your time at the airport fly by a bit faster.
If you have got some time to kill in the airport, it is worth finding the airline lounge. American Airlines has different lounge options depending on where you are flying from.
In Hong Kong, you can use the Plaza Premium (West Hall) Lounge and Club Bauhinia. You can eat, drink, shower, relax, and get ready to continue on your journey.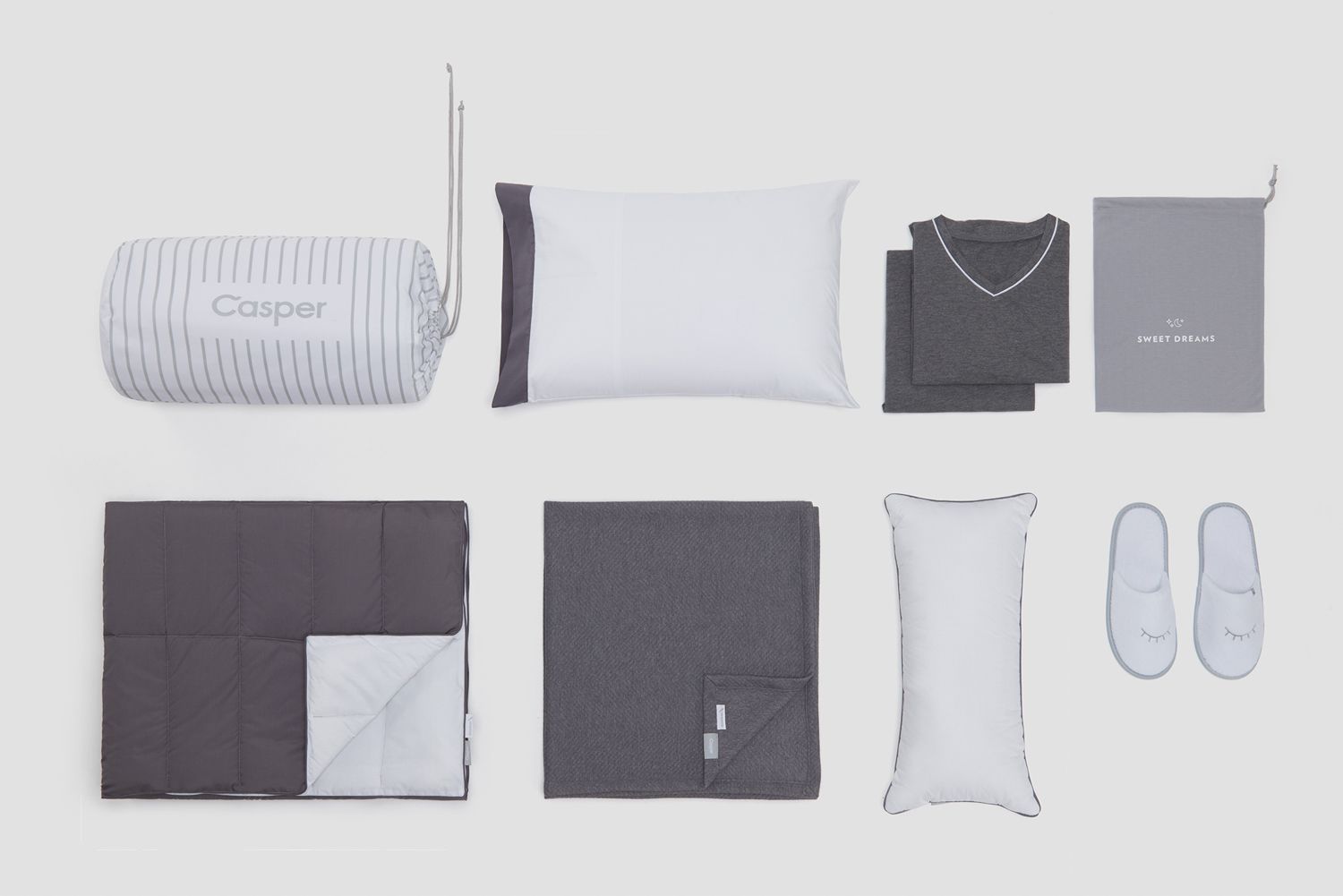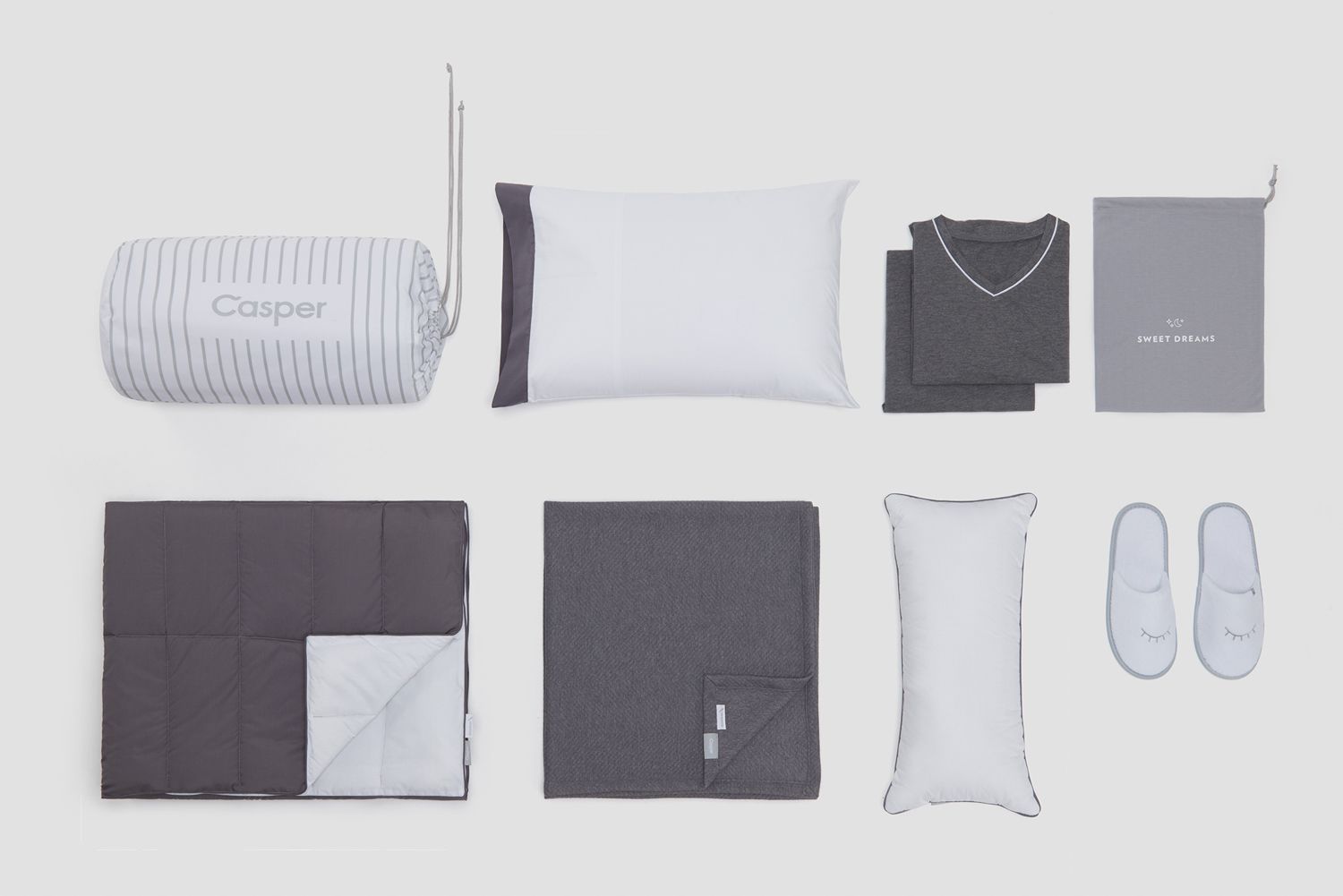 Amenities
AA changes up their goodie bags every so often, but, at the moment, it's Cole Haan amenity kits. They feature all of the essentials to keep you feeling fresh like an eye mask, earplugs, socks, tissues, toothbrush, toothpaste, pen, and a travel kit.
One of the coolest new features of AA's Flagship Business Class is the Casper bedding that is provided. Each seat gets a Casper mattress pad, duvet, pillow, pajama set, day blanket, lumbar pillow and slippers. The items were so cozy and above and beyond what I'd expect on a business class flight!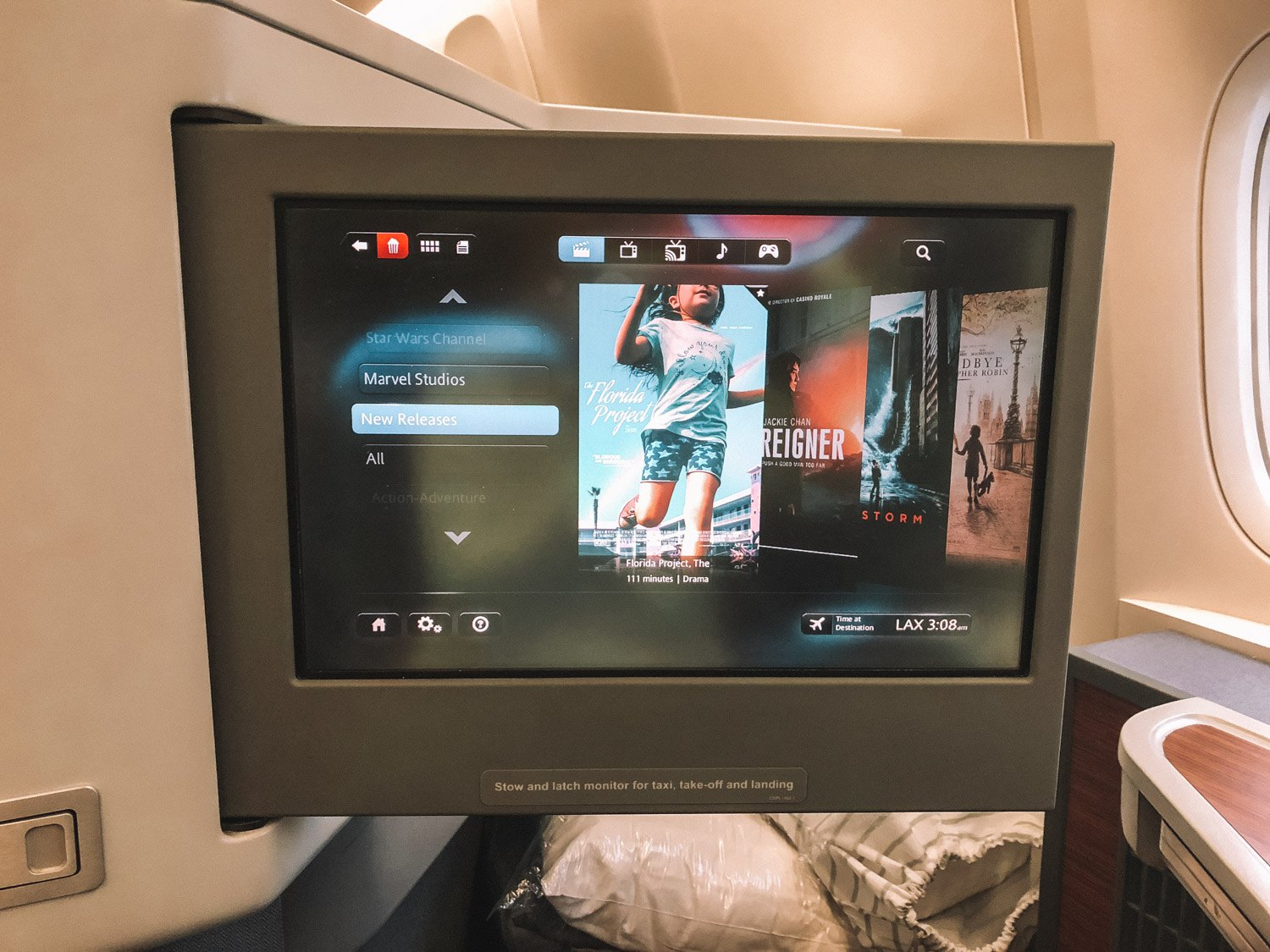 Entertainment
The Hong Kong to LAX trip on American Airlines is on a Boeing 777-300. The plane is equipped with Wi-Fi, live TV streaming, and hundreds of movies.
There's a good size screen and, with American Airlines Flagship Business class, you get Bose headphones (not the noise canceling kind though, so I'd still recommend bringing your own in the case that you've got noisy neighbors or like to use them to fall asleep).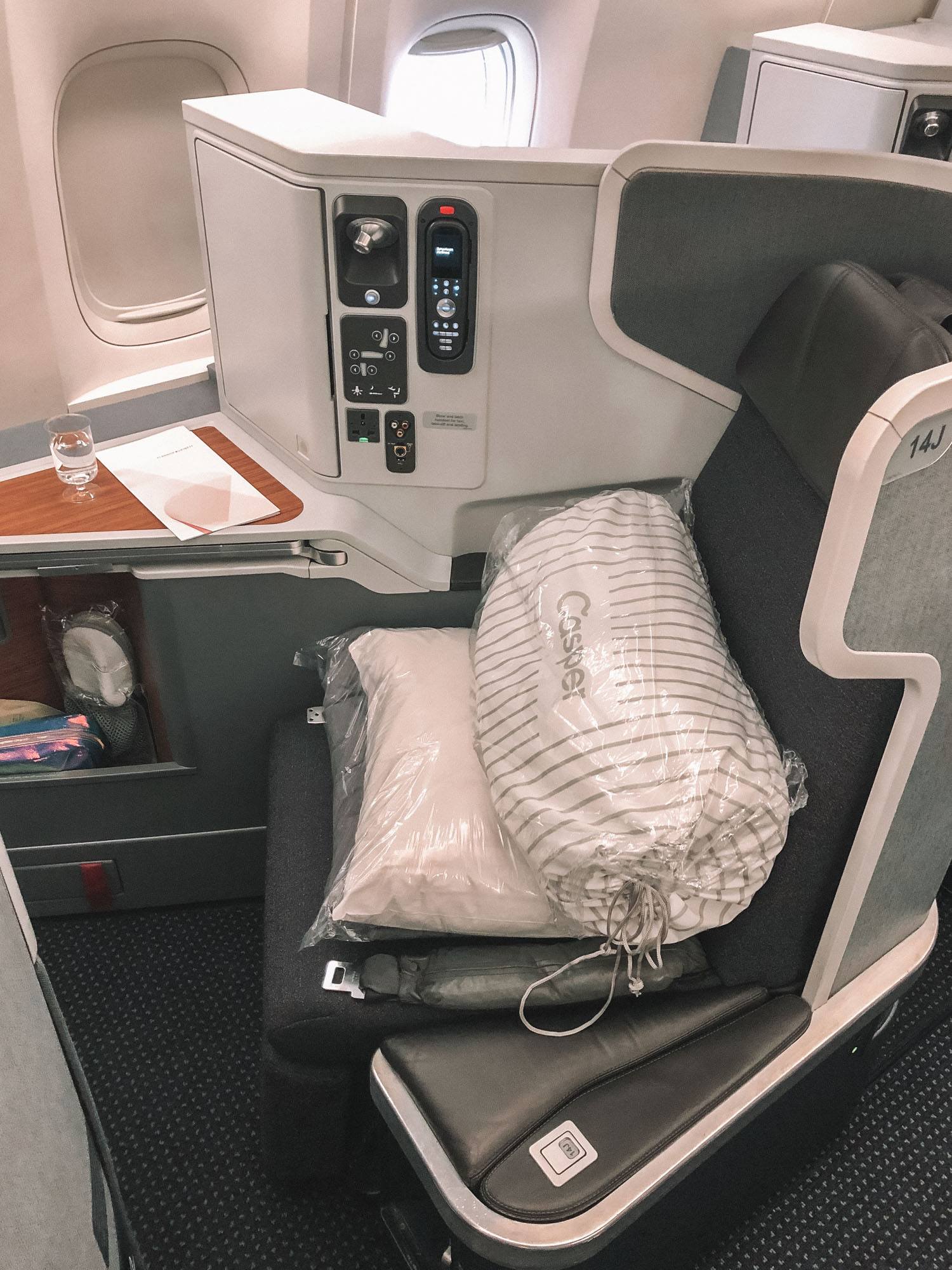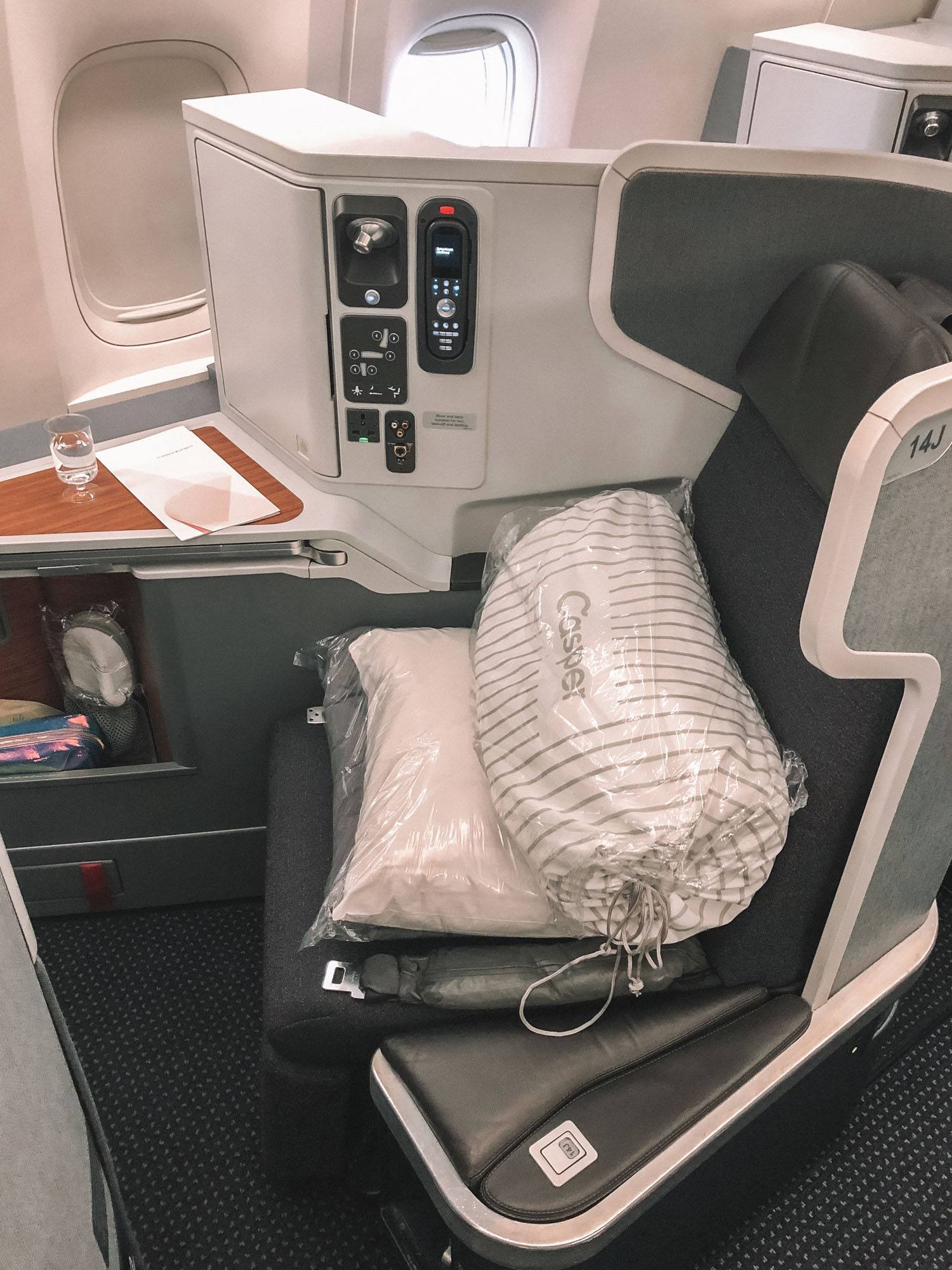 Seating
In Flagship Business class, all seats are set up in a 1-2-1 configuration, so there is plenty of room to spread out. Every seat in AA Flagship Business class has a USB port, universal power plug, and a reading light.
The seats lie fully-flat, which is always a must for flights this long. There is just the right amount of storage space around you so you will have plenty of room to stash away your essentials and spread out.
For me, this is what makes all of the difference. While economy class is totally fine for short trips, it gets pretty miserable after eight hours (especially if you fly often!).
Being able to lie down for a nap and spread my stuff out makes a world of difference when the journey is as long as Hong Kong to Los Angeles. Not only is my trip better, but getting some much needed zzz's also means that I can arrive refreshed and not lose any travel days.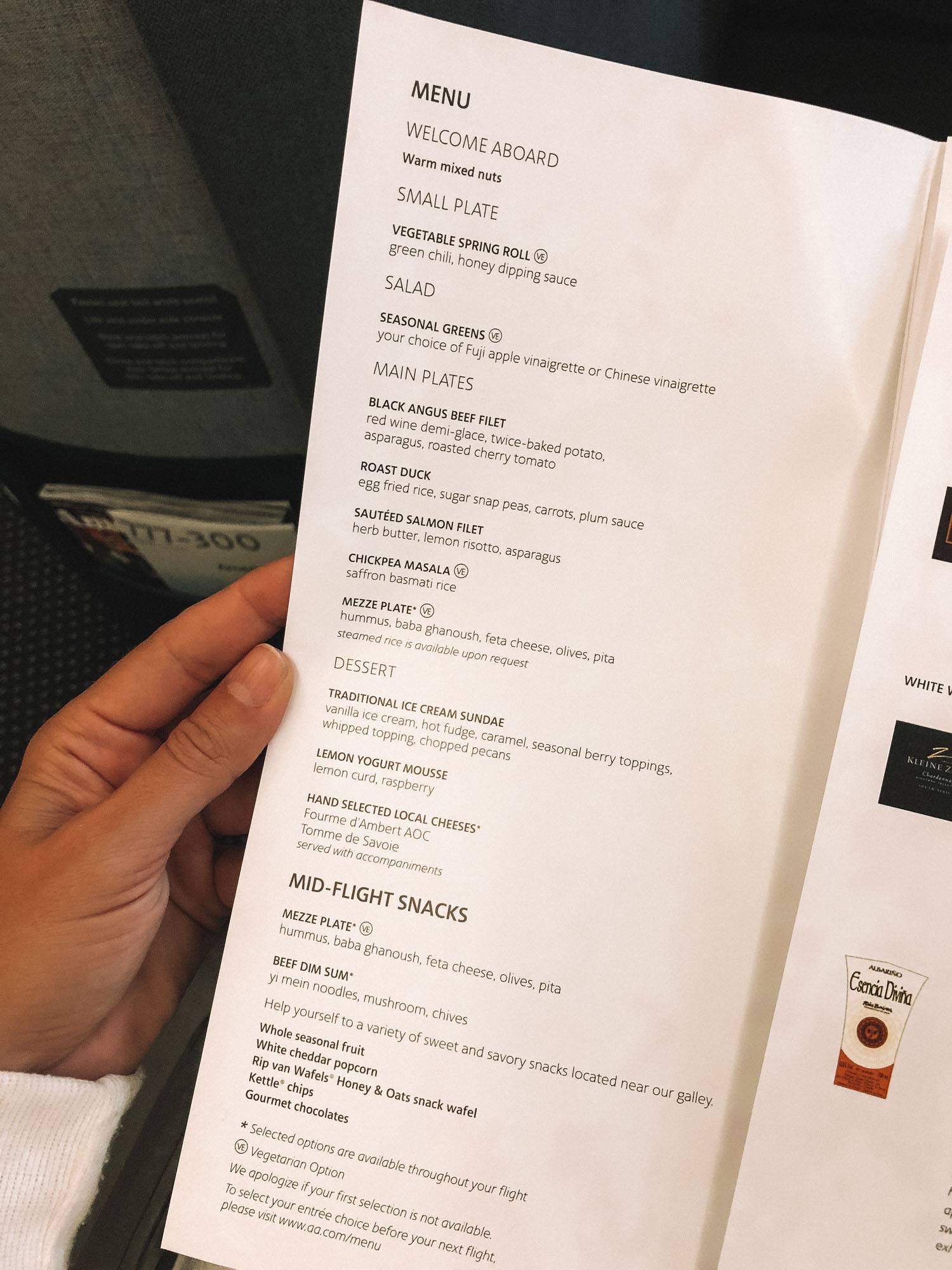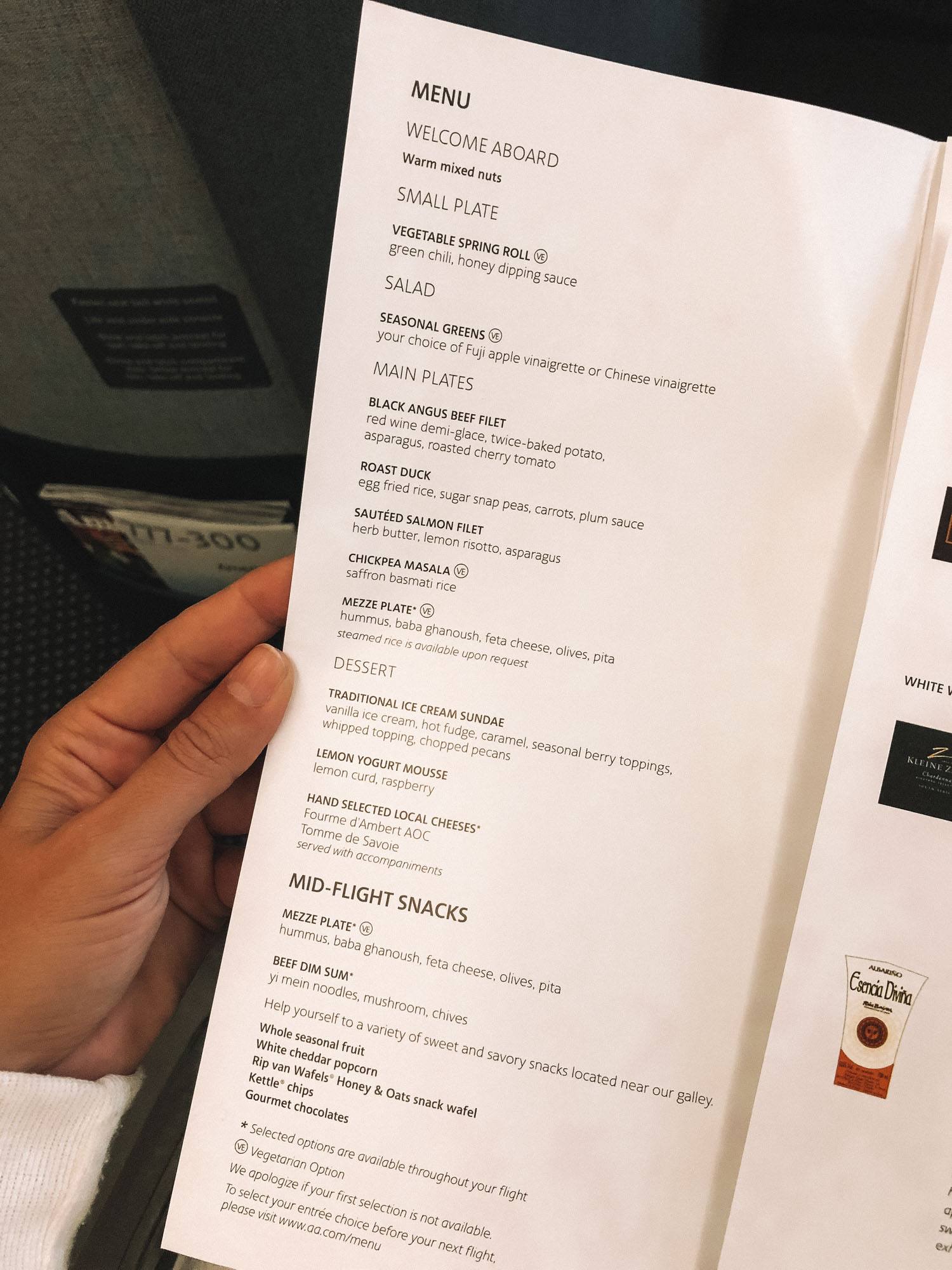 Food + Drink
On the way from Hong Kong to Los Angeles, American Airlines offers three meals throughout the flight. They also have a snack station you can pop up at any time to hydrate and refuel.
Their menu for each meal includes a starter, salad, main, and a dessert. You will have the choice between four entrées and, of course, you will want to contact them in advance if you have any dietary restrictions.
Just log into their site at least 24 hours before you go and they will make accommodations to offer you a meal that suits your diet.
HELPFUL TIP: If you have been looking to get a travel reward credit card, I recommend applying for one before a big trip or purchase. Some of the biggest benefits are earning points to use for free flights and hotels. Plus, many cards offer additional points when making travel-related purchases. Some cards also offer travel protection when you pay for a trip with the card.
My personal favorite is the Chase Sapphire Reserve (for frequent travelers) or the Chase Sapphire Preferred (if you're just starting out)! Check out my favorite travel reward credit cards!