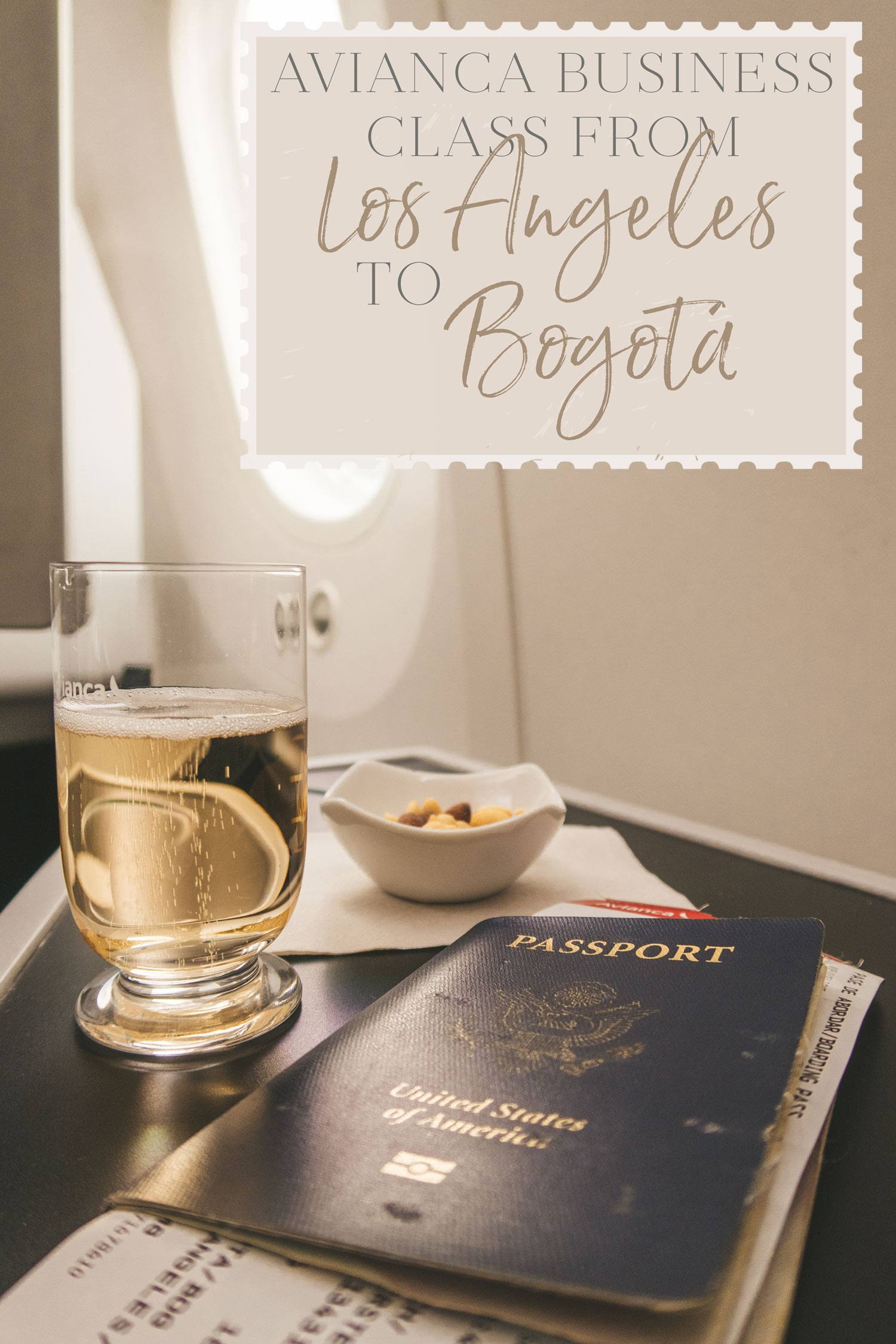 When on a long flight, comfort is extremely important. Avianca, a Columbia-based airline and also one of the oldest airlines in the world, launched its business class seats on board it's 787 Dreamliners a few years ago.
I knew this meant that I had to try it out on my recent trip from LAX to Bogota. It's everything that you'd want on a long-haul journey across the continent.
Here is my experience flying Avianca 787 Business Class from LA to Bogotá!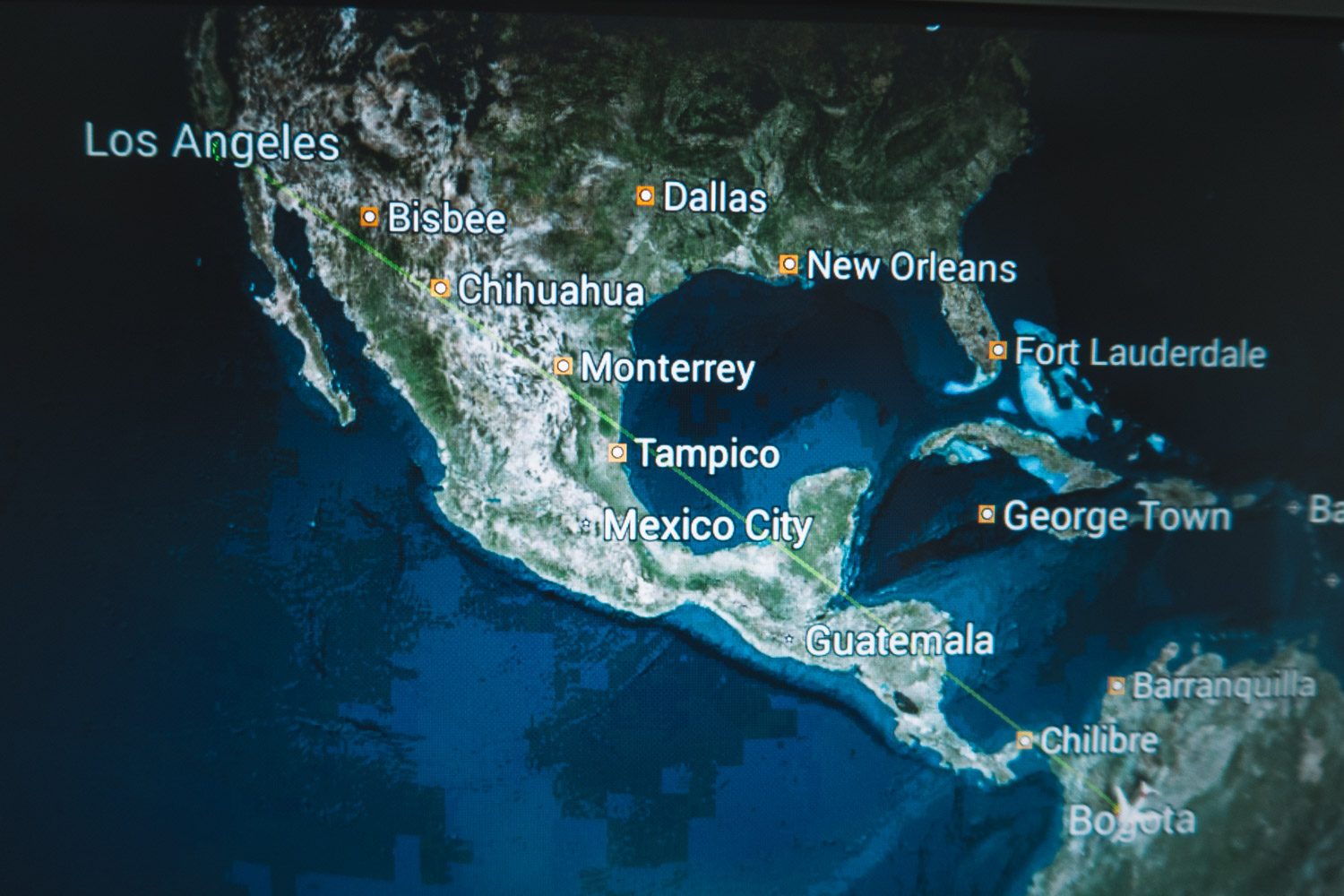 What to Expect
Avianca's easy to use website makes booking your tickets a quick and stress-free experience. While you'll pay a bit more for your business class flights, splurging a little bit for that added comfort is worth it.
It's one of the only airlines that fly nonstop from Los Angeles to Bogatá which saves you A LOT of time. Avianca is a member of Star Alliance, don't forget to use those miles to knock off some zeros from the final price!
One of the biggest perks is that LAX allows Avianca business class passengers to use the Air Canada Maple Lounge. Here you'll find pastries, coffee, large couches and chairs, and more to enjoy while you wait for your flight.
If you get to the airport early, airport lounges are one of the best ways to kill time.
HELPFUL TIP: If you have been looking to get a travel reward credit card, I recommend applying for one before a big trip or purchase. Some of the biggest benefits are earning points to use for free flights and hotels. Plus, many cards offer additional points when making travel-related purchases. Some cards also offer travel protection when you pay for a trip with the card.
My personal favorite is the Chase Sapphire Reserve (for frequent travelers) or the Chase Sapphire Preferred (if you're just starting out)! Check out my favorite travel reward credit cards!



Amenities
As soon as you walk onto the plane, Avianca spoils you with a bunch of amenities. The first is a refreshing glass of champagne to welcome you and get you settled for the long-haul flight.
There's also a comfy pillow and blanket to make sure you're well-rested on arrival in Bogota. If you're struggling to fall asleep, you can keep yourself entertained as you stretch your legs out on your personal ottoman and binge all the Harry Potter movies.
Each Avianca 787 business class seat comes with a private 16-inch screen with extensive entertainment options!
All business class guests also get a Tumi amenity kit and shoe bag. Inside you'll find socks, an eye mask, earplugs, chapstick, toothpaste, a toothbrush, and lotion.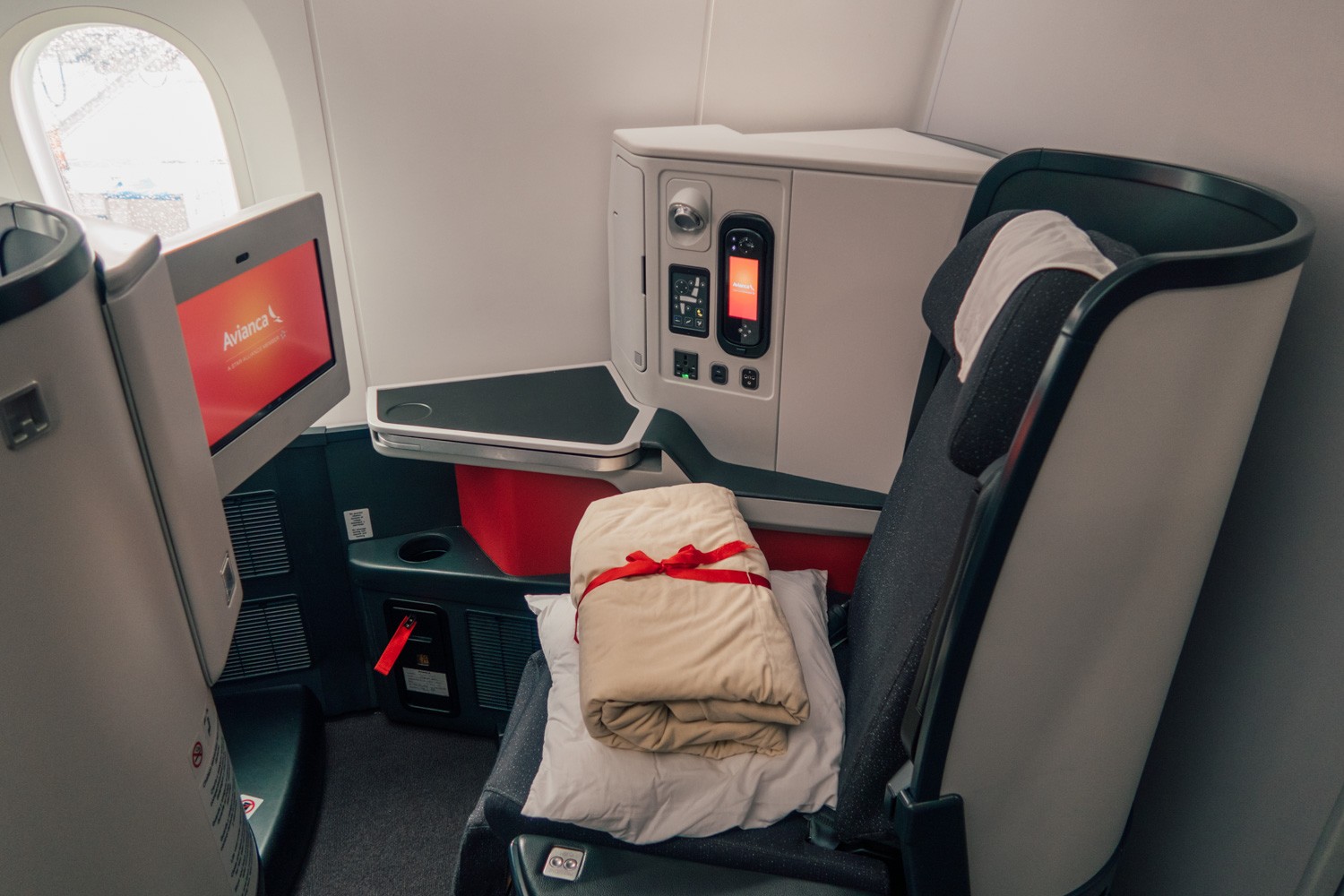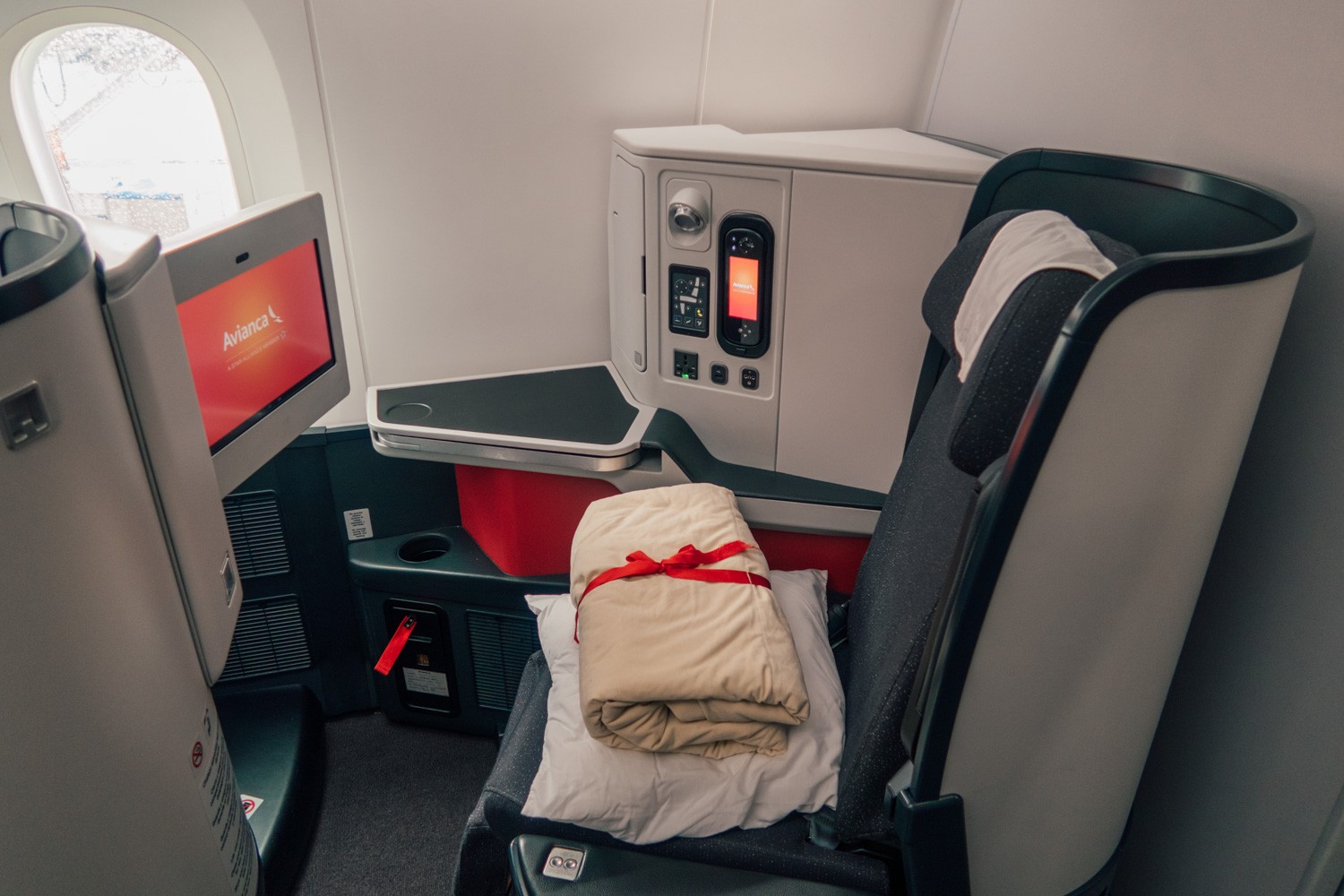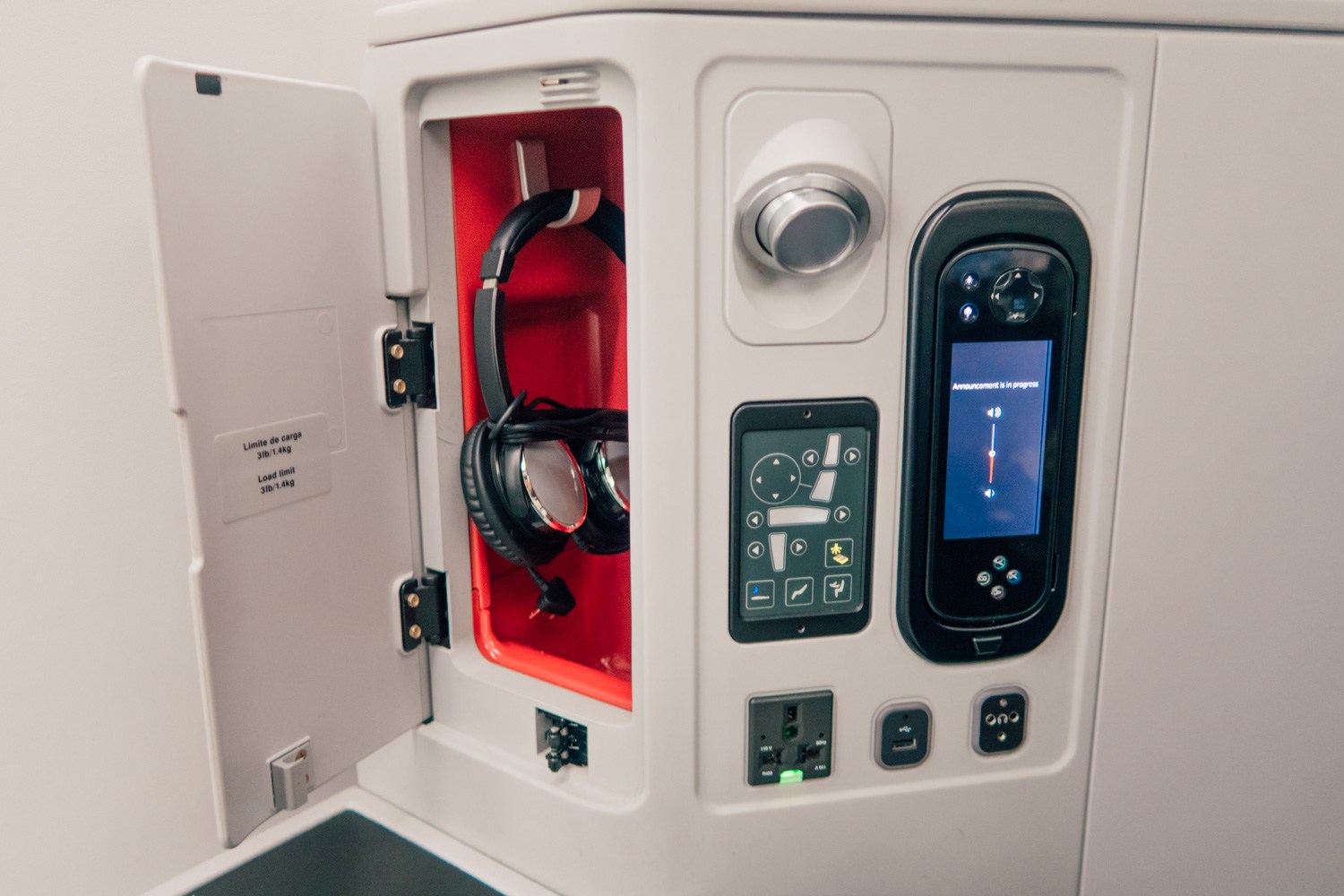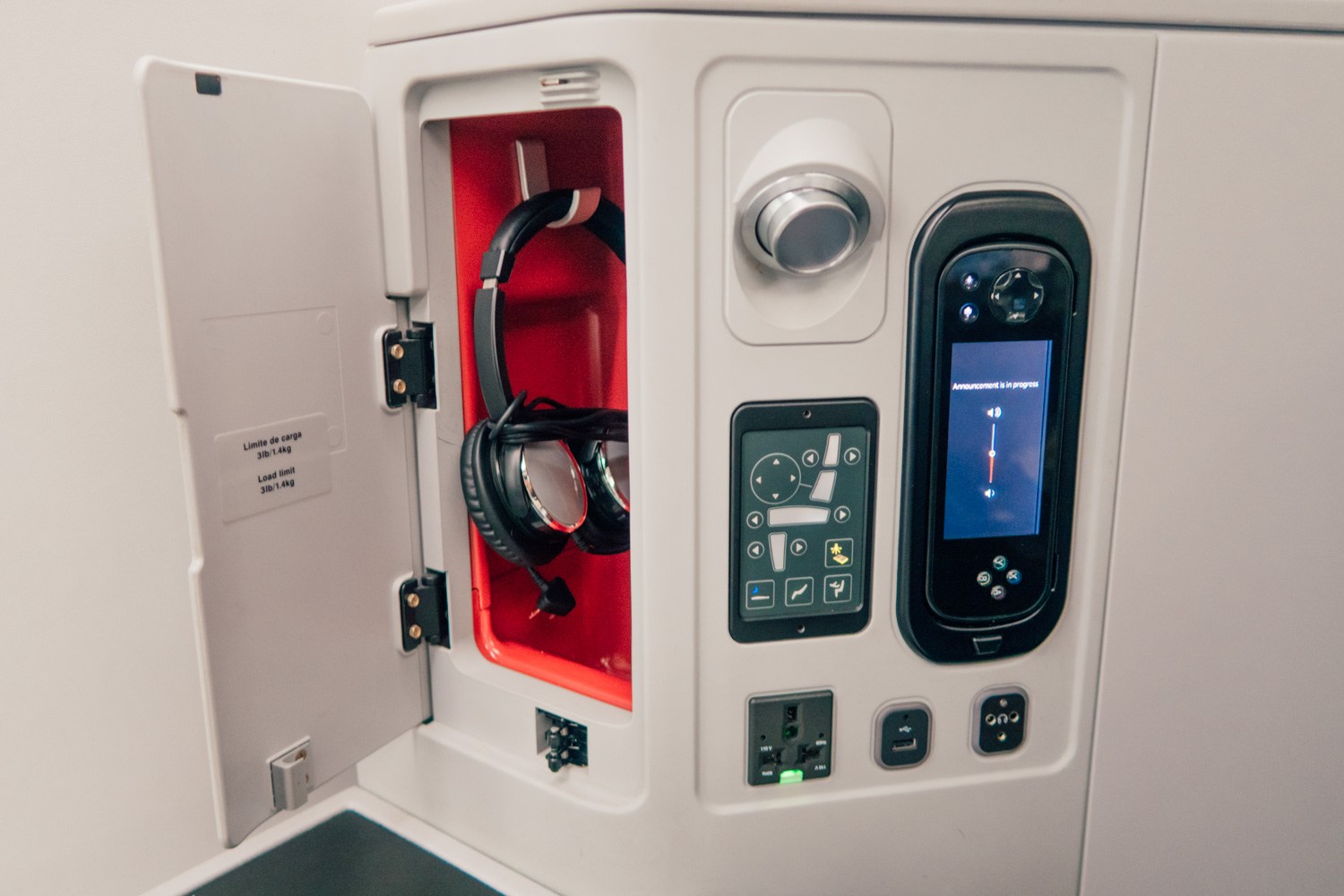 Seating
Avianca's 787 business class has 28 seats in seven rows. The plane offers 1-2-1 configuration which gives everyone access to the aisles.
The seating configuration may not sound like a big deal, however, on long-haul flights, you'll need to get up and stretch your legs a few times.
What I liked was that business class on the 787 is split into cabins. During boarding, you won't have economy passengers passing through, making it easy to get to your seat fast and hassle-free.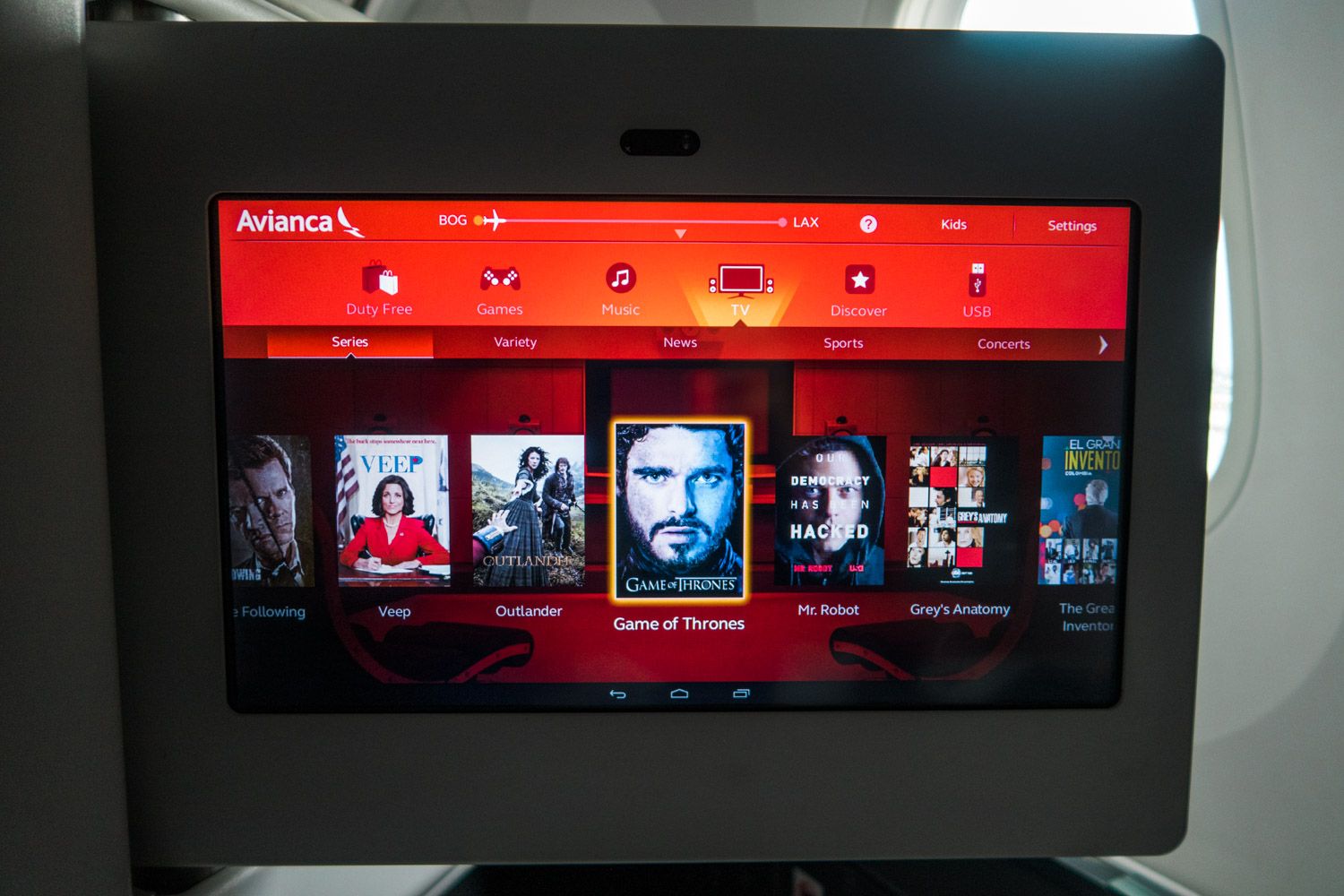 Along with the ottoman for your legs, there are armrests where you can place your drinks, snacks or any other goodies you have with you. You'll also find a remote for the TV, a reading light, a headphone jack, a USB plug, and a universal plug.
Having the ability to charge your devices when up in the air is a lifesaver!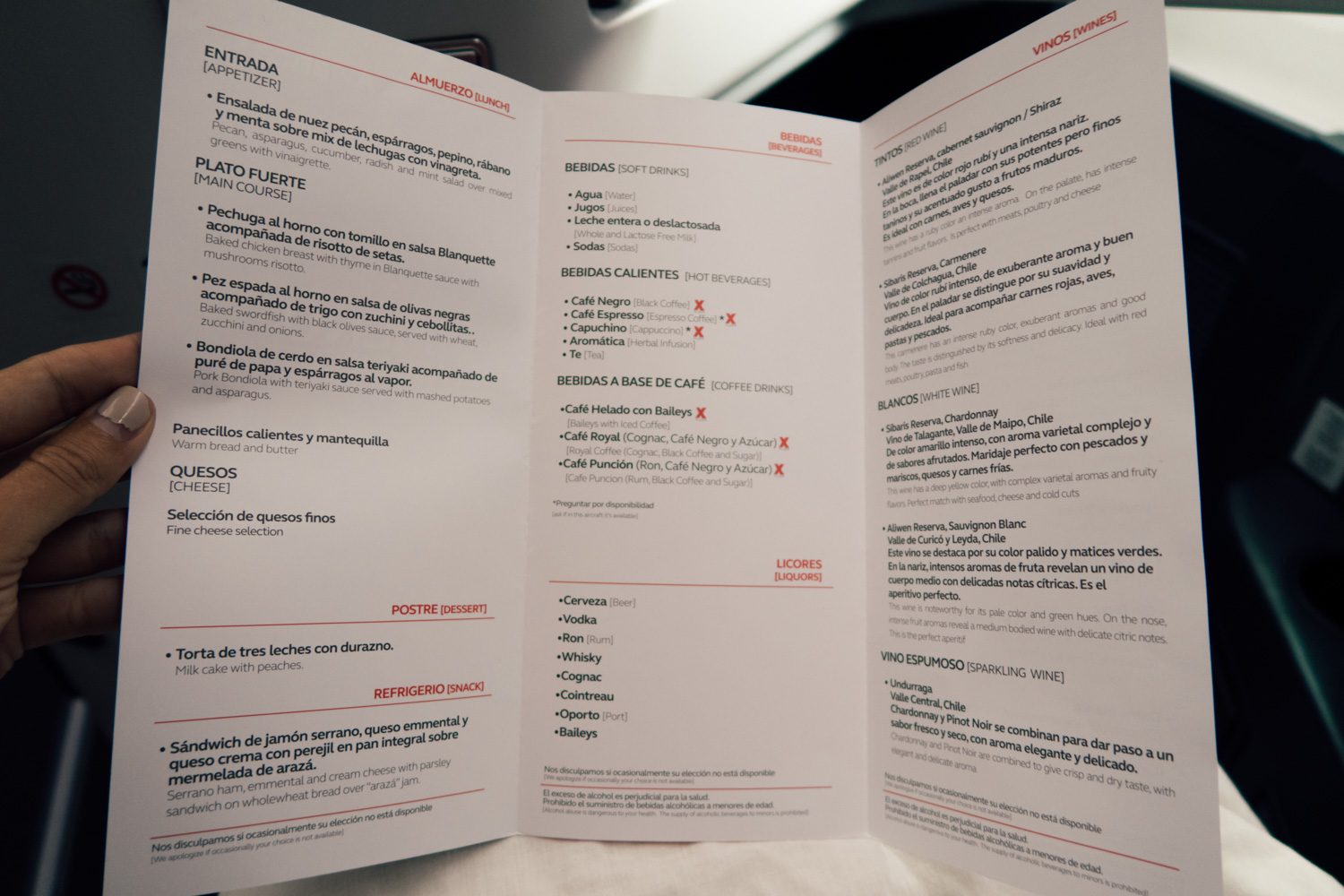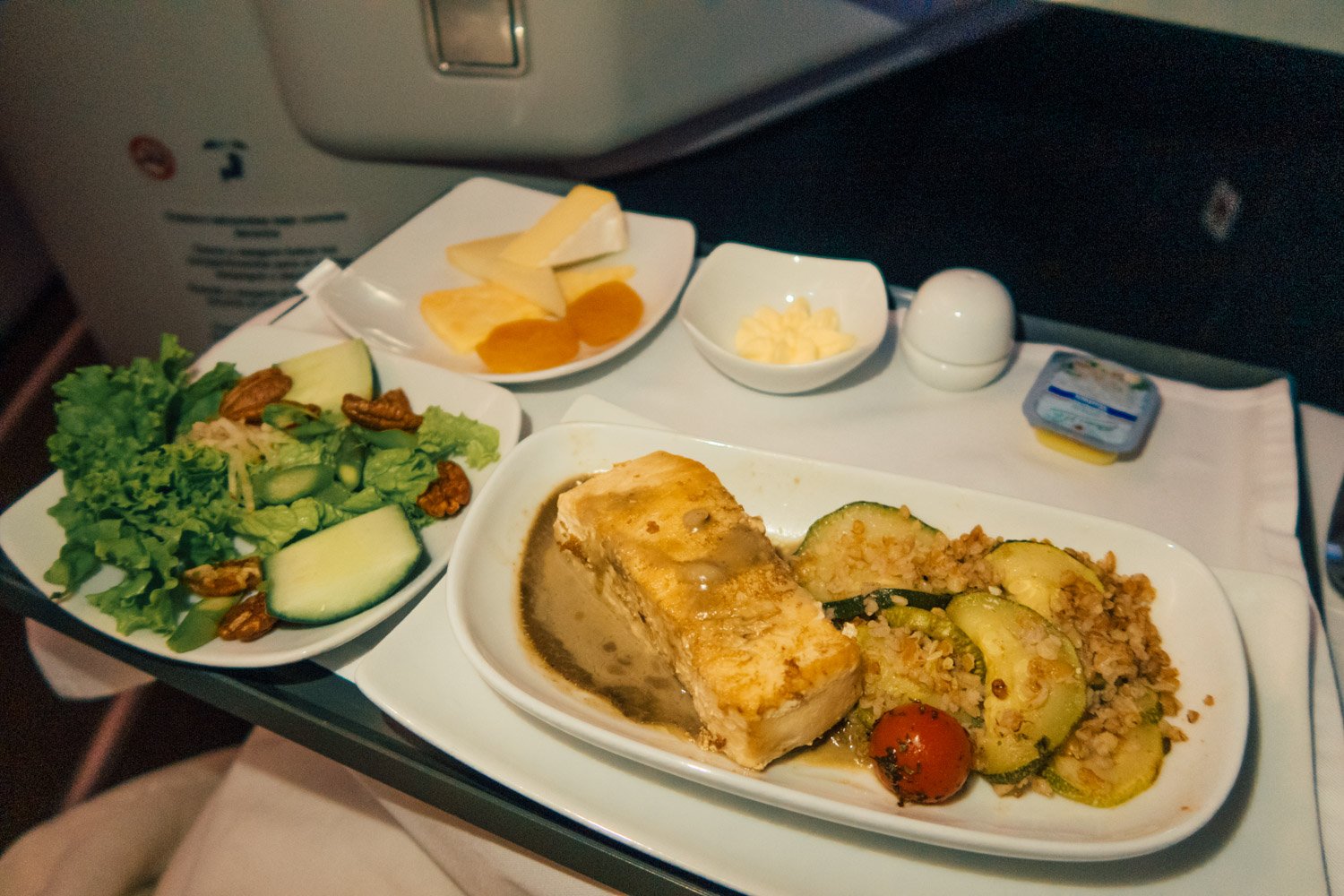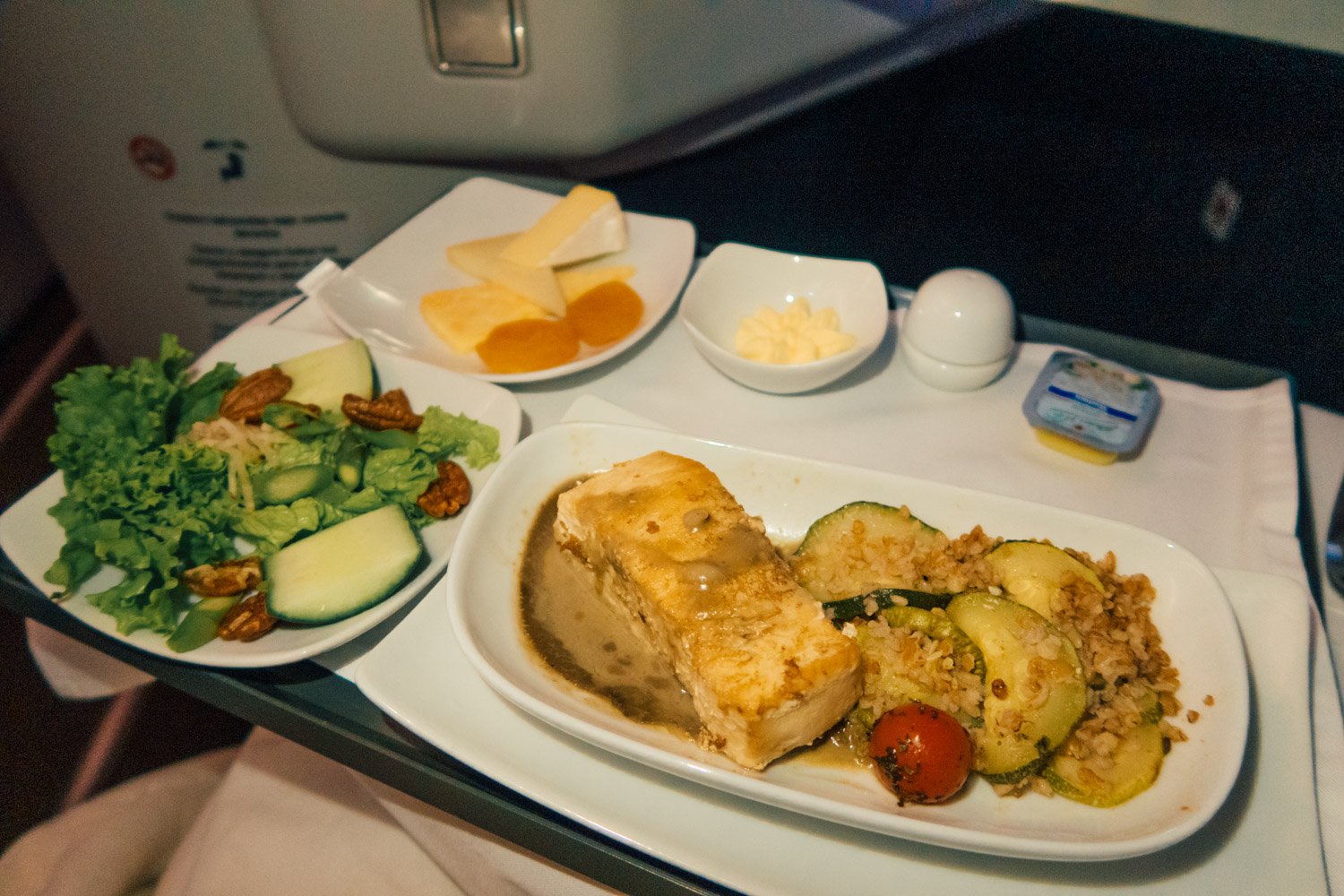 Food & Drinks
Avianca's food and drink menus for their business class passengers are exceptional. The menu changes regularly, but you can expect a four-course meal with options like swordfish (I highly recommend!), steak, chicken or ravioli.
End off your meal with a mouth-watering dessert!
If you get peckish during your 7-hour flight, you can nibble on ham and cheese sandwiches, packets of peanuts or a cheese platter. For drinks, there is a variety of liquors and white and red wines.
You can sip on Sibaris Chardonnay and Aliwen Sauvignon Blanc. Or if you prefer a red, there is Aliwen Reseva Cabernet-Shiraz and Sibaris Reserva Caremenère on board.
If you can order sodas, fresh juices, cappuccinos and iced coffee with Bailey's!
90-minutes before you land, you'll have the chance to eat again. This second meal is a light-snack and is usually a ham and cheese pita sandwich with cherry tomatoes.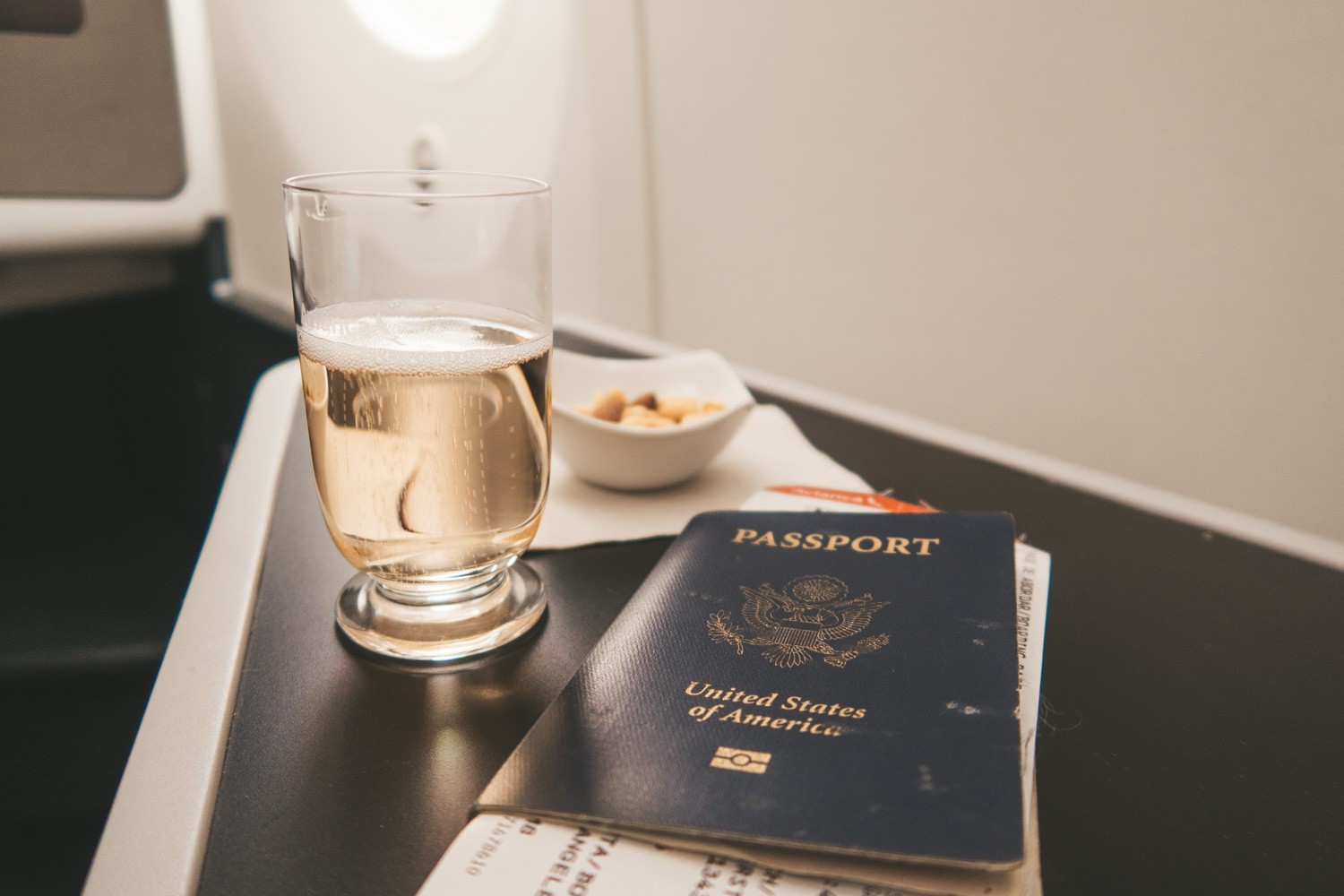 Overall
If you choose to fly Avianca's 787 business class, you will step off the plane feeling well-rested and ready to explore. The food onboard is delicious, the in-flight entertainment is full of excellent movies, and TV series and the beds are comfortable.
I'd highly recommend Avianca's 787 business class seats for anyone flying from the US to South America!
Want to earn points for flights and earn miles toward your next adventure?