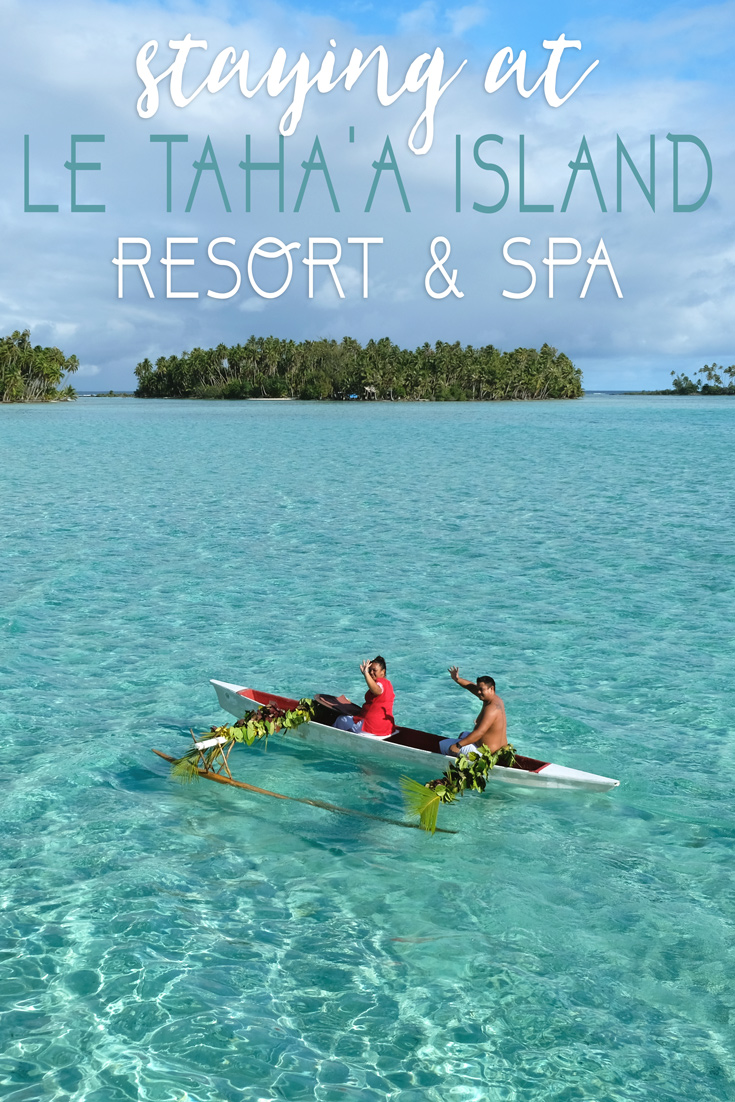 Visiting French Polynesia has always been a dream of mine, and it's definitely a place that lives up to the hype. Known as Vanilla Island, the island of Taha'a is absolutely gorgeous, and it really does smell like vanilla. I decided to go for a truly luxe experience in French Polynesia, and it was unforgettable!

Getting There
French Polynesia is made up of 118 islands. Tahiti is one of the largest and most famous of them. If you want to get to the island of Taha'a, you'll go through Tahiti.
I flew from LA to Papeete, Tahiti on Air Tahiti Nui, then took a short Air Tahiti flight over to Raiatea.
From there, I took a boat transfer to Le Taha'a, organized by the hotel. While that might sound like a long trip, I actually had a great time. It's not unusual to see a pod of dolphins along the way, and the scenery is breathtaking.

The Hotel
Le Taha'a is a five-star hotel that made it onto the illustrious Condé Nast Traveler's Gold List of the World's Best Places to Stay. The fifty-seven suites and villas of the resort have impressive Polynesian architecture and an ideal location.
Situated on the peaceful Motu Tautau islet, the resort is nestled between the island of Taha'a and Bora Bora, so you've got an incredible view in every direction.
Another thing that I liked about the resort is that everything feels connected to the local environment. While a lot of luxury hotels feel a bit sterile, this place is connected to nature and the traditional culture of the island.

The Rooms
Each room type at Le Taha'a offers a different view! The Taha'a Overwater Suite gives you an impressive sea view and the Bora Bora Overwater Suite has a view of Bora Bora. The Sunset Overwater Suite has an astounding view of the sun setting over the water, and the End of Pontoon Overwater Suite offers equally great views and added privacy.
I stayed in the Overwater Suite with a view of the turquoise lagoon, and it was amazing.
There are also Beach Villas and Royal Beach Villas, which are the resort's signature accommodations.
With a private pool and tropical garden, these villas open up to white-sand beaches and crystal clear water. If you go for the Royal Beach Villa, you'll have two bedrooms and two bathrooms as well as outdoor bathtubs and showers.

The Food
The food at Le Taha'a is top-notch. There is a vast section of fresh seafood and fruit, and the staff at the resort can accommodate any type of dietary restrictions. With three on-site restaurants, room service, and a bar, you can eat like a royal without ever having to leave the resort.
Le Vanille, the main restaurant, is the place to go for breakfast and dinner.
It has also got a Polynesian Evening once a week, which is the perfect opportunity to take in folk dances and the famous French Polynesian fire dance.
For lunch, check out Le Taha'a. This al fresco restaurant is a beach lover's dream. Indulge in some French-Polynesian fusion while you dig your feet into the sand. For an afternoon cocktail, swim up to the bar and lounge in the sun.

Activities
There is so much to do in Taha'a, I could have stayed there for weeks. From the resort, there are daily excursions to the famous vanilla plantations, and you can go snorkeling in the coral reef right off the resort.
Le Taha'a Island & Spa Resort also has a scuba diving program that will take you into the Taha'a and Raiatea lagoons. This is a top place to dive. In fact, I included it on my list of the best places to scuba dive around the world.
Some of the best spots in the area are Eleuthera in Tahiti, Nemo World in Bora Bora, The Six Passengers in Rangiroa, Scubapiti, and Mahana Dive in Huahine, and Fun Dive in Moorea. If you love diving as much as I do, you'll want to grab the ten-dive Te Moana Diving Pass, which lets you explore the entire area.
You could never leave the water here, and you'd still have a good time. Go on a wave runner or take a sunset cruise. If you want a view from above, check out the legendary helicopter tours.
While Taha'a makes for the perfect girlfriends' getaway, it is also an incredibly romantic spot.
The resort organizes all kinds of couples' trips, like private beach dinners, sailing, local shows, picnics, and weddings. If you are looking for a once-in-a-lifetime romantic escape, this is the place for you and your special someone.


More Information
Hotel: Le Taha'a Island Resort & Spa
Location: Taha'a, French Polynesia
Accommodation: Luxury
Price Range: $$$$

Thank you to Le Taha'a Island Resort for hosting me on my recent trip to French Polynesia. As always, opinions and ideas expressed here are entirely my own.