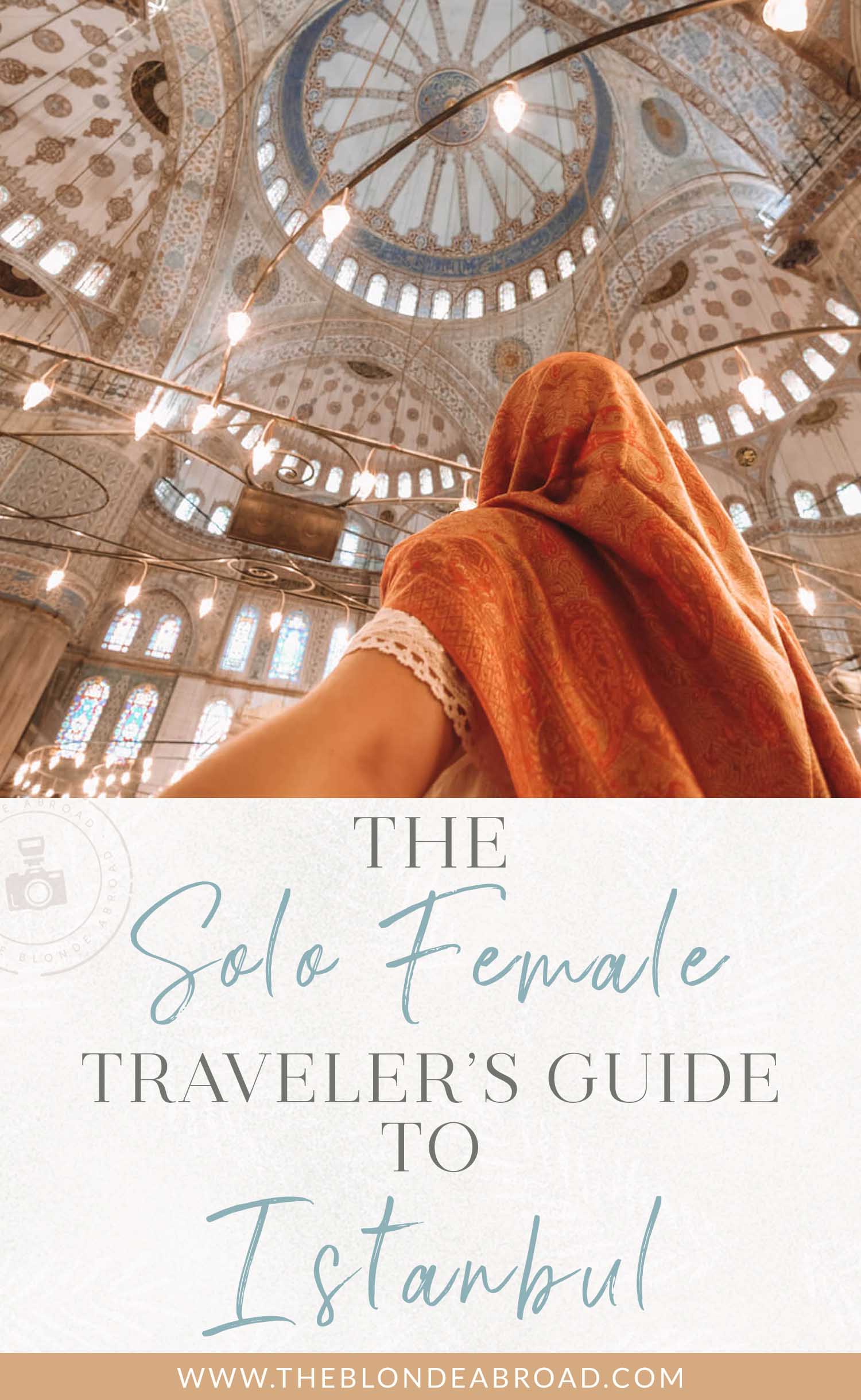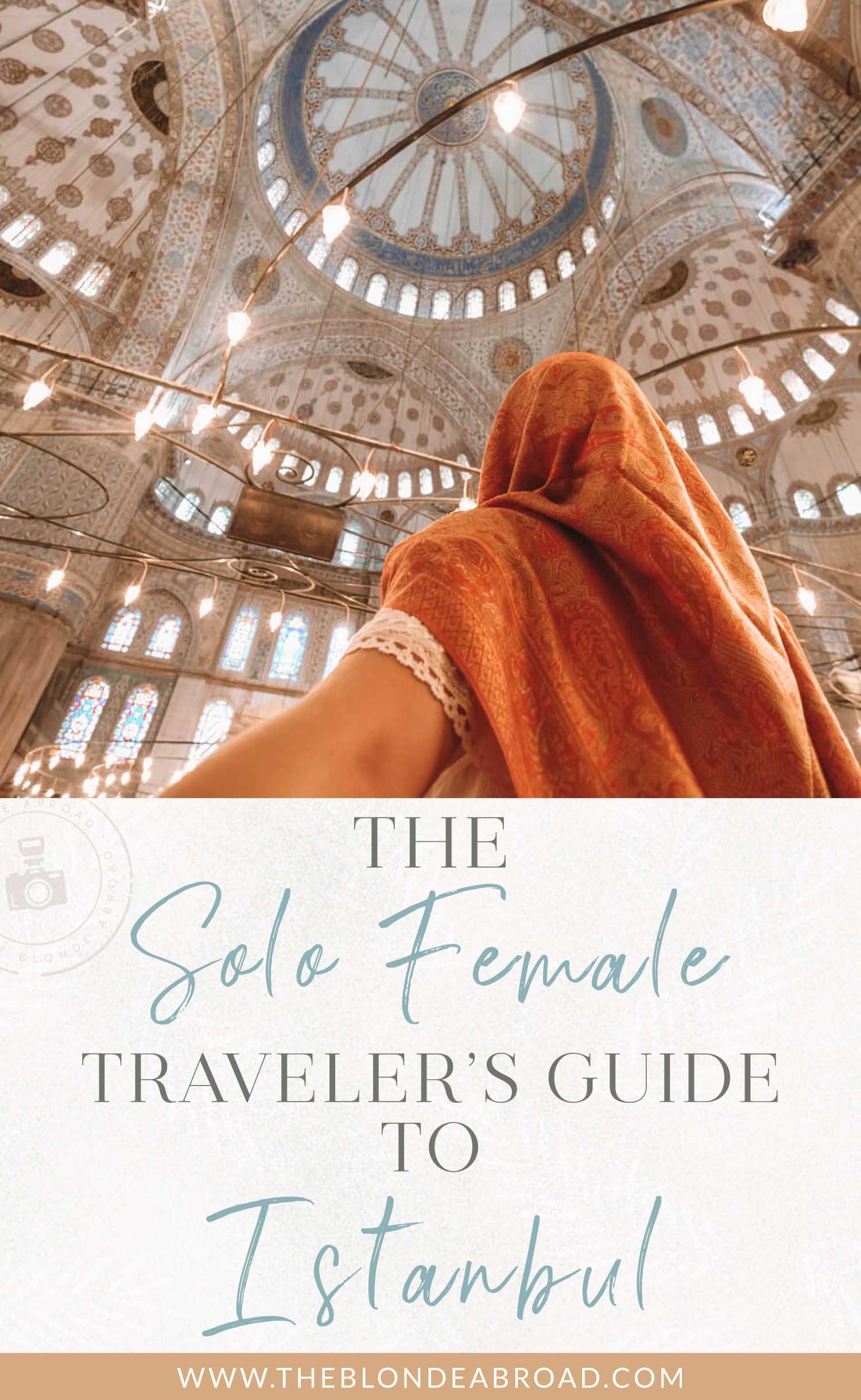 Updated: September 2022
Lying on the banks of the Bosphorus, Istanbul is a city that is thousands of years old, and that originally was known as Byzantium, and later, Constantinople, before adopting the name Istanbul in the early 20th century.
In Istanbul, you will find that architecture, culture, and trade routes converge from all over the world to make a wonderful melting pot that is really exhilarating. So, I've compiled my top things to do in Istanbul based on my own itinerary.
I've gotten questions like "is Istanbul safe?" and I think that is very important to be cautious and savvy while you explore the city, but it can be an amazing destination for solo travel.
I firmly believe that solo travel for women is one of the best ways to learn about yourself and the world. Taking a solo trip is a fantastic way to grow. 
Here's my solo female traveler's guide to Istanbul to help you have a safe and memorable experience!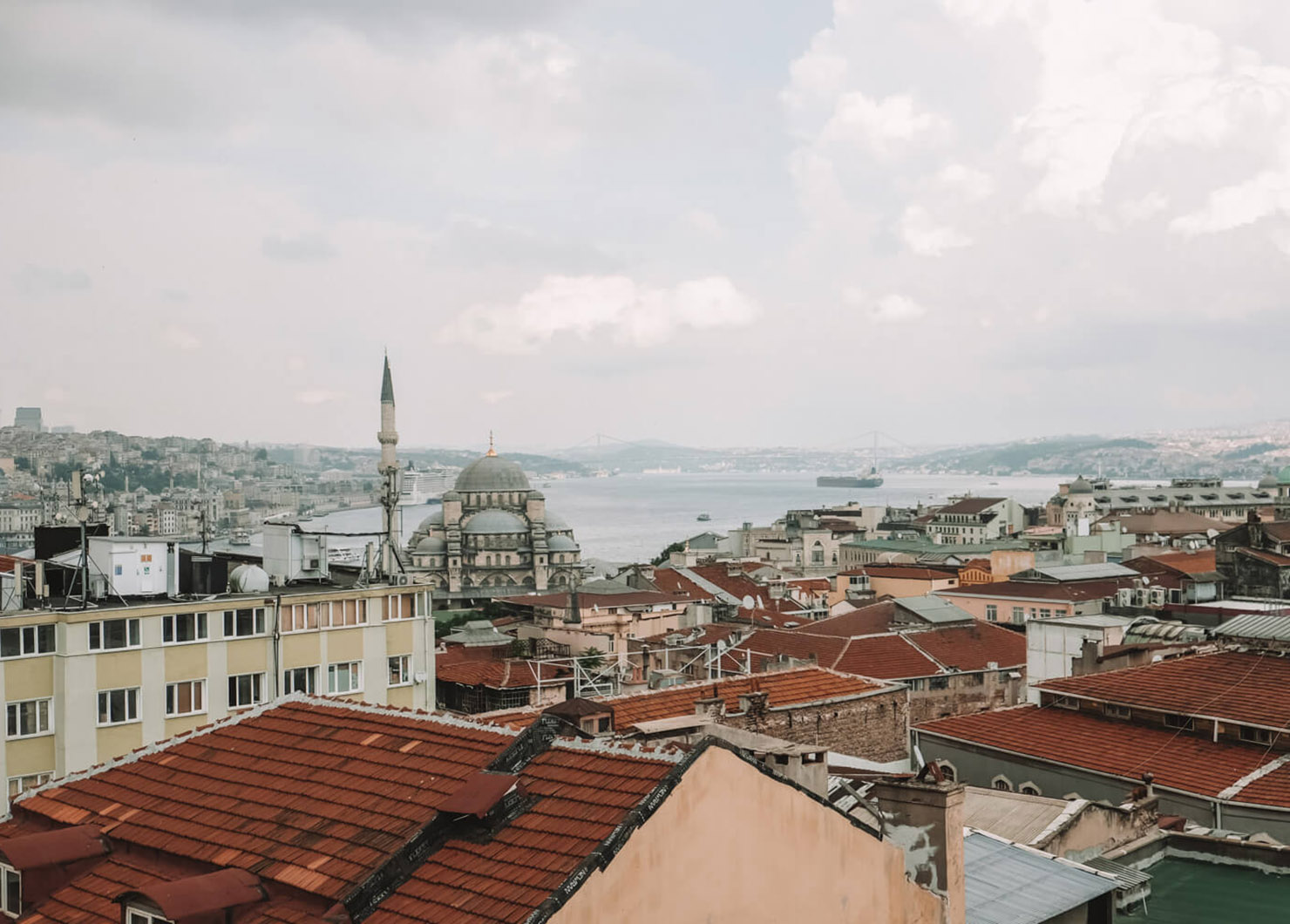 Where to Stay in Istanbul
There are some wonderful parts of Istanbul that are ideal for visitors, and the best place to stay will mostly depend on what you are looking for. 
If you are looking to sample the excellent nightlife and the bars of the city, then look for a hostel or hotel in the Golden Horn or Galata areas. If you are more interested in exploring the Old City and its Roman heritage, the Sultanahmet area puts you at the heart of the oldest part of Istanbul.
Hostel beds are regularly available, and it is best to opt for a female-only dorm whenever possible.
Cheers Hostel is highly-rated and very central — they offer female-only and mixed dorm rooms, plus private rooms. Agora Guesthouse is another great, reputable option that offers bunks for a budget. Stanpoli Hostel has cheaper options, with both female and mixed dorms.

Top Sights to See During Your Visit
The architecture in Istanbul is truly remarkable, and you can see a range of different influences and styles, from the Byzantine Hagia Sofia (which is over 1,400 years old), to the Romanesque Galata Tower.
Istanbul is also the original home of the tulip, and Sultanahmet Park and Emirgan Park are great places to see vast numbers of flowers in bloom between March and May.
Another place worth visiting if you enjoy historic art is the Church of the Holy Savior in Chora, which is intricately decorated with beautiful frescoes and mosaics that are very impressive.
Some other highlights from my stay in Istanbul include visiting The Blue Mosque, The Grand Bazaar, and a Bosphorus cruise. The Grand Bazaar was terrific—it's one of the oldest and largest covered markets in the world.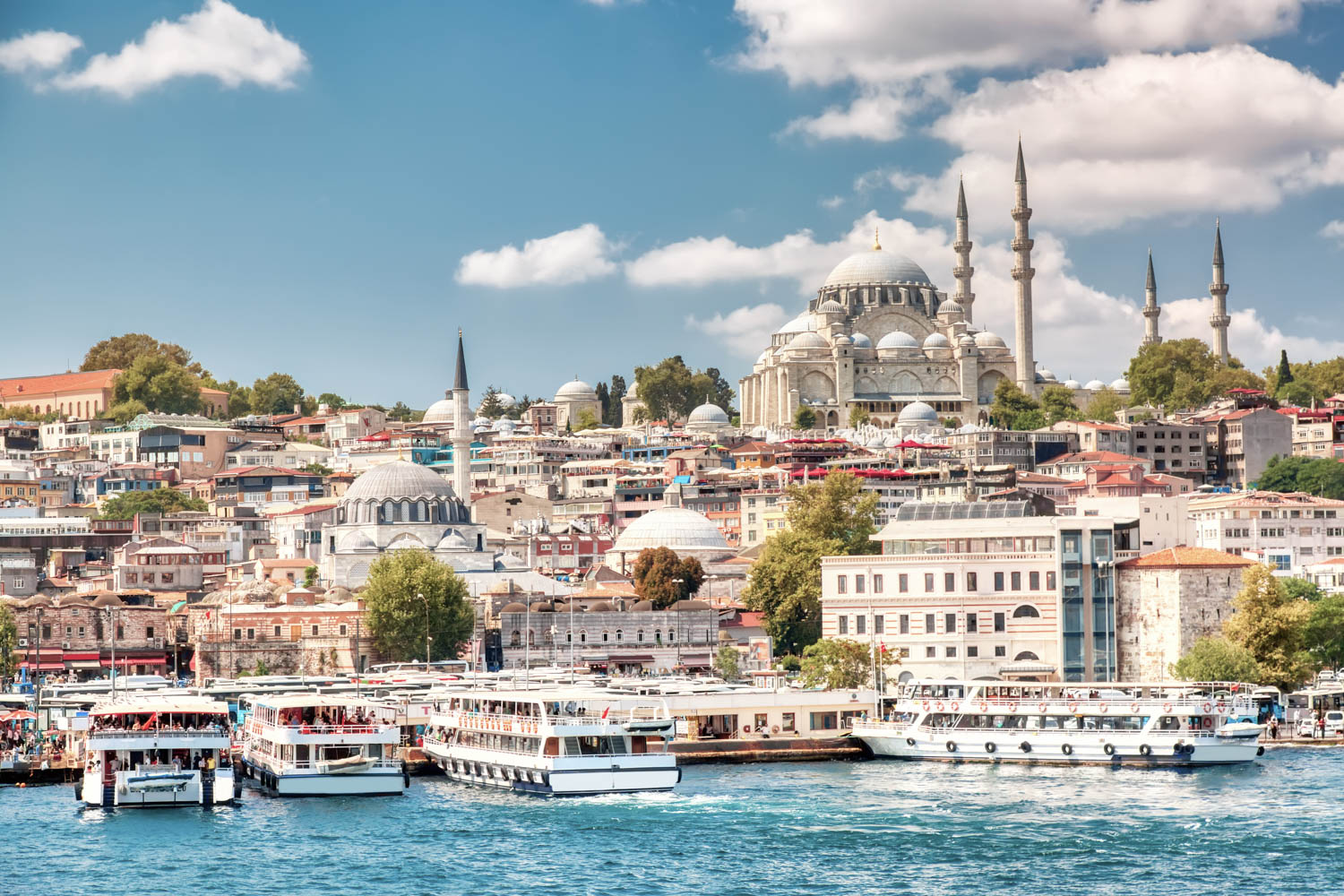 I highly recommend finding a group tour, like this one or this one. It's perfect for solo female travelers that are limited on time, and for anyone that might feel more comfortable getting their bearings of the city with the help of a guide. If you're on a budget, odds are that your hostel will offer walking tours or can recommend a great guide!
I'm definitely a "foodie" and try to soak up as much local Turkish cuisine as possible, so I'd recommend a Food Walking Tour if you have time! You'll learn more about history, culture, and local life, plus get fed all day long.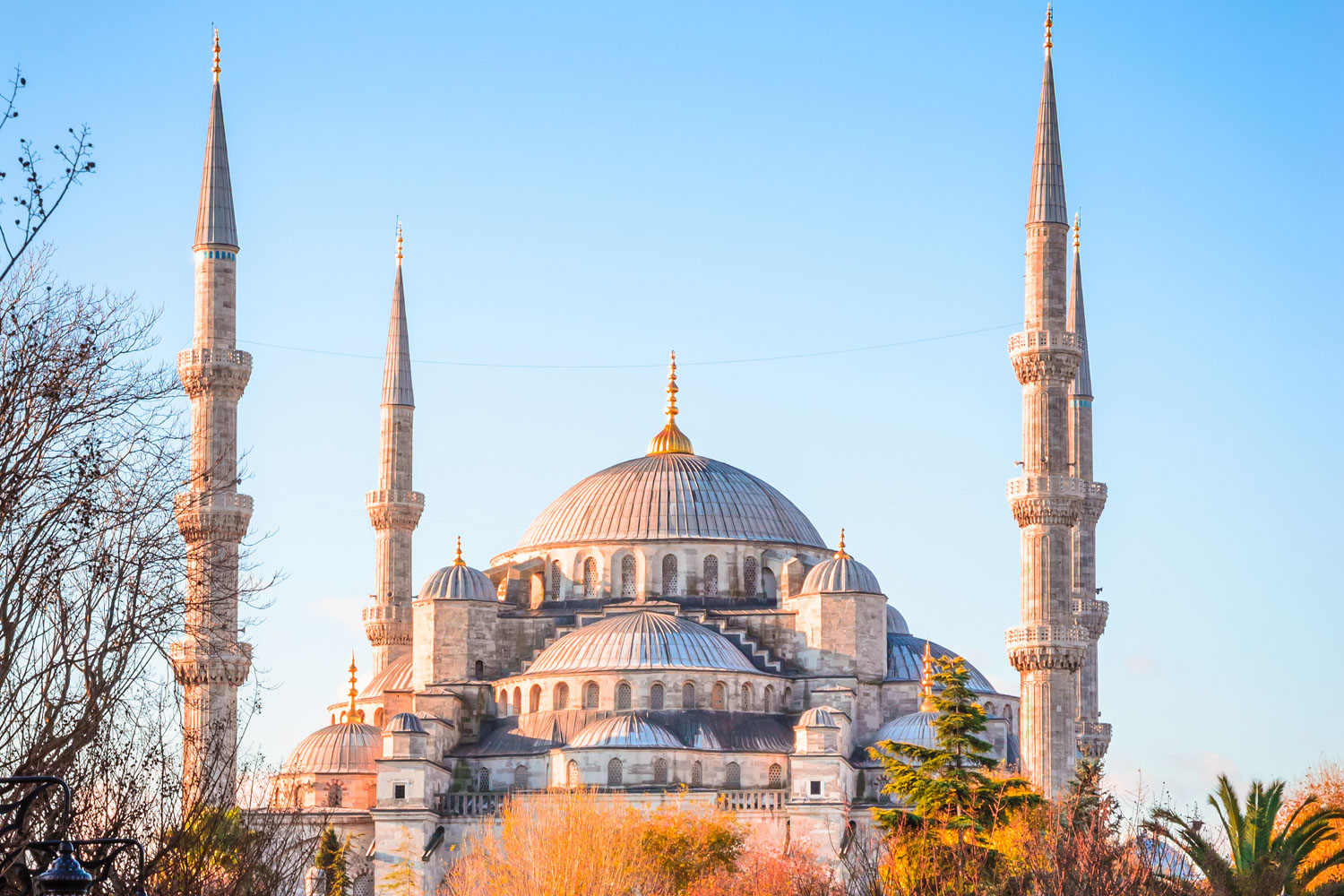 For a special treat, and a lesser-known tourist attraction, take a cruise up the Bosphorus strait and get incredible views from the waterway.
Istanbul is the only city in the world that is split between two continents, so the Bosphorus Strait divides the city into European and Asian parts. A cruise or ferry can take you to the Asian part, and I'd recommend spending some time in Kadikoy.
You'll witness a whole different atmosphere, a mix of architecture, an authentic culture, and with that, different kinds of food and markets!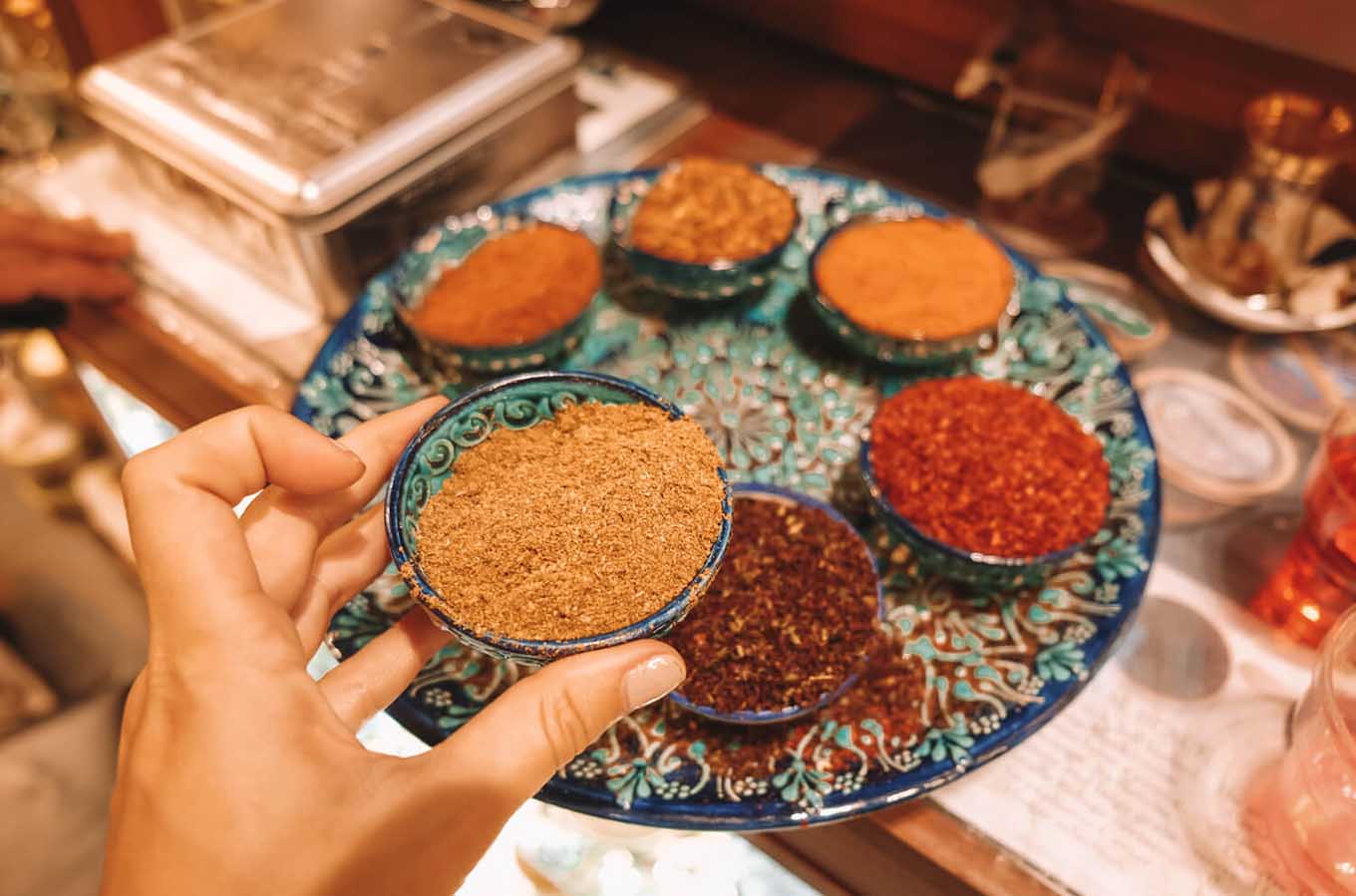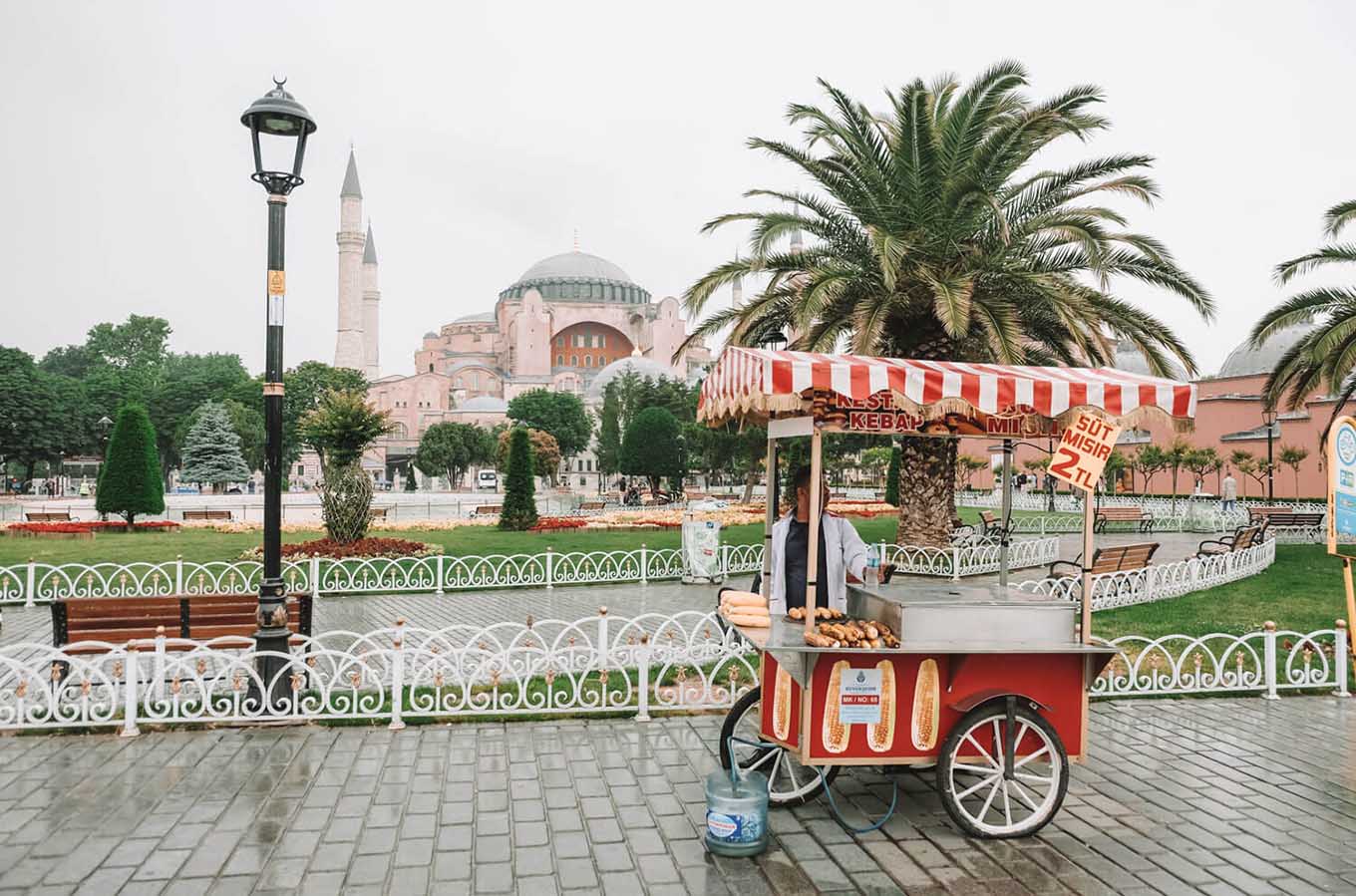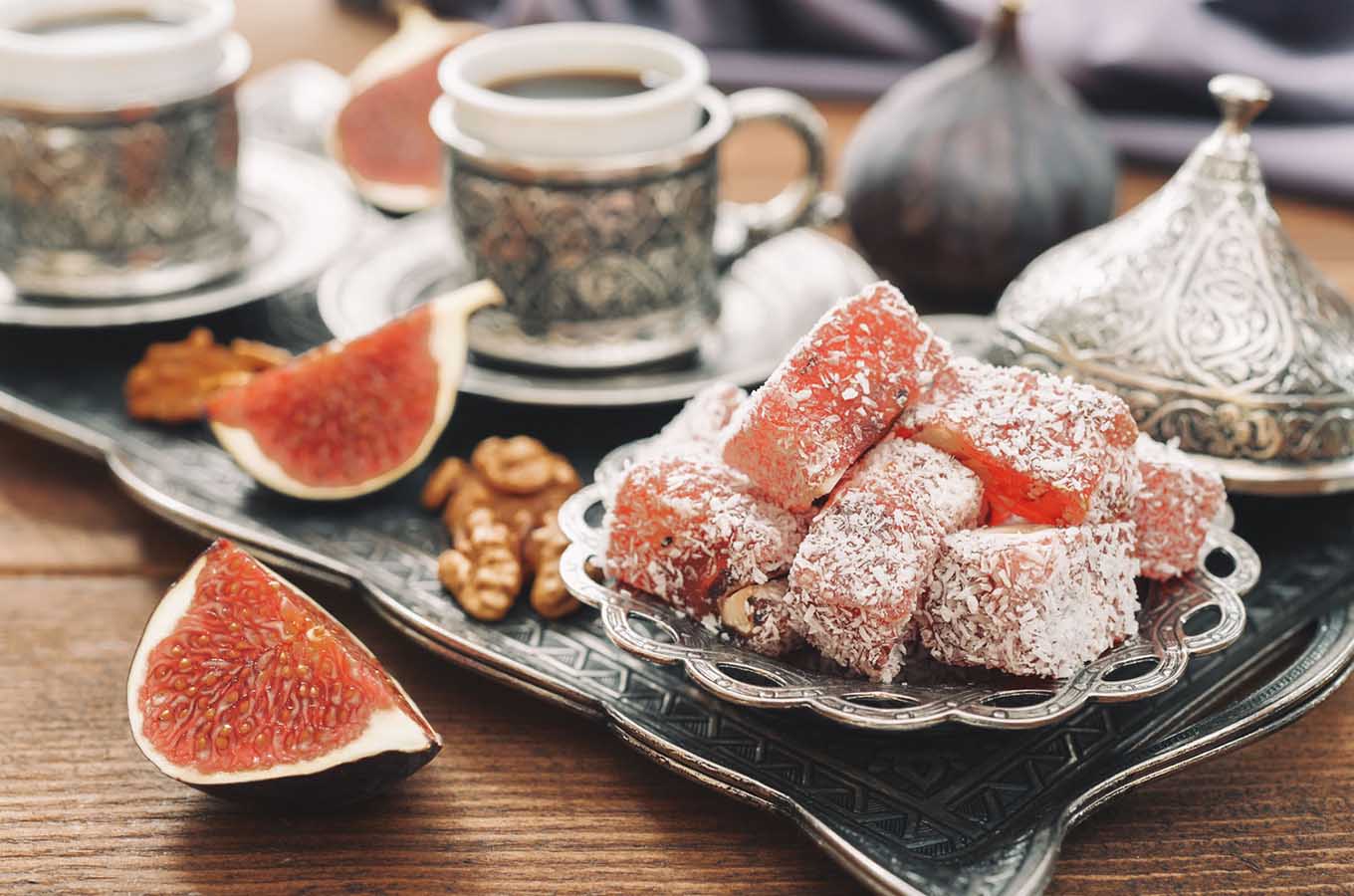 Food in Istanbul
Turkish cuisine is very diverse, and Istanbul is a melting pot of cultures, so you can see these influences together in their cuisine and street food scene.
Since I don't eat meat, I was limited to what traditional Turkish dishes I could try, but there are plenty of dishes for all types of diets in Istanbul.
Here is some traditional food you should definitely try:
Çiğ Köfte: Traditionally, this dish is served as a type of raw meat tartare. But, nowadays, it's made in a vegetarian style and can be found throughout Istanbul.
Lahmacun: A type of Turkish Pizza that can typically be ordered with a variety of toppings. Great for all types of foodies!
Kokoreç: Though I didn't try this, my local friend in Istanbul said this is one of his favorite foods. It's essentially a meat sandwich made from lamb intestines, but tastes better than it sounds!
Adana Durum: A very traditional meat kebab.
Balik Ekmek: A really yummy fish sandwich.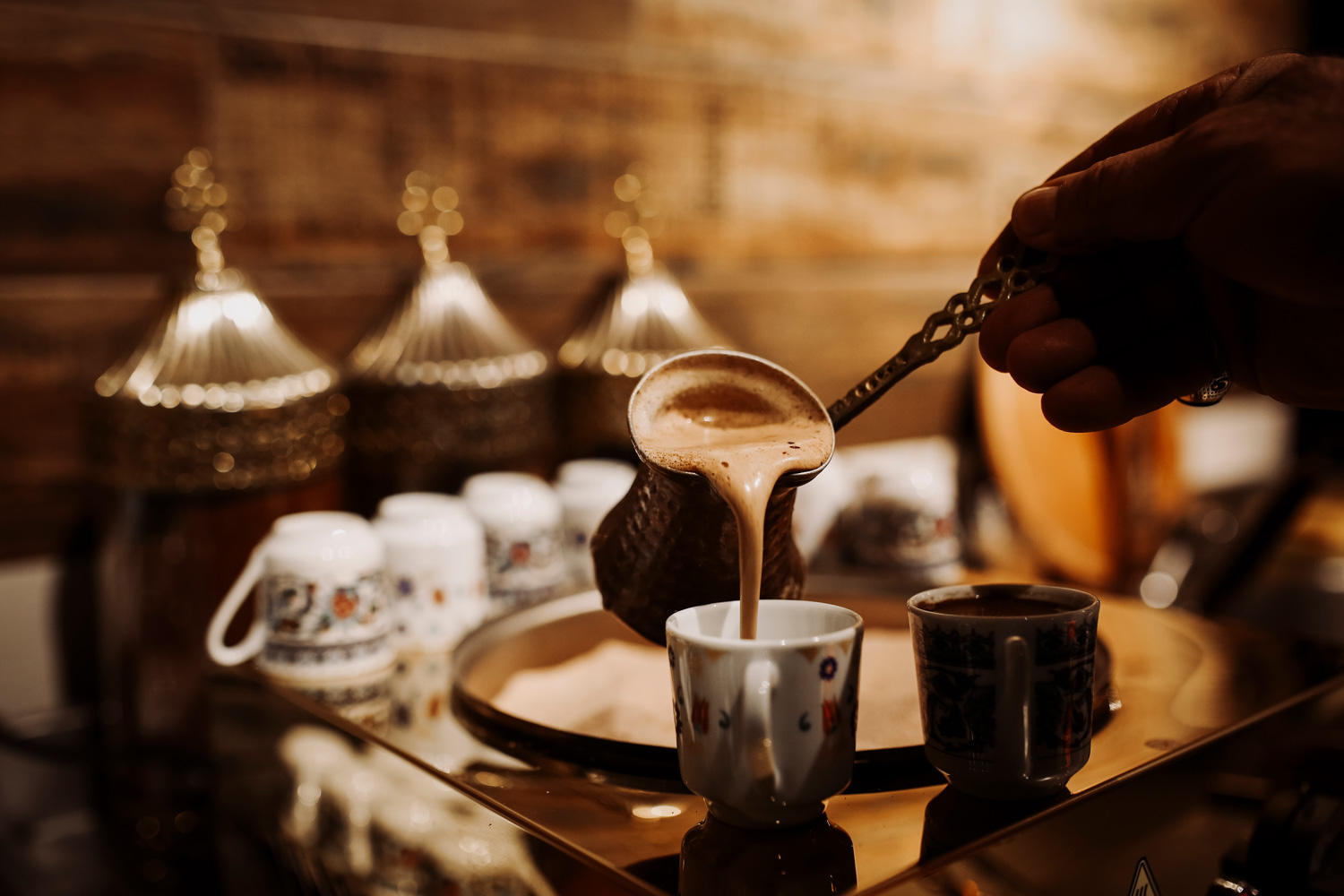 And of course, a trip to Istanbul wouldn't be complete without a stop for a cup of Turkish coffee. You'll find that Turkish coffee is a bit thicker in consistency than espresso and has a distinct flavor of cardamom. It can be an acquired taste for some, but definitely worth a try!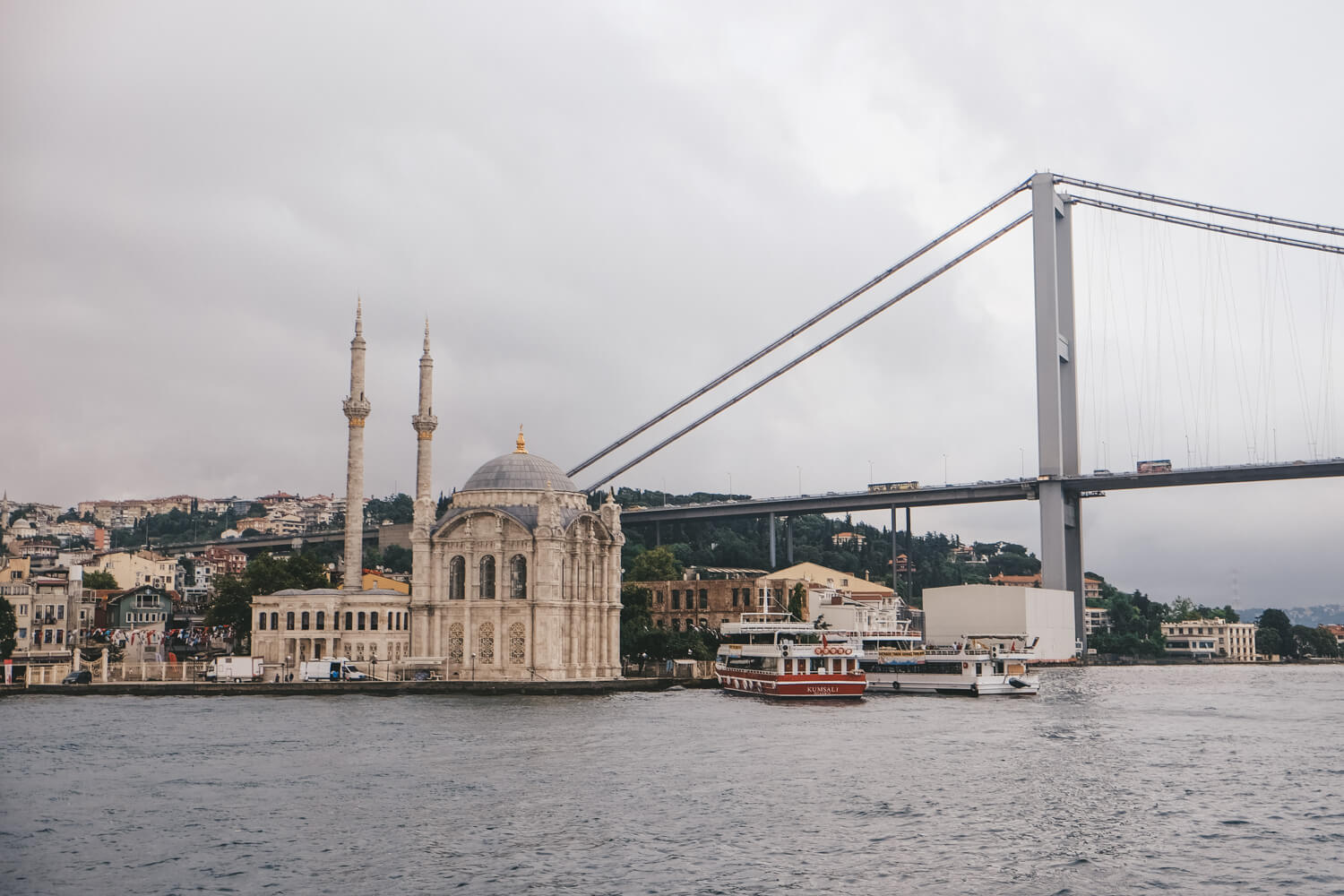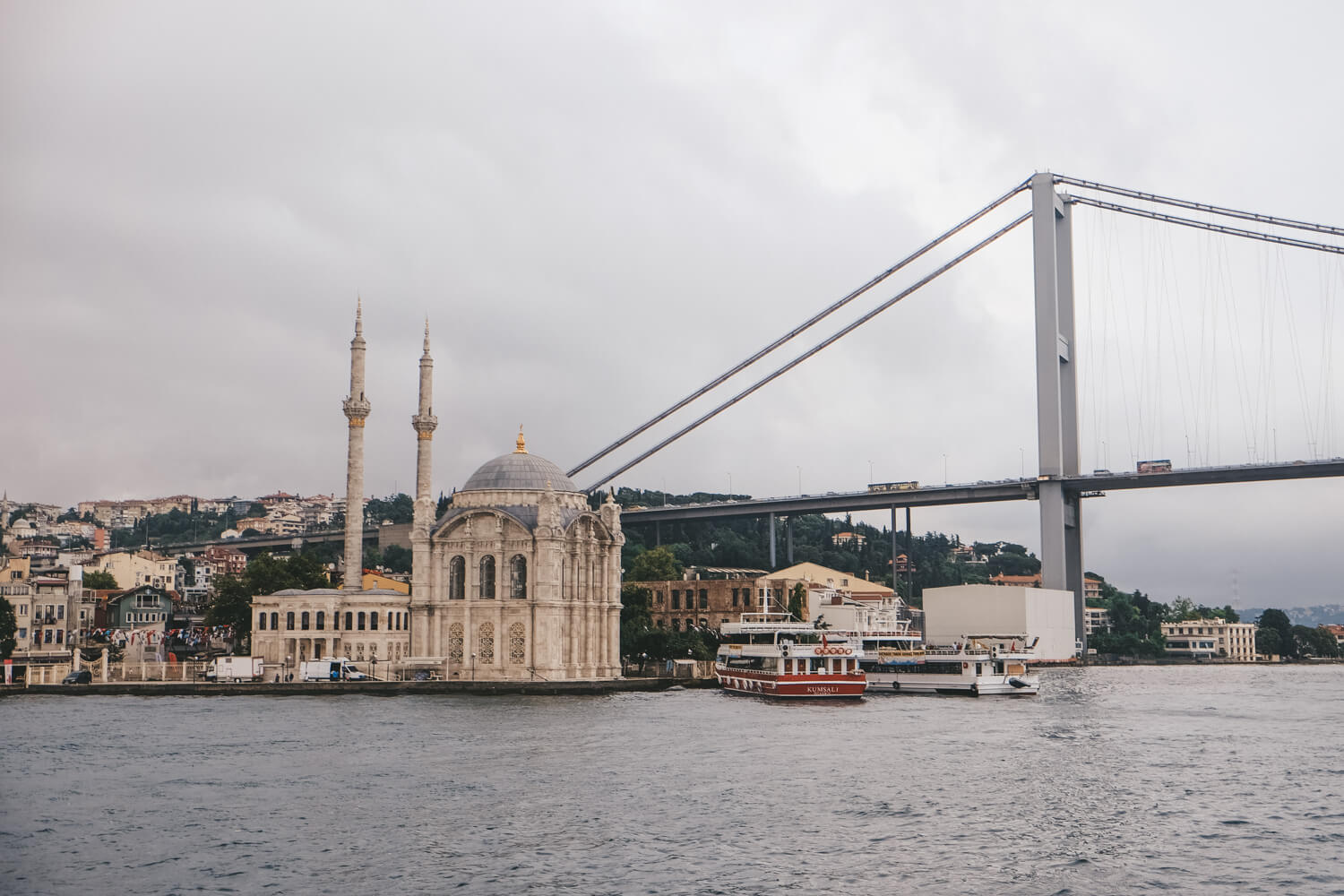 Getting Around Istanbul
The public transportation network in this huge city can be confusing at times, with a large range of routes, and a variety of options ranging from the subway, buses, trams, overland trains, and even ferries that take people to different parts of the city.
The Istanbulkart is the best way to pay for your transport, as it is a refillable card, and covers all of the main public transport options. If you are traveling with a friend or your family, you can tap for different people with the same card, so it makes getting around with groups much easier.
Taxis should be fairly inexpensive, but be wary of drivers who try to negotiate fixed fares or those who try to shortchange you.
Helpful Tip:
Make sure you have plenty of smaller currency bills to pay for taxis if you decide to go that route!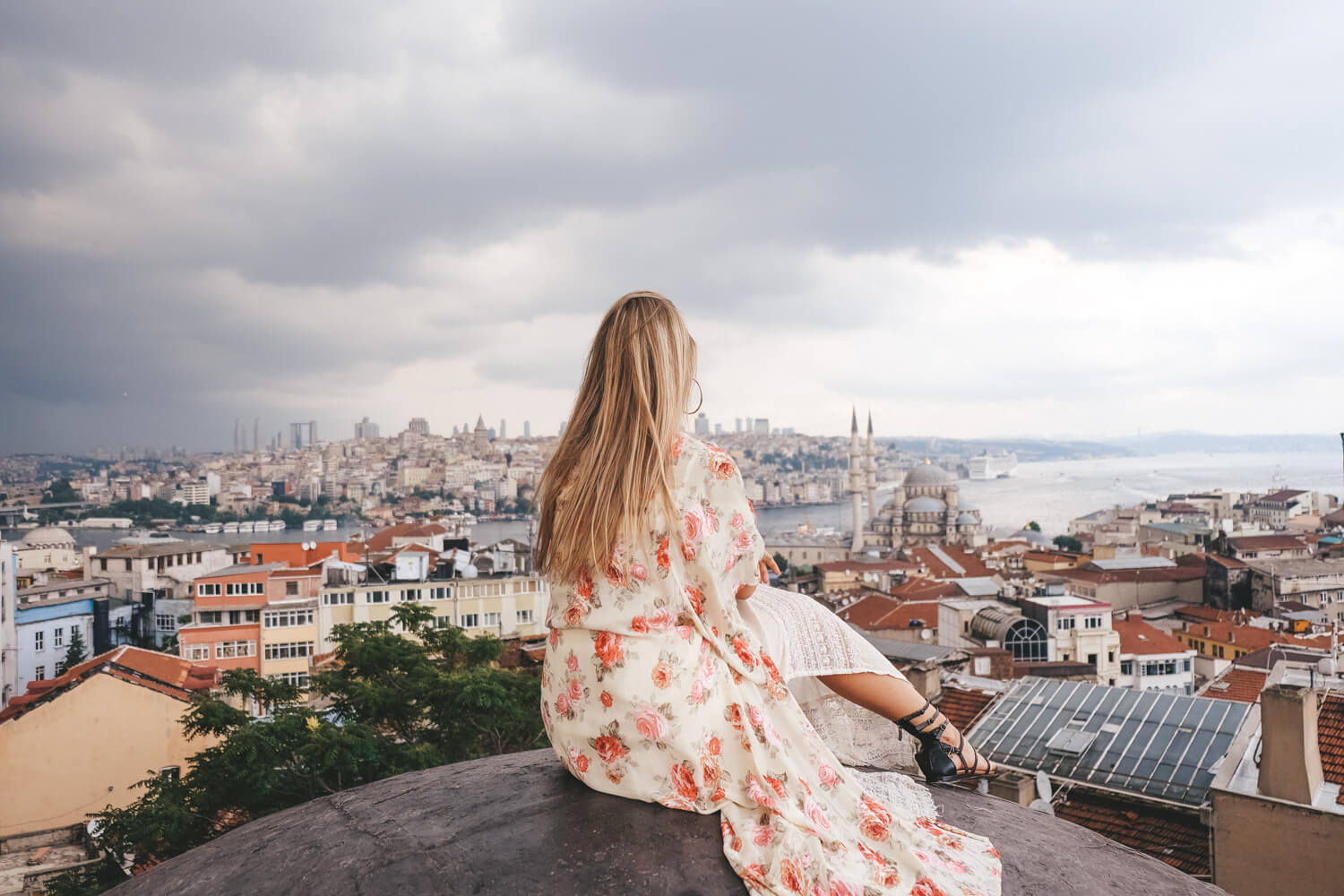 Safety Tips for Women Traveling in Istanbul
One of the things the biggest things I want to highlight, especially for solo female travelers, is that Istanbul has a dedicated Tourism Police department that is located between Hagia Sofia and the Basilica Cistern.
If something should go wrong, this is the place you want to go to!
Istanbul is generally pretty safe and petty crime is low. However, be careful around the Old Town as pickpocketing and bag snatching can happen.
Avoid hanging out solo in Taksim late at night (after 10 pm), especially on the main street Istikal Cadessi. It's also advisable to not go solo there on the weekends. Men won't grab you, but they can give intimidating looks.
High heels and mini-skirts should also not be worn around town. You will see many local girls dressed in all types of outfits, but it's best to avoid any unwanted attention.
Be aware that there are several scams that look to target tourists, and when it comes to taxis, always examine the meter and don't agree to pay any fixed fees. Choosing an older taxi driver is usually a safer bet, as they tend to be less likely to try and defraud passengers.
As with any solo travel in a big city, it is wise not to get too intoxicated or to leave yourself vulnerable in bars and clubs. I recommend always ensuring you have a friend to travel back to the hostel or hotel with if you are going out at night, or let someone know where you will be going.
And lastly, I would recommend learning a few key phrases in Turkish, like "hello," "thank you," etc. as it goes a long way with taxi drivers and in bars/restaurants.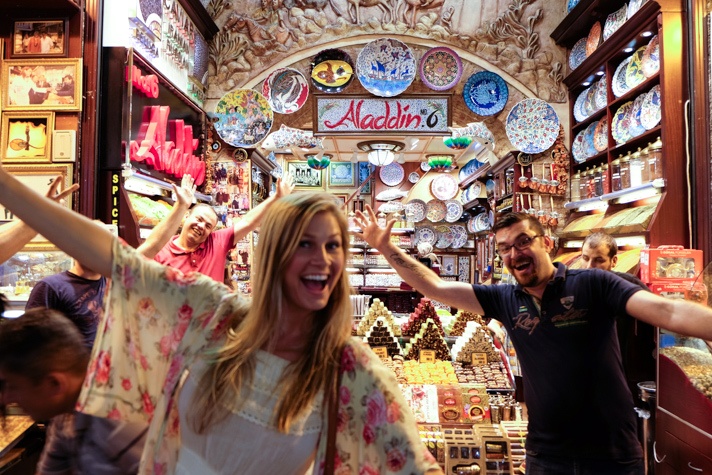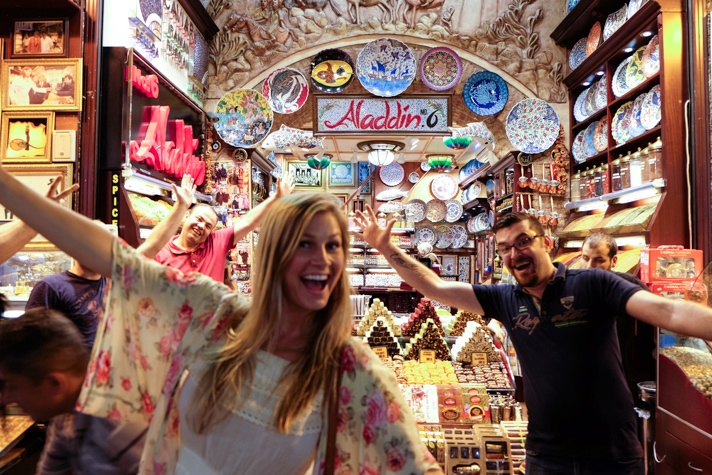 What to Expect from Men in Istanbul
The culture in Istanbul is very different than most western countries. In many of the tourist areas of Istanbul, there will be men who approach female visitors or follow them in an uncomfortable manner.
I personally never experienced any problems with local men and found those that I encountered to be very gentlemanly and polite.
However, if you do encounter anyone like this, tell them firmly to leave you alone, and, if they persist, go to an area where there are a lot of people. Approaching members of the tourist police is always a good idea in this kind of situation.

Have you been to Istanbul before? What tips would you add to this list? Let me know in the comments below!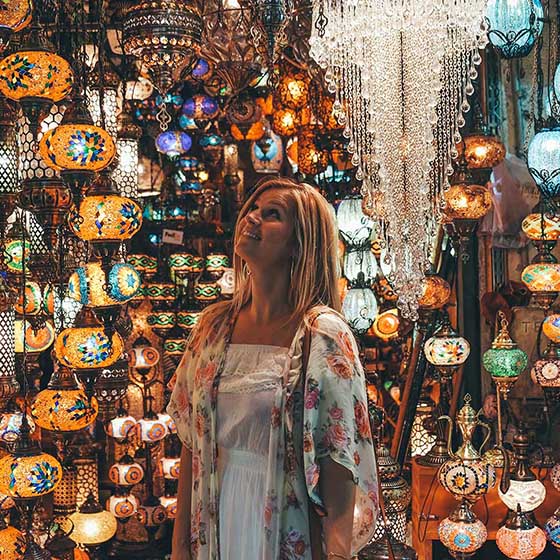 Because it has such a diverse landscape, figuring out when to visit all depends on where you're looking to go and what you'd like to do. While it has gotten a rep for being a summer destination, come winter the mountains are blanketed in beautiful snow.
Read More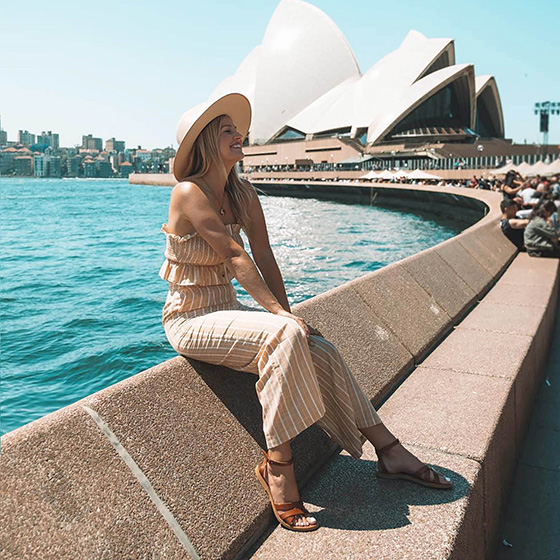 Solo travel for women can be challenging — I've learned so much over the years (and I'm continually learning!). I put together this comprehensive guide to solo travel destinations and taking solo trips so you can better prepare for your next trip!
Read More