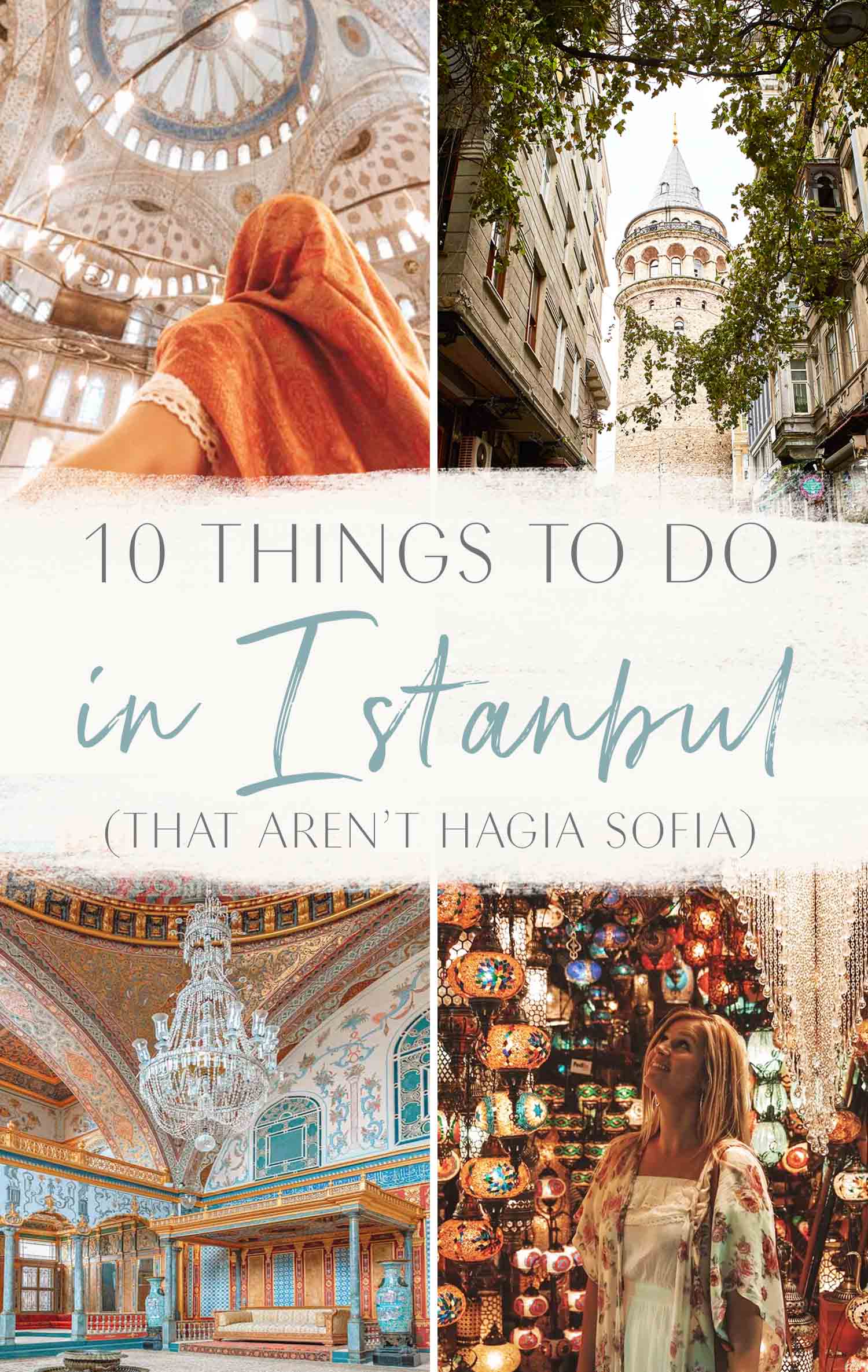 While the Hagia Sophia is worth visiting, there's so much more to Istanbul that you should check out in this incredible city!
From unique shopping experiences and eccentric neighborhoods to delicious street food and historic buildings, there's something for everyone in the Turkish capital city!
Quick Tip: Check out my guide to the Best Time to Visit Turkey and my Ultimate Turkey Travel Guide for some general advice and information to help you plan your trip.
Here are the top ten things you should add to your Istanbul itinerary!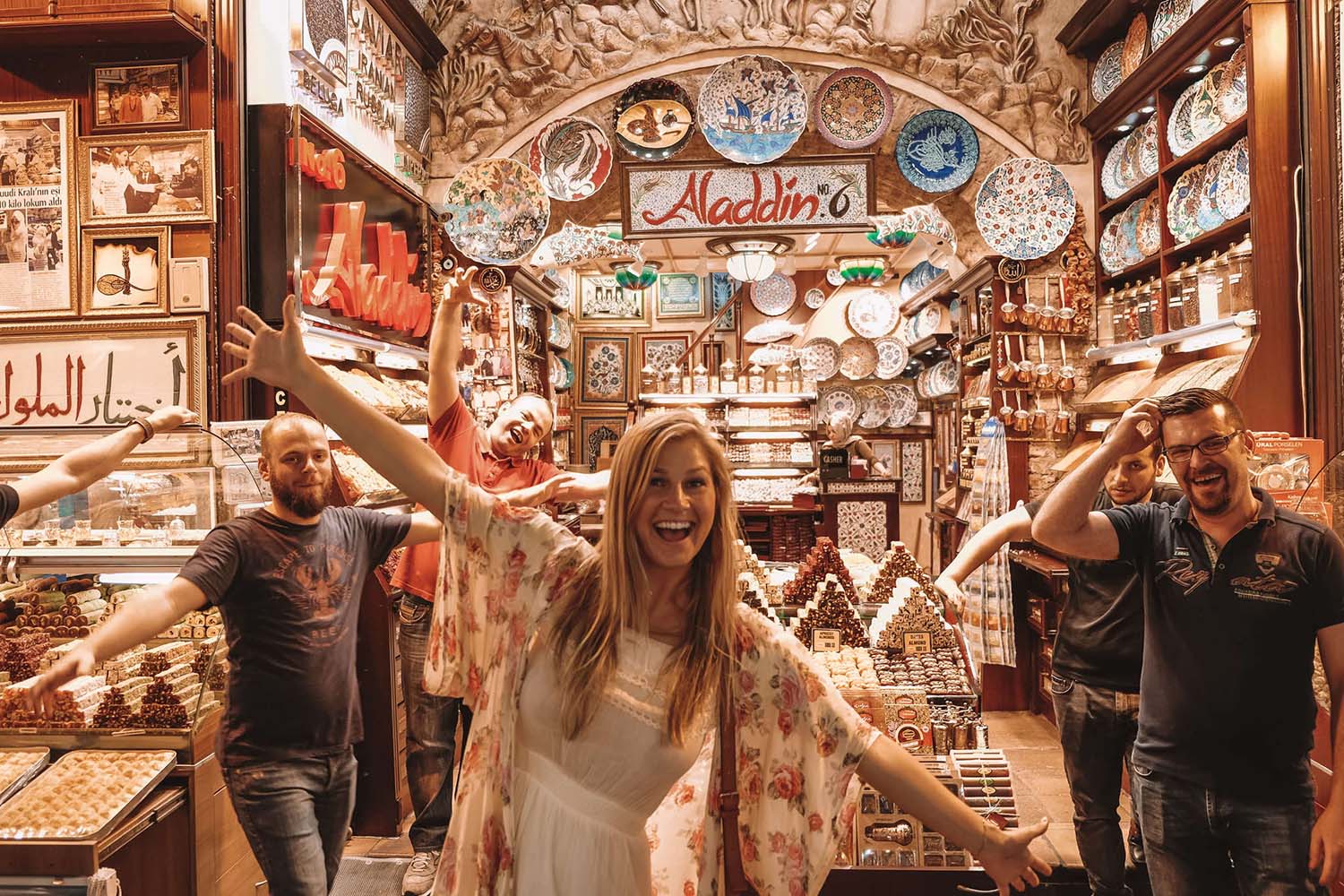 Shop at Grand Bazaar & the Egyptian Bazaar
One of the most classic things to do in Istanbul is to visit one of the historic bazaars in the city: the Grand Bazaar.
The word bazaar translates to market, specifically a large market space that has multiple stalls and vendors.
The Grand Bazaar is the oldest and largest covered market and features 61 streets and over 4,000 individual stalls where you can buy goods like spices, sweets, and dried fruit.
You can also pick up non-edible items to take home like jewelry and ceramics.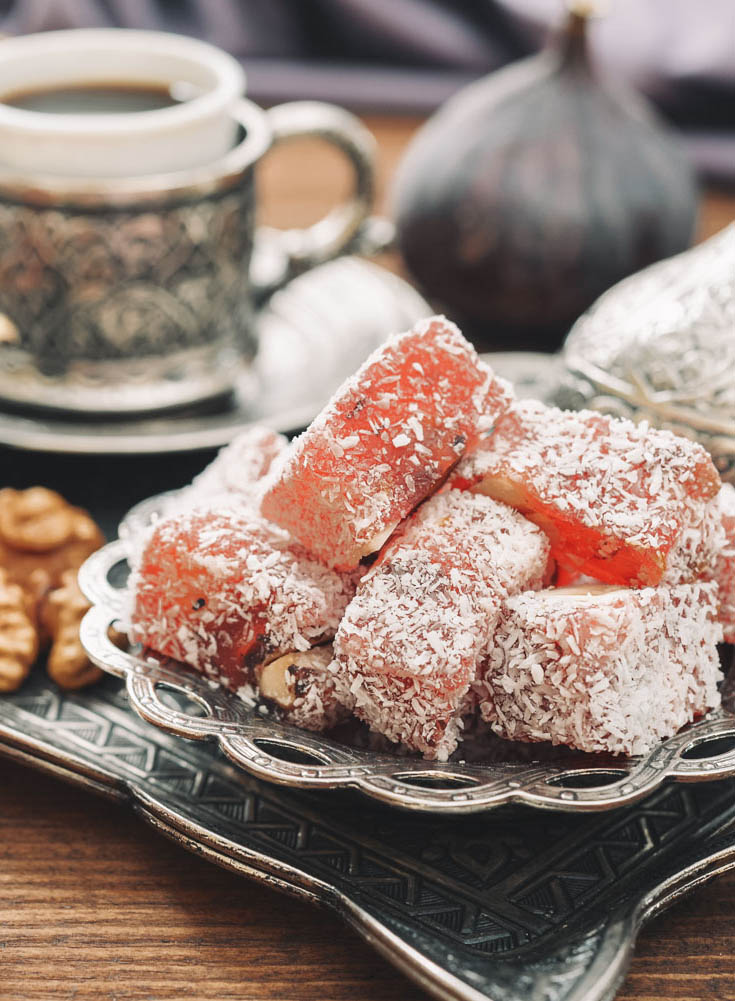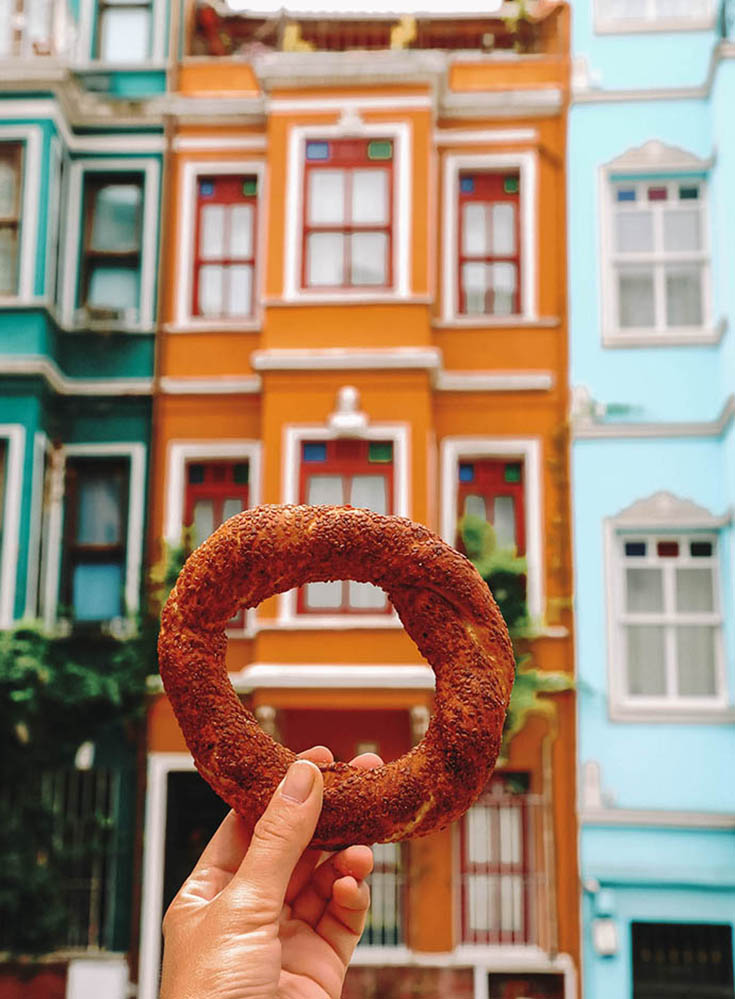 Try the Street Food
Turkish food is incredibly rich and flavorful, and there are many popular Turkish dishes that you should try when you visit Istanbul.
Start your day off with a traditional Turkish breakfast spread that includes cheese, olives, bread, and fresh vegetables, and is served with various jams and sauces.
If you're interested in a sweet treat, try Turkish Delight…which you might have heard of if you ever read The Lion, The Witch, and The Wardrobe!
It has a jelly texture and flavors like rosewater and citrus and is typically served as cubes coated in powdered sugar.
If you're interested in a more in-depth food experience in Italy, consider booking an Istanbul food tour that features the best of Istanbul's restaurants, cafes, and food stands. It's a great way to make sure you don't miss any of the highlights!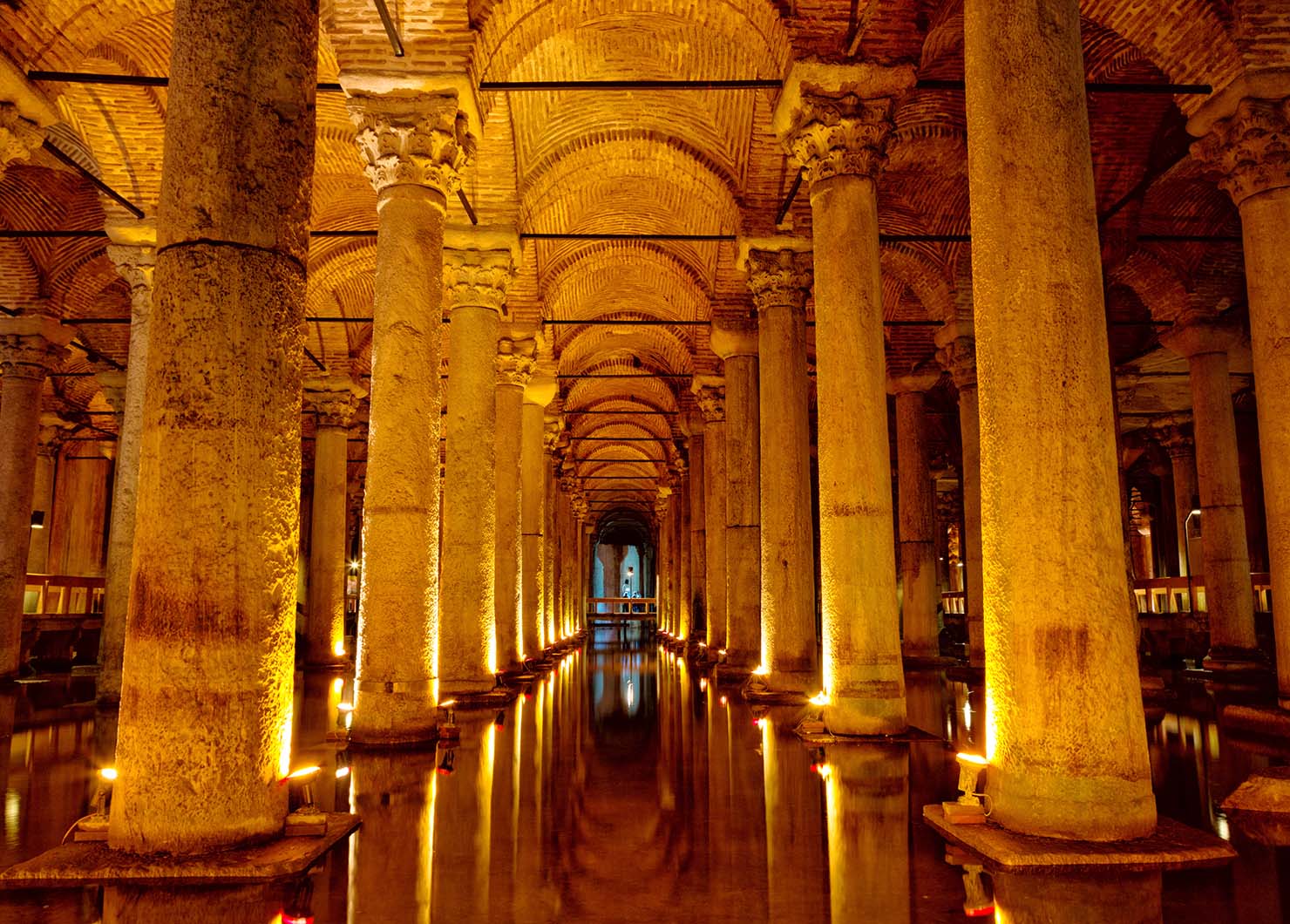 Go Underground for The Basilica Cistern
Cisterns are large underground reservoirs that were built to collect rainwater and there are hundreds underneath Istanbul.
The Basilica Cistern is the largest of them, and you can descend into the chambers as there's very little water kept in it today.
When you're touring the cistern you'll be able to see some of the intricate stone structures and carvings. Two of the columns are made with reused blocks carved to look like Medusa, the snake-haired woman of Greek mythology who could turn anyone who made eye contact with her to stone.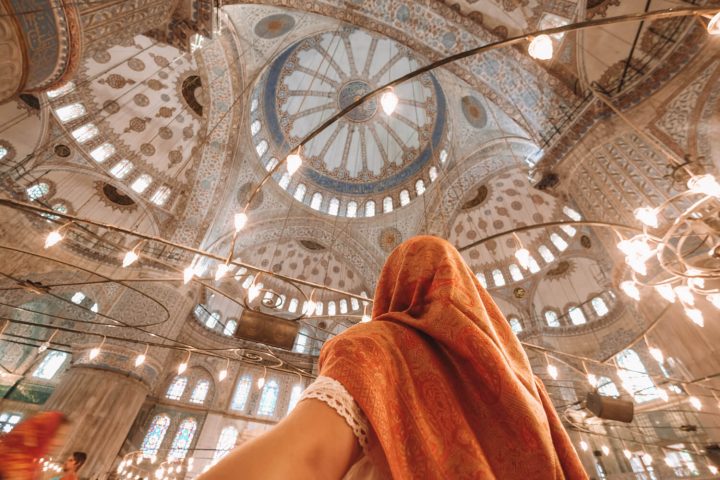 The Blue Mosque
If you're interested in visiting one of Istanbul's most famous historical sites, make sure you fit in a trip to the Blue Mosque.
You can see some amazing art and architecture throughout the space but make sure you keep in mind that it's an active mosque with daily prayer services.
It's important to dress appropriately when you visit the Blue Mosque — it's a religious and cultural site so you'll have to wear an outfit that covers a lot of skin.
Long pants, dresses, and skirts are essential as well as clothing that covers your shoulders and upper arms.
Check out this guide for dressing in a conservative country or more information on what you should wear during your visit as well as this guide to solo female travel in Istanbul.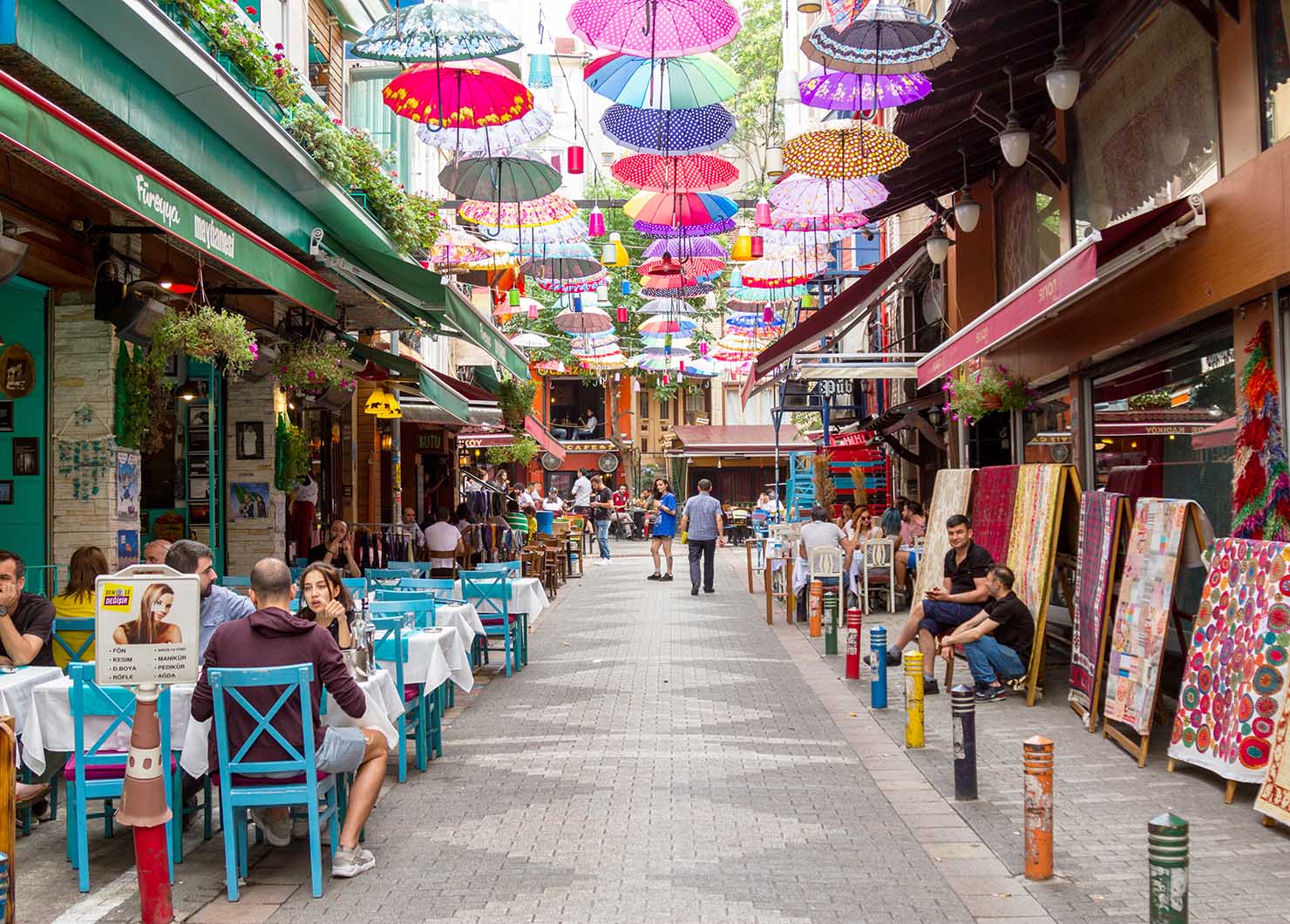 Explore Hip Neighborhoods of Karaköy & Kadikoy
For a look at modern Turkish culture, head to the neighborhoods of Karaköy and Kadikoy. Karaköy is a hip neighborhood built into the ancient ruins of Istanbul. Locally owned restaurants and boutiques have sprung up over the years as well as contemporary art galleries.
Kadikoy has many of the same perks and is also considered a gritty artistic hub with rock music shows and record shops.
This neighborhood tends to be the livelier of the two and offers more in terms of nightlife.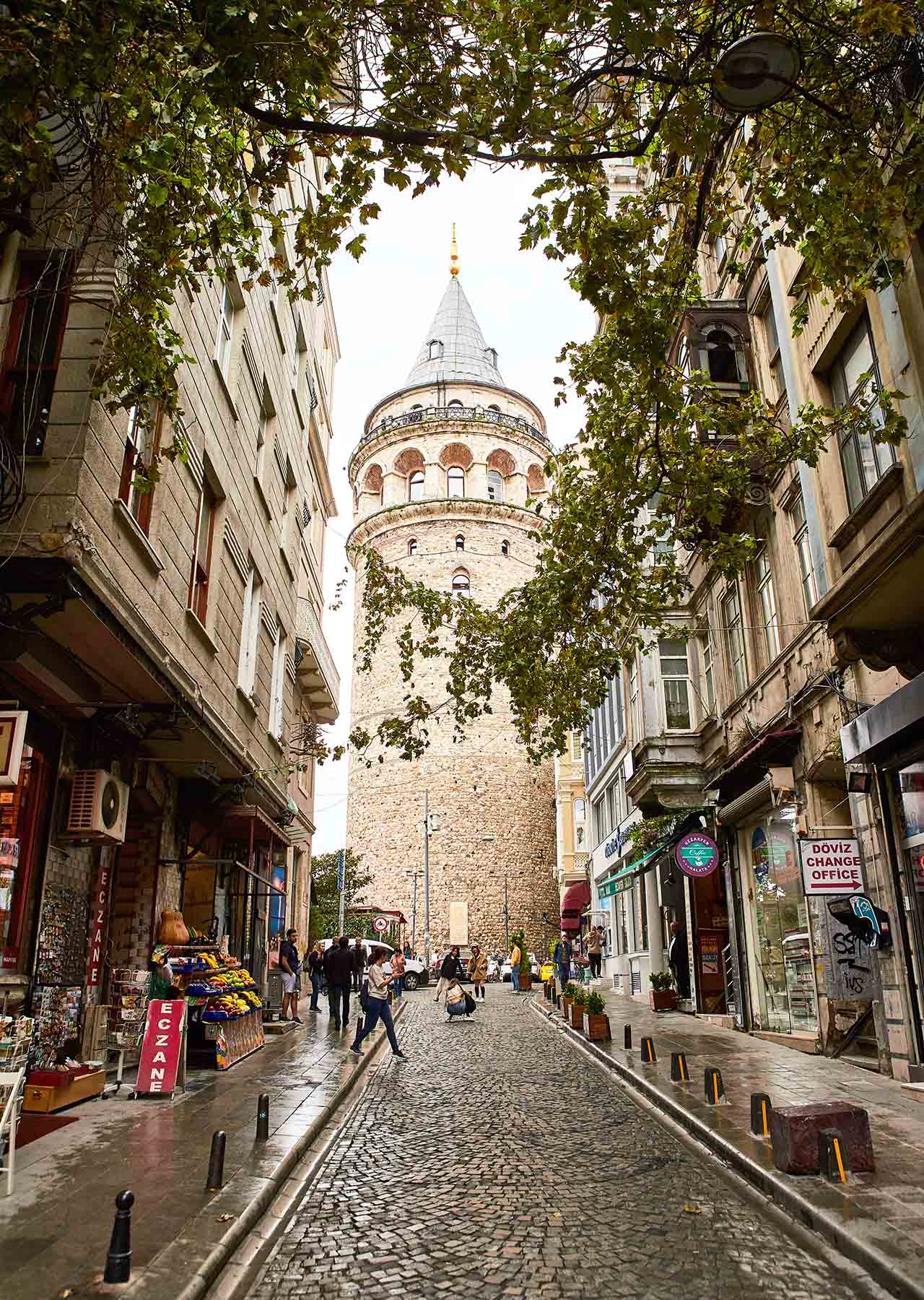 Climb Galata Tower
The impressive Galata Tower was originally built as a watchtower as part of the Walls of Galata, located in the Beyoğlu district of Istanbul. It is nine stories high and you can pay a small fee to take an elevator to the top and see some stunning panoramic views of Istanbul.
Make sure you double-check the opening times because the tower occasionally is shut down for restoration — it is nearly 700 years old, after all!

Sip of Turkish Coffee
If you're a fan of strong coffee, make sure you give Turkish coffee a try!
Not only is this drink richly flavored and high in caffeine because of the unfiltered way it's made, but it's also an important part of many Turkish customs such as the art of tasseography.
This is a kind of fortune-telling that involves drinking the coffee and flipping the cup over so the grounds settle in the saucer, and then interpreting the shapes that they might form.
Turkish coffee is usually served with a glass of water which you're meant to sip on to clear your palate so you can fully enjoy the rich flavor of the coffee. You can also enjoy your Turkish coffee with pastries and candies.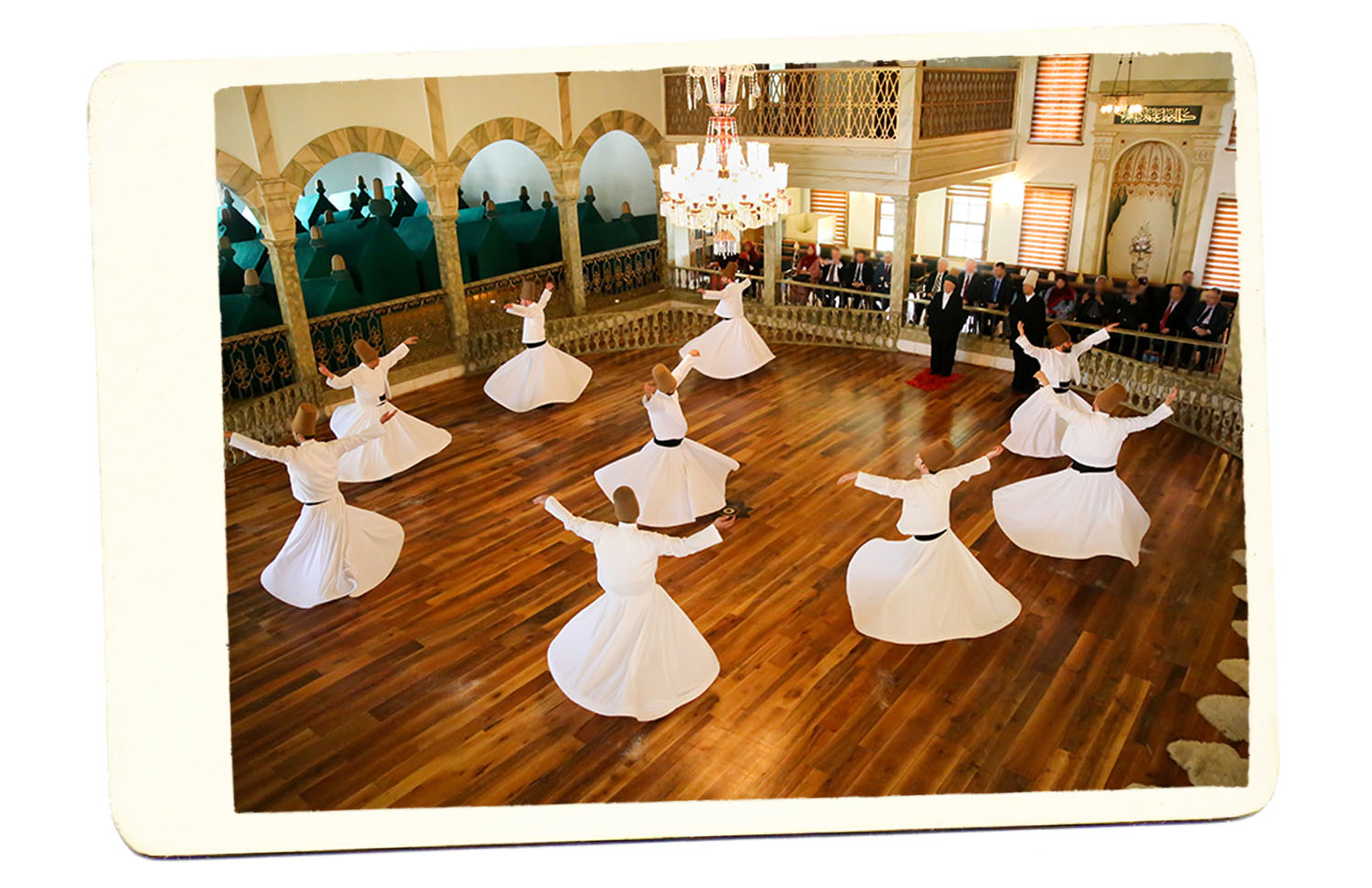 See Whirling Dervishes
Historically the term dervish has been used to refer to a specific group within Sufism, an order of Islam. Sufi whirling is a type of active meditation performed as part of a religious ceremony and the participants wear flowing robes or gowns, sometimes with bright colors and patterns.
You can see this unique custom at the Galata Mevlevi Lodge, which is one of the oldest of its kind.
If you're interested in learning more about the ancient culture and traditions of Istanbul and Turkey as a whole, this is an essential addition to your Turkey itinerary.

Visit a Hammam
The term hammam refers to Turkish baths which are famous around the world for many reasons including religion, culture, and general hygiene. Although there are many you can visit, one of the most popular is the AyaSofya Hurrem Sultan Hamam.
Not only is it historic, but the inside is gorgeous.
While it was at its most popular during the 16th century, it was restored and reopened in May of 2011 for regular visits.
There are multiple packages you can pick from that include services like body scrubs and massages. Note that there are separate entrances and rooms for men and women and there may be specific hours for each group as well so make sure you call ahead while planning your trip.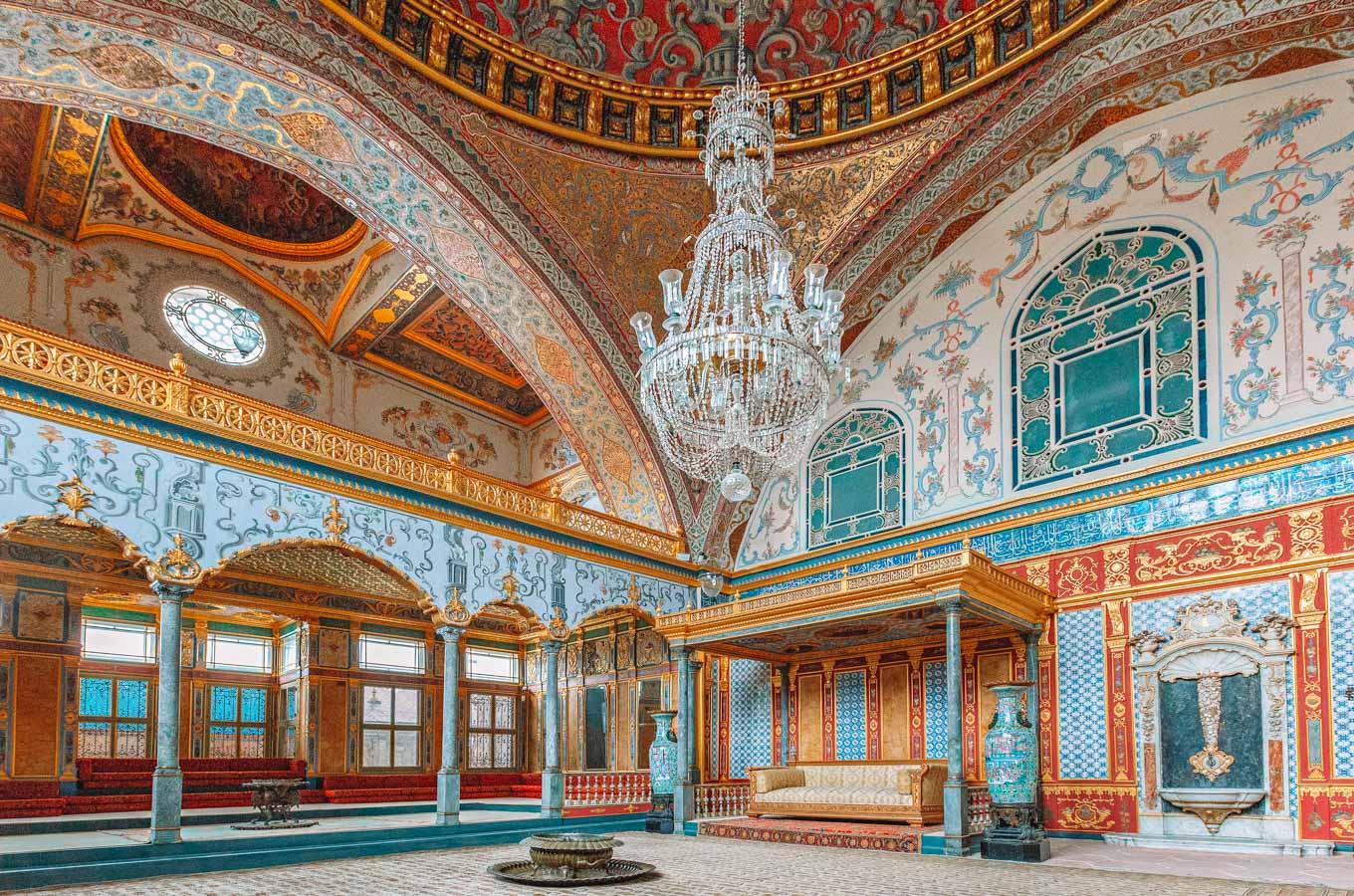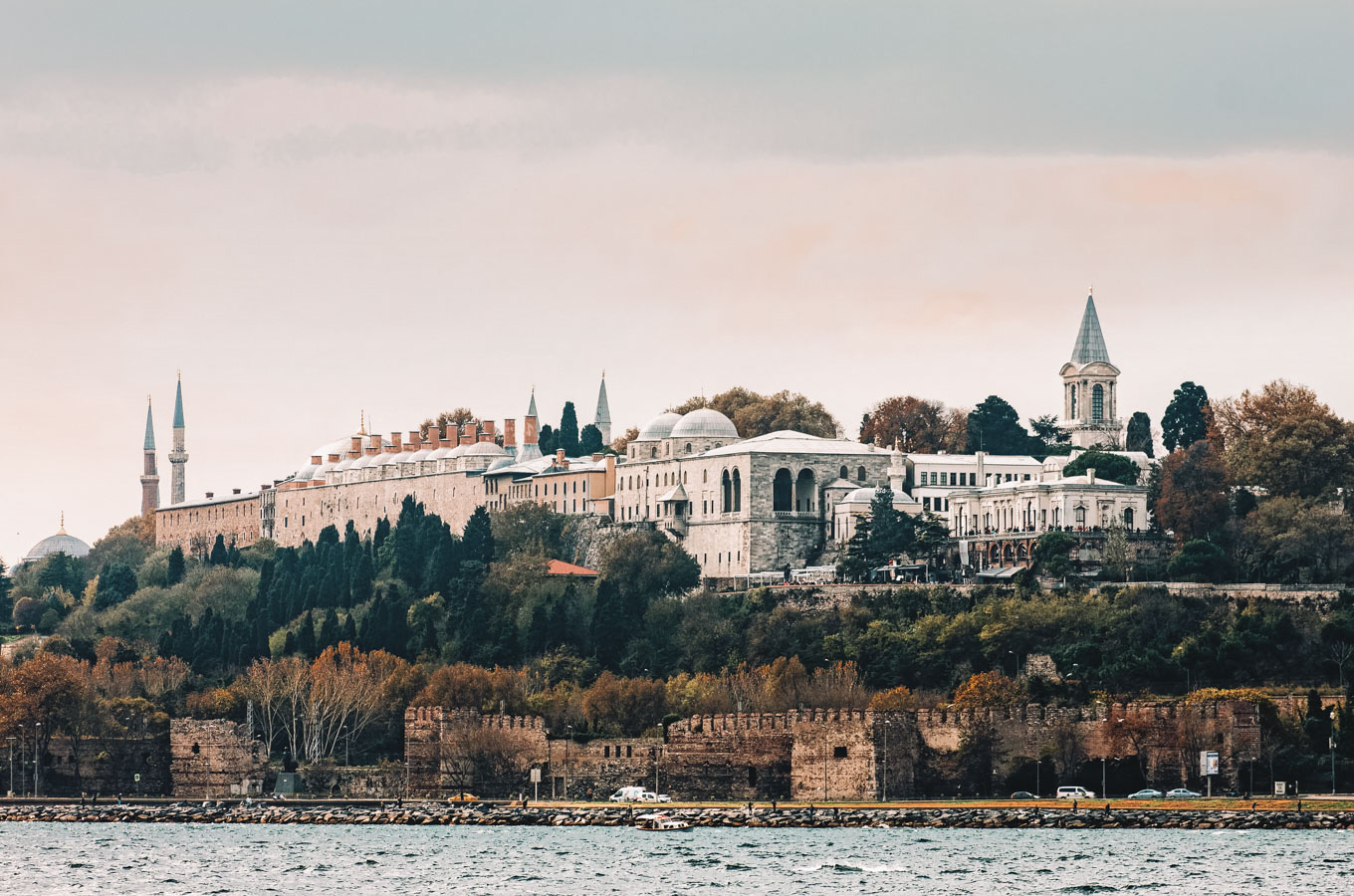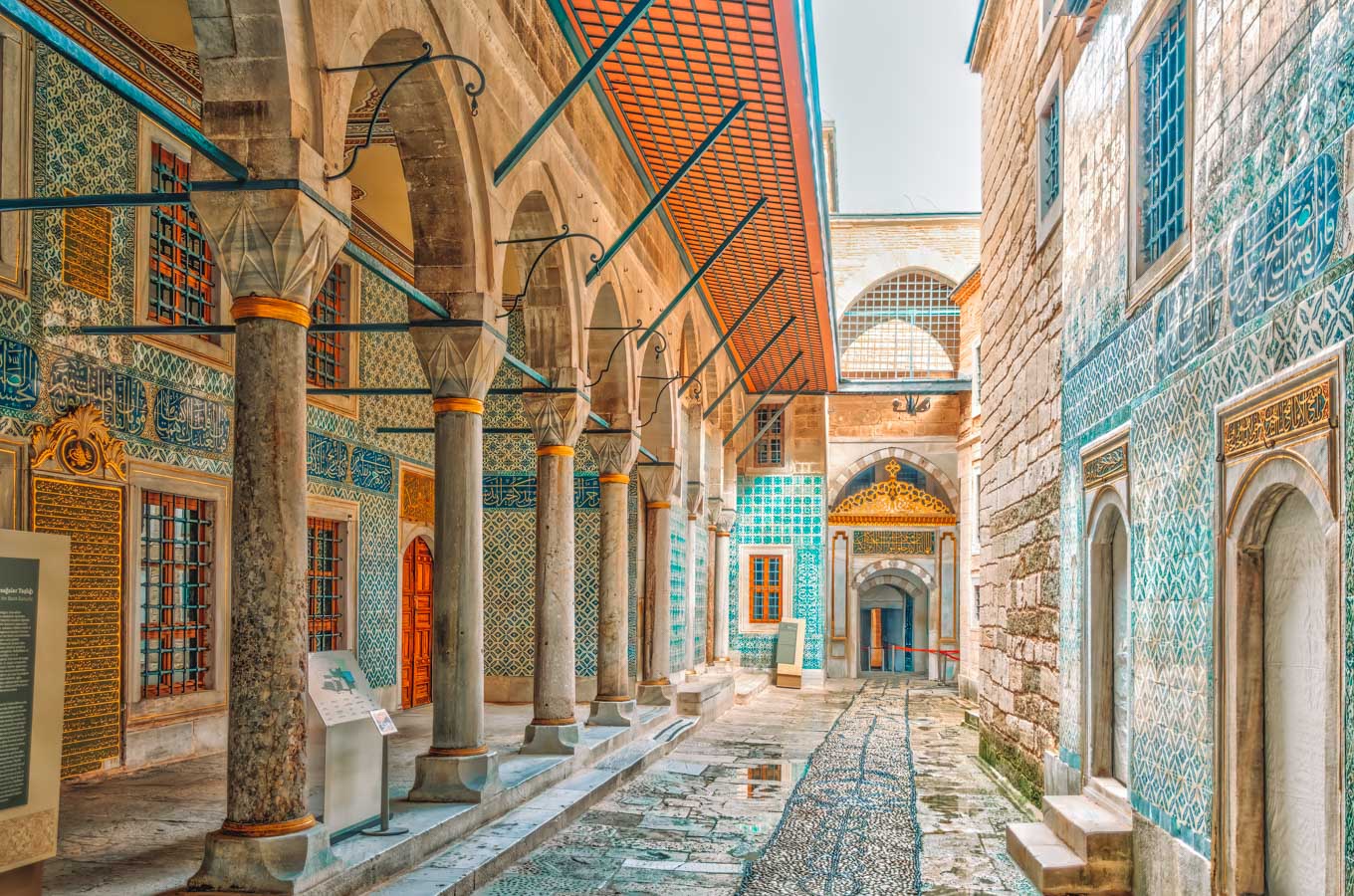 Topkapi Palace
The Topkapı Palace was once a grand residence and administrative center for sultans of the Ottoman Empire. In the 1920s it became a museum and today you can visit and tour some of the rooms and courtyards of the palace.
Highlights include jewel-toned tiled rooms that you have to see to believe and exhibits with examples of the clothing the sultan and the people around them would have worn.
Visiting the Topkapı Palace is a great way to step back in time and learn about how people lived in 16th and 17th century Istanbul.

There's plenty to do in Istanbul but if you're interested in venturing beyond the city and seeing more of what Turkey has to offer, check out this list of the top ten best places to visit in Turkey that aren't Istanbul!