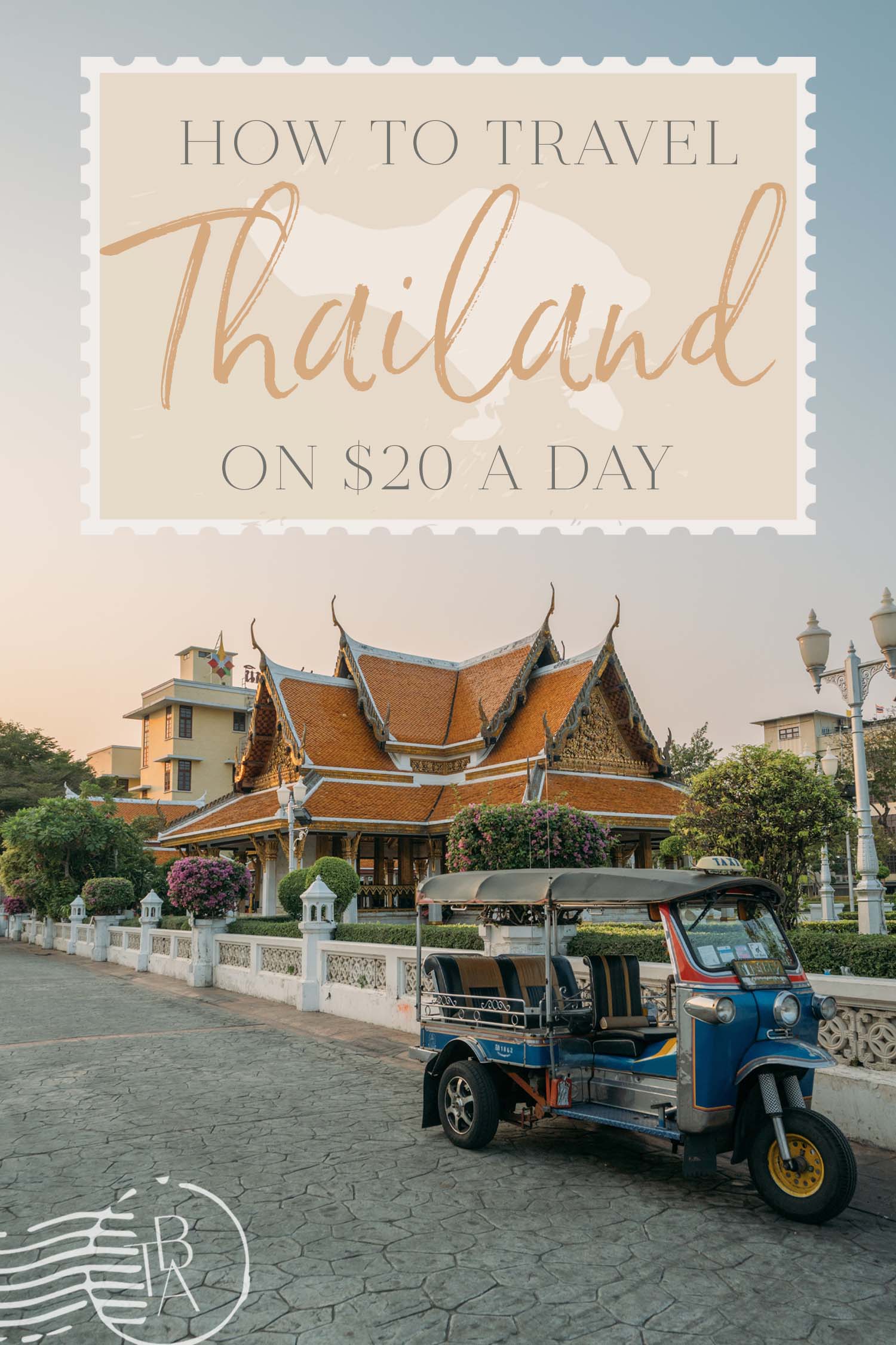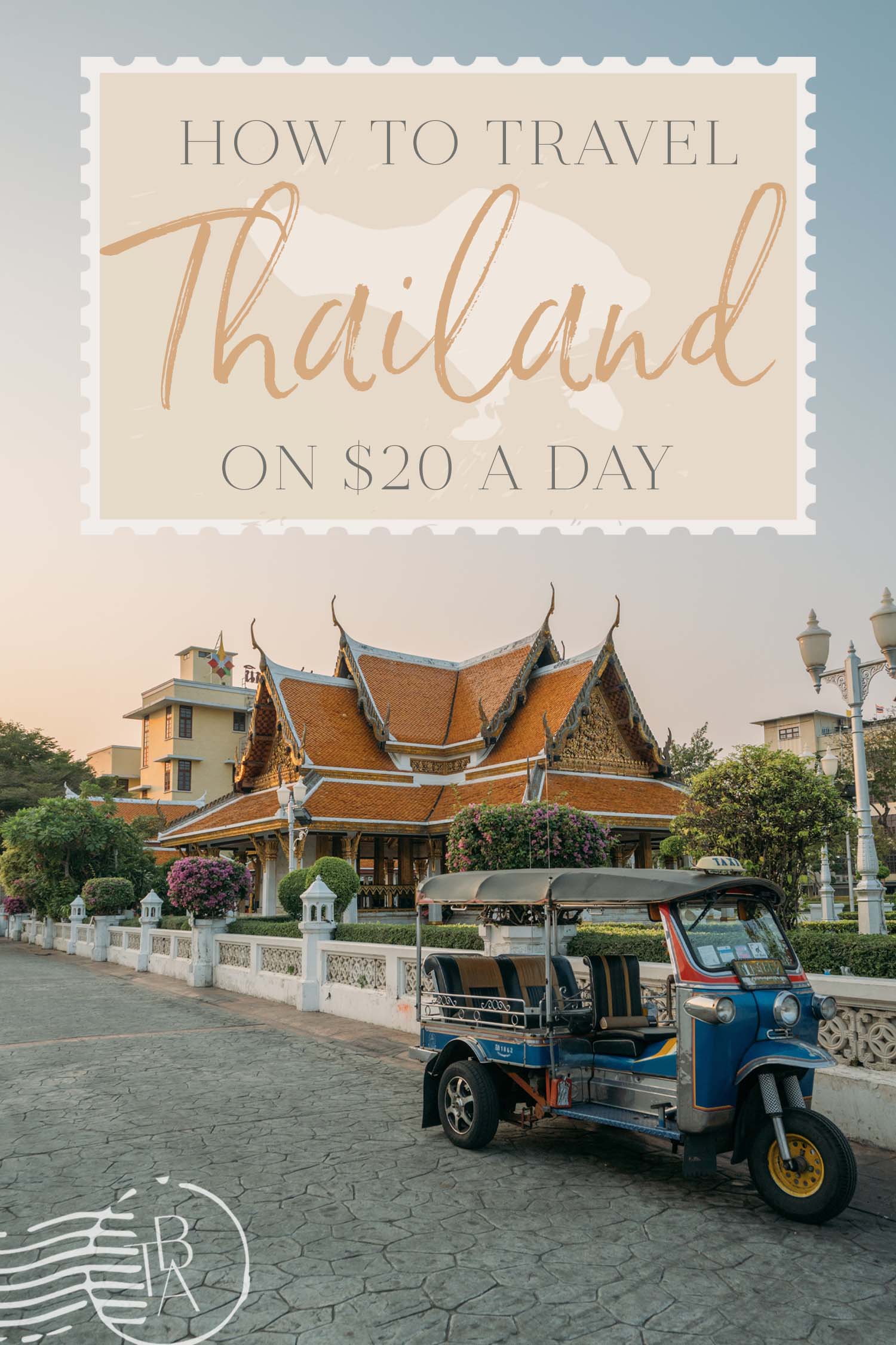 Updated: June 2020
Thailand has long been considered one of the best budget-friendly destinations in the world. It's safe for solo female travelers, has activities for all types of adventurers, and is very easy on the bank account. I've talked about how to travel Bali on a budget, but now it's time to focus on all the fun that can be found in another area!
These tips come from my adventures in Krabi, Thailand where I noted how much I spent throughout the day.
Krabi, located on southern Thailand's west coast is known for its gorgeous beaches and hundreds of islands. It includes popular beach destinations like Phi Phi Islands (great place for island hopping) and tons of lush, picturesque reefs and vistas.
Here's how to explore Thailand on $20 a day!

Rent a Scooter
I started off the day early in Aonang and rented a scooter for 24 hours (฿75 baht / $2.30). You may want to do some research about local laws for renting a scooter and know that some of the drivers can be quite bold on the road.
Make sure you know what your travel insurance covers before you hop on…just in case!
Total: $2.30 Grab a Local Breakfast
For breakfast, it was all about eating some of the local Thai foods. I indulged in Thai ice coffee (one of my faves and so deliciously sweet!), seafood noodle soup, watermelon, and rice (฿60 baht / $1.80).
Yep, you read that right—soup for breakfast!
Total: $4.10


Budget for Gas
After stopping to fill up the tank (฿50 baht / $1.50), I drove about 45 km through winding jungle roads to the Tiger Cave Temple. I had to stop quite a few times with my friend, Apple, to ask for directions…but fortunately, she speaks Thai fluently!
If you're not traveling with a Thai friend, I highly recommend picking up a SIM card at the airport so you can access cell data in most places when you need directions.
Total: $5.60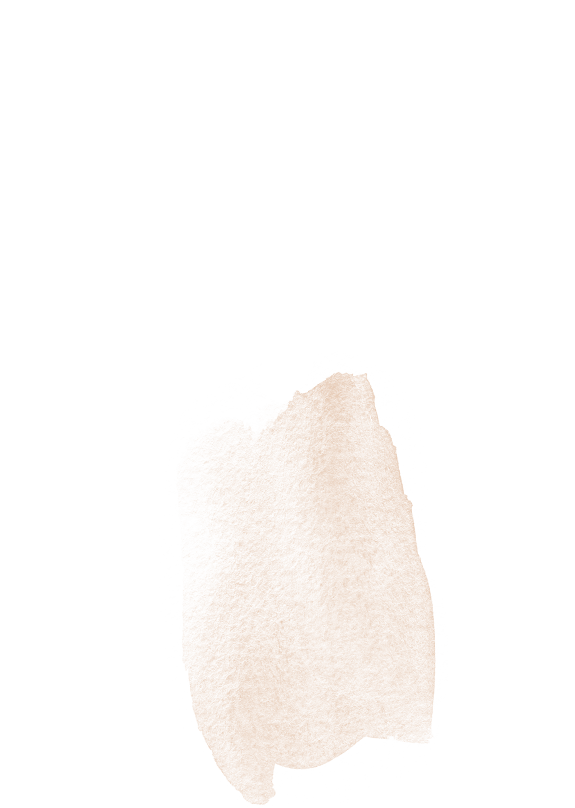 Go for a Hike/Visit a Temple
We explored the Tiger Cave Temple—though there are many free places to hike and explore around Thailand if you're in another area!
However, for the Tiger Cave Temple, we checked out the cave—which was free—and then decided to climb the 1,237 stairs to the top of the mountain to check out the massive golden Buddha shrine…and the incredible view looking down on Krabi! It definitely was not the easiest hike I've ever done (read: it was the hardest!), but it was well worth it.
Another option if you're not feeling up for a hike but still want to take advantage of free things…the beach!
Price: Free



Try the Street Food
Skip the Western food—the local Thai food is so good and typically way less expensive.
After our strenuous hike, we hit the road and stopped by a little hut packed with locals and food that smelled so good. It was typical Thai street food and we scarfed it up!
We got a pumpkin and coconut soup, prawn and tofu spring rolls, fish cakes with sweet chili sauce, Pad Thai with prawns and a virgin coconut to sip on. We grabbed some red bean and coconut dessert and sweet virgin coconut spring roll balls with coconut milk for takeaway.
It was the best meal I ate in Thailand! And all of this cost us only ฿50 baht / $1.50.
Total: $7.10


Budget for Souvenirs
When you're traveling on a budget, there's often not a ton of room for souvenirs…but I couldn't help myself in Thailand! We stopped at a darling jewelry shop where I scored a pair of beautiful pearl earrings for ฿150 baht / $4.50.
After the jewelry shop, we found a local market bustling with activity and vendors selling all sorts of clothing, wares, and food.
I happened to find some more awesome jewelry (three pairs of earrings for ฿110 baht / $3.30) and grabbed a bottle of fresh carrot juice for the morning (฿20 baht / $.60).
Total: $15.50

Book a Hostel
Thailand is known for notoriously inexpensive accommodations where your dollar goes a long way. While you could splurge at a place akin to a 5-star hotel, if you really want to save—hostels are the way to go. You can find a bed in a hostel for around $5-10 USD.
I personally like to use HostelWorld to figure out which place to stay at!
Total: ~$20.50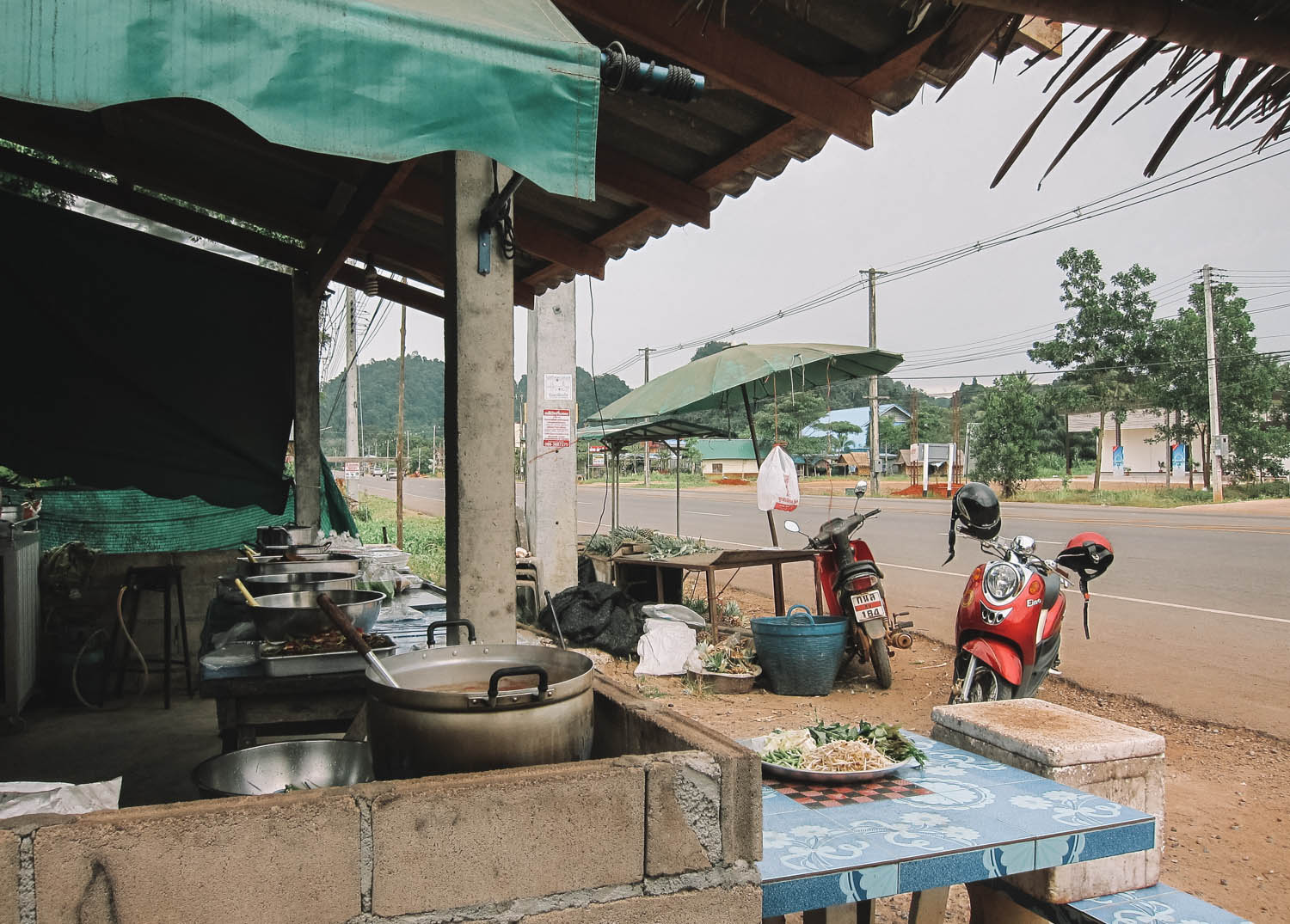 TBA  Takeaways
Rent a Scooter
Eat the Local Food
Budget for Souvenirs
Take Advantage of the Free Things
Book a Hostel
Cut Out Alcohol Expenses

The total spent on an adventurous and fun-filled day, including my new Thai jewelry, TONS of Thai food, a 24-hour scooter rental, and gas… approximately ฿645 baht or about $20 USD!
Note: I didn't drink any alcohol during this part of the trip—this definitely helps to conserve the budget! Be aware of how quickly drinks add up.
What tips do you have for traveling Thailand on a budget? Let me know in the comments below!