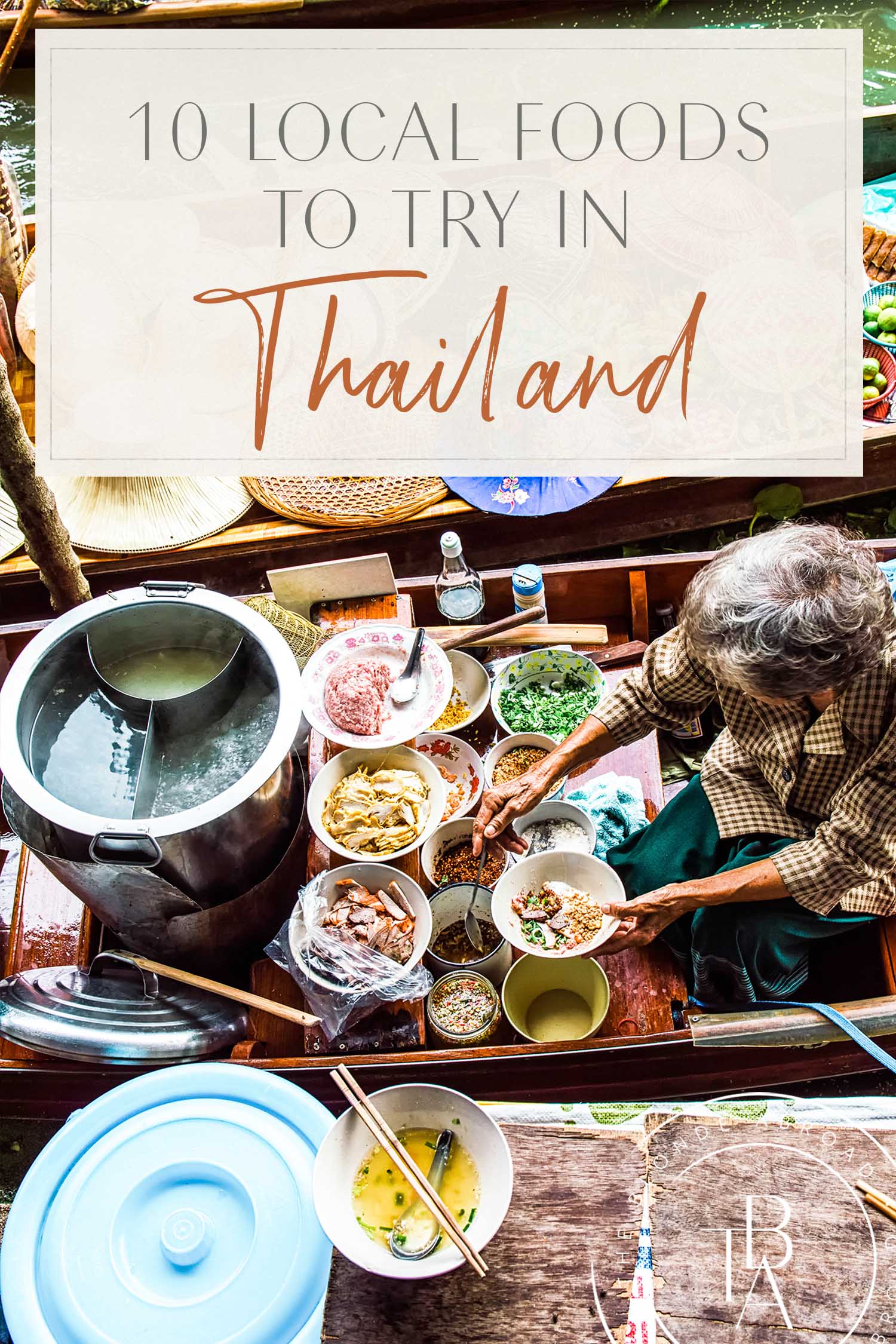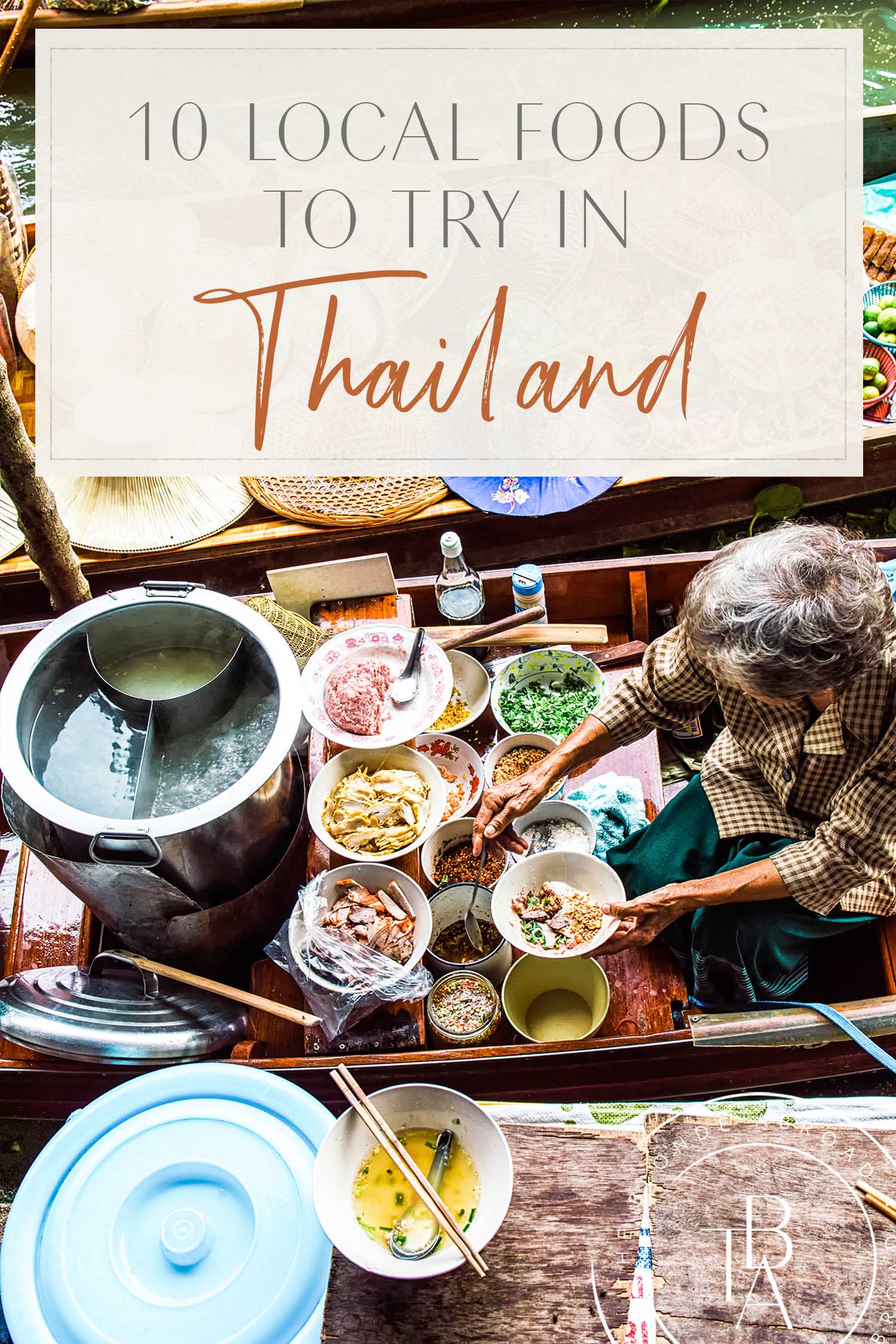 I'll admit that while I was trekking around Thailand, I was a bit intimated by all the different foods — specifically, Thai street food. Yet I was intrigued—so intrigued! I just didn't know where to start…
Most people are familiar with Pad Thai or the many curries, but when you dive deeper into Thai culture and cuisine, you'll find there are so many incredible dishes just bursting with flavor.
Thai food is complex; it's known to be sweet, sour, and spicy—all at the same time.
Curious about what the essential flavors are? You'll often find ginger, turmeric, basil, garlic, a sprinkling of peanuts, and even coconut!
Oftentimes the best way to get a taste for culture is by sampling the local cuisine, but sometimes you aren't sure what meals are must-haves.
To cut out the confusion, I'm dishing up this guide to 10 local foods you need to try in Thailand!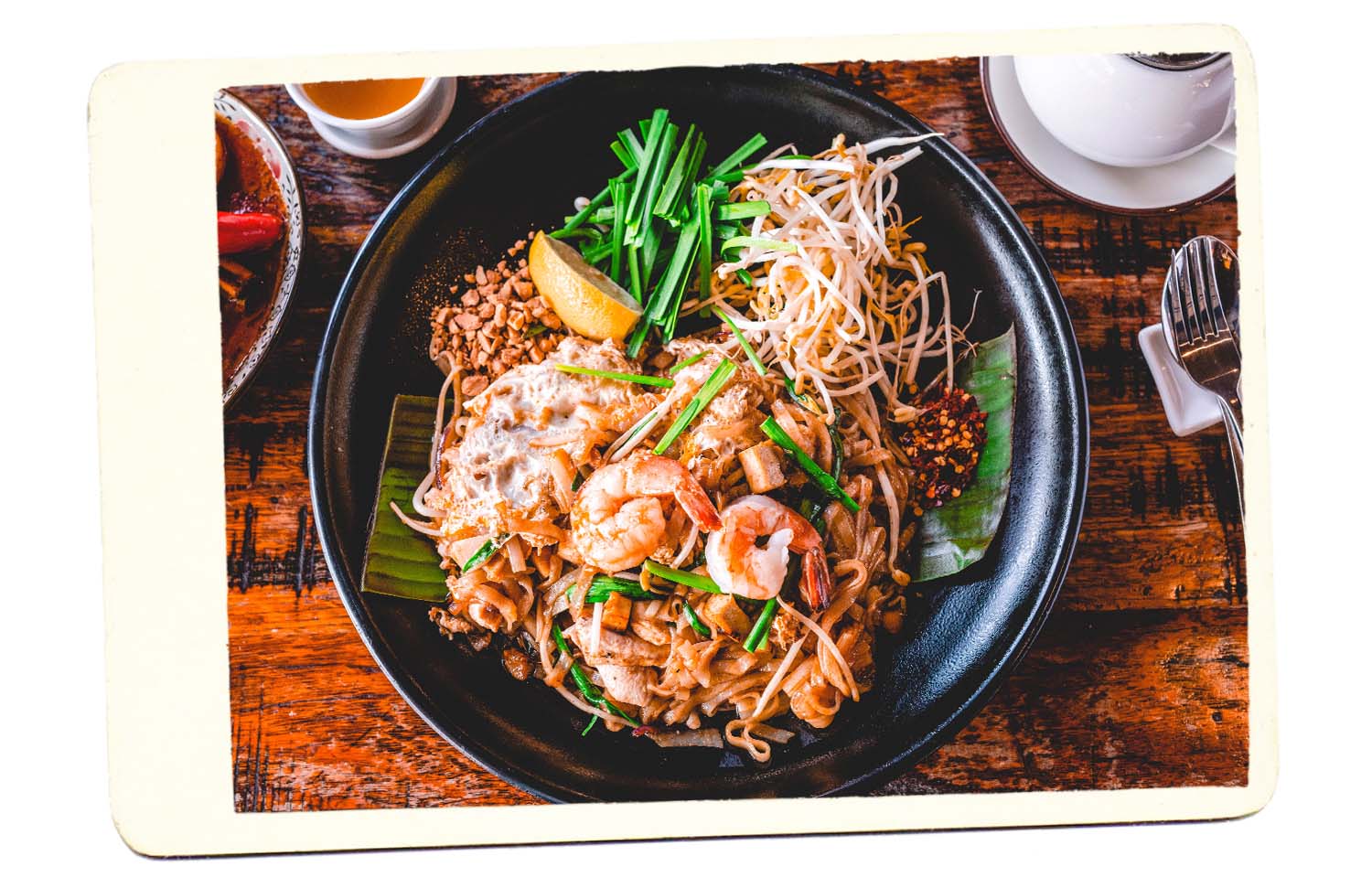 Pad Thai
Pad Thai or Phad Thai is a stir-fried noodle dish commonly served as street food and at most restaurants in Thailand. The typical ingredients you'll find? Rice noodles, eggs, tofu, fish sauce, shrimp, garlic, red chili pepper, and peanuts!
This meal was actually listed at number five on the "World's 50 Most Delicious Foods" readers' poll done by CNN.
Quite honestly, I'm not surprised! Pad Thai is a staple and if you're just getting introduced to Thai cuisine, it's a great place to start!

Gaeng Keow Wan Kai
Don't fret: the long name means green chicken curry
The "green" part of the name comes from the color of the green chilies.
As you might have guessed, there are other colorful curries! Some popular ones include red and yellow—each with their own unique flavor and spice level. We'll get to that next!
Green curry is typically served with a heaping portion of rice (to soak up the soup-like quality).

Gaeng Daeng
Also known as red curry, this is MUCH spicier than its green sibling!
This dish has soooo many different variations, so even if you've sampled red curry, you might find a completely different version elsewhere.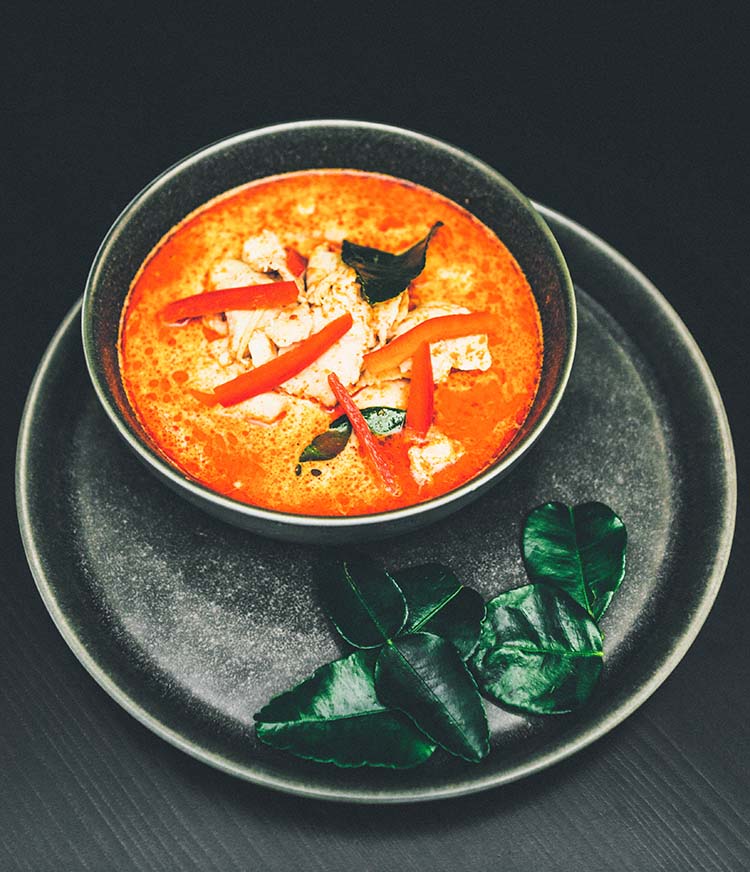 Yam Nua
Yam Nua is a spicy beef salad. Yam literally means "mix," which is fitting for this mixed salad.
Using skirt steak, onion, coriander, spearmint, lime, and dried chili, it perfectly embodies the invigorating flavors of Thai salads.

Khao Pad
Also known as Thai fried rice
It differs from Chinese fried rice in that it uses Thai jasmine rice rather than regular long-grain rice.
Typically a meat like chicken, pork, shrimp, or crab is added for a protein element. Some places like to put their own spin on it by experimenting with pineapple, basil, or even coconut.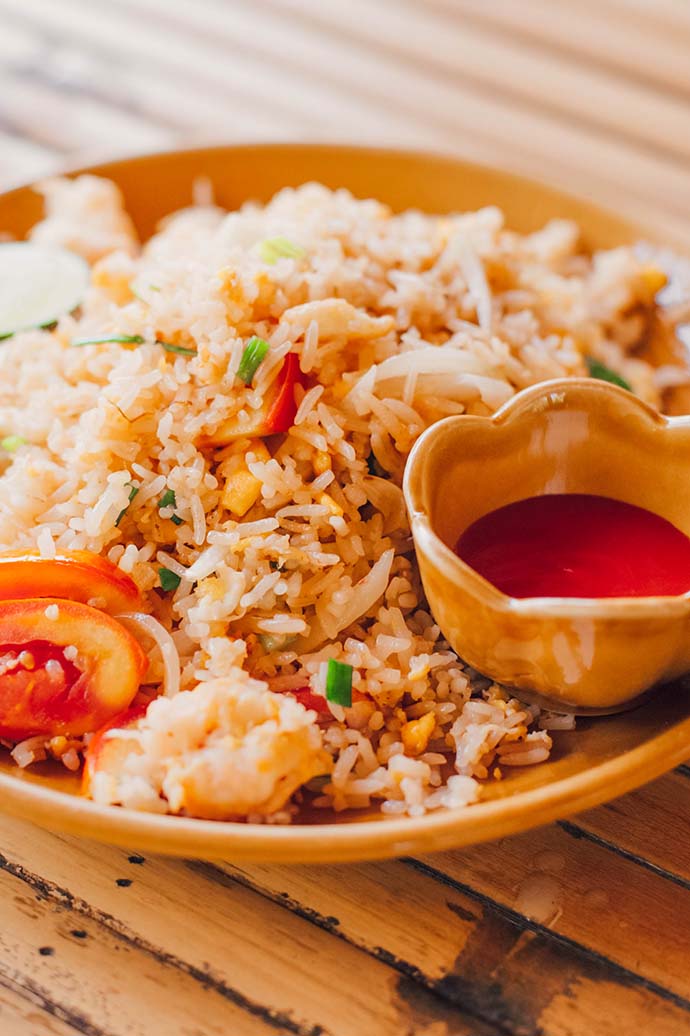 Mango Sticky Rice
How I love the sweetness of this dish!
Mango sticky rice is a traditional Thai dessert made up of sticky rice, fresh mango, and coconut milk. It's just as delicious as it sounds.
April through June is the peak time for mangos in Thailand, which also means peak mango sticky rice season (that's a thing, right?).
Rice and mango might sound like a silly combination, but trust me when I say it's a real TREAT.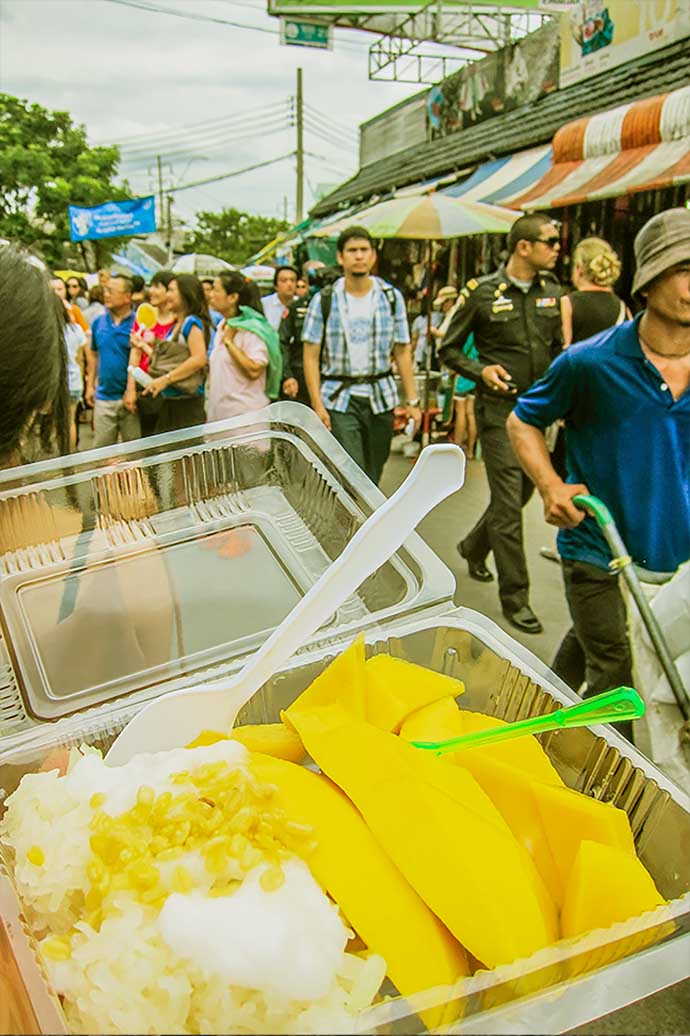 Laap/Larb
Laap or Larb is a savory meat salad—don't let the name scare you away.
It might be a bit messy, but that's part of the fun. It's a zesty combination of lime juice, chili flakes, fish sauce, minced pork and a bunch of herbs, which give it a truly refreshing flavor. Oh, and it just so happens to be known as the "unofficial" dish of Laos.
The minced meat is typically eaten with sticky rice, though depending on the region you visit, it's prepared in a few different ways. There are cooked and raw versions…but for the sake of your stomach, I highly recommend just trying the cooked version!
Best way to eat it? With your hands!
Grab sticky rice in your palm with a bit of Laap and firmly shape it before washing it down with a cold beer. You'll be feeling like a local in no time. 😉

Spring Rolls
Spring rolls are a typical Thai appetizer
They're pretty darn easy to snack on…dangerously so! They pair perfectly with sweet chili dipping sauce.

Tom Yum Goong
Tom Yum is probably the most famous of the Thai soups!
This dish is super popular not only in Thailand but in Thai restaurants all around the world.
Tom Yum Goong is the most well-known variety of Tom Yum and is made with shrimp. It's characterized by its distinct hot and sour flavors, with fragrant spices and herbs.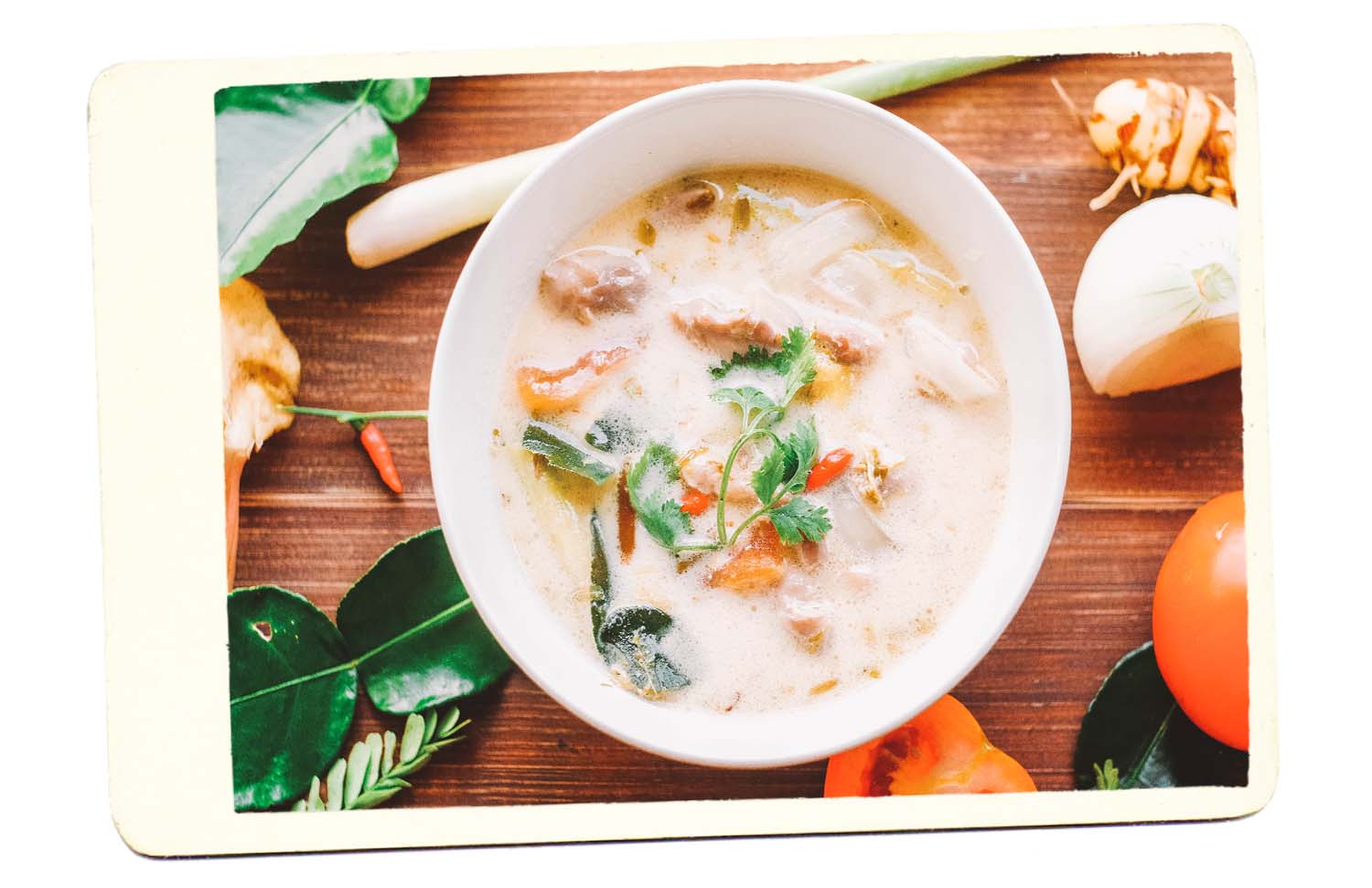 Tom Kha Gai
Not to be confused with Tom Yum Goong! I actually prefer Tom Kha Gai (it's very possibly my favorite Thai dish!). Sometimes this is seen spelled as Tom Kha Kai.
You might think that something made with coconut milk would be sweet, but this Thai coconut soup is the complete opposite: it's savory! 
Most recipes typically include coconut milk, chicken, galangal (aka Thai ginger, but with a distinctly different flavor than the ginger you're probably familiar with), lime, lemongrass, chili peppers, mushrooms, and fish sauce.
Fun Fact: In the late 19th-century, the dish was actually not a soup. It was a dish made of chicken or duck simmered in coconut broth. However, the broth was too good to resist and it evolved into the savory soup I now know and LOVE!

Quick Guide to Thai Food for Vegetarians
If you're a vegetarian, look out for "mang sa wirat."
That phrase loosely translates to no noticeable pieces of meat or seafood. However, chefs may still use chicken broth or eggs in the dish.
If you're a vegan, look out for the word "jay." 
If you aren't vegetarian and you're looking for a chicken dish, keep an eye out for "gai." If you want shrimp, it'll say "gung."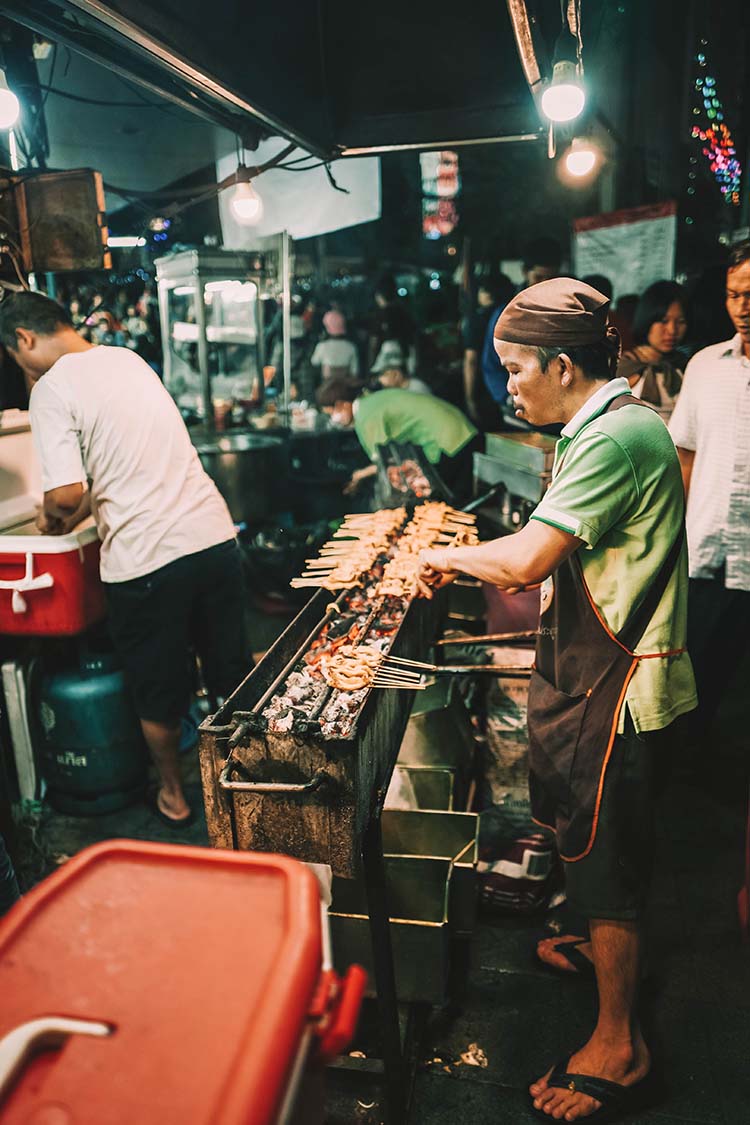 Why is that rice purple? What's inside that banana leaf? How do I eat a whole fish on a stick?
Read More

Bonus: Thai Sweets
Thai sweets are NOT something you want to miss out on. While I did include the mango sticky rice above, Thai desserts seriously deserve their own category.
Thai Iced Tea
Thai Iced Tea is the nectar of the gods. It's a sweet tea made up of condensed milk, tea, and sugar.
If you haven't had it before, the first sip might send you into a shock of sweetness. That said, it's super refreshing on a hot day or as a way to finish up a meal! 
Any Marzipan Delights
Thai marzipan is made from mung beans and is sculpted and painted to look like little glossy fruits and vegetables.
A treat for both the mouth and the eyes!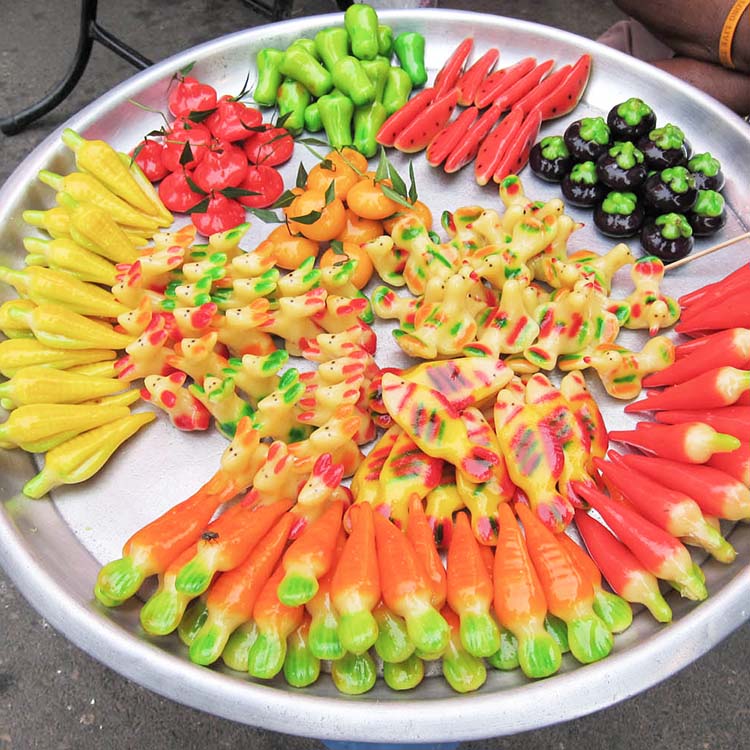 Helpful Tip:
Because so many of these dish names are loosely translated from Thai, you'll often find variations on the name and spelling in Thai restaurants—don't let that deter you from trying them!

If you're visiting Thailand soon, I highly encourage you to try one of these local dishes…or you know, all of them! Can't make it to Thailand? Why not switch up your order at your local Thai restaurant and sample something different. You might just LOVE what you find! 
So, which Thai dishes would you try? Let me know if you've had any of these or if there's a dish you absolutely recommend in the comments below!