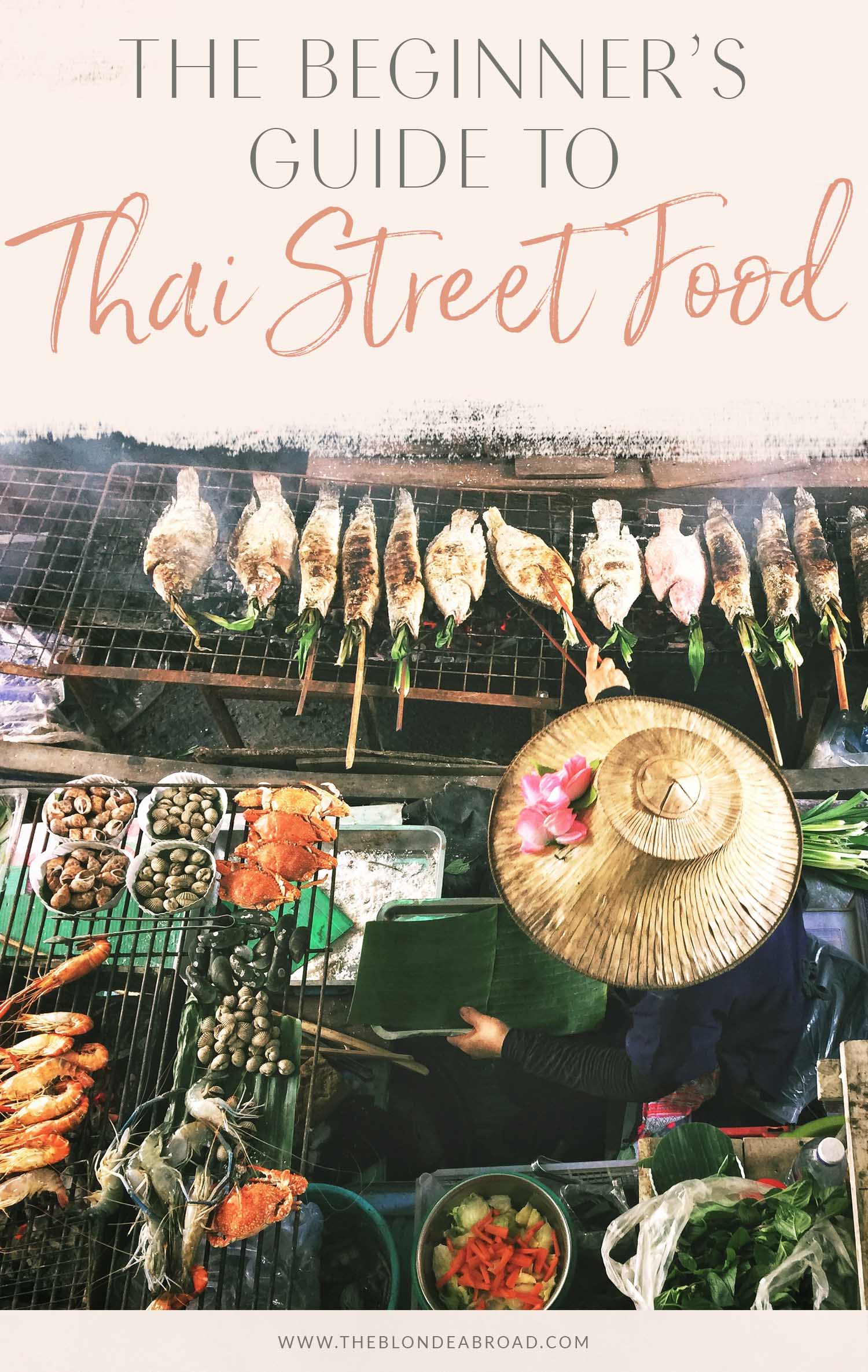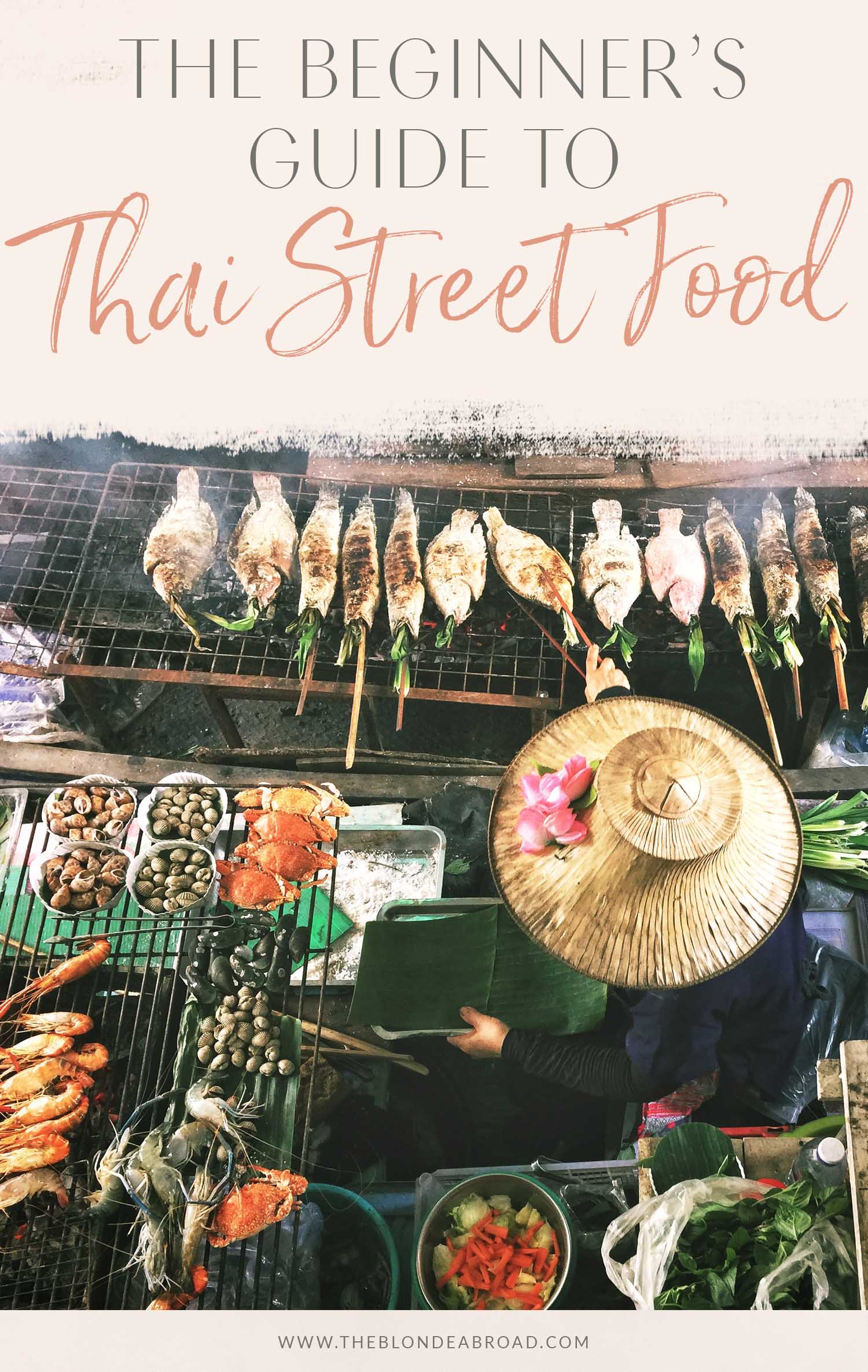 I'd be lying if I said I wasn't a bit intimidated by the offerings of street vendors upon arriving in Thailand. Why is that rice purple? What's inside that banana leaf? How do I eat a whole fish on a stick?
Is that a fried cockroach?!
Lucky for me, I had my lovely Thai friend, Apple, to show me the ropes while traveling through Thailand- educating me on the spicy, sour, sweet and strange eats that lay before me.
While cuisine varies throughout the different regions of Thailand, this guide will provide first-time travelers to Thailand some insight into Thai street food culture.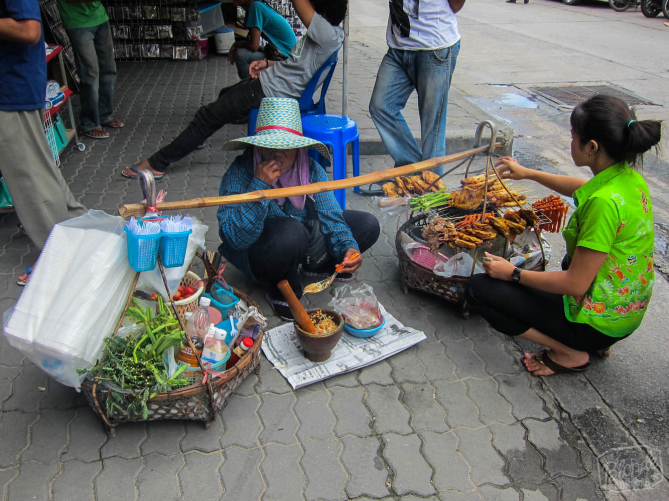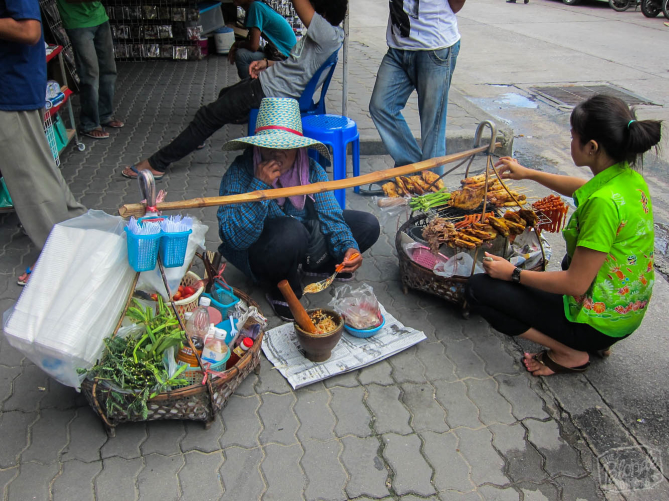 Tips
Thai street food is cheap cheap cheap! Even street vendors that get a lot of tourist traffic typically won't charge more than 30-60 baht ($1-2 USD) for their offerings.
If you venture into a truly Thai market void of tourists, you can eat like a king for just a few dollars. Eating from street vendors helped me manage a budget of $20 a day in Thailand!
If you LOVE spicy food, like yours truly, be warned that "Thai spicy" is an entirely different level of HOT. I went to a locals' spot and ordered as the locals do (despite some serious discouragement from the vendor).
I couldn't even sit near my food because the steam from my dish caused me to tear up and cough uncontrollably. If you wanna play it safe, order without spice and add some chile sauce later.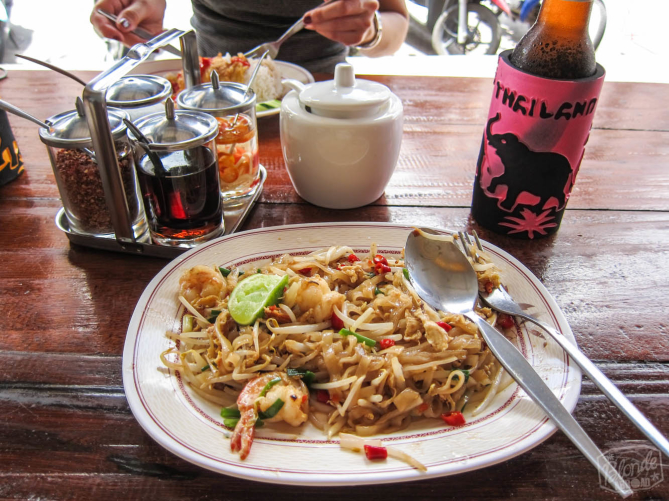 Speaking of chile sauce, Thai food culture is all about customization. On the makeshift tables of street vendors, you'll notice a caddy of four condiment jars filled with some interesting concoctions.
Typically, you'll find jars of sugar, fish sauce, a chili/garlic/vinegar sauce and dried chile flakes. You can also request Nam Pla Prik which is a fish sauce with chiles, garlic and lime—and it's the bomb.com.
Some Thai food can also be REALLY sweet. Like stomach-ache sweet.
When ordering a Thai iced tea (my favorite) or Thai iced coffee, they normally add a ton of sweetened condensed milk. They might be surprised, but request a "little" bit of the sweetener, taste test, then ask for more if you wish.
Thai iced tea (cha yen) is not like American iced tea. It's a creamy orange-colored beverage sent from heaven and it might just change your life.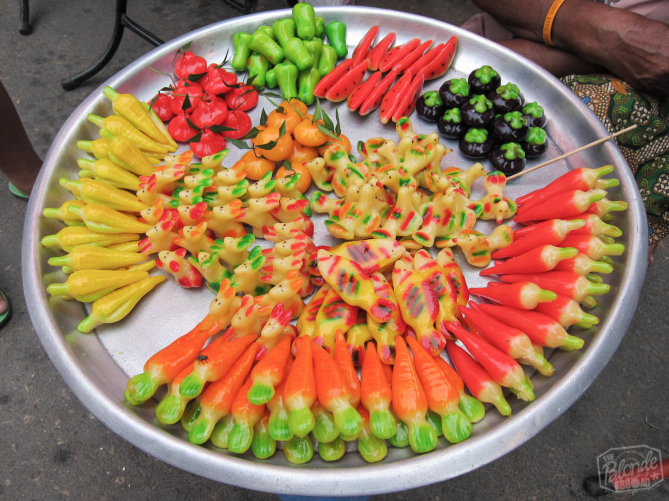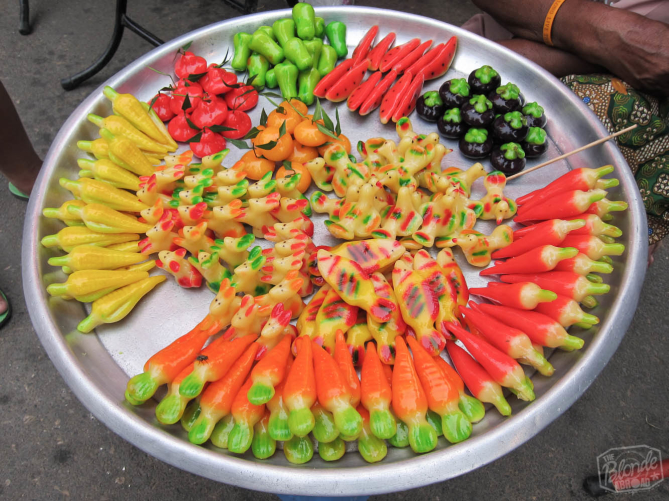 If you have a sweet tooth, you're in luck! Thai desserts can be found in every color and shape imaginable, but you might not immediately recognize them as sweets.
Thai marzipan is made from mung beans and is sculpted and painted to look like little glossy fruits and vegetables.
Sticky rice is covered in coconut milk and served with fresh slices of mango. And rice is topped with a sweet custard and served up like a little present inside a banana leaf.
Thailand is known as "The Land of Smiles," but I also like to think of it as "The Land of Spoons." There are a few things to know about Thai eating etiquette.
Remember: No chopsticks. No knives. Fork, spoon, and fingers.
Don't put the fork in your mouth. Use the fork to scoop the food into the spoon and eat from the spoon. It is also customary to eat rice by rolling it into a bite-sized ball with your fingers using only your right hand.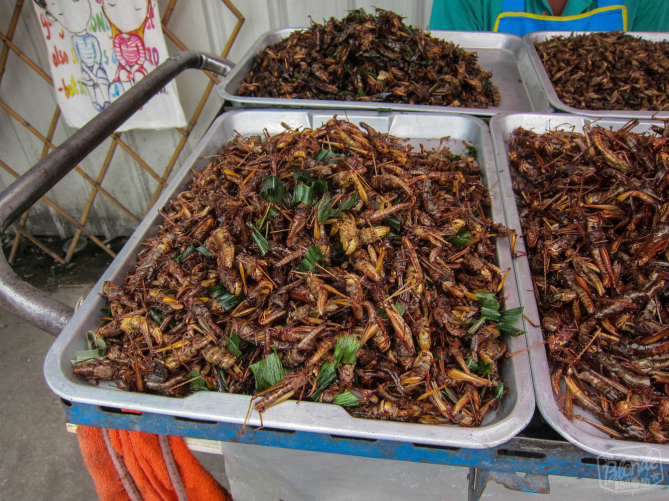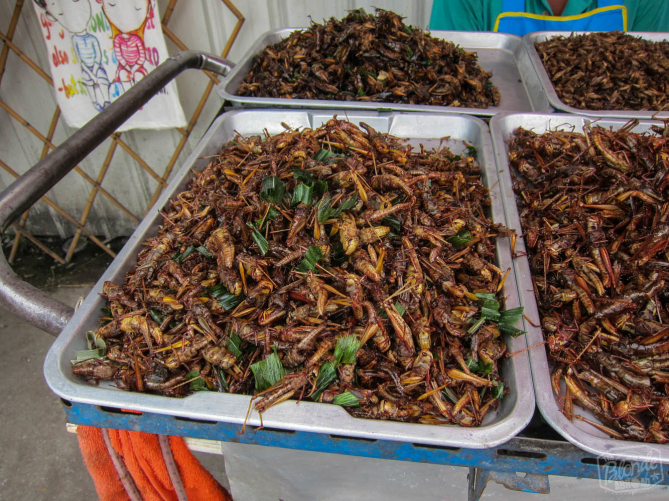 Yes. Those are bugs! While I didn't actually try any bugs in Thailand, they are quite commonly found fried up at markets. The ever-popular giant water bug looks like a big ol' cockroach.
I found out later that their essence is commonly used in my favorite Nam Pla Prik chile sauce. So, I guess they can't be that bad! Right?!
There's no such thing as "breakfast" in Thailand. While we might be familiar with eggs for breakfast, a sandwich for lunch and steak and potatoes for dinner, there is little contrast in the types of food served throughout the day in Thailand.
Breakfast offerings typically include savory items like noodle soups or a plastic bag of pork or beef with sticky rice. If you can't wrap your head around soup for breakfast, pick up some fresh fruit, a fruit smoothie or a Thai iced coffee.

Do you have a favorite Thai dish?