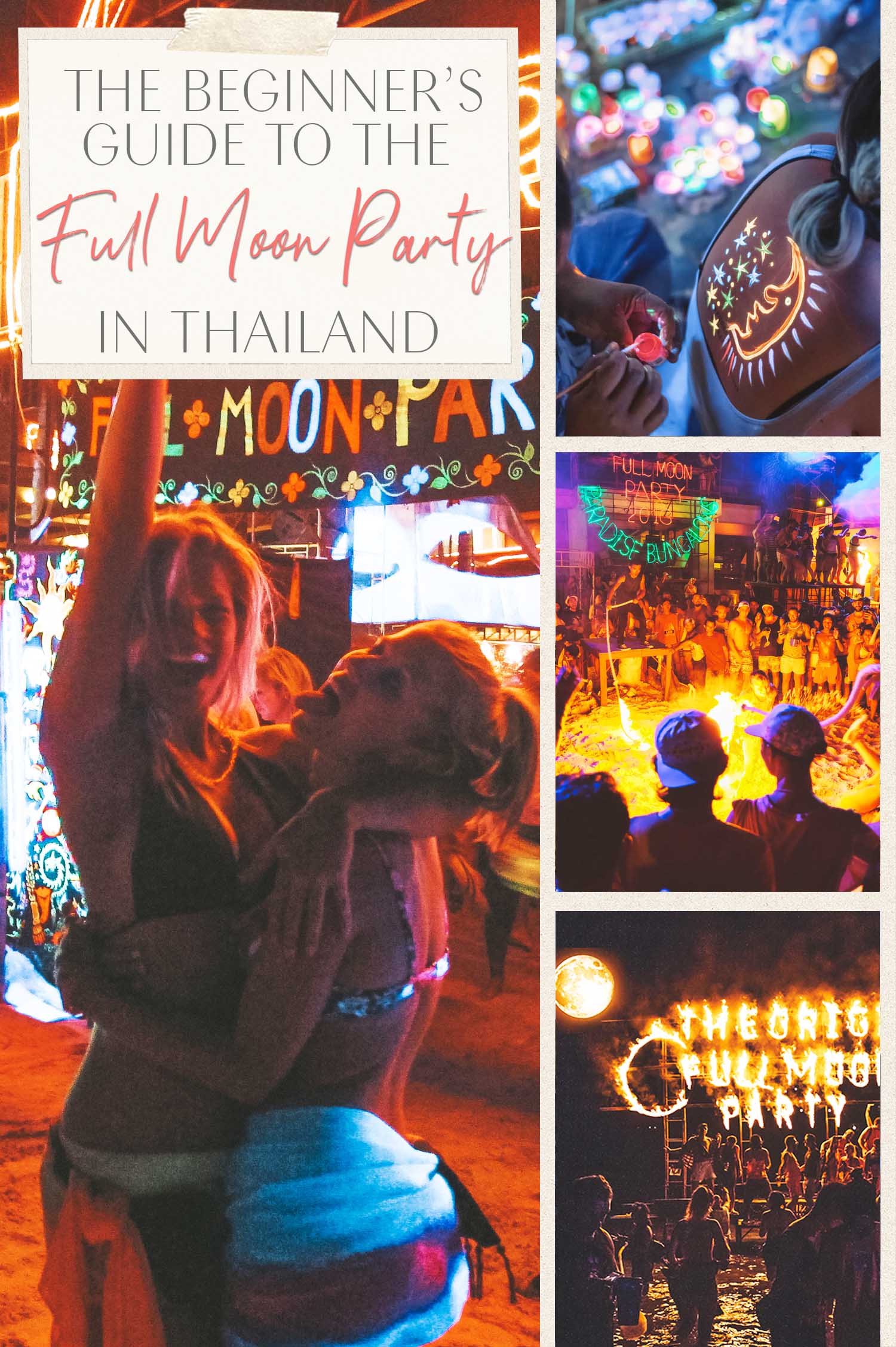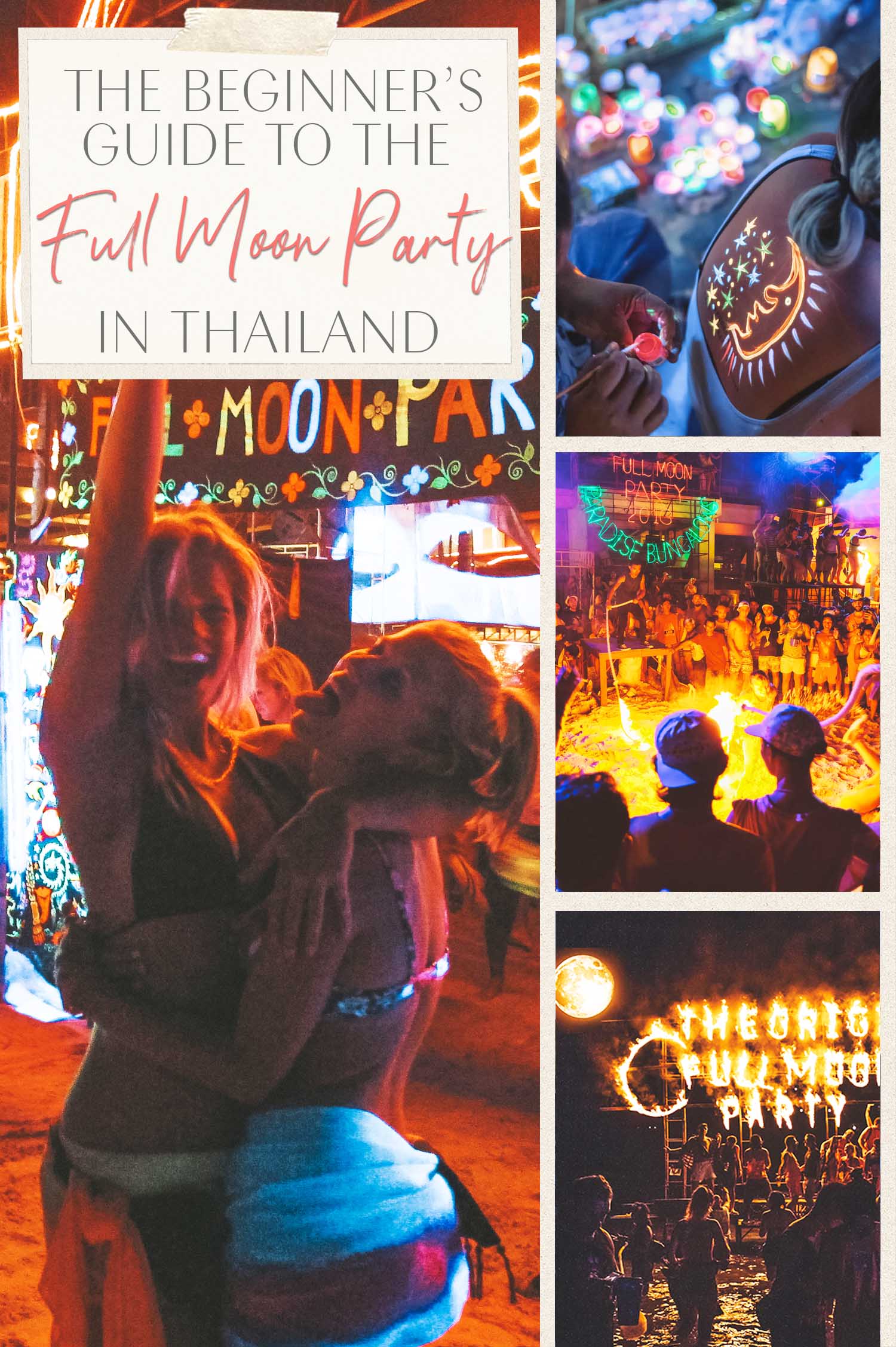 Updated: June 2020
Have you heard the legendary stories of the infamous Full Moon Party in Thailand? Whether you're planning a trip to engage in all the revelry, or you're just curious about what it's all about—this beginner's guide is for you!
The massive party takes place on a stretch of beach on Koh Pha Ngan (Koh Phangan) island in Thailand.
Almost every month, on the night of the full moon (sometimes right before or after), thousands of people come from all over the world to partake in the festivities and dance until sunrise. Arguably the biggest and wildest party in Southeast Asia—sometimes with more than 30,000 people in attendance—there's no wonder why this party has gained such popularity.
From what to expect, what to wear, and where to stay—here's the beginner's guide to the Full Moon Party in Thailand!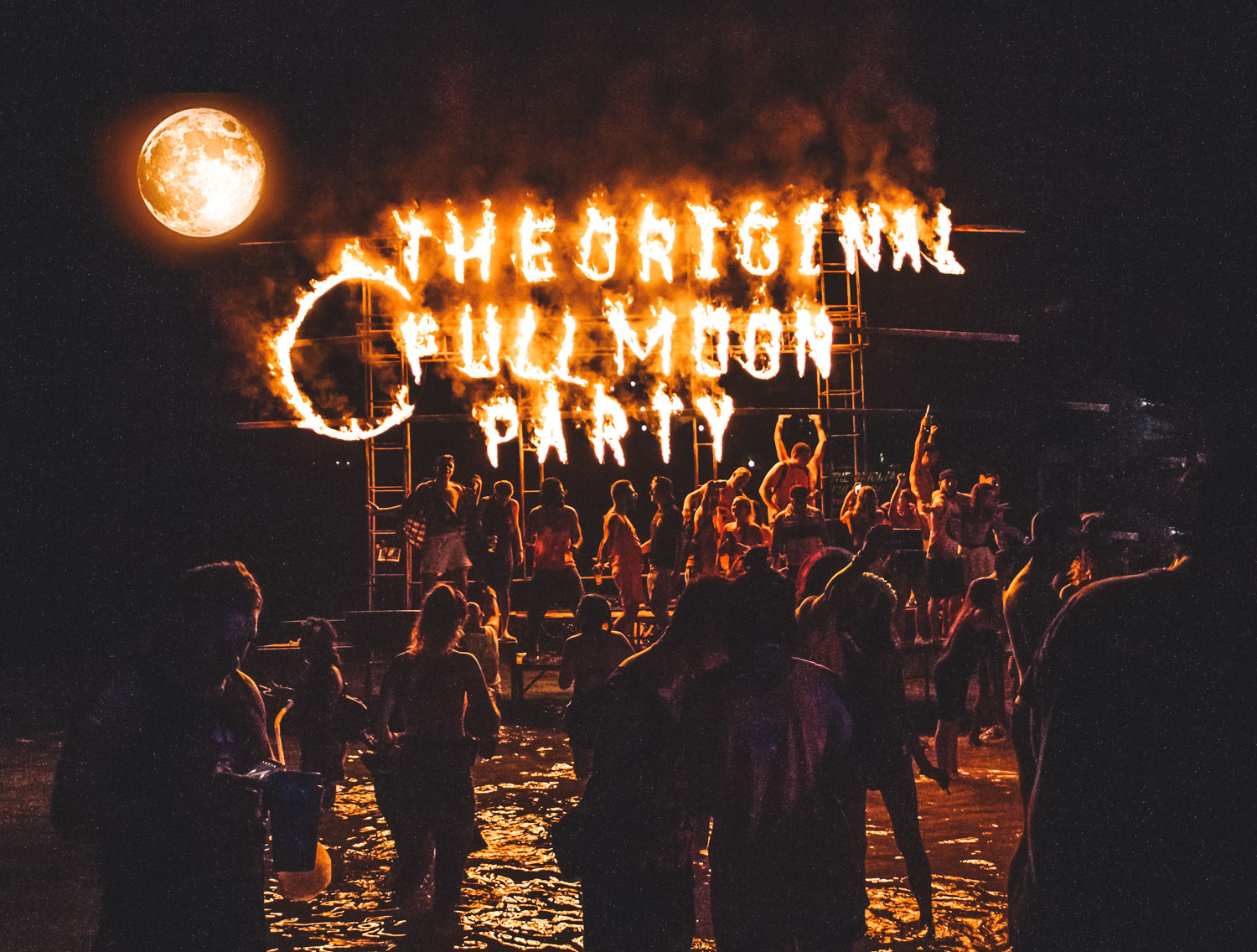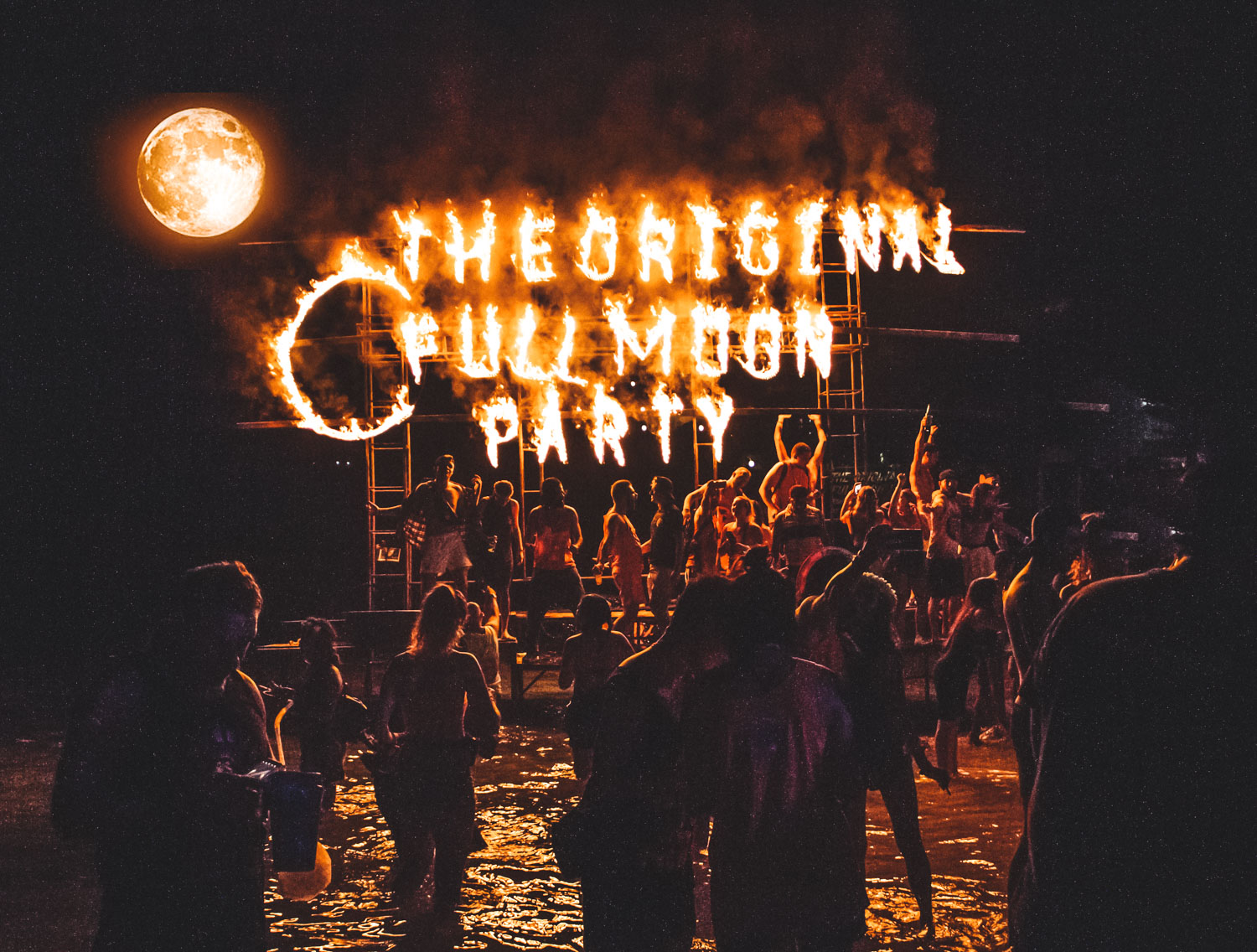 What is the Full Moon Party?
First things first—what is the Full Moon Party and when did it begin? So, the story goes that sometime in the mid-1980s, a bunch of backpackers threw a party on the beach the night of the full moon. Some accounts say it was a birthday party, others say it was just a good excuse for a party.
A party is a party, right?
Word spread and year after year the party got a bit bigger and a bit crazier until it achieved its notorious status as a bucket list must for many visiting Thailand. While it doesn't have the same humble origins as it once did, the party is a huge festival-like event with tons of drinking, debauchery, and everything that goes with it.
Each bar blasts different music from their sound system, and the beach is lined with alcohol vendors, glow-in-the-dark paint stands, and fire dancers.
While the party is quite commercialized and rowdy today—it's definitely a fun time!

When is the Full Moon Party?
Got any guesses? 😉
While the party usually happens on the night of the full moon, occasionally the dates have to shift due to local holidays. So before you plan your trip, make sure to do your research ahead of time!
That said, the Full Moon Party festivities are not restricted to one night. Usually, folks will arrive a few days prior to the party and there are celebrations going on pretty much every night. More on that in a bit!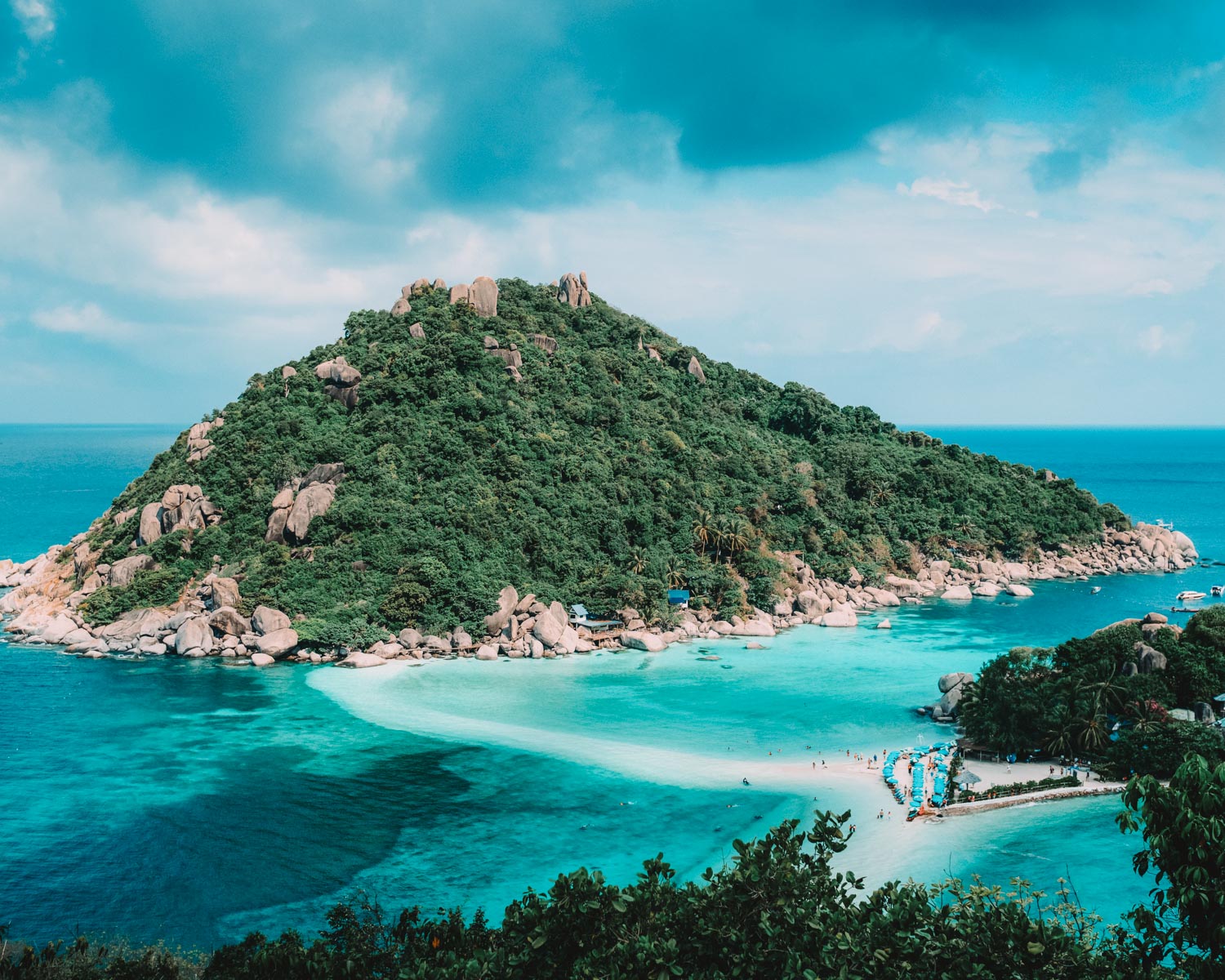 Koh Samui — a neighboring island
Getting There
Depending on where you're coming from, the two closest islands to Kho Pha Ngan are Koh Samui and Koh Tao. There are inexpensive ferries running daily between all the islands.
The actual beach party is located on Haad Rin beach on Koh Pha Ngan island, which is on the eastern side of Southern Thailand.
From Bangkok: The fastest way to Koh Pha Ngan is to take a short flight to Koh Samui and catch a ferry to the island. There are also budget-friendly overnight bus & boat options you can purchase from travel agents in Bangkok.
As a note, there are so many travel agencies around Thailand that will help you book transport from wherever you're coming in from. You can shop around to compare prices and see what fits your travel itinerary best.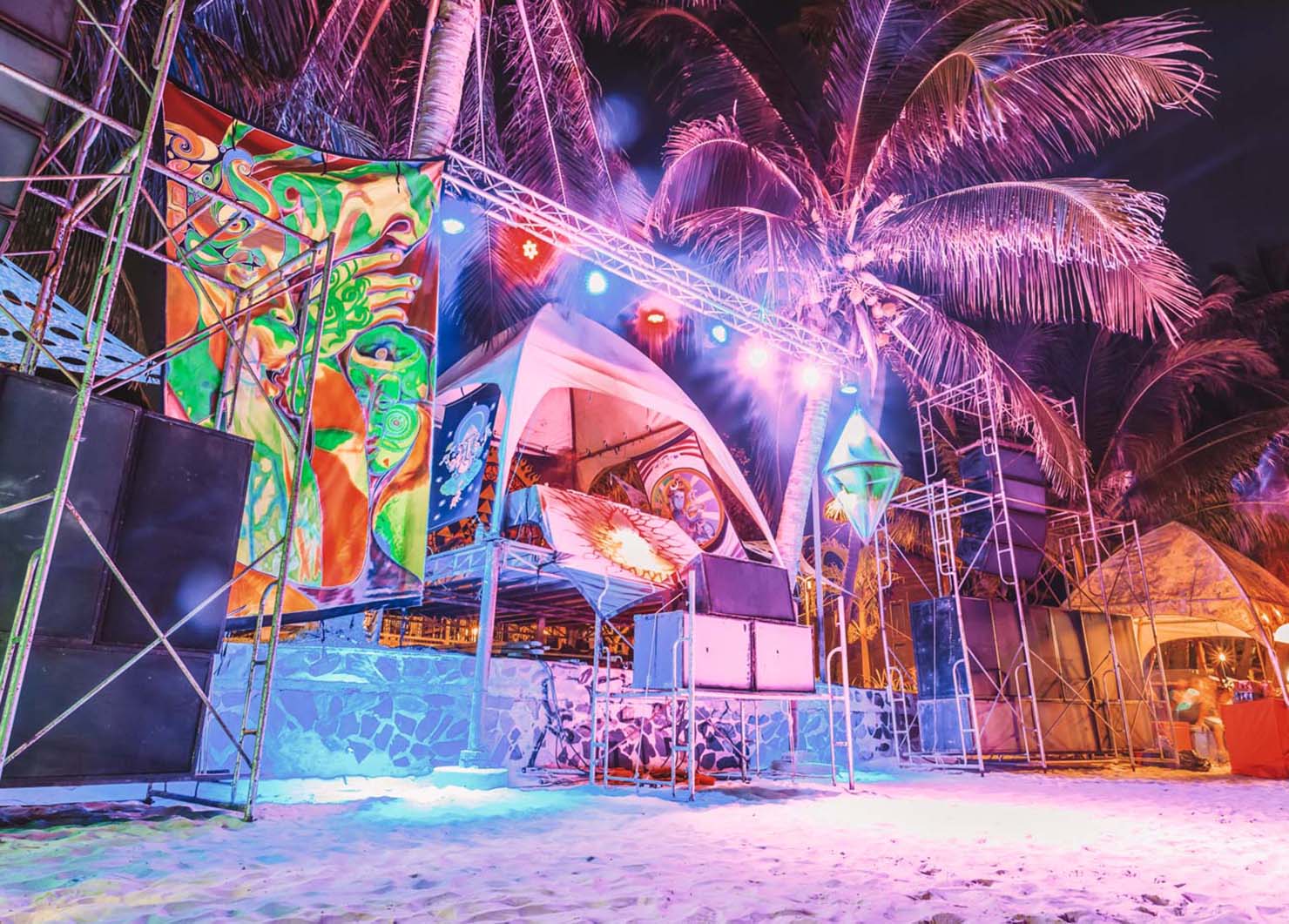 Where to Stay
Accommodation typically books up solid on Koh Pha Ngan the week before and after the Full Moon Party. You can book in advance—which I usually recommend as I like to have those plans sorted so I don't have to stress about them. However, for this event, I ended up leaving my bags at a friend's hotel and stayed out the whole night!
Figure out what works best for you!
After experiencing it, I would personally recommend finding accommodation on another island, catching a ferry to Koh Pha Ngan, partying all night, and catching a ferry back the next day.
One night of revelry was enough for me, however, if you're wanting the full experience of the days leading up, you can definitely book an accommodation (most places have a minimum of 4-5 days during the Full Moon week).
Note: You might spend a bit more by securing your accommodation beforehand…but you might not. It truly depends on how many folks are flocking in (the party attracts anywhere from 5,000-30,000 people, depending on the time of the year). The benefit is you have your accommodation secured and don't have to worry about it.
If you're opting to do a walk-in to try to get cheaper rates, I would still suggest arriving at the area at least 3-4 days early, so you can have a better pick of the lot.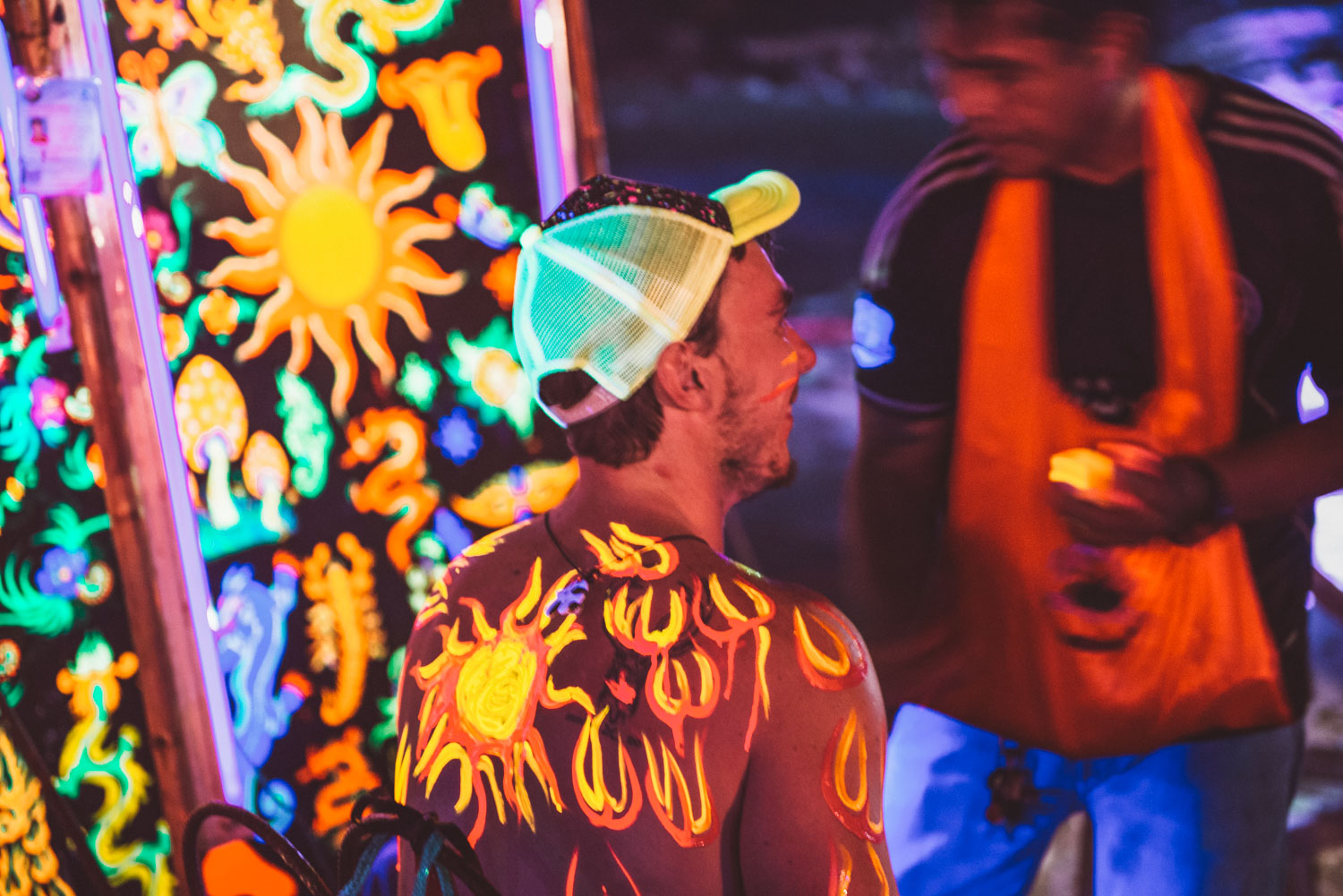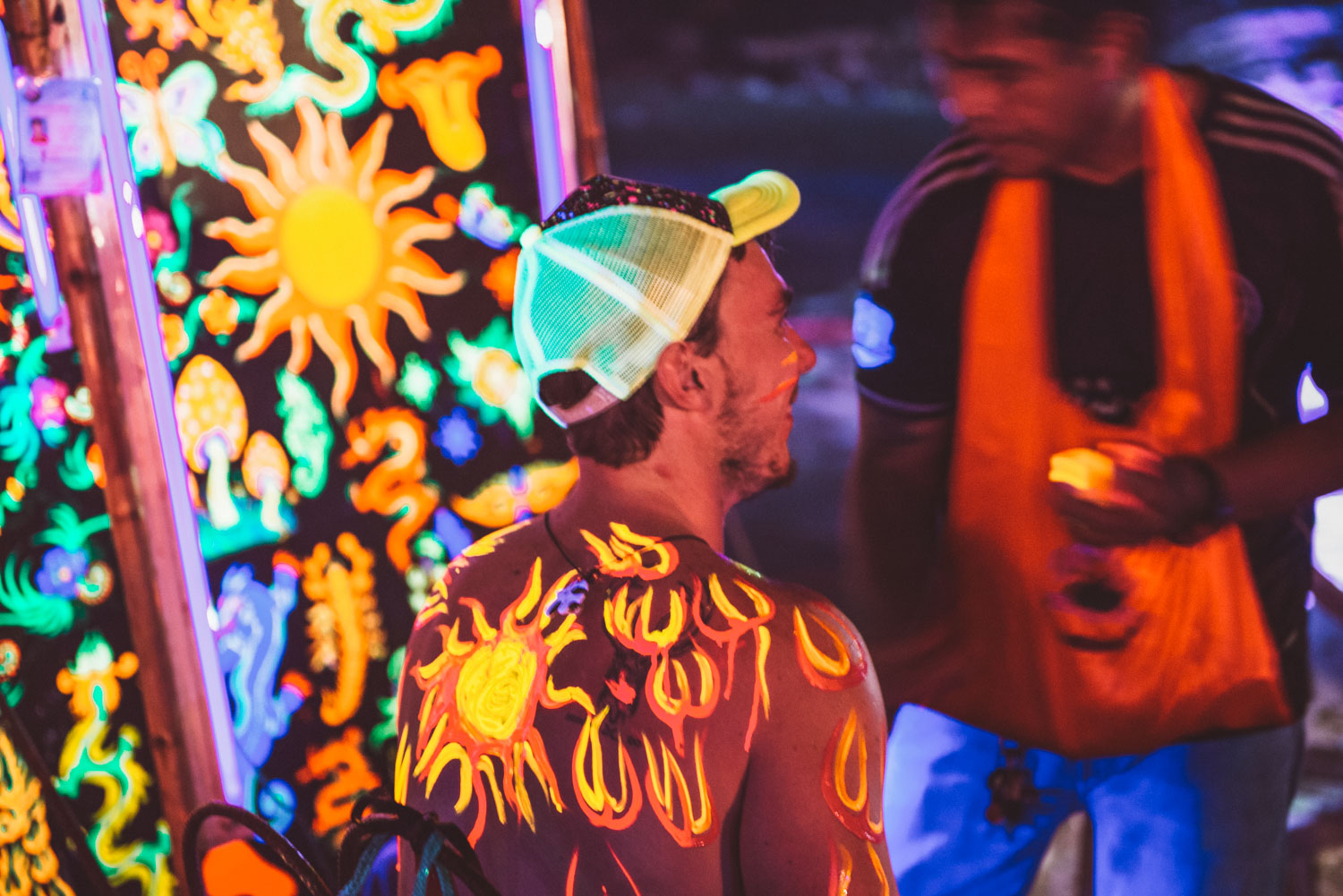 What to Wear to the Full Moon Party
Get ready to get funky!
The group I was with changed into the traditional, neon, Full Moon Party attire complete with fanny packs. We enjoyed a couple of pre-moon drinks, and made our way to Haad Rin where the famous beach party takes place!
Lots of folks rock swimsuits under their gear and oftentimes the swimsuit is all that's left by the end of the night. This is definitely not the place to wear clothes you love and don't want to see ruined or lost.
Once in Haad Rin, you can deck yourself out and begin the artistic ritual of covering yourself in neon paint. From mustaches to painted vines and all sorts of funky designs, prepare to glow!
There's really no need to pack anything special for the party. You can get all your FMP swag from street vendors for about USD $10-15.
Helpful Tip:
Do plan on wearing sneakers, so you aren't barefoot on the beach. While there isn't really any glass being served, you still want to be careful not to step on anything that would hurt you.

Do I Need a Ticket to Get In?
In past years you could just walk up and get in—which is probably still quite true (I went in 2011), however, I've been advised that there is now a really inexpensive entrance fee of 100 baht (about $3.20).
This fee goes toward cleaning the beach afterward—so I wouldn't try to avoid it. It's worth it to help keep the area clean!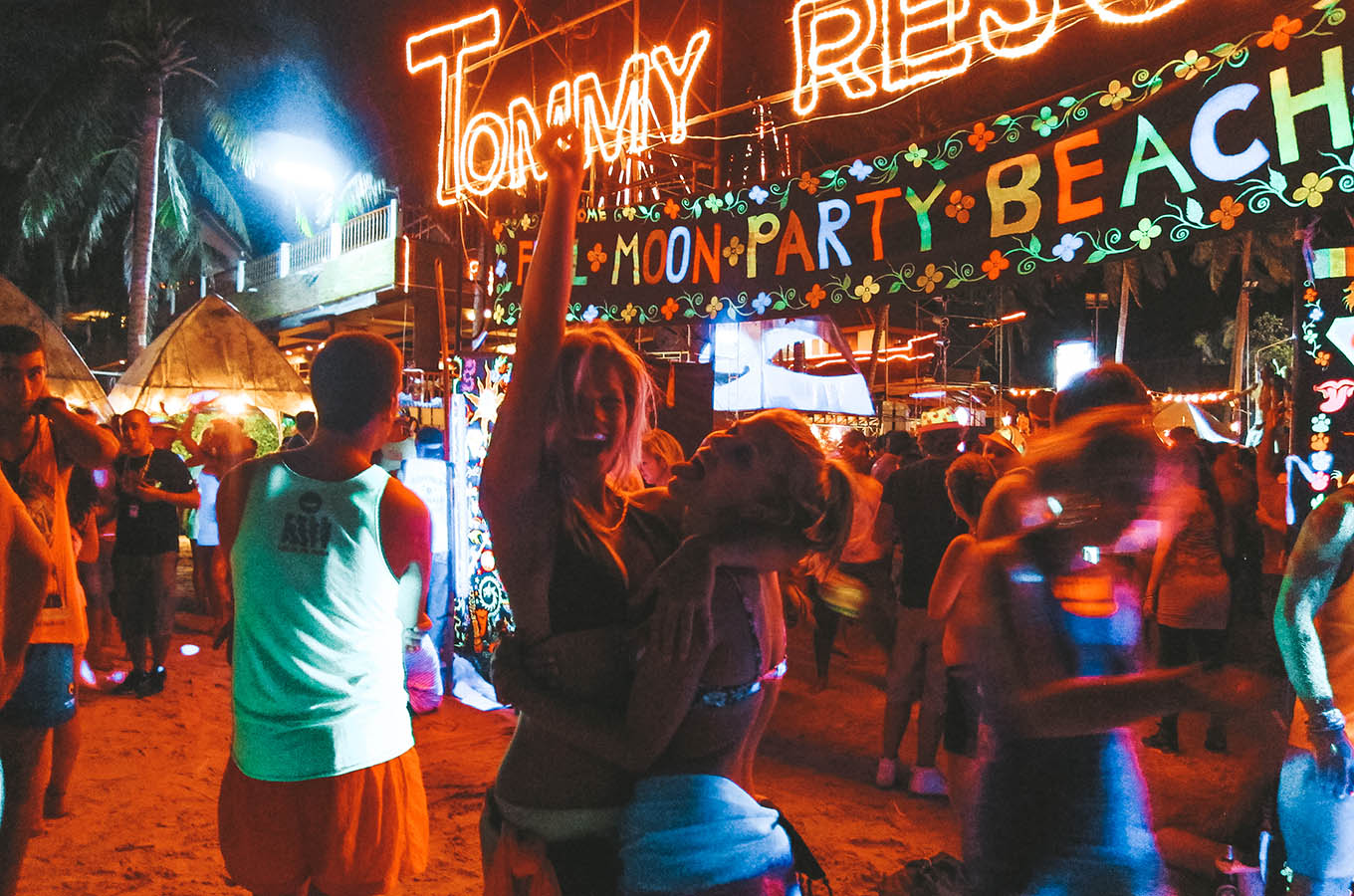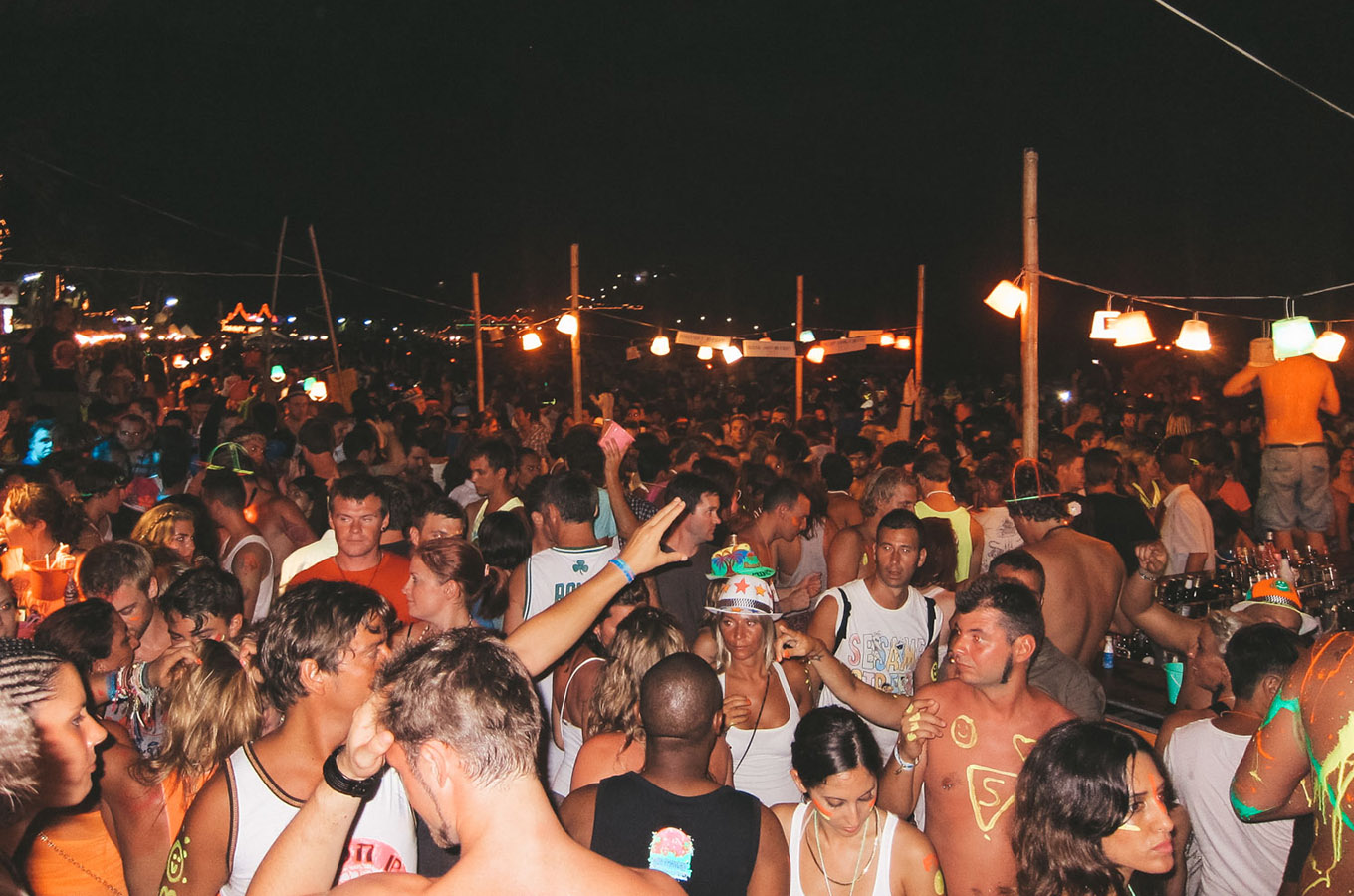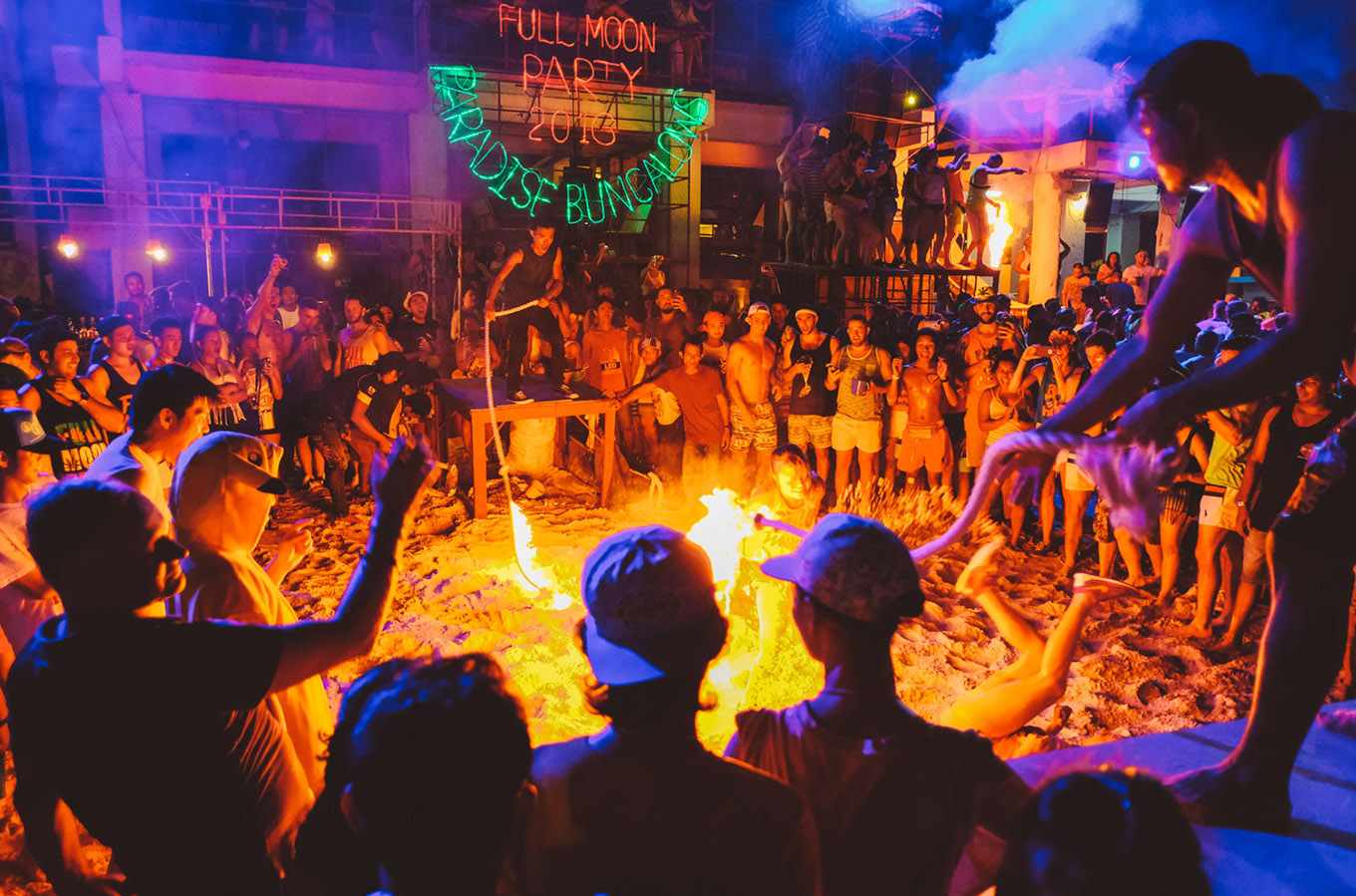 What to Expect at the Beach Party
The beach will be packed with people from all over the world, fire dancers, drink bucket stands, dance stages, DJ's…you name it!
All along the beach, there are vendor stands selling these little plastic buckets (the kind kids normally build sandcastles with) made into giant cocktails with about five straws in them to share! They're about 350 baht, or around USD $11 each. Do not attempt one of these alone…it's a teamwork sort of drink!
That said, it can be kind of difficult to track how much alcohol you've had if you're sharing—so pace yourself.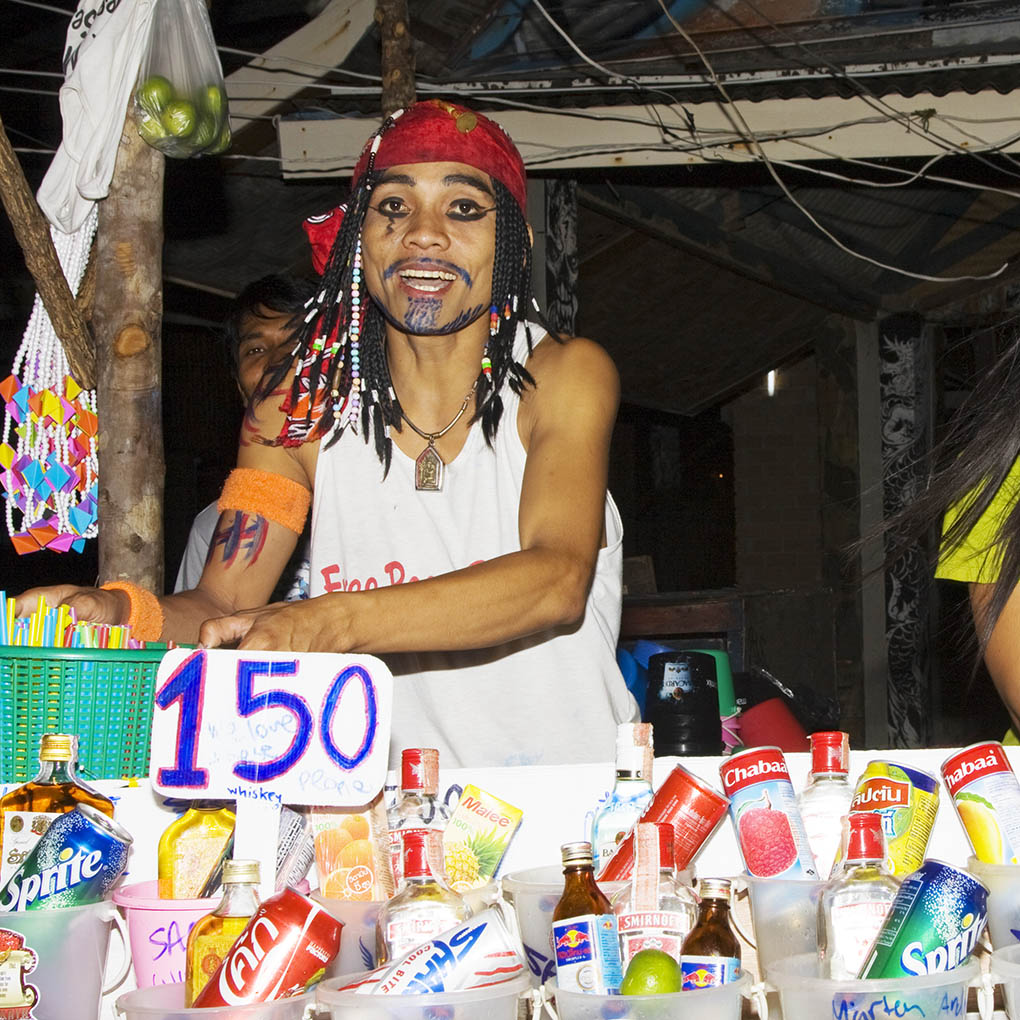 In addition to all the festivities, there were giant jump ropes lit on fire that five people could jump over at the same time, twirling fireballs on ropes, and people spinning fire poles. Having seen multiple people with bandages from burns on their feet, legs, and arms, I spared myself the exciting experience.
Most folks start heading to the beach around 9 pm or so, and the crowd peaks from midnight until about 2 am. Yes, it's a late night…or morning. 
Definitely don't expect to get any sleep as the party doesn't taper off until between sunrise and the next afternoon. Yes, really! Some partiers choose to take a nap on the beach, while others dance the night away.

It's a lot. It's long. But it's fun!
If it wasn't the party wouldn't have become as popular as it has. You'll find all kinds of music, so whether you're into house, rock, or reggae—there's something for everyone.
As with many party atmospheres, you are likely to come across folks partaking in illegal substances. Be mindful that drugs are illegal in Thailand and the fines are hefty!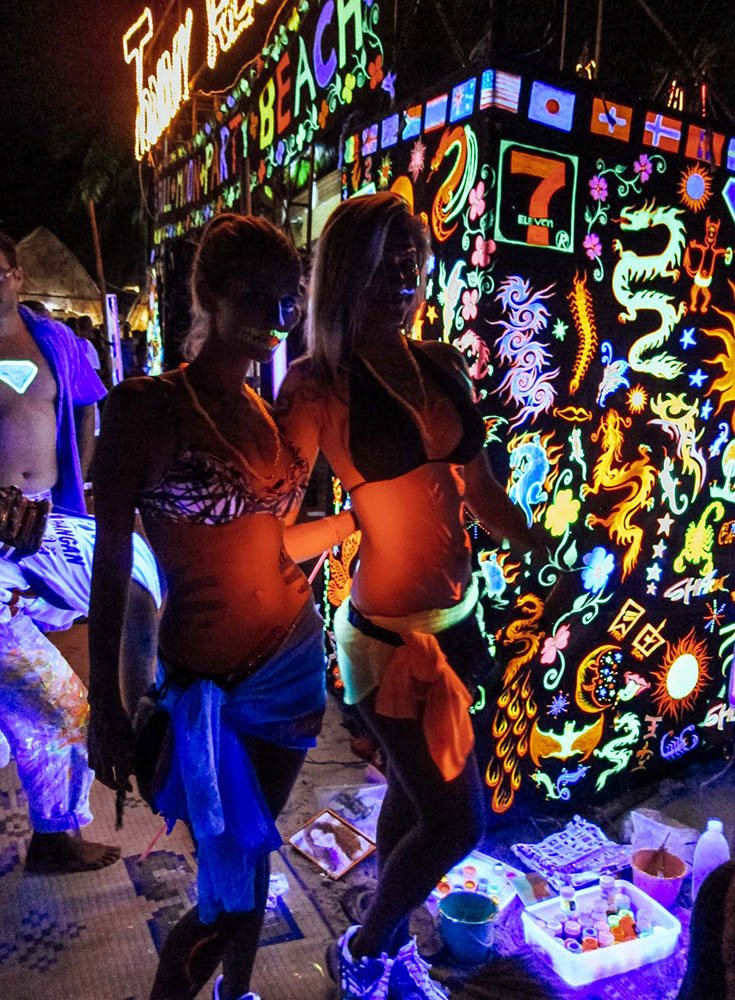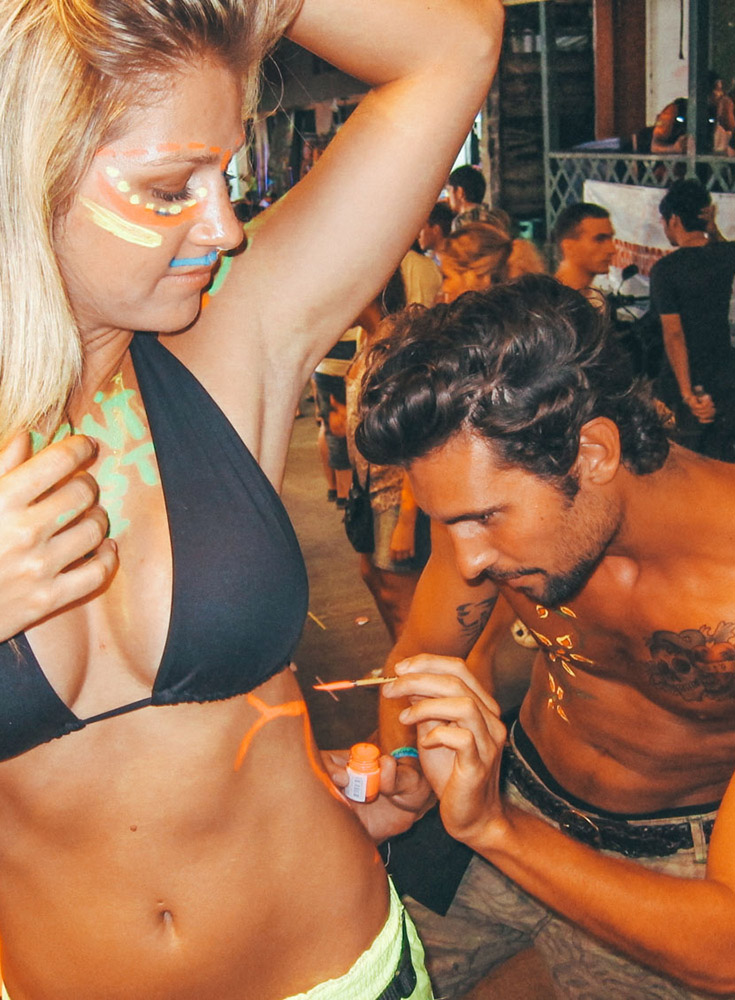 Make Friends
One of the best ways to embrace the party (and endure all the chaos!) is to do it with friends by your side. My friend Lindsay and I took a morning ferry from Koh Samui to Koh Pha Ngan to partake in some pre-Full Moon Party festivities.
We ended up meeting some awesome Italian guys on the ferry and made plans to meet up for the party that evening. I had also made some awesome new friends from Germany the UK, that I met while snorkeling in Koh Phi Phi, who were also in Koh Pha Ngan for the party. So, we all met up in Thang Sala to spend the day on the beach preparing for the party.
I would suggest figuring out a meeting point for the next day—just in case you get separated from your friends.

Is the Full Moon Party Just for Backpackers?
Overall, the Full Moon Party is a crazy party made up of visitors from all around the world.
As much as it is generalized that the crowd is mostly made up of young backpackers, I met people of all ages and from every background. You will, however, find a LOT of young, hard-partying Aussies and backpackers all over Thailand.

TBA Takeaway Tips
Pace Your Drinking + Be Mindful of the "Buckets"
Drugs are Illegal in Thailand
Make Sure to Hydrate with Water
Don't Bring Anything You Want Stolen or Ruined
Rock Closed Footwear to Avoid Broken Glass
Don't Plan to Do Much the Next Day (except sleep)
Waves + Rip Currents Can Be Strong—Avoid the Ocean
Figure Out a Meeting Point for the Next Day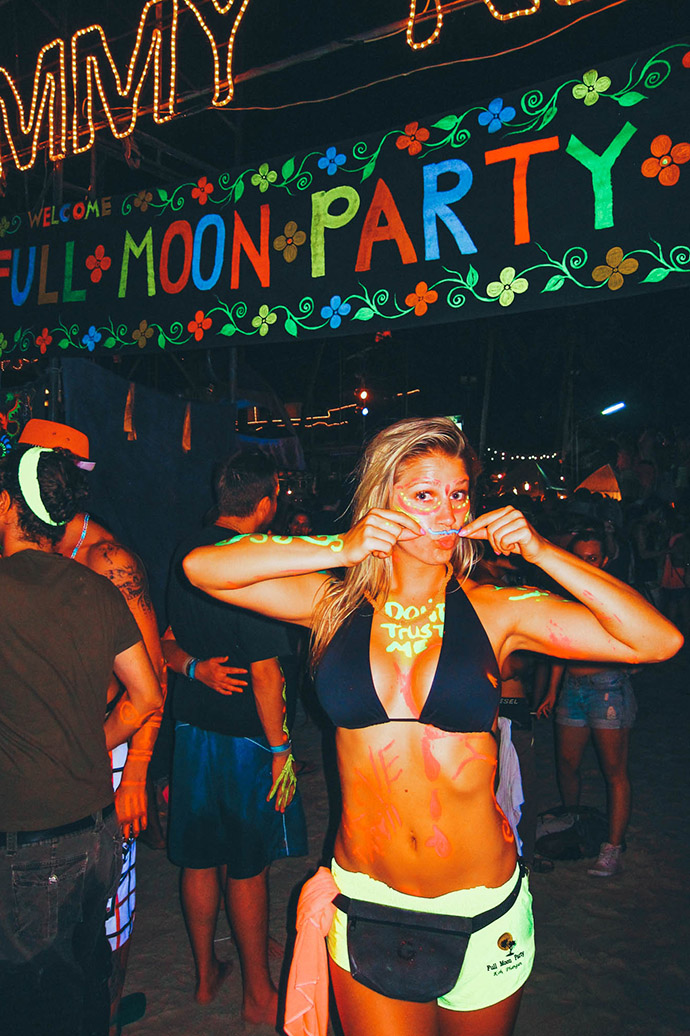 Do you have tips for Thailand's Full Moon Party? Let me know in the comments below!