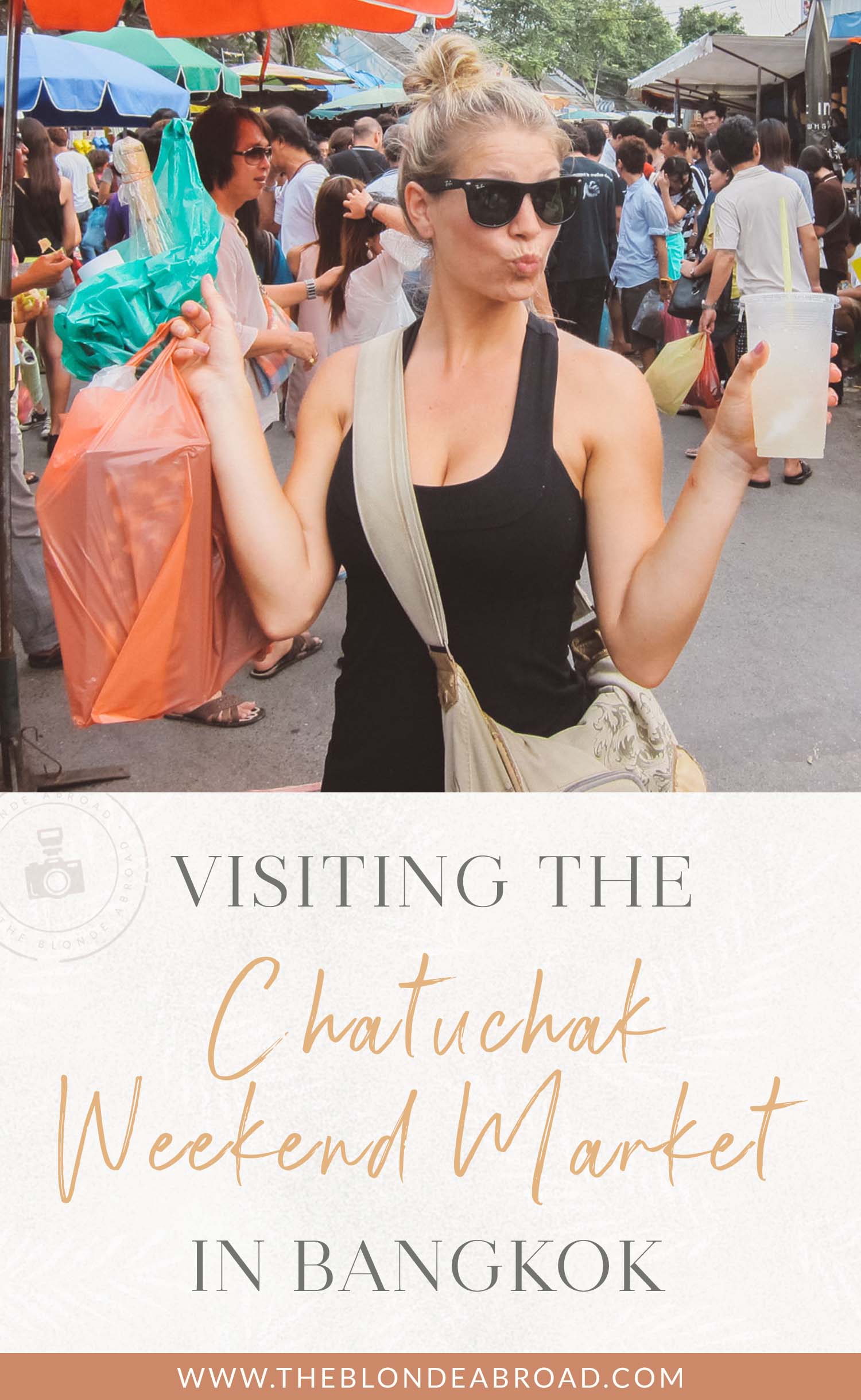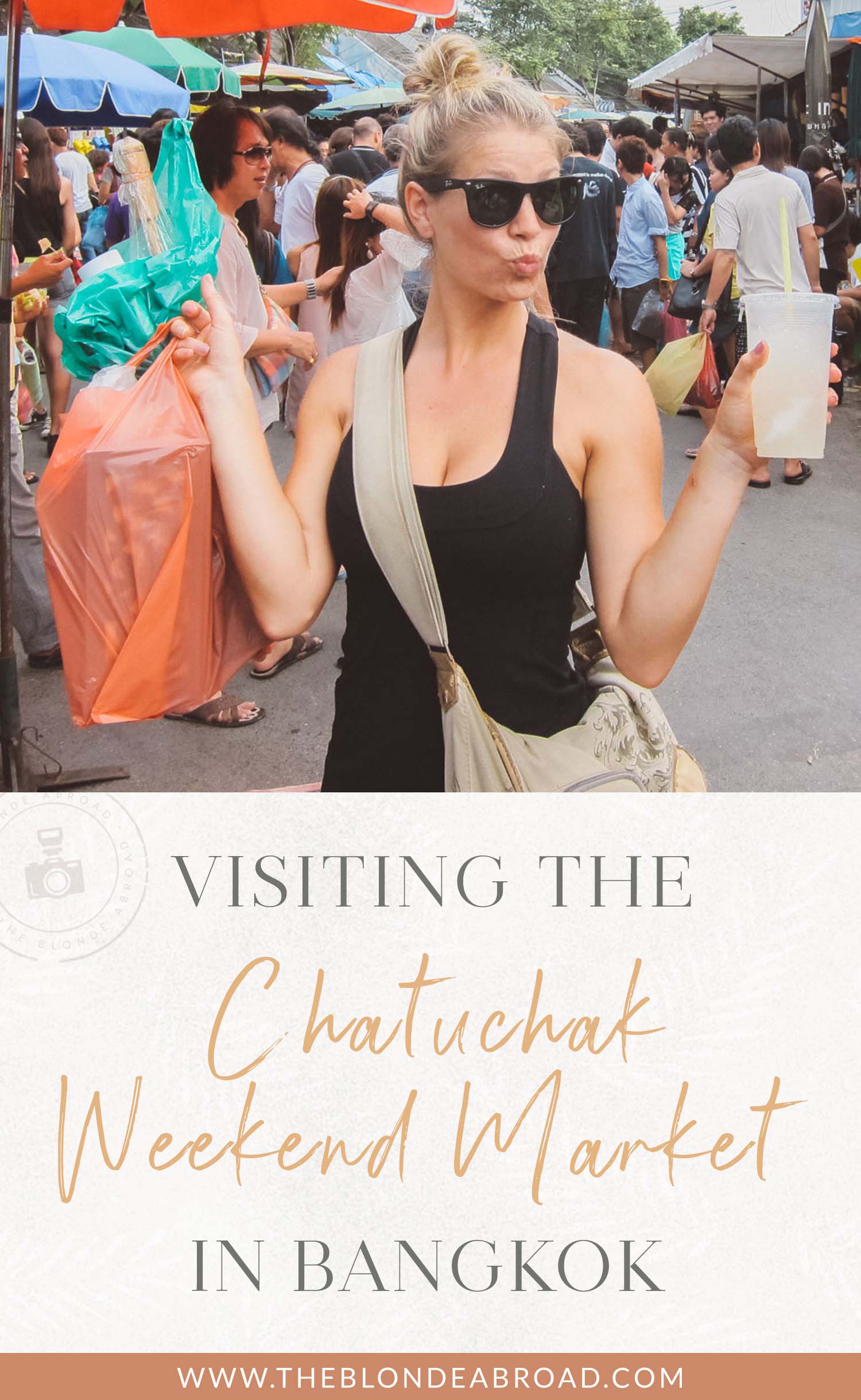 Updated: June 2020
Visiting the Chatuchak Weekend Market in Bangkok, Thailand is retail heaven. As soon as I walked in I just about died from excitement!
Anything you could possibly think of is sold at this market. So, if you wanna bring home a little somethin' somethin', definitely plan on coming here. I grabbed some mango and sticky rice, put on my game face, and got to work.
Here's what you need to know about the Chatuchak Weekend Market in Bangkok!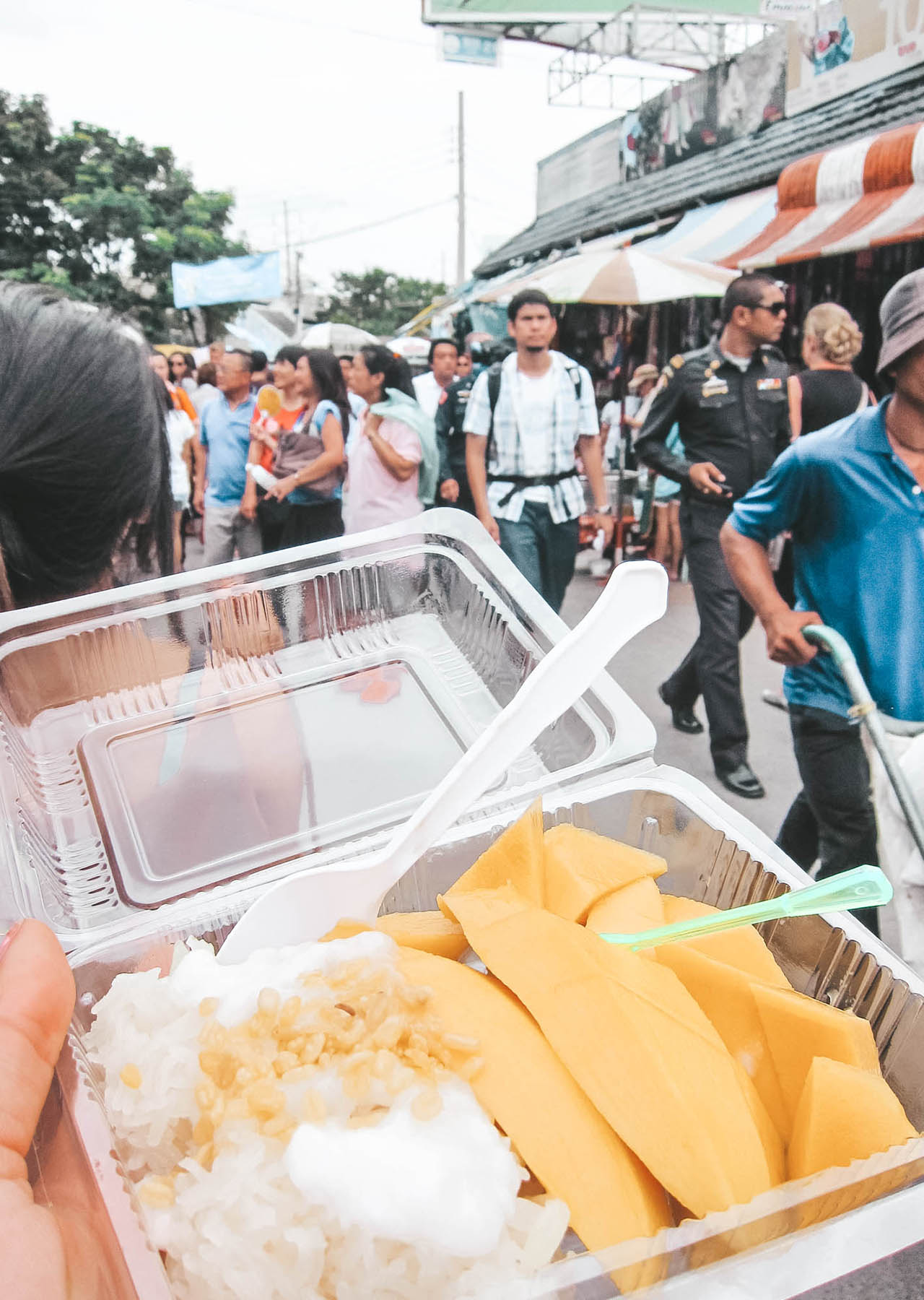 Interesting Facts about the Chatuchak Market
Chatuchak Weekend Market (or Jatujak Market) is one of the world's largest weekend markets and covers an area of 35 acres with more than 15,000 booths selling goods from every part of Thailand. (source)
The market has over 200,000 visitors each day (SAT-SUN) with 70% being Thai and 30% foreign. (source)
Almost everything can be found here at a bargaining local price (not a tourist price), and most vendors actually come from local factories or are local artisans. (source)
If you can dream it up, Chatuchak Market likely has it. Here, you will be amazed at the incredible variety of goods, whether it's a Thai lantern, an antique painting, a stylish new pair of jeans or, for something more exotic, a new pet snake.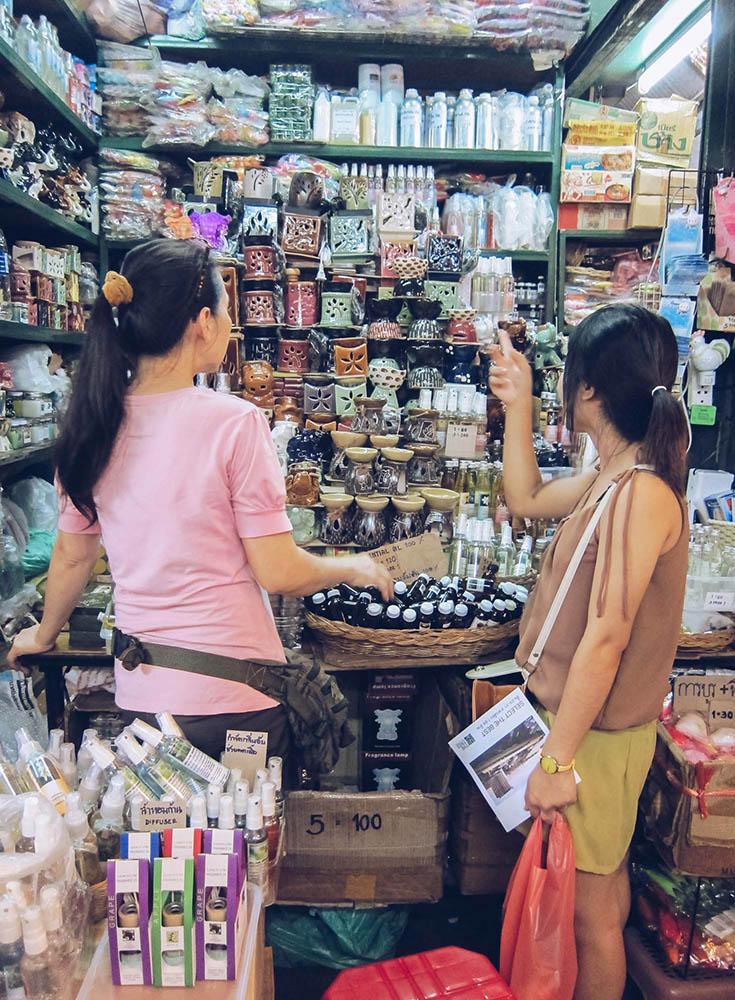 What is for Sale?
As I already mentioned, if you can dream it up, you can likely find it at Chatuchak!
I could not believe my eyes. You could buy a pet squirrel on a string, nibble on some fried insects, have a local artist hand paint anything you want, take home a giant goldfish, score some new leather kicks…I'd honestly have an easier time listing things you couldn't find there.
There were even companies there to arrange international shipping for big spenders. I had some self-control and left with my dignity, some trinkets, and enough Thai Baht to get me through the rest of my stay in Thailand.
I highly recommend trying the food—mango sticky rice is a particular fave. 😉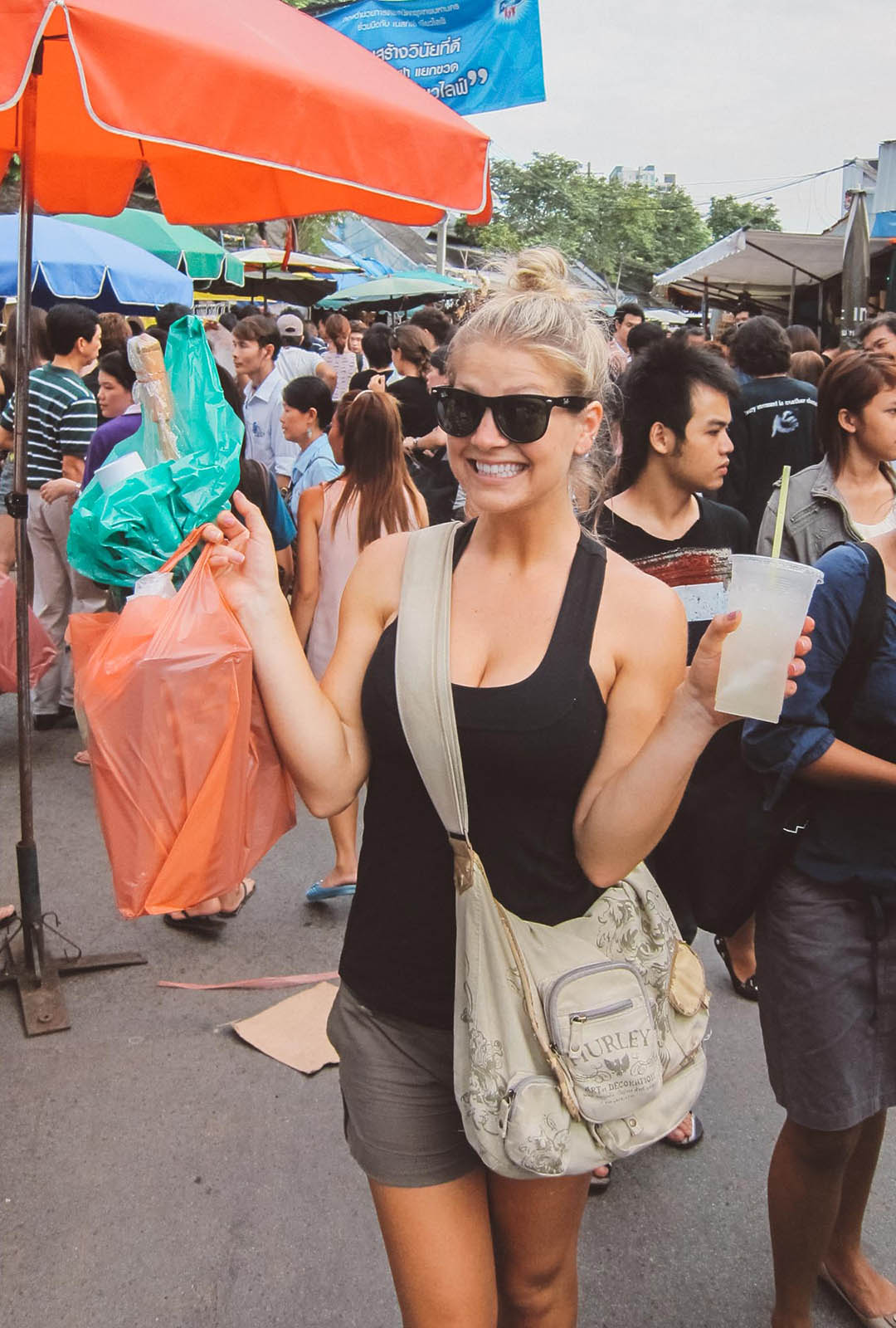 While it's a bit of a maze, enjoy the experience and you're sure to stumble upon some seriously good surprises.
Navigating the Chatuchak Market
With 35 acres of retail heaven ahead, I knew I could easily spend a day (or 3) at the market. For first-timers like me, navigating Chatuchak seems impossible. Luckily, the market is grouped into 27 sections based on category, so if you're looking for something in particular, you can find the exact location on a map.
My advice, if you're going for the first time, is to get lost. You'll be enchanted by the colors and smells surrounding you and your senses will be on their own adventure.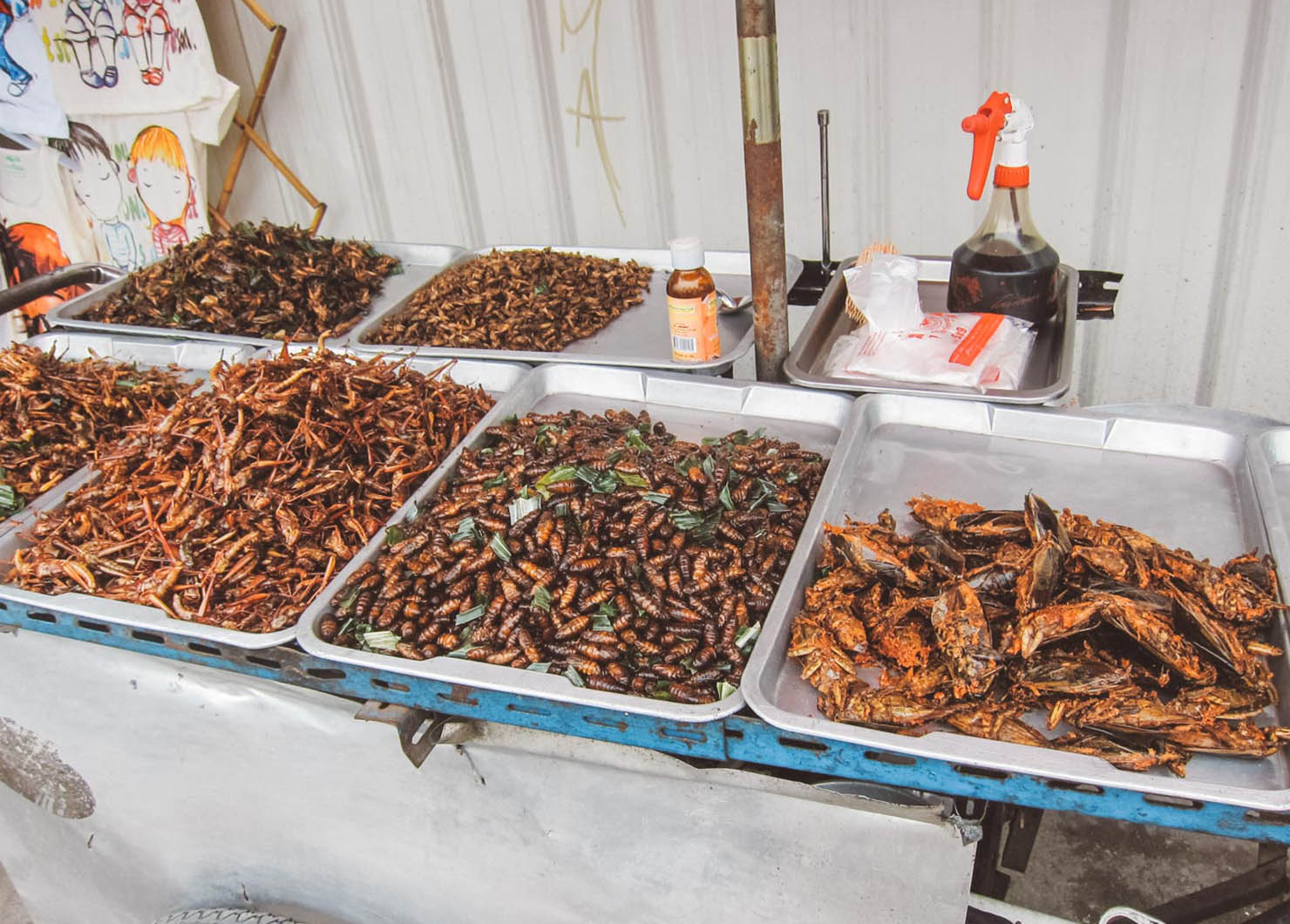 Bargaining Tips
Fried bugs, anyone?
As someone raised by frugal parents, I've always been pretty good at finding a good deal and knowing a fair price when I see one. I turned on haggle mode and spent about 3 hours weaving and bobbing through the cramped aisles of goodies like an experienced gypsy.
At one point I almost caught a case of overstimulation but luckily found the strength to go on.
Don't head immediately head to Chatuchak if it's your first time in Bangkok or Thailand. It's best to do some exploring and price shopping around the city to see what "the going rate" for certain goods, and what a fair price is.
Be wary of overpriced goodies in Bangkok but also realize that you are a visitor to this country. Respect the culture, recognize that people are trying to make a living, and go and get your shop on!

Helpful Tips
Location: Take the skytrain (BTS) to Mo Chit station, take exit no. 1 and follow the crowd until you see rows of street vendors. Keep walking and the entrance will be on the right.
Hours: SAT-SUN 9:00 am – 6:00 pm

Have you visited the Chatuchak Weekend Market in Bangkok? Let me know in the comments below!