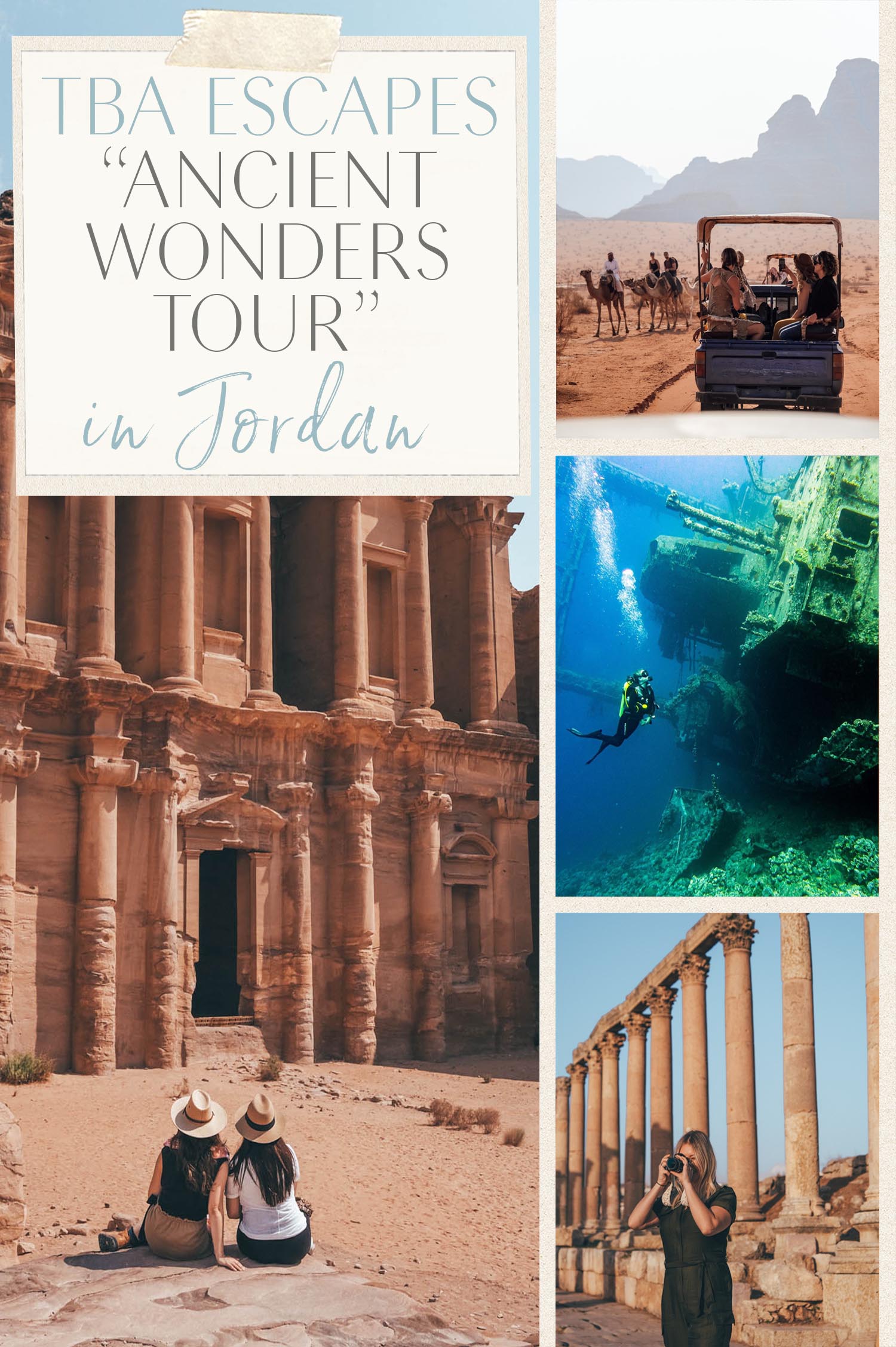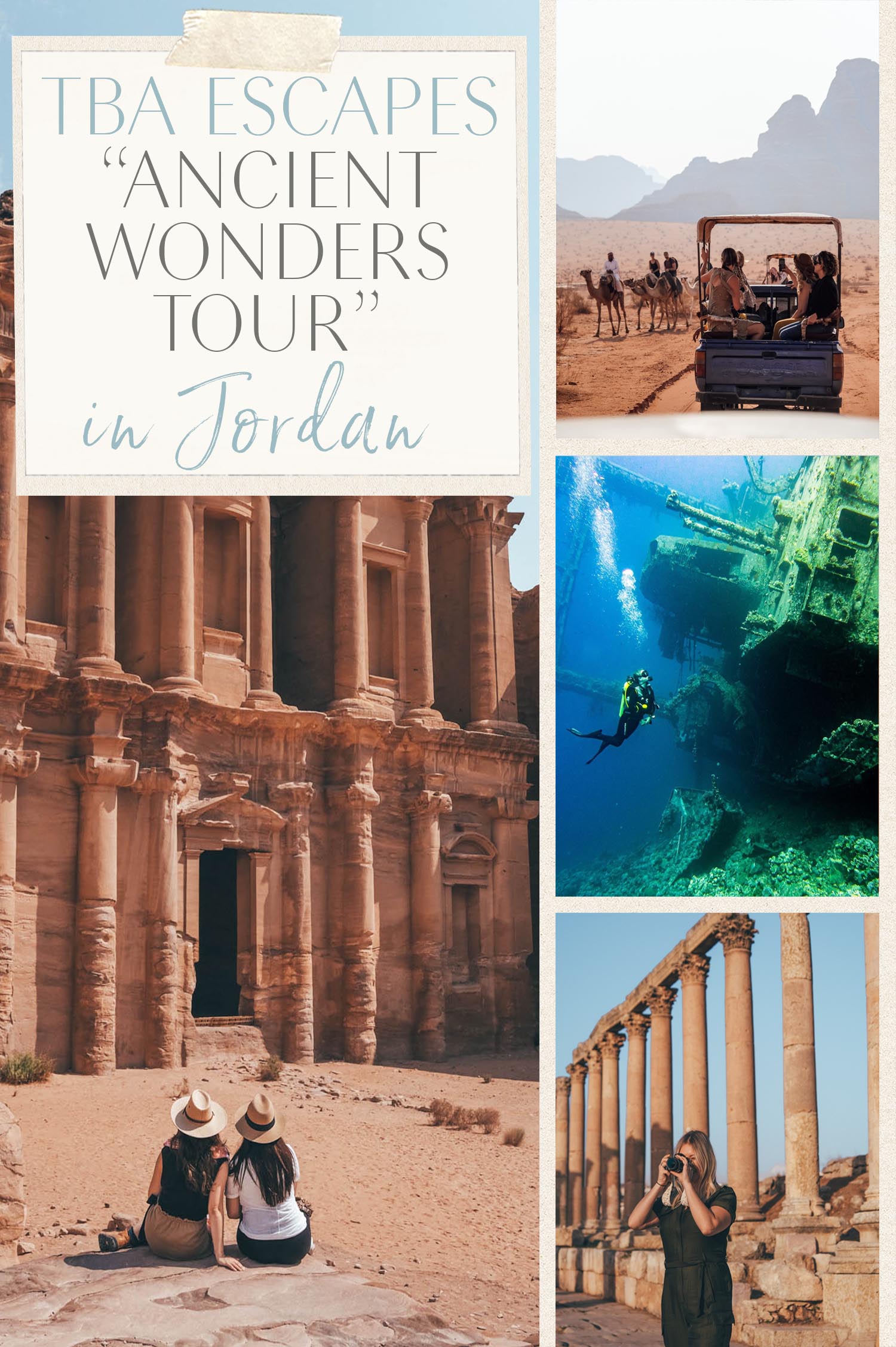 Over the years, I've gotten so many requests for local advice, travel tips and itineraries for my favorite destinations around the world. So, not long ago, I was inspired to invite you guys to come along on trips I designed!
TBA Escapes was created to bring epic travel experiences, in some of the biggest bucket list destinations on Earth, to like-minded female travelers from around the world.
Since starting my TBA Escapes all-female tours in South Africa in 2017, we have launched new tours around the world — the "Ancient Wonders Tour" in Jordan, a "Luxury Yacht Eco Expedition" in the Galápagos, and a Morocco "Adventure Tour".
While in Jordan, the focus was on capturing the beauty of the country and teaching the ladies more about photography!
The itinerary was an epic adventure, to say the least. We ventured through the city of Amman (the first place in the Middle East I ever visited in 2012!), hiked up the Wadi Mujib river, took a "float" in the Dead Sea, experienced the beauty of ancient Rose City of Petra, went diving in the Red Sea, and explored the historic Roman ruins in Jerash.
Ready to see the highlights from the TBA Escapes "Ancient Wonders Tour" in Jordan? Let's look!

Photography Tour, You Say?
One of the highlights of this tour was our partnership with FUJIFILM USA!
This partnership was a huge perk for the ladies and something that makes me so excited about running these tours. Because photo tours can get quite expensive when you get new gear, we organized the unique opportunity for each attendee to borrow my favorite Fujifilm X-Series camera and lenses, at no additional cost!
Learn more about my favorite FUJIFILM camera gear here!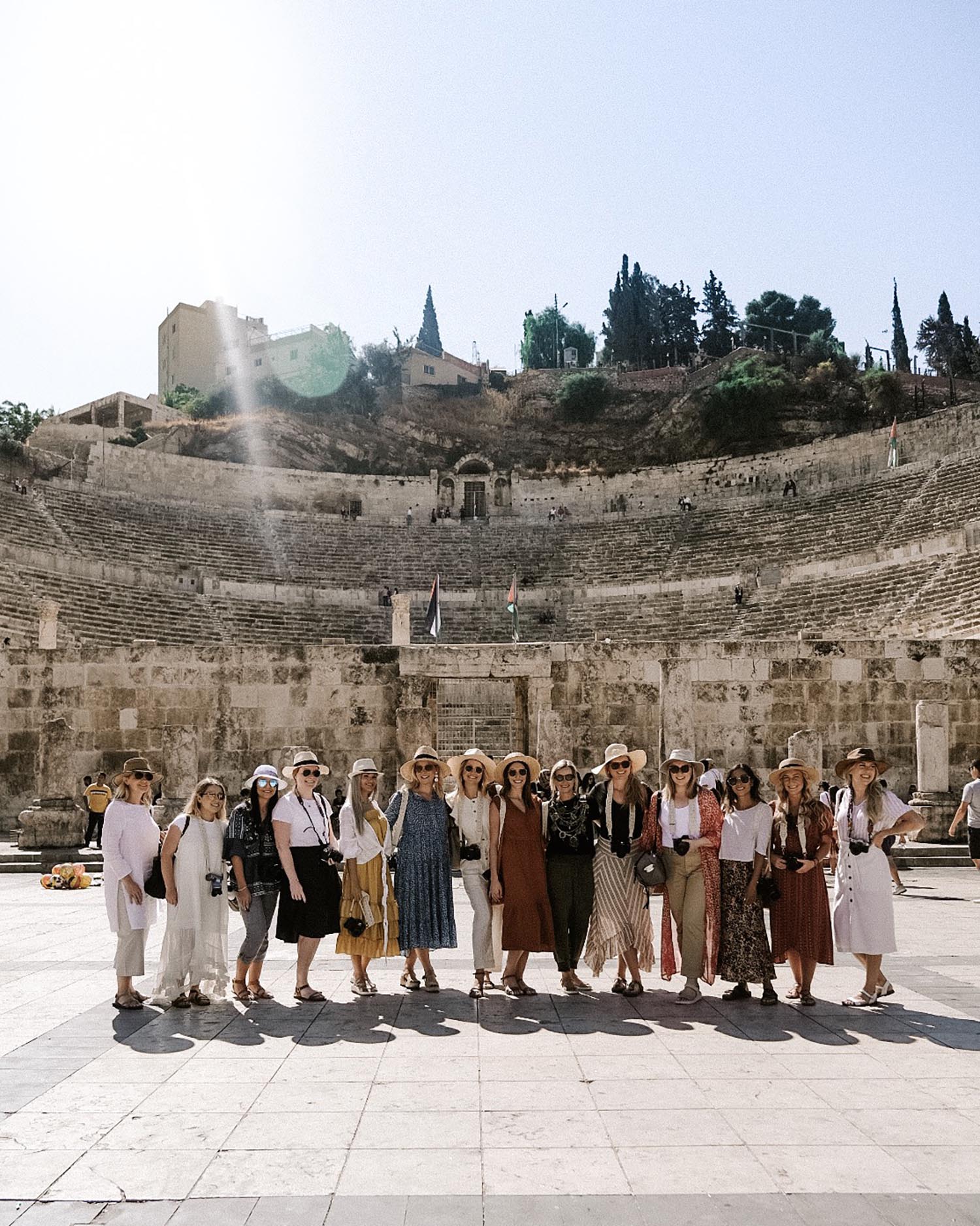 The City of Amman
Amman is where it all starts. The majority of international flights arrive here and it is the perfect place to start exploring Jordan.
Amman is actually the first place in the Middle East that I visited (back in 2012), and it will always be a special city for me. On these trips, we wandered the stunning sites throughout the city, like the Roman Theatre, the Amman Citadel, and Rainbow Street — and made some memories!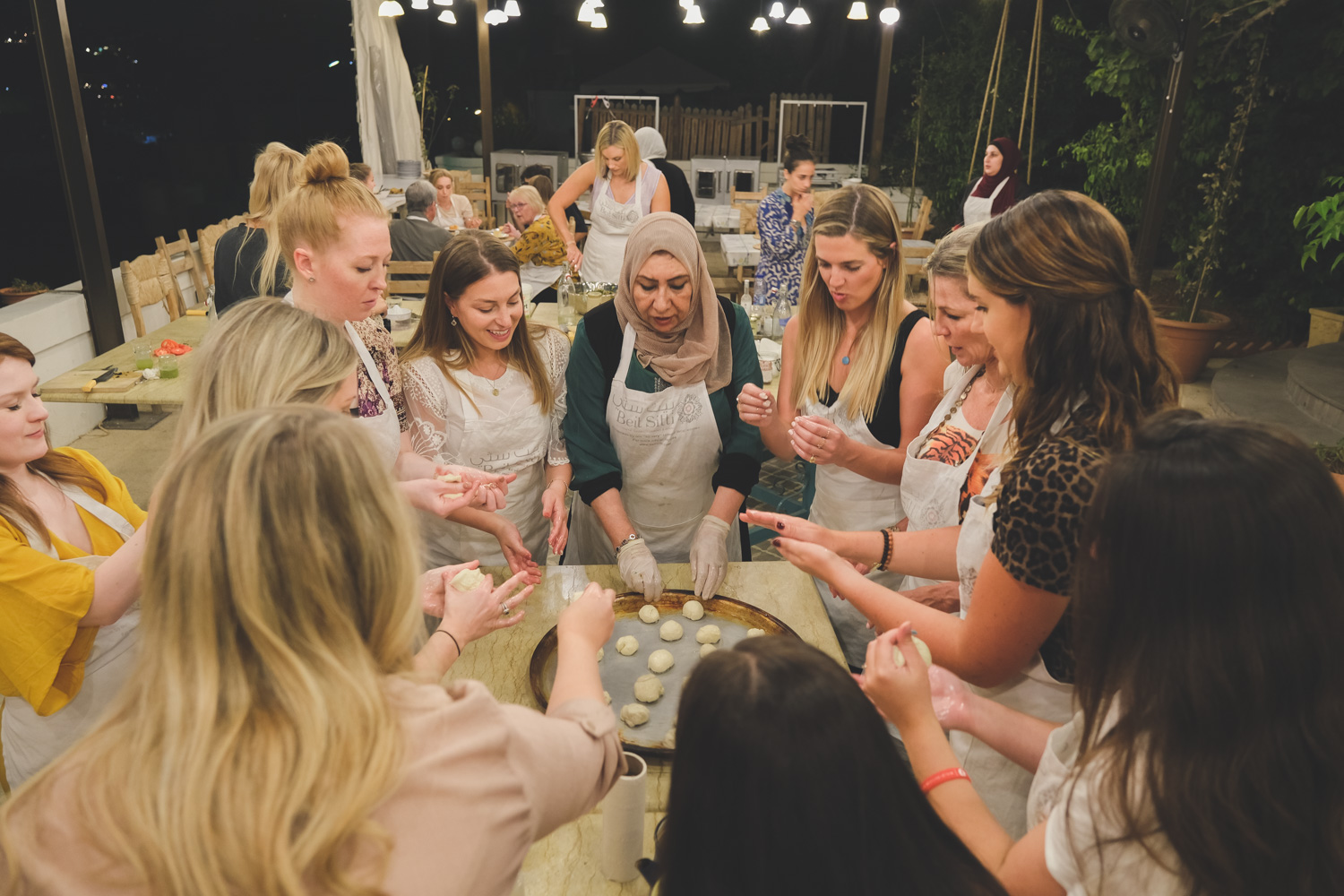 Shot on Fujifilm X-H1
And the food! I mentioned in my guide to the top ten things to do in Amman that cooking classes are a must — so that's exactly what we did. We crafted Arabic and Jordanian staples like hummus and fattoush and learned from a local woman that founded the Beit Sitti Cooking School (which means "my Grandmother's house"). How cool!

Wadi Mujib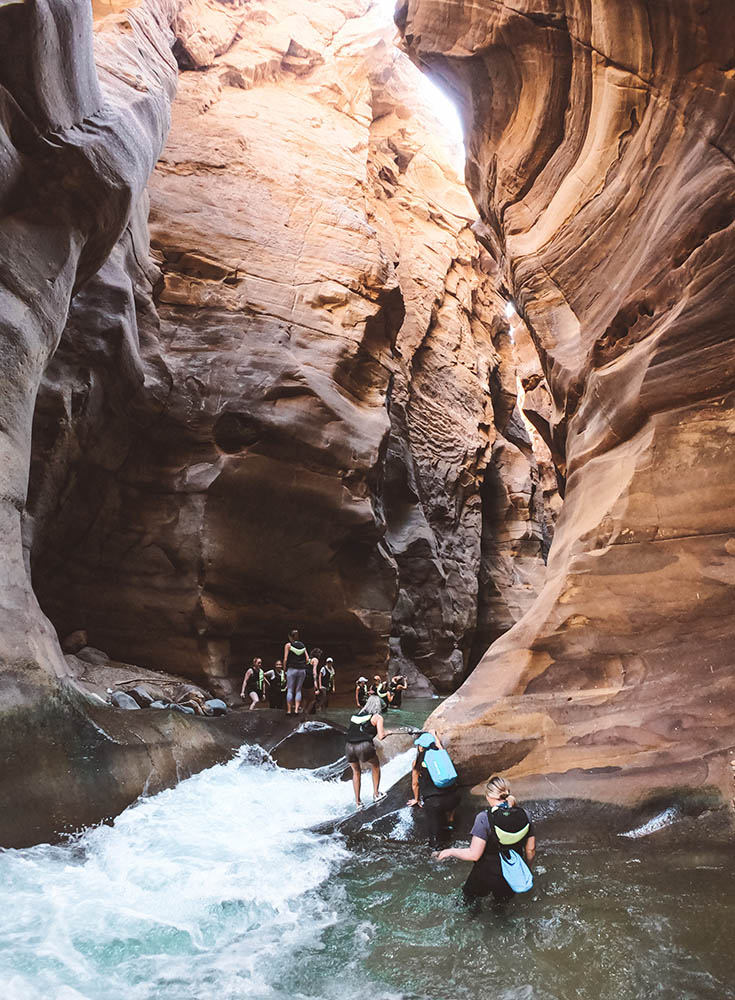 Canyoning in Wadi Mujib
Wadi Mujib is another adventurous highlight of traveling in Jordan! The Wadi Mujib Biosphere Reserve is home to a 70km/44 mile-long sandstone canyon, cut out by the Mujib River. It is one the top must-sees in Jordan and you can "canyon" or hike a portion of it!
We opted for an adventurous hike upstream through the river current, rocks, and waterfalls with the help of each other and lots of ropes (for safety, of course).
It was a serious adrenaline thrill!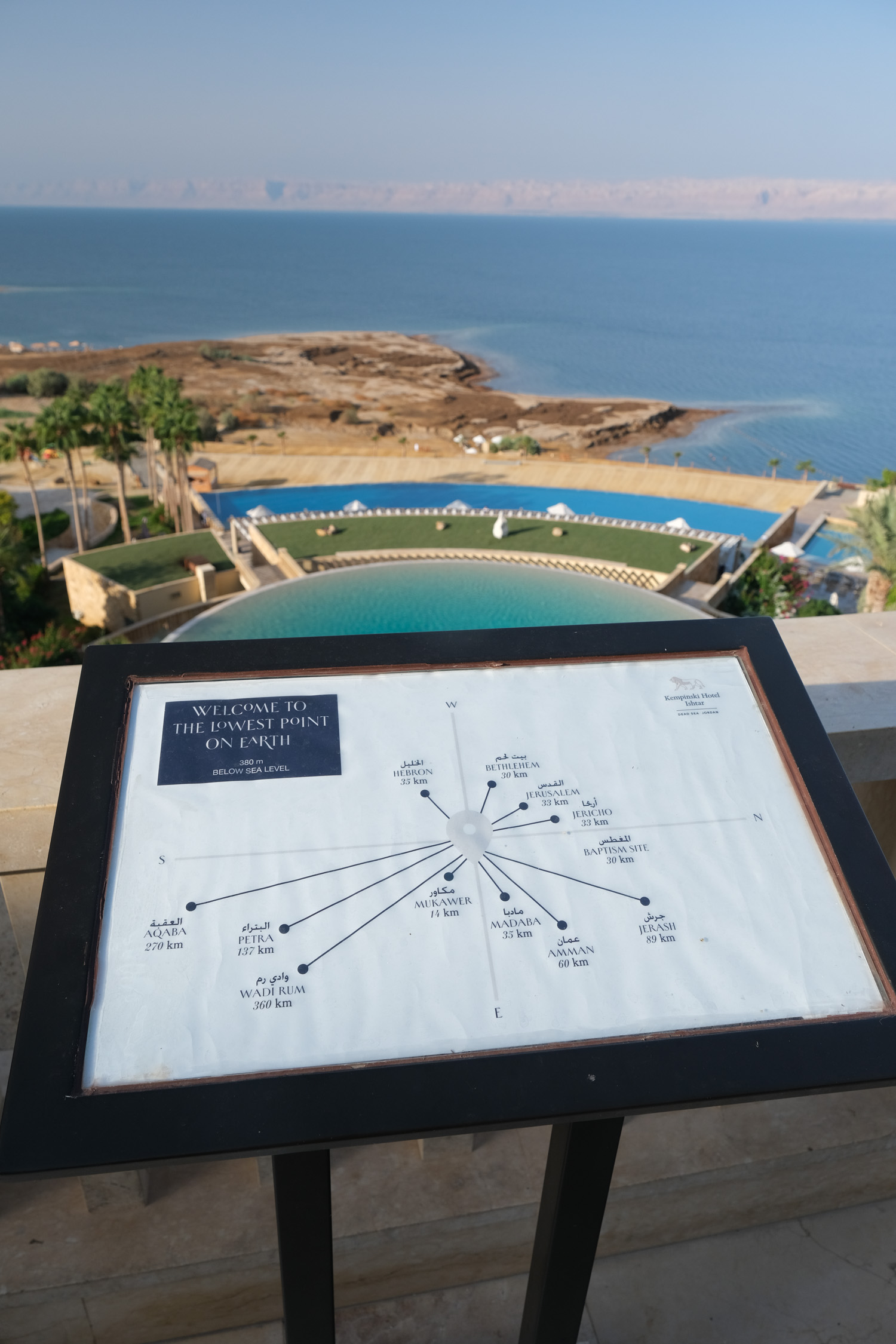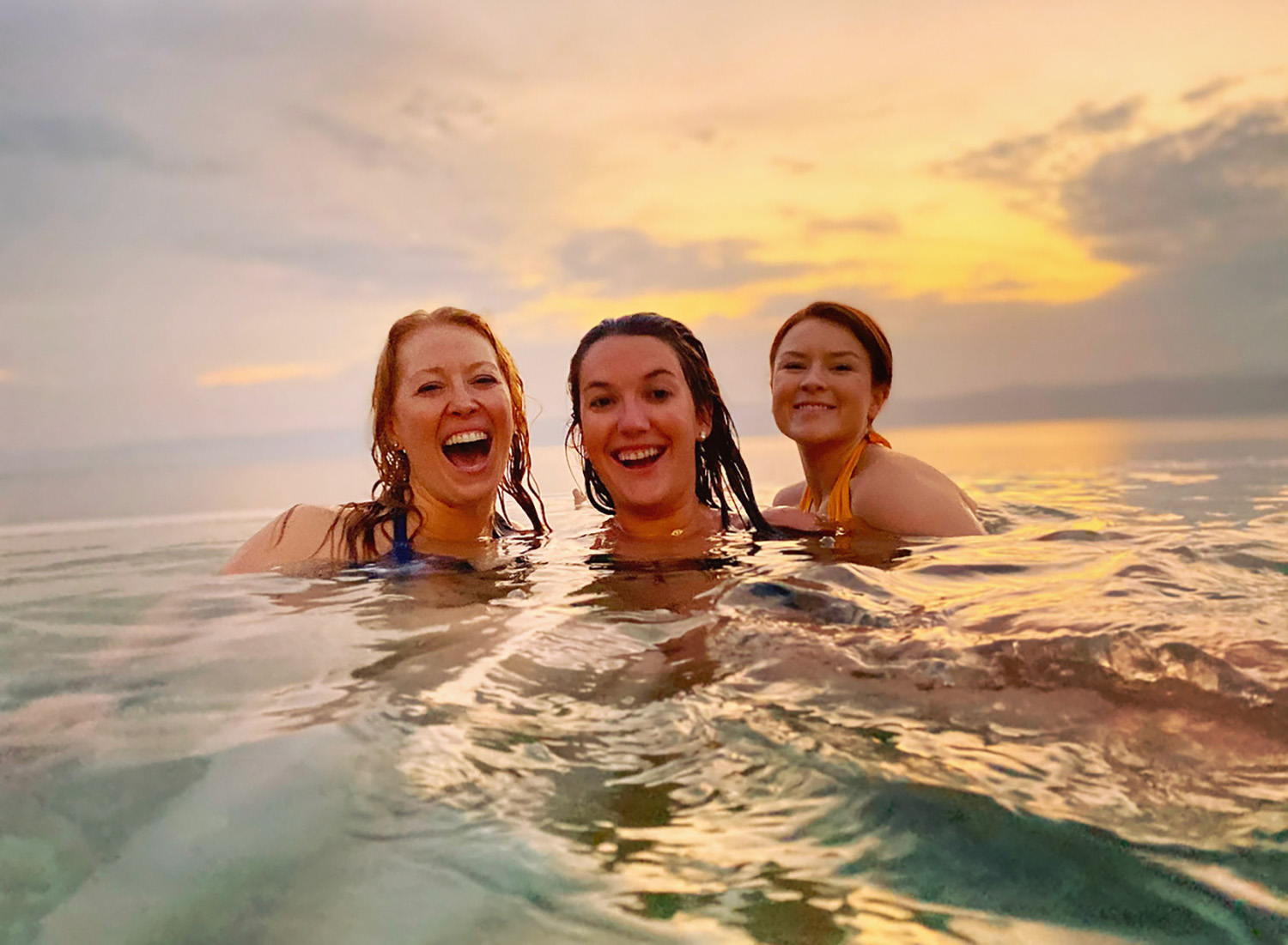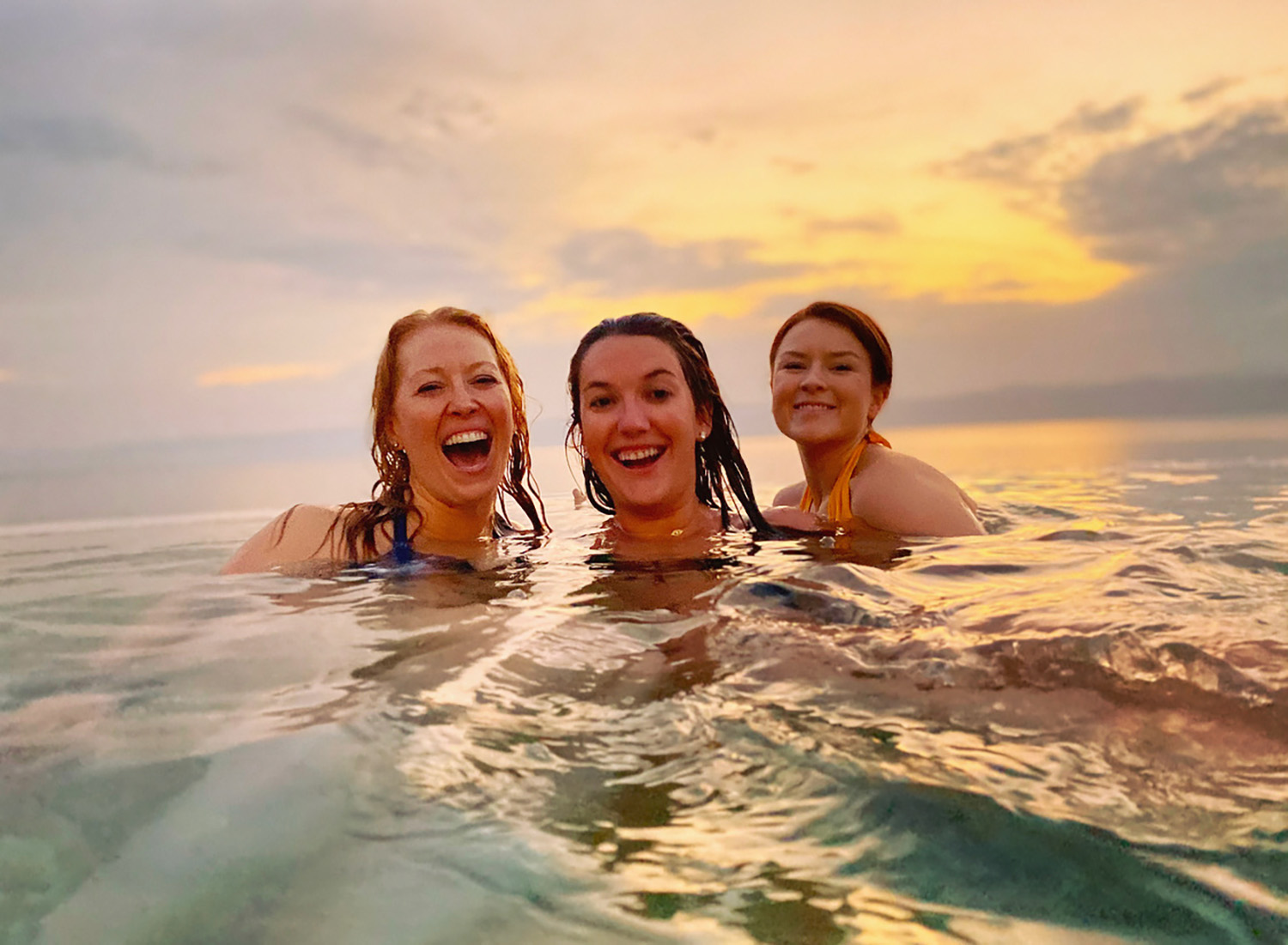 The Dead Sea
The Dead Sea is a huge bucket list item when visiting Jordan! It's the saltiest sea on the planet AND the lowest point on Earth.
After a little "float" in the Dead Sea, we covered ourselves in Dead Sea mud (which is supposed to be great for your skin!) and jumped in for one last sunset float. We were lucky to experience both a sunset and a sunrise float.
It's such a surreal feeling!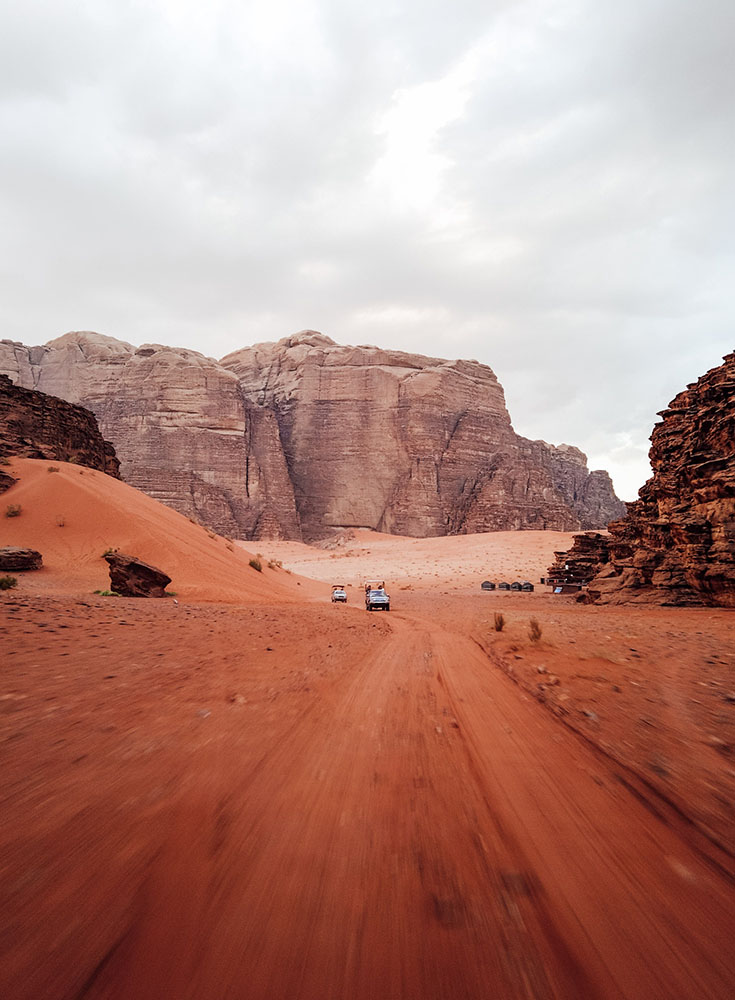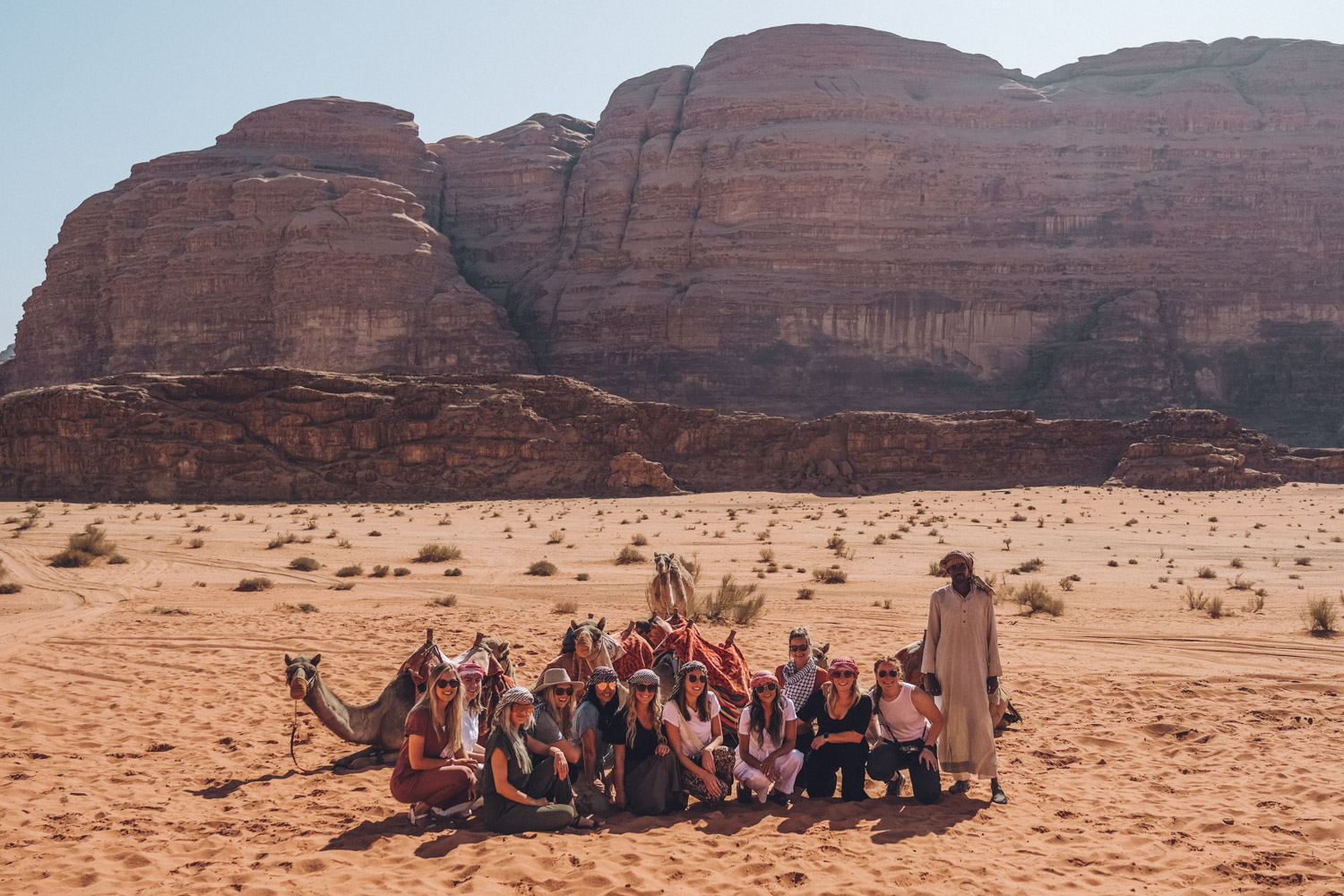 Wadi Rum + Bubble Tents
Mars, I mean, Wadi Rum was the ideal location for a guided adventure in 4×4's — hello, dune safari! The dramatic sandstone mountains and caverns created once in a lifetime photo ops that we couldn't resist.
Wadi Rum is one of the most beautiful deserts I've seen throughout my travels — and the terrain is unlike anywhere else on Earth!
On top of that, we got to go off-the-grid for the night and stay in some of the coolest "bubble tents," EVER! Glamping and serious views of the stars? Yes, please!
Another bonus about being in a place without light pollution from the city? We got to work on night photography with the gals and learned how to capture the stars on our Fujifilm cameras!

Petra
The Rose City of Petra
One of the highlights of the trip was seeing the ancient city of Petra — and it is seriously a breathtaking experience!
We got to experience the "Petra at Night", where you are serenaded by the local Bedouin people, playing gorgeous music with traditional rababas.
And, we hiked into Petra for a full day of exploring. We walked over 20,000 steps and spent about 6-7 hours inside the complex. It's MASSIVE!
Petra is called the Rose City and it is easy to see why — it's a UNESCO World Heritage site and one of the 7 New Wonders of the World. The city can date back to around 300 BC but wasn't rediscovered until 1812. It's truly a magnificent look back into ancient history.
We explored the fascinating sandstone carvings at the iconic sites like the Royal Treasury, Amphitheatre, and Monastery.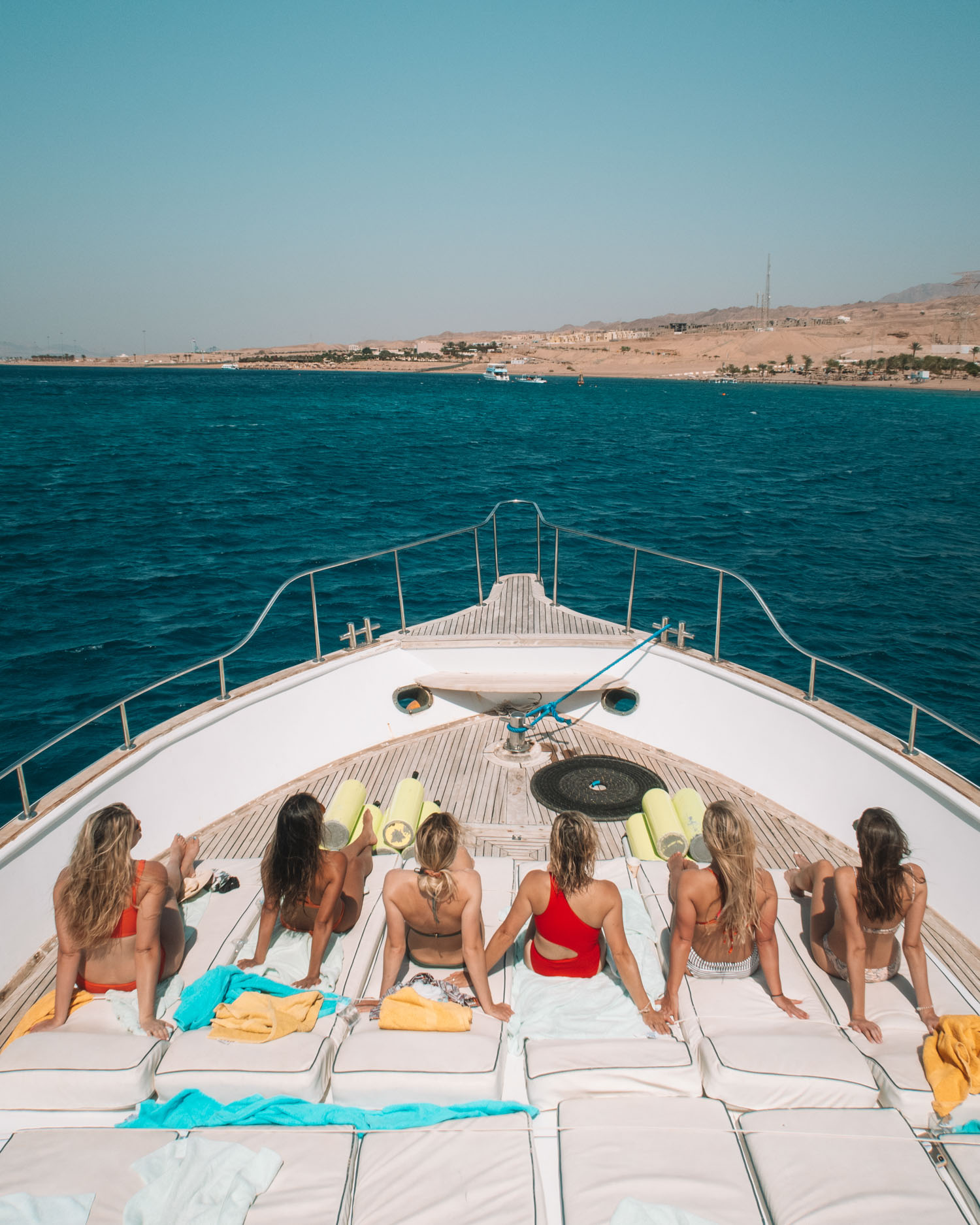 Aqaba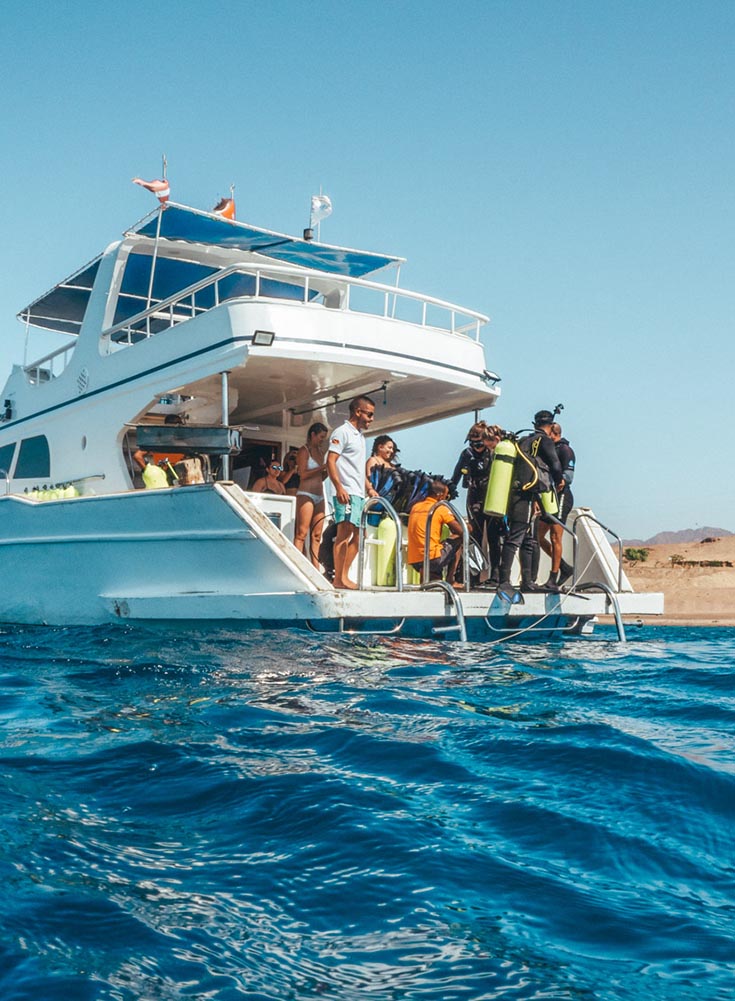 Aqaba and  The Red Sea
After a few days of drying out in the desert, a dip in the
Red Sea
is much needed! We stayed at a beautiful beach-side hotel in Aqaba — a port city that was founded way back in 4000 BCE, and let me tell you, it's buzzing!
We spent a full day on the water with
Deep Blue Dive Center
, a PADI 5-Star Dive Center, and chartered a private boat to explore for the day.
Scuba diving
is one of the highlights of any trip for me and the Red Sea is a truly epic dive spot with shipwrecks, a sunken plane, coral reefs, and even a sunken tank! The marine and coral life was SO beautiful.
For those attendees who were scuba certified, we offered a two-tank dive, and for those who hadn't tried scuba diving yet, we were able to offer Discovery Dives so they could try it for their first time! It was so magical for me to see the excitement these girls had after their first dive!
It was a much-needed day of sun, saltwater, and relaxation!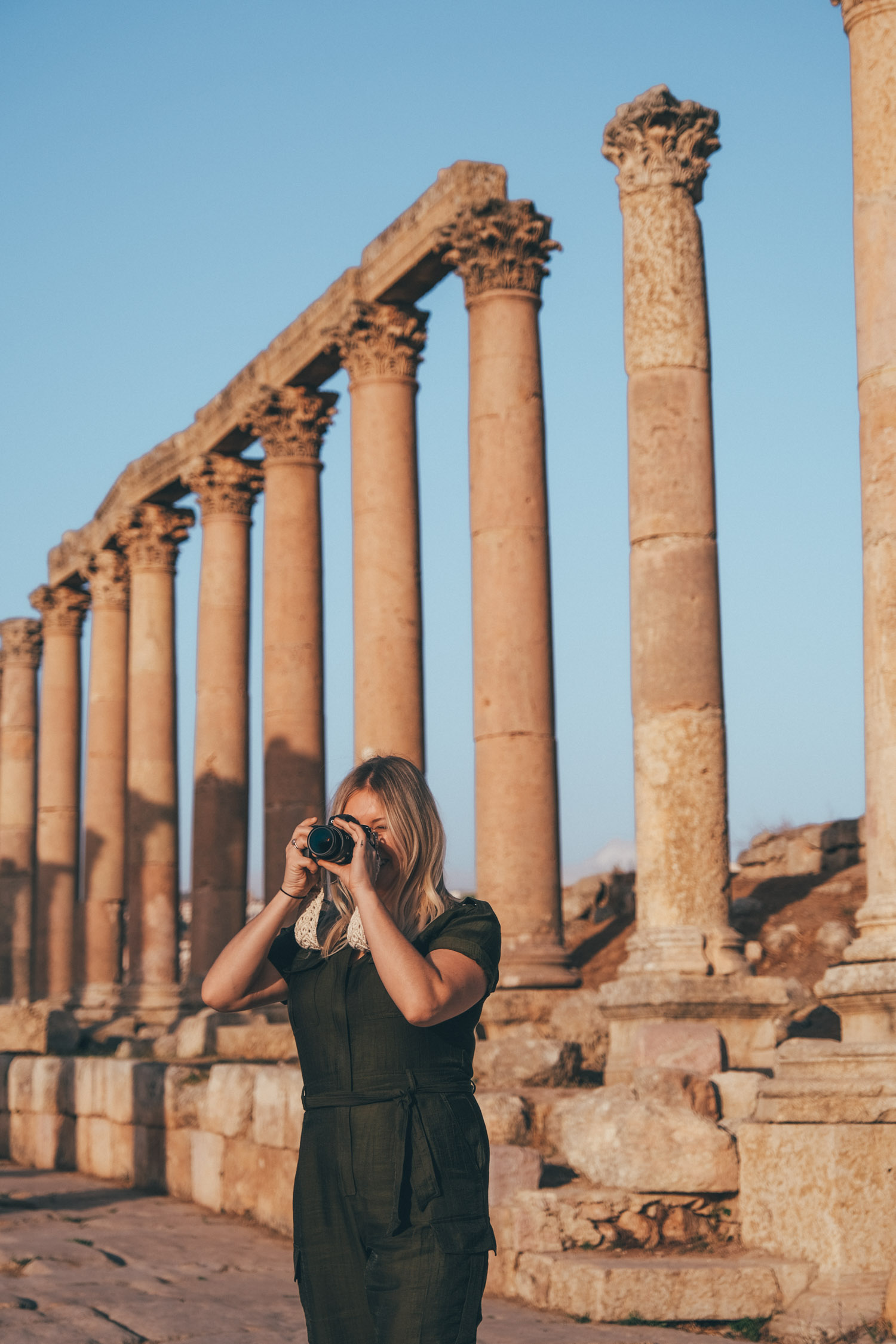 Jerash
Roman Ruins of Jerash
Jerash is known for having the best-preserved Roman city outside of Rome itself! Thriving since the Bronze Age, the city of Jerash has a dynamic history.
The ruins were truly remarkable and in amazing condition, so we wandered through the ruins for a few hours and learned lots of fun facts from a local guide.

TBA Escapes Jordan "Ancient Wonders Tour" Testimonials
"Epic trip of a lifetime! Thank you TBA Escapes for helping me fulfill my #1 Bucket List item, visiting Petra, Jordan. No words can even begin to describe how amazing this trip was…it exceeded all of my expectations! When I think back to the week spent with 15 amazing women exploring all corners of the beautiful country of Jordan, a permanent smile on my face forms and goosebumps begin to emerge. I can't even begin to pick my favorite adventure…exploring Wadi Mujib, Jeeping throughout Wadi Rum, floating in the Dead Sea, hiking all over Petra, scuba diving the Red Sea…it all was incredible! Thank you to everyone who made this an epic journey I will forever cherish. Can't wait for the next adventure!"
– Raquel T.

"This tour to Jordan with TBA Escapes was truly a unique, luxury experience. The food, the views, the hosts; everything was beyond my highest expectations. This is not just packaged tourism. It's the perfect mix of sightseeing with a local touch. I never imagined myself traveling in the Middle East, but thanks to TBA Escapes my dreams became an amazing reality!"

"I had high hopes for my trip to Jordan with TBA Escapes, and I can honestly say the experience far exceeded my expectations. Every last detail, from arrival to departure, was arranged thoughtfully. I saw things I only dreamed about, like the Dead Sea, Petra and Wadi Rum, and made friendships with incredible women. Our guides, Kiersten herself, Lauren and Reine, were absolutely lovely and made the trip that much better. Jordan was a perfect introduction to traveling in the Middle East, and I'm looking forward to booking another tour with TBA Escapes in the future!"

"I've never been on a group tour before (usually I like to travel solo!), so was a bit anxious about joining a group. However, this experience was incredible. I'm so happy I went, Kiersten and the rest of the team continuously went out of their way to make sure everyone was comfortable and taken care of. I was also hesitant because this was advertised as a "photography" tour, that my expectations were unrealistic and set too high. (I wanted to get more comfortable using my camera). Luckily that wasn't the case, Kiersten was an excellent teacher and I learned SO SO SO much. I walked away from the tour with camera knowledge, Lightroom knowledge, and new experiences that I probably wouldn't have experienced on my own. I'm so grateful for TBA Escapes and the confidence it gave to me."

For more of the tour and to see some of the behind-the-scenes action, check out the TBA Escapes Instagram Story Highlights!
Want to Join a TBA Escapes Future Tour?
Check out upcoming tour dates and visit the TBA Escapes website to see the destinations for available tours!