If you've been following my blog for a bit then you know how much I love scuba diving. I take any chance I can get to go on a dive and explore the world from underwater. During a recent trip to Jordan, I went for yet another dive with Deep Blue Dive Center.
I would say that it was probably the best dive team of anywhere I've ever dived (and that's saying a lot)!
Mohammed and the guys at Deep Blue are fantastic and super fun to be around and they make you really comfortable—even if you are trying diving for the first time! You can book a one on one and they are super sensitive to people that are nervous.
We work with Deep Blue as our dive partner for our TBA Escapes Jordan tours and we have done over 10 discovery dives with them as well as dives for certified divers. The team is just really that amazing and their boat is wonderful.
So whether you are traveling solo or booking with a group there are options for everyone!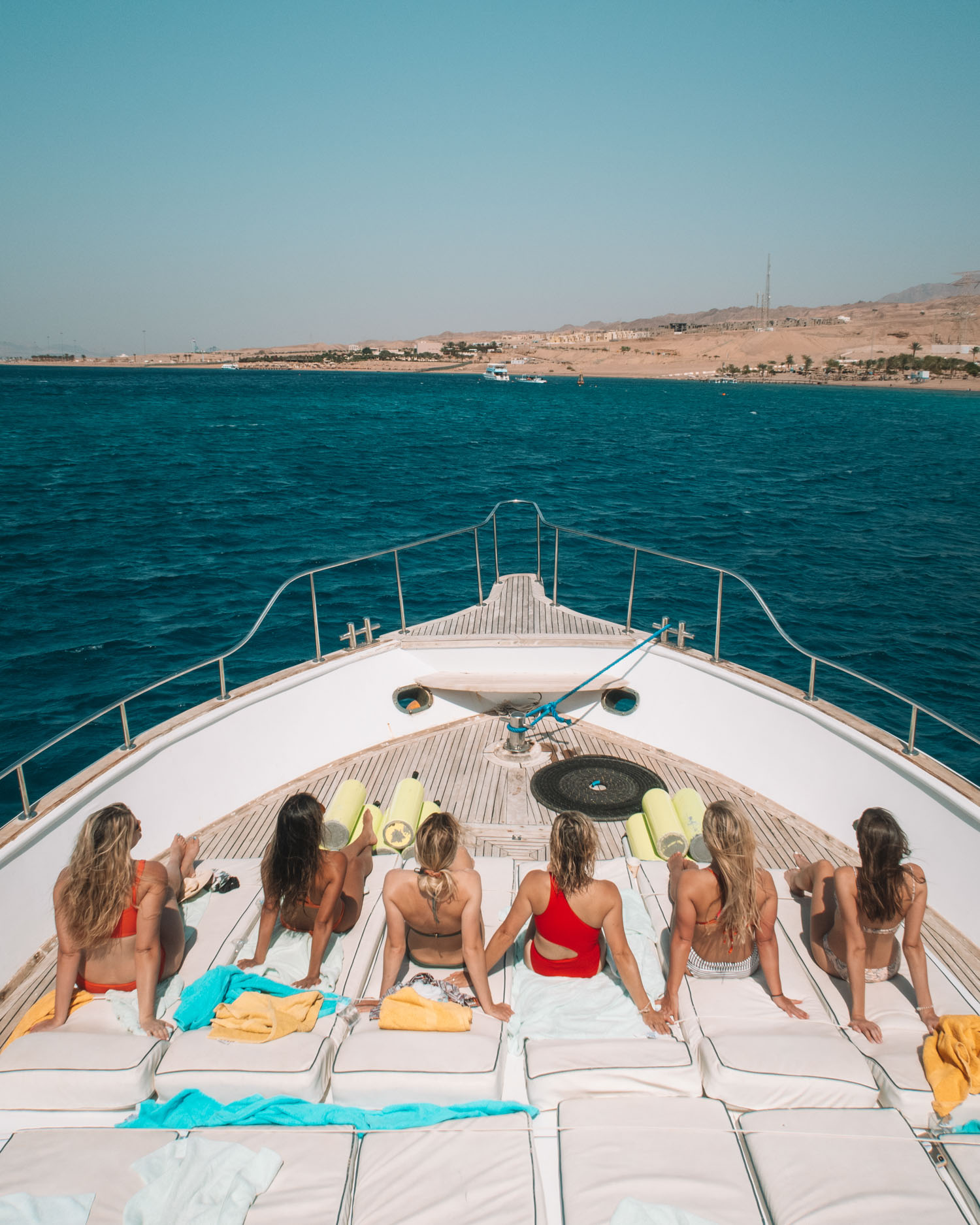 Aqaba - from the TBA Escapes Jordan "Ancient Wonders Tour"
Where to Stay
If you decide to book a dive, you can stay in Aqaba. There are quite a few options for accommodations. Deep Blue is located at Tala Bay Resort in South Beach, Aqaba so if you prefer to stay nearby, I highly recommend looking in that area.
If you don't mind being further away, I recommend the Kempinski Hotel Aqaba, my favorite property in all of Jordan. It's beautiful, right on the water, has easy beach access, and is very well run. Management and the service are top-notch.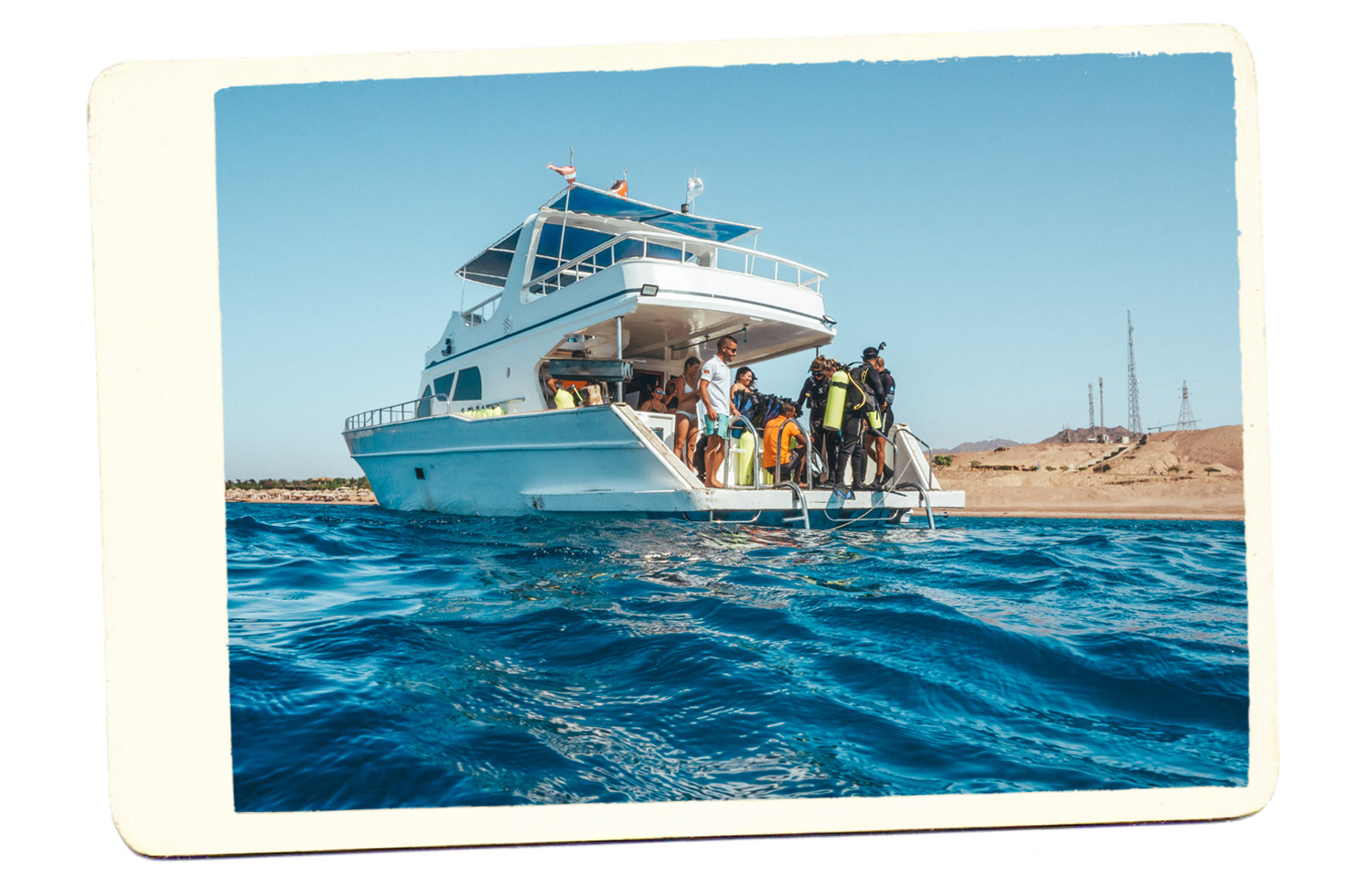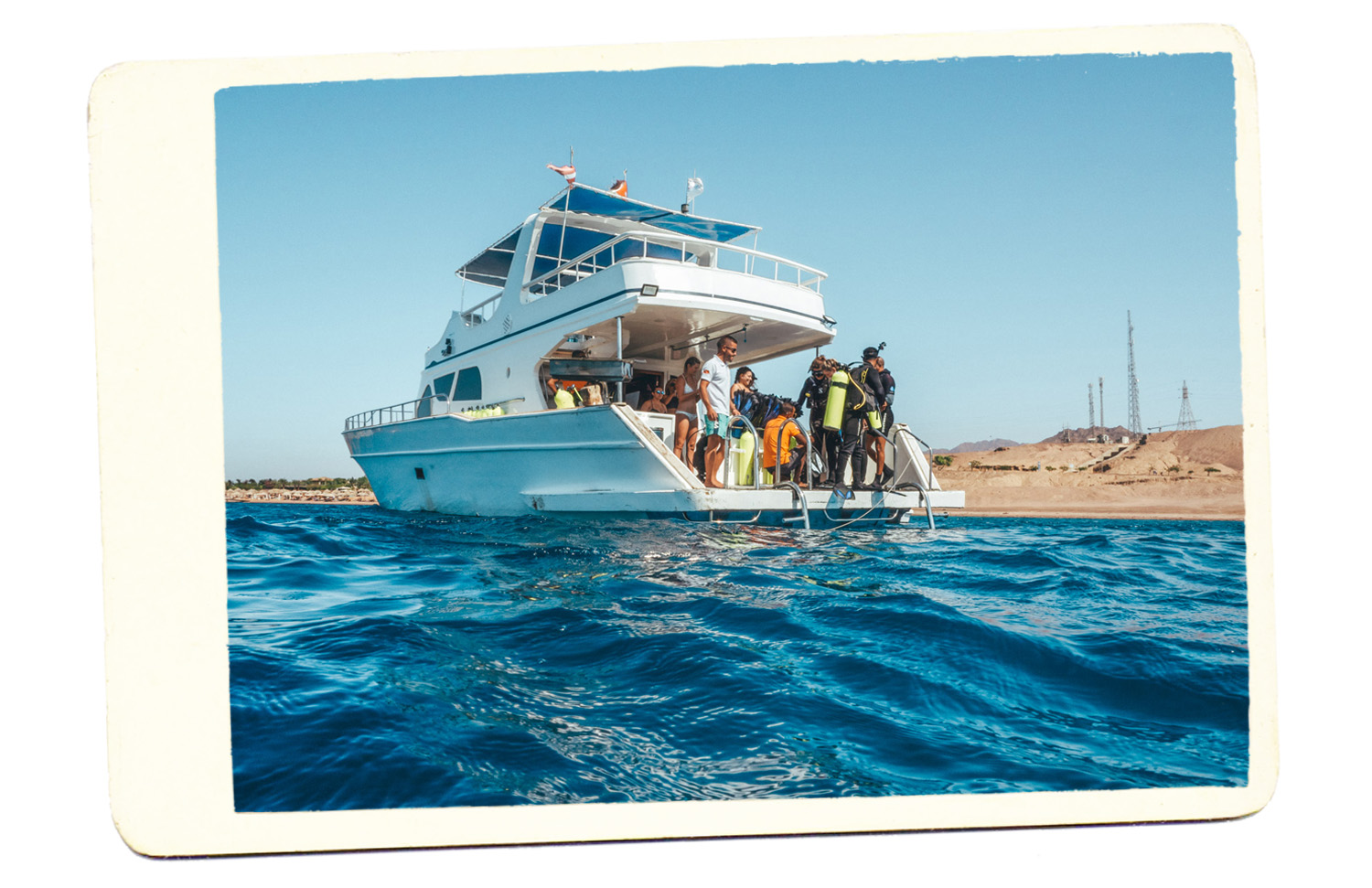 What to Expect
Deep Blue Dive Center is a PADI 5-star dive center which I always recommend when looking for different dive shops to dive at.
Once onboard, a full day of diving with Deep Blue includes lunch (where they usually grill). The chef is amazing and the food is delicious.
If you can, I would recommend booking boat dives rather than shore dives, even though shore dives are available. You save a lot of energy and time by booking boat dives and get a little extra fun day out at sea because of it!
As for the diving, there are some really cool wreck dives in Aqaba. One thing to note is that you won't see dolphins from the Red Sea in Jordan as that's only in Israel. Rumor has it that nets are set up to prevent them from leaving, However, you will still be able to see hawksbill turtles, lionfish, blue-spotted rays, and more!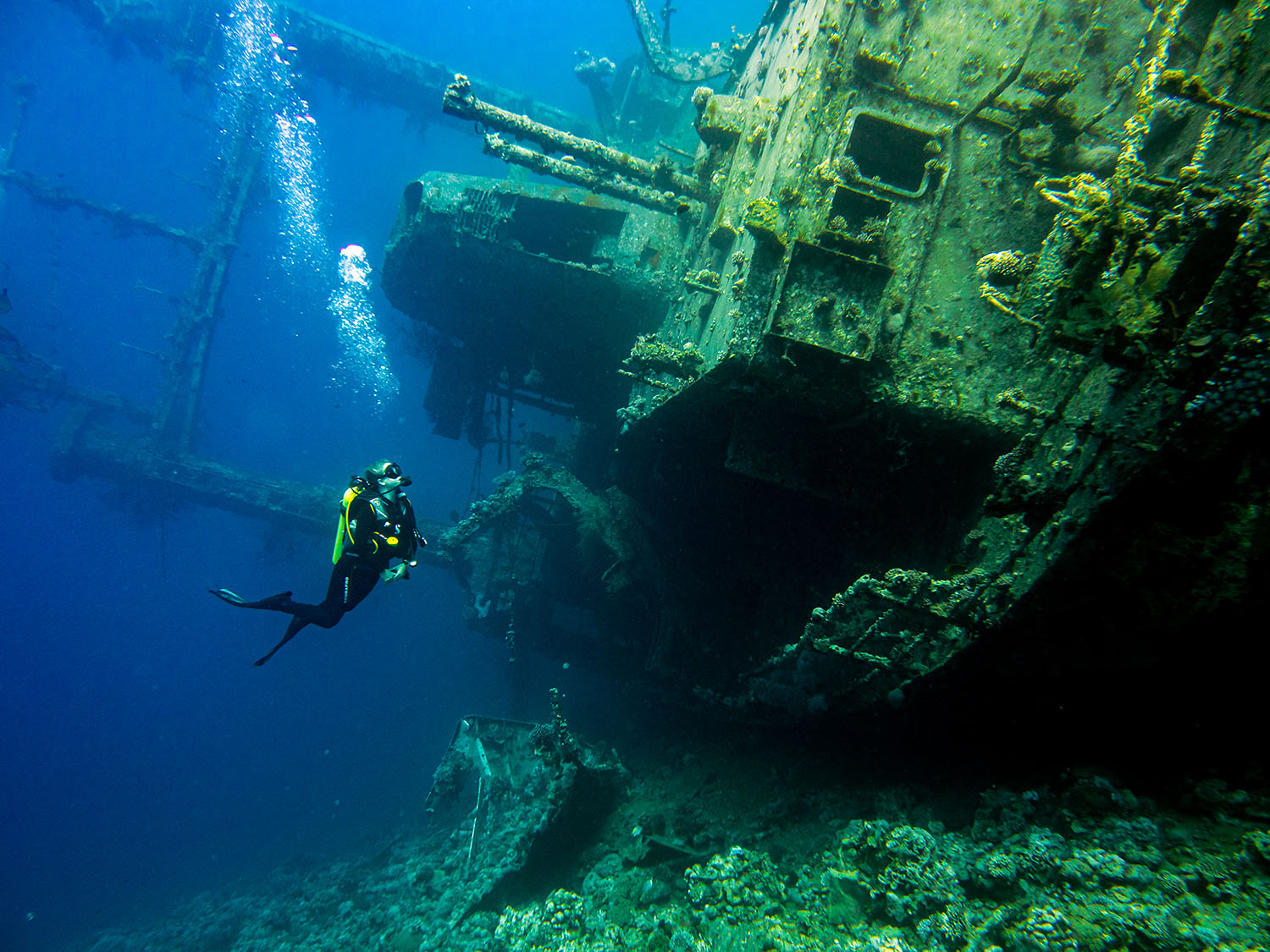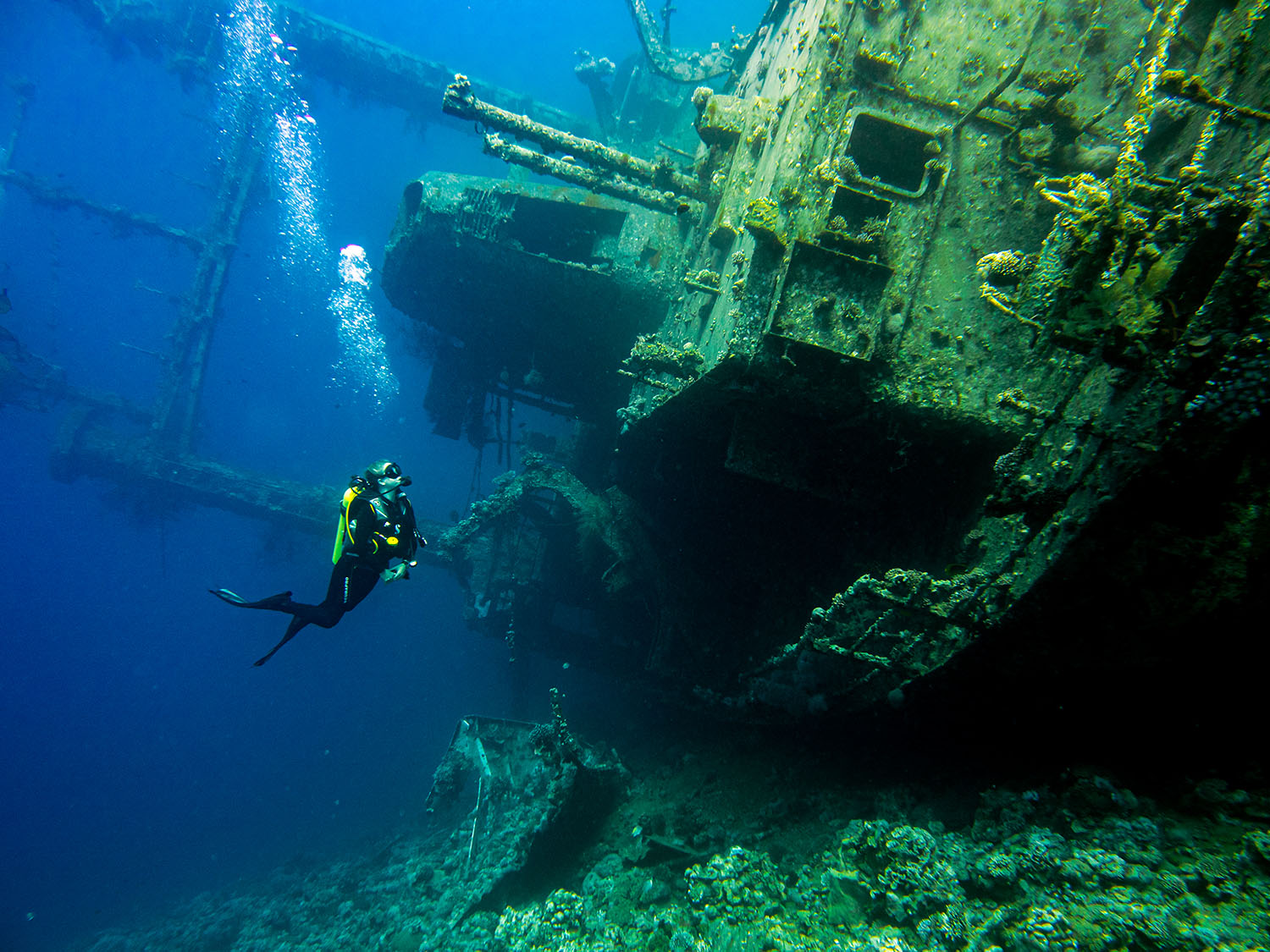 Top Dive Sites
There are so many dive sites along the coast, but the Tank and the Wreck are two of the most iconic. The new Sunken Plane is on its way to becoming a top location, too. Altogether, there are about 20-25 different spots along the coast, giving you plenty of options to choose from.
The Tank
The Tank, one of Aqaba's most famous dive sites. Sunk by the Jordanian Royal Ecological Diving Society in 1999, it only lies 6m below the surface. It's home to lionfish, scorpionfish, and eels, and is the perfect dive spot for beginner and advanced divers alike!
The Wreck
The Wreck aka Cedar Pine is the wreck of a Lebanese freighter that sunk in 1985. By the request of King Abdullah II, it became used as an artificial reef. The 74m long boat lies on its side 28m below the water's surface and is home to a wide variety of marine life.
The Sunken Plane
The Sunken Plane, a C-130 known as Hercules, was sunk in 2017 to create yet another artificial reef. Sitting nearby the Tank, it only lies 18m underwater and is easily accessible to all divers. If you're an experienced diver, you can dive throughout the plane as the doors have been removed.
Underwater Military Museum
Recently, the first underwater military museum was created in Aqaba. It consists of 19 fascinating battle relics including tanks, an ambulance, a military crane, a troop carrier, a combat helicopter, and more. Depths of the objects range anywhere from 11m to 28m, allowing you to enjoy the site in multiple different ways.
There are also plenty of other dive sites on the coast. This includes Power Station, First-Bay North and South, Eel Garden, Rainbow Reef, and New Canyon (just to name a few!).
If you're looking to get your PADI certification, you can do so while you're out!
Fun Fact: The King of Jordan, King Abdullah II is a master diver and has advocated for a lot of coral restoration and has requested that artificial reefs are created. This makes Aqaba one of the best places in the world to dive!