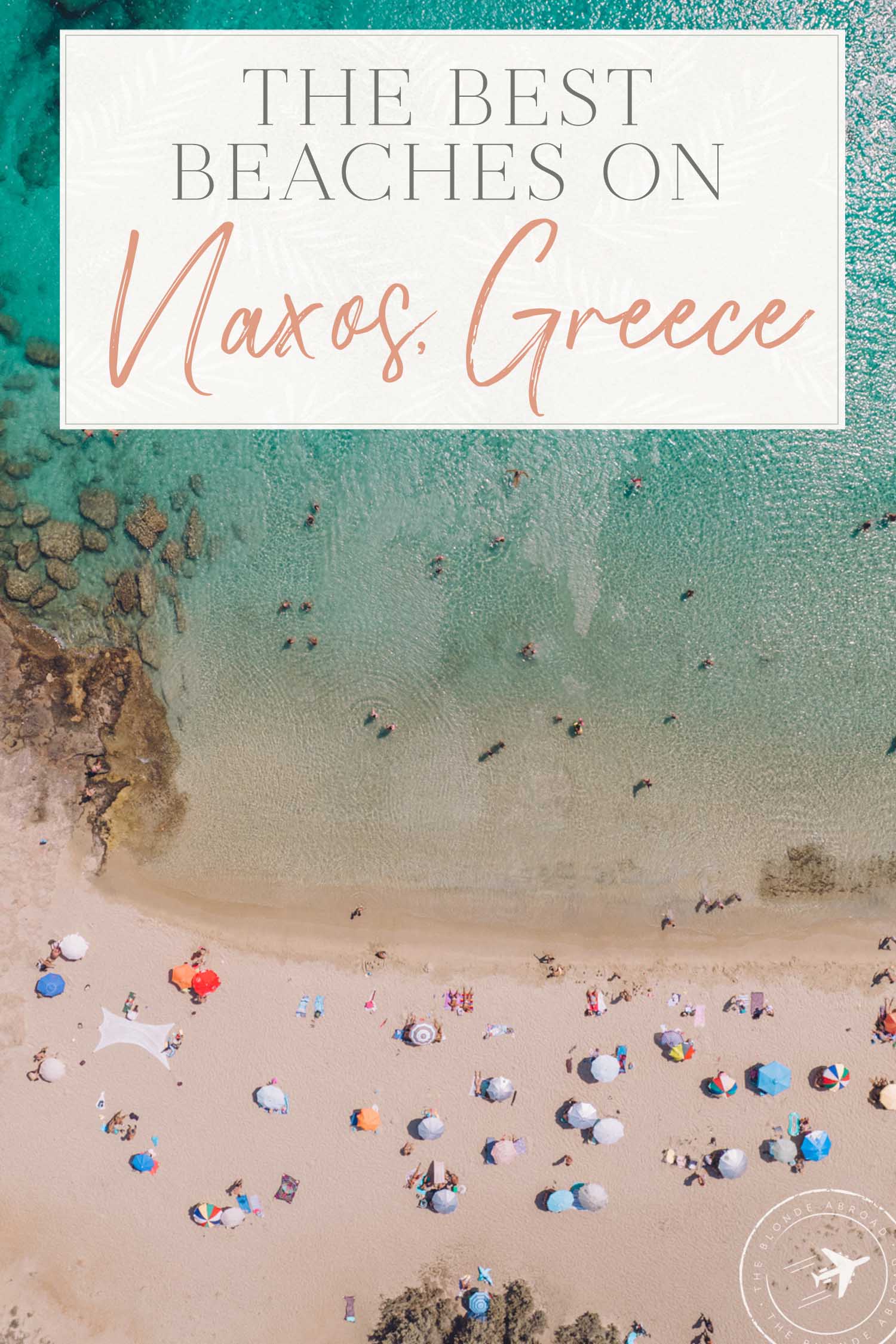 Naxos is a true hidden gem when it comes to places to visit in Greece.
While locals are *in the know* and flock to the island, Naxos is often overlooked in favor of Mykonos and Santorini. Don't get me wrong — I absolutely love both of those islands…but if you're looking for something a little more under the radar — Naxos is the place.
I feel like it's difficult for an island in Greece to be known for its beaches…because amazing beaches are EVERYWHERE, but Naxos is definitely known for its incredible sandy stretches.
From Naxos Town — which is very reminiscent of Mykonos Town, just minus the dense crowds — to the charming mountain villages to all the beautiful vistas, Naxos deserves a spot on your itinerary if you're island hopping through Greece.
As you plan your trip, take a look at my ultimate guide for the best things to do on Naxos, including where to stay, and where to eat!
But for now, it's all about that salty seawater and glistening sands — here are the best beaches to visit on Naxos, Greece!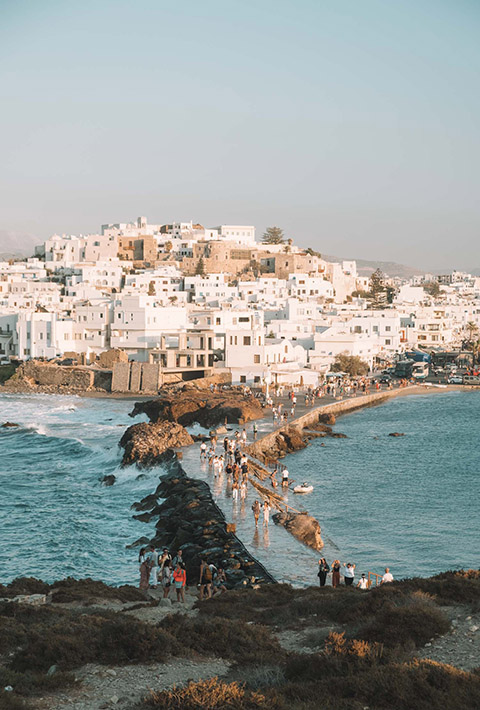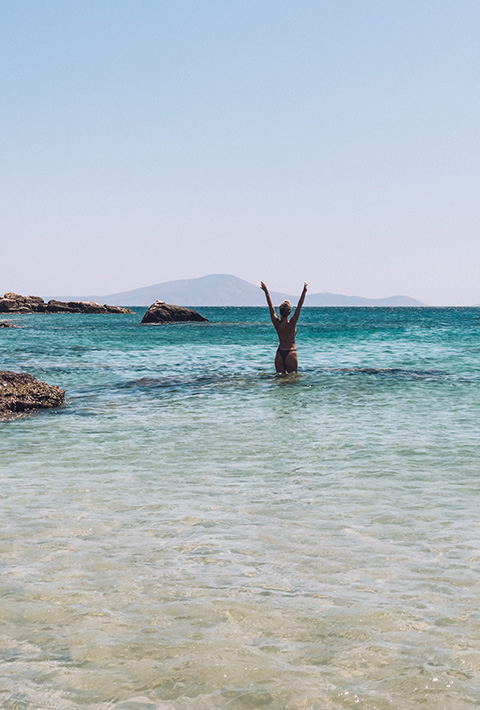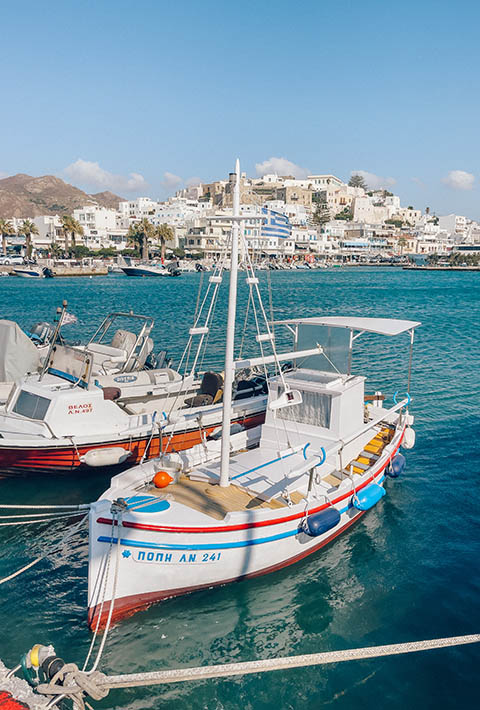 What  to Expect on Naxos
Be aware that Naxos is known for being a windy island, which makes it great for kite and windsurfing. There are areas on the island that are more or less windy, so if you're planning a beach day just laying out on the sand, just keep this in mind.
If you're interested in wind or kitesurfing in Naxos check out: Glyfada Beach, Mikri Vigla Beach, or Amitis Beach.
Generally, the best beaches are primarily on the west coast. As you move further south, they tend to be quieter and have better sand! But you also have the threat of windier conditions and they're further from Naxos Town.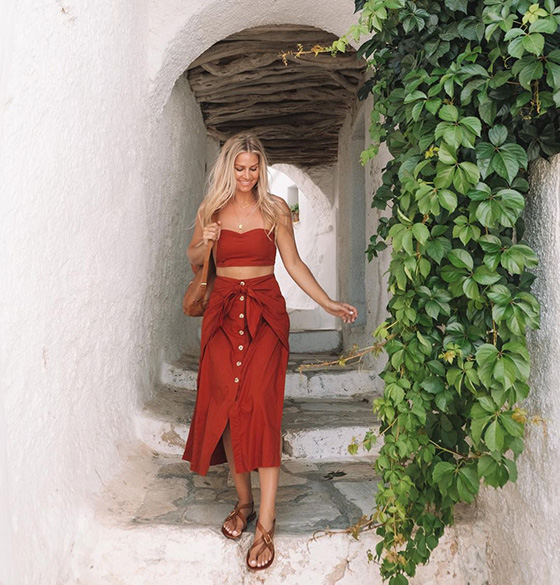 There are a million ways you can do this island, but the highlights for me are the charming town of Naxos, all of the beautiful beaches, and the hilly old towns — Apiranthos and Filoti.
Read More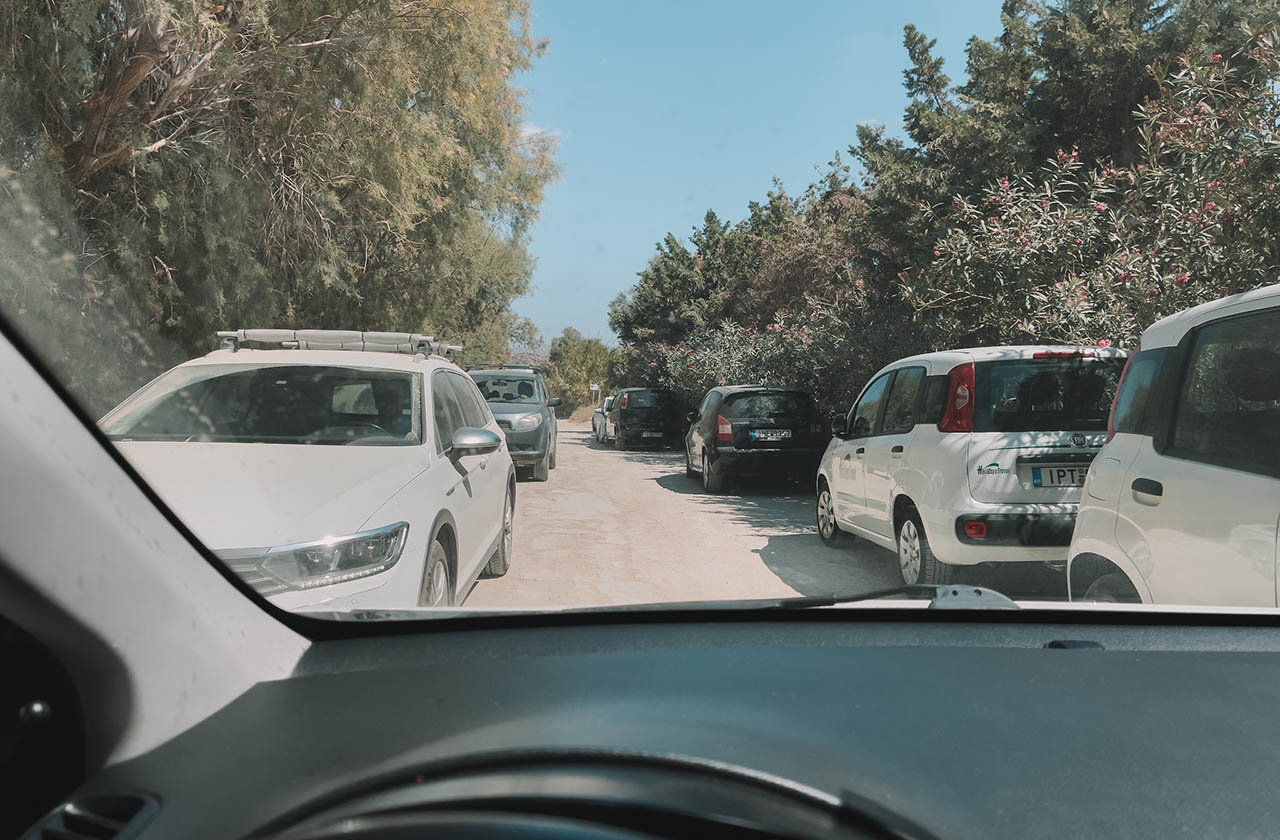 The terrain is pretty rough.
Getting Around Naxos
First things first: you'll absolutely want to rent a car.
While you can get away with driving an ATV around other islands in Greece (which is something I wholly recommend), Naxos' terrain is pretty rough and the distances are far.
Heads up, you'll most likely need to know how to drive Manual Transmission as Automatic rental cars are far and few between.
Do I need an International Drivers License?
Yes. Greek law requires you to have an International Driving Permit along with your state-issued driver's license to operate a vehicle.
The good news? It's actually super easy to get.
You can obtain the International License here for only $29 and get it emailed to you to print within a few hours of ordering.
Taking the Bus in Naxos 
That said, if you're staying in Naxos Town, a lot of the popular beaches are accessible via bus.
Bus Line #1 runs about every half hour from Naxos Town Port and passes Agios Prokopios, Agia Anna, Plaka, and ends at Mikri Vigla Beach.
The #3 Bus Line begins at Naxos Port and goes south through the inland villages. It does run less frequently and you'll need to check when it's operating during low/shoulder seasons. This bus line passes Mikri Vigla, Kastraki, Glyfada, Alyko, and Pyrgaki.
Prices generally run around 2-3 euros, but it depends on the destination. Heads up, you'll have to buy tickets at the bus station in advance.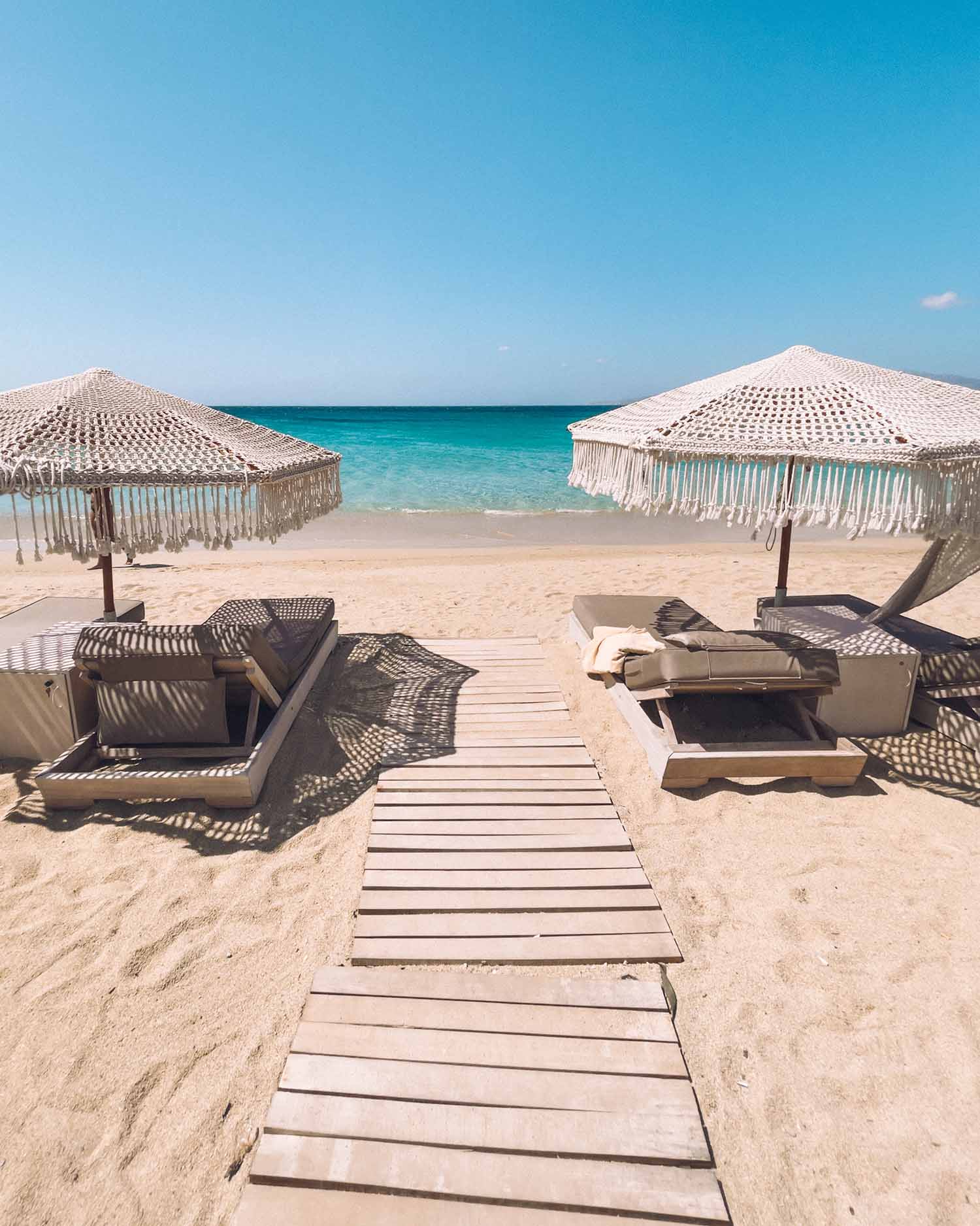 Agios Prokopios Beach & Agia Anna
These two are located right next to each other and you truly can't go wrong!
There are lots of gyro places and cool restaurants in this area, so you can stop somewhere to eat, hang out at the beach for a few hours, rinse and repeat!
As for the beach itself, we hung out at Agios Prokopios for almost 8 hours, no joke. The setup was so amazing and perfect for a chill beach day — chairs, umbrellas, great service, and a white sand beach.
No complaints here!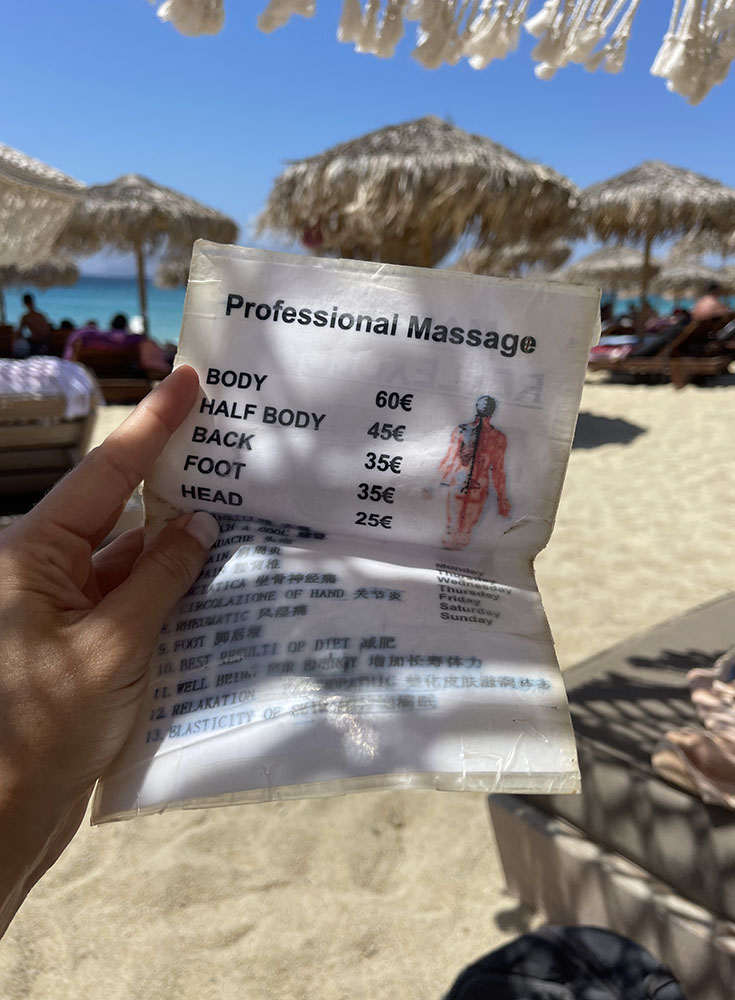 Helpful Tip:
Find the Virtu Suites Restaurant and snag their beach chairs! They have AMAZING service and the cutest beachy boho setup. While the price is a bit steep for beach chairs (40 Euros), we spent the whole day there and it was worth it.

10/10 would do it all over again.

As a note, the price includes 2 beds, a lockable cabinet for any of your goodies, and they do chairside food service.
Oh, and did I mention that you can even get a massage?
This is not associated with Virtu Suites, but keep an eye out for people offering massages. They roam the beach — don't worry, it's not creepy like it might sound. I started with a foot massage and then I went for a full body massage because it was THAT GOOD.
It's around 35 euros for 30 minutes or 60 for an hour.
You do have to be okay with being rubbed down with oil in front of everyone on the beach…but no shame here! It was so lovely, especially since we had just gotten off a long international flight.
While it wasn't a cheap day at the beach, it was well worth it.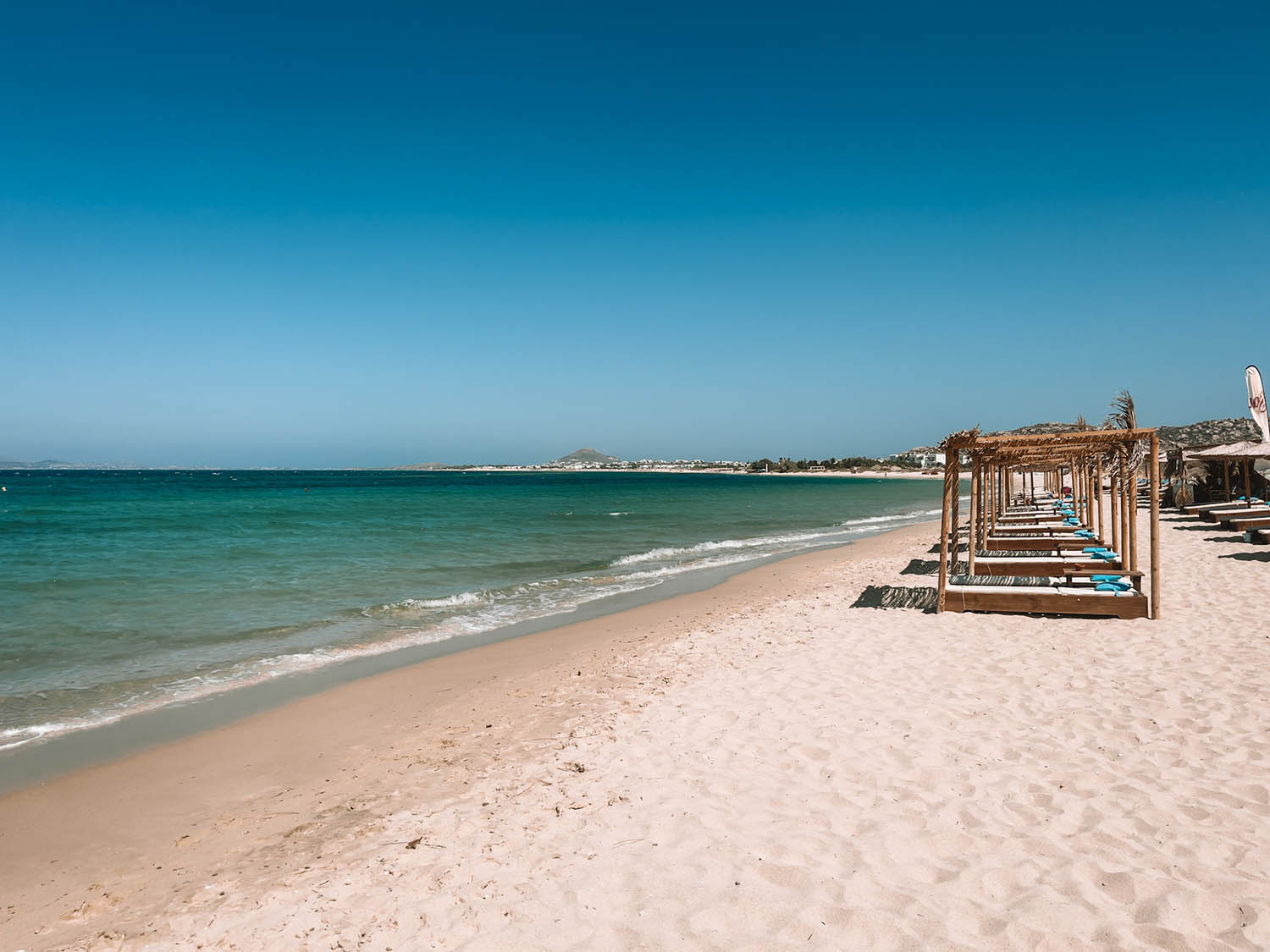 Marakgas Beach
Marakgas Beach & Plaka Beach
Marakgas Beach offers a simpler setup than what we found at Agios Prokopios, but they do have beds and you can find food here.
This beach was way less crowded, too!
It's absolutely beautiful here but it did start to get pretty windy. We didn't end up getting chairs here as the wind picked up and we were in definite windsurfing territory. However, if the winds are calmer on other days, this is a gorgeous spot.
As a note, Maragas Beach is right next to Plaka, and if you're looking for an even quieter spot, head to the south end of Plaka Beach.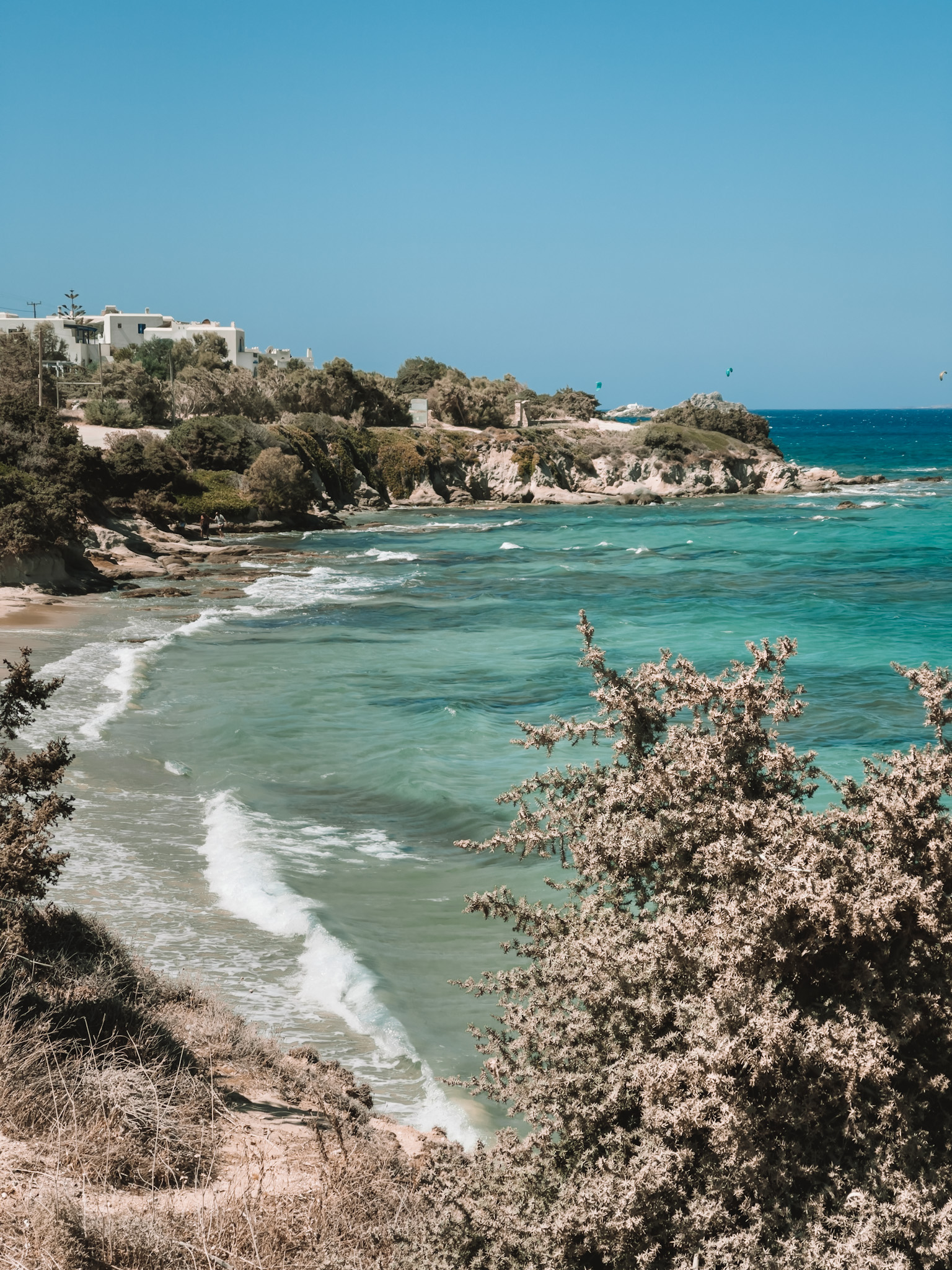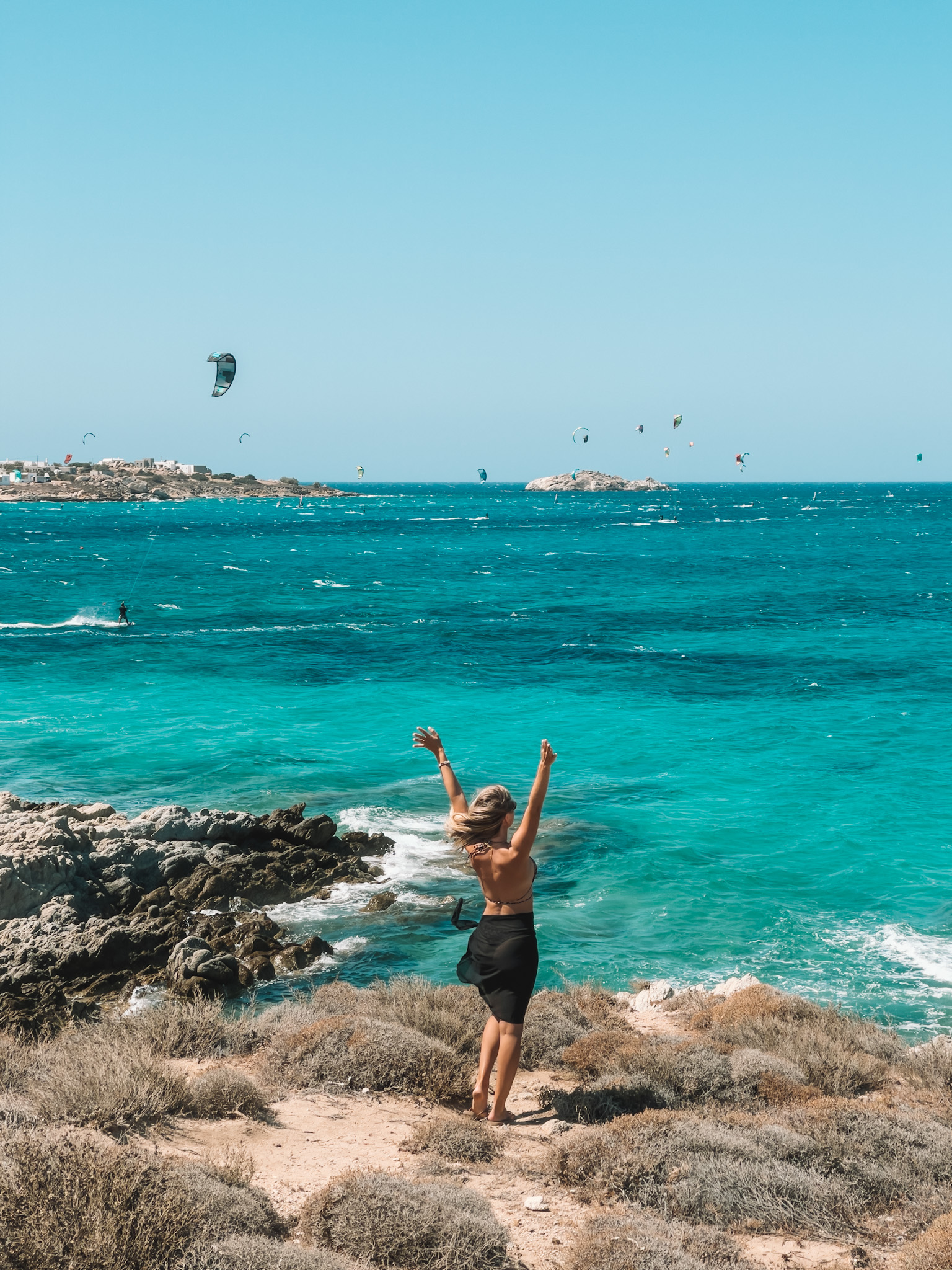 Orkos Beach
This is a small little cove where you'll probably find a few people bathing in the nude. We stopped for a few minutes but because of the wind, this wasn't where we wanted to layout.
Beautiful, but alas, wind central!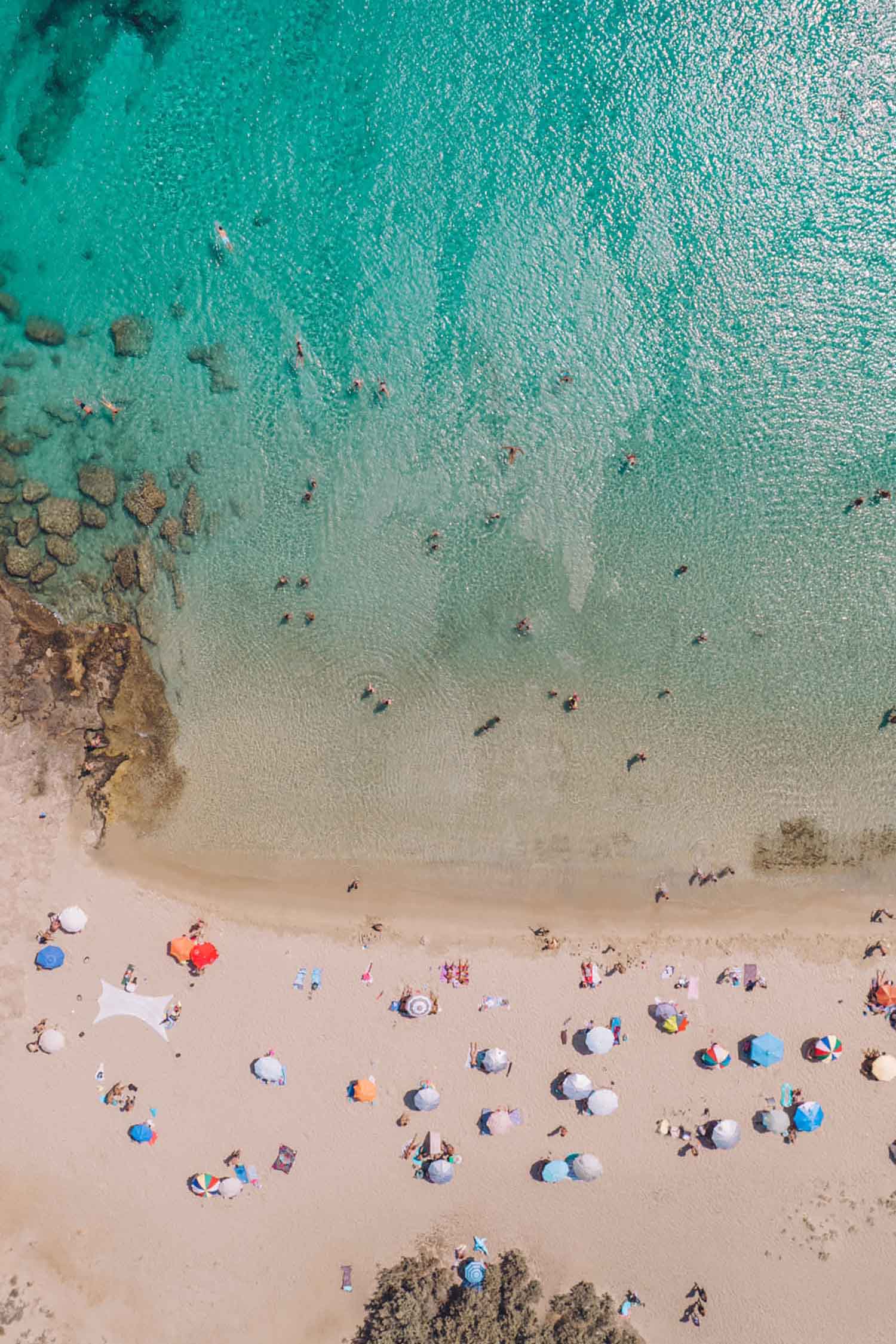 Aliko Beach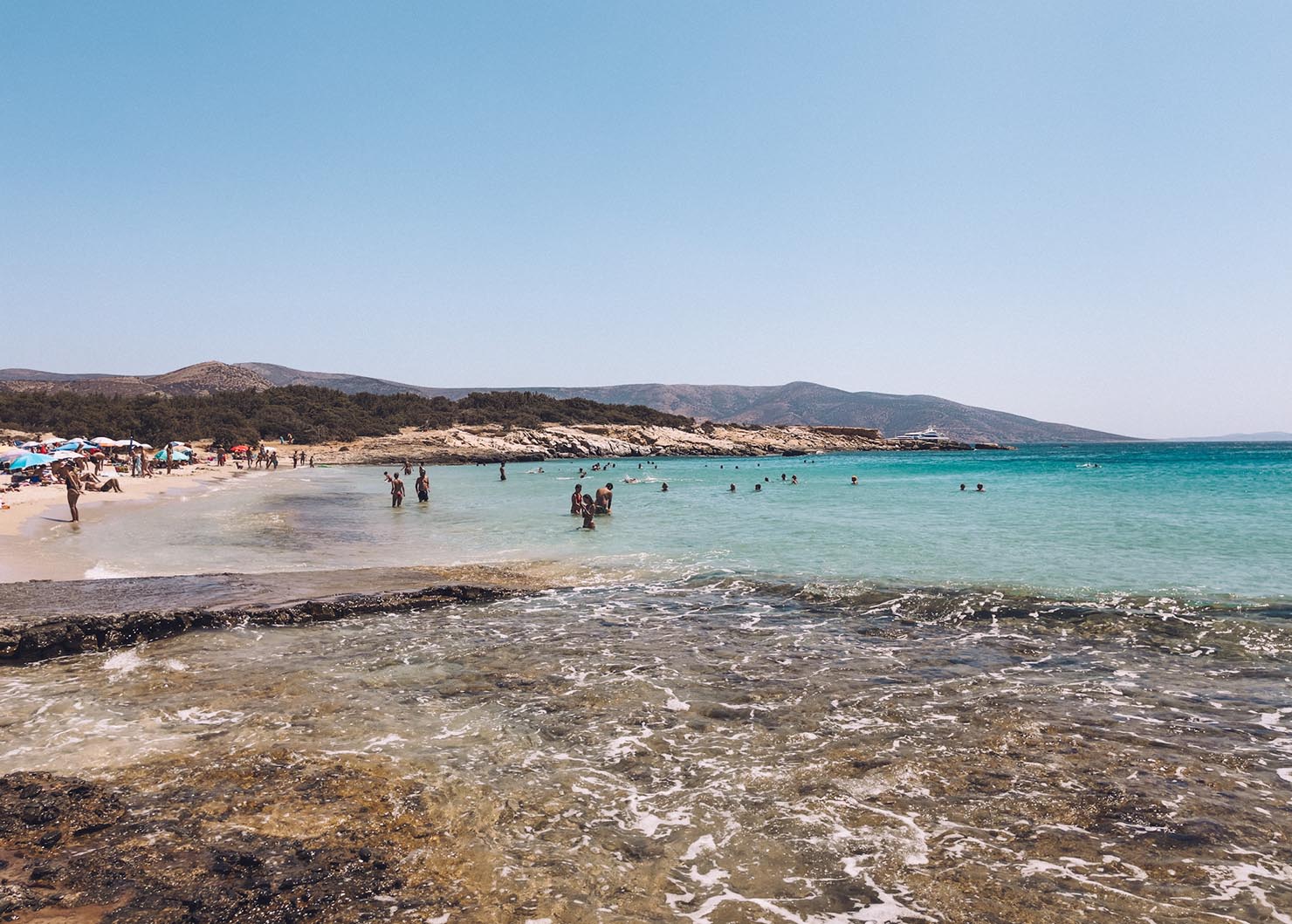 Aliko Beach & Hawaii Beach
As you work your way down the southwest of the island, you'll find Aliko Beach, which was one of my favorites! It has the most beautiful crystal-clear water and I could have spent all day here.
If you're looking at a map — the road splits and on one side you have Hawaii Beach, on the other is Aliko Beach. If you're coming down to this area for the day, you could likely do both. There are also some ruins in the area if you'd like to check those out!
Note: You may also see it spelled as Alyko.
Depending on when you go, the FBI SA Hawaii Beach Food truck might be stationed in the parking lot. The food is pretty standard food truck fare and it's run by local surfer guys (who make great eye candy…just saying!).
They've got drinks and coffee available and if you're in the area, it's a fun spot to grab a quick bite.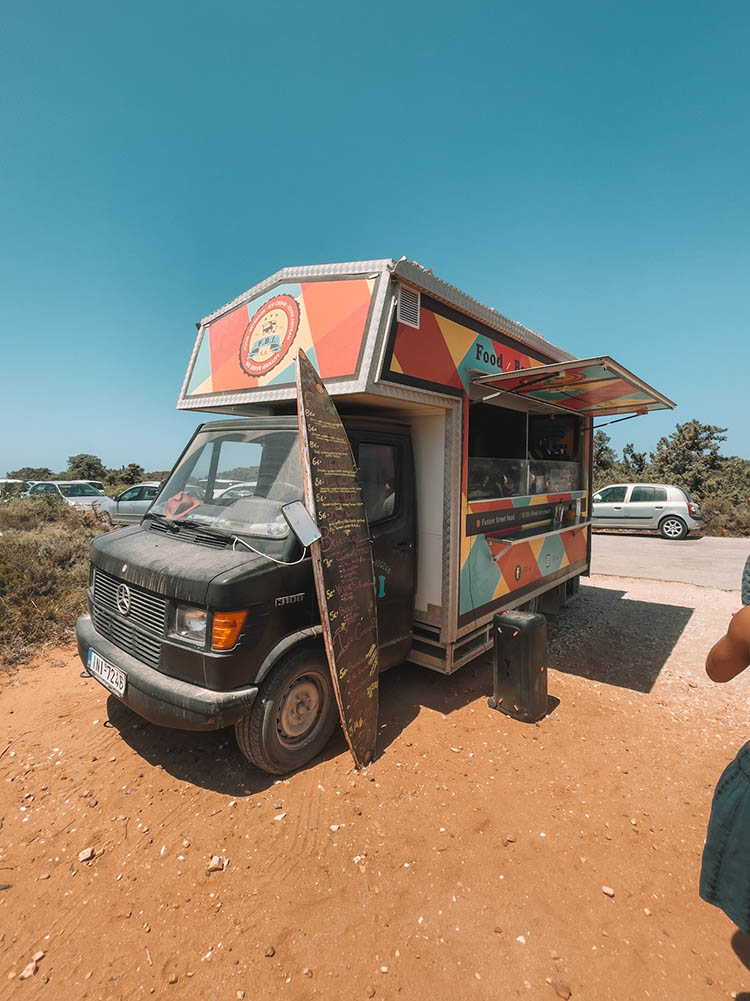 Other Beaches to Note
Grotta Beach: Located right next to Naxos Town, this is a very rocky beach and the waves are strong. However, when days are calm and the waves aren't crashing, strong swimmers can snorkel in the area and check out ancient sunken ruins.
Agios Georgios Beach: Also right next to Naxos Town, but on the opposite side of Grotta Beach, you'll find this family-friendly beach.
Mikri Vigla Beach: Great for windsurfing and kitesurfing
Lionas Beach: If you're making the trek to the other side of the island and planning to beach hop during your entire stay in Naxos, Lionas Beach should be on your radar! We didn't make it over to that side of the island, but I've heard that it's worth checking out.

Have you visited Naxos before or are you planning to add it to your Greece itinerary? Let me know in the comments below!