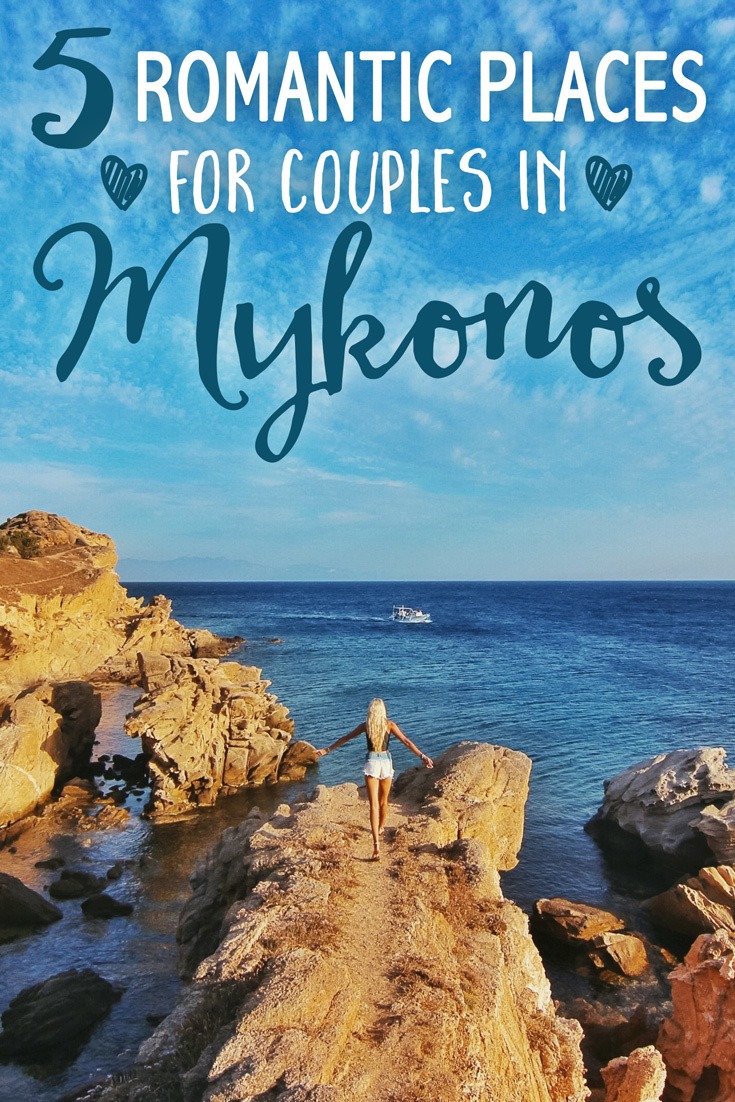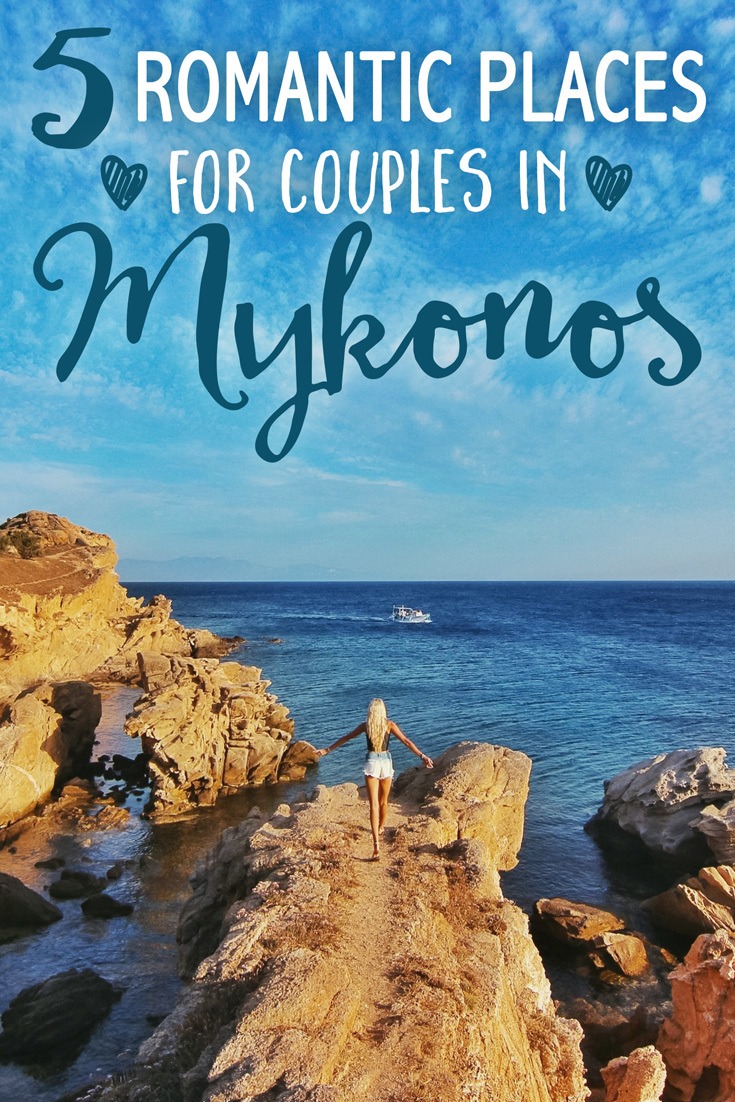 For those of you who are under the impression that Mykonos is nothing more than a party island, you're in for a nice surprise. Mykonos is GORGEOUS. It is relaxing. It has a very "home-y" feel to it.
For those of you traveling to Mykonos with your partner, we know you'll want to escape the party and the crowds at times. Mykonos has an amazing party scene but that is not the only thing it has to offer.
There is much more to Mykonos than the beach parties and night clubs that you see on Instagram.
On Mykonos you'll also find beautiful beaches, friendly locals, delicious food, and a warm culture that seems to captivate travelers.
When you need an escape form the beach parties and night clubs, the following locations will be the perfect get away for you and your lover.
Here are 5 romantic places for couples in Mykonos!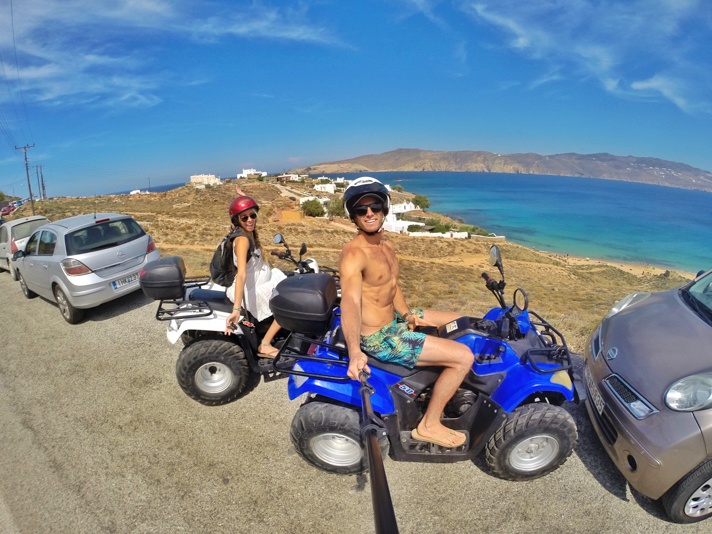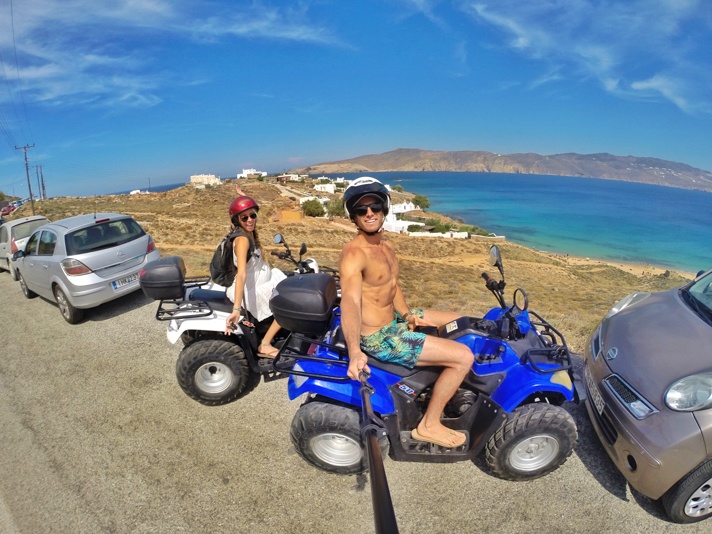 Agios Sostis
Arguably the most gorgeous beach on the island of Mykonos. We had such an incredible experience here basking in the sun, enjoying the beautiful crystal clear blue water, and even indulging in a massage by a local woman who was walking around looking to make money.
Agios Sostis was the first recommendation by one of our friends who is from Crete, so it was of course our first adventure on the island. It set the bar pretty high for the week!
You'll want to rent ATVs when you are on Mykonos as they're the most efficient way to get around the island. Agios Sostis is a bit remote, so have a fun ATV ride with your partner as you cruise across the island!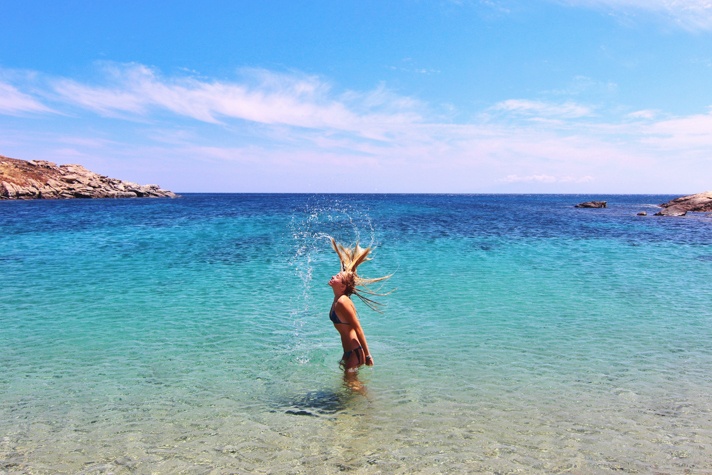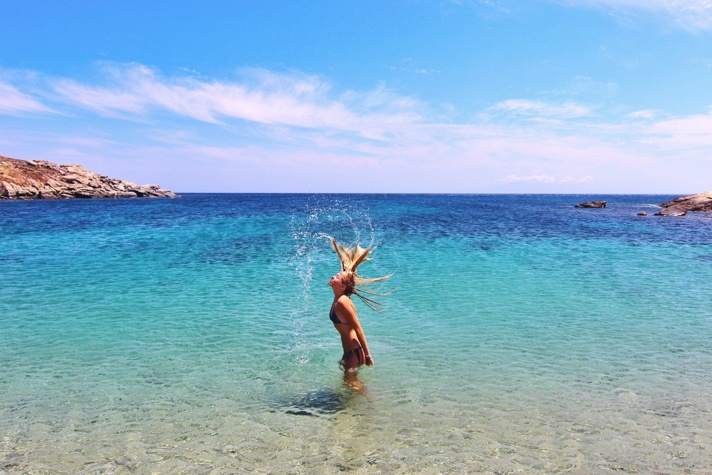 Lia Beach
Lia Beach is a great spot to get away, lay on a beach chair, and drink a frappe under an umbrella.
There is a cute little restaurant near the beach that has an amazing bowl of Greek Yogurt and some delicious frappes (essentially instant iced coffee with foam…trust us, you'll be drinking these all over Greece).
The water at Lia is gorgeous, just like almost every beach on Mykonos, and the rocks surrounding the beach on either side give it an even more secluded vibe. If you venture over the rocks to the left and walk up and over the hill, you'll find a private beach.
Be bold and go nude! It's the Mykonos way.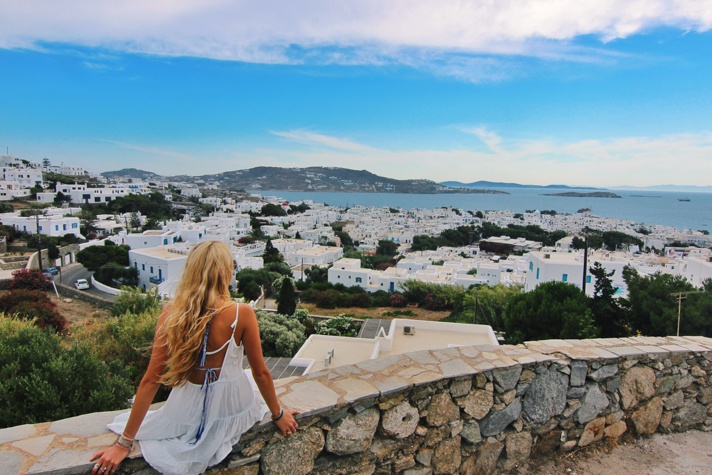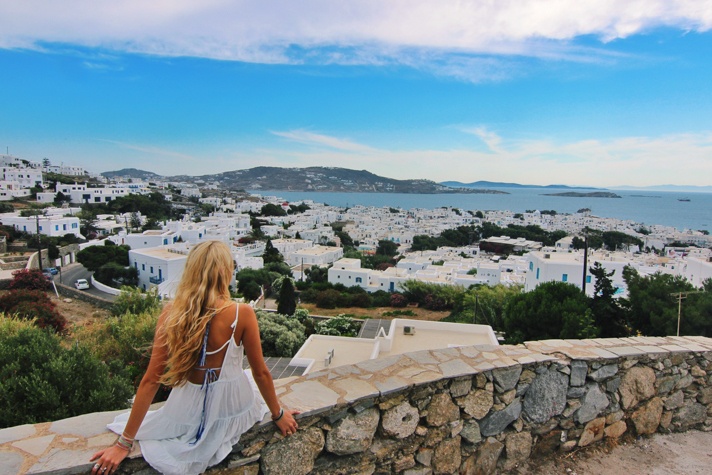 Little Venice
Where the western most part of Mykonos Town meets the sea you will find Little Venice. Just simply walking along the sea can be quite romantic and enjoyable for you and your partner but you're sure to love the food, shops, and people you'll meet.
The buildings are built right up to the waterfront which gives it the vibe of the Venice canals. Historically this architectural design offered the locals the ability to load and off-load goods to/from boats quickly and efficiently.
For us, in present day, it just looks beautiful!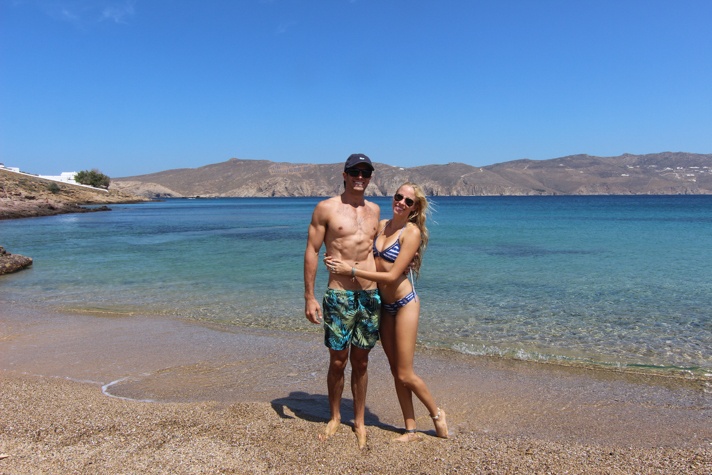 Agios Stefanos
We probably would not have discovered this beach if it wasn't for the fact that our hostel was on the hill above it. Agios Stefanos is a western facing beach (i.e. perfect for sunset) and is not particularly crowded.
You're sure to enjoy the number of restaurants lining the beach and the opportunity to have a server bring you food and drinks to your chair and umbrella.
Being in close proximity (just north) to the Mykonos port, you'll also be able to watch a number of large cruise ships come in and out of Mykonos.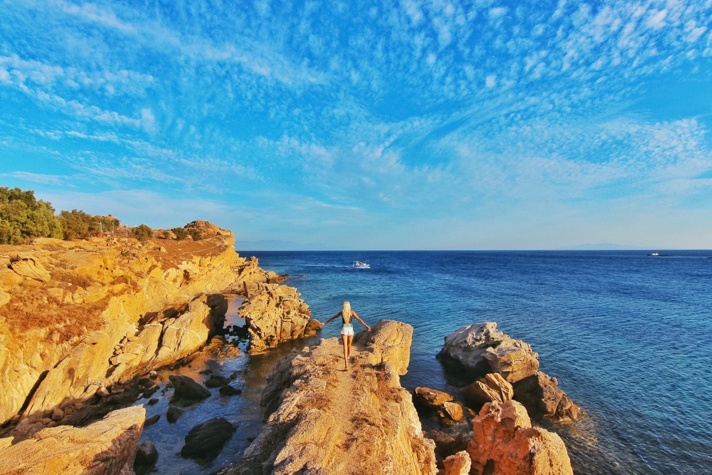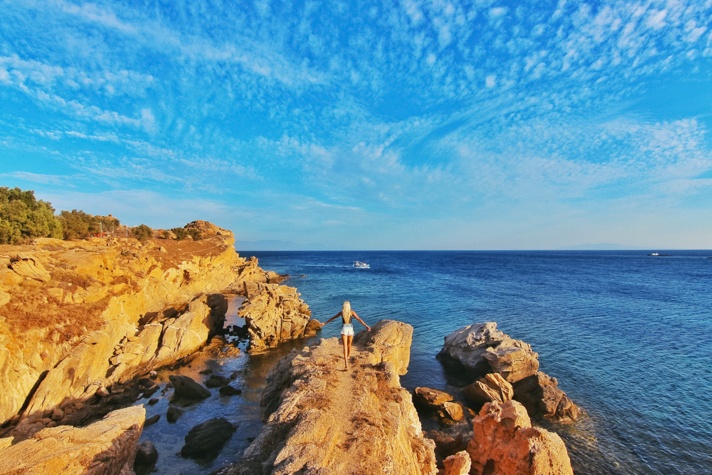 Paraga Beach
Praga Beach is a great spot for relaxing, partying, and exploring with your lover. Kalua Beach Bar is an awesome spot to enjoy some drinks on the beach.
You can even swim out to the rock that is just off shore and sit in the middle of the bay. Golden hour and sunset from Praga are something you and your partner will definitely love as well…it's gorgeous over there!
If you're into taking a small hike, you can hike toward Paradise Beach (toward the east) and you'll enjoy some incredible views of the south side of Mykonos with some incredible cliffs and rocks and breathtaking beaches.