Portland has an undeniable cool factor. From the buzzing craft beer and foodie scene to the thriving arts community to the tranquil urban oases dotting this city, it has an irresistible charm.
And fun fact: Did you know that the city got its name from a coin toss?
The smallest twist of fate would have had us talking about Boston, Oregon right now. At the ​​Oregon Historical Society, you can see the famous "Portland Penny" that changed it all.
You probably already know that the city has a rich history and there are tons of things to do in Portland, so let's dig a bit deeper. Forget the tourist traps and see what really makes this city so special.
Whether you are planning the ultimate One-Week Pacific Northwest Road Trip or just looking for a quick holiday, Portland makes a great weekend getaway in the US!
Oh, and if you're really in the mood for donuts, I prefer Blue Star Donuts over Voodoo Doughnuts. But feel free to sample both. 😉
From Powell's City of Books to iconic landmarks, here are the top things to do in Portland!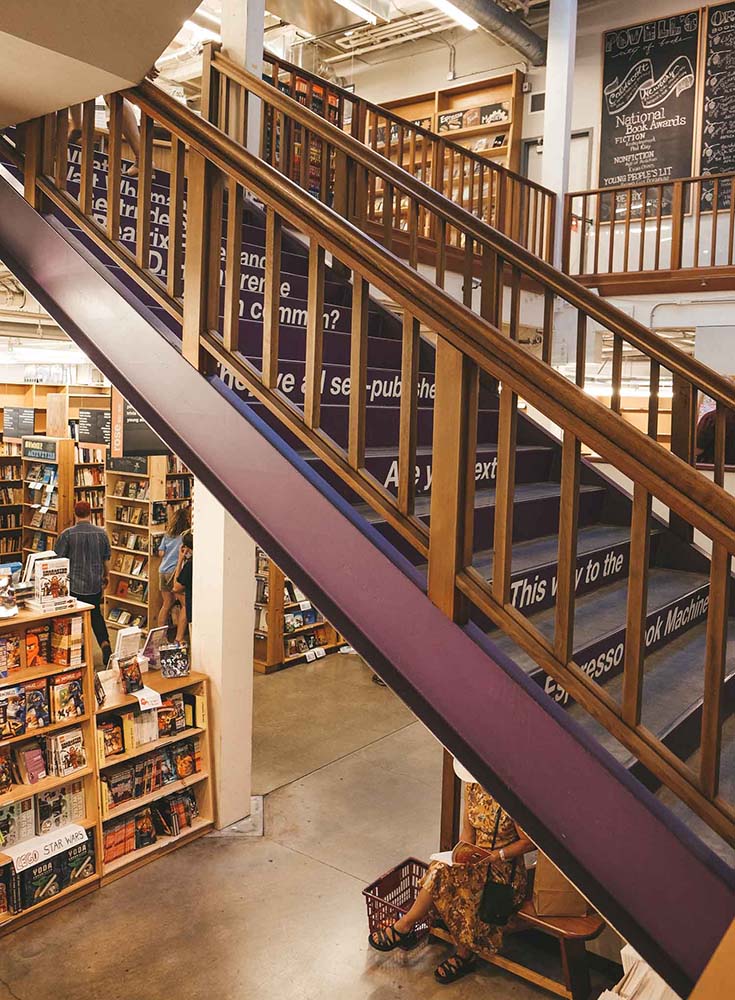 Powell's City of Books and Pearl District
When it comes to things to do in Portland, you'll find the iconic Powell's City of Books at the top of every list.
This multilevel bookstore is a maze of the best new and used books on the planet. In fact, it is the largest independent bookstore on the planet and that is something that Portland is more than a little proud of.
The bookstore is located in the Pearl District. Just between Old Town/ Chinatown and Downtown, you'll find this gem of a neighborhood. Explore art galleries, boutique shops, craft breweries, and foodie delights, then make your way over to Jamison Square Park for a tranquil oasis.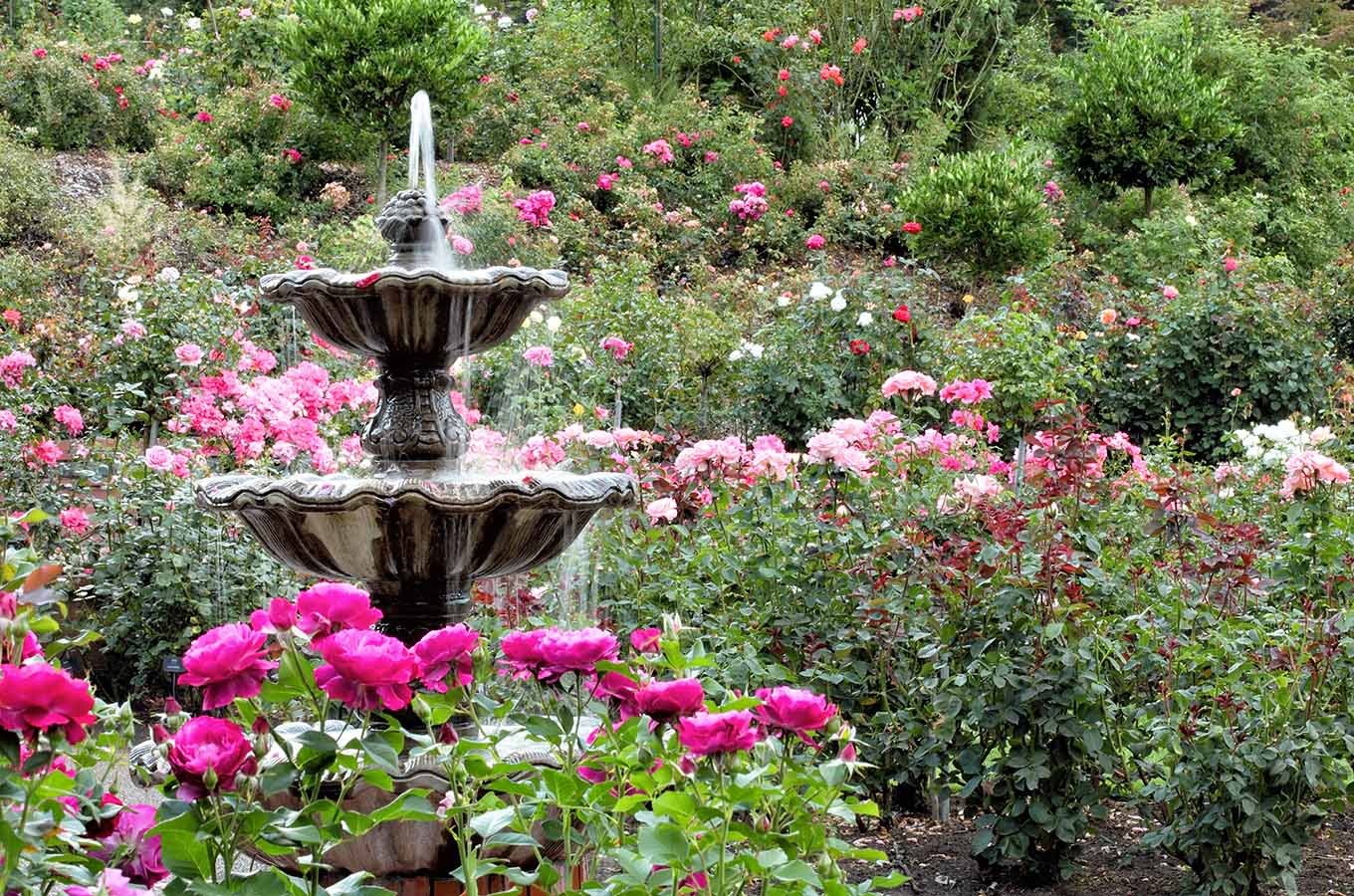 International Rose Test Garden
Home to more than 10,000 rose bushes and countless blossoms, this is a prime place to stop and smell the roses. There are more than 600 hundred different types of roses here. The sheer scale of it all will take your breath away.
This place has been going ever since World War I, when specialists around the planet came together to send all of their rose varieties here for a truly world-class collection.
Helpful Tip:
Planning Tip: When it comes to things to do in Portland, Oregon, there is a whole lot to enjoy in the great outdoors. If you're looking for al fresco adventures, be sure to check out Best Time to Travel to Portland (because, yeah, it really does rain a lot!).

Pittock Mansion
Back in 1860, the Pittock family started The Oregonian, and it is still one of the most widely read papers today. Within a few years, the family had become famous throughout the state and ready to build their own castle.
In 1914, they began construction on the Pittock Mansion. This epic abode was perfectly placed for unparalleled views of Portland, the Willamette River, and the Cascade Mountains.


5th Avenue Food Cart Pod
From gluten-free Brazilian-Latin-Korean fusion to Japanese sandwiches, you won't find a more diverse menu than at 5th Avenue Food Cart Pod.
It is one of the best places to go in Portland to discover unusual local eats.
Go on a food tour to get a bit of everything, or eat way down the line. And do plan ahead. Catering to the downtown office crowd, many of these places are only open at lunchtime. Check the full lineup and schedules before you go.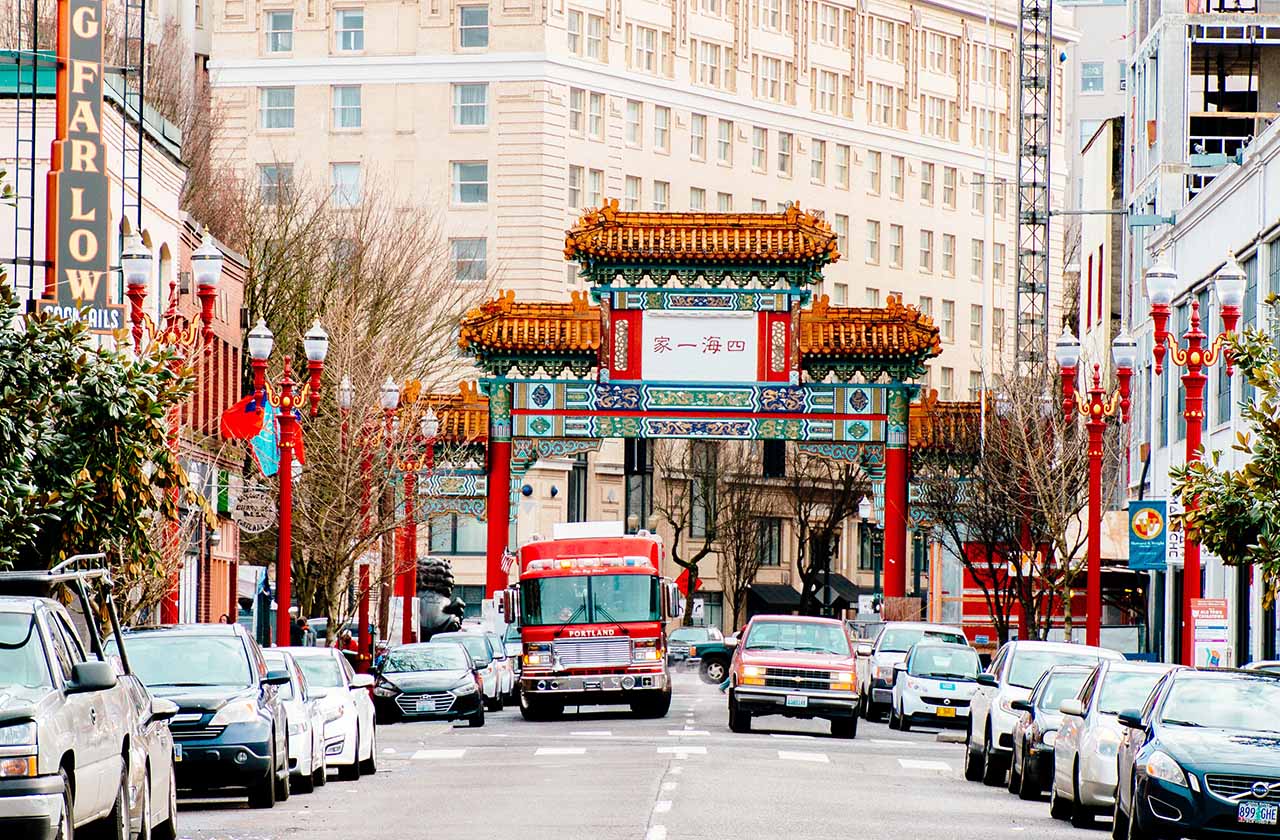 Make sure to learn about the Shanghai tunnels!
Old Town Chinatown
This historical central district is a fascinating blend of old and new, western and eastern. It is one of the city's old neighborhoods and it's full of teahouses, beautiful architecture, and some of the best food in Portland.
Used from the mid-19th century to the 1940s, the Shanghai Tunnels has a sordid history straight out of Hollywood.
You'll absolutely never forget the stories that you hear on these bizarre tours. Shanghai tunnels, also known as The Old Portland Underground, are easily one of the most unusual and best things to do in Portland.

St. John's Bridge
This iconic steel suspension bridge spans 4,000-foot over the Willamette River. On a clear day, you can get a view of Mt. Hood from there then explore the green space below. It's an essential photo op and, if you have more time, walk or bike across and explore the wider region.
Fun Fact: This bridge was actually built as a "test" project for the Golden Gate. The same people who created the United States' most famous bridge also worked on this.

Go Vintage Shopping
When it comes to vintage shopping, Portland is unbeatable. In fact, this city has more second-hand shops per capita than anywhere else in the world. From records to rain boots, you'll find one-of-a-kind pieces everywhere here.
Check out the official guide to Portland vintage shops, then shop 'til you drop with these green alternative stores.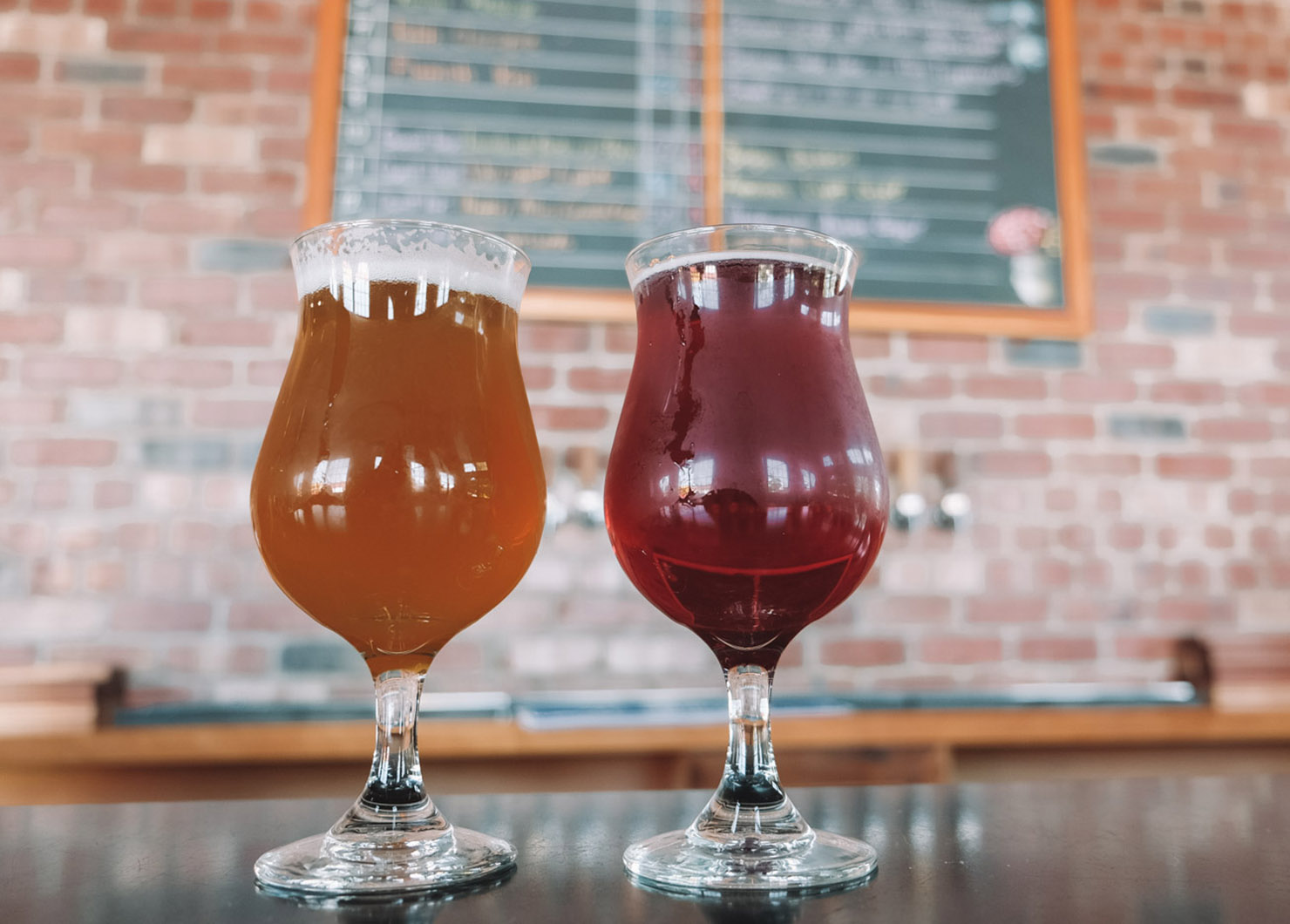 Brewery Tour
Portland is one of the Beer Capitals in the World. Long before everyone else was doing it, Portland was paving the way (isn't that always the case for these hipsters!). Way back in the 80s they started producing world-class craft beers.
Since then, brewski lovers in the know started calling the city Beervana.
Just within the city limits, you'll find more than 50 breweries. Explore the unique Oregon hops and that oh-so-special Pacific Northwest water.
There are tons of options, but if you do only one, get to Widmer Brothers Brewing for a guided tour. If you're more of a whiskey lover, make a beeline for the Multnomah Whiskey Library.
Planning tip: Portland is one of my top picks for solo trips for women because there are so many organized tours like this. Whether it's a brewery, a food tour, or a museum, there are countless ways to meet fellow travelers and have a great time while going solo.



Lan Su Chinese Garden
Portland has a sister city in Suzhou, in the Jiangsu province of China. After establishing this partnership, artists came over from Suzhou and created Lan Su. It's meant to give the people of Oregon a taste of the famous Ming Dynasty gardens in Jiangsu.
Lan Su Chinese Gardens are a perfect place for peaceful afternoons under the sun (or clouds!). And they've got a busy calendar of events and programs so check it out before you.

Witch's Castle
Hike through Forest Park to the Witch's Castle, also known as The Stone House and Macleay Park Shelter.
It's about a 15-minute hike from the Upper Macleay Parking. While it's not far, it is a bit of a trek up so come prepared.
There are countless legends about the infamous Witch's Castle and the surrounding forest. Read up on the history online, especially my personal fave tale of Oregon's own Romeo and Juliet.
Planning Ttp: Inspired to keep on truckin' through the lush forest and beyond? Check out my Top Spots to Visit on a Pacific Northwest Road Trip.

Bonus
Choosing the best things to do in Portland was mission impossible! There are so many hidden gems and must-see attractions. I can't end this list without adding a couple of my other favorites that are well worth checking out if you can swing it.
Portland Saturday Market in Old Town
The biggest arts and crafts market in the United States is in Portland (of course!).
If you're lucky enough to be in town on a Saturday, be sure to pay a visit. You'll find the outdoor market at Tom McCall Waterfront Park every Saturday from 10 am to 5pm.
Day Trip to Waterfalls
Perfect for couples travel, girlfriend getaways, or solo trips, an Oregon road trip will show you the best of the best.
If you're crunched for time and can only do a one-day trip outside of the city, head east of Portland to the Columbia River Gorge and see the magical Multnomah Falls.
You can also continue on an easy hike to Wahclella Falls.
Or get adventurous traversing icy creeks and the infamous "log jam" to get to Lower Oneonta Falls. Of course, keep in mind this is the Pacific Northwest! That means bring a raincoat and a good pair of hiking boots.

Feeling inspired to extend your trip? Get inspired by a rundown of my top places to visit in Oregon that aren't Portland.