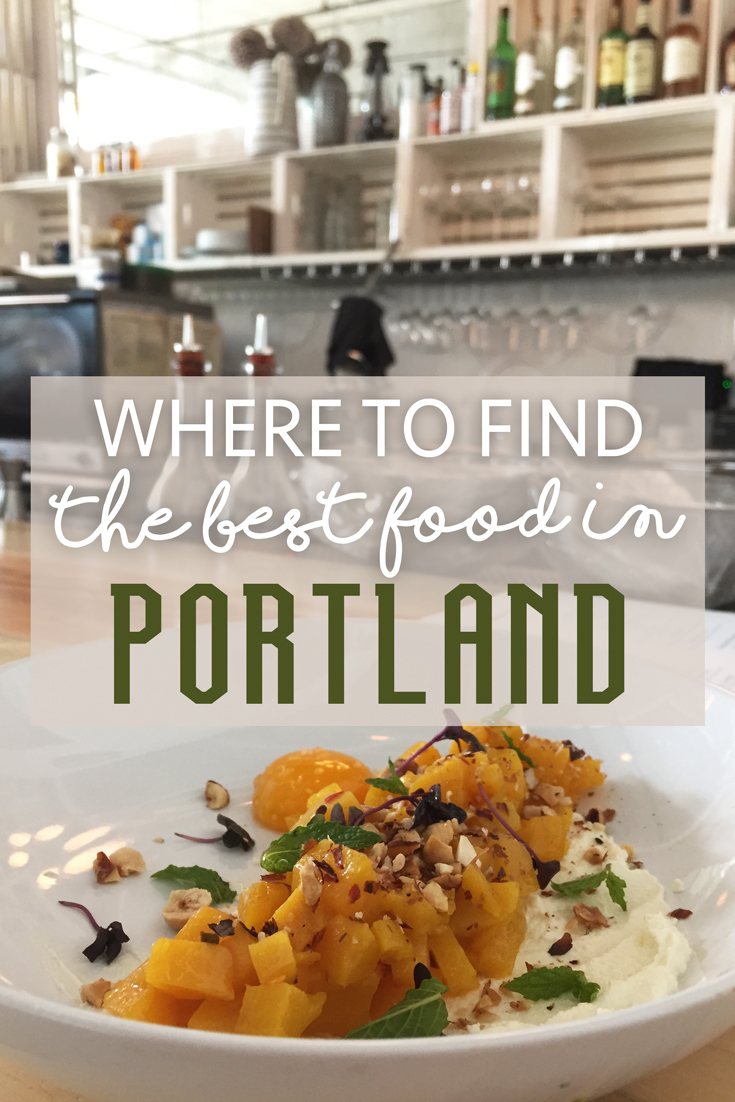 Portland– known as a city placed down right in the middle of some stunning, dramatic nature, known for the world's largest independent bookstore, Powell's, known for it's grungy vibes, creative minds, a little show called Portlandia, and also, for the food.  
I'd been wanting to get to Portland for years. For some reason it was always high at the top of my US to go to list and over the 4th of July this summer, I finally made it happen.  
As is usually the way when I do any sort of city travel, I had with me a long food wish list, a couple of reservations already in place, and a giant appetite in tow.  
Here are the highlights and where to find the best food in Portland!

Coquine
High up in the hills of rolling PDX, Coquine is a special little place that the Mt. Tabor area is very lucky to have. It's totally simple at first glance, but the food was unique and extremely good. Go for a seasonal salad or two to start, a gruyere and brioche breakfast sandwich, and don't sleep on the peach and ricotta toast either.  
It rivals the OG (avocado) toast with ease.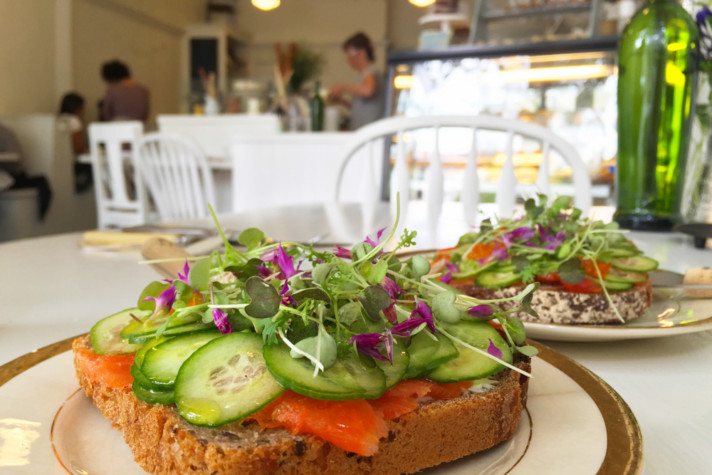 Maurice
If Paris cafes merged with Portland ones, Maurice is what would be waiting. With every element that comprises Maurice given extreme care and attention, your eyes and senses will be swirling the moment you step inside.  
Coined as a modern pastry luncheonette, found inside is a soft and serene decor and gorgeously curated dishes like gravlax and pickled cucumbers on toast, radishes with butter and quiche with simple greens.  

Mother's Bistro
Enjoy the delicious and homemade favorites at Mother's Bistro. You'll find kitchen classics like crunchy Belgian waffles, portobello scrambles, and homemade biscuits topped with gravy.
Mother's Bistro opened in 2000 as a small 90-seat restaurant. It was the child of chef Lisa Schroeder who first envisioned a menu full of timeless dishes made by mothers.
Join the rest of the brunch-goers at this popular restaurant or come back later for the slow-cooked pot roast and crab cakes!

Salt & Straw
Go, get on the sure to be long line, test your patience, read the daily flavors menu, taste test, choose the lavender for at least one of your scoops (you're obviously having more than one), and enjoy.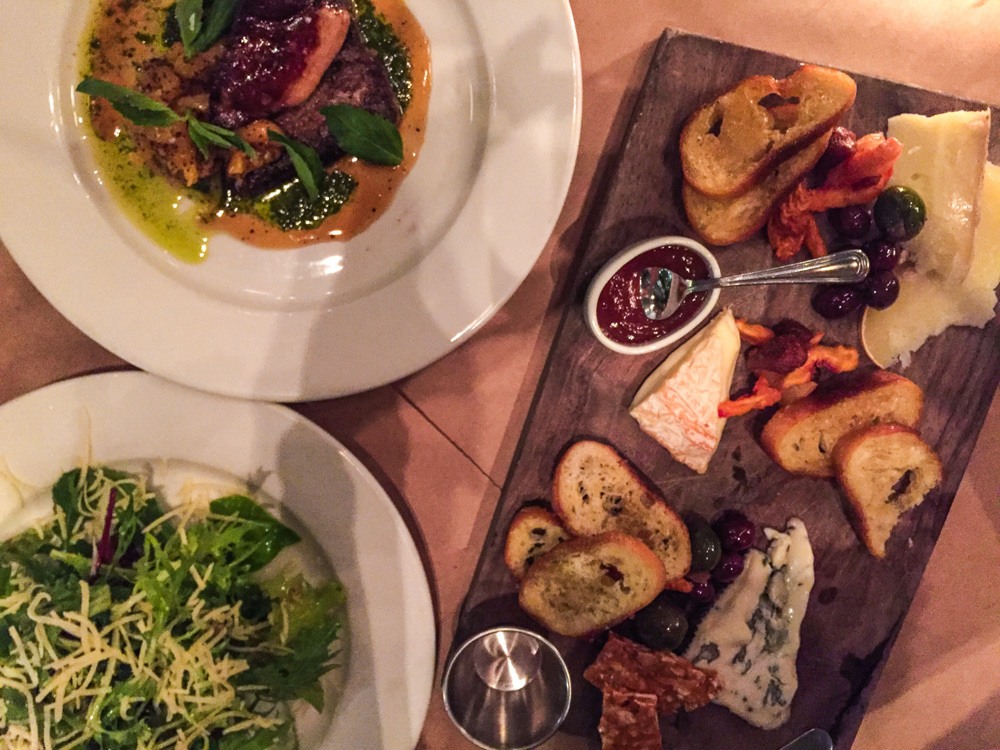 Little Bird
Little Bird is a beautiful experience from the start. While it is certainly on the nicer end of the spectrum, it never feels too fancy, or too forced. As someone who always appreciates a restaurant who can keep a casual vibe while simultaneously providing service and food that mirrors and exemplifies sophistication,
I found that Little Bird managed this perfectly.  
The cheese plate is awesome, dotted with olives, jams, pickled peppers and breads, and the rest of the menu follows suit. All of the dishes are meticulously prepared, yet are light hearted and creative all the same.

Pok Pok
Pok Pok is a Portland classic that emerged from a food cart and now even has an offshoot in New York. The food is Thai with a modern, sophisticated twist, perfected by award-winning chef Andy Ricker.
Inside, the darkly furnished interior gives off an intimate, pub-like vibe. You absolutely must try the delicately grilled chicken legs, the house-made curries and the mouth-watering soups.

Olympia Oyster Bar
If you close your eyes and envision a light, lofty space, with a crisp, subtly accented decor, and a nautical, chic beachy vibe, you'll find yourself in the space of Olympia Oyster Bar. This is my ideal kind of setting, so Olympia admittedly drew me right in.
Oysters are a large part of the focus here, but certainly not the only one. They come in both a simple variety as well as with a wildly different approach to them; think crisped with shredded phyllo, smoked avocado, serrano pepper jam, morimoto dust or on a tostada with cumin crema, ancho chile, avocado and red cabbage.
Following that are about a dozen small plates, like a golden beet tartare with hen yolk, whipped chèvre, hazelnuts, mint and basil or a manila clam linguini mixed with fennel, leek, smoked goat butter and wine.  
You get the picture.  

Ava Genes
I ate here alone after my friends had already departed, and also straight after the aforementioned meal at Olympia Oyster Bar (the secret strategy of someone trying to hit as much as possible during a quick weekend getaway!), so while I didn't get a full food experience at Ava Genes, I did dip my toes in just enough to get a feel for things.
The decor feels strong, with mahogany seating and bars, and at least five dozen lights strung above. I sat at the chef's counter and had a sheep cheese, cherry tomato and basil bread that blew my mind, and a simple cacio y pepe to follow. These dishes got me intrigued and wanting more, but there was sadly no time, or frankly, any room.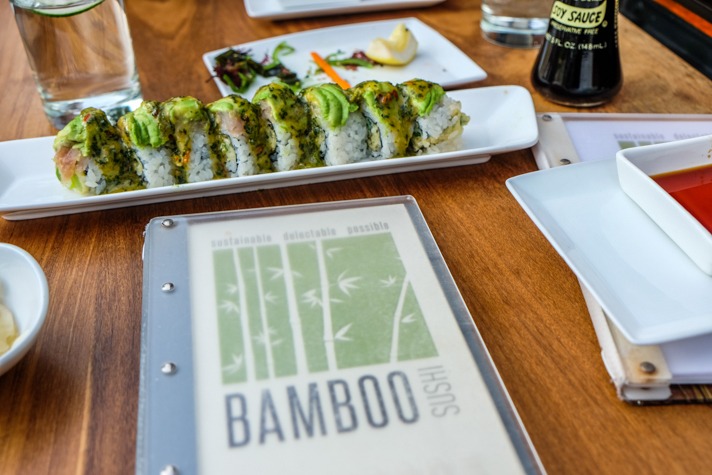 Bamboo Sushi
Bamboo Sushi is one of the first sustainable sushi joints in the country. Their vibe is stylish and chic, the food phenomenal.
With three sleek locations across town and mouth-watering dishes, it's no wonder that they remain one of the most popular places to impress a date.
The menu includes chargrilled shishito peppers, mackerel drizzled in red chile oil, braised short ribs, and of course top-grade sashimi. Top it all off with one of their signature cocktails or impressive choice of sake.

Read More

SHOP my favorite Portland-inspired outfits!