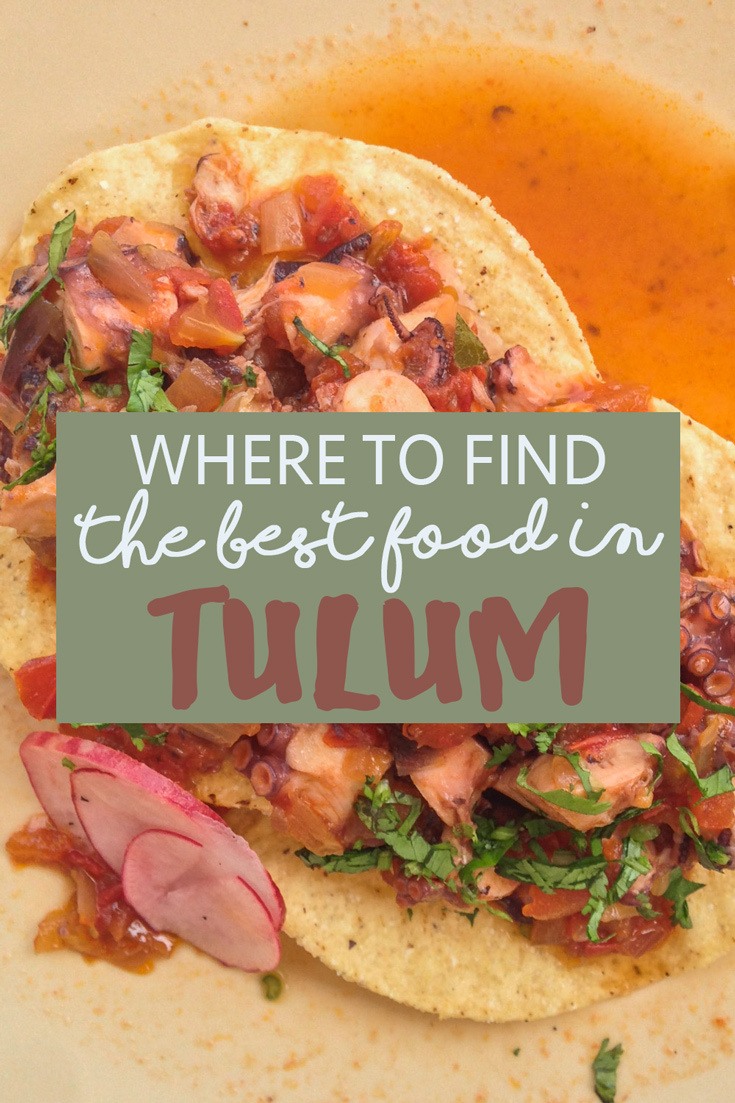 Tulum was a destination that certainly surpassed my expectations.  I thought Tulum was just going to be some touristy feeling stereotypical Mexican destination with too many Americans and not enough spark.  I was completely wrong.
What Tulum actually is is an awesome place for a long weekend getaway, chalk full of white sand sprawling beaches and turquoise waters, incredibly unique restaurants and a night scene that's sexy and dreamy all in one.
The main part of Tulum (though not the authentic, original side of Tulum) is based around one very long dirt road, with the beach in front of it and the jungle behind it.  Every hotel and restaurant obviously sits on one side or the other, giving each venue maximum chill beach vibes or a funky jungle feel.  
Roll out of your hotel onto the beach by day, drop in a yoga session or two, eat a taco, swim in a cave, plan for the night with some help from the below, and then get out there and have some fun. The following restaurants are ranked in order of my overall enjoyment of them though really, all were pretty damn impressive.  
Here's where to find the best food in Tulum!

El Camello
Dusty cement floors, white plastic chairs, no frills- this roadside joint was totally authentic (it's outside of the main strip of Tulum, in the less developed town).
Founded by local Mexican fisherman, at El Camello is all fish, all the time.  Your main choices focus around ceviche, pulpo, and whole fish, all of which can be ordered literally by the boatload, feeding a huge, hungry group without flinching.  

Casa Jaguar
I loved it here.  The quirky and cool jungle-like ambience, the creative (though somewhat sweet) drinks, the inventive and highly flavorful dishes.  I'm putting Casa Jaguar at the very top of my list, which is quite a feat considering how impressed I was overall by the chic dining scene in this small but bustling coastal town in Mexico.  
For some reason the wait for a table was actually the shortest here; in whatever you read, it is often suggested to put your name down at Hartwood and then wander down the street to Casa Jaguar for drinks.  I'd scratch that- go to Jaguar for food and drinks, definitely not just the ladder.
The scallop crudo was incomprehensibly good, peppered with juices and spices that brought this fish to life in a way I didn't realize possible.  The ceviche was diced with apples, corn nuts, cabbage, onions and topped with sprouts.  It was excellent.  
And the whole fish was smothered with rosemary, olive oil, salt, pepper, potatoes and lemons, making this take on the usually chicken-centric dish work incredibly well.  Make sure you get yourself the mashed plantains, too- they're out of this world.

Posada Margherita
Posada Margherita truly is just that; a restaurant that essentially feels like a beautiful, warm, rustic and meticulously decorated home, with Italian food at its core.  
Like so many others in Tulum, the setup is open-air and the turquoise Gulf waters hover at the end of your line of site, making the space even more breathtaking than it already is.  Dozens of candles light the sprawling space, making way to white-washed tables, an art-deco kind of garden out back, and a boutique store in the front.  
An impressive bread and cheese board is every table's greeting, the rosemary focaccia being a stand out.  The menu is intimate, and the pastas are what rule.  Posada is a must-do when in Tulum.

Gitano
Gitano is awesome.  It's a restaurant, mezcal bar, and a dance floor with a live DJ situation, all in one.  Even though you're in the jungle, the vibe and look of the bar at Gitano is pure New York, in the best possible way.  
The bar is the centerpiece here, with low lit shelves stocked with bottles and a sexy group of bartenders serving from them.  The rest of the space is used for dining and while the food was not the best I had in Tulum, Gitano still made its mark overall.

Coqui Coqui
If in the future I find myself with the opportunity to stay at Coqui Coqui, I absolutely will.  While this time around I did not get the chance to see what any of the seven rooms at this boutique hotel looked like, based on the rest of the design and feel here, I can guarantee that they are immaculate.
Walk into Coqui Coqui and you immediately have a feeling of calm, serenity, style and fiercely good taste.  I had both breakfast and lunch here (they do not offer dinner), each meal fulfilling the desire for fresh and flavorsome food, with the sand as your floor and the water again as your view.  
The polpo here was mixed with goat cheese, cabbage, spinach and grape tomatoes, and it was my favorite of the week.

Read More

SHOP these Mexico travel essentials!