Ah, Tulum. Mexico's slice of paradise on the Caribbean Coast.
In recent years Tulum has become the place to go for boho vibes, pristine beaches, delicious and health-focused food, yoga and a very relaxed party scene. Alex of Roam & Thrive is here to give us the low-down with her wellness travel guide to Tulum, Mexico!
Since I first visited Tulum, it's been my go-to place for complete rest, rejuvenation and relaxation and I've been exploring everything it has to offer since.
I personally like to spend at least a week there to fully enjoy everything on offer at a relaxed pace as well as being able to completely unwind.
From where to stay to places to eat and all the major highlights in between, here's the ultimate wellness guide to Tulum!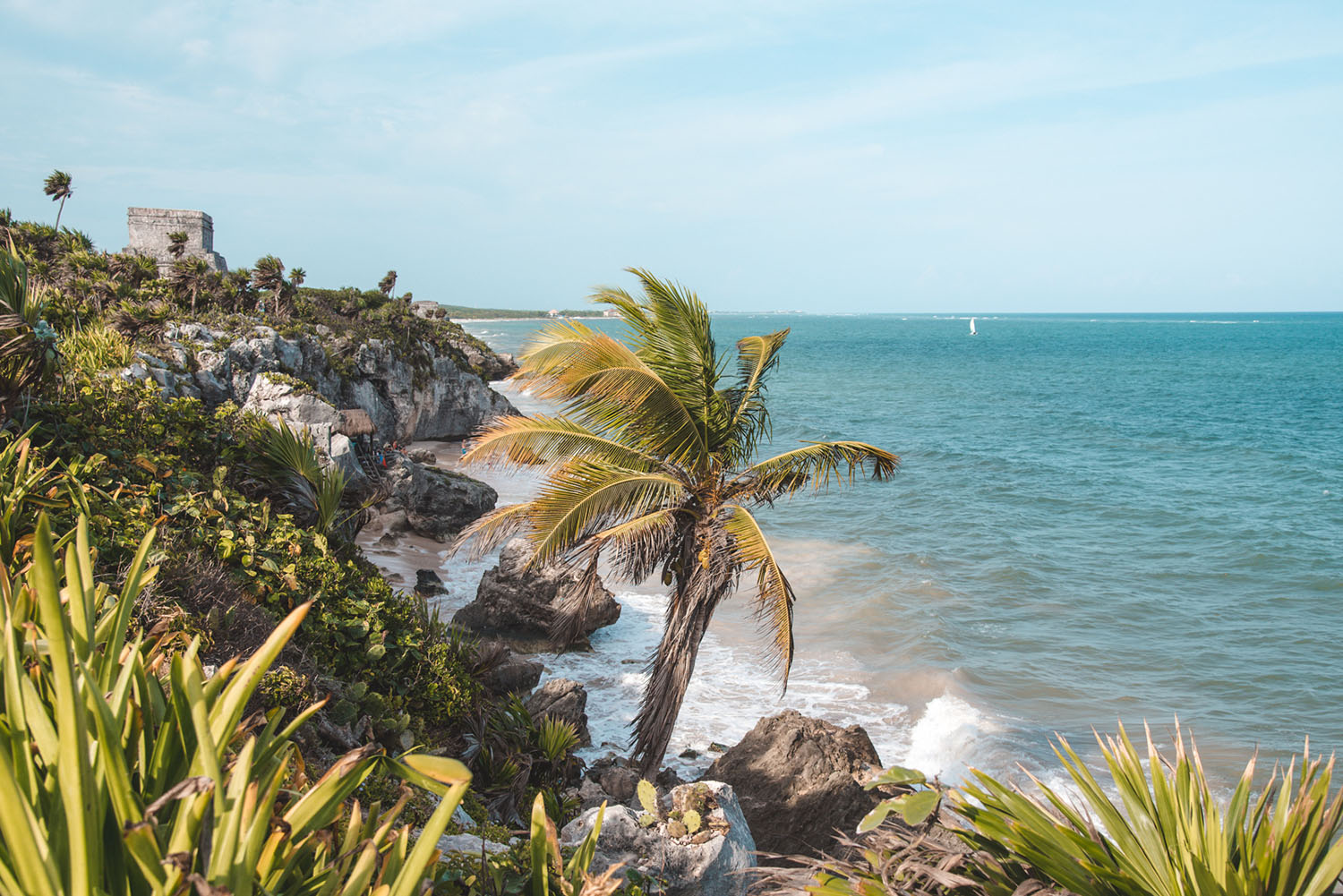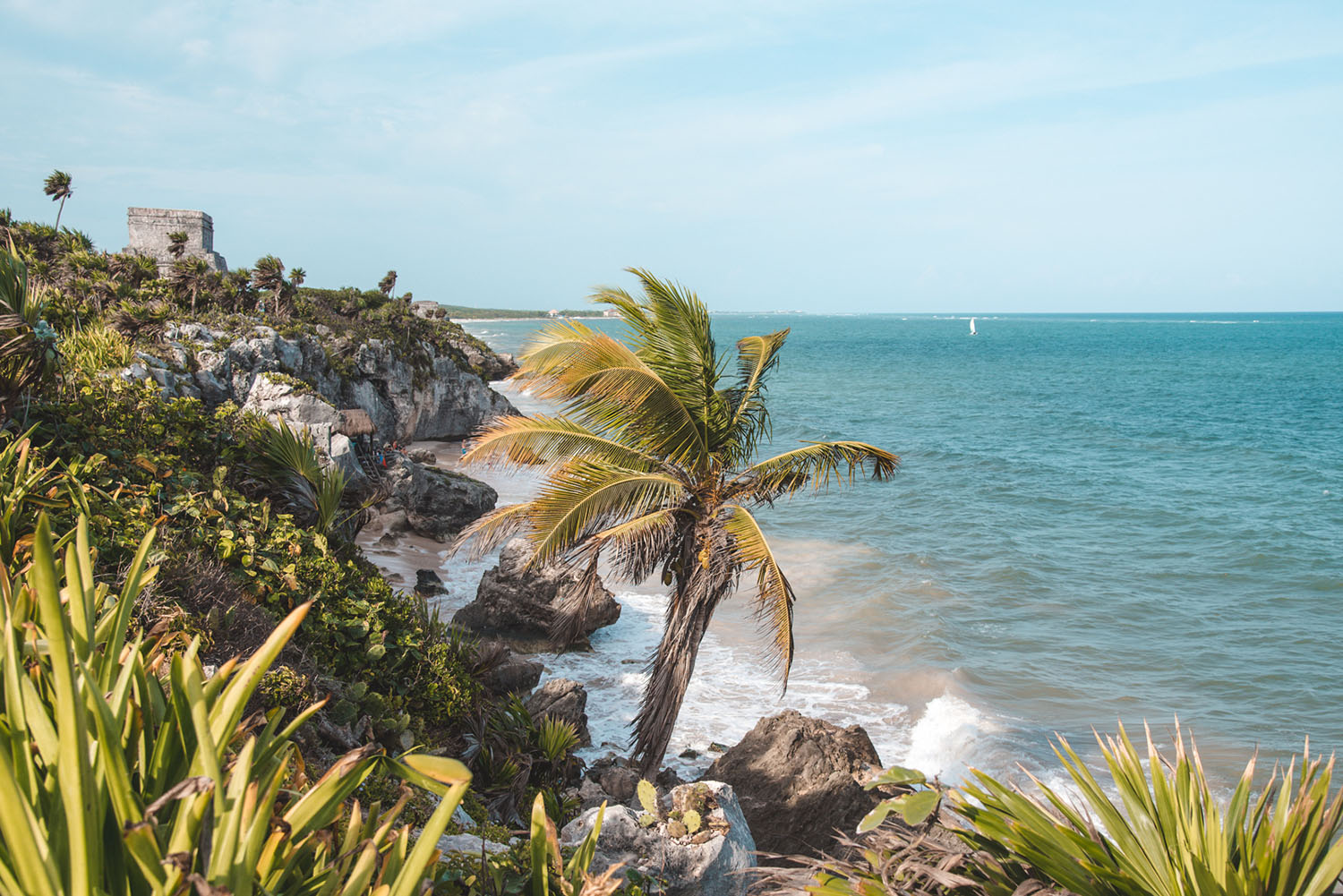 The Best  Time to Visit
Tulum enjoys a warm and tropical climate all year round, making it a great place to visit at any time of year.
The high season which is also the dry/winter season runs from November-April when temperatures are pleasant. You can also expect high season crowds and high prices from June-August.
Low season/rainy season, runs from September-December. Prices fall dramatically during this time and you'll no doubt be able to snap up a great deal. It's my favorite time to go as there are fewer people and while it does rain sometimes, it's not enough to dampen your spirits or your beach fun.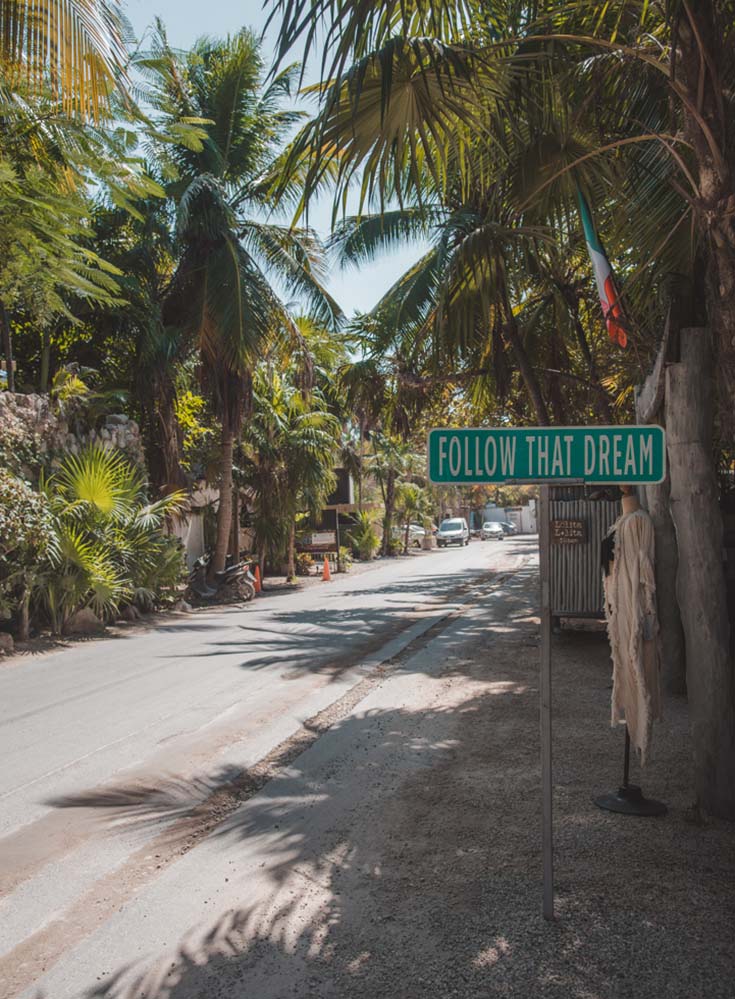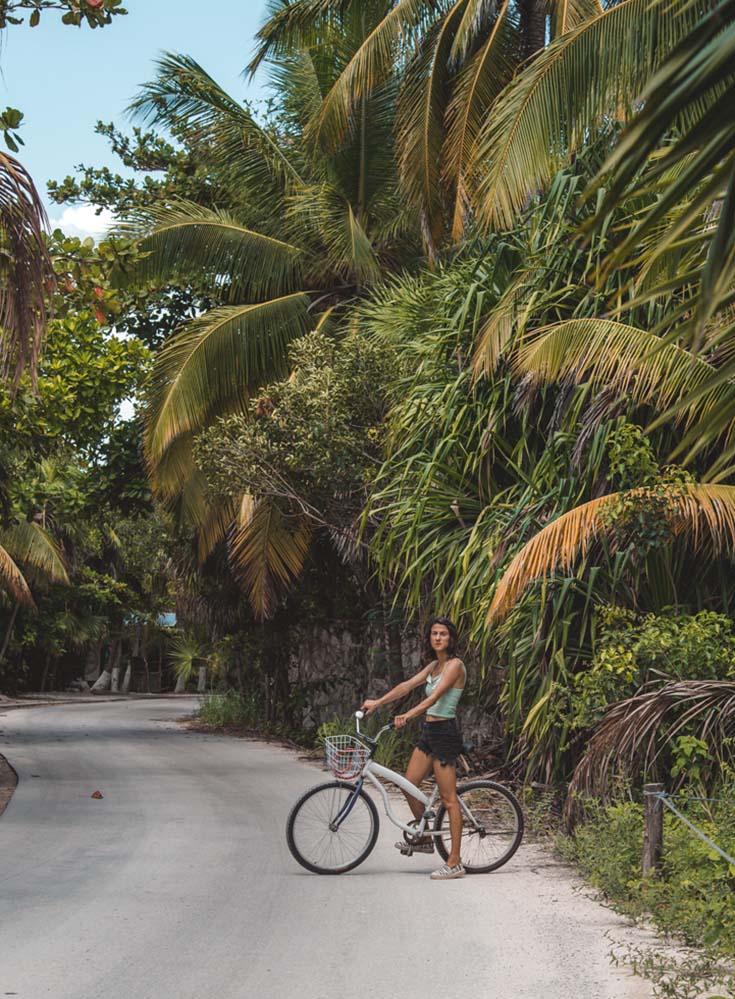 Getting Around
As soon as you arrive in Tulum you'll notice that the town isn't as close to the beach as you might have thought. In fact, the area is split up into the 'Tulum town' area and the 'Tulum beach' area.
If you want to explore the whole area as well as visit some impressive cenotes and ruins you'll need transportation.
Bicycle
There are many places to rent a bicycle both on the beach strip and on the main avenue of Tulum town. Not only is it a great way to get around, but it's also a great form of exercise. In general, Tulum is a safe place to cycle with special bicycle lines in town keeping you well- away from the traffic.
Scooter
Mexico moved away from motorbike culture a while ago but scooter rental is still available from a few places in Tulum town. It's a great way to get between the beach and the town or to the ruins or nearby cenotes.
Car
If you plan to explore further than the immediate area renting a car is a great idea. You can rent a car from the airport in Cancun or from local agencies in Tulum town and it's pretty easy to do so, just bring your passport as a deposit.
Colectivo
For the cheapest way to get around the local area, use a colectivo, a shared, local minibus. They depart when full and they'll be able to take you to destination along the Tulum-Cancun highway which includes some great cenotes and the Tulum ruins. Colectivos depart from the Tulum-Cancun highway/beach road junction.
Helpful Tip:
One thing to keep in mind when renting a car or scooter is a popular gas station scam; always watch the meter and make sure it reads zero before they fill up your tank and try to pay with the smallest note you have. Vendors may try to swap your large note for a smaller one when you're not looking so they end up giving you less change.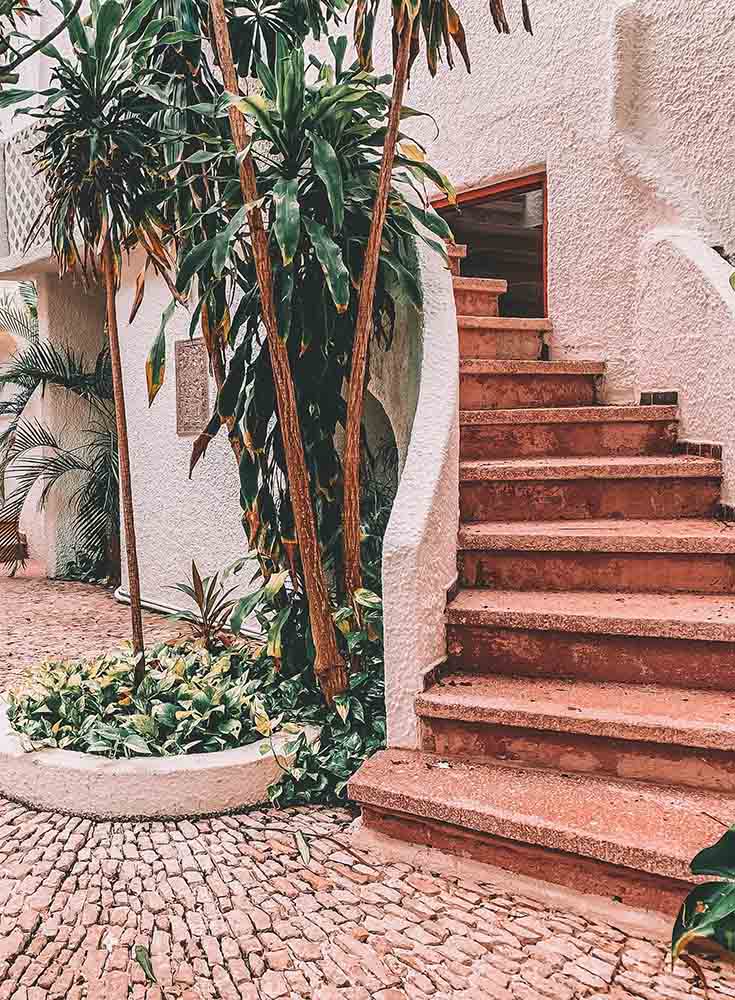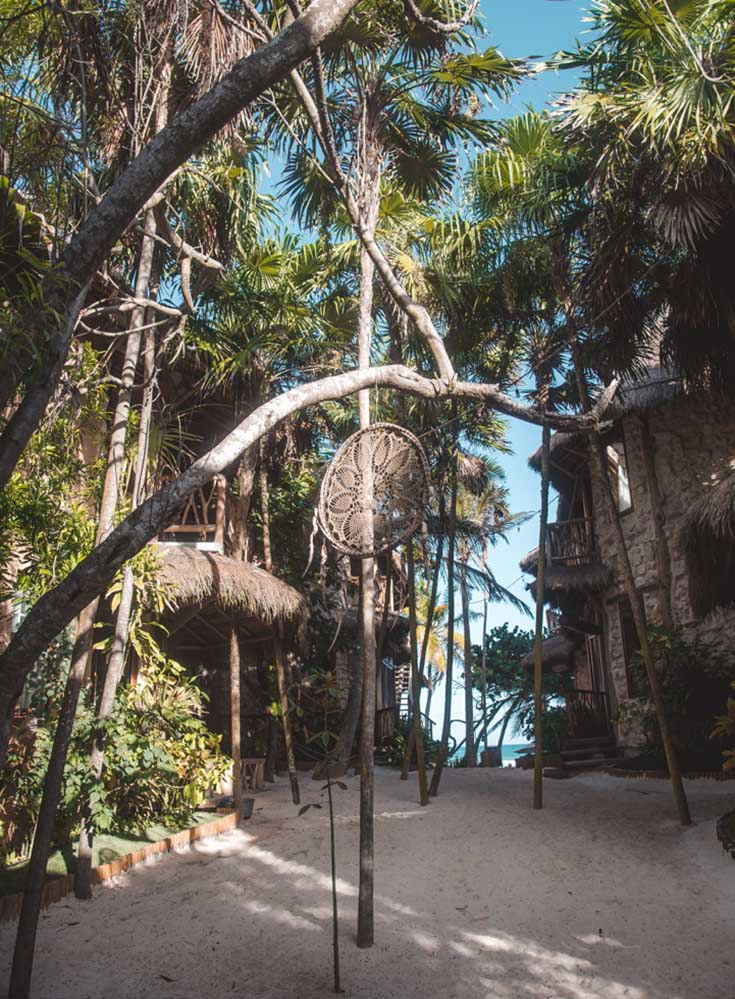 Where to Stay
Tulum has a plethora of beautiful properties for every budget. As a general rule, more budget accommodation options are located in Tulum town, and the more luxurious properties are on the beach strip.
Olas is one of the only truly sustainable hotels in Tulum. It's a small, boutique hotel with only a handful of suites located right on the beach.
It's bright, clean, airy and secluded and it's perfect if you're looking for a more private and personal beach break. The property is entirely powered by solar energy and they capture and reuse rainwater for the villa's showers.
A mixture of rustic and hippie charm with a wellness center on your doorstep, Alaya is an excellent option in Tulum. They offer gorgeous suites with an ocean or garden view, delicious breakfasts and daily yoga for which you don't have to leave the property.
For a more budget option in the jungle just outside Tulum town, this property feels anything but budget. It consists of four loft apartments all surrounding a clear, natural pool amid lush jungle vegetation.
Each lodge is beautifully adorned and self-contained including a kitchen for those interested in self-catering. They also rent bicycles for the easy ride to the beach.

What to Do
While spending some time on the beach should definitely be on your agenda in Tulum, there is still quite a bit to see outside of the town and the beach resorts and I highly recommend you take at least a day to explore.
Tulum Ruins
Located just 4km outside of Tulum, the Tulum ruins are a must-see, especially if you're not planning a trip to more distant Chichen Itza.
You can visit and walk around at your own rhythm or hire a guide to learn more about the history and significance of the ancient Mayan site. The site was the only Mayan citadel located on the coast and it served as the main port for the entire empire. To this day, you can still notice some of the exquisite carvings on the temple walls.
Top Tip: Bring your swimwear and towel. Yes—to the ruins! The ruins are actually located above one of the most stunning beaches in the area. You can descend down the cliff and cool off in the refreshing sea below while enjoying the spectacular surroundings full of local history.
Visit Some Cenotes
Cenotes are natural sinkholes located all over the Yucatan Peninsula of Mexico.
They were used by the Mayans as places of worship and sacrifice and now they make excellent places to cool off after a day of exploring. Each cenote has a different feel to it, and no two are the same.
You could spend days just cenote-hopping.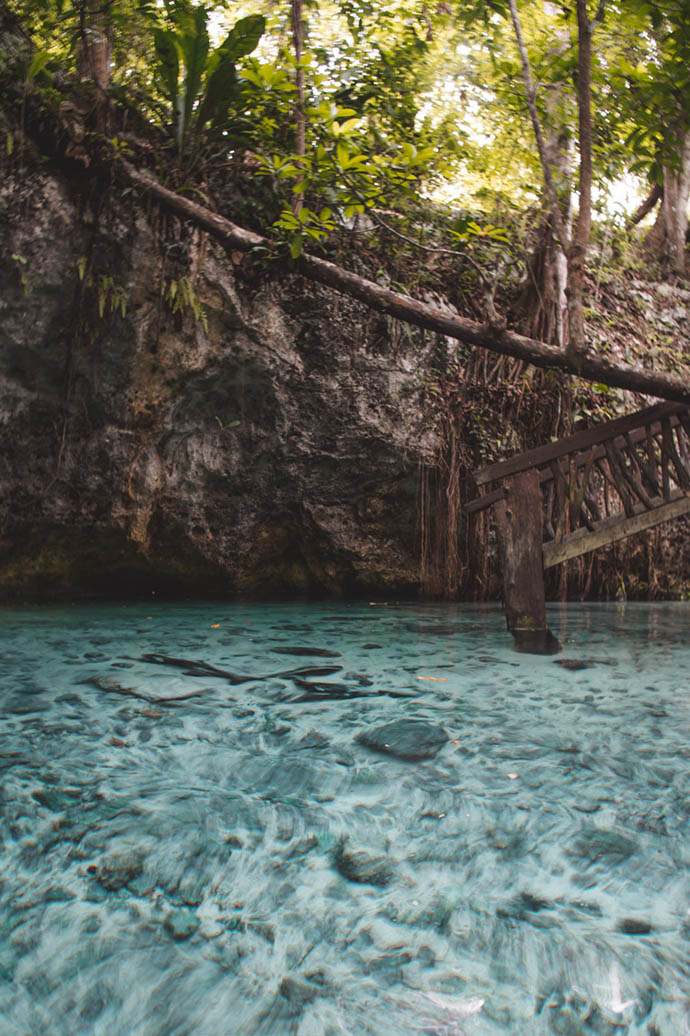 The closest and most popular cenotes to Tulum are Grand Cenote and Cenote Calavera which you can reach by bicycle.
If you have a car you can also check out Cenote Dos Ojos and Tak Be Ha (within the same complex) and Cenote Azul, Cenote Cristalino and Cenote Jardin del Eden located on the highway between Tulum and Playa del Carmen.
My personal favorite cenotes are situated around the Yucatan colonial town of Valladolid.
Not only are the entrance fees much lower, but they are also more varied; these cenotes are gorgeous, and at times, less crowded. My favorites in this area are Cenote Suytun, Cenote Oxaman, and Cenote Ik-Kil. If you have a rental car I'd highly recommend a day trip to Valladolid.
Take a Day Trip to Sian Ka'an Reserve
This biosphere is a divine wildlife and nature refuge located immediately south of Tulum.
You'll have to take a tour to visit this area as it's highly protected but you can expect to potentially see the unique marsh landscapes as well as monkeys, crocodiles, iguanas, flamingos and a variety of different bird species.
Shopping
Tulum is a brilliant place for boho-chic clothing and swimwear, homeware, and natural cosmetics. You'll find tons of incredibly beautiful boutiques located along the beach strip and you could easily assign one afternoon to just shopping.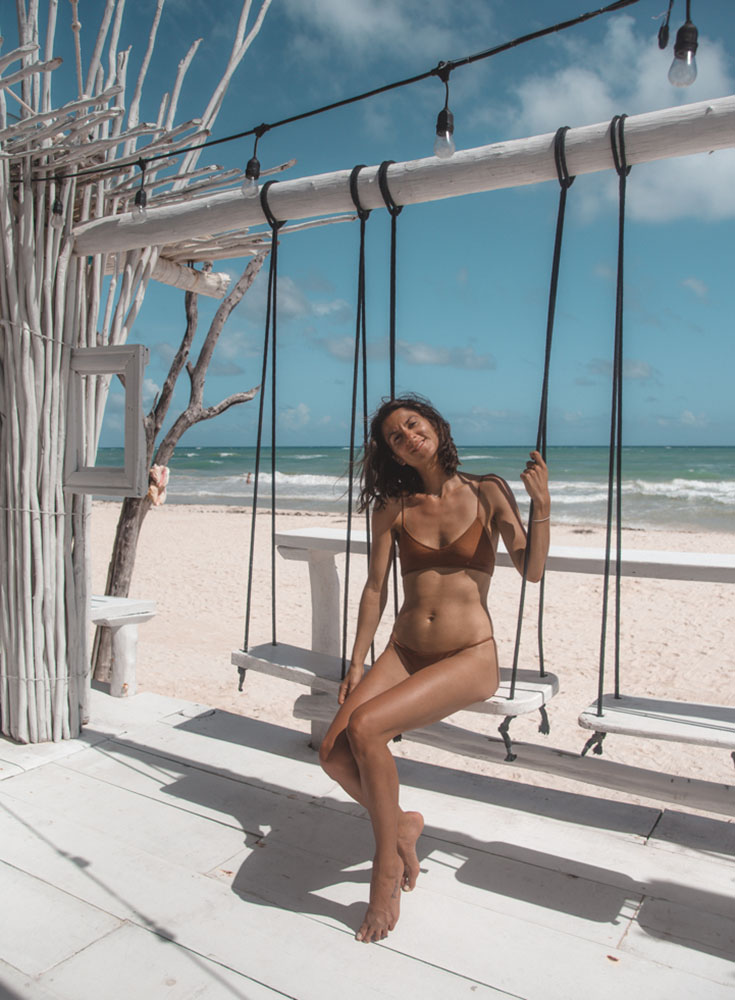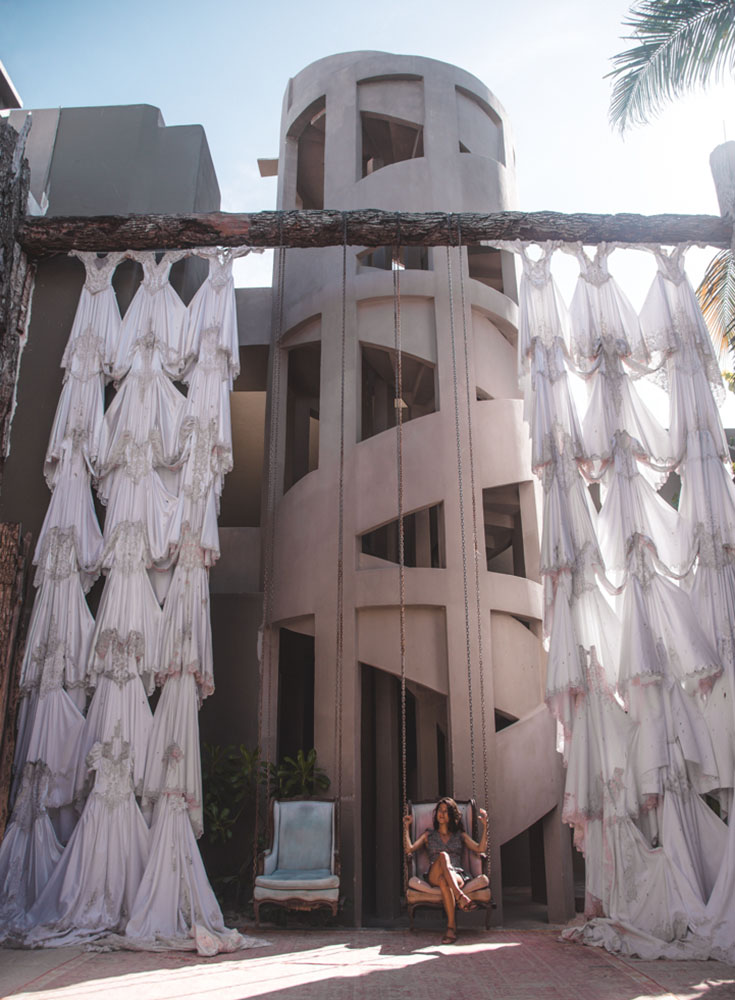 Chill on the Beach in Style
Some of the best parts of Tulum beach belong to the resorts built behind them—but that doesn't mean you can't relax there for the day.
These hotels have beach bars right on the beach where you can relax in a comfortable lounger/beach hut for the day. All you have to do to be able to stay there is order some food or drink. Note that some of the more exclusive properties have a minimum spend per head.
My favorite beach clubs are Coco Tulum and Casa Malca.

Wellness Highlights
The health and wellness scene in Tulum is fully established and thriving and can be compared to that of Bali. It's really the place to go in the Americas to indulge in wellness activities and healthy eating.
Meditation/Sound Healing
Pause and de-stress from everything that is life with some daily meditation and sound healing.
Azulik: The perfect place to relax and unwind the mind. Sound healing and meditation classes occur daily, which leave you feeling refreshed and completely at ease with yourself and your surroundings.
Yaan Healing Sanctuary: Yaan specializes in many types of healing rituals but they also do daily yoga and meditation packages. Their space is completely open and overlooks the pristine jungle canopy so inevitably your daily practice will be accompanied by all the birdsong and hum of the jungle.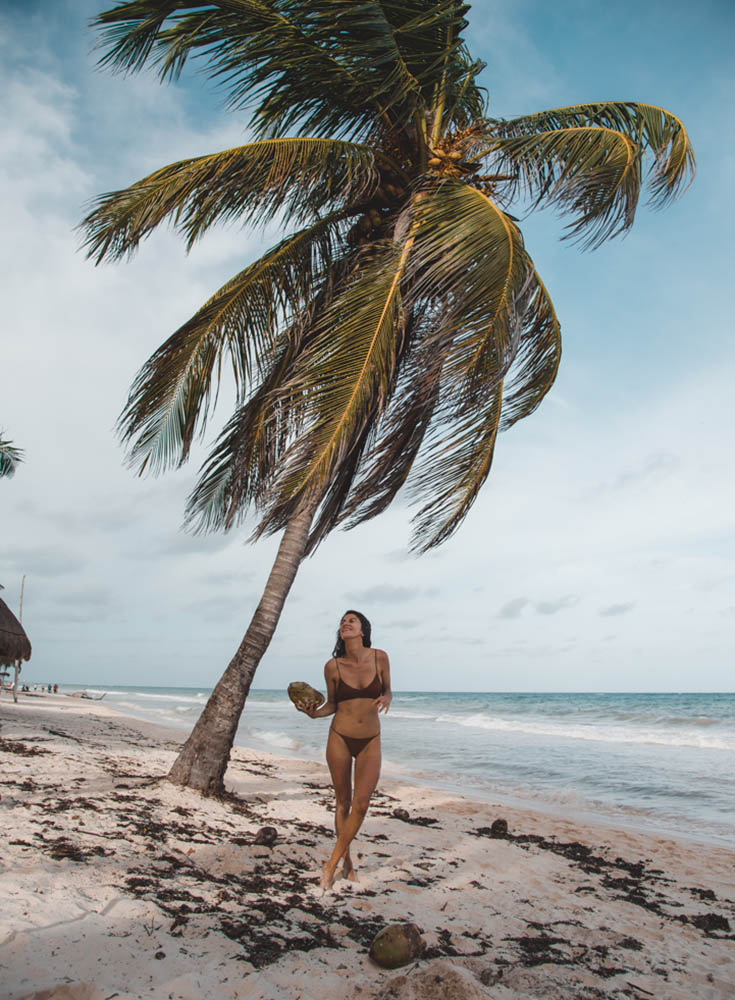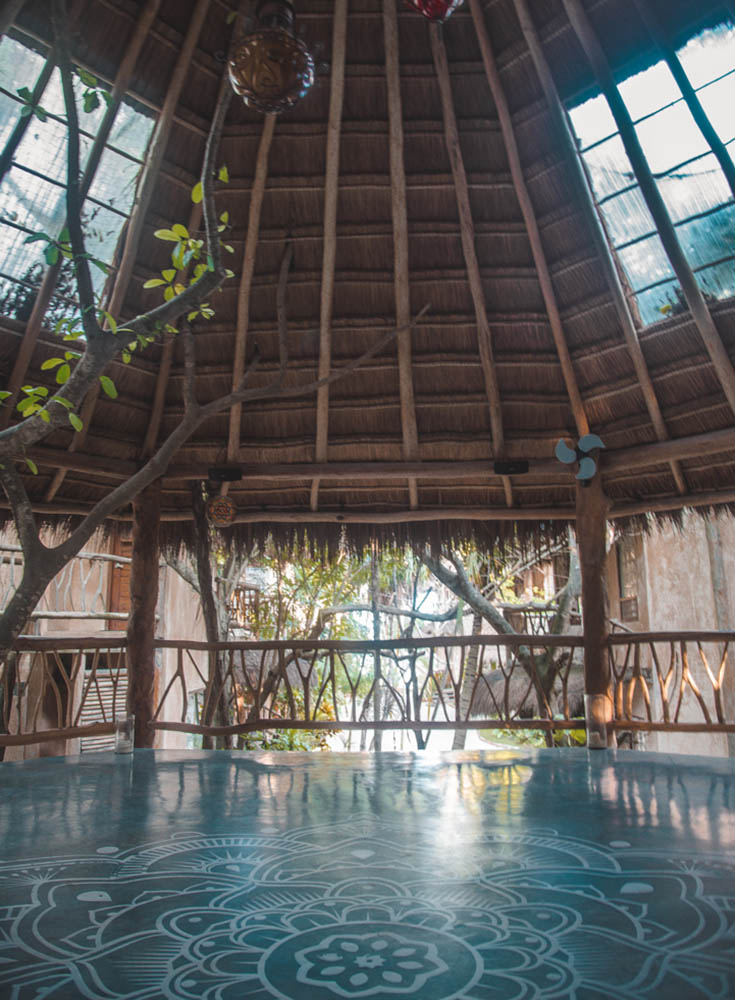 Yoga
There are countless places in Tulum to do yoga, some of them are right on the beach. Most classes are in the morning, at about 7.30/8 am and some places have another class at about 5 pm, depending on the time of year.
Sanara Tulum: A beautiful, light and airy studio ideal for some morning or afternoon stretching to the sound of the waves.
Alaya Tulum: Alaya has daily morning and afternoon classes up in their divine, natural and rustic studio above reception right on the Tulum Beach strip. During low season you might even be the only person in the class and get a fully personalized yoga experience.
Azulik: For a yoga experience in one of the world's most unique boutique hotels, Azulik's yoga barn is made entirely of natural materials allowing you to flow to the morning sun and birdsong surrounded entirely by the natural.
Cacao Ritual
A wellness experience unique to Mexico. During Mayan times cacao was a sacred drink of the gods and if you're not yet familiar with a cacao ritual I highly suggest you try it. It's based upon rejuvenation, balance and new opportunities.
Through drinking of the cacao, the ceremony aims to clear old energies to make space for new ones as well as aiming to open the heart and becoming more attuned to its murmur.
Healing Tulum: Healing Tulum offers both group and individual cacao ceremonies that allow you to experience this unique ritual. They also do massages, spa treatments, yoga, and meditation.
Casa Violeta: A gorgeous beach setting for a reviving and deepening cacao ceremony.
Working Out
Jungle Gym: For those that would like a high-intensity gym experience during their stay Jungle Gym is probably the most unique gyms out there…everything is Flintstone-style.
Benches are made from wooden planks and weights from wood, bamboo or stone- talk about sustainable! Enjoy a workout here and you'll never look at another gym in the same way again.
Go for a Beach Run: You are on one of the most beautiful beaches in the world, so what better way to enjoy it than a morning jog to the sound of the crashing waves?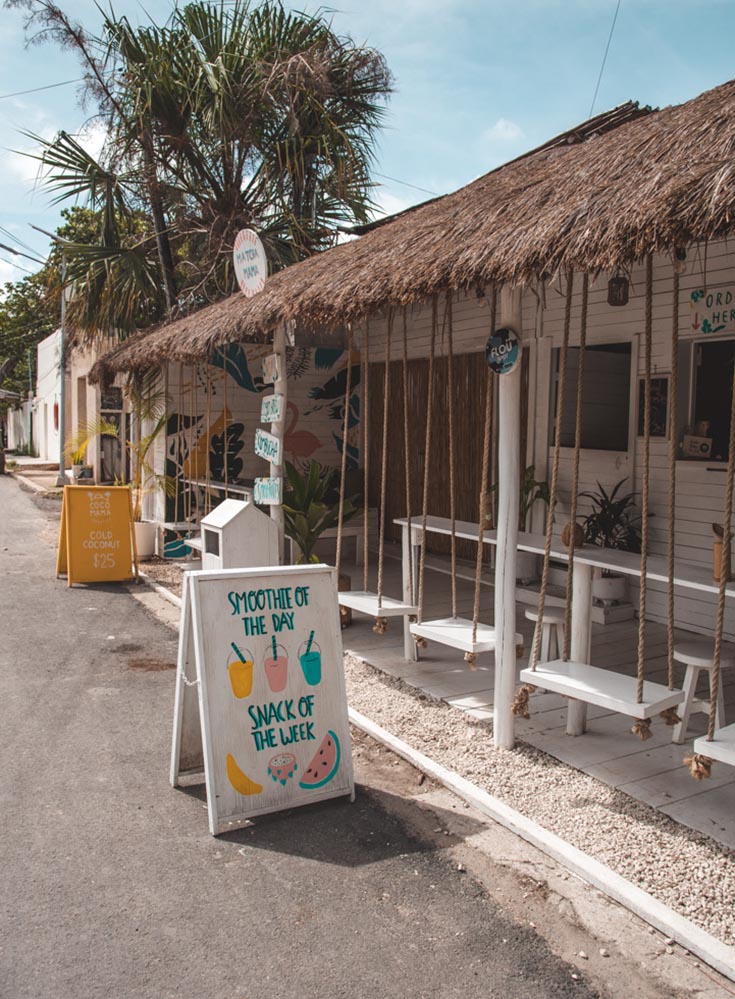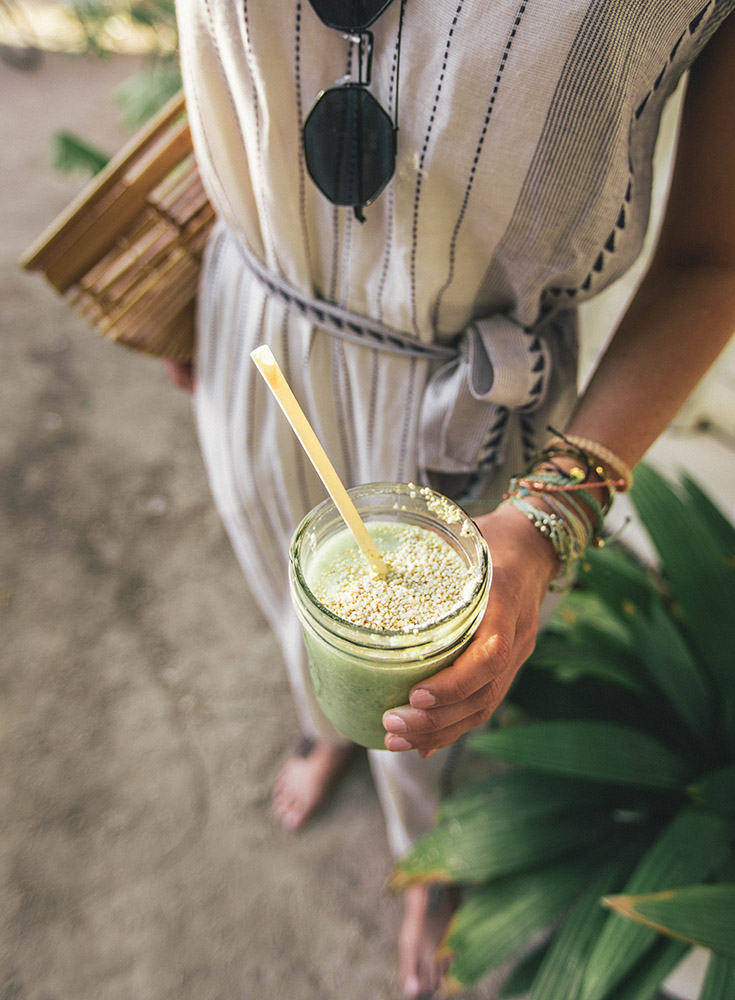 Where to Eat
Tulum is where healthy, nutritious food meets authentic Mexican cuisine and there are so many great eating options both in the town and on the beach strip.
Antojitos La Chiapaneca
The ultimate place for authentic Mexican tacos and a local price to boot. Their tacos are to die for and all some with the typical spicy Mexican salsas. You can order any filling you want and they even have a vegetarian black bean one.
Raw Love
For raw, vibrant and living foods come straight to Raw Love. It's right off of the beach surrounded by sand, trees and beach huts and it is the perfect place to grab a salad, acai bowl or green smoothie post-yoga. I tried the raw pad thai and it was heavenly.
Farm to Table
A wonderful place to head to for brunch in Tulum town, their concept of using farm to table ingredients can do no wrong. Due to this, they have a monthly changing menu that uses seasonal and local produce. I highly recommend their pancakes, coffee, and fresh juices.
Matcha Mama
Great smoothies, juices, and acai bowls. A perfect refreshment pit-stop.
NU Tulum
One of the best places to go for a special or romantic dinner in Tulum. Beautifully lit in the evening, the menu is limited and specialized but really focused on perfecting each and every dish. You can find a variety of seafood dishes, meats, vegetables, and ceviches all with a modern Mexican twist.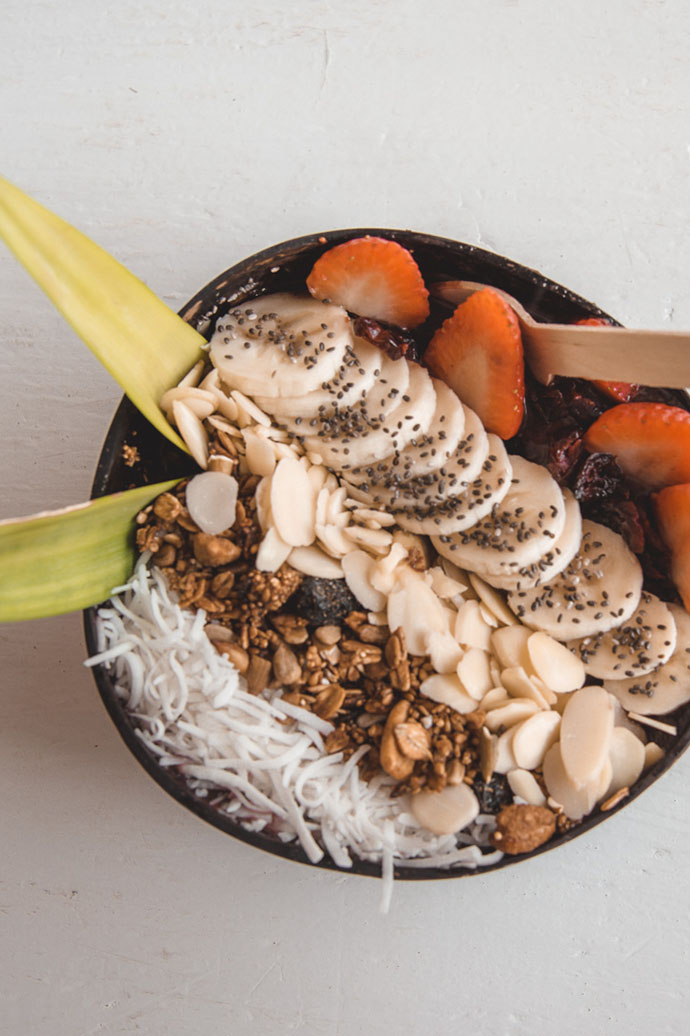 Top Tips for Visiting Tulum
Bug Repellent
Bring bug repellent! Tulum is essentially located in the jungle so mosquitoes can be a real problem here, especially in the rainy/low season. Don't forget to use it plentifully especially ahead of dawn or dusk yoga classes or meditation.
Have Cash On-Hand
Bring Mexican pesos. US dollars aren't really used and ATMs can be hard to find especially if you're staying near the beach strip. Credit cards are widely accepted.
While I was in Tulum I heard a lot about some of the ATMs being a little dodgy. Try to avoid small, hole-in-the-wall ATMs and instead look for ones attached to large banks. In town, there is an HSBC bank with two reliable ATMs inside.
Visit the Cenotes Early
Cenotes, especially the ones in the Tulum area can get very busy throughout the day. If you're looking to have a more peaceful experience or you'd like to take photos, I'd recommend getting there as early as possible. Most open between 8-9 am.
Don't forget your towel!

To find out more about the Tulum area or Yucatan Peninsula, I suggest having a look at some of the following articles that can be found on my blog, Roam & Thrive.