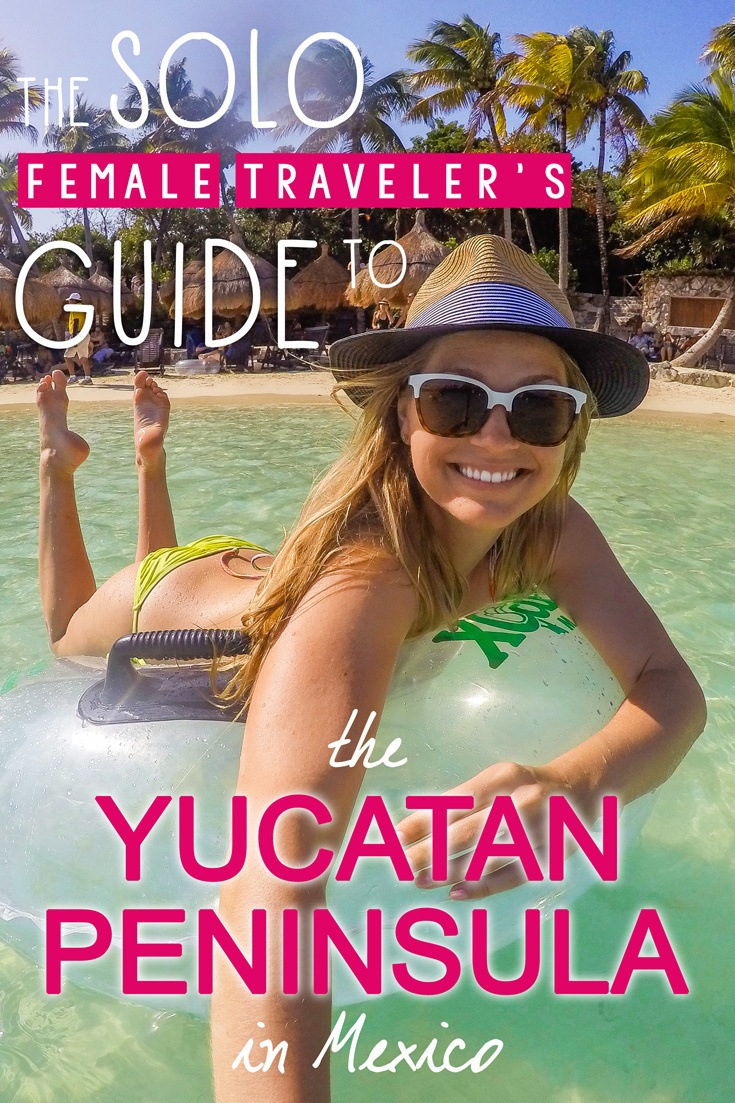 The Yucatan Peninsula is one of the most popular areas for those who are visiting Mexico and whether you are heading to one of the large resort cities such as Cancun in the Riviera Maya, or looking to get a little further off the beaten track, it is an attractive place to explore.
I firmly believe that solo travel for women is one of the best ways to learn about yourself and the world. Taking a solo trip is a fantastic way to grow. And when it comes to solo travel destinations, the Yucatan Peninsula is one of the best places to travel solo!
When it comes to exploring the Yucatan Peninsula as a solo female traveler, it is a beautiful and safe place to visit!

Is it Safe Alone?
As someone born and raised just over an hour north of the Mexican border, the debate over safety when traveling to Mexico is ongoing. While travel safety in certain parts of Mexico is questionable, the Yucatan Peninsula is well-known as a safe and beautiful destination.
After my recent trip to Cancun, I stayed an extra week to travel solo throughout the Yucatan Peninsula. I partied in Playa del Carmen, went scuba diving in Cozumel, swam with turtles in Akumal and even spent time in a sweat lodge in Tulum (but that's for another story).
I've also spent 3 nights on Isla Holbox!
I stayed in both hotels and hostels, made some awesome new friends, ate incredible food, and not once did I encounter a situation that made me feel uncomfortable or question my safety. I traveled mostly by collectivo (a public bus used mostly by locals) and other solo female travelers along the way.
Just like with any other destination you visit, use practical sense and follow your intuition. Don't let generalizations about the safety of an entire country deter you from exploring this amazing region of Mexico!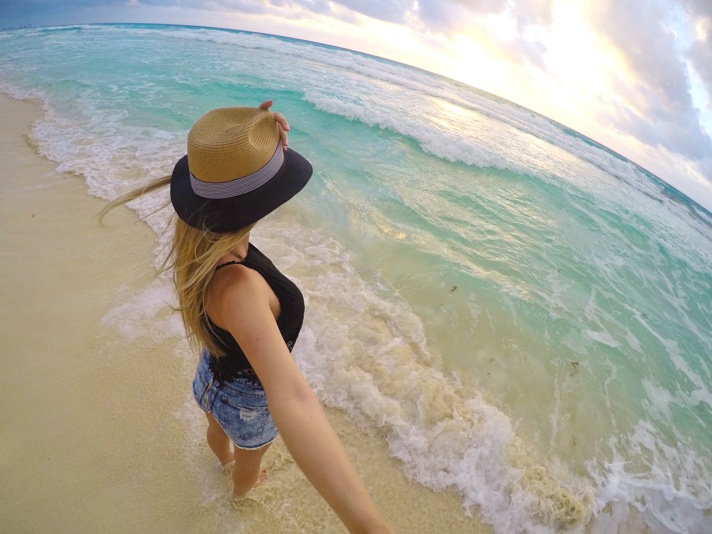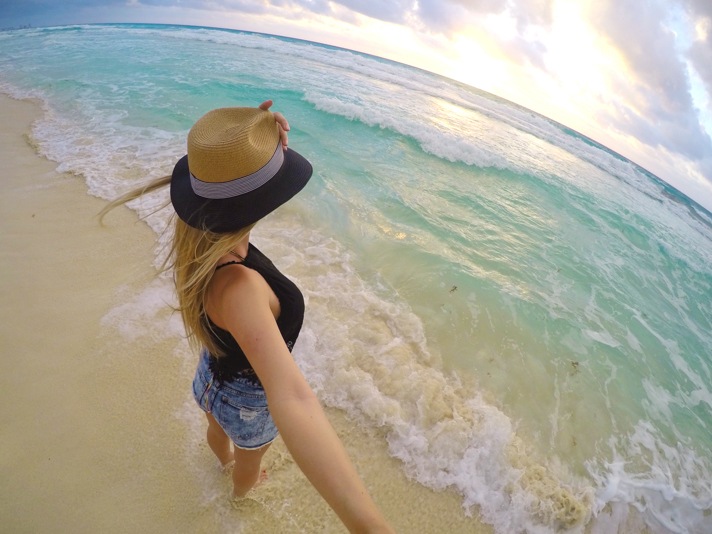 Stick to Popular Destinations
Cancun is one of the most popular destinations in the Yucatan Peninsula and is famous for its beautiful beaches, wild nightlife and a wide range of all-inclusive resorts. While it is, without a doubt, a great place to visit don't miss the rest of the Yucatan! For your safety, stick to traveling to popular destinations, such as:
Isla Mujeres: This tiny island is located a short ferry ride off the coast of Cancun. Known for its beautiful beaches and pristine turquoise water, it's the perfect day trip from Cancun.
Isla Holbox: This island is most well known for being the best destination to swim with whale sharks. While the peak season for this once-in-a-lifetime experience is between July and August, it's still an insanely beautiful island worth visiting any time of year.
Playa del Carmen: Playa is my favorite destination in the Yucatan for a few reasons. You'll find beautiful beaches, world-class dining, incredible "hole-in-the-wall" mom and pop shops, great shopping and plenty of nightlife. There's something for every type of traveler!
Cozumel: Known as one of the best dive spots in the world, Cozumel is a quick ferry ride from Playa del Carmen and an easy day trip. I highly recommend organizing a diving trip with Scuba Tony. I spent the day exploring the underwater world on a 2-tank dive and saw everything from lobster to eagle rays!
Akumal: This gem is located between Playa del Carmen and Tulum and is one of the best places you could ever visit. Rent a life jacket and snorkel gear and simply walk from the shore into the ocean to come face to face with sea turtles, rays and fish!
Tulum: Quickly becoming one of the hottest destinations of the Yucatan Peninsula, Tulum is a trendy retreat for wellness, yoga and eco-resorts. Don't miss my Ultimate Tulum Travel Guide for all of my tips for planning your visit!
Bacalar: This sleepy town is still a bit off the grid of the popular tourist path of the Yucatan, making it the best destination for getting away from the crowds. Expect to find sparkling white sand and beautiful beaches.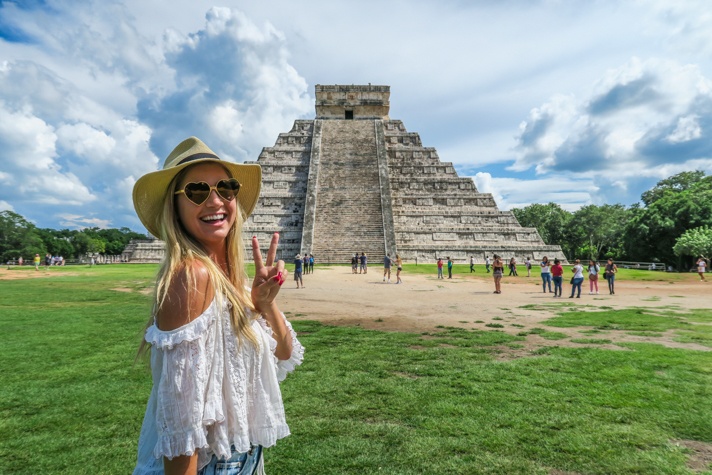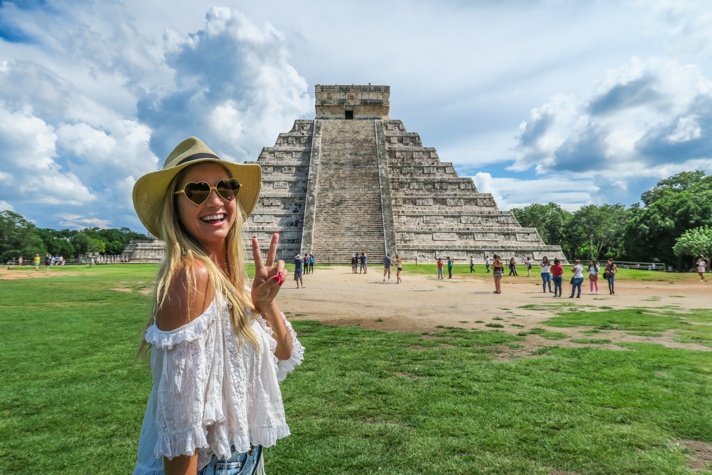 Visit Popular Historic Attractions
Probably the most famous Mayan site on the peninsula is the pyramid at Chichen Itza, which is surrounded by a wonderful complex of other buildings. Tulum is another popular destination where a fairly small set of ruins occupy a stunning clifftop location with views over a wonderful beach.
The Tulum ruins definitely don't provide the same "WOW" factor as Chichen Itza, but are worth visiting.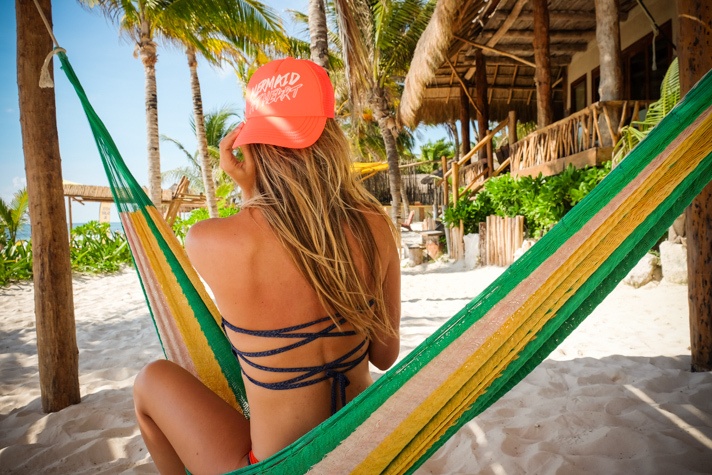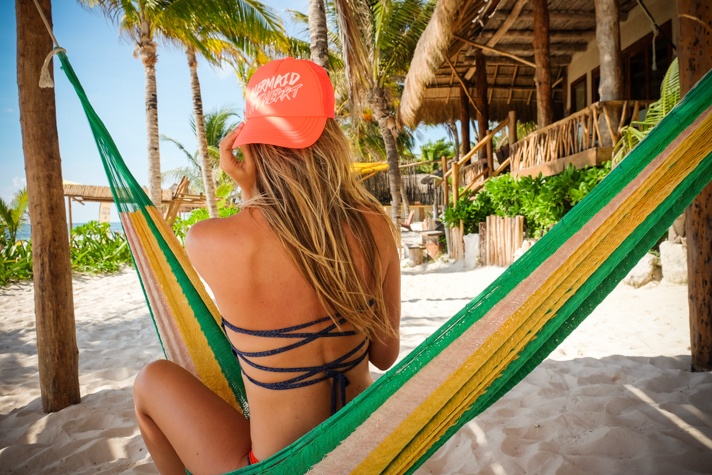 How to Get Around Safely
Transport around the Yucatan is generally quite safe, and most towns and cities will have bus services that connect the different areas. Look for ADO stations for longer journeys and trips to and from the airport.
Most buses will store your luggage safely in compartments, but it is worth carrying any valuables with you if possible and to be wary of pickpockets.
If you are traveling short distances, colectivos can be found in most towns and charge around 30 pesos ($2 USD) so they're much cheaper than taking a taxi. Keep in mind, you won't be able to travel with a lot of luggage, so pack light and prepare to squeeze in with the locals.
Helpful Tip: Regardless of the sweltering temperatures outside, it is worth taking an extra layer of clothing for bus journeys, as the air conditioning is often turned up high.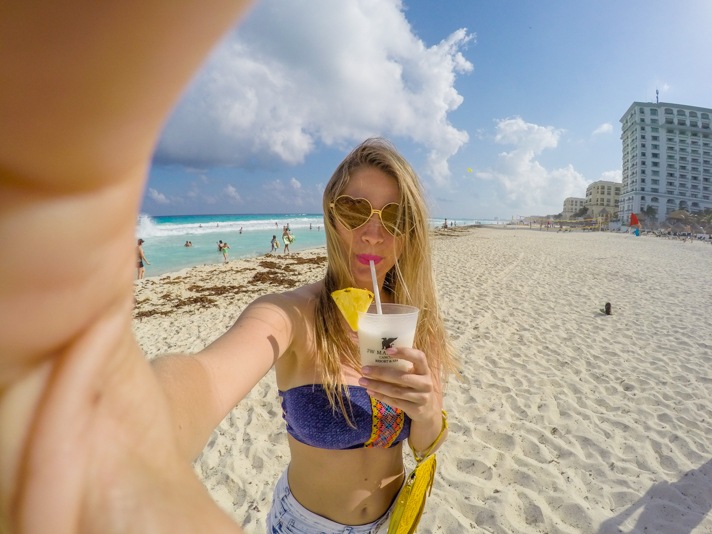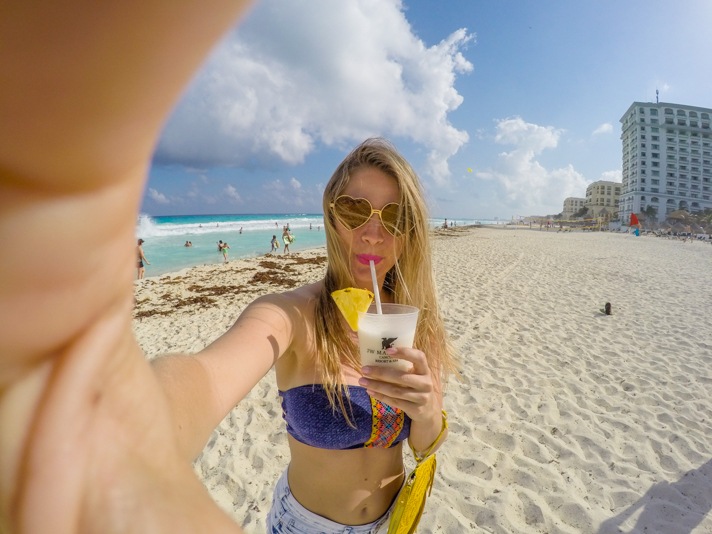 Drinking, Drug Use and Taxis
It goes without saying that you should stay well away from drugs in Mexico's Riviera Maya. The ongoing trouble in other parts of the country means that police may come down hard if they do find you in possession of drugs.
It's also a common scam for taxi drivers to offer passengers drugs and then blackmail them, especially in Cancun.
Common sense precautions like not getting too drunk or traveling late at night by yourself are as important here as they are when you are traveling anywhere else in the world. If you do have to go back to a hotel at night, make sure you get an official taxi.
In many areas, some unofficial taxis may have rigged meters that lead to a huge charge.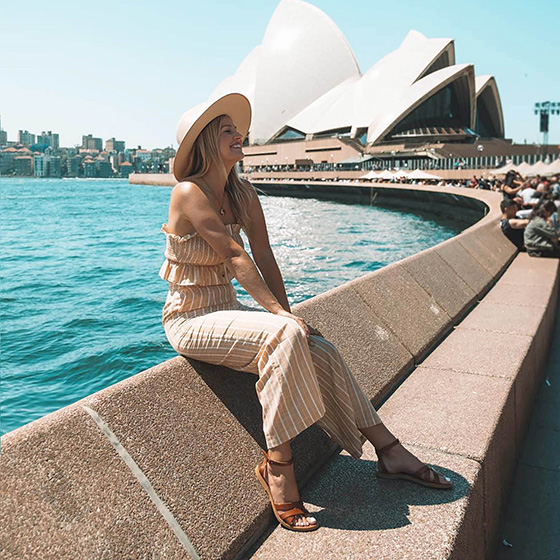 Solo travel for women can be challenging — I've learned so much over the years (and I'm continually learning!). I put together this comprehensive guide to solo travel destinations and taking solo trips so you can better prepare for your next trip!
Read More