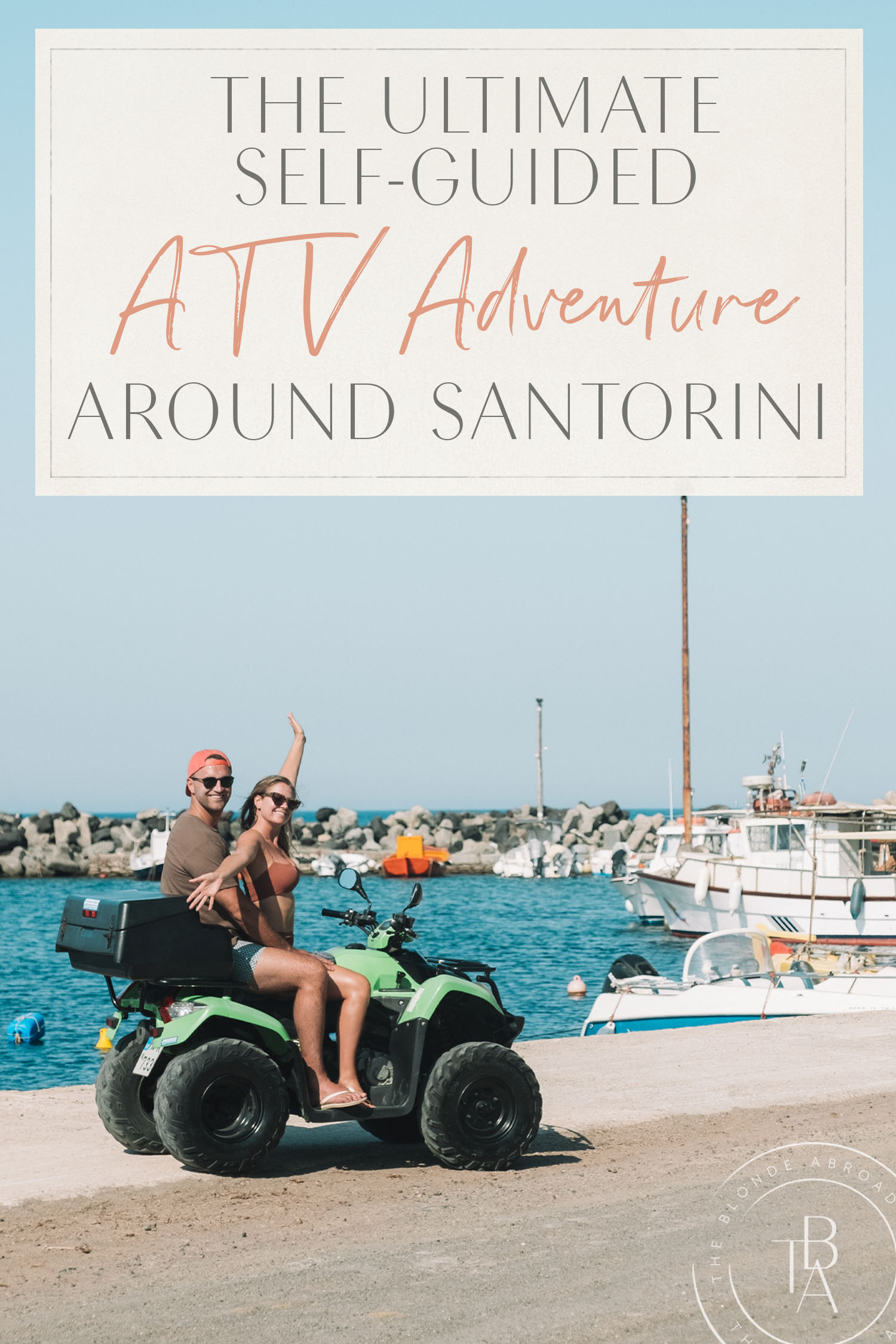 There's a reason Santorini is one of the most popular travel destinations in Europe.
From the white cave houses perched over glistening water to some of the most beautiful places to watch the sunset to delicious Greek food, it's a dream destination Greece, and Europe, for that matter!
While islands like Mykonos are known for their parties, Santorini is much more laid back. 
It's an incredible place for a romantic getaway and honeymooners. And it's also a wonderful place to get a taste of adventure! While you can easily splurge, you can also travel Greece on a budget. Here are helpful tips for traveling the Greek Islands!
We stayed in one of the most popular towns — Oia — which served as a fantastic base to explore more of the island.
And what better way to explore the island than on a self-guided ATV tour?
We accomplished this itinerary in one day, but it would be easy to spend several days in Santorini before island-hopping your way through Greece. Trying to figure out what other destinations to visit? Check out my quick guide to the best Greek Islands to visit!
Not staying in Oia? No problem! You can easily modify the itinerary based on your starting point.
Though, if you're just beginning to plan out your Santorini trip, most folks usually stay in Oia as it's the iconic postcard place (just look at all these gorgeous photos to inspire your trip!). If you're aren't staying in Oia, I would highly recommend stopping there for the most unbelievable sunset of your life.
Want to explore the island in full? From cliffside churches to stunning beaches — here's the ultimate self-guided ATV adventure around Santorini!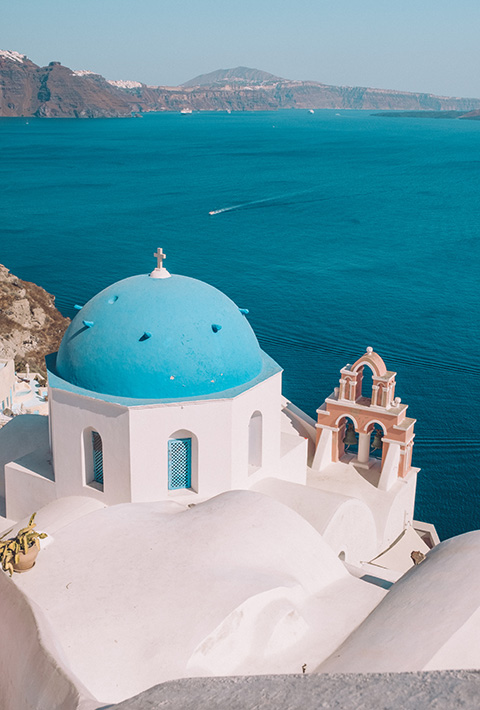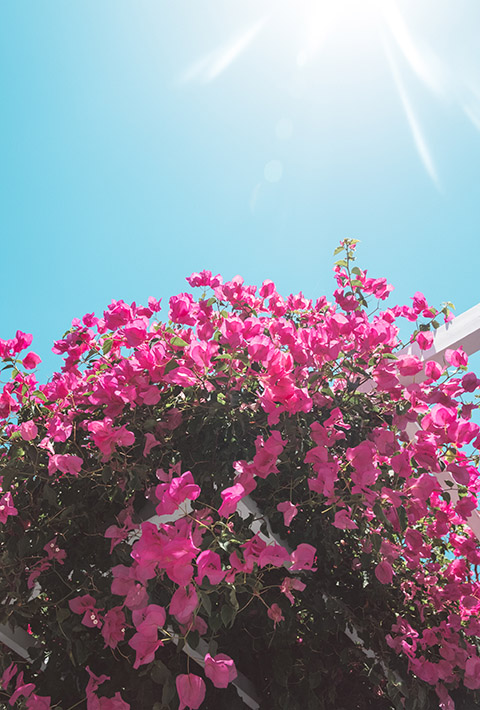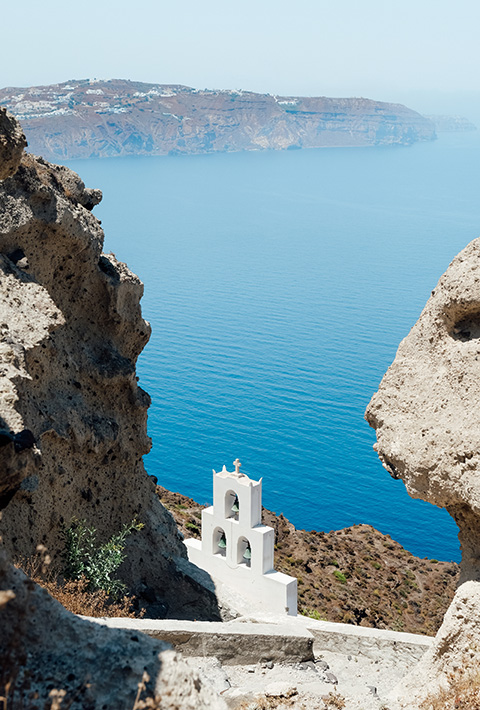 An Overview of the 1-Day Itinerary
Start in Oia
Fira — Three Bells, Skaros Rock
Santo Wines
Megalochori — Heart of Santorini + Churches Carved Into the Cliff
Red Beach
Akrotiri
Pit Stop at a Famous Bakery
Perissa Black Sand Beach
Back to Oia for Sunset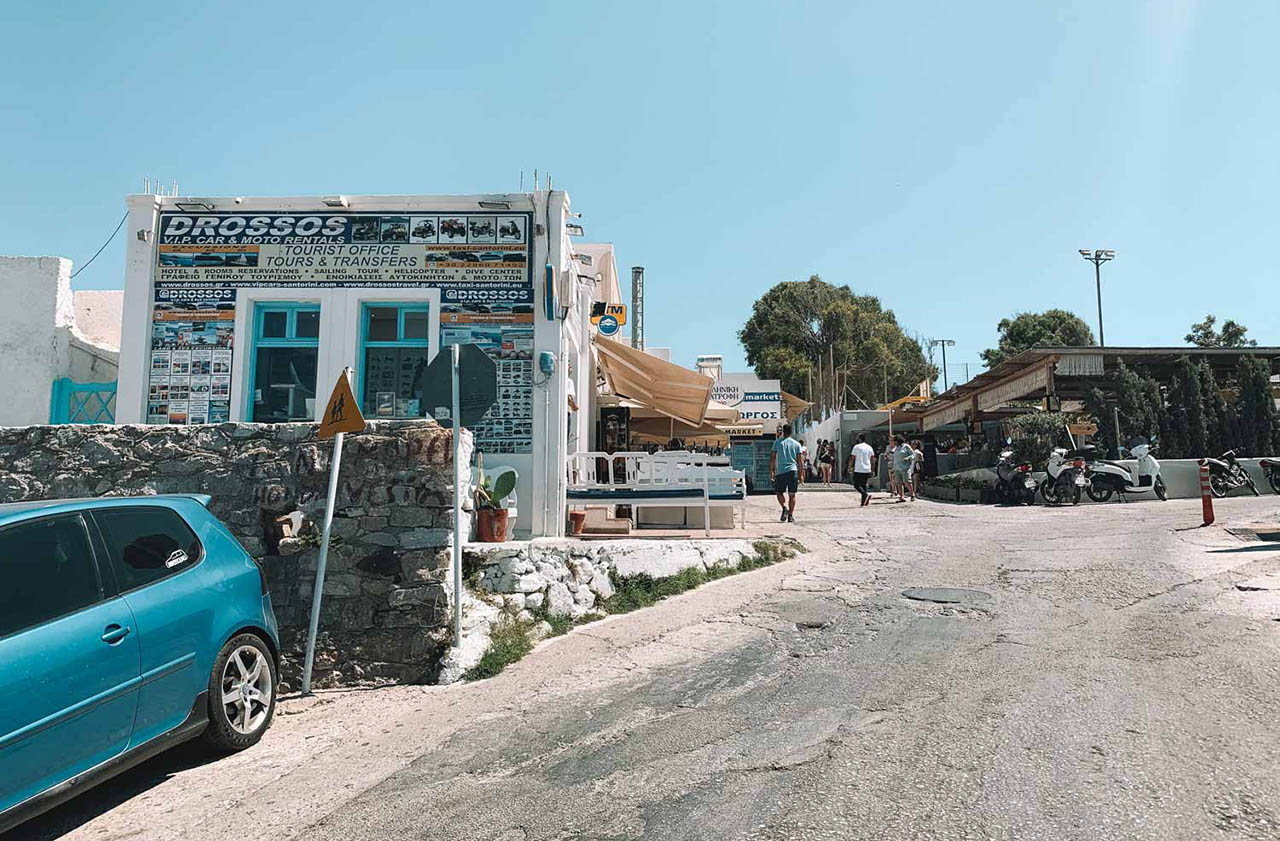 The location we rented our ATV from: Santo Moto
How to Rent an A T V in Santorini
I won't be the first to tell you that Oia is absolutely gorgeous. But you'd be doing yourself a disservice if you exclusively stayed in Oia and didn't explore more of Santorini. In my opinion, the best way to do this is by renting an ATV!
There are more than a handful of places to rent an ATV from in Oia (and around the island), so you'll definitely have options.
The place we rented from was right at the entrance of Oia, and I think it may have been slightly more expensive than other places. So do your research and shop around.
Also, check to see if your hotel/accommodation offers to set up the ATV rental for you. Some properties will take care of the rental process, so it's worth looking into!
Renting an ATV costs around 30 to 50 euros per day. If you're visiting Santorini during the high season (July – August), you may want to make a reservation beforehand. However, most of the time you can walk in and reserve an ATV on the spot.
The License You Need to Rent an ATV
Important:
You may find mixed or outdated information around the web, but if you want to rent a scooter or ATV in Santorini (or anywhere around Greece), you need a motorcycle license. There are no exceptions.
We went to get information on the ATV before renting and they were able to provide us with all the info we needed: an International License was required. The good news? It's actually super easy to get.
You can obtain the International License here for only $24 and get it emailed to you to print within a few hours of ordering. 
I would suggest doing this before your trip or at least the day before renting your ATV, just so you have it in time. They can rush it, but it might cost a fee, and it's better to be safe than sorry.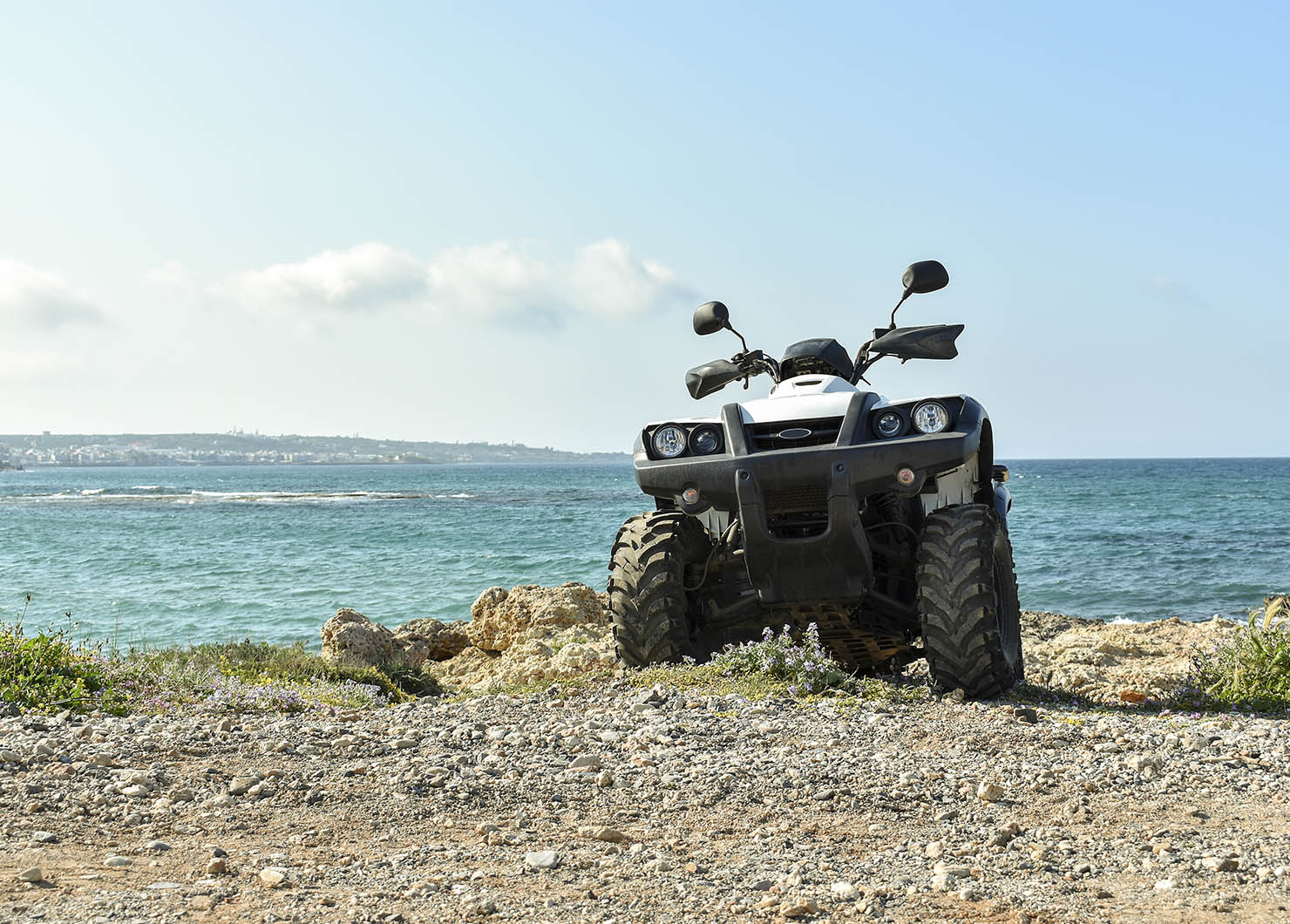 Helpful Tips for the A T V
Be mindful that the seat on the ATV is usually black and during the summer it gets INCREDIBLY hot in Santorini. Most of the ATVs have a little box to store things—and I would recommend packing towels, water bottles, and sunscreen to reapply.
You're basically in the sun the entire day. What we would do is lay one towel down on the seat so that when we would sit on it, we wouldn't burn up…but we were definitely sweating. We pretty much wore just our swimsuits for the whole day.
If you're parking somewhere, leave the towel covering the seat as the black seat will attract sunlight, and it keeps it from getting unbearably hot.
Pack plenty of water, money, and your license so you're good to go and explore!
When It Comes to Safety
Make sure to practice caution and be mindful of the roads — as you would if you were driving any other vehicle. There are quite a few bending roads without guard rails, so drive smart. Take the corners steadily and "read the road."
Note: the photo shared at the beginning of the post was simply because we were posing on the ATV, any other time our helmets were strapped on. 
Additionally, if you are caught not wearing a helmet, this could invalidate your travel insurance and result in hefty fines.
I realize helmets aren't the most fashionable thing to wear, but make sure to wear it for your own safety.
Opting to not wear one is not worth the risk—I know quite a number of folks who have been seriously injured on trips (whether it was their fault or not) because they weren't wearing helmets. So please wear one!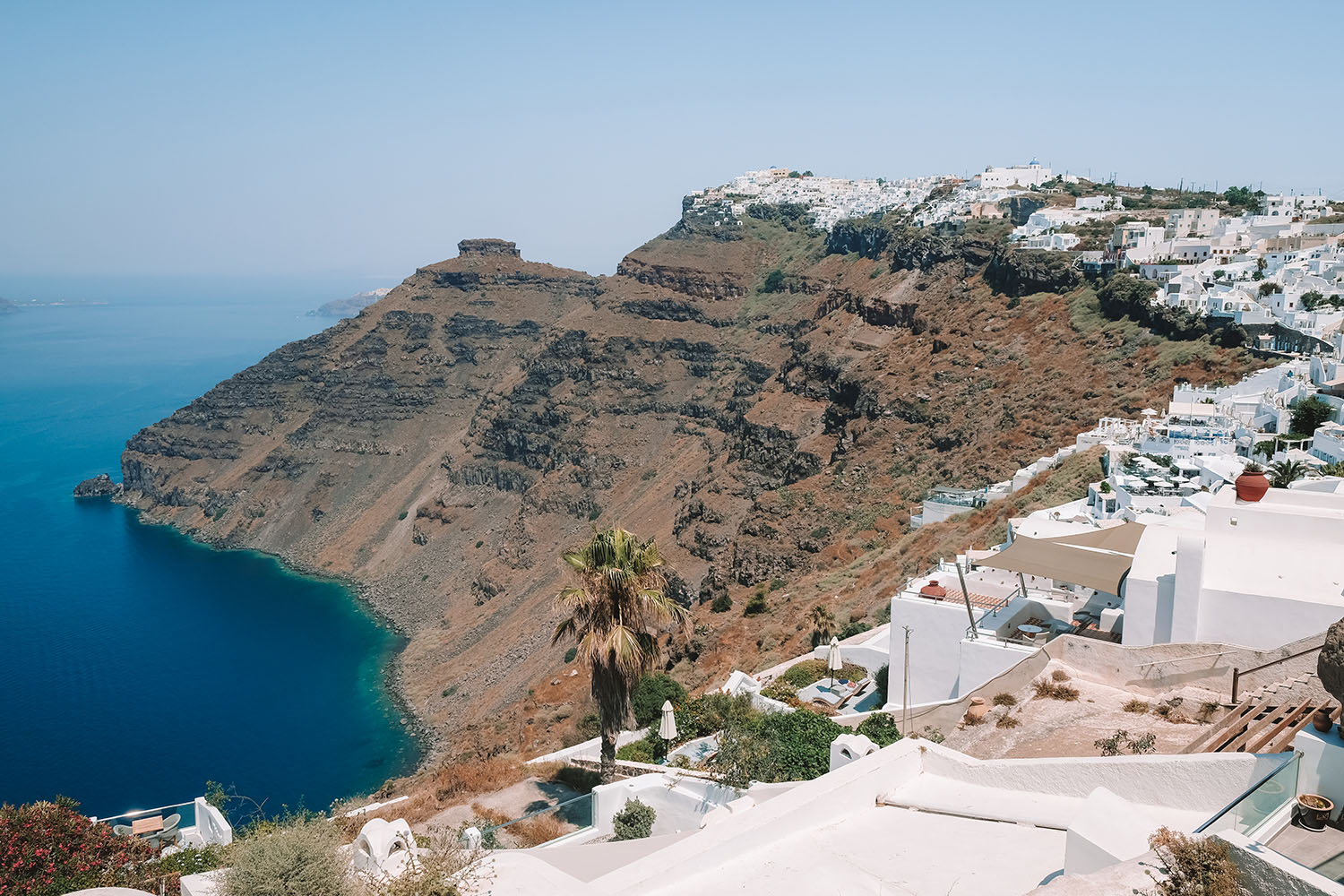 Fira
First Stop: Fira
From Oia, you're going to drive south along the coast. The first stop you'll make is the next "big" town: Fira. Fira (also spelled Thera or Thira) is Santorini's capital.
In Fira, you can see the Three Bells of Fira.
Officially known as The Catholic Church of the Dormition, you might have seen photos of this iconic church before. Its three gorgeous bells and blue dome are frequent pitstop due to the truly picturesque views for days and days.
As a heads up, it can be quite awkward to actually photograph the bells, so keep that in mind!
My recommendation is to leave Oia early in the morning, visit the Three Bells, and then hang out in Fira for a little bit longer to have breakfast.
About a 5-minute drive north from the Three Bells is an area where you can hike out to Skaros Rock. While we didn't end up doing this—you could potentially start here first before heading down to the Three Bells.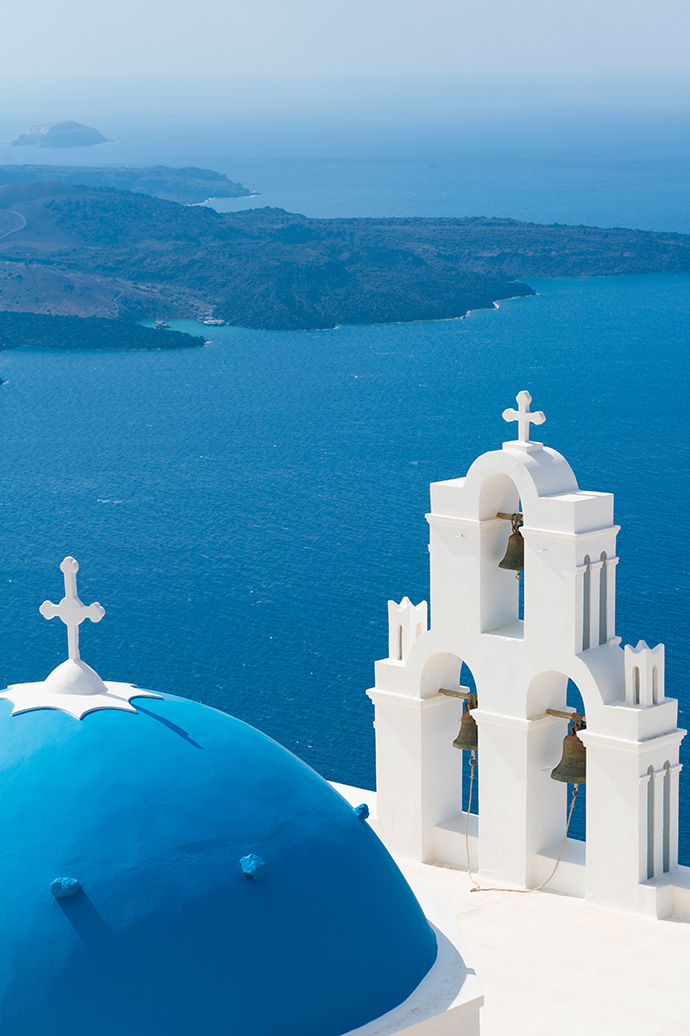 Second Stop: Santo Wines
Santo Wines is a pretty well-known stopping point. If wineries with epic views are your calling — don't miss this!
It can be quite touristic, but you could stop here and do some wine tasting or have a mid-morning snack (especially if you skipped breakfast in Fira…or you're just making sure you get to sample all of the local foods in Greece — I don't blame you!).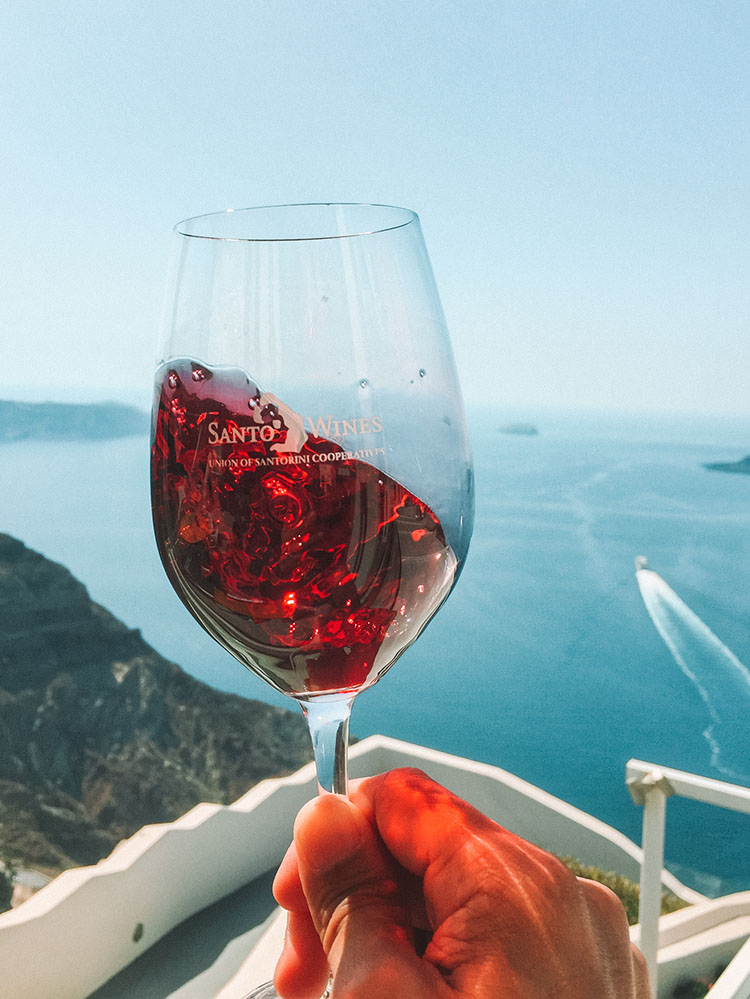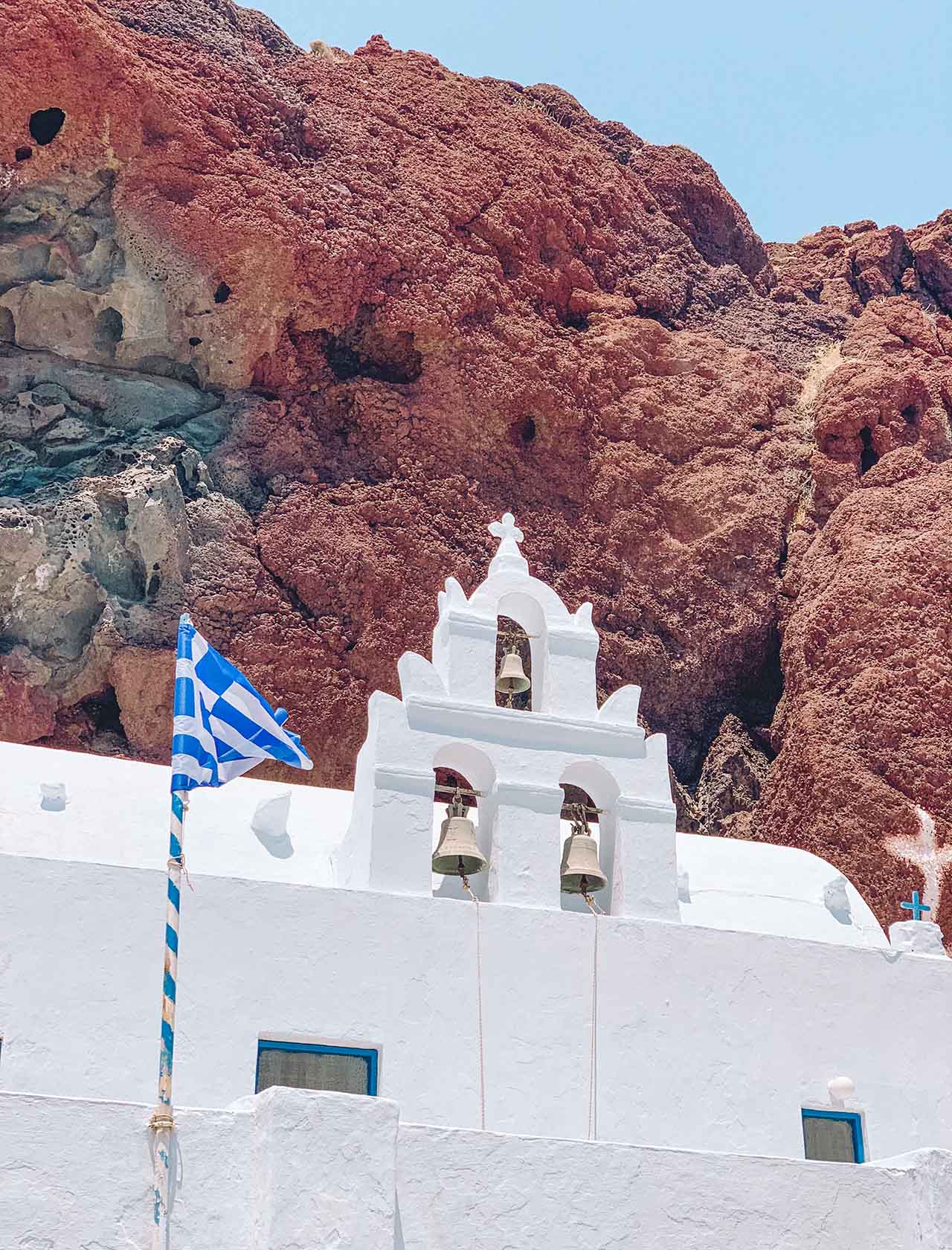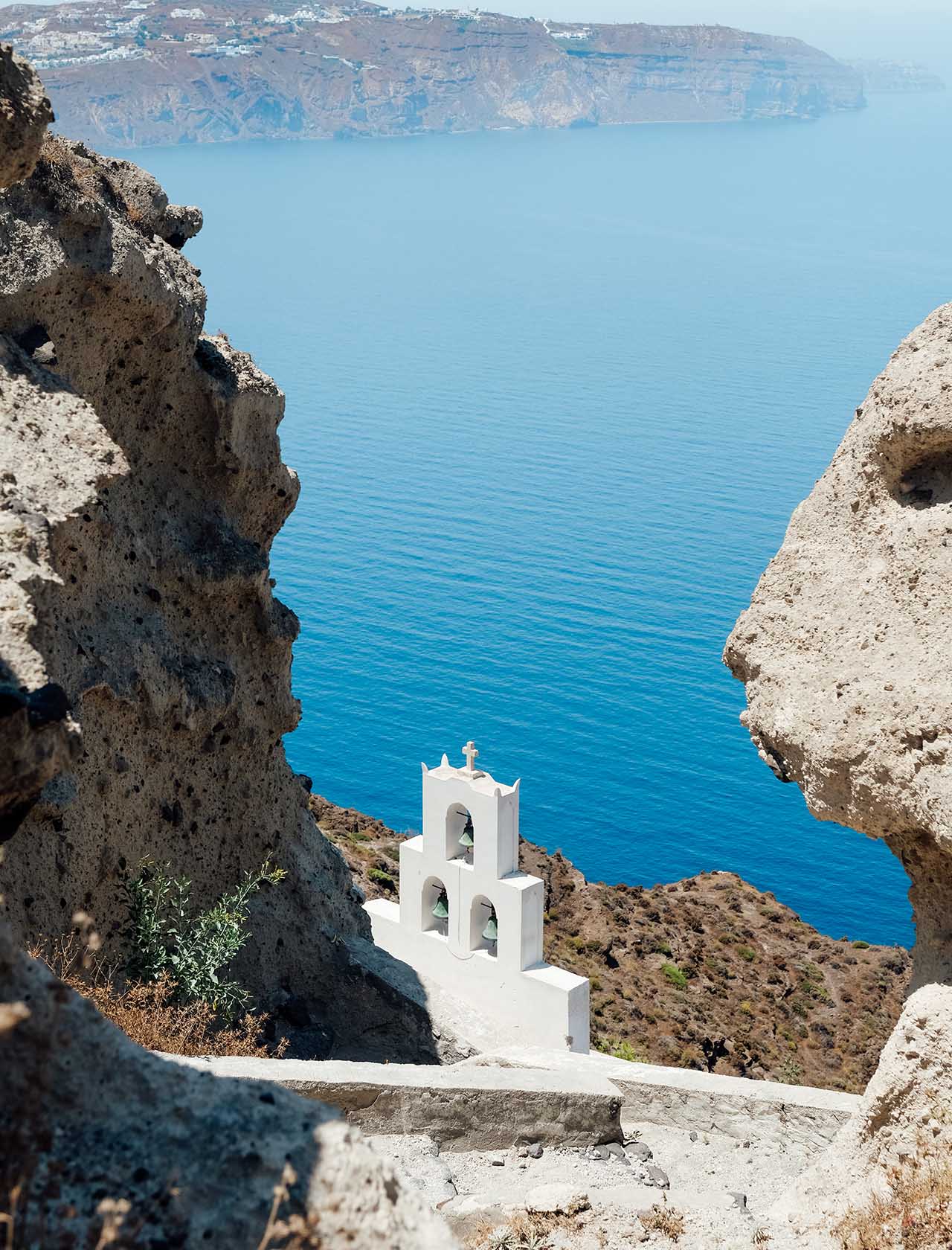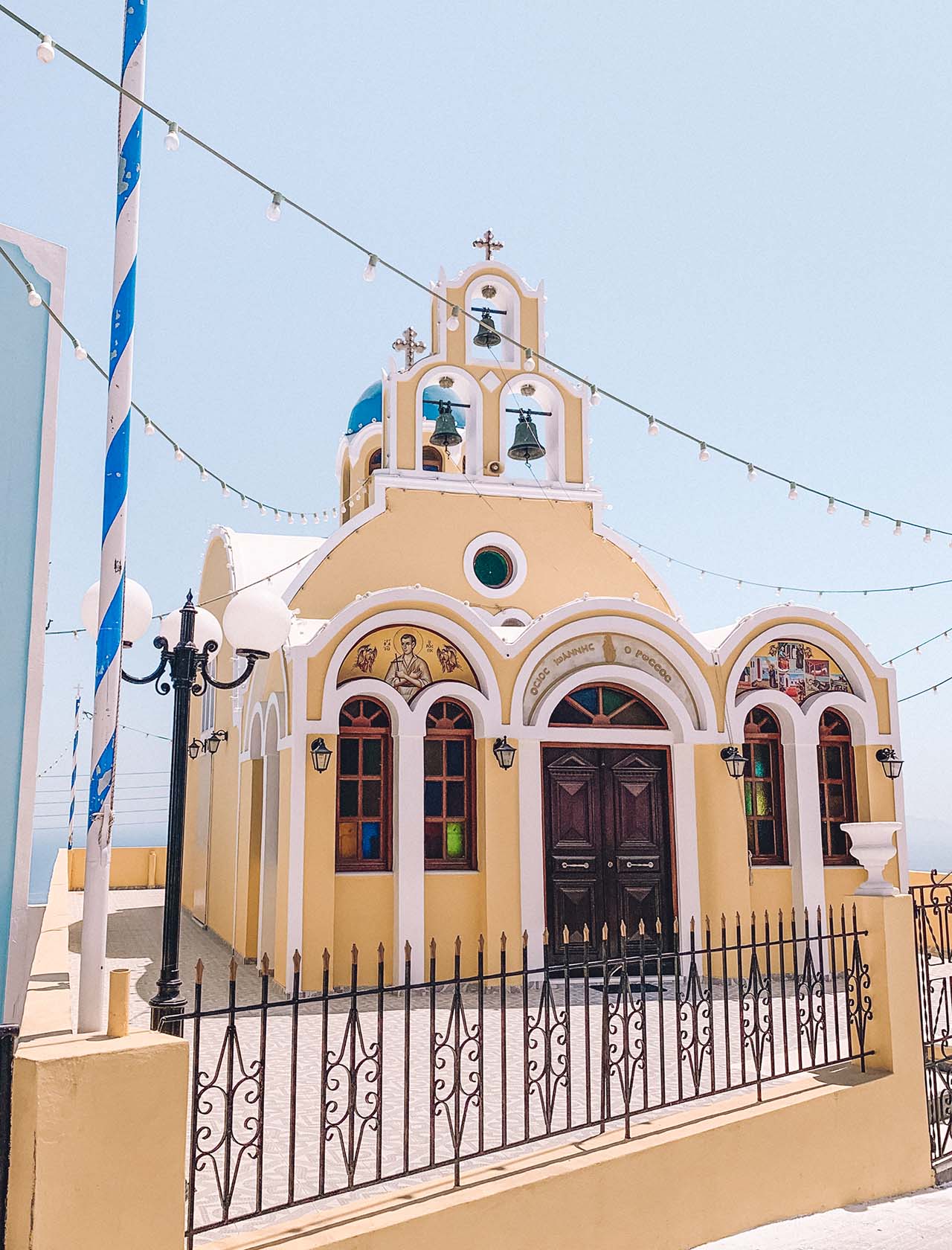 Third Stop: Megalochori
There are two little churches on the coast called the churches of Agios Nikolaos and Our Lady of Plaka, and they are built into the cliffside. How cool is that?
You can reach the churches via a steep path which offers views of the Santorini caldera. Also in the area of the hike to the cliff churches is this darling yellow church, too.
So many churches, so little time!
The village, Megalochori, is a true hidden gem with its labyrinth of winding alleys, whitewashed houses, and sooo much charm. Overall, the town is quite sleepy but if you're looking to wander in a quaint Greek village, this may be your cup of tea!
Here you can pop by an area that's referred to as the "Heart of Santorini." It's a small heart-shaped hole that naturally carved into the caldera, and you can see the ocean through it.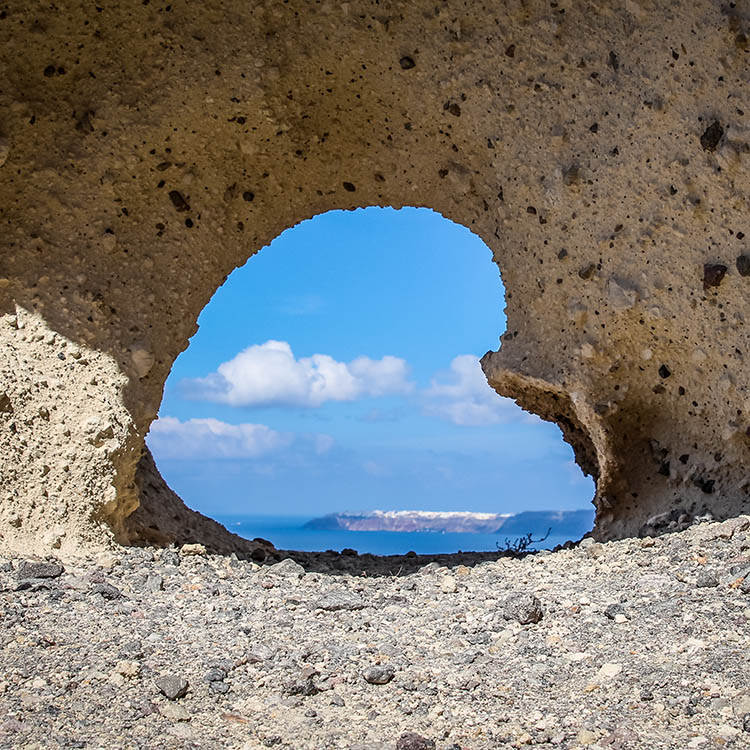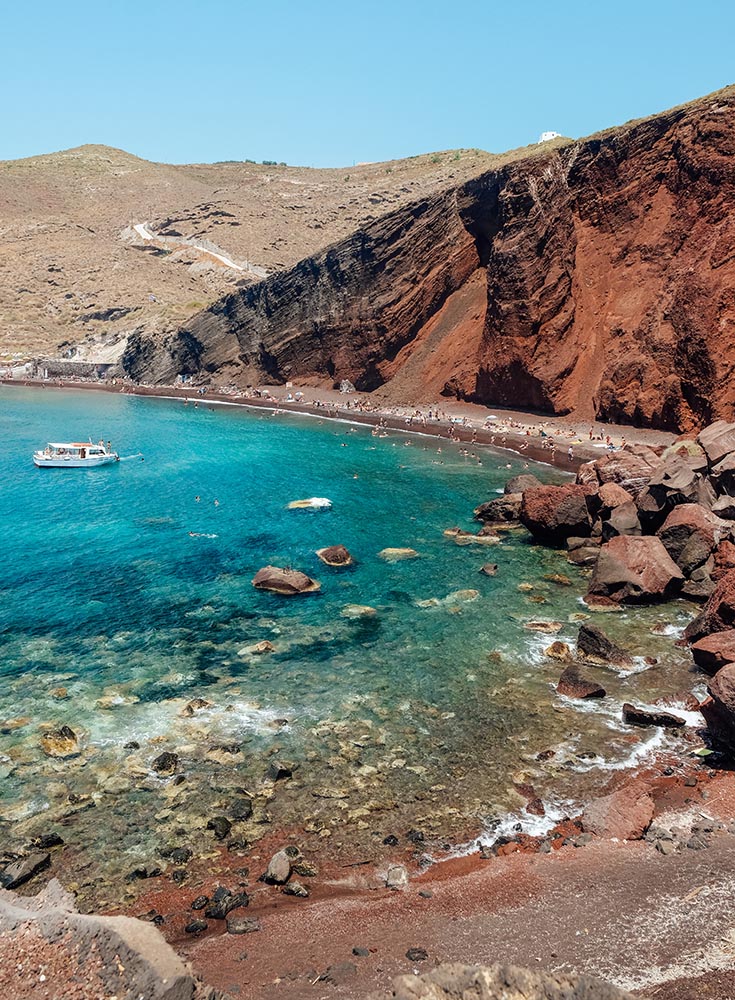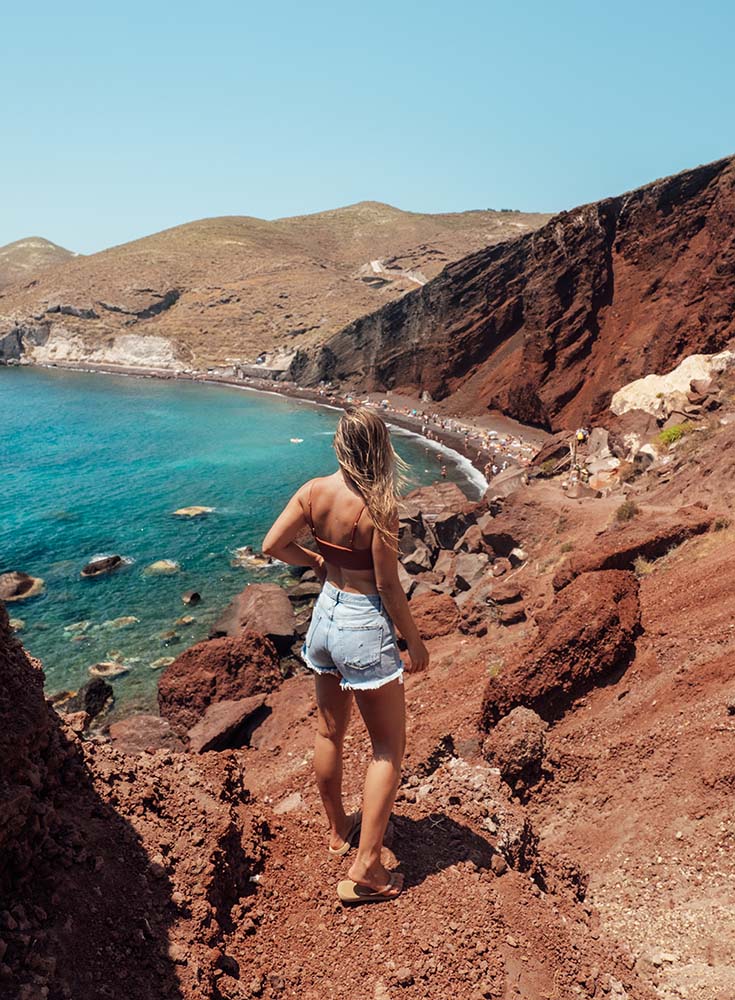 Fourth Stop: Red Beach
We went all the way around the southern tip of the island to Red Beach. If you're making your way around the island in a counter-clockwise loop, you can't miss it. The signs are pretty obvious and will point the way.
There's also a White Beach you can visit, but the real stunner is Red Beach, which is famous for its red cliffs.
We planned to go and hang out there for a little while, and we ended up spending almost two hours here. You can swim out to the rocks and it's overall a lovely place to explore.
Helpful Tip:
You'll need to bring your own beach goodies (towels and everything), or opt to sit directly on the sand or rocks.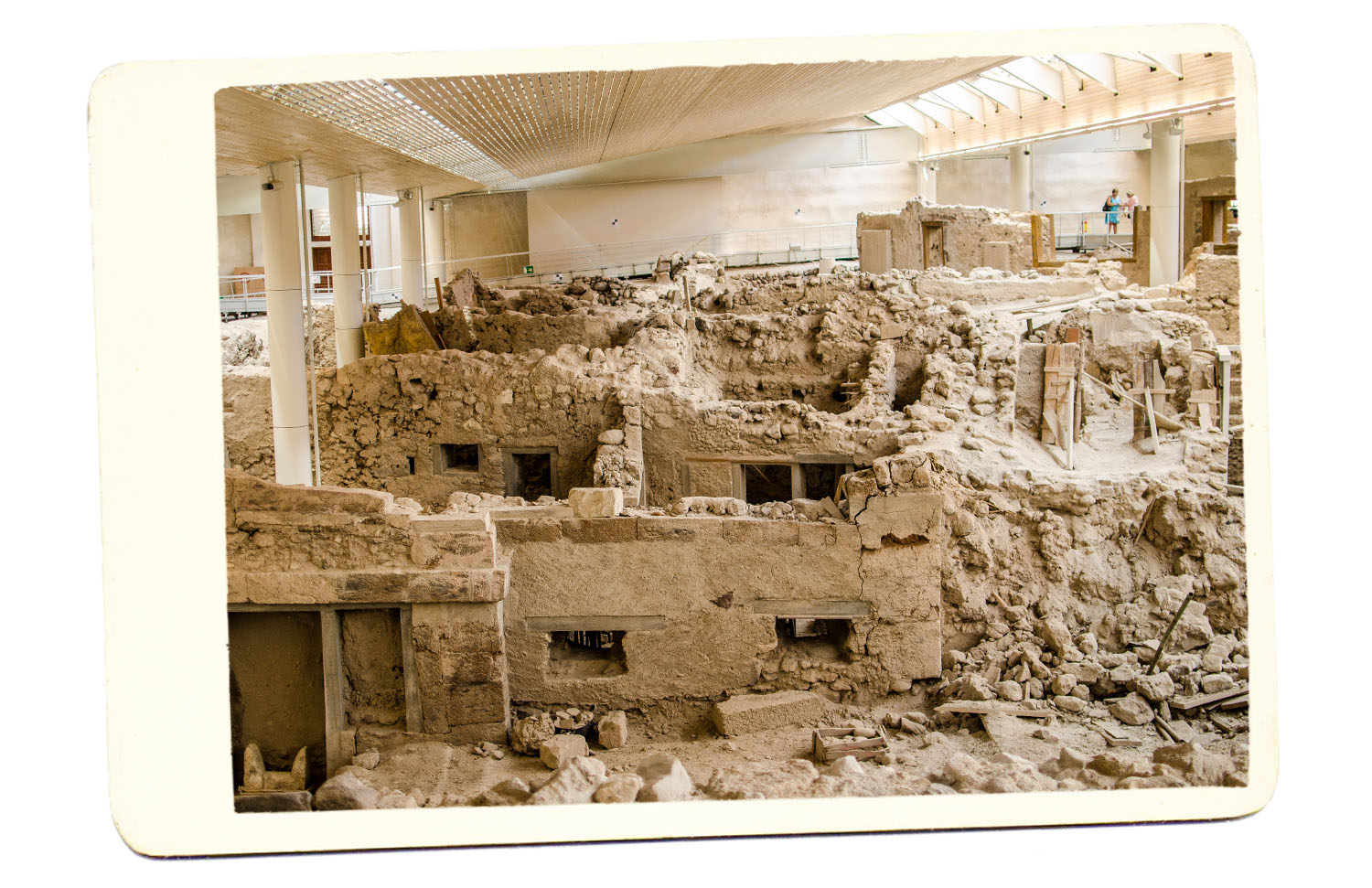 Fifth Stop: Akrotiri
If you have the time and it interests you, make a stop at Akrotiri archeological site. While it can be quite touristic—when else are you going to explore ancient ruins in Greece?
Dating back to the Minoan times, Akrotiri was a Cycladic Bronze Age settlement that was destroyed in a volcanic eruption sometime around the 16th century BC. As the site was buried in volcanic ash (much like Pompeii), much of it is preserved—so you'll see things from frescoes to artworks.
It's been said that this settlement may have inspired Plato's story of Atlantis.
While we didn't go, if you're wanting to learn more about ancient Greek history, this is the place!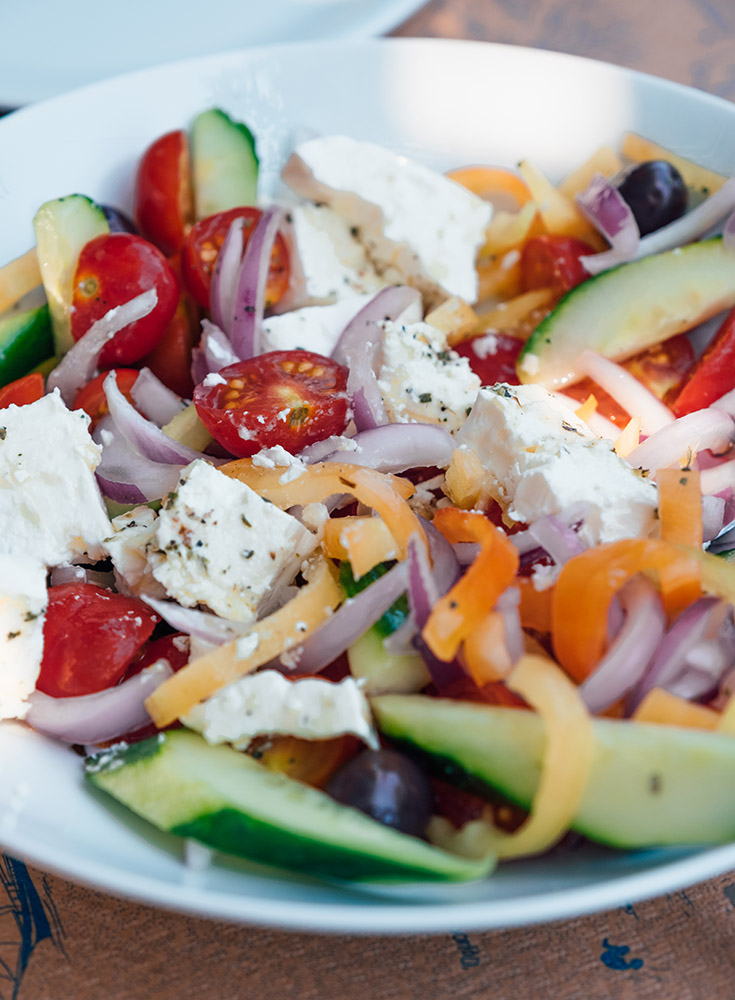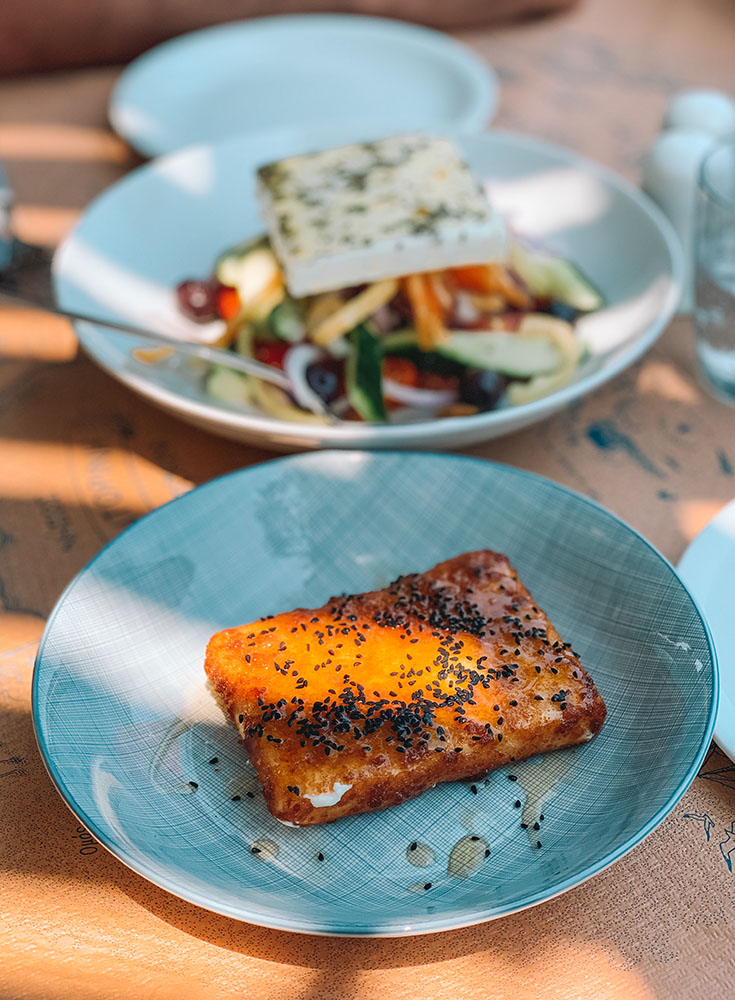 Stop at Theofanis for Delicious Greek Food
While in the area, something you truly do not want to miss is the family-run restaurant: Theofanis.
I'm still drooling thinking of their fried feta with black sesame seeds and honey. It's sweet and savory and all sorts of deliciousness.

Sixth Stop: The Famous Bakery of Santa Irini
On your way to the Black Sand Beach, make a stop at Santa Irini, which is a famous bakery. I highly recommend getting a box of cookies here!
Whether you want to grab fresh pastries or cookies, an iced coffee, or fresh orange juice—this is the place! There are loads of breads and delicious goodies to try: baklava, sesame breadsticks, typical Greek treats.
Make a Pit Stop for Cookies!
Open 24 hours, Santa Irini is worth making a pit stop at…and you might find yourself wanting to come back here multiple times.
If you've worked up an appetite, you may want to try a traditional spinach or cheese pie!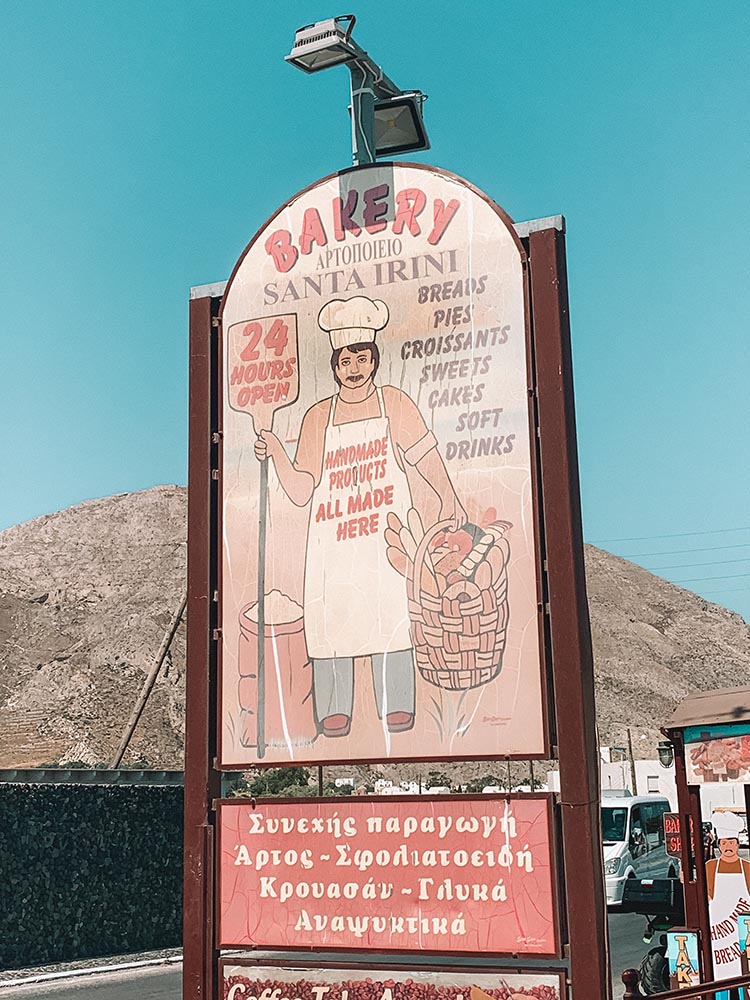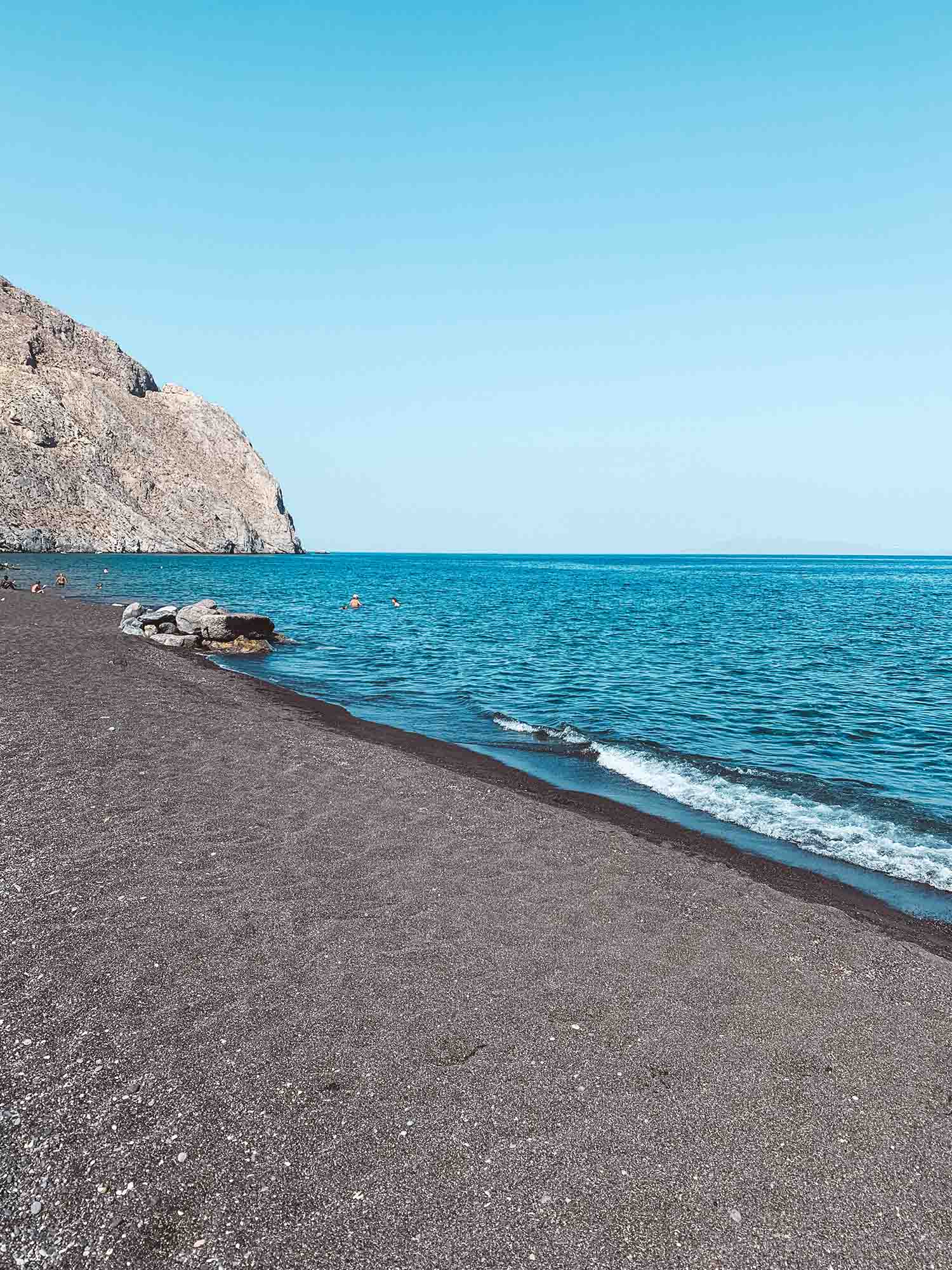 Perissa Black Sand Beach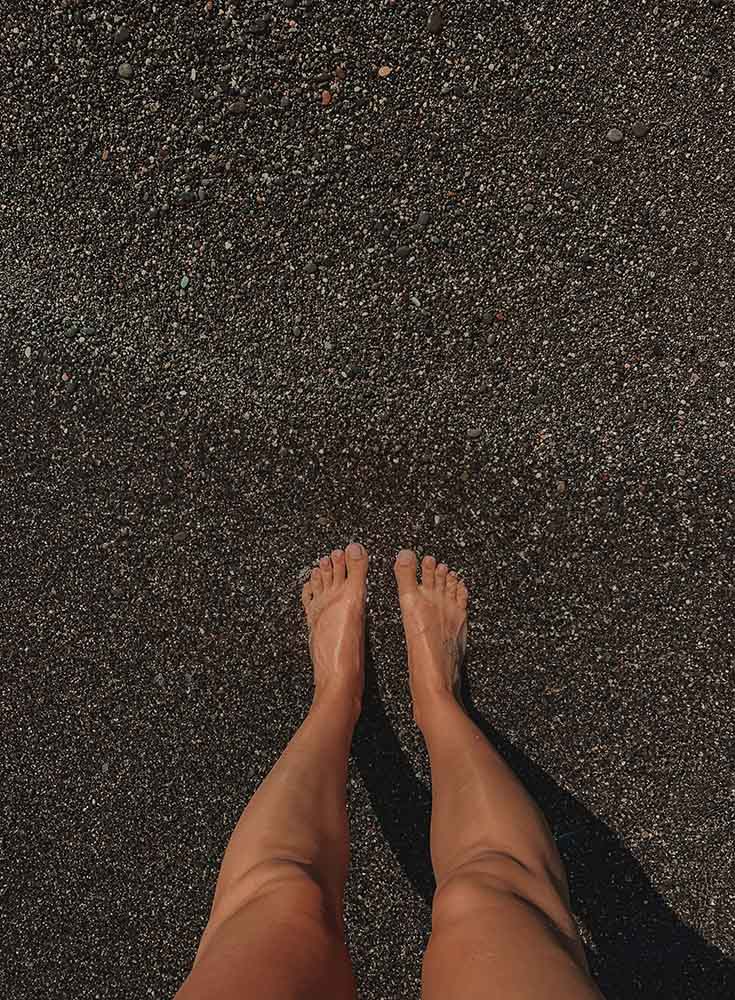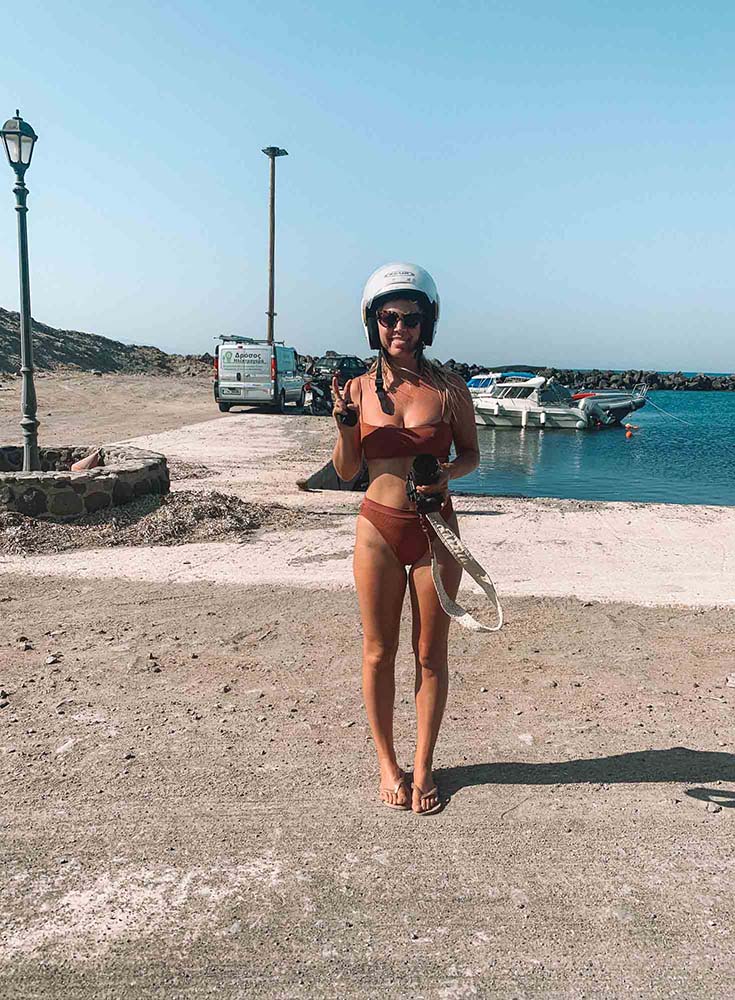 Seventh Stop: Perissa Black Sand Beach
On the way to Perissa Black Sand Beach, you can decide how you want to travel that route. We cut back up and around — but figure out what works best for you (if you didn't stop at Akrotiri, you can head straight here).
Continue on to Perissa Black Sand Beach. While this isn't surprising…be prepared — the sand is VERY hot, so be careful.
There's way more beach infrastructure at Perissa compared to the Red Beach. At Perissa, you can rent a beach chair, umbrella, whereas at the Red Beach you're pretty much on your own.
Overall, Perissa is more comfortable if you're wanting to spend the majority of your time on the beach. So, if you're wanting a true beach day, plan to hang out at Perissa for a better portion of the day.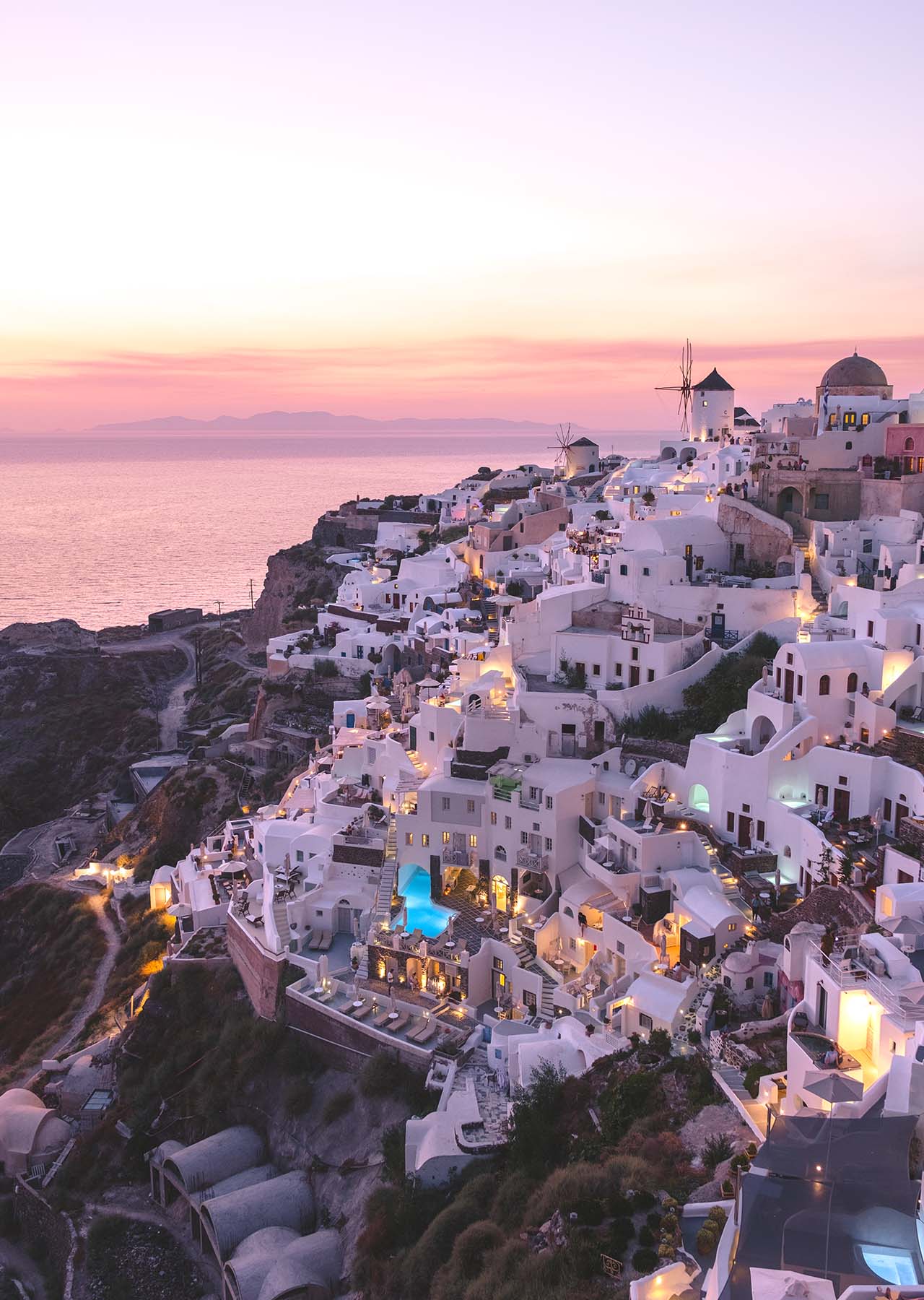 Drive Back to Oia
We drove back toward Oia without any real agenda as basically all the main roads eventually lead back to Oia. Use this time to explore — and find an epic spot for sunset (Oia never disappoints).
If you're not staying in Oia, 100% stay here for sunset and grab a bite to eat.
Pitogyros was one of our go-to places for cheap and delicious food while in Oia!
They've got delicious gyros which are essentially pita bread stuffed with your choice of lamb, beef, halloumi, french fries, or veggies. Choose from souvlaki, kebabs, handmade sausages, and grab a cold beer while you're at it.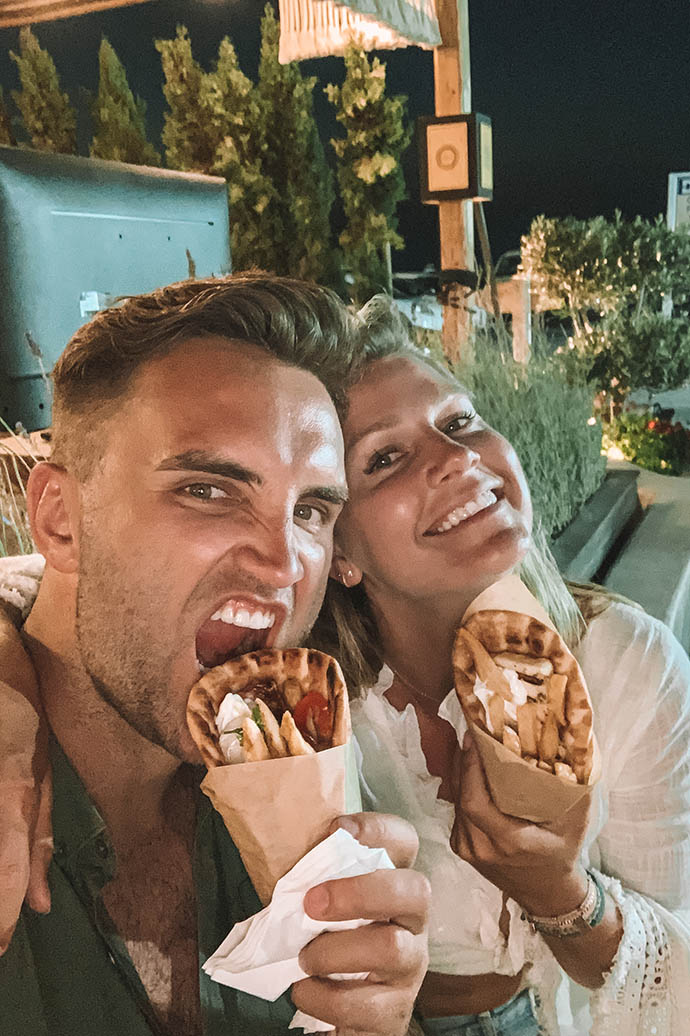 Those are the main highlights when it comes to ATV-ing around Santorini and exploring the beaches and beautiful churches.
If you wanted to break up this itinerary and rent an ATV for a few days, that's definitely an option. While Oia is extraordinary, it's really nice to get out and see more of the island and places that are devoid of tourists.
Have you explored Santorini before? Let me know in the comments below!