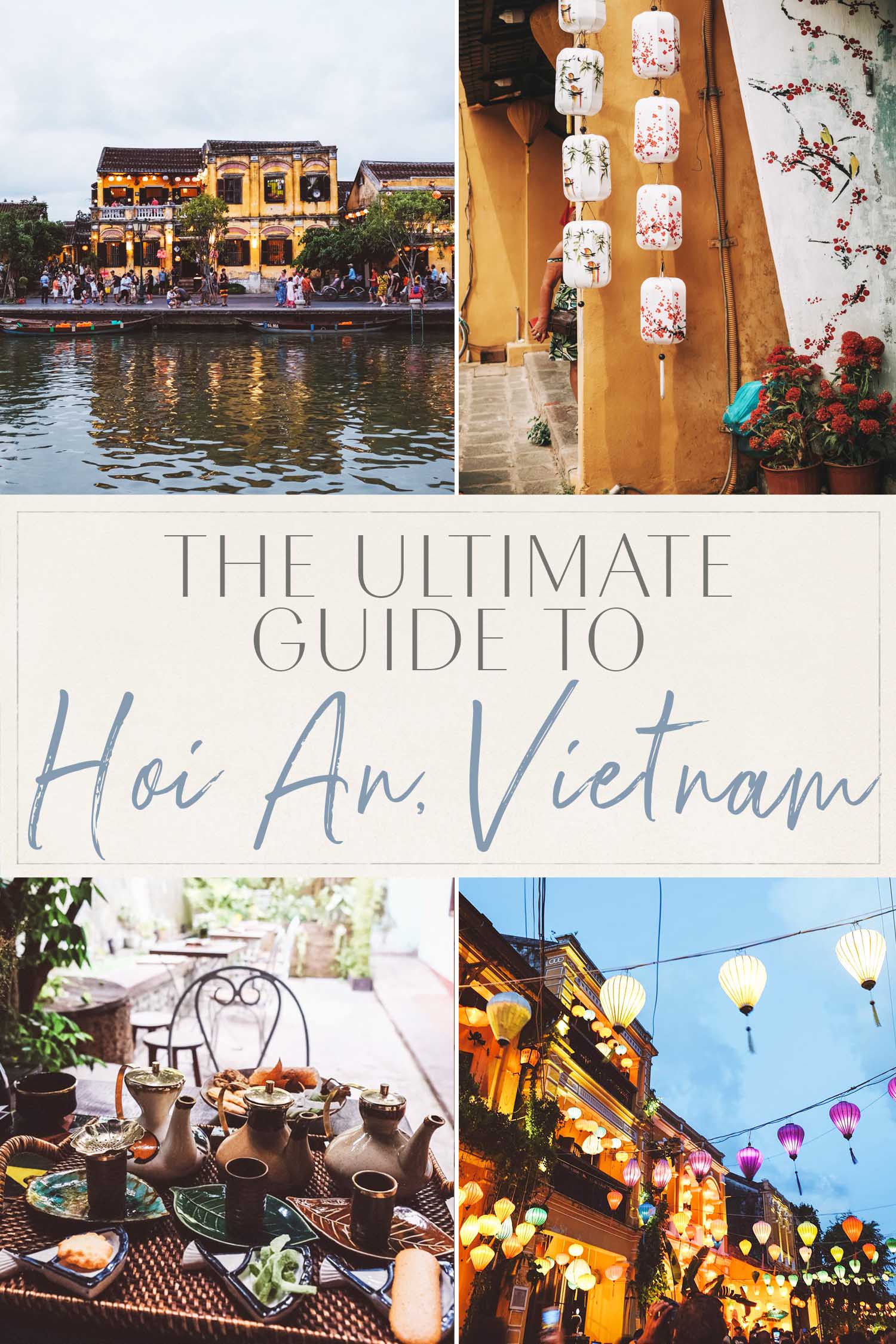 Tucked in the center of Vietnam along the coast of the South China Sea, you can explore the streets of 15th century Vietnam while you soak in the rich history of this fascinating place.
The small city of Hoi An is renowned for its well-preserved Ancient Town.
As you wander amongst the canals, you can admire the unique blend of Japanese, Chinese, French, and indigenous architecture that makes this National Cultural Heritage Site unlike anywhere else you've ever experienced.
Want to see what makes this off-the-beaten-path Vietnamese city so special? Here's your ultimate guide to Hoi An, Vietnam.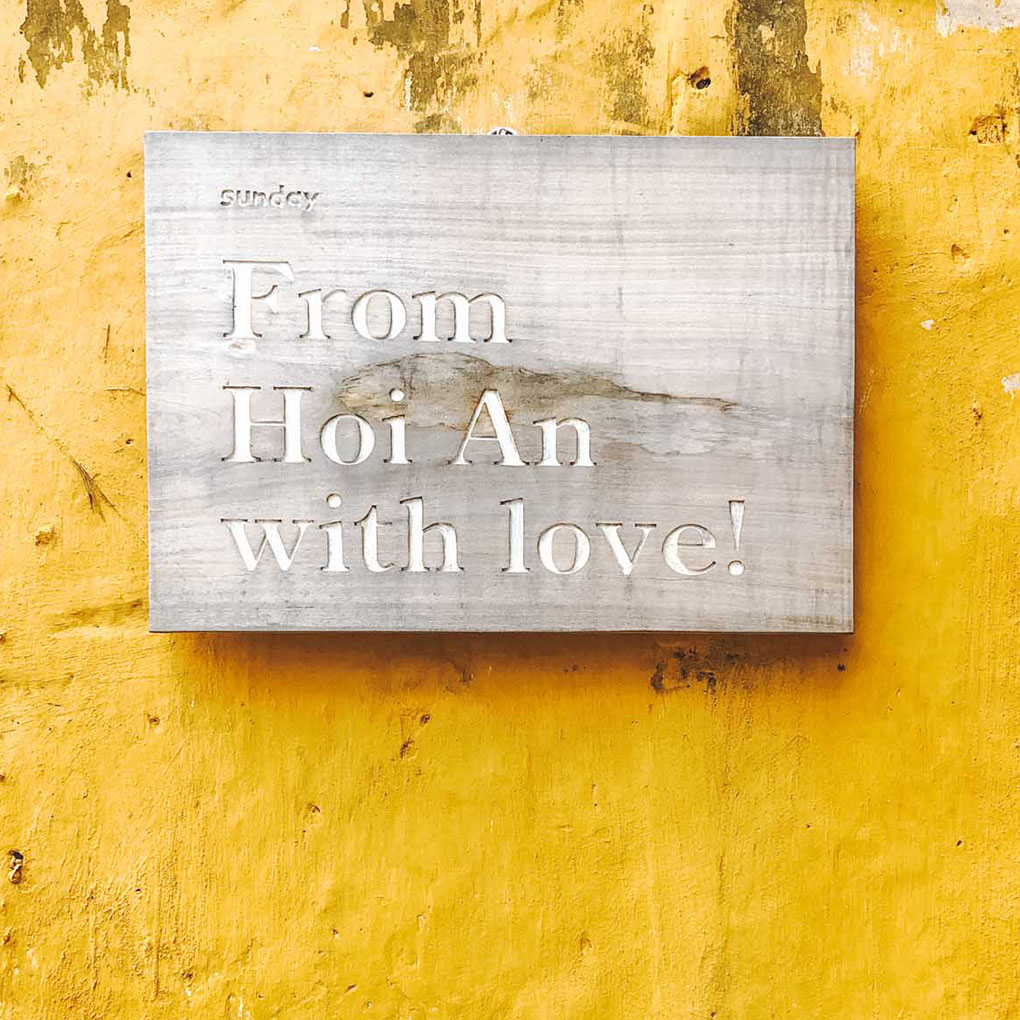 Getting There
There's no airport or train station in Hoi An so you've got to take the scenic route. The nearest well-connected city is Da Nang.
From there, you'll find daily flights going to and from Hanoi, Ho Chi Minh City, and other major cities. Da Nang is also well connected by train, as well as the extensive bus network that spans the entire region.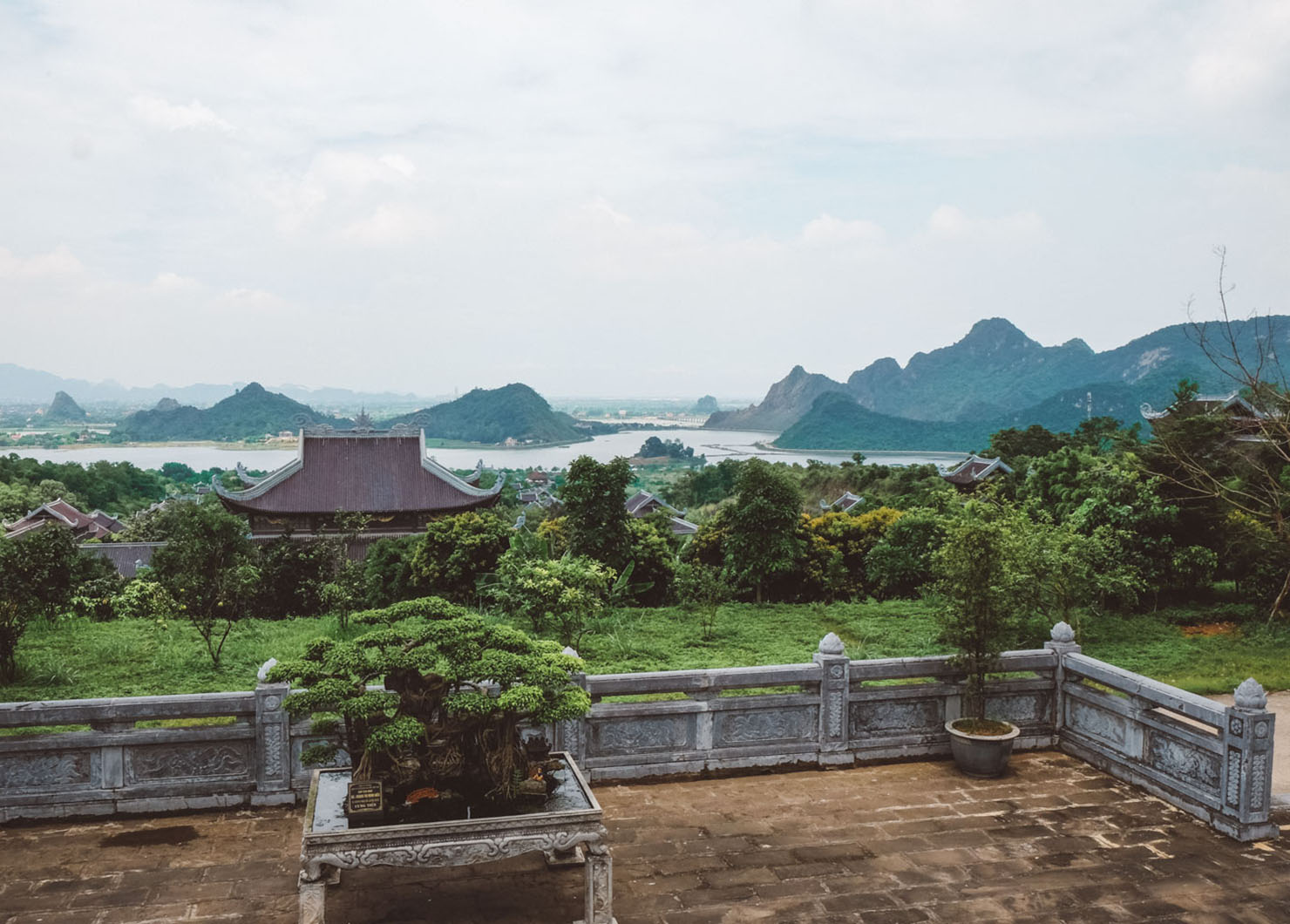 Where to Stay
From budget to luxe, Hoi An has something for everything. Here are a few of my faves:
Luxury Picks
Anio Boutique Hotel Hoi An is the perfect oasis. They offer a free shuttle to get you where you need to go and bikes for when you're just looking to explore. With a super attentive staff and all the good stuff like an oversized pool, fitness center, bar, and restaurants, it's a good place to just chill.
Another beautiful boutique pick is the Riverside Hoi An Boutique Hotel. Located just beside the Ancient Town, this place is perfect for pampering. Soak in the amazing tubs, lounge at the rooftop bar then make your way down to the on-site spa.
Mid-Range Options
Lasenta Boutique Hotel Hoian ticks all the boxes for a nice and comfortable stay. It's within walking distance of the Ancient Town and offers an on-site restaurant, pool, and bikes for exploring.
For a gorgeous traditional atmosphere, the Vinh Hung Heritage Hotel is a fave amongst travelers. It's connected with the Vinh Hung Restaurant and the food is out of this world.
Budget Choices
I had a fab experience at the cozy Lazy Bear Hostel. This small, family-owned spot is in a quiet neighborhood so you really feel like you are getting a glimpse into local life.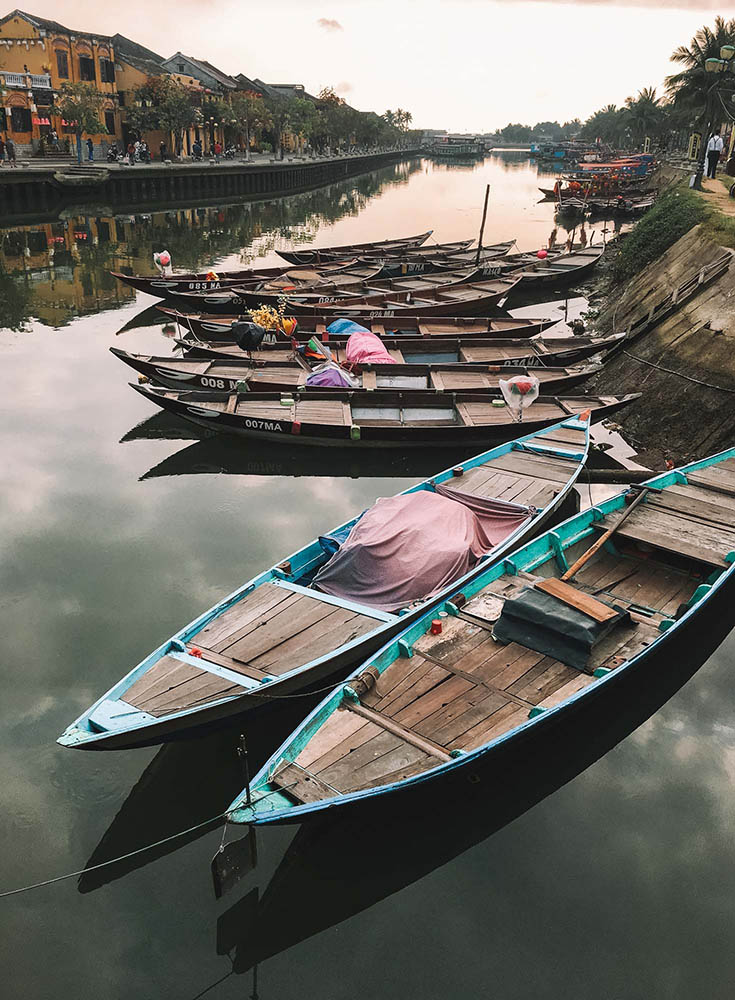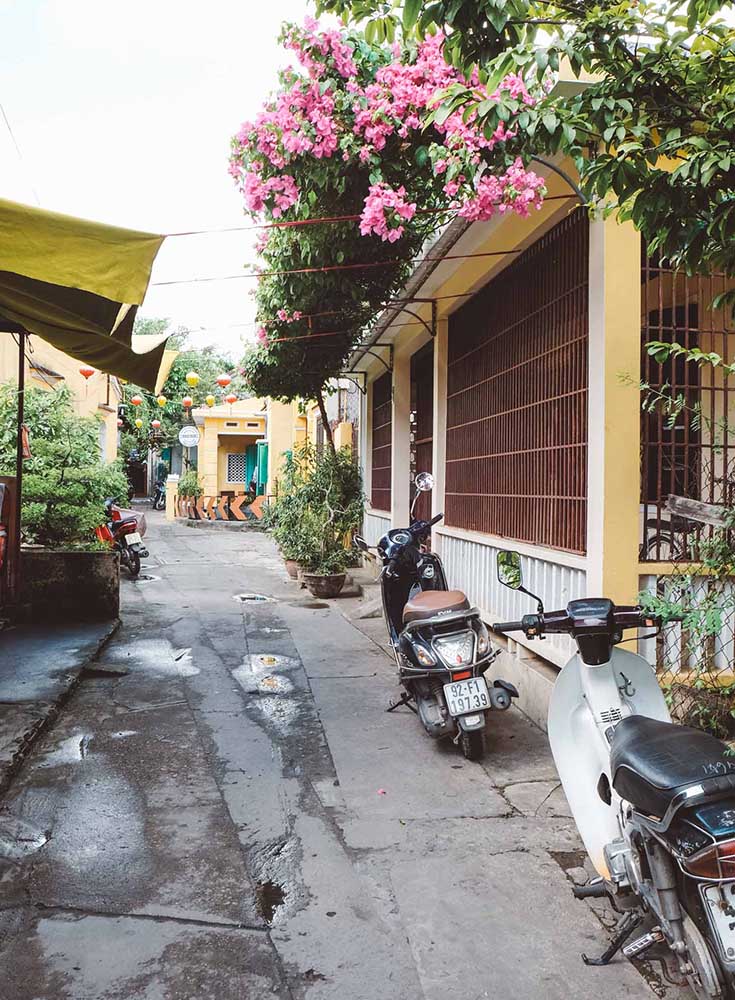 Getting Around
It's all about the scooter here!
We arranged a scooter with the hostel and it was such a quick and easy way to get around. Hoi An doesn't have the crazy traffic that other areas of Vietnam are famous for so it's completely manageable.
Another good solution is the Grab app. You can order a taxi from here, or pretty much anything else you'd ever want. You can actually order food, ship payment, and make cashless payments all over the country with this ultra-popular all in one app.
Helpful Tip:
Heads up, you're not allowed to ride scooters in the Old Town area so you have to park outside the area and walk around. Make sure not to be a disrespectful tourist and help preserve the beautiful city.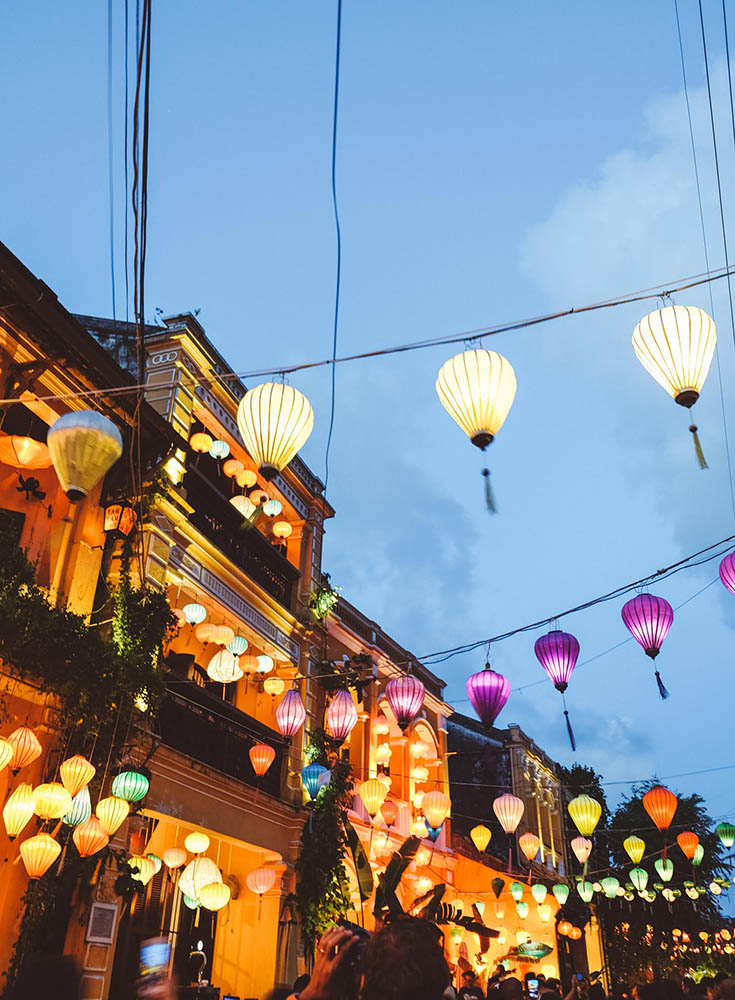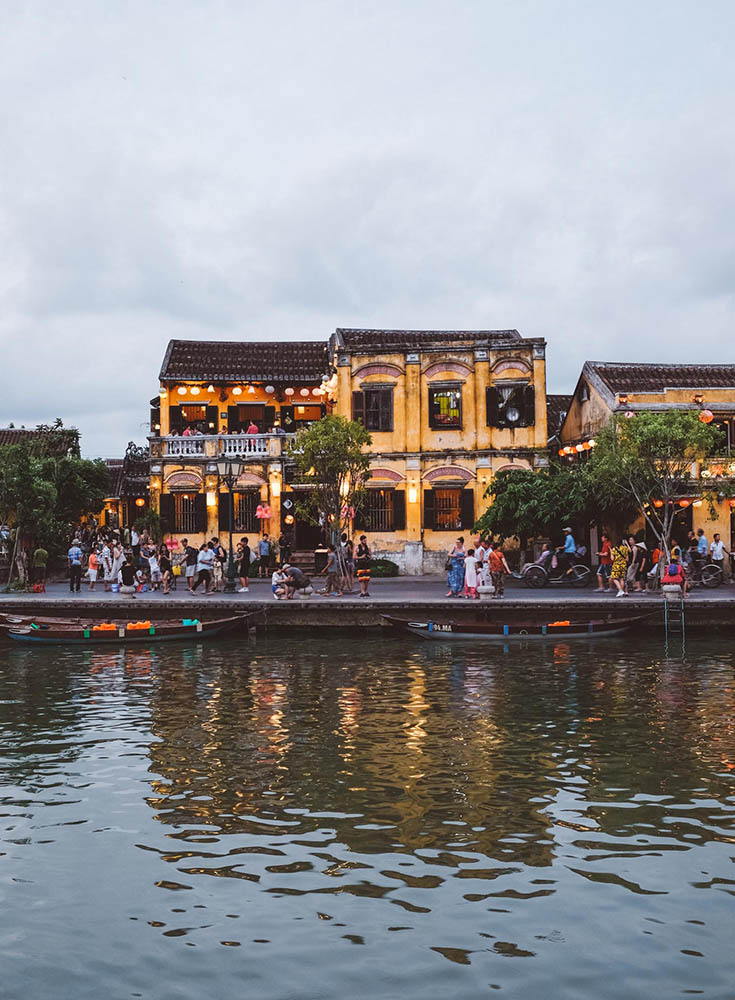 What  to Do
Explore Old Town
Hoi An's Old Town will be the highlight of any trip. Snap pics of the colorful buildings and glowing lanterns as you make your way to the sixteenth-century covered Japanese bridge. Stroll along the river and find the perfect souvenir at one of the local shops.
And get out there early! Morning is the best time to explore.
Old Town is the number one tourist target and it gets crowded during the day and into the evening. At night, it is worth coming back though. You'll find the best nightlife right along the river.
Helpful Tip:
While they are beautiful, floating lanterns or candles that float in the river create a serious amount of pollution. Avoid buying these!
Go to the Beach
While you might not think of Vietnam as the place to go for white-sand beaches, Hoi An has some of the best beaches in Southeast Asia. Be sure to get to An Bang beach. It's only two miles outside of Old Town.
You'll find countless little paths winding down to places to have a drink. Claim a seat with a good view, sample some Vietnamese beer, and linger until sunset.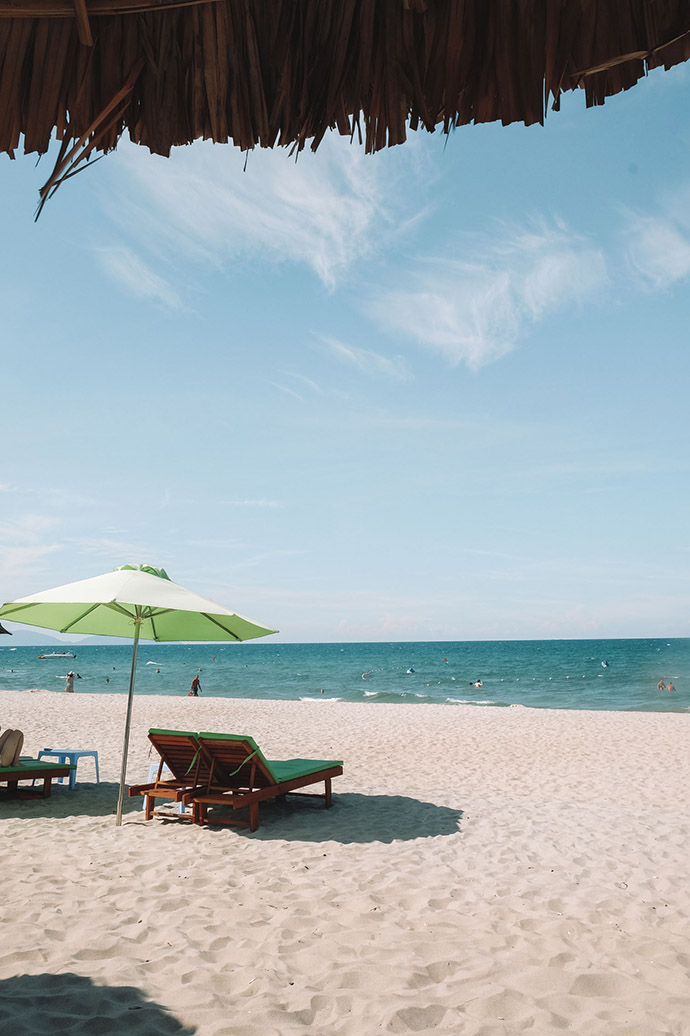 Get Custom Clothing Made
Hoi An is famous for its world-class tailors. Get a custom-made suit, dress, or anything other investment pieces. While there are many high-quality places, there are an overwhelming number of options and many of them operate on commission.
Avoid getting pressured into a place. Take your time and opt for a place you really love!
Day Trip Over to Da Nang
While Hoi An was my favorite place in the area, Da Nang or Danang are both worth exploring. Get over to the famous Cao Dai Temple and Dragon Bridge then check out the more modern picks along the coastline. There are hip resorts that are well worth spending a night at.
Hoi An Night "Lantern" Market
Sample the street food and load up on local sweets while you explore the impressive selection of local handicrafts and treasures. Hoi An Night "Lantern" Market is the one market you won't want to miss.
Day Trip to My Son Ruins
The Hindu temples were constructed over the period from the 4th to the 14th century by the Kings of Champa people. It's just over an hour drive from central Hoi An and you can go on a motorbike or join a tour. While it is a bit touristy, it's well worth it and the tour there are dirt cheap.
Helpful Tip:
Before you plan your trip, read up on the best time to visit Vietnam! The weather can have a major impact on where you'll want to explore.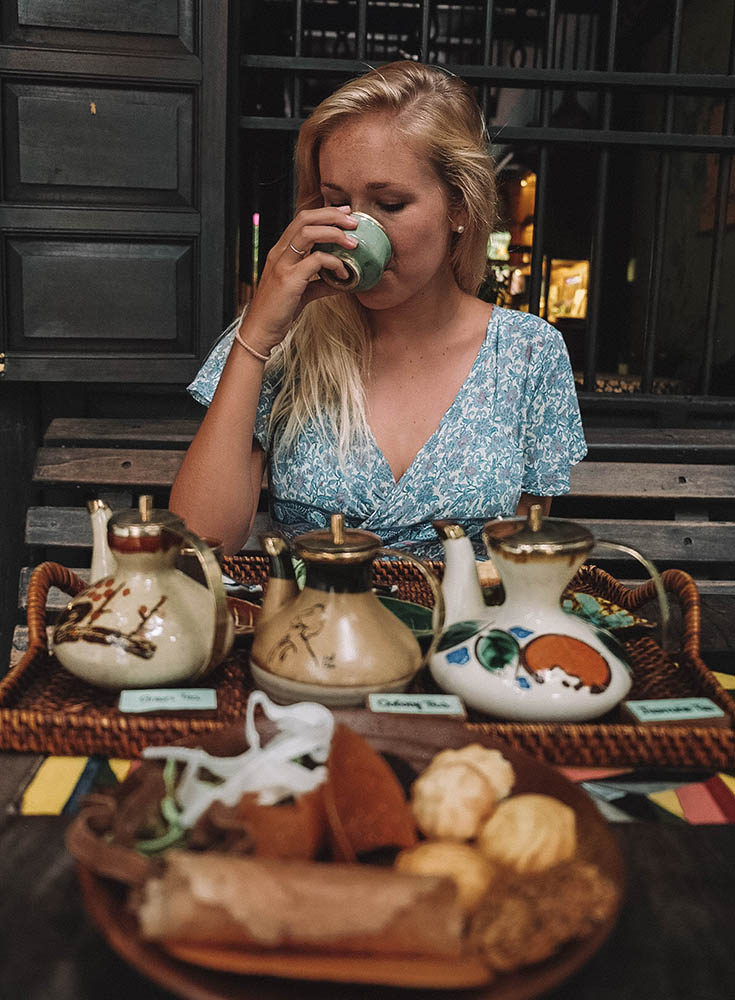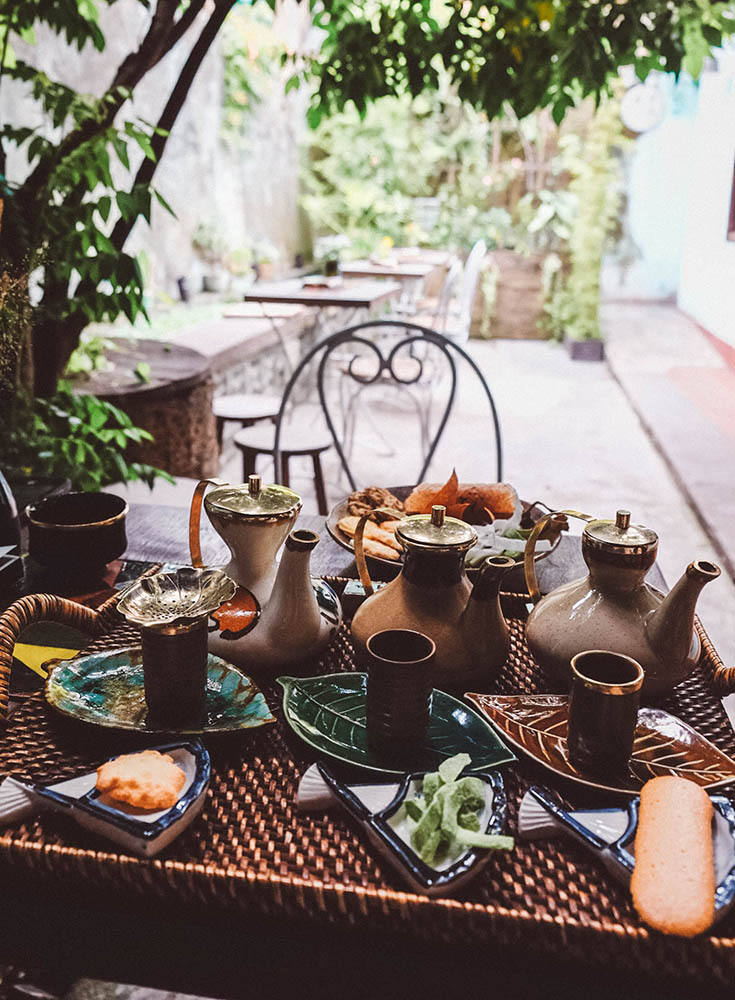 Afternoon Tea
In the Old Town of Hoi An, you can have a one-of-a-kind experience at the Reaching Out Tea House.
More than just a lovely place to sip a fair trade tea, this tranquil spot offers something special to the community as they employ people with disabilities from the local area.
Cooking Class
I've said it once and I'll say it again: there is no better souvenir than a recipe! Vietnam is no exception to the rule. In fact, this place has some of the best food in the world.
Check out my list of must-try Vietnamese foods, then go learn how to make as many as you can!
The Tra Que Garden Cooking Class & Restaurant is a traveler's fave and the perfect place to try your hand at Vietnamese cooking.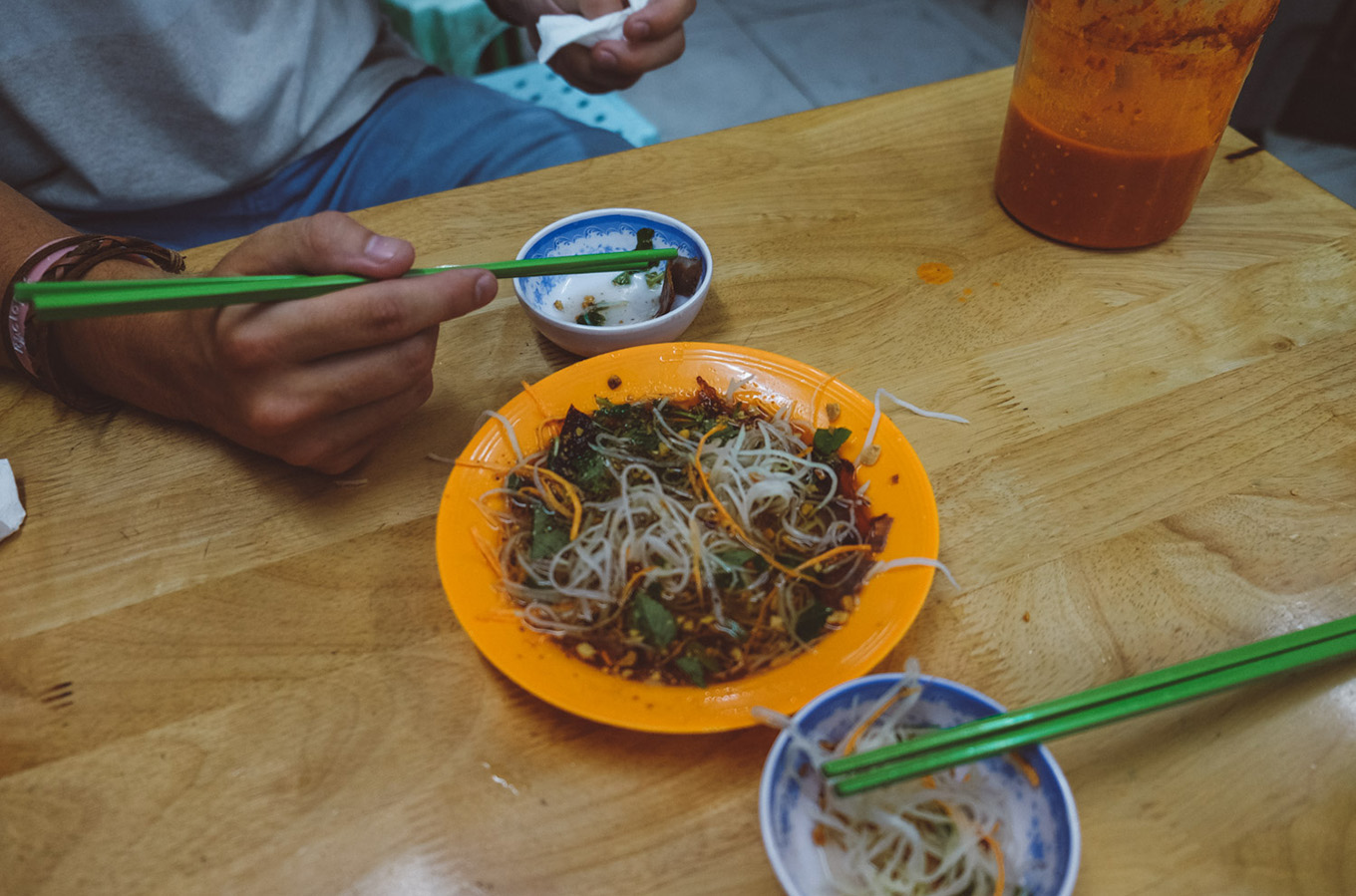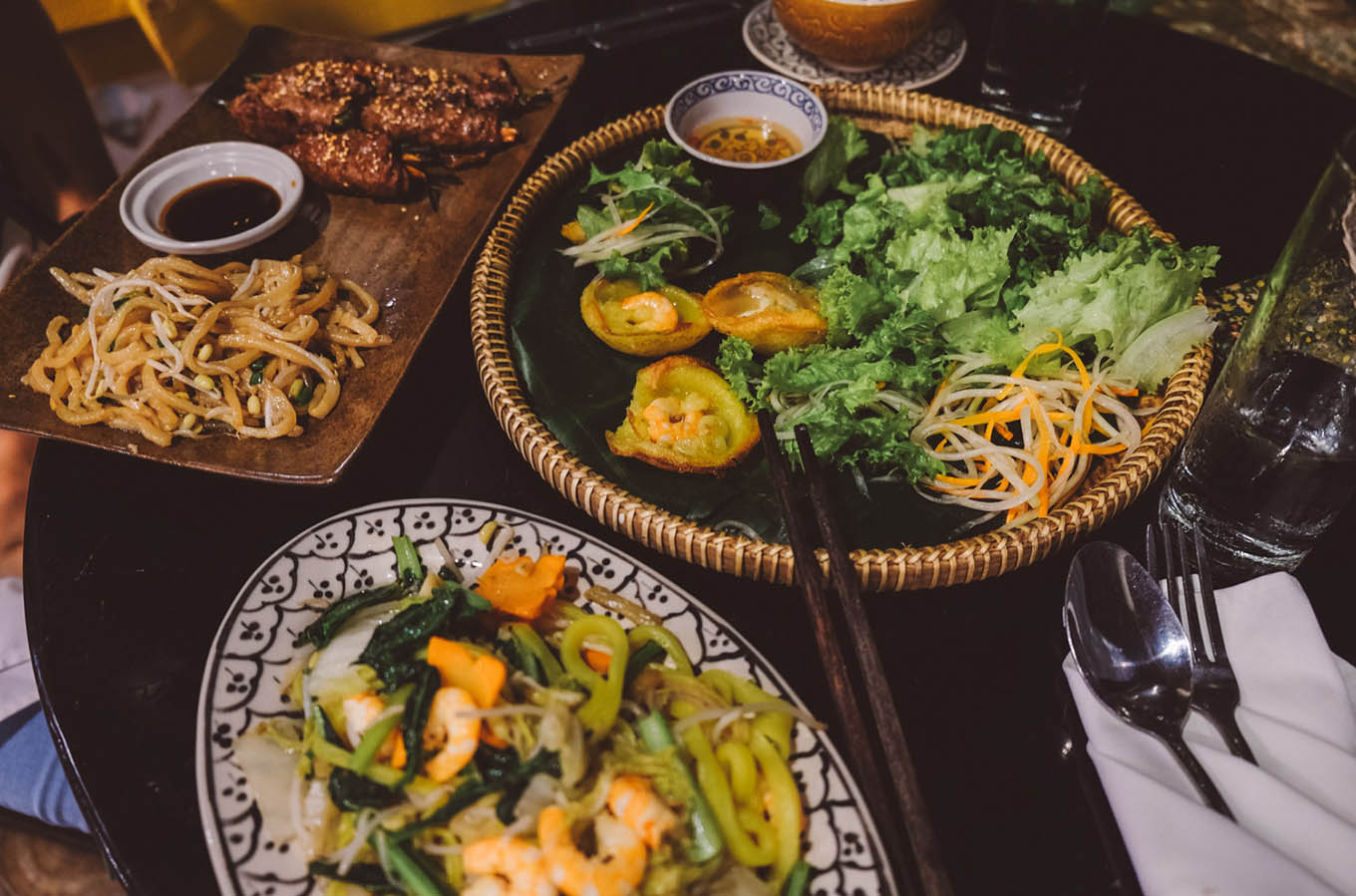 Where to Eat
While the food is incredible from Hanoi to Ho Chi Minh City, each region has its own special offering. In Hoi An, it's all about the white rose dumplings (rice paper with meat or shrimp filling) and cao lau noodles (thick rice noodles, BBQ pork, greens, and croutons).
You aren't likely to find these treats outside Hoi An so get 'em while they're hot!
It doesn't get any more authentic than eating at one of the four tables sitting on some guy's porch. Cale's Restaurant offers a five-star dining experience at a Vietnamese family home. I actually had dinner there twice within a five-day stay.
And, after extensive research, I'd recommend the pho, Cao Lau, and spring rolls. Since it is a small place, just double-check their Tripadvisor listing for an update on opening hours.
Banh My Phuong and/or Madam Khanh the Banh Mi Queen
Anthony Bourdain filmed here an episode of "No Reservations" at Banh My Phuong and, of course, it became an instant legend. That just served to amplify the battle for the best banh mi.
Some still insist the best Vietnamese sandwiches are at Madam Kahn's. Try them both and decide for yourself!
While vegetarian food is pretty doable in Vietnam, especially if you're a pescatarian, vegan food can be a bit harder to come by. If you're vegan or just trying to stay plant-based, you can't miss this one.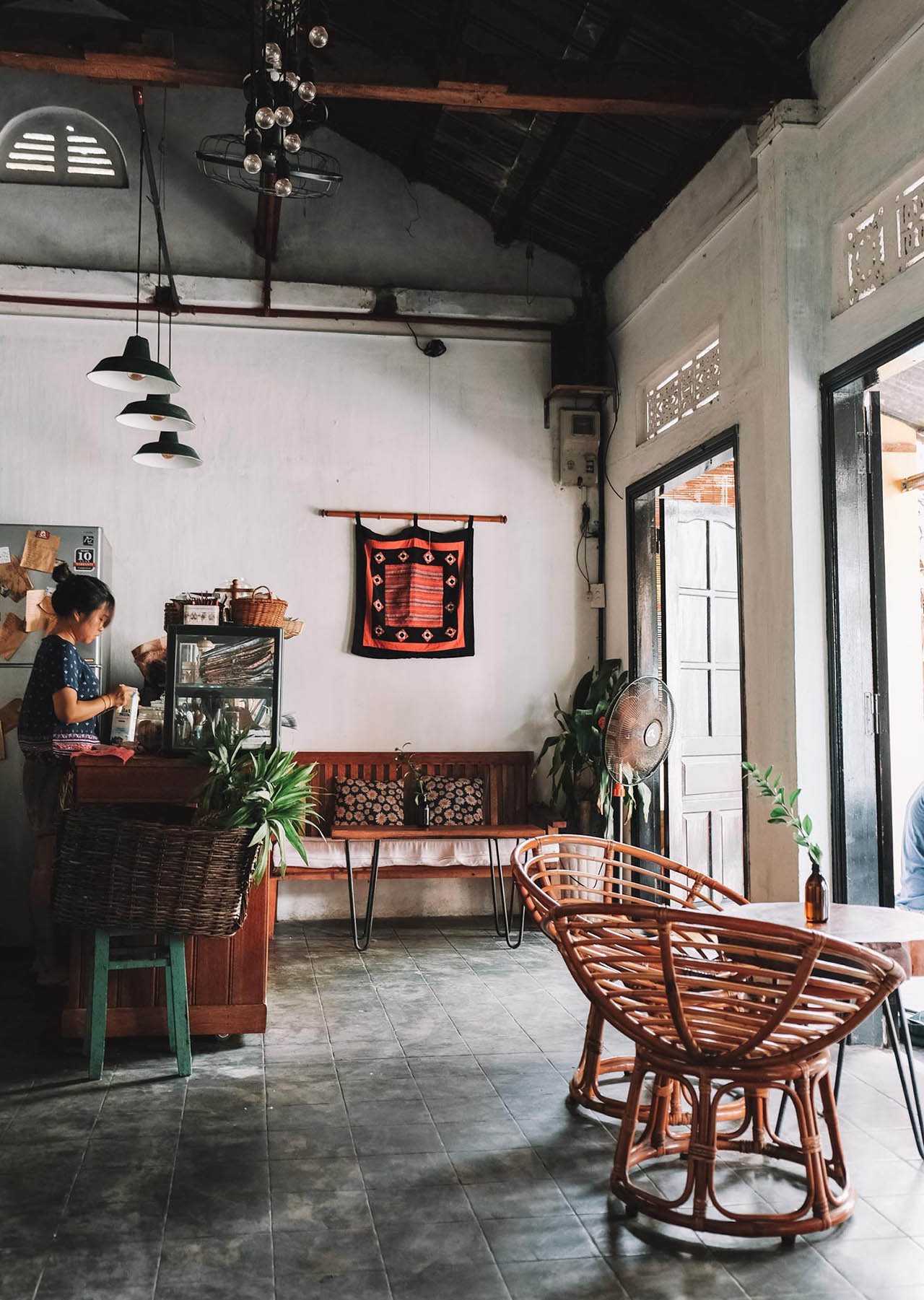 This is a great spot if you're craving a Western-style breakfast. And bring the camera! This cute cafe in Old Town is an Instagrammer's dream.
Remember those Cao Lau noodles I was talking about this? This is the best place to get them. Try the Mi Quang noodles as well. This little street food gem is an essential eatery.
More than just a good place to find traditional Vietnamese and international food choices, this cafe is actually a nonprofit restaurant that helps local youth.
Mia Coffee
Vietnamese coffee is next level! For the best of the best, make this your morning stop.
If you want to splurge a little for an amazing, authentic, Vietnamese meal, this is your place!

Before you go, check out my complete guide to travel in Vietnam. I've got all the tips and tricks you need to make this an epic journey.
I visited Vietnam during my first solo trip ever and, needless to say, it literally changed my life. It is one country that will always be very near and dear to me. So, guys, are you packing up for your first Southeast Asian adventure? Tell me what you've got planned!