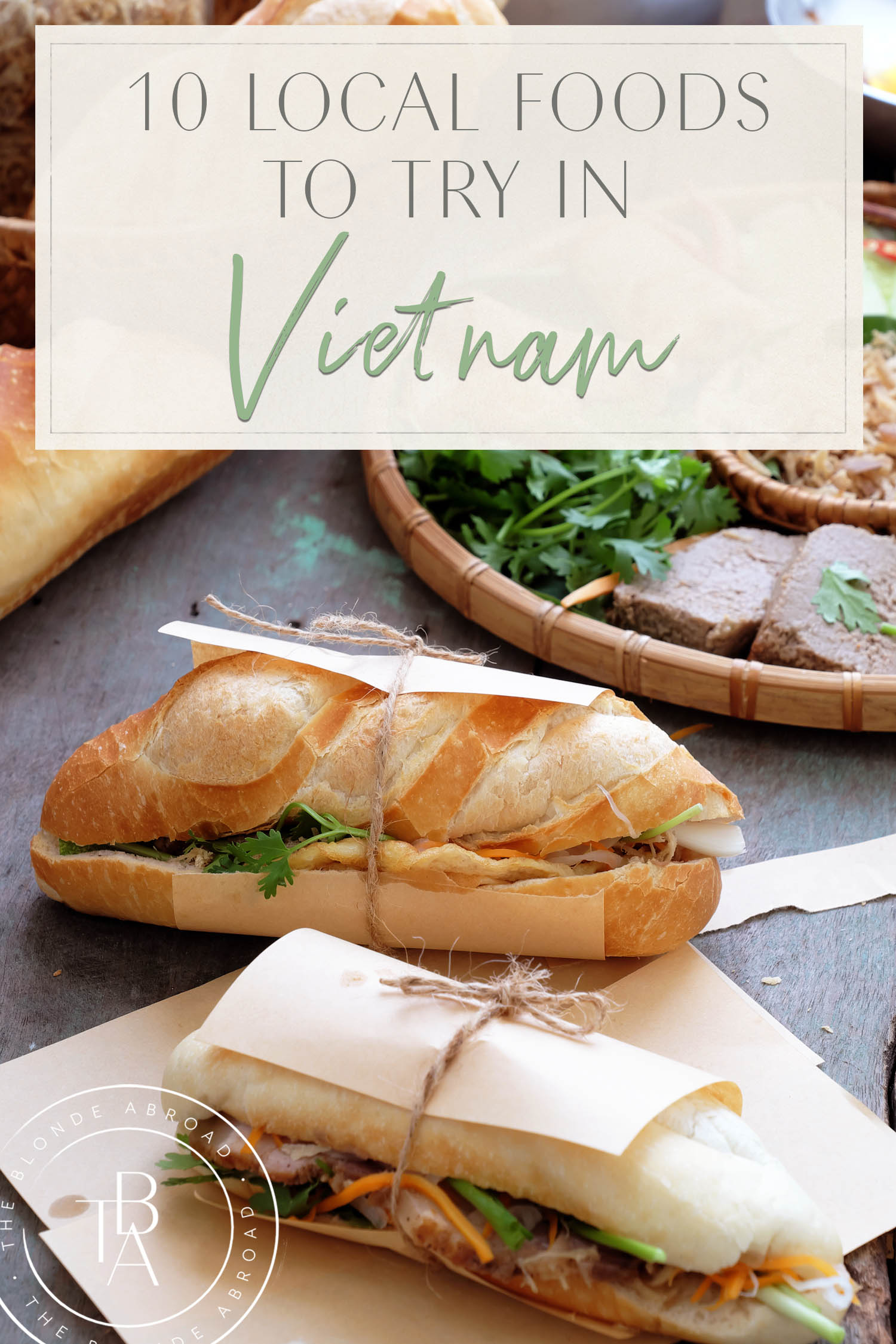 Vietnamese cuisine uses fresh ingredients and not a whole lot of oil or dairy, making it one of the healthier cuisines around the world — common ingredients include fish sauce, soy sauce, rice, noodles, fresh herbs, fruits and vegetables, and different proteins.
In fact, to me, it's the perfect balance of fresh and light food that doesn't weigh you down too much, yet it's still filling.
If you've ever had phở (pronounced like fuh), you know it's the kind of soup that can put you back together. The delicious soup, similar to a chicken noodle (but in my opinion SO MUCH TASTIER!), is packed with flavor. However, there are so many other Vietnamese dishes to try.
Don't know where to start? Here are 10 local foods to try in Vietnam!

Goi Cuon
Many people are familiar with the fried spring rolls but gỏi cuốn is the lighter and healthier alternative.
The fresh spring rolls consist of thin vermicelli noodles, pork, shrimp, lettuce, and mint, all tightly wrapped in translucent rice papers. Because of their mild flavor, they're usually dipped in a peanut or fish sauce.
Yum!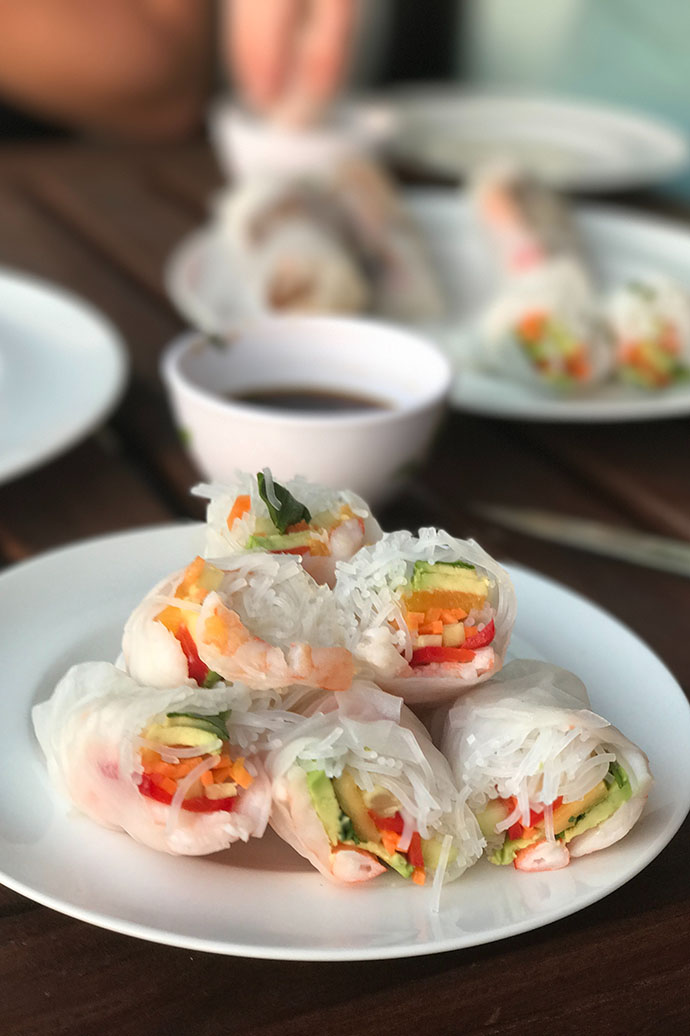 Cao Lau
When exploring the ancient towns of Vietnam, trying cao lầu is a must. This Hội An noodle dish is topped with pork, crunchy rice crackers, spices, and a handful of fresh herbs and lettuce.
A little bit of broth rests at the bottom of the bowl; both the texture and color of the dish set it apart from other Vietnamese noodle dishes.

Bún Bò Xào
Bún bò xào is a noodle salad—in Vietnam, it's considered a light meal rather than an appetizer.
Served in layers, the dish consists of rice noodles, vegetables, beef that has been marinated in lemongrass, roasted peanuts, crispy fried shallots, and lots of fresh herbs such as cilantro, lemon, basil, and mint.


Com Tam
Com tam, also known as broken rice, is traditionally served with a fried egg, grilled pork, prawns, or beef, and both fresh and pickled vegetables.
It's a popular dish for breakfast or lunch and is an extremely inexpensive option. Street markets and food stalls sell it for VND 20,000. That's less than $1 USD!

Bánh Mì
Bánh mì is a popular French-Vietnamese sandwich that's great for a quick fix on the go.
It's served on a baguette, which though it might look like the French bread, has a much sweeter flavor! The bread that serves as the foundation for the sandwich was introduced to Vietnam in the middle of the 19th-century when Vietnam was part of French Indochina.
Between the baguette sits pickled vegetables, pate, butter, soy sauce, cilantro, chilies, and hot peppers. You'll find lots of variation when it comes to this sandwich…but my goodness, are they all divine!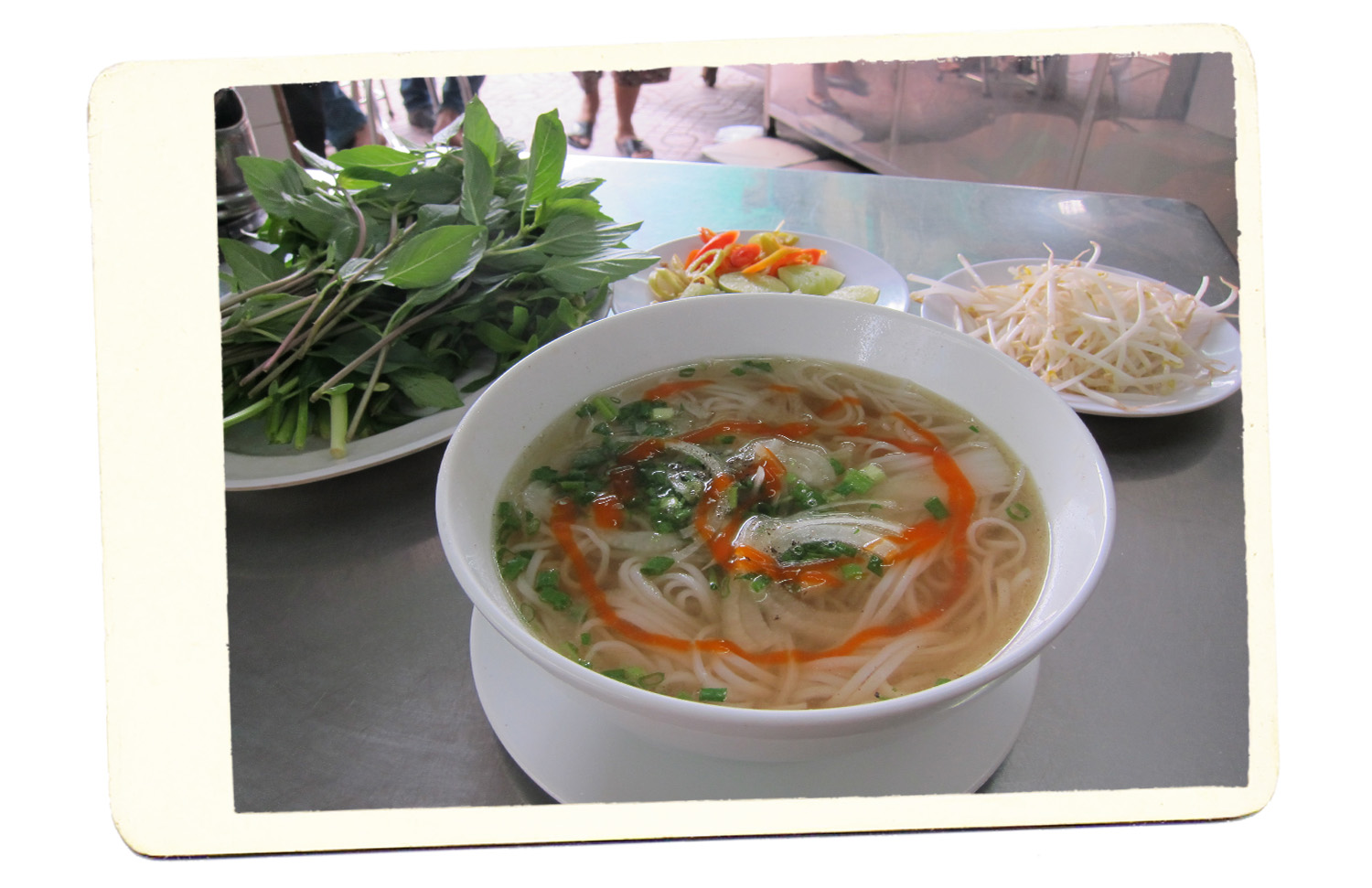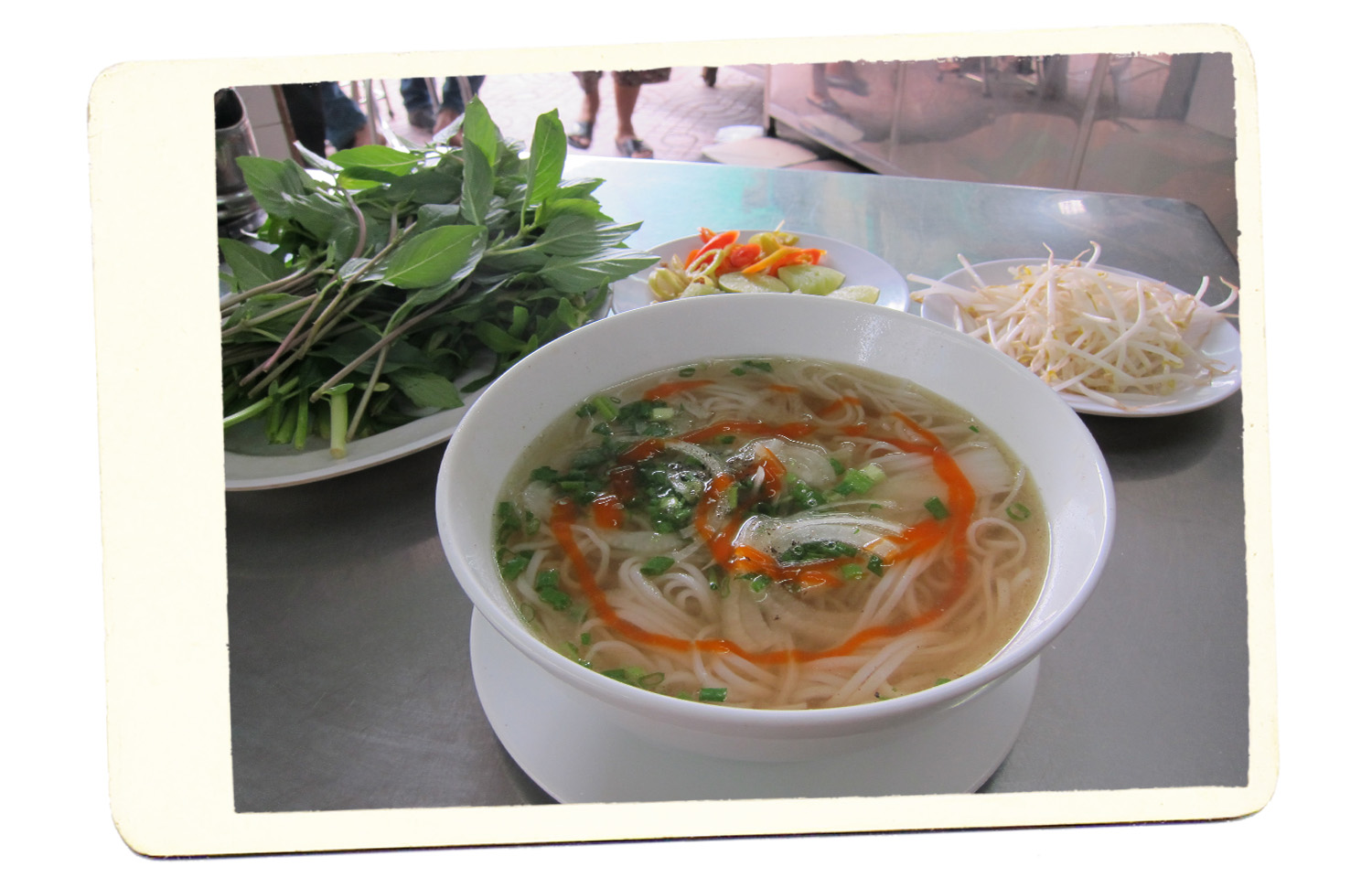 Pho
Phở is arguably the most popular Vietnamese dish in the world.
There are two main options: chicken (Phở Ga) and beef (Phở Bo). Aside from the meat, a typical bowl of phở contains rice noodles (for which the dish is actually named after), bean sprouts, lime wedges, cilantro, basil, mint, and sliced onion.
If you like your broth a bit more flavorful, you can add chili sauce and jalapenos to give it a bit more of a kick…however I've found the places that have really good broth don't need anything else added.

Bún Cha
Originating from Hanoi, this noodle dish is by far one of the most popular in the capital city!
Small patties of seasoned pork and pork belly are grilled over charcoal. The dish is served with a variety of sauces so you can pick and choose.
The meat is then served with herbs, a plate of vermicelli noodles, and chả giò (deep-fried rice paper rolls).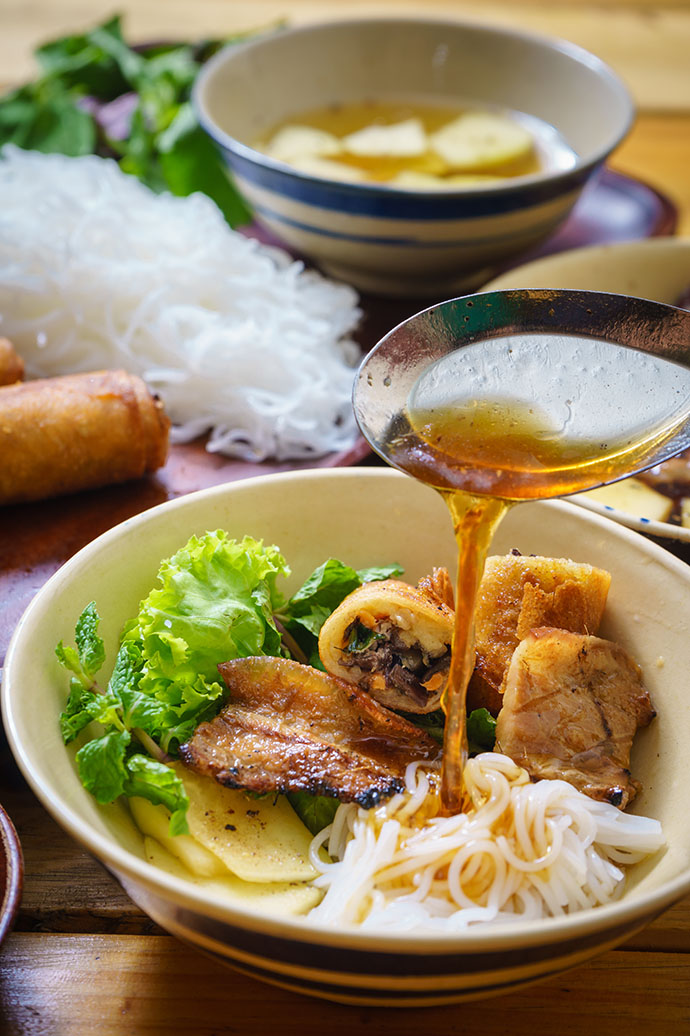 Bánh Xèo
Bánh Xèo is a savory crepe made from rice flour and turmeric powder, which is then stuffed with pork, shrimp, and bean sprouts.
Many choose to wrap it in lettuce and dip it in fish sauce to give it a bit more of tanginess.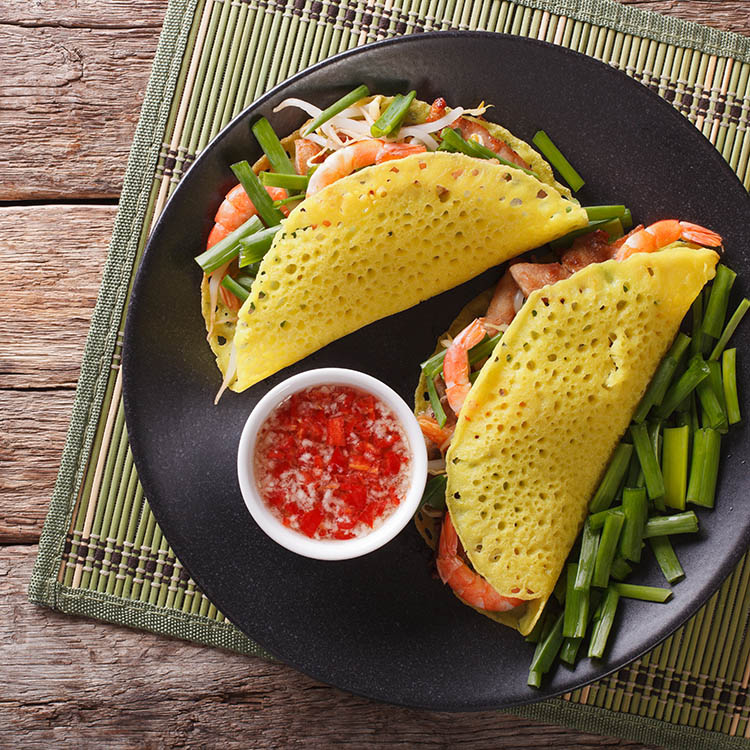 Bún Bò Hue
Sometimes referred to as bún bò, this sweet and spicy soup is perfect for a cold day!
Beef broth is prepared with lemongrass, shrimp paste, sugar, and chili oil and is then added to a bowl of rice noodles, a variety of meats, lime, and herbs. It's the perfect combination of sweet, salty, and spicy, all in one dish.

Bò Kho
Pronounced "baw-khaw," this dish is the Vietnamese version of the French boeuf bourguignon.
Comprised of beef shank and tendon that is stewed in lemongrass and five-spice flavored broth, you typically dip a piece of bánh mì bread into the sauce before feasting on the meat and veggies. You can also get it as a noodle-based dish—this is known as mì bò kho.

Bonus: Vietnamese Coffee + Breakfast
Vietnamese coffee is quite different than what you would expect from a typical cup of Western coffee.
It's especially sweet as it's typically served with sweetened condensed milk—because of this, fresh milk, sugar, or cream are not necessary.
A typical Vietnamese breakfast will likely consist of noodles (phở) or sticky rice (xoi). In Saigon, if you're craving eggs, you can order com tam. In some areas, you might find bánh bao—a Vietnamese bun similar to dim sum—which is a great "grab-and-go" breakfast.

Quick Guide to Ordering for Vegetarians
If you're in Vietnam and you want to tell someone that you're vegetarian, you can say "toi an chay."
To avoid meat, you can say "khong thit," but that doesn't mean a dish will be strictly vegan. Though there won't be any meat, there will still likely be fish sauce or a meat-based broth. These can be especially hard to avoid at street markets.
Tofu is a very common protein in Vietnamese cuisine too, so that will be an option most places!
You can order Phở Chay for a "vegetarian, tofu phở," but only more tourist locations will use a vegetable broth rather than a meat broth.
Heads up: You can order Báhn Mì with "no meat," but they will still put the pâté—which is a meat paste.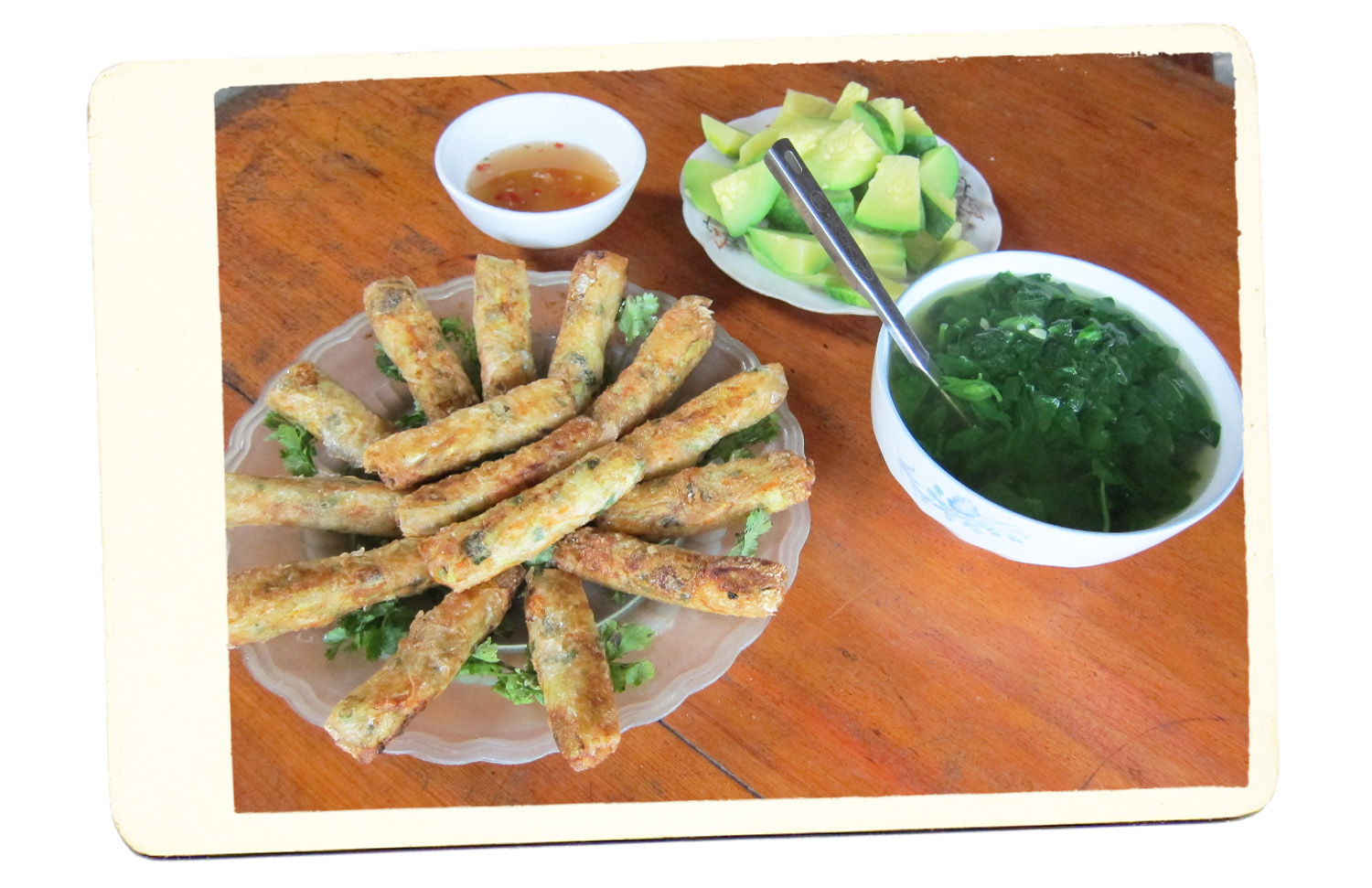 Overall
There are honestly so many delicious Vietnamese dishes to try…it was difficult to narrow down this list! What's your favorite one? Let me know in the comments below!
Recommended Food Tours in Vietnam!